Xiaomi Mi Band has been one of the most popular wearables in India. When its fifth edition launched in the country a few days ago, it evolved from a bare minimum "fitness band" to a smart tracker.
Still, it remains a band, and its functionality was limited to it due to the size and form factor. That's why, with the Xiaomi Watch Revolve, the company is aiming to lure customers who might want to upgrade for real.
At ₹9,999 ($136.46), the Mi Watch Revolve is not exactly cheap. However, it packs a lot of features. I used the watch for over a week, and despite my excitement about its features, I was left disappointed by the implementation.
Design and features
The Mi Watch has a 1.39-inch circular screen with a 454×454 resolution. It covers a huge area of your wrist, and if you're not a fan of watches with big dials, you won't like the watch's size. The watch comes with a rubberized strap, and you can choose from five color options while making the purchase.
Inside the watch's bezel, there's a physical ring with markers indicating time — just like analog watches. I couldn't figure out why. It reduces the size of the display and cuts into the interface at an awkward angle. If I wanted such markers, I could've just chosen a watch face that does that.
The AMOLED display is bright enough in all kinds of lighting conditions. You can choose over 100 watch faces to customize its look. However, you can't invoke it by double-tapping the screen, and I think that's kind of odd.
To track fitness activities and movement it has a PPG heart rate sensor, a three-axis acceleration sensor, and a geomagnetic sensor. The company claims it's using the Firstbeat motion algorithm to track variable heart rate in order to measure movements, energy level, stress, and sleep quality.
The watch has a 420 mAh battery and you can charge the device with its proprietary pogo pin holder.
Performance
The Mi Watch has a ton of features for fitness, but during my usage, it came up short in detecting a lot of stuff.
For example, when I was walking continuously for more than a couple of minutes, the watch tracked my steps well. However, if I moved around my house to get a snack from the kitchen or get a delivery package from my door, the watch often missed counting those steps.
Most of the modern smartwatches nudge you when you've sat down for an hour or more. Xiaomi's new watch also has that function, but I got alerts multiple times to become active minutes after I just sat down.
Steps and activity tracking became more accurate whenever I switched on a workout mode. If you're going on a run or a walk, the watch tracks your movement as well as your path through its in-built GPS sensor. And it tracked the distance accurately during a few of my outdoor runs and walks.
There are only 10 fixed workout modes. So, if you're doing CrossFit or HIIT (High-Intensity Interval Training), you'd have to rely on the freestyle mode.
The VO2Max algorithm that Xiaomi claims powers a lot of fitness stats for the watch is used by a lot of renowned football and basketball teams around the world. It'll be nice if the company can add tracking for some sports.
One of the impressive things about the new Xiaomi Watch is its battery life. I've been using the watch for more than five days, and I haven't had to charge it, despite using it for workouts and outdoor activities.
Notification delivery on the watch works as intended. However, you can't really act on these notifications, like archiving an email from the watch. If you pair the device with an iPhone, you won't be able to control which app notifications do you want to show up on your wrist.
Who's it for?
Xiaomi's Mi Watch Revolve is ideally placed to compete with the Huawei Watch GT 2e Sport Smartwatch ₹11,990 ($163.30) and Fossil Sport Rs. 9,990 ($136).
The smartwatch isn't the ideal gadget if you're want to train for long-distance running or track every aspect of your fitness accurately. You might be better off with Apple Watch, Fitbit, or Garmin for that. But it provides an upgrade over fitness tracking bands.
The device has excellent battery life and a lot of features. However, it probably needs a firmware upgrade to iron out some tracking bugs.
The Mi Watch Revolve is available in two finishes: black and silver, with five options for straps. You can buy the watch on Mi.com.
For more gear, gadget, and hardware news and reviews, follow Plugged on Twitter and Flipboard.
Published October 6, 2020 — 09:00 UTC
Airbnb recruits ex-Apple design honcho Jony Ive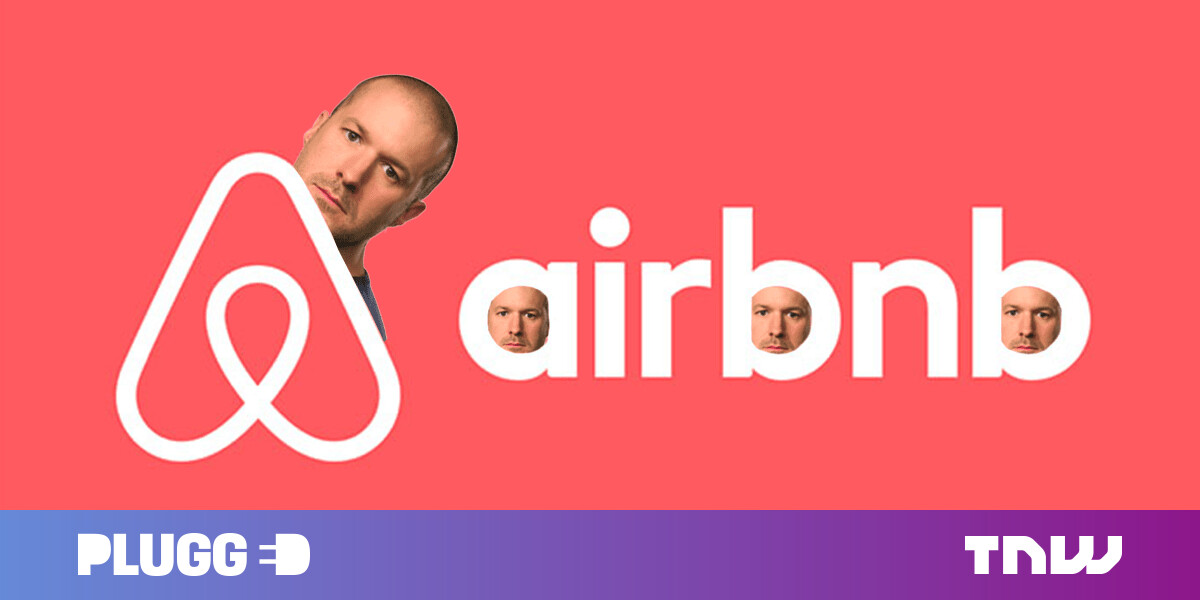 Next time you stay in an Airbnb you better expect some aluminium sides, some polished and laminated leathers, and, potentially, the most innovative flat you've ever stayed in. That's right people, Airbnb has brought on Jony Ive, the ex-Chief Head of Design at Apple.
If you're unfamiliar with Jony Ive, he's the man behind lots of your favorite things. He left Apple last year after almost 30 years at the company. During that time, he oversaw the development of almost any modern Apple product or service you want to name, from the iPod to the Apple Stores themselves. Even more importantly, he helped build the design team that's still pumping out quality shit to this very day.
Anyway, after Ive left Apple, he formed his own company: LoveFrom, an organization so exclusive it doesn't appear to even have its own web page. I assume this is the internet rich dude version of a bar with no sign.
The reason I mention LoveFrom is because that's who Airbnb has made a deal with, not Ive directly.
The flat-sharing accommodation chain's CEO — Brian Chesky — announced this collaboration in on its blog. Chesky wrote that Airbnb and LoveFrom will be "engaging in a special collaboration," working together through a "multi-year relationship."
The goal? Well, that'd be to "design the next generation of Airbnb products and services" and help "develop its internal design team."
What this actually means — according to the Financial Times — is that Ive will overhaul Airbnb's app and website, one element of this being revamping the site's rating system for guests and hosts.
All this is exciting, but a shame if you were expecting a fleet of swanky new Airbnb complexes that are an engineering feat, managing to distill the essential form of humanity into a relevant architectual mechanism. You'll have to make do with a new website instead.
Airbnb has been hit hard by the pandemic (bookings were down by 80%), but it is bound to survive. Which is a little bit of a shame because it has been a driving force behind gentrification, rising rents, and the housing crisis. Why can nothing useful also be moral?
Obviously Ive going there is unlikely to make the company change (which is a shame), but it will probably improve the service (which is good). So maybe it's a net neutral for everyone.
Well, aside from Airbnb's current Chief Design Officer, Alex Schleifer, who is "stepping down" following this news. I'll pour one out for you, pal.
For more gear, gadget, and hardware news and reviews, follow Plugged on Twitter and Flipboard.
Published October 22, 2020 — 07:45 UTC
Adobe's new AI experiment syncs your dance moves perfectly to the beat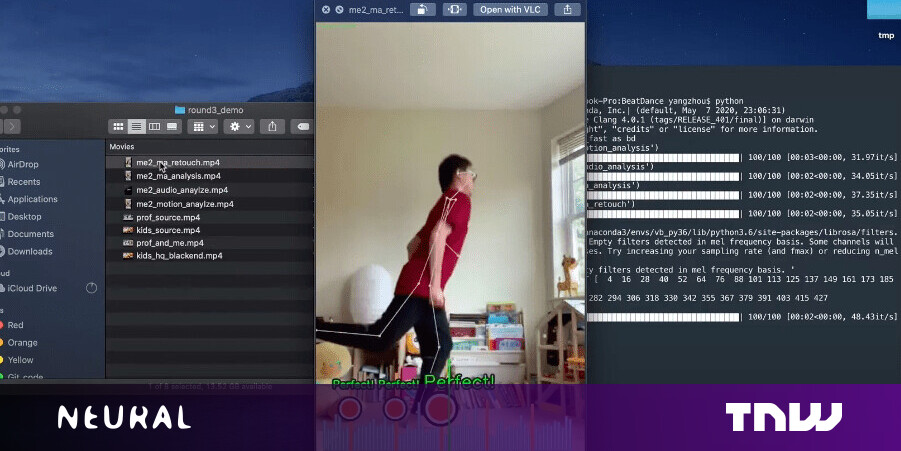 TikTok has made on-beat dances and movements mainstream. But what if you went offbeat or the video you recorded had some lag to your perfect dance moves. Adobe can fix that for you.
The company showed off an AI-powered experiment at its Adobe Max conference that syncs your off-beat movement to the beat of the music. Researchers used computer vision to follow the body movement of the person in the video. As shown below, the algorithm also analyzes dance moves through popping orange circles to determine the time of movements.
[Read: How Photoshop's new Neural Filters harness AI to generate new pixels]
The researchers also mark beats of the music track with orange lines and plot them against the orange dots to determine if dance moves are in sync with the music.
[embedded content]
Adobe uses this analysis to match beats of the song with corresponding movements to make a perfectly synced video. The company said that the algorithm can take random videos of people dancing and sync them with a track, making it look like they're dancing to the same song.
While this is just an experiment, it could be handy for creators to video editors. I wouldn't be surprised if we see such functionality making it to TikTok or Instagram Reels in a few years.
Published October 22, 2020 — 07:04 UTC
Health insurance startup Alan lets you chat with a doctor
French startup Alan is building health insurance products. And 100,000 people are now covered through Alan . I caught up with the company's co-founder and CEO Jean-Charles Samuelian-Werve so that he could give us an update on the product.
Alan has obtained its own health insurance license and is a proper insurance company. It doesn't partner with existing insurance companies. The company primarily sells its insurance product to other companies.
In France, employees are covered by both the national health care system and private insurance companies. So Alan convinces other companies to use its product for all employees.
Over the years, Alan has diversified its offering with high-end coverage, partnerships with CNP Assurances, Livi and Petit Bambou, a focus on new verticals, such as companies in the hospitality industry or retired individuals.
"We've kept shipping, and I even think that our pace has increased. We've released some exciting stuff in recent months, for our members, for companies and for us internally," Samuelian-Werve told me.
The biggest change isn't visible to the end user. The company has built a service that lets them generate a new insurance package on demand. It uses historical data to figure out pricing on the fly. And it opens up some market opportunities as big companies want a custom insurance product depending on their needs.
The biggest Alan customer is a company with 1,000 to 1,500 employees. But the startup is currently selling its product to bigger companies. The idea is that companies above 100 employees can get a custom insurance package.
For the customer, pricing remains transparent as Alan shows you how much it costs to cover your medical needs depending on what you're asking for. Alan adds a membership fee on top of that to access the platform and related services.
Alan is also introducing a new messaging feature. You can start a text discussion with a doctor whenever you have a question about your health — it's included in your insurance package. Alan doesn't want to replace your general practitioner. But having a doctor that you can text is always helpful when you're not sure what to do next.
On the other side of the screen, there are actual doctors answering your questions. "We've hired a full-time doctor and we're working with a bit under 10 doctors on a part-time basis," Samuelian-Werve told me.
Alan's app has been redesigned with a bigger emphasis on your health instead of your insurance. The company shows you all your interactions with health professionals. You can add documents and notes to consolidate information in the same place.
It sounds a bit like France's DMP, which acts as a personal repository for all your health-related documents. And Alan doesn't want to replace the public initiative. The startup would like to take advantage of the service to upload and download data at some point down the road.
If you give your consent, Alan can also proactively nudge you about your health. For instance, given your child's age, Alan can notify you when they're supposed to get vaccinated. Or if you haven't been to the dentist in a year, Alan can tell you that it's time to get a routine checkup.
Finally, the company has improved efficiency when it comes to reimbursements. "74% of reimbursements are issued within an hour. And we're using instant transfers to send money to your bank account," Samuelian-Werve told me.
As you can see, Alan is releasing incremental updates. They slowly add up and change the product. In the coming years, the company plans to offer its product in multiple European countries.