Since the start of the coronavirus pandemic, America's roughly 640 billionaires have seen their fortunes soar by $845 billion in combined assets or 29% collectively, widening the already yawning gap between the very richest and the rest of U.S.
Many of those billions were made by tech founders, including Mark Zuckerberg, Jeff Bezos, and Elon Musk, whose companies have soared in value and, in tandem, their net worth. In fact, so much has been made so fast and by so few relatively, that it's easy to wonder if greater equality is now forever out of reach. To talk about the question, we reached out earlier this week to Ananad Giridharadas, a former New York Times correspondent whose 2018 book, "Winners Take All: The Elite Charade of Changing the World," became a best-selling novel.
Giridharadas's message at the time was largely that the generosity of the global elite is, basically, laughable — that many of the same players who say they want to help society are creating its most intractable problems. (Think, for example of Bezos, whose company paid zero in federal tax in 2017 and 2018 and who is now on the cusp of opening a tuition-free preschool called the Bezos Academy for underserved children.)
Given the aggressive escalation over the last six months of the same trends Giridharadas has tracked for years, we wondered what he makes of the current situation. Our chat has been edited for length and clarity.
TC: You have a weekly newsletter where you make the point that Jeff Bezos could give every one of Amazon's 876,000 employees a 'pandemic' bonus of $105,000 and he would still have as much money as he did in March.
AG: There's this way in which these crises are not merely things that rich and powerful survive. They're things that they leverage and exploit, and it starts to raise the question of: are they even on the same team as us? Because when you have discussions about stimulus relief around what kind of policy responses you could have to something like the 2008 financial crisis or the pandemic, there's initially some discussion and clamor for universal basic income, or substantial monthly checks for people, or even the French approach of nationalizing people salaries… and those things usually die. And they die thanks to corporate lobbyists and advocates of the rich and powerful, and are replaced by forms of relief that are upwardly redistributive that essentially exploit a crisis to transfer wealth and power to the top.
TC: Earlier in the 20th century, there was this perception that industry would contribute to solving a crisis with government. In this economy, we just didn't see a lot of the major tech companies, or a lot of the companies that were benefiting from this crisis, really sacrificing something to help the U.S. Do you see things that way?
AG: I think that's right. I'm always wary of idealizing certain periods in the past, and I think there were a lot of problems in that time. But I think there's no question that it was not as difficult back then, as it is today, to summon some kind of sense of common purpose and even the need to sacrifice values like profit seeking for other values.
I mean, after 9/11, President George W. Bush told us all to go shopping as the way to advance the common good. Donald Trump is now 18 levels of hell further down that path, not even telling us that we need to do anything for each other and [instead describing earlier this week] a pandemic that has killed 200,000 people as being something that doesn't really affect most people.
So there's just been a coarsening. And that kind of selfish trajectory of our culture, after 40 years of being told that what we do alone is better than what we do together, that what we do to create wealth is more important than what we do to advance shared goals — that quite dismal, dull message has had its consequences. And when you get a pandemic like this, and you suddenly need to be able to summon people to all socially distance at a minimum or, more ambitiously, pull for the common good or pay higher taxes are things that might even cost them a little bit, it's very hard to do because the groundwork isn't there.
TC: You've talked quite a bit over the years about "fake change."
AG: Silicon Valley is the new Rome of our time, meaning a place in the world that ends up deciding how a lot of the rest of the world lives. No matter where you lived on the planet Earth, when the Roman Empire started to rise, it had plans for you one way or another, through your legal system, or your language, or culture, or something else. The Roman Empire was coming for you.
Silicon Valley is that for our time. It's the new Rome [in] that you can't live on planet Earth and be unaffected, directly or indirectly, by the decisions made in this relatively small patch of [of the world]. So the question then becomes, what does that new Rome want? And my impression of having reported on that world is that it's an incredibly homogeneous world of people at the top of this new Rome. It's white male dominated in a way that even other white male dominated sectors of the American economy are not . . . and it's a lot of a certain kind of man who often is actually more obtuse about understanding human society and sociological dynamics and human beings than the average person.
Maybe they didn't spend a lot of time negotiating human dynamics at sleepovers, which is fine. But when you end up with a new Rome and it's hyper dominated by people of one race and one gender, many of whom are disproportionately socially unintelligent, running the platforms through which most human sociality now occurs — democratic discourse, family community, so on and so forth — we all start to live in a world created by people who, frankly are just quite limited. They are smart at the thing they're smart at and they've become in charge of a lot of how the world works. And there's simply not up to the task. And we see evidence of that every day.
TC: Are you speaking about empathy?
AG: Empathy is absolutely one of [the factors]. The ability to understand the more amorphous, non technological, non quantifiable things . . . it's so interesting, because it's people who are clearly very smart in a certain area but  just honestly do not understand democratic theory. There's just so much work that's been done — deep, complicated thinking going back to Plato and Aristotle, but also modern sociological work, including why a safety net and welfare is complicated. And there's a certain kind of personality type that I have found very dominant in Silicon Valley, where it's these men who just don't really have a lens for that.
They're often geniuses. It's a certain kind of particular personality type where you care a lot about one thing and you go deep on that one thing, and it's probably the same personality type that Beethoven had. It's a great thing, actually. It's just not great for governing us, and what these people are doing is privately governing us, and they have no humility about the limitations of their worldview
TC: We're talking largely about social media here. Is it reasonable to expect some kind of government action. Do you think that's naive? 
AG: It's absolutely essential that the tech industry be brought into the same kind of sensible regulatory regime. I mean, you have kids, I have kids. If you've ever read the side of their car seats or any of the other products in their lives, you understand how much regulation there is for our benefit. . . I often say that the government at its best is like a lawyer for all of us. The government is like 'Why don't we check out these car seats for you and create some rules around them and then you can just buy a car seat and not have to wonder whether it's the kind that protects your child or crumbles?' That's what the government does for all kinds of things.
TC: You've talked about billionaires who don't want to pay taxes yet don't hesitate to make a donation because they have control over where their money is spent and they get their name on a building, and it's true. Many companies whose founders also consider themselves philanthropists, like Salesforce and Netflix, paid no federal tax in 2018, which amounts to billions of dollars lost. If you had to prioritize between taking antitrust action or closing the tax loopholes, what would you choose?
AG: They're both important. But I think I would prioritize taxation.
One way to think about it is this pre distribution and redistribution. The monopoly issue in a way is pre distribution, which is how much money you get to make in the first place. If you get to be a monopoly because we don't enforce antitrust laws, you're going to end up making pre tax a lot more money than you would otherwise have made if you had to compete in an actual free market.
Once you've made that money, the tax question comes up. So both are important, but I think you can't overestimate the extent to which the tax thing is just totally foundational. If you look at the report that the 400 richest families in America pay a lower effective tax rate than the bottom half of families, it's appalling.
We live in a complicated world. A lot of different things have been going on, including just in the last few months. But if you have to really summarize the drift and the shift of the last 40 years, it's been a war on taxation. And it's been a massive redistribution of wealth from the bottom to the top of American life through taxation. Since the '80s, the top 1% has gained $21 trillion of wealth, and the bottom half of Americans have lost $900 billion of wealth on average —  and much of that was prosecuted through the tax code.
Awkward! Above, Giridharadas shaking hands with Amazon founder Jeff Bezos at a Wired event in 2018.
The Apple Watch Series 6 Is Already $20 Off
Best Tech Deals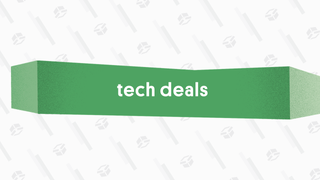 Best Tech Deals
The best tech deals from around the web, updated daily.
Apple Watch Series 6 (44mm) | $415 | Amazon
Apple Watch Series 6 (40mm) | $385 | Amazon
It's only been out a week since launch and we're already seeing discounts on the Apple Watch Series 6. Amazon has some 40mm models down to $375, while the 44mm falls to $415, both about $20 off and shipping anywhere between 1-4 weeks out.
The Apple Watch Series 6 runs laps around the competition as far as technology is confirmed. It features everything you love about the Series 5 watch like an ECG heart rate sensor, and also adds new tricks like a blood oxygen sensor and an always-on altimeter, making it more ideal than ever for fitness buffs.
G/O Media may get a commission
---
Source
Samsung thinks its new 85-inch Interactive Display is the digital whiteboard for the COVID-19 classroom
Samsung would like you to believe its new 85-inch Interactive Display can bridge the gap between students in the classroom and students studying at home, now that blended-learning is the new normal across the country. In reality, it's just a slightly bigger digital whiteboard — but assuming it doesn't cost too much, the tweaked vision does sound intriguing.
Now that COVID-19 has swept the country, some students are huddling around tiny Chromebook screens at home while others stay in class, and Samsung's internet-connected digital whiteboard promises to let students and teachers collaborate with each other, whether they're in that classroom drawing on the board or adding to it in real-time from their laptop at home. The goal here isn't to necessarily connect everyone better – they've had a few months to get a handle on that over Zoom – but rather to let the kind of collaboration that can happen when everyone's together, happen while students are apart.
While the Interactive Display is mostly just a larger version of Samsung's existing Flip 2 digital whiteboards, the 85-inch size means it's as large as an actual school whiteboard (though it weighs far more at 164 pounds). Compared to the previous 55- and 65-inch models, more students could theoretically use the board at once. Samsung imagines the display primarily mounted in a classroom where they can use its 4K touchscreen and support for four pens (it comes with two) to write and draw; it supports up to 20 fingers (and pen tips) simultaneously. Teachers might be able to hook up multiple computers or other video sources to the display, too, with two HDMI 2.0 ports compared to the one on the Flip 2.
But before you petition your school for one, it's worth mentioning that the device has no announced price. The 65-inch Flip 2 comes in at $2,599.00, and Samsung's 85-inch TVs start at $1,799.99, so perhaps the Interactive Display won't cost too much more than those? Still, most schools are even more constrained during the pandemic than they would be normally, and this screen doesn't even come bundled with some of the education software Samsung is advertising. I think it would be great for these to be used in schools, but to me, Samsung's framing for the Interactive Display sounds a little more opportunistic than realistic.
How to enable dark mode on all of your essential apps
Welcome to TNW Basics, a collection of tips, guides, and advice on how to easily get the most out of your gadgets, apps, and other stuff.
Ah, dark mode — the charcoal gray color palette associated with night time and eyeball-saving. It's not without its detractors, not even among my own colleagues. But there are plenty of people, including me, who can't get enough of the dusty-colored theme. Luckily dark mode is available on just about every device and app — so we'll walk you through how to make your digital life just a little bit darker.
Note that we're going to show you how to enable dark mode on several of the most essential apps and services — there isn't enough time or space on our servers to show you how to enable dark mode everywhere, as it's a very omnipresent theme. But these will make a good starting point.
Social media
Most social media apps have added dark mode to make late-night browsing easier. Facebook, of all sites, is one of the latecomers. It only added dark mode with the latest redesign, which you can read about here. The dark mode toggle is in the main drop-down menu of the site. While Instagram doesn't have an in-app dark mode option, it syncs to your phone's dark mode — you can read about how that works here.
Twitter has a similar setting to Instagram, in that you can sync its color palette with the system settings — meaning, if your phone is already in dark mode, it'll go dark automatically. You can also manually set it to dark mode by going to the settings, and looking for the dark mode toggle under "Display and Sound. You can read more about the options here.
Messenger originally only had dark mode via an emoji-based Easter egg, but it has since joined the bandwagon for real. In order to switch on dark mode, you just have to tap your profile picture and the toggle is right there at the top of the options. You can read more about it here.
Workplace apps
It's not just social media that wants to spare your eyes. Several of your favorite workplace apps have also added dark mode settings, so even your work computer can look as sooty as a fireplace. For starters, Slack now has a dark mode available on its iOS and Android apps (which you can read about here) as well as its desktop client (which you can read about here).
WhatsApp has also added dark mode to its web and mobile version, albeit at different times. You can read about how to enable dark mode on the web client here, and on Android here. As with other apps mentioned here, WhatsApp will automatically go into dark mode on iOS when iOS itself is set to dark mode.
Google has also added dark mode to its Docs, Sheets, and Slides on Android, which you can read abut here. Also, it's not a workplace app per se, but Google Play also has dark mode — in order to switch it on, you just need to go to the app settings and look for the Theme menu. You can read about it here.
Operating systems
Just like all of the above, the different operating systems for phones offer dark modes for you to turn on at night to make browsing or working easier on your eyes. Apple added dark mode to iOS 13, and as mentioned, turning it on will kick most apps into dark mode if it's available. You can read about how to turn it on here. Similarly, Android introduced a Dark theme in the Android 10 update, which you can find in the Display settings.
If you want some variety, Windows 10 also has a light mode in addition to dark — you can find both in the personalization settings. You can read more about it here.
And that's it! While this won't necessarily make your whole life an obsidian paradise, it'll at least put dark mode on all of your favorite apps. Good luck!