Know this up front: LaMelo Ball doesn't do scouting reports. Those guys lining up for tipoff on a random October night in Australia were just bodies in different uniforms, no more threatening to him than a set of cones laid out for a drill. It's nothing personal; this is how he's always looked at their type, from high schoolers in California to pros in Lithuania to the men who play in Australia's National Basketball League. They are temporary impediments on the way to somewhere better.
But on this particular night, Matt Flinn, his coach with the Illawarra Hawks, had deemed one of these men worthy of his attention, so Flinn called his point guard to the sideline to impart the wisdom his position demands.
"You see that guy?" Flinn asked, pointing to an opposing guard.
"Yep yep," Ball said, employing one of his verbal tics.
Flinn put a hand over his mouth and turned his head to the side. He was a coach, seeing the matchup he was hoping to see, and this — Ball's nonchalance be damned — was important enough to make sure no one could read his lips.
"When that guy's on you, take him every time," Flinn said. "He has no chance of staying in front of you."
"I got you, Coach," Ball said, before patting Flinn on the back and adding, "Him and everyone else in the world."
Flinn burst out laughing, right there on the court.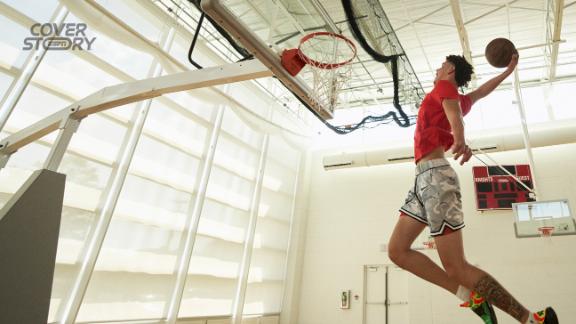 Like nearly everything in LaMelo Ball's life, this moment is vivid in the memory of the outside world but forgotten in Ball's. When I recount the story to LaMelo, he says, "Yeah, I think I remember that. But, I mean — I say that stuff all the time."
The world itself is an abstraction, an unending set of cones, a collection of nameless, faceless men who can't guard him and the geometric possibilities that open up as he immerses himself into the flow of a game. "I can't explain it, but I don't have thoughts when I'm playing," he says. "There's always songs going through my head, though, which is weird." He laughs and shakes his head, a mystery even to himself.
"How would I describe him?" asks Ball's manager and trainer, Jermaine Jackson, a former NBA point guard who lived with Ball in Australia. He looks away, stall-nodding while he seeks the right words. "Put it this way: He's a guy you can't get mad at."
Ball is the most famous player in the 2020 NBA draft and the most famous mystery in basketball. We know of him through his uniquely turbulent dad and iconic last name and two older, basketball-playing brothers, but he remains mostly a concept, famous for being famous, with a role in the family's Facebook show, "Ball in the Family" (co-starring LaMelo Ball, as himself), and the however-many-million Instagram followers. (For the pedants: 5.5 million.) He has led a reality show childhood that never felt particularly real.
It is important, though, to see him for what he is and not what has been projected to the world. He has been wrapped inside the game like a baby in swaddling, his identity hidden by his talent and a strange global odyssey. He is lanky and fluid, with a long jawline and a big smile that regularly expands wide enough to expose the cross lasered onto one of his canines. He is 6-foot-7, and his arms are like young branches, slender but growing, and in them you can begin to make out the man he will eventually become.
His brother Lonzo, the New Orleans Pelicans point guard, tells him to "keep the main thing the main thing," and it's easy to imagine the many layers of experience compacted into those few words. LaMelo has been surrounded by noise so long he's developed an immunity to its impact. The music plays inside his head, and the outside world stays outside. Nothing — not the bellowing from his father or the questions about his game or the wild twists of his wildly unconventional journey or the constant recording and airing of his life or the trials of preparing for a much-delayed draft during a pandemic — is able to burrow into his psyche.
It can take time, but people who live near train tracks eventually stop hearing the horns.
---
A CONVERSATION WITH LaMelo Ball is like eavesdropping on an interior monologue. Back in January, when such things were still possible, Ball was sitting in a cafe in Wollongong, Australia, eating his daily chicken Caesar salad, no dressing, no cheese. He was talking about the possibility of being chosen first in the NBA draft and whether it means anything to him (kinda sorta but the fit is the thing) when he hummed a few bars of something I didn't recognize and he interrupted himself, for reasons known only to him, by saying:
"God. Bless. America."
Yep yep.
"I just leave everything up to God."
He will be drafted in the first five picks on Oct. 16, possibly No. 1, and the highlight clips will show him playing in unfamiliar uniforms in faraway lands, making over-the-shoulder passes to players you've never heard of in places you've probably never been. He never played under the hot lights of Cameron Indoor or amid the pomp of the NCAA tournament.
Instead, he has lived the life of spectacle. He is an object of curiosity, a carny barker's delight: Step Right Up And See The Amazing Basketball Prodigy. He signed his first autograph at 5 or 6, after word of his precocious ballhandling skills reached the students at the middle school where his mother, Tina, worked. He played with brothers Lonzo and LiAngelo as a freshman at Chino Hills High School, on a team that went 35-0, won a state championship and led the nation in fire code violations. He scored 92 points in a game in his sophomore year and received the kind of public scorn normally reserved for people older than 15.
He is almost defiantly resistant to self-reflection, partly because of the lifelong intrusions into his private life, mostly because he's 18. But his actions speak. In Wollongong, we went to the same cafe three times, and each time Ball rushed ahead to hold the door open for the group. One time he pulled off the veteran move of surreptitiously paying for the meal under the guise of using the bathroom. When he arrived for his first practice with the Illawarra Hawks, he went around to every person in the locker room, introduced himself and asked how they were doing. The next day, same thing. "He did it every single time he entered a room or a practice court," Flinn says. "I had no previous perception of some of the stuff other people were privy to — I had never seen the show — but I immediately saw this kid was raised the right way. His joyfulness grabbed me."
Flinn has an anecdote at the ready, one he likes to tell: Early in the season, he stood before his team ready to impart wisdom. He had a story prepared, the parable of the two wolves, and it starts out with a description of the wolves in question. There is the Bad Wolf, who is responsible for spreading depression and creating dissension among his teammates. There is the Good Wolf, who is selfless and generous, eager to dive on the floor and pass up an open shot to get his teammate a better one. Each of you, Flinn told them, has a bad wolf and a good wolf battling inside of you.
"Do you know which wolf wins?" Flinn asked his team.
There is, of course, an allegory at work here, and Flinn was asking the question to set up his own answer. But before he could get there, LaMelo shouted, "The good wolf!" breaking up everyone in the room.
"I have no doubt you're a good wolf, mate," Flinn told him, "but Melo, the moral of the story is this: The wolf that wins is the wolf you feed."
The positivity flows from every pore, as does the youthful exuberance. He's just 18 but already can't count the number of countries he's visited. Places, like defenders, are obstacles to be navigated over, around and through, then stacked up and put away for later. The passport is impressive, but the experience is limited. LaMelo Ball has lived a life of international isolation, always using one place in service of getting someplace else.
---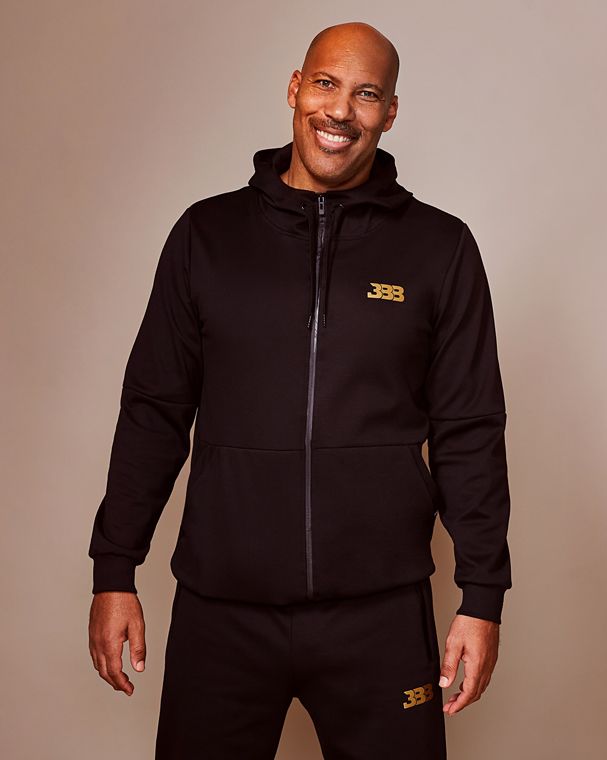 THERE'S A MONSTROUS Big Baller Brand logo centered on the front of the monstrous, 16,000-square-foot house, like a coat of arms on a castle. There's a monstrous Big Baller Brand logo in a monstrous chandelier hanging in the monstrous living room. LaVar Ball's tour of his Chino Hills house includes a lingering, description-rich stop in his "$100,000 Room" — a dining room that he says is used once a year, on Thanksgiving, and that derives its name from the combined cost of the furnishings. As he lovingly explains the genus and species of each of the 12 upholstered chairs, it's terrifying to imagine the fate of some gravy-spilling aunt or uncle.
LaVar is big, loud, profane, welcoming, challenging, hilarious. It's like sharing space with a waterfall. He throws himself across a lavish green sofa with his arms flung to either side, the wingspan impressive. It's June, and all three of his boys are home, spraying inside jokes around an adjacent room, and LaVar luxuriates in a permanent state of gloat. He takes me out to his front yard (monstrous, with fountain) and explains how he removed all the trees, shrubs and lawn — everything growing, in other words — and installed artificial turf and white landscape rock. "What do I need with all those trees?" he asks, and his laugh fills the sky.
He refers to himself as Big Baller, as in, "The lady at the gas station looked up and realized, 'That's Big Baller right there,'" and he says things like, "Nobody ever heard of Lithuania until my boys went there." He is never more animated than when he is evangelizing for his three sons. He awaits the moment when all three are in the NBA, when he can say, "You know what? Big Baller's job is done." He is a zealot awaiting the Rapture.
LaVar was his sons' first coach, and he trained them nearly from birth. The after-school scene outside their (former, pre-monstrous) home in Chino Hills resembled a basketball camp: the three Ball brothers, neighborhood kids, the kids of LaVar's friends from around Los Angeles. They ran hills and were put through shooting drills and played 3-on-3 'til it got dark.
"He was tough on all three of us," LaMelo says, before pausing to rethink his answer. "I wouldn't even say tough, though. But if you were just a random person seeing him coach us, you'd be like, 'What the hell?'"
LaMelo's talent, coming after Lonzo's and LiAngelo's, allowed LaVar to dream monstrous dreams of endless possibility. Just before LaMelo's sophomore year in high school, as Lonzo was preparing to play at UCLA, LaVar started the Big Baller Brand. He made a signature shoe for LaMelo, who was 16 at the time. Fanfare — and the hiring of an agent — followed, and the combination of those cost LaMelo his college eligibility and set in motion an unprecedented global journey that had one theme: NBA or bust.
First stop: Lithuania, where LaMelo, his flop of reddish-brown hair bouncing with every dribble, looked sad and out of place. He was a mere child, skinny and unsure, playing against hardened men who resented his very presence. He did, however, become the youngest American professional basketball player ever — step right up — after he and LiAngelo signed their deals in December 2017 and provided the platform for LaVar to preach the gospel of his sons to anyone who would listen.
"I was like, 'You know what? To make him even better, let's just go focus on basketball,'" LaVar says. "Melo didn't have to do all these term papers and chemistry tests and all that. But now Melo would have to grow up fast because you don't have the guys at lunchtime to joke and laugh with. You're just dealing with grown men all the time."
LaMelo played in just eight games, averaging roughly six points and two assists. With a few television episodes in the can and a dispute with the coaching staff brewing, LaVar declared victory and brought his sons back to California. As he's asked to look back on the trip, the obvious question about normalcy and childhood and experiences lost is interrupted before it can be completed.
?We knew what we were there for. It got me in this position, so I can't say nothing wrong, I guess.?
– LaMelo Ball
"No — no," he says. "You see, I knew what you were going to ask before you asked it." He pauses, smiles, pleased with himself. "He didn't miss out on anything. Everybody's talking about, 'Oh, you missed out on the prom.' Well, you didn't miss out on buying no Lamborghini for yourself. You didn't miss out on doing whatever you want and not asking your mom and dad for money. So what did he really miss out on? A couple of jokes here and there? You can live with that."
LaMelo, for his part, says, "I wouldn't have gone to prom anyway," as if the choice was both commonplace and binary: the wild global spectacle of Lithuania or prom. Looking back, he remembers mostly the weather. "Whenever you say 'Lithuania,' I just be thinking about the hotel that was in the middle of nowhere," he says. "And the snow. Cold gyms. Always just cold. We knew what we were there for. My dad told me, 'This is one of the sacrifices you got to make.' Leaving your friends. Leaving everything, you know? It got me in this position, so I can't say nothing wrong, I guess."
Perspective is important: The journey is nearly completed, the destination in sight, and so he speaks of his truncated childhood the way a war veteran speaks of battle as he's marching in a victory parade. Lonzo, though, a grizzled sage at 22, shakes his head and says, "He was over there in Lithuania when he was 16. Just crazy. He's seen a lot of different things just to play basketball."
LaVar leans forward on the plush green couch. "My famous line is: Are you built for this?" he says, perhaps taking some liberties with the definition of fame. "Some people aren't."
When did he perceive that LaMelo was built for this?
"At what age? Before he came out of the womb," he says. "All my boys. That's why I had three of them. I had three monsters, and I knew I was going to have three monsters."
I'm not entirely sure why, but I ask LaVar how he would have responded if one of his sons had told him, at age 12 or 13, that he wanted to quit playing basketball and turn his efforts toward becoming a veterinarian.
"They could have been a vet," LaVar says, unconvincingly. "But don't expect me to be hanging out with you because I ain't going to be reading no books and all that. I hang out outside. I do pullups, dips, running hills. Now, if you want to deal with your dad, come on outside and have some fun with me."
When I ask LaMelo to guess his father's response to the question, he laughs and says, "I ain't going to lie: I think he would have looked you dead in your eyes and just laughed. Get the f— out of here, Son, what are you talking about?"
---
THE ILLAWARRA HAWKS had some LaMelo-specific rules: No Facebook camera crews allowed around the team, no special considerations for the family or the fame.
"You can be whoever you want to be," Flinn told LaMelo.
No more professional youngest son.
No more professional youngest brother.
No more step right up.
For the first time, he was playing professional basketball because he belonged, in a place he chose on his own, to prepare for the moment he has always felt is his destiny. These days, LaVar spends most of his time in Chino Hills caring for Tina, who is recovering from a major stroke suffered in 2017. He made three trips to Australia but never interacted with the coaching staff. LaMelo lived a few blocks from the arena, walked to practice every day and often returned at night to go through individual workouts with Jackson. A few weeks into the season, Flinn called Jackson.
"It's too much extra stuff," Flinn said. He worried that LaMelo was being overworked, that his legs might wear down, leading to injury.
"Coach, this is what we do," Jackson told him. "This is what we do every day. This is our lifestyle."
LaMelo's resume is wide but thin: two high school seasons, eight games in Lithuania, one season for Jackson at Spire Institute in Ohio, a scattering of games in off-the-grid American leagues (the Drew League in Los Angeles, LaVar's short-lived Junior Basketball Association, which opened and closed in one season) and, finally, the 12 games in Australia. His game, like his personality, is difficult to classify. The ballhandling is tight, innovative, a language all its own. The ball becomes just another appendage. His most praised attribute is his vision, but that analysis is both lazy and wrong. It's his ability to sense things he can't see that separates. In Australia, the Hawks' big men learned to be hyperaware coming out of pick-and-rolls; Ball routinely dribbled toward the elbow and threaded high-velocity passes at them with his eyes pointed at the sideline.
At times he appears to be operating with some human form of echolocation, rarely looking at his target. In the game against Adelaide, facing the guy Flinn said couldn't stay with him, he retrieved a sloppy pass on the left sideline, above the hash, about 40 feet from the hoop. He ran his defender into a pick at the top of the key, split a double-team with a behind-the-back dribble and, in one motion, swung the ball back to his right hand and dropped a behind-the-back pass to the cutter for a dunk.
A scout who watched Ball for three years, from Lithuania through Australia, told Flinn, "I've never seen him this happy. Normally he's mopey and whiny, but now I see a happy kid who is joking with his teammates. I've never seen that before."
LaMelo spoke to his mom after he woke up every morning and before he went to bed every night. He texted with Lonzo and LiAngelo every day, and after accusations of laziness from teammates in Lithuania, he listened when Lonzo told him, "You have no choice but to be a pro. If you don't show up, they're not going to call your phone and say, 'Hey, where are you?' Being a pro is 24/7."
A bone bruise in his foot cut his season to only 12 games, but during that run, LaMelo averaged 17.0 points, 6.8 assists and 7.6 rebounds. He had triple-doubles in each of his last two games. There were moments of transcendence, when he used his length and handle to break down two or three of the everyone-else-in-the-worlds and finished at the rim. Twelve games is all, but he was named the NBL Rookie of the Year. Way back in September, an NBA executive told ESPN, "He completely changed my perception of the type of prospect he is, and all of the background info I gathered here from his coaches and teammates paint a very different story of what I thought about him off the court as well."
LaMelo's style is improvisational and a testament to the value of unstructured play. He learned to play for his father, who screamed and yelled and encouraged his boys to shoot from near half court. The court was a canvas, and LaMelo was never called upon to mute his talents into a multimillionaire coach's time-honored half-court offense.
"A coach says, 'You got to do things like this,' but Melo doesn't think that way," Jackson says. "He's a positive risk-taker. Guys think, 'Ah, I can't make this pass.' But he can make that pass. You see those full-court passes he makes? How many coaches are teaching that? No coaches teach those things. If there's a way to describe him, it's that he's a structural freelancer. The open court is his structure."
That unstructured, ad-lib style seems to have another byproduct: a shot in disrepair. Like Lonzo — but unlike LiAngelo, whose jump shot form is straight from a 1970s handbook — LaMelo shoots two-handed, like a kid trying to generate enough torque to reach the hoop. The shot begins near his chin, and the release is almost a shrug. The follow-through is quick and furtive, almost an apology, his hands dropping to his sides as if the ball is aflame. Somehow, the rotation is relatively consistent, but he shot just 25% from 3-point range in Australia, and this shot — the mechanics as well as the results — led Flinn to say, "It's getting developed, but I think it's too late to change. He's got deficiencies, but he makes big shots at big times, which is an insight into belief."
LaMelo doesn't enjoy talking about his shooting form, or the results, or the questions that will carry into draft night and beyond. He knows shooting, especially 3-point shooting, has never had more currency than it does now. "I can shoot," he says. "No problem there."
He is not a great interview, but he tries. Boredom and obligation compete for his attention. He repeats nearly every question under his breath to sort it out in his mind before answering. He wants to do this right, because he's considerate and knows it's important, but there's so much being thrown at him that he's never had to think about before. He's 18, turning 19 a few months before the draft, and his life has never been this complicated.
When I ask if his father is going to be a distraction, he says, "For me, none of that. Never in my life." When I ask what he learned about himself in Australia, just him and basketball and a tangible goal visible ahead, he says, "I feel like I already know about myself. Pretty much my message is, if you believe in yourself, you can do whatever you want."
Back to the chicken Caesar, no dressing, no cheese. He hums something, bounces his head a couple of times to the music in his head and says, "Yep yep," to himself, a young man at peace, still young enough to believe desire alone shapes the world.
---
IT WAS ALWAYS assumed he was playing for something other than love for the game, that basketball was simply a vehicle to gain Instagram followers or sell shoes or provide his father with a wider platform.
But all along, LaMelo Ball has kept playing, orbiting the basketball world but never landing, going about the lonely business of getting better. On a warm July afternoon in a mostly empty gym in suburban Detroit, LaMelo, LiAngelo and Jackson go through shooting drills, work on breaking double-teams, simulate pick-and-roll situations. All fundamental, nuts-and-bolts stuff, and then during a break LaMelo stands near the top of the key, bounces the ball toward the hoop and throws down a dunk. It's filmed, of course, and posted to LaMelo's Instagram, and within 24 hours it has been viewed more than 4 million times.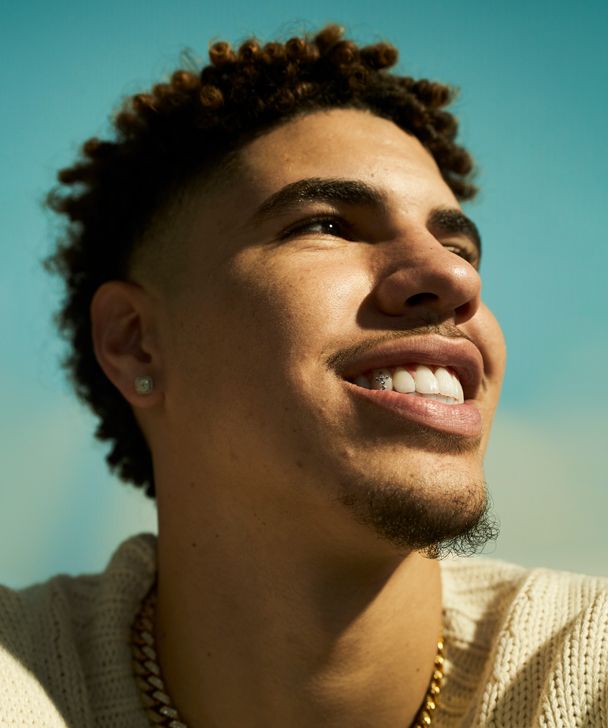 "When I hear those mystery questions, I'm like, 'Come and see,'" Jackson says. "We were told a lot of NBA scouts were saying they weren't coming to Australia. And then all of a sudden they were in Australia, because they know basketball and what they see on film is like, 'That's not normal.'
"Everything this kid's been through, a lot of 18-year-olds would have quit, gone on a different path, found an excuse. Instead he smiled and laughed and walked right through it."
All great players, in some form or fashion, use basketball as a gateway to greater fame. LaMelo might be the first to run that equation in reverse. "I feel like one of a kind, the first one to take this whole route I did," LaMelo says. "I definitely feel like I'm a trailblazer."
?Everything this kid's been through, a lot of 18-year-olds would have quit. Instead he smiled and laughed and walked right through it.?
– Jermaine Jackson
He will likely play an NBA game before he graduates high school, and he is the rare draftee who has never played a truly significant game in his home country. His odyssey was bizarre, random, never to be repeated. But its impact could be lasting.
As the top high school players realize the earning power their talent represents, and the marketing opportunities missed by a year working for a university rather than themselves, the NBA has taken note. The No. 1 recruit in the Class of 2020, Jalen Green, will play for a new G League team — the Select Team — that consists of highly regarded prospects who have decided to skip college.
"One thing about Melo: It seems like he's always had one foot in and one foot out of wherever he's been in life," says Flinn, the Illawarra coach. "From Chino Hills to Lithuania to here — always one foot headed toward the next place. Once he finds his identity and where he wants to stay, the sky's the limit. I know I'd pick him. He's good for business."
What LaMelo Ball does from here on out will be on him. He will own it, become it, live it. The destination will finally be reached, the mystery finally solved. "It's not like you get to the league and then, 'Oh, I made it,'" LaMelo says. "No — now life's finally started." The noise will increase in volume and intensity — yep yep — but it'll remain safely outside, drowned out by the music in his head.
Tim KeownKeown is a senior writer for ESPN.
Styling by Whitney Michel; production by Shel Burks/The Wall Productions; bomber jacket by Amiri; T-shirt by Billy Reid; pants by Rhude; sneakers by Nike; sweater by Rhude.
Source : ESPNRead More
Toronto FC hoping to make MLS Cup run having spent much of 2020 far from home
On a recent Thursday in Hartford, Conn., Toronto FC goalkeeper Quentin Westberg pondered the dichotomy of wanting to reach MLS Cup on Dec. 12, but also desiring to see his family again. Meanwhile, Jim Liston, the team's director of sports science, was planning a trip to Lowe's to buy 15 garbage cans so players could have an ice bath after training. As for manager Greg Vanney, he was fretting about his team's health and the lack of practice time their schedule was affording.
Such is the life of a team as it attempts to not only navigate its way through the COVID-19 pandemic, but has been forced to do it away from home.
Due to travel restrictions between the U.S. and Canada, TFC — like the league's other two Canadian teams, Montreal Impact and Vancouver Whitecaps — set up a "home" base in the U.S. for the remainder of the season; Toronto were stationed in Hartford. (Vancouver Whitecaps took roost in Portland, ground-sharing with Timbers, while Montreal Impact split use of New York Red Bulls' facilities in Harrison, N.J.) This was on top of nearly every team spending nearly a month inside a bubble back in July at the MLS is Back Tournament outside Orlando, Florida.
The Reds spent about seven weeks back in Toronto as they played a series of matches against Canadian teams. In mid-September, the remainder of the regular season — and the temporary move to Hartford — beckoned. The vagabond nature of the campaign is what led Liston to joke that he was willing to discuss "whatever five seasons" the team has been through so far. But for Vanney and the players, the campaign has required a special kind of focus.
"A lot of what we've done here, and what we try to preach here is just control the controllables, and don't get too drawn into the things you can't," Vanney told ESPN. "Roll with it, and make the best out of whatever the situation is."
– Stream FC Daily on ESPN+
– 2020 MLS Playoffs: Who's in, schedule and more
– MLS on ESPN+: Stream LIVE games and replays (U.S. only)
Toronto has largely succeeded in spite of its odyssey. While there was disappointment at missing out on the Supporters' Shield to the Philadelphia Union, TFC went 7-3-2 during its Hartford sojourn and finished with the second-best record in the league. But the challenges have still been immense. Simply being out of one's home environment is difficult enough, but the time spent away from family and loved ones weighs heavy on the psyche, even as Vanney has given players the occasional trip back to Toronto — under quarantine — to reconnect with loved ones.
"It's just very different, very challenging and emotionally exhausting," Westberg said of his experience while based in Hartford.
Westberg has arguably had it tougher than most. The TFC goalkeeper is married with four children, including a baby girl who was born in June. For that reason, Westberg and his wife, Ania, made the decision at the end of September that it would be better for her and their kids to head back to his native France so they could be surrounded by family. Westberg called it "the least bad decision," but there are difficulties nonetheless.
"I'm a very even person, and this year has challenged me a lot," he said. "I'm still pretty even, but I keep a lot to myself and for sure there's some difficult days, seeing your family [struggle] from your absence."
The inability to be home has affected the players and staff in other ways. In Toronto, there are ways of disengaging from the game. Being with friends, loved ones or even in familiar surroundings can be the best medicine in terms of forgetting a bad game or training session. But in Hartford, at the team's hotel, that escape is nearly impossible even as players try to distract themselves by reading or taking online classes.
"You don't really unplug," Westberg said. "You FaceTime family, or this or that, but it's too short. You're 100 percent focused on your soccer, and your whole day basically relies on being ready for whatever soccer activity that you have next, whether it's practice or game. It's good for your physique, it's optimal for the way you eat and the way you [train]. But mentally, you're not as fresh as your body."
That isn't to say there are only negatives to the separation. There is also an us-against-the-world mentality that Toronto has adopted, given that their players and personnel are experiencing the season in a way that is vastly different than most other teams. The team staff has done what it can to make their surroundings a home away from home, whether it's personalizing the locker rooms at Rentschler Field or having hotel staff brand the surroundings in TFC colors. The hotel went so far as to bring in a barista who could consistently give the players their coffee fix. Supporters groups have even sent down banners in a bid to convey the fact that the players are remembered.
The care that TFC takes for players has extended to families back home, with the club supplying meals to loved ones three times a week.
On the logistical side, Liston made sure that one of the gyms used at MLS is Back was brought to TFC's hotel in Hartford, and he remarked that the food at the hotel is "arguably the best we've ever had on the road."
There have also been efforts to create new routines. Assistant coach Jason Bent, aka DJ Soops, has been in charge of the pregame music selection for the past 18 months — no easy feat for a squad that has a considerable international presence. In Hartford, Bent has set aside Thursday nights to spin music in one area of the hotel. He'll even go live on Instagram or Twitch for those who prefer to relax in their rooms.
"[We] opened it to players and staff and basically anyone that's part of our bubble to come relax, listen to music and just enjoy each other's company," Bent said. "I enjoy making people happy so if it's helping everyone even in the slightest, I have no problem arranging the set and spinning."
For Vanney, the pandemic and operating outside of the team's home market has meant any number of challenges. He said the team has used three different training facilities in Hartford, with varying field conditions. He recognizes that the trips home are vital for the mental health of his players and staff, but any breaks also mean less time spent on the practice field. The compressed schedule, which at times involved games every three or four days, has had an impact as well. Even the best-laid plans in terms of squad rotation were impacted as minor injuries began popping up.
"We end up with a lot of guys in different positions because they need special kinds of treatment or care to help them get fit and back to health," Vanney said. "So it ends up being a lot of different things kind of going on all at once, and that's been the challenge of it."
Recovery from matches has been complicated by the fact that TFC doesn't have access to the same level of facilities that it does at home — hence Liston's emergency trip to Lowe's to fashion impromptu ice baths for the players. Then there are the different ways the players occupy themselves on the road as compared to home, especially amid the pandemic.
"There's really no life outside of the hotel," Liston said. "[At home], you may go walk the dog in the afternoon or go for a walk with your wife or friend or girlfriend or family and you're out and about. The recommendation [here] is to kind of stay put. So you've got a really active population and pro athletes, who we're asking them to be sedentary the rest of the time, kind of stay in the hotel from a COVID and safety standpoint. That's not optimal for recovery either."
There are also the creature comforts of home that are no longer available on the road, which can impact sleep.
"Sleep is the number one tool for recovery, and that's definitely been a challenge," Liston said. "We do well-being questionnaires and the scores on quality of sleep, and hours of sleep, just drop."
Tom Barlow and Brian White seal Toronto's fate in a 2-1 win for New York Red Bulls. Watch MLS on ESPN+.
Another change has been same-day travel, which has drawn mixed reactions from the TFC players and staff. Vanney and Westberg are generally in favor, saying it reminds them of when they each played in France. Flying back the same night also means a training day isn't lost. Liston has a different perspective in that he prefers arriving the day before, and then leaving the same day.
"I think [same-day travel] makes for a really long day," he said. "And there's definitely a negative impact on performance, taking three bus rides and a plane ride before your game. You're getting home — it can be 12:30, but it could also be 1:30 in the morning, and that's where you know our well-being scores and sleep hours and quality just disappear. When you have so many games in succession, you can't make up the sleep."
With the playoffs set to begin for TFC on Nov. 24, the end is in sight, even as it makes for a complex — and even conflicting — set of emotions.
"This is the tricky part. I miss them a lot," Westberg said of his family. "But in a way I want to see them as [late] as possible in December, because obviously, there's this idea that we want to do well in the playoffs and we want to keep going. TFC has a history of setting high standards and high expectations. It's a heavy load to carry but also an exciting one."
Win or lose, it's a season they'll never forget.
Bettman: NHL is mulling temporary realignment
The NHL is considering a temporary realignment of its teams for the 2020-21 season due to COVID-19 travel restrictions, according to commissioner Gary Bettman.
Bettman said Tuesday that restrictions on travel across the Canadian border, as well as "limitations in terms of quarantining when you go from certain states to other states" within the United States, could mean the NHL creates a more regionalized alignment for its upcoming season.
"As it relates to the travel issue, which is obviously the great unknown, we may have to temporarily realign to deal with geography, because having some of our teams travel from Florida to California may not make sense. It may be that we're better off — particularly if we're playing a reduced schedule, which we're contemplating — keeping it geographically centric and more divisional-based; and realigning, again on a temporary basis, to deal with the travel issues," Bettman said during a 2020 Paley International Council Summit panel with fellow commissioners Adam Silver of the NBA and Rob Manfred of MLB.
The NHL board of governors has a meeting scheduled for Thursday which will provide a progress report and possible recommendations for a season format, based on talks between the league and the NHL Players' Association. The target date for starting next season remains Jan. 1.
Bettman said the league is considering a few scheduling options for the 2020-21 season. Something that's off the table: playing the entire season in the kind of bubbles the NHL had in Toronto and Edmonton, Alberta, to complete last season. But Bettman said teams opening in their own arenas is a possibility, along with a modified bubble.
"We are exploring the possibility of playing in our own buildings without fans [or] fans where you can, which is going to be an arena-by-arena issue. But we're also exploring the possibility of a hub. You'll come in. You'll play for 10 to 12 days. You'll play a bunch of games without traveling. You'll go back, go home for a week, be with your family. We'll have our testing protocols and all the other things you need," he said.
Bettman also indicated that the NHL is exploring "a hybrid, where some teams are in a bubble, some teams play at home and you move in and out."
The NBA's board of governors unanimously approved a deal with the players' union that sets the stage for a season that will open on Dec. 22 and with a reduced schedule of 72 games. Silver said that the commissioners are in communication on COVID-19-related issues, especially the NBA and the NHL, since the two leagues' teams share arenas and, in some cases, team owners.
Silver said he senses that the NBA will have fans in many of its buildings this season.
"We're probably going to start one way, where we're maybe a little bit more conservative than many of the jurisdictions allow," he said. "What we've said to our teams is that we'll continue to work with public health authorities. Arena issues are different than outdoor stadium issues. There will be certain standards for air filtration and air circulation. There may be a different standard for a suite than there will be for fans spaced in seats."
Silver said there will be standardized protocols that are consistent from arena to arena, such as proximity between players and fans: "In certain cases, for seats near the floor, we're going to be putting in testing programs, where fans will certify that they've been tested — some within 48 hours, some within day of game." While Silver supported a continued expansion of the NBA postseason through its play-in tournament, Bettman said that he's not in favor of expanded playoffs or "playing with the fundamentals of the game." The NHL had 24 teams in its postseason last summer.
The Battleground States Where We've Seen Some Movement In The Polls
With apologies to The Raconteurs, the presidential race continues to be "steady as she goes," with little sign of tightening despite a plethora of new polls. FiveThirtyEight's presidential forecast gives Joe Biden an 89 in 100 shot at winning the election, while President Trump has just an 11 in 100 chance. This makes Biden the favorite, but still leaves open a narrow path to victory for Trump, for whom a reelection win would be surprising — but not utterly shocking.
At the same time, we also have fewer polls from live-caller surveys, which have historically been more accurate and have shown slightly better numbers for Biden, than polls that use other methodologies, such as polls conducted primarily online or through automated telephone calls. Nevertheless, while the overall picture has shifted only a little in recent days, a few battleground states have seen at least some movement in their polls, which has slightly altered the odds Biden or Trump wins in each of those places.
What election stories need to get more coverage | FiveThirtyEight Politics Podcast