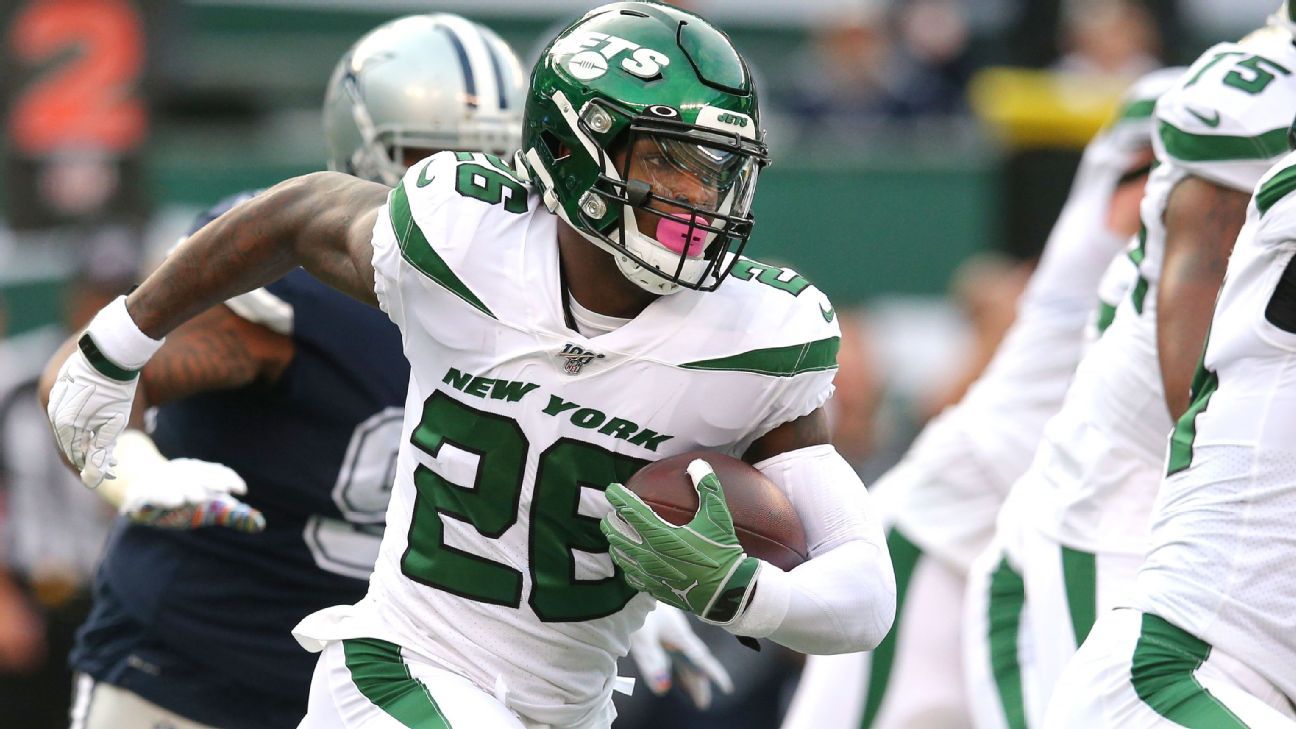 KANSAS CITY, Mo. — The Kansas City Chiefs certainly won't complain if they get from Le'Veon Bell what he delivered in the prime of his career with the Pittsburgh Steelers. As recently as 2017, Bell rushed for almost 1,300 yards, caught 85 passes and scored 11 total touchdowns.
They won't ask him for that, though, and it may be a couple weeks before he can even enter a game. The 28-year-old Bell can't get into the Chiefs facility or onto the practice field until he has at least six straight days of negative COVID-19 testing.
They don't need prime-of-his-career production either, not with the Chiefs also having rookie Clyde Edwards-Helaire at running back. A more likely scenario has the two splitting time in some fashion as the Chiefs' featured back.
But after signing a one-year deal with Bell on Thursday, the Chiefs are hoping for some of the player Bell was while in Pittsburgh. If he is he would not only fill in a big hole in their running game, he would strengthen their effort to repeat as Super Bowl champions.
Immediately, Bell could help the Chiefs run the ball better in goal-line and short-yardage situations. Edwards-Helaire has been a failure in those areas. He has nine carries in goal-to-go situations and minus-1 yard and no touchdowns to show for it. No other NFL player has more than four goal-to-go carries this season without scoring a touchdown.
The Chiefs have one rushing touchdown from a running back this season, that being supplied by Edwards-Helaire on a 27-yard run in Week 1 against the Houston Texans. Since then, the Chiefs have scored rushing touchdowns only on scrambles by quarterback Patrick Mahomes (twice) or when they hand the ball to wide receiver Tyreek Hill (once).
Things were so bad in short yardage the Chiefs twice on fourth-and-1 plays felt they had to hand the ball to fullback Anthony Sherman and once to third-string back Darwin Thompson, but never to Edwards-Helaire.
Beyond needing a short yardage running back, the Chiefs needed depth at the position. They almost always do. In 2015, 2017, 2018 and 2019, their featured back at the start of the season wasn't a factor by the end. Whether it was Jamaal Charles or Spencer Ware getting injured, Kareem Hunt getting released or LeSean McCoy getting benched, the Chiefs were forced to dig into their depth at an important position in Andy Reid's offensive system.
Often, they thrived while doing so. With McCoy inactive for last season's Super Bowl, Damien Williams was a star with two fourth quarter touchdowns and more than 100 yards rushing.
Before signing Bell, the Chiefs had little in the way of experience at running back. Edwards-Helaire has played in five NFL games. Damien Williams opted out of the season before it started because of COVID-19 concerns. None of the backups, including Thompson, Darrel Williams or DeAndre Washington, had ever been a featured back for an extended period of time.
Through that lens alone, this was a move the Chiefs had to make. They had no proven insurance for Edwards-Helaire, himself still something of an unknown. Nothing against any of the backups, but none of them is Le'Veon Bell.
Don't Tell Derrick Henry That Running Backs Don't Matter
NFL running backs have had a rough go of it recently, with more and more evidence building for the fungibility of the position. As my colleague Josh Hermsmeyer wrote last week, 2020 has provided even more examples of high-profile RBs being replaced by unheralded backups who don't miss much of a beat. It's not that running backs do nothing to help their teams win — leaguewide rushing expected points added (EPA) per game is currently the highest it's been since at least 20061 — but that rushing success is dictated by teammates and coaching as much as by the player carrying the ball.
Still, sometimes you have to admire a good, old-fashioned rushing performance in the mold of history's greatest RBs — and that's exactly what Derrick Henry of the Tennessee Titans is giving us this season. Henry led the NFL in rushing last season with 1,540 yards on the ground (102.7 per game) to go with 16 touchdowns, but he's improving on those numbers so far in 2020. After tearing through the Houston Texans' defense on Sunday for 212 yards (!) and two touchdowns, Henry is once again leading the league in yards with 588 — or 83 more than any other rusher in football.
If he could keep this up over the full season, Henry's current 117.6 yards-per-game pace would rank 17th all-time, sandwiched between Barry Sanders's 1994 season and Shaun Alexander's 2005. We haven't seen a player average so many yards per game in a season since Adrian Peterson did it eight years ago en route to winning MVP honors.
In fact, we are unexpectedly witnessing one of the best performances ever by a RB in back-to-back seasons. Right now, Henry is on pace to become just the 14th player since the 1970 AFL-NFL merger to average more than 100 rushing yards per game in two consecutive seasons, essentially joining a who's-who of great running backs from the era:didn't crack the 100-yard average even once, though he came close in 2000 and 2001 (and was pretty busy doing all that receiving anyway).
">2
Henry is in rare two-year rushing company
Most rushing yards per game (YPG) in back-to-back seasons among players who averaged at least 100 yards per game in both seasons, 1970-2020
Rushing YPG
2-Year Total
Player
Seasons
Year 1
Year 2
Rush Yds
YPG
Eric Dickerson
1983-84
113.0
131.6
3,913
122.3
Terrell Davis
1997-98
116.7
125.5
3,758
121.2
O.J. Simpson
1975-76
129.8
107.4
3,320
118.6
Earl Campbell
1979-80
106.1
128.9
3,631
117.1
Shaun Alexander
2004-05
106.0
117.5
3,576
111.8
Barry Sanders
1993-94
101.4
117.7
2,998
111.0
Eric Dickerson
1986-87
113.8
107.3
3,109
111.0
Larry Johnson
2005-06
109.4
111.8
3,539
110.6
Tiki Barber
2005-06
116.3
103.9
3,522
110.1
Edgerrin James
2000-01
106.8
110.3
2,371
107.8
Emmitt Smith
1992-93
107.1
106.1
3,199
106.6
Derrick Henry
2019-20
102.7
117.6
2,128
106.4
Eric Dickerson
1987-88
107.3
103.7
2,947
105.3
LaDainian Tomlinson
2002-03
105.2
102.8
3,328
104.0
Before Henry, we hadn't seen a running back pull off the feat since Larry Johnson of the Kansas City Chiefs and Tiki Barber of the New York Giants each did it in 2005 and 2006. And you could have been forgiven for thinking we might not have ever seen it again, as the era of the high-workload primary back has given way to backfield committees and an increased focus on using RBs in the passing game rather than handing them the ball. Henry's numbers are a throwback to an earlier time, and nobody else is really in the same neighborhood this year. Among 2020 rushers, only Minnesota's Dalvin Cook (who missed Week 6 with an injury) is even close to 100 yards per game on the ground; he's averaging 97.8, which is 11 more than the next-highest rusher (Philadelphia's Miles Sanders, who is also injured) and nearly 20 yards per game behind Henry. Henry is truly in a class of his own.
And that production is helping Tennessee win games. The Titans are averaging 2.95 EPA per game on the ground so far this season, according to ESPN's Stats & Information Group, which ranks fourth in the NFL behind the Arizona Cardinals, New England Patriots and Baltimore Ravens. And they rank second (behind the Kansas City Chiefs) in win probability added on the ground. Henry's blockers deserve credit for that as well; Tennessee runners are fifth in yards before first contact per rush, with the path being cleared for 3.33 yards per carry before a defender touches the ball carrier. The passing game has clearly been a huge driver of Tennessee's success, too — QB Ryan Tannehill has the league's fourth-best Total QBR this season, and the Titans rank second (again, behind K.C.) in passing EPA per game. Henry is far from the only reason that Tennessee is tied for the fourth-best Super Bowl odds this season, according to our prediction model.
But the Tannehill-Henry tandem obviously works great together. Since Tannehill took over as Tennessee's starter in Week 7 of the 2019 season, the Titans are 14-4 (including the playoffs), with Henry averaging 119.9 rushing yards per game — 35.7 more than any other player — and Tannehill averaging 97.4 passing yards per game off play-action (which ranks second only to Jared Goff of the L.A. Rams at 98.4). By keeping defenses guessing as to whether Henry or Tannehill will hurt them, it's no surprise that the Titans are the only team to rank among the top five in offensive EPA per game both through the air and on the ground so far this season.
Week 7 should provide an interesting test for Henry and the Titans, in the form of the Pittsburgh Steelers' defense. Pittsburgh ranks second in defensive EPA per game overall and first against the run specifically. Steeler opponents are picking up only 2.03 yards before first contact per run, which could prove an antidote to Tennessee's run-blocking. But if there's any running back who stands a chance against Pittsburgh's front seven, it's Henry — the closest equivalent the modern game has to the dominating rushers of yesteryear.
FiveThirtyEight's NFL Elo ratings
How each team ranks through Week 6 of the 2020 season, according to our quarterback-adjusted predictions
Chance To …
Rk
Team
Starting QB
QB Rk*
Elo Rating
Proj. Record
Make Playoffs
Win Division
Win SB
1
Chiefs
Mahomes
1
1706
13-3
98%
84%
19%
2
Ravens
Jackson
4
1659
12-4
93
47
10
3
Seahawks
Wilson
3
1640
12-4
93
68
12
4
Steelers
Roethlisberger
10
1636
12-4
93
47
9
5
Titans
Tannehill
6
1634
12-4
93
81
9
6
Buccaneers
Brady
14
1612
10-6
80
54
8
7
Packers
Rodgers
12
1592
11-5
83
49
6
8
Saints
Brees
2
1591
9-7
66
38
5
9
Rams
Goff
13
1573
9-7
62
15
3
10
Bears
Foles
21
1570
11-5
85
48
5
11
49ers
Garoppolo
24
1562
8-8
38
6
2
12
Bills
Allen
9
1561
10-6
72
63
2
13
Colts
Rivers
18
1556
9-7
50
18
2
14
Patriots
Newton
17
1544
8-8
42
30
1
15
Raiders
Carr
5
1540
9-7
50
12
1
16
Cardinals
Murray
7
1534
9-7
52
12
2
17
Browns
Mayfield
28
1531
10-6
62
6
1
18
Broncos
Lock
32
1504
7-9
20
4
<1
19
Eagles
Wentz
22
1476
6-9-1
52
52
<1
20
Falcons
Ryan
11
1469
5-11
4
2
<1
21
Texans
Watson
8
1460
5-11
4
<1
<1
22
Panthers
Bridgewater
15
1456
7-9
18
6
<1
23
Vikings
Cousins
23
1455
5-11
6
<1
<1
24
Chargers
Herbert
19
1450
6-10
8
<1
<1
25
Lions
Stafford
16
1442
7-9
13
2
<1
26
Dolphins
Tagovailoa
30
1418
7-9
14
7
<1
27
Bengals
Burrow
27
1378
4-11-1
2
<1
<1
28
Cowboys
Dalton
29
1367
6-10
27
27
<1
29
Giants
Jones
25
1352
4-12
9
9
<1
30
Washington
Allen
31
1348
5-11
13
12
<1
31
Jaguars
Minshew
20
1323
3-13
<1
<1
<1
32
Jets
Darnold✚
26
1321
2-14
<1
<1
<1
Looking ahead: Pittsburgh-Tennessee is Elo's top game of the week, but a close second is New England against San Francisco. The teams are on opposite trajectories — the 49ers had an impressive bounceback win over the Rams last week, while the Patriots suffered an exceedingly rare home loss as a favorite against Denver. New England is at home again in this one, and the Pats are 24-9 in Foxborough when coming off a loss since 2001. But they'll need more from Cam Newton and a moribund passing attack that ranks 28th in EPA per game, against a Niners defense that has slipped in EPA from No. 2 against the pass last season to No. 12 this year. On the other side, the Pats are also down a bit defensively, and Jimmy Garoppolo looked healthy again versus L.A., though our QB ratings still regard him as a middling starter at best. Maybe Jimmy G. can use this opportunity against his former team to notch a second-straight above-average start for the first time since Week 12 in 2019. But we give the Patriots a 54 percent chance to stop the skid here. Elo's spread: New England -1
Check out our latest NFL predictions.
Doc Emrick's influence on the NHL's next generation of voices
Mike "Doc" Emrick's retirement announcement this week was a disarmingly heartfelt moment that burned through the clouds of cynicism, even if for a moment.
There have been comparisons drawn between his farewell and that of Fred "Mister" Rogers, and they're apt. Both loved what they did and loved the people for whom they did it. Both exhibited sincerity, optimism and kindness that was out of sync with their times. One was famous for wearing a warm sweater and comfortable shoes, and the other had a vocal purr that evoked how it felt to relax in them.
This was a moment to appreciate the 50-year run of one of sports' most celebrated broadcasters, while also appreciating how he has influenced the next generation of hockey voices — and not just stylistically.
"I've never seen someone as universally loved as Doc," Brendan Burke, the play-by-play voice of the New York Islanders, told me this week. "I was going to go on Twitter and share some stories before I looked and realized everyone had a story like mine to share. It made me feel less special, and made him feel more special to me at the same time."
Burke, 36, grew up in northern New Jersey listening to New Jersey Devils broadcasts, so he gets to play the "I've liked this band since before their first album" card, even if Emrick had called games for the Philadelphia Flyers and for ESPN back in the 1980s. He was the voice of the Devils locally before becoming the voice of the NHL on FOX nationally in 1995, and later the lead play-by-play announcer for NBC beginning in 2005 on the Outdoor Life Network, which would become Versus and then NBCSN.
"He's been the voice of hockey my entire life. You're starting to see broadcasters where that's the same story. You're going to hear more and more of that coming into the game," Burke said.
Everett Fitzhugh is one of those broadcasters. The new play-by-play voice of the Seattle Kraken grew up in Michigan listening to Canadian voices like Jim Hughson, Bob Cole and Harry Neale. It wasn't until he got to college that he appreciated Emrick while watching him on Versus.
"I loved his descriptiveness. I loved the passion he had. It could be a Tuesday regular-season game and he's calling it like it's Game 7 of the Stanley Cup Final," Fitzhugh told me. "He takes every game and makes it a production. And he's so knowledgeable: He can call three different games in a week, with six different teams, and he's an expert on every one of them."
It's said that greatness borrows and genius steals, and that's never more evident than when you start playing "spot the influence" with a broadcaster or writer. There are technical aspects of Emrick's approach to broadcasting that have been adopted by others. Burke tries to call the game to his tempo. Los Angeles Kings broadcaster Alex Faust mentioned being inspired by Emrick's "diligence and demeanor" as an NHL announcer.
But inspiration is not emulation, and in the case of Emrick it's because there is no emulating him. "No one else can do it. If I use his vocabulary or was as descriptive as he is, people would tell me to shut up. It just doesn't work. He's overly descriptive for television, but it works for him," Burke said.
It's a simple recipe:
Emrick calls the game as if it's on the radio, filling nearly every moment of play with observations, explanations and asides. His voice acts as a soundtrack to the action as much as it details what's happening.

His vocabulary is unparalleled, both in scope and in inventiveness. Shots are "waffle-boarded away" by goalies. Pucks "careen" off the boards. Blogger Stephen Douglas of The Big Lead once counted 153 different verbs Emrick used to describe puck movement in a single broadcast.

He combines those two attributes to "match the flow of the game," as Burke puts it.
My favorite example of this is when there are multiple scoring chances around the net, and the goaltender is up to the task of stopping them. Emrick would begin at one level — "Shot by Letang and a save, rebound and another save!" — before increasing his sense of urgency to, "The puck is STILL LOOSE, here's A CHANCE BY MALKIN and LUNDQVIST HAS IT!" And then, as the whistle sounds, he brings us all back down to earth while acknowledging what we all just experienced: "And play is stopped … myyyyyy goodness."
There's no one else I've ever heard who could do that.
"For me, the primary job of a play-by-play guy is to bring the energy inside the building through the television. It's not about identifying players or rattling off statistics. It's bringing what you're missing by being at home [into your] home. He does that better than anybody. When he gets on edge, you get on edge," Burke said.
That enthusiasm is something that early on drew Burke to Emrick.
"I remember as an aspiring broadcaster being fascinated that one person could say the word 'SCORES!' and every person says the same word, but his is different. It's a weird concept. He says that word, and it feels different. I didn't understand it at the time, but it's the energy and passion that he has in calling the game that explodes in that moment, and makes you feel it," Burke said.
If would be naïve and inaccurate to say that Emrick made everyone feel the same way. Every broadcaster has critics, and there are fans who simply couldn't wade through Doc's shtick while watching the game.
"It's hard to even listen to them," Burke said of those detractors. "To me, he's perfect. I mean, obviously he's not, but I say that meaning the way he calls a hockey game is the way I want to hear it. If you don't like hearing that, then you probably aren't going to like me, then."
Some of this derision was born from juxtaposition. Some viewers preferred classic Canadian voices. Others wanted an announcer like Gary Thorne, who was Emrick's contemporary and the other prominent national voice on U.S. hockey broadcasts during the past 30 years. To this day, there's a little bit of a Beatles vs. Stones thing with fans when it comes to Emrick and Thorne: One was an artist with a unique sound, while the other was only rock and roll, but we liked it, as my colleague John Buccigross explains:
"Because they're so different, people are going to be drawn to one of them, because that difference was so big. I've always had a love of language and craftsmanship, which is what Emrick brought. But I also love rock and roll, and no one cut through a crowd like Gary Thorne's voice did. You can't measure play-by-play. It's not a metric. It's not a shooting percentage. But it's 75 percent voice. If you're going to be a bodybuilder, you gotta have big pecs. [Arnold] Schwarzenegger always won because he was the biggest dude. Same with broadcasting: You had that voice, that's a big start. Gary had that voice."
If Thorne was percussion, then Emrick was the string section. Both drew out the emotions of a hockey game in different ways. But what made Emrick different, and in my opinion better, was his earnestness. Not just the kind that he exhibited this week in his news conference, when he would respond to reporters' questions with ones of his own like "and how's your dog?" and "I think the first time we spoke was when you were around 5 years old, correct?"
It was also in his approach to hockey, which was conversational and hospitable where other broadcasters traffic in bombast.
"For the casual hockey fan, he had a way of making you feel welcome," Fitzhugh said. "You see it a lot in local broadcasters, because they're the voices of those teams. They're going to have inside jokes about them. On a national level, when you have season-ticket holders all the way down to the people watching their first game, you have to deliver on a level that's interesting to the first-timer and not condescending to that 45-year season-ticket holder. Doc does a great job explaining the game, and does it in a way where he's not talking down to people."
I truly believe one of the greatest missions of the hockey media is to grow the game. We can do that by covering the sport or by being critical of its stewards. We can do that by amplifying new voices and highlighting progress in the game. Emrick has a lot of gifts as a broadcaster and virtues as a person, but among the greatest of them is his ability to invite so many people into the tent to watch the show.
Al Michaels, another iconic hockey voice, said it best as a surprise participant on Emrick's retirement call: "I think of you much as I think of John Madden [in the NFL], as a man who has been as important to the National Hockey League as anybody, and I say that because you have made the game so much more relevant, interesting, relatable, exciting. I think just in listening to you — people who love hockey and are in that cult, we love you — you've also brought a lot of people into the game who might not otherwise have paid attention to hockey."
Now that mantle falls to announcers like Faust and Burke and Fitzhugh, who will be the first local voice in Seattle Kraken history. It falls to every announcer who was ever inspired by Doc Emrick's command, cadence and compassion. There won't be another Doc Emrick in hockey. But hockey would do well to be a little more like Doc Emrick.
---
1. Blackhawks GM Stan Bowman made a dozen national and local media appearances this week to discuss the direction of the team, in the wake of captain Jonathan Toews' on-the-record discontent about a rebuild.
"The expectation for the other leaders on this team and myself is to come ready to training camp every year to be a playoff team," Toews told The Athletic. "We prepare ourselves to win a Cup for our fans. I've never been told that we were going through a rebuild. That has never been communicated to me, for that matter. A lot of this comes as a shock because it's a completely different direction than we expected."
Except it … wasn't a shock? Bowman said he talked to Toews and the team's leadership during and after the season about the direction of the team.
"Maybe the concept that everything is changing, that is something he was having a hard time wrapping his mind around? I don't want to speak for him, I'm just guessing. I think maybe that's where there was a disconnect," Bowman told our Emily Kaplan. "In reality, there wasn't a huge transformation in the team. Our team will continue to invest and develop young players over the next one year, two years, three years, so we can surround Jonathan with a better supporting cast to take some of the load off his shoulders. Because it's hard for a couple guys to carry that load."
So there you go. The team is just going to rebuild for like three years so it'll be ready when [checks notes] Toews and Patrick Kane are unrestricted free agents? Oh …
2. I always love when general managers who are clearly rebuilding attempt to define their rebuild as anything but a rebuild. To Bowman's credit, he used the R-word: "Rebuild … I'm not afraid of that word. But what I don't want it to mean is we're trying to tear this team apart and trying to bring in a whole new group of players in the next year and a half. But we do need to rebuild the depth of our team. We don't have enough players, top to bottom, to compete with the top teams."
Obviously you rubes hear "rebuild" and you think "teardown." What the Blackhawks are doing is rebuilding the entire depth of their team, save for a few players to whom they gave trade protection. It's not demolishing the building if there are two or three support beams in the basement still standing, obviously!
Bowman & Co. seem to be taking inspiration from two recent rebuilds. They released their own "Rangers Letter" to fans, explaining that old favorites will depart and young faces will arrive and there will be much pain. But they're also doing the Los Angeles Kings thing; the Kings are hoping their youth movement syncs up with their aging core of Anze Kopitar (33), Dustin Brown (35) and Drew Doughty (30).
And it might work! The Rangers bounced back quickly with draft luck and a free-agent prize, Artemi Panarin — whom Bowman shipped away in 2017 out of contractual concerns, regrettably. The Kings amassed a deep prospect pool and now have a jewel in their crown with Quinton Byfield. ESPN's Chris Peters had Chicago with the ninth-best prospect pool in the NHL at the start of last season, and they've since added first-rounder Lukas Reichel. Why tear down when you can rebuild?
3. That said … let's fantasy cast the core to new locations: Kane goes home to Buffalo to be Jack Eichel's new BFF (perhaps after Taylor Hall takes the money and leaves); Duncan Keith reunites with Joel Quenneville in Florida; and Toews becomes the French-speaking captain of the bleu, blanc et rouge in Montreal. And no, we have no idea who the Blackhawks get in these trades or how it all works under a flat cap. That's why it's fantasy casting, silly.
---
Listen To ESPN On Ice
Emily Kaplan and I take our annual look at the top 10 stories of the NHL season, from EBUGs to bubble hockey. Plus, Bucci joins us to talk about Doc Emrick and offers some insight into the future of college hockey. Subscribe, rate and review here! And thank you to everyone that supported our podcast. Despite unprecedented competition, our numbers remained strong from the summer through the end of the season.
---
Winners and losers of the week
Winner: Seattle fitness
Gary Roberts has been one of the most important behind-the-scenes influencers on player training and fitness for the past several years. The Kraken hired him as their first "sports science and performance consultant," with an eye on helping to design the team's training center.
Losers: Norfolk fans
The Admirals became the second ECHL team to opt out of the 2020-21 season due to restrictions stemming from the COVID-19 pandemic, joining Atlanta on the sideline. The team cited Virginia's cap on indoor attendance at 1,000 fans. Wait 'til next year, and all of that.
Winners: Vegas Fourth Jerseys
Am I crazy for loving Vegas' 4th jersey? https://t.co/aQzY5BeLAl pic.twitter.com/x4s5jS2WnS

— Pete Blackburn (@PeteBlackburn) October 21, 2020
I have no idea what a "reverse retro" jersey is, although Icethetics has been told that they're "throwbacks with a twist." Now, we know what you're thinking: How can the Golden Knights have a "throwback" when they've been around in the NHL for a shorter time than Mathew Barzal. Well, Sin Bin reports that these jerseys are inspired by the Las Vegas Thunder, the International Hockey League team that played there through 1999. Also, these jerseys are straight fire and arguably better than at least two of the team's other sweaters.
Losers: Lovers of Good Ducks jerseys
More 4th jersey leaks? Here's what to expect for the @GoldenKnights and @AnaheimDucks when the Reverse Retro series becomes official. Details on the blog.https://t.co/btEIDG89P7

— icethetics (@icethetics) October 21, 2020
The Ducks' Wild Wing jerseys from back in the day were fun. Atrocious, but fun. This is just atrocious. What should be a homage to the team's colorful past instead looks like they took the original design and soaked it in Minute Maid. Gross.
Winner: Joe Thornton
We can't say that signing with a franchise that hasn't won the Stanley Cup since 1967 and hasn't won a first-round playoff series since 2004 puts Thornton within reach of his first championship. But he's closer with the Leafs than he would have been with the Sharks, to be sure. Here's hoping Thornton finally raises that Cup … and also that he takes the time to recreate photos that Patrick Marleau took with Auston Matthews and Mitch Marner, and texts them to Patty back in the Bay Area as a goof.
Losers: People who hate the Leafs but want Joe Thornton to win the Stanley Cup
A bit of a Jumbo's Choice here, innit?
---
Puck headlines
In case you missed this from your friends at ESPN
Offseason grades for all 31 NHL teams. Who passed the flat-cap test the best?
Barcelona and Real Madrid have their issues, but who needs to win El Clasico more?
BARCELONA — Let me remind you of a Clasico-related statistic which is absolutely jaw-dropping and seems to be barely mentioned.
Real Madrid are, pound for pound, the most successful and prestigious club side in the history of football. No doubt about it. Not because they've won the most Spanish league titles by far (34 to Barcelona's 26), but because they have utterly dominated the most powerful footballing continent since the European Cup was invented in the 1950s.
Whether it's the early stranglehold of five straight European Cup wins from 1956-1960, the epic middle stage between 1998's redemption and perhaps the greatest goal in a Champions league final (Zinedine Zidane's volley in 2002), or the first hat trick of wins (2016-18) since Bayern Munich (1974-76), Real Madrid write big football stories and paint their signature across their continent with a flourish.
So, consider this: Real Madrid, this footballing behemoth, have retained the Spanish title just once — yes, please check your eyes, ONCE in the last 30 years.
This is the competition which many top footballers and managers emphasise, over and again, is the most significant prize. The 38-week slog; a litmus test not simply of budget or skill but of grit, determination, character, luck and sheer bloody-mindedness. The competition which Zidane said made him the "happiest" to have won.
From 1990 onwards Los Blancos have won the title in 1995, 1997, 2001, 2003, 2007, 2008, 2012, 2017 and 2020. But for the exception of the Fabio Capello/Bernd Schuster follow-on triumphs from 2006-08, Real Madrid conquering La Liga has been followed by either Deportivo La Coruna, Valencia, Atletico or Barcelona taking it away from them.
What's that saying about it being easier to reach the top than to stay there? A priori, this was their year. The opportunity to end this dismal record was simply beckoning to them: Barcelona and Valencia in various degrees of disarray; Atletico Madrid fighting to keep hold of Jan Oblak and Jose Gimenez, without the budget to reinforce heavily and Thomas Partey heading to London; Sevilla threatening but without any experience of winning Spain's Primera Division since 1946.
It's not quite Madrid's league just for the taking, but a certainly a golden chance to remove a stain on their otherwise gleaming record and retain their crown.
Cut to the present. As the first Clasico of the season approaches, Madrid are admittedly just a point off the top, having played fewer matches than the leaders, and are ahead of traditional rivals Atleti and Barca — who both have a game in hand.
However, Zidane's team has degenerated from playing pretty unimpressively in the first few weeks to performing absolutely atrociously against newly-promoted Cadiz to lose 1-0 last weekend. As the proud Frenchman, such a magnet for success both as a footballer or coach, admitted glumly afterwards: "If Cadiz had stuck two or three past us in that first half then no drama, we'd have had no excuses." And this about a modest Andaluz club which had never won away at Real Madrid before in their history and only tasted top division football for the first time in 1977.
Madrid then followed up that result with something approaching humiliation in a 3-2 defeat to Shakhtar Donetsk in the Champions League on Wednesday. The underlying trend, despite what La Liga's table says, is that Madrid's players, in the main, look jaded, not sufficiently committed to the hard work which made them domestically formidable last season.
From powerful to puny in just a few short weeks. There are exceptions, and the prognosis is not wholly gloomy, but Saturday's Clasico at Camp Nou comes at a bad time. Part of Madrid's apparently allergic reaction to winning the Spanish title in the first place is that they also have an awful habit of competing poorly in the first Clasico of their title-defence season.
– Madrid ratings: Real slump to dismal defeat vs. Shakhtar
– Barca ratings: Messi, Ansu star in rout of Ferencvaros
Indeed Los Blancos haven't won that first Clasico as defending champions since December 2007. It was a firm win, at Camp Nou, with a lovely Julio Baptista lob over Victor Valdes as its emblem — Madrid's second consecutive Spanish championship was eventually won at a canter a few months later. But that win unleashed a whirlwind of new football ideas, personalities and playing philosophy at Camp Nou, with Pep Guardiola being wooed by Joan Laporta not long after Baptista's shot hit the net … though that's a whole different story.
A Clasico which is played on matchday seven, in mid-October, simply can't be called "title-crucial" or a definitive moment for either Barcelona or Madrid. Nevertheless, an away win for Zidane's troubled side would be a massive first step away from this three-decade long tendency to go all weak and floppy in their title defence.
Lose and there's certainly time to regroup, recoup the distance and end up with the trophy; win, however, and there would definitely be psychological significance — positive for the reigning champions and negative for the Bambi-steps which Ronald Koeman and his band of talented youngsters are beginning to take in Barcelona.
Unless you're a diehard Barcelona fan it's arguable that if Madrid were at full speed, if most of their senior players performed around their best, then Koeman's re-shaping of the squad and his daring penchant for trusting ability irrespective of youth might be buffeted off course. Temporarily at least.
Ale Moreno thinks Lionel Messi has finally realised the "false nine" position doesn't suit his style of play.
Barcelona are undoubtedly working harder, look less lackadaisical, in fact disinterested, than under Quique Setien. In patches against a paper-thin Villarreal, throughout the 10-man victory over Celta in Vigo, for first-half spells in the 1-0 loss against Getafe, then for the majority of their 5-1 thrashing of Ferencvaros in the Champions League, Barcelona have been genuinely fun to watch.
There's a huge wave of freshness, impishness, hard work, inventiveness and daring from Sergino Dest, Pedri, Francisco Trincao, Ansu Fati, Ronald Araujo and even the long-absent and mysteriously dopy Ousmane Dembele. Bit by bit, Frenkie de Jong is dusting off his armoury of skills, Lionel Messi isn't sulking, Miralem Pjanic will soon be pushing to take Sergio Busquets' position and Philippe Coutinho has become a much more confident, impulsive footballer since his boot-camp reboot saw him win the Treble on loan at Bayern Munich.
Nevertheless there's a scenario where four guys who are 20 or under — Trincao, Pedri, Ansu and Dest — have important roles against Madrid. Ditto two constantly injured strangers to the first-team, Junior Firpo and Dembele.
These are all, in the heat of a 'no quarter given' battle, decent sized risks. And Koeman now has a big dilemma as to whether Antoine Griezmann, who just can't catch a break and probably wouldn't be confident of catching a beach ball if it were thrown to him from close range, should start. Good player, good guy, but a good distance away from looking convincing.
So if Zidane had an XI with Thibaut Courtois, Dani Carvajal, Sergio Ramos, Raphael Varane, Ferland Mendy, Luka Modric, Federico Valverde, Casemiro, Toni Kroos, Karim Benzema and Eden Hazard all fit, in decent form and brimming with competitive aggression, you'd back them to come to Camp Nou and win. But he doesn't. Far from it.
That Casemiro and Courtois are by far two of Madrid's three most important footballers — the other being Ramos — tells you a lot. This stellar, scintillating, star-driven football outfit don't yet have a player — not Benzema, not Vinicius Jr. (yet), nor Hazard (when?), certainly not poor old €60m striker Luka Jovic who is making Griezmann's current form look like Ballon d'Or standard — who takes our breath away. No creative magician; no relentless goal poacher.
Benzema is a diamond, but he's more of an acquired taste and, currently, he's struggling for form; Vinicius is gradually adding brains to his brio and bravado; while Hazard, according to his Belgium teammate Courtois, will "erupt" soon. Well, perhaps in mid-November according to the smoke signals from Real Madrid's Valdebebas training ground.
Will Ramos definitely be fit and on form? I would have said that he'll play come hell or high water but why is it always on him, aged 34 and perpetually the hungriest man at Real Madrid, who's got to produce the Seventh Cavalry act in matches which threaten to slip away?
Ale Moreno slams the first-half performance of Real Madrid in their 3-2 defeat to Shakhtar Donetsk.
Casemiro and Valverde are still shaking off the jet lag that comes from respective 30-hour round trips from Brazil and Uruguay and the pressure of playing for their nations in South America's World Cup qualification process. But it's Toni Kroos who perturbs me. All season, after a masterclass in winning the title, the German midfield manipulator has been second to the loose ball, slow to press and disinterested in running back to cover gaps. This Madrid team can't afford that.
– Stream ESPN FC Daily on ESPN+ (U.S. only)
– ESPN+ viewer's guide: Bundesliga, Serie A, MLS, FA Cup and more
And they simply don't score a sufficient number of goals either. Not killer goals when they are on top; not lucky goals when they pinch a win; not goals to get out of jail with a draw; not goals which divert in off Benzema's backside.
In their last 14 Liga matches you'll find eight single-goal wins, one 0-0 draw and a single goal defeat — perpetually teetering on a tightrope. Those single goal wins look like things of shimmering beauty when you look at them as stats, they count for three points just the same as a 5-0 thrashing and they won Zidane's squad the title, but the margin for error, if it continues as it has this season, is too slim. Only three two-goal margins in 14 matches for a club like Madrid is not a healthy sign.
Still, Madrid are jam-packed full of talent and character and are liable to squeeze some of those attractive facets out of tired limbs and minds when they see Blaugrana stripes in front of them this weekend. Barcelona are twinkle-toed, slender, and deft — but, last week, Getafe showed Madrid how to out-muscle them.
If Koeman gets his team selection right and they play at a high, confident tempo, then Barca can win. But if Zidane is to become the first Real manager in 30 long years to retain the title then it's Madrid who go into the game knowing that they 'must' win.