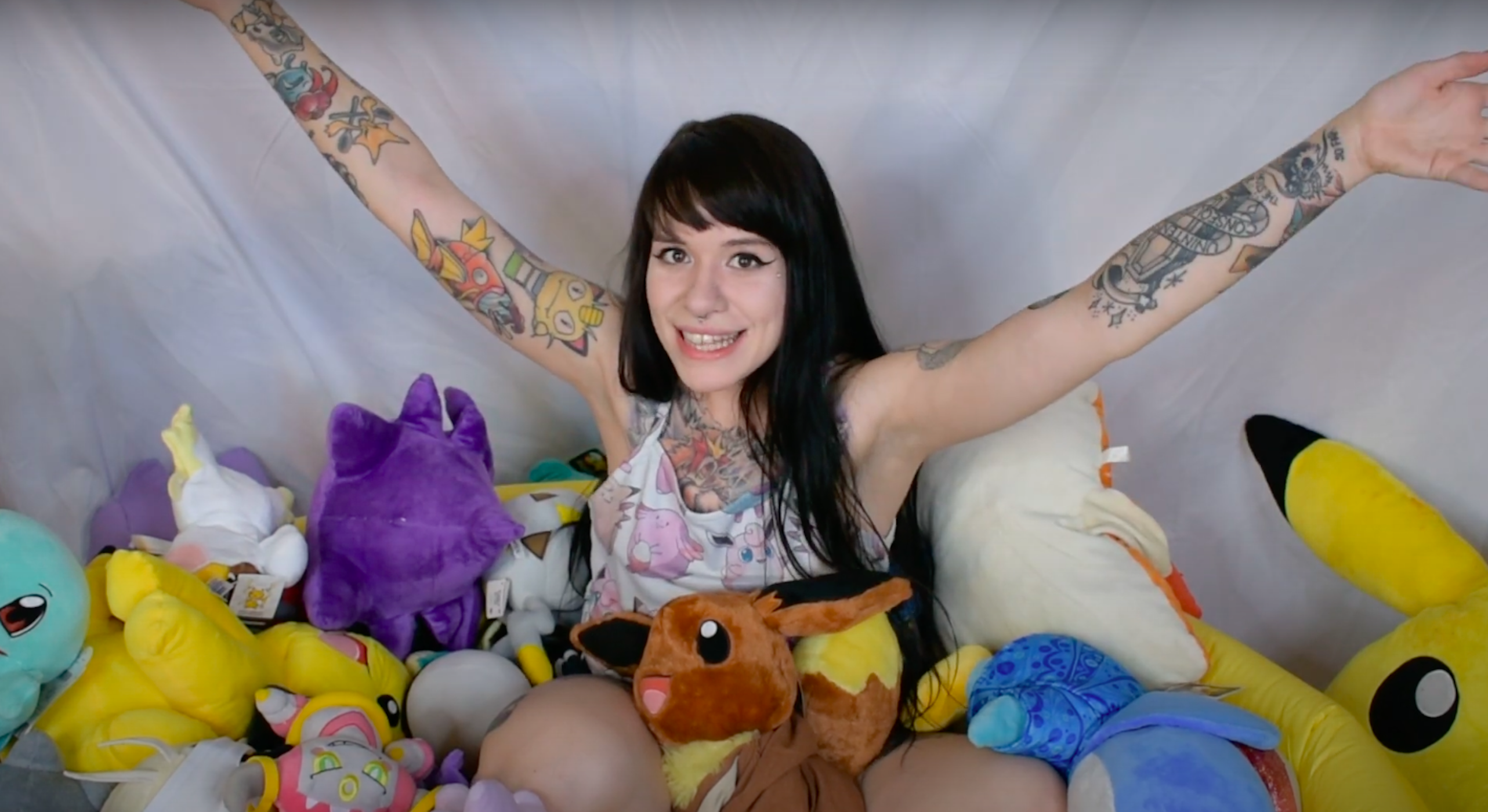 Popular Twitch streamer and TikTok star Pokeprincxss was bullied in school for loving video games. Her obsession with Pokemon, in particular, formulated much of her childhood memories. When she grew up, she got tattoos of her favorite Pokémon and built a successful persona based on her love of the franchise, including merchandise featuring fan art. 
When she trademarked her username two months ago, Nintendo responded with a cease and desist, forcing her to pay back earning from the merch, shut down her online shop and refund thousands of dollars to fans who bought merch they hadn't yet received, and most upsetting to her, change the name she'd been using online for eight years. 
But she also wonders if her presence online as a sex worker had an impact on Nintendo's choice to target her. She's had an OnlyFans for more than a year, where she posts adult content. Part of the trademark filing for Pokeprincxss listed "adult entertainment" as its purpose (alongside selling merch like sweatshirts and tank tops). 
"[The Pokeprincxss brand] became more than just me being a Pokémon lover, [it became] a girl trying to empower others to be themselves and not care what other people think," Pokeprincxss — now known as Digitalprincxss—told me. "And with sex work, I wanted to help end a stigma against sex work and looking down on sex workers as not people—we're still humans that do things. Pokeprincxss just turned into empowering people."
Digitalprincxss said she used LegalZoom to issue the trademark, an online legal service that offers trademarking with the help of an attorney for $600. But when Nintendo challenged it, she said, the LegalZoom attorney informed her that the service doesn't handle third-party complaints, and wouldn't be able to help her fight Nintendo's complaint. She filed the trademark in May and abandoned it three months later, in late August, after Nintendo sent a cease and desist letter. 
In a YouTube video announcing the change and explaining that the company she loves threatened to sue her, she appears calm and accepting of the situation.
She told Motherboard that when Nintendo first sent her a cease and desist in August, she was upset—but accepted that the name had to change. Two months passed where she accepted the situation, but when she had to actually change the name on her socials, she says it hit her again.  
Having to change a pseudonym you've used for eight years, and built a successful online persona under, takes an emotional toll. Last week, she held a Twitch stream to commemorate her last one under the name Pokeprincxss, and cried throughout; on TikTok, she made a last post as that username, also through tears.  
In retrospect, it would be easy to criticize her for being naive enough to try to sell Nintendo trademarked characters—after all, Nintendo is notoriously protective of its intellectual property. In 2016, Nintendo sent a cease and desist to the makers of Pok_é_mon Uranium right after it launched—after nine years of public, community effort. Also in 2016, Nintendo filed DMCA takedowns against 500 fan-made games. In 2018, it sent a cease and desist for a 3D-printed design of a bulbasaur planter, and reached a $12 million settlement in a lawsuit against pirated game sites. 
Pokeprincxss wasn't pirating Nintendo's games, however. Her reasoning for selling fan art merch was that other popular YouTubers and Twitch personalities, and people at conferences, do it seemingly without problem, and even with names that riff on the Pokémon franchise. 
She also theorizes that filing a trademark of the Pokeprincxss name under many of the same categories as Pokémon's brand may have set it off, forcing Nintendo to defend its own trademark to keep its rights.
Nintendo's family-friendly image has never stopped people from being horny online about Luigi's dick size or Bowsette cosplay, but Digitalprincxss thinks being a sex worker who sold fan art merchandise may have crossed the line for the company. 
"Nintendo doesn't want people to think that I'm in any way, shape or form affiliated with them, or that I have a partnership with them, and it all comes back to me being an adult entertainer," she said in the YouTube video announcing the name change. 
She said she was forced to pay Nintendo back all of the money she made on merch featuring Pokémon characters, but that was still less than what she had to refund people who'd bought merch from her store but hadn't yet received it, totaling $30,000. Nintendo's revenue for 2020 was more than $12 billion. 
Nintendo did not respond to a request for comment in time for publication.
But in all of her interviews about the name change, on her social media, and to me in our conversation, she has been emphatic that she holds no ill will against Nintendo or their decision, and sees herself and completely at fault for being misinformed about trademark laws. 
"I just want to make sure people know that I am not upset at Nintendo, I don't want people to cancel Nintendo—I'm going to show support till the day I die," she told me.
"I wasn't crying or upset because of Nintendo. I was upset because I lost a brand that I worked so hard for… I was never trying to profit off Pokémon. I wasn't trying to be a brand off of Pokémon, I was trying to be a brand of myself."
Malaysia rulers to meet amid talk of emergency declaration
Malaysia's King Al-Sultan Abdullah will meet the country's sultans to discuss proposals put forward by Prime Minister Muhyiddin Yassin, the palace said on Saturday without elaborating on their content, amid reports that Muhyiddin wants to impose a state of emergency.
Muhyiddin met the king on Friday to present a proposal that would lead to the suspension of parliament, sources told the Reuters news agency. The potential move has been widely condemned by the country's opposition politicians and greeted with alarm by Malaysians.
The king would meet the other rulers "soon", Ahmad Fadil Shamsuddin, the Comptroller of the Royal Household, said in a statement. The prime minister's office has not commented on the proposal.
Muhyiddin has faced questions over his support in the 222-seat parliament since he was appointed prime minister in March, and pressure has grown since the opposition leader and former Deputy Prime Minister Anwar Ibrahim said last week he had secured the backing required to become prime minister.
Malaysia is also battling a sudden resurgence in the outbreak of COVID-19.
The country now has more than 24,000 cases of COVID-19, more than double the number a month ago. Upwards of 700 and 800 cases a day have been reported for the past week and on Friday the country recorded 10 deaths, the highest since the pandemic began.
COVID-19 spike
Most have been in Sabah, where a state election took place on September 26, but the outbreak there has also helped seed clusters in the peninsula – a two-hour flight across the South China Sea – and Kuala Lumpur and Selangor – the country's richest state – have been under a partial lockdown since October 14.
Opposition leader Anwar Ibrahim said he was "deeply concerned" at the reports of an emergency.
"A state of emergency is declared when there is a threat to our national security," he said in a statement. "But when the government is itself the source of that threat then a state of emergency is nothing more than the descent into dictatorship and authoritarianism."
Of course we're all fed-up of politics. But even if they suspend Parliament and declare emergency, the politicking won't stop. Because suspending Parliament IS a political move, NOT a public health one.

— Marina Mahathir (@netraKL) October 23, 2020
A pause from politicking… you mean a pause from democracy? It was a slippery slope and we're now at the bottom of it. Congratulations

— Sharifah Hani Yasmin (@sharifahyasmiin) October 23, 2020
On Friday, Muhyiddin's cabinet held a special meeting that included the chief of police and head of the armed forces. He then flew to the east coast for a two-hour audience with the king. Local media reported unnamed sources within the government saying an emergency was necessary because of "political instability" and the COVID-19 outbreak.
In an open letter, seven former presidents of the Malaysian Bar Council said Malaysia's success in tackling earlier waves of the disease showed existing laws were sufficient.
"There is no violence, or threat to the security of our nation," they wrote, urging the government to reconsider the situation.
"If the predominant objective of the suggested declaration is to suspend parliament, and to gain emergency powers then it will obviously be an unlawful design which, if unchecked, will disenfranchise and deceive Malaysians."
Budget vote
The next session of Malaysia's parliament is scheduled to begin on November 2, with the government facing its first test within days when the budget is presented on November 6.
A failure to pass the spending plans could be seen as a vote of no-confidence in the government and lead to a general election.
During the last session in July, Muhyiddin, who governs in a loose alliance with a number of ethnic Malay and Islamic parties, won the vote to replace the speaker by a majority of just two.
Multi-ethnic Malaysia was last governed under an emergency in 1969, after race riots in Kuala Lumpur left scores of people, most of then ethnic Chinese, dead.
Under the order, the constitution was suspended, parliament dissolved, and the functions of government moved under a National Operations Council. A curfew restored order to the streets, but the media was muzzled and prominent opposition politicians were arrested under provisions that allowed for indefinite detention.
Parliament reconvened in February 1971, and political life resumed, but the actual emergency ordinance was not fully repealed until 2013.
Galapagos sees record rise in penguins, flightless cormorants
A drop in tourism and weather patterns associated with La Nina are thought to have helped the bird species in the remote archipelago.
The population of Galapagos penguins and flightless cormorants, two species endemic to the remote islands, has seen a record increase, according to study results released on Friday.
The Galapagos penguin is one of the smallest species of penguins in the world, measuring up to 35 centimetres (14 inches) and the cormorants on the islands are the only type to have lost their ability to fly. They have developed diving skills instead.
"The number of cormorants has reached a record number, according to historical data dating back to 1977, while the number of penguins is at the highest since 2006," said a statement from the Galapagos National Park, which carried out the census.
The population of Galapagos penguins, the only ones living on the earth's equator, increased from 1,451 in 2019 to 1,940 in 2020, it added.
Flightless cormorant numbers increased from 1,914 to 2,220 over the same period.
The Galapagos Islands lie 1,000 kilometres (625 miles) off the coast of Ecuador and are home to species found nowhere else in the world.
The study was carried out by the park and the Charles Darwin Foundation in September. The main colonies present on the Isabela and Fernandina islands and the Marielas islets which are to the west of the archipelago have been classified as a natural heritage site.
Paulo Proano, Ecuador's minister of environment and water, said the census results reflect the "good state of health of the population" of the Galapagos' birds.
The park said the presence of the La Nina climatic phenomenon, which helps to provide more food for the birds, had contributed to the increase in their populations.
Another factor was the coronavirus pandemic, which has reduced disturbances to their nesting areas because of the drop in tourism, the park added.
The islands, which served as a natural laboratory for the English scientist Charles Darwin for his theory of the evolution of species, takes their name from the giant tortoises that live there.
US to base Coast Guard ships in western Pacific to tackle China
The United States will deploy Coast Guard patrol ships in the western Pacific to counter what it described as "destabilizing and malign" activities in the region by China, the country's top security adviser said on Friday.
The US Coast Guard was "strategically homeporting significantly enhanced Fast Response Cutters … in the western Pacific," White House National Security Advisor Robert O'Brien said in a statement.
Describing the US as a Pacific power, the statement added that China's "illegal, unreported, and unregulated fishing, and harassment of vessels operating in the exclusive economic zones of other countries in the Indo-Pacific threatens our sovereignty, as well as the sovereignty of our Pacific neighbors and endangers regional stability".
It said US efforts, including by the Coast Guard, were "critical to countering these destabilizing and malign actions."
The Coast Guard did not immediately respond to a request for comment on the statement, which came just ahead of a planned visit to Asia by US Secretary of State Mike Pompeo.
Pompeo led a meeting of the so-called Quad in Tokyo this month. Washington hopes the grouping of the US, Japan, India and Australia can act as a bulwark against China's growing assertiveness and extensive maritime claims in the region, including to nearly all of the South China Sea.
On Sunday, Pompeo will begin a five-day tour of India – where he will be accompanied by US Defense Secretary Mark Esper – and then he will continue on to Sri Lanka, Maldives, and Indonesia. Maritime security and a "free and open Indo-Pacific" will be high on the agenda, the State Department said.
Incursions
In July, Esper condemned a "catalogue of bad behaviour" in the South China Sea over the previous months, accusing the Chinese military of having sunk a Vietnamese fishing boat, harassing Malaysian oil and gas vessels and escorting Chinese fishing fleets into Indonesia's exclusive economic zone.
O'Brien added that the Coast Guard, which is under the Department of Homeland Security (DHS), was also studying whether to permanently station several of its patrol ships in the area of American Samoa in the South Pacific.
Last month, Indonesia protested after Chinese coastguard ships travelled into its exclusive economic zone, which is situated between its own territorial waters and international waters and where the state claims exclusive rights to develop natural resources.
China claims almost the whole of the South China Sea as its own. Vietnam, Malaysia, Taiwan, and the Philippines also claim the parts of the sea nearest to their shores.
The US Navy regularly conducts what it calls "freedom of navigation" operations in the disputed sea – angering China, which has developed military outposts on islands and islets.