In his role as FIFA's chief of football development, former Arsenal manager Arsene Wenger is one of the key figures charged with overseeing the process of adapting and improving the laws of the game.
Over the past few months, Wenger has been busy drafting up a series of tweaks and changes — some more radical than others — that he thinks will transform football for the better.
First and foremost, Wenger would like to overhaul the offside rule, though he has also suggested wholesale changes to throw-ins and corners.
Explaining his vision to L'Equipe this past week, the Frenchman offered a list of the alterations he'd like to make to the current rulebook.
Here's a point-by-point breakdown of Wenger's ideas, plus a few more he might like to consider.
– ESPN+ viewer's guide: Bundesliga, Serie A, MLS, FA Cup and more
– Insider Notebook: Man United transfers special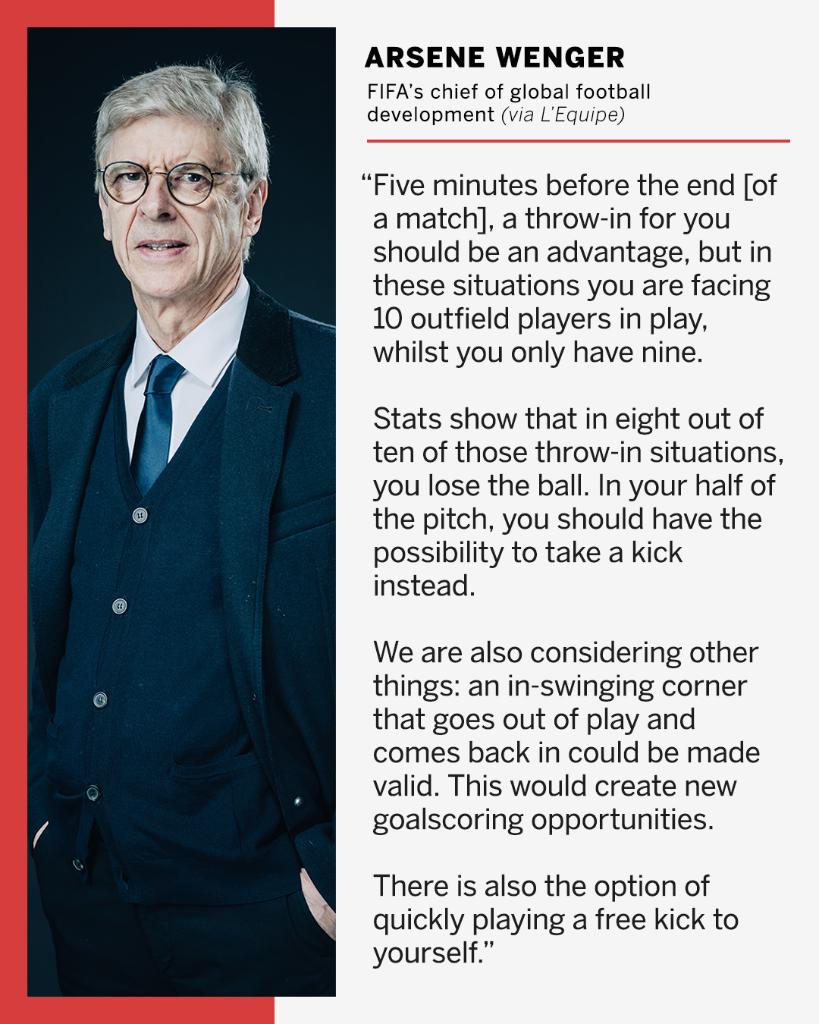 Overhauling the offside rule
"For the moment, you are offside if a part of your body that you can score with sits ahead of the body of a defender. I would like it to be that there is no offside so long as a [single] body part which a player can score with is in line with the defender. This could be too much of an advantage for an attacker, because that obliges the defenders to play higher up."
The fundamental change Wenger would like to make to the offside rule would give attacking players much more leeway when attempting to dart behind the defensive line or snap up chances in a crowded penalty area.
– Johnson: How VAR has changed in Premier League for 2020-21
– How VAR decisions have affected every Prem club this season
It would mean that if any part of the attacker's body (with which they can legally play the ball) was level with the last defender, the attacker would be considered onside — basically the polar opposite of the current, overly fastidious iteration of the rule.
For example, if an attacker scores with the majority of their body in an offside position, but a stray toe or shoulder is found to be level with the last defender, the attacker would be considered onside and the goal would be perfectly legal.
Of course, long before VAR started flagging nano-slivers of toes and armpits, the offside law was originally implemented as a simple measure to prevent forwards from goal-hanging for 90 minutes.
If they were really serious about it, FIFA would simply prohibit all attacking players from entering the opposing 18-yard box at any point, which would therefore force all goals to become long-range rockets into the very top corner.
Replacing throw-ins with kick-ins
Liverpool's throw-in coach Thomas Grønnemark insists teams still undervalue the importance of throw-ins.
"I would also like to change the throw-in rule: five minutes before the end, a throw-in for you should be an advantage, but in these situations you are facing 10 outfield players in play, whilst you only have nine. Stats show that in eight out of 10 of those throw-in situations, you lose the ball. In your half of the pitch, you should have the possibility to take a kick instead."
After crunching the numbers and noting that attacking teams generally find little to no advantage from taking traditional throw-ins during the latter stages of matches, Wenger proposed a radical notion of allowing attacking teams to take rush "kick-ins" instead.
Allowing attacking teams to get the ball in motion quickly would negate the perceived numerical disadvantage they face in having a man leave the field, however briefly, in order to take a throw-in.
It means attacking teams could restart play almost immediately or choose to launch a long-ball from the touchline, deep into enemy territory, should they be chasing a late goal.
Of course, this "Hail Mary" could be easily countered by crafty defenders putting their body or face on the line and simply standing directly in front of the kick-in taker — but that's a matter for the likes of Sean Dyche to contend with.
Rory Delap's long throw became a thing of legend during @stokecity's debut #PL season 🔴⚪️#PLMoment pic.twitter.com/nedTbKq4sL

— Premier League (@premierleague) April 25, 2017
It's possible that kick-ins would help facilitate a more open, flowing game in the final stages of matches, but it's also possible that they would create less transition, fewer counterattacks and fewer breakaway goals.
After all, is there not a simple joy in watching a player absolutely launch a long throw into the mixer like a medieval trebuchet and revelling in the chaos that ensues? After all, the Premier League hasn't been the same without Rory Delap.
Plus, with throw-ins a thing of the past, throw-in coach extraordinaire Thomas Gronnemark would be out of a job. What would Liverpool do then?
– Hamilton: Meet Thomas Grønnemark — Liverpool's secret weapon
– O'Hanlon: How Delap's long throw-ins ruffled Wenger's parka
Truly out-swinging corners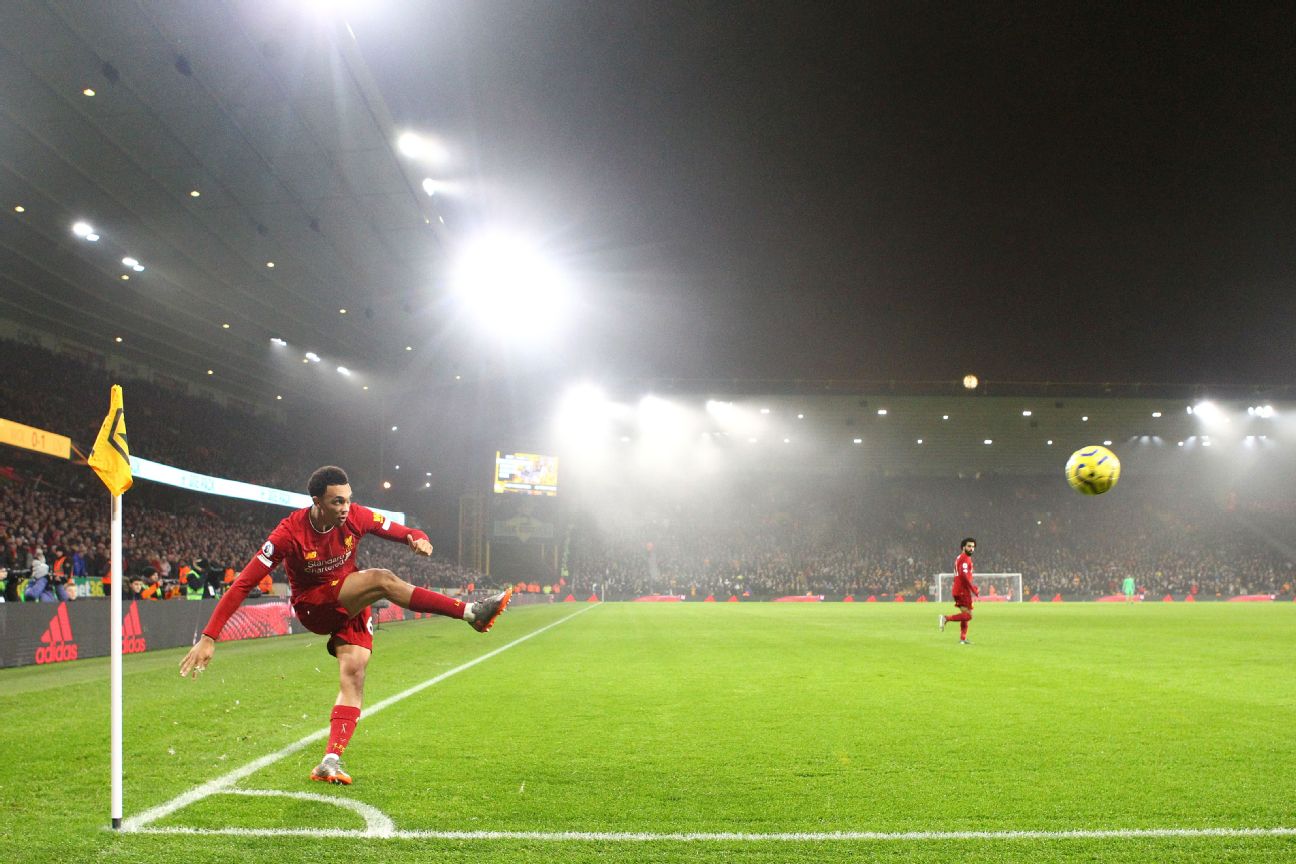 "We are also considering other things: a corner that goes out of play and comes back in could be made valid, this would create new goal-scoring opportunities."
Wenger seems to want the hard boundaries of a football pitch — enshrined in the original laws of the game and sacrosanct for over 150 years — to become temporarily permeable for players unable to keep a corner kick in play.
Just do corners better would be our advice here.
Or, if players can no longer be trusted to keep their set pieces in play, might we suggest that mechanical ball cannons are brought into play? Placing one in each corner of the pitch would result in the perfect arcing trajectory for every single corner, and the goal line would remain the undeniable edge of the field.
DIY free kicks
"There is also the option of quickly playing a free kick to yourself."
No more detail was offered, but Wenger dangled the carrot of players being able to restart play quickly by taking a free kick to themselves.
Currently, after a free kick is taken, the taker isn't allowed to touch the ball again until somebody else has, be it a teammate or an opponent.
Wenger's tweak would see players presumably allowed to dribble a ball straight from a free kick, similar to a tap kick in rugby. This would speed up restarts and open up a brave new world of elaborate, convoluted and ridiculous set pieces — of which we're entirely in favour.
What Full Democratic Control Of The White House And Congress Would Look Like
In this episode of the FiveThirtyEight Politics podcast, the crew compares Joe Biden's lead now with Hillary Clinton's in 2016 and considers the agenda Democrats might pursue if they win the presidency, House and Senate in November.
Struggles by Bills, Allen against AFC elite a cause for concern
ORCHARD PARK, N.Y. — Through the first four weeks of the NFL season, the Buffalo Bills looked like the league's next-great offense. Powered by a potential MVP candidate in QB Josh Allen with a palpable connection between him and wide receiver Stefon Diggs, the Bills boasted the NFL's fourth-best offense in terms of yards per game and fifth-best in terms of points scored.
Buffalo's offensive success masked any concerns about its defense's slow drift into a liability; or distracted from it, at least. But if the past two weeks are any indication, there is room for concern on both sides of the ball.
The Bills surrendered more rushing yards (245) than passing yards (221) in a 26-17 loss Monday to the Kansas City Chiefs. Meanwhile, Buffalo's offense never got into a rhythm as Allen looked more like his rookie self than the NFL's eighth-leading passer entering Week 6. He missed throws throughout the night and outside of an impressive touchdown throw to Diggs (whose catch was arguably more impressive than the throw), it was an utterly forgettable night for the Bills' quarterback.
Especially after a humbling loss to the unbeaten Titans in Week 5, Buffalo needed a bounce-back game against another quality opponent to prove its blowout defeat was more of an anomaly than a regression to the mean. But Monday's showing added more credibility to the argument that the Bills were fool's gold to start the season.
Is that the truth? Reality might not be so dramatic. Buffalo has a get-right game against the winless New York Jets in Week 8 before hosting the Patriots in a critical AFC East matchup in Week 9. The season's not over and the Bills' outspoken goal of winning their division is still very much intact. But the talk of them as Super Bowl contenders appears presumptuous until proven otherwise.
Describe the game in two words: No energy. The Bills routinely credit the support they get from their fans for the team's success, and the rest of the world might have underestimated just how serious they were. Monday night marked the second straight home game in which Buffalo played with a visible lack of energy and with no end in sight for New York state's ban on fan attendance, this is an issue the Bills need to get over.
Promising/troubling trend: The Bills hadn't allowed a ton of rushing yards to opposing quarterbacks entering Week 6 — just 84 yards, total, ranking 19th-most in the NFL. However, the yards they had given up were a back-breaking 6 yards per attempt to opposing quarterbacks, which was fourth-highest in the league. That trend continued against Patrick Mahomes, who ran for 38 yards on 8 attempts, including a 9-yard scramble to convert a 3rd-and-7 on the Chiefs' game-sealing possession late in the fourth quarter.
Biggest hole in gameplan: It's reasonable to think the Bills picked their poison when developing their plan for Monday night, opting to sell out to limit the Chiefs' passing game and sacrifice yards on the ground. But there's a difference between sacrificing yards on the ground and opening the floodgates, and the Bills flirted with the latter for the majority of the game. Rookie running back Clyde Edwards-Helaire rushed for 161 yards on 26 carries as Buffalo allowed more than 200 rushing yards for just the sixth time under Sean McDermott. To their credit, the Bills clamped down on the run late in the game — but ultimately, it was too late to change the outcome.
Pivotal play: A momentum-swinging, three-play span put the game on ice late in the fourth quarter. After pulling within one score, the Bills seemingly forced and recovered a fumble on the third play of the Chiefs' ensuing drive. However, Edwards-Helaire's knee was ruled down and Kansas City kept the ball. Two plays later, on third-and-12, Mahomes completed a 37-yard pass to Bryce Pringle to put the Chiefs in field goal range. The drive ended in a game-sealing field goal but was nearly a game-changing defensive possession for Buffalo.
In rarity, Chiefs turn to ground game in victory
To get the Kansas City Chiefs back in the win column after their first defeat in 11 months, coach Andy Reid turned his playbook upside down in Monday night's game against the Buffalo Bills.
For only the second time in Patrick Mahomes' 37 career starts, the Chiefs ran the ball more than they passed it. They were rewarded for the change with a 26-17 victory.
The Chiefs rushed for 245 yards on Monday, their most since 2012. Rookie Clyde Edwards-Helaire led the way with 161 yards.
Kansas City also had 46 rushes, the most attempts by any Reid-coached team, according to ESPN Stats and Information research. (Reid coached the Philadelphia Eagles for 14 seasons before becoming the Chiefs' coach in 2013.)
Mahomes was still efficient, going 21-of-26 with two first-half touchdown passes to Travis Kelce. But Mahomes threw for only 225 yards on a rainy night in Buffalo.
But days after signing veteran back Le'Veon Bell to provide an offensive spark, the running game was the star even without Bell. He can't join the Chiefs until later this week because of COVID-19 testing protocols.
The Chiefs played most of the game without two starting offensive linemen. Guard Kelechi Osemele tore tendon in each of his knees in last week's game while tackle Mitchell Schwartz left the game for good in the first half with a back injury.
The Chiefs led for a significant portion of last week's game against the Raiders but Mahomes still dropped back 46 times with 43 passes and three sacks. Chiefs running backs had just 11 carries with 10 going to Edwards-Helaire.
The loss to the Raiders broke the Chiefs' 13-game winning streak, including the playoffs and Super Bowl LIV last season.