As long-time coffee drinkers, we didn't think it was possible to be overly caffeinated. A few cups in the morning, a pick-me-up cold brew mid-afternoon, maybe a post-dinner cappuccino — we may not be at "Gilmore Girls" consumption levels, but we're at least in the Stars Hollow neighborhood.
But after running 10 single-cup coffee makers through a battery of tests (more on that below) — and drinking multiple cups from each machine multiple times — we found ourselves staying up extra late watching reruns of Lorelai and Rory on Netflix, and eventually, drifting off to sleep with coffee pods, ideal temperatures and drip times invading our dreams.
The good news: The occasional jitters were well worth it, as they put three winning machines on our radar that we highly recommend you, in turn, put on your kitchen counters.
The machines we tested included those that require pods, those that use grounds and some that accommodate both pods and grounds. So whether you love the convenience of pre-measured coffee pods, appreciate the option of brewing a small amount rather than a big ol' pot, or put a lot of stock in aesthetics, we think you'll be buzzing over these three winners:
Serious java junkies tend to avoid single-serve makers, lamenting that pods will never result in the same great taste you get from a lovingly prepared, precisely honed pour-over method. While it's true many single-cup coffee makers may not produce the robustness of a moka pot or French press, nor the flavorful pots of drip makers, our top three served up some boldly delicious brews.
All three delivered fast, hot coffee that consistently tasted the way it should (meaning, there were no flavors that shouldn't be there, and they were neither burnt nor weak-tasting), and they were each extremely easy to set up and operate. They all also featured a unique X-factor that tipped the scales, from sheer handiness to valued versatility and amazing taste.
Our overall winner, the Breville-Nespresso VertuoPlus, which uses pods that deliver both espresso and "regular" coffee, could simply not be beat for its convenience. Intuitive and a snap to use right out of the box, it looks sleek on the counter, contains a detached 60-ounce water reservoir so you don't have to refill it with each use and delivers perfectly hot, delicious coffee with a simple tap of a lever and press of a button.
For best value, we found ourselves smitten with the Sboly Single-Serve Coffee Brewer. One of the lower priced machines we tested, it scored big points for its compact size and ease of use, but especially for its ability to brew four different sizes using either grounds or K-cups — an option we really appreciated.
And for those willing to pay a premium to fuel their caffeine habit, our luxury pick goes to the Moccamaster Technivorm Cup One. Stylishly elegant, it comes with a pretty ceramic cup and uses a copper brewing element to deliver a hot, scrumptious cup every time. It only uses grounds, but the best-tasting coffee came from this model.
Best overall single-serve coffee maker: Breville-Nespresso VertuoPlus ($149.99; originally $199.95; surlatable.com)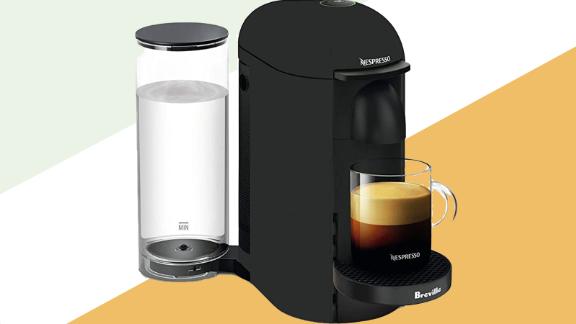 If you're in the market for a coffee machine that can brew a consistently great cup that's piping hot, makes espresso, is extremely easy to use and looks great on your counter, you need the Nespresso VertuoPlus in your life.
This single-cup coffee maker stood out from the pack in nearly every category. It produced the hottest coffee of the bunch, delivered the same great taste with every cup, allowed for a variety of brewing options and truly could not be easier to use.
Now, that consistency, of course, is partly owed to its use of Nespresso — specifically, Nespresso VertuoPlus — pods. The big pluses of the pods are that you are always guaranteed a great cup of coffee, no guessing or experimenting with ground amount or timing (and no need for an additional coffee grinder at all). The pods accommodate five cup sizes — espresso (1.35-ounce), double espresso (2.7-ounces), gran lungo (5-ounces), coffee (8-ounces) and alto coffee (14-ounces). They also come in 27 flavor options, from a highly intense double espresso for those mornings you need jet fuel to get you moving to medium roasts just right for a mid-morning pick-me-up to flavored coffees perfect for blending with milk for an afternoon latte.
And thanks to a clever barcode design, the machine reads each capsule, so the user doesn't have to worry about changing up any settings; just pop the pod in, tap a button, wait 90 seconds for it to do its thing and you're done.
In addition to the different sizes, you can also choose from a wide range of blends. The machine comes with a starter pod variety pack ranging from espresso to lattes in an array of flavor intensity.
So, here are the minuses of pods: They aren't cheap. A 40-count variety pack is $40 on Amazon. That, of course, is less expensive than picking up an espresso every morning at your neighborhood coffee shop, but you're locked in to using Nespresso Vertuo line only. By comparison, K-cups, used in Keurigs and other pod-friendly machines, are readily available at pretty much any supermarket or big box store, but when quality triumphs over ease of use, Nespresso pods edge out the competition. We also found Nespresso delivers a much richer, darker-roast and more flavorful taste than traditional K-cups (true coffee connoisseurs will also look for the brand's special partnerships with global coffee producers and limited edition blends.)
And while Nespresso does offer a recycling program (the pods are aluminum), it does require some work on your part: You'll need to collect them in the included recycling bag (or request a free one), then drop them at a collection center, Nespresso store, post office or UPS store.
Pods aside, the machine is our winner because it's just so easy to use. If there's water in the tank, you simply tap the lever, insert your chosen pod and tap the sole button on top. The next time you use it, the pod is ejected into a receptacle (it holds 10) so there's no need to walk the used one over to the trash until it's full.
It also looks super sweet on your counter. The slim, minimalist, modern look takes up very little rof your precious counter space, and thoughtful design features — including an adjustable water tank that can be moved to rest to the right, left or behind the machine — allows you to make it fit best in your space. Unlike nearly every other model tested, it also comes in multiple colors — black, white and silver — and is sturdier and more durable than most of the other machines.
In short, if staying stocked up on pods and taking an extra step or two to recycle don't turn you off, you like the option of brewing an espresso if you wish, and you value your time in the morning, this machine belongs on your counter.
Best budget single-serve coffee maker: Sboly Single Serve Coffee Maker Brewer ($58.95; amazon.com)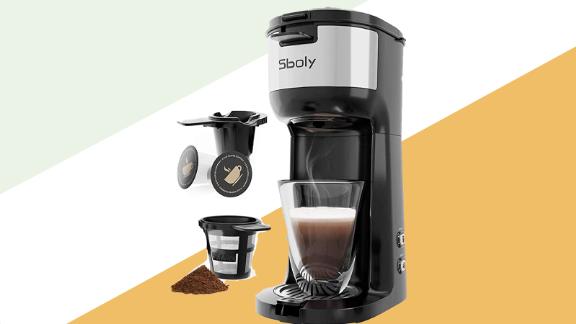 Our first thought as we unboxed this petite machine: "How cute!" But while the Sboly is, indeed, compact, it packs an impressive punch, most notably for its versatility.
We love that the machine allows you to brew 6-, 8-, 10- and 14-ounce cups using either ground coffee or K-cup pods — just swap out the grounds basket (no need for a paper filter) or pod basket depending on your choice and push a button to select "capsule" or "ground." Within three minutes for grounds and 2 1/2 minutes for pods, you have a great-tasting cup of coffee. Of course, when using grounds, a little experimentation needs to take place in order to get the flavor to your liking depending on the size you choose. We found the recommended amount resulted in coffee on the weak side, so we added more the next time to get it to our liking. We also noted that coffee brewed in our 14-ounce travel mug tasted the same — and was just as hot — as that brewed at the smaller cup sizes.
The water receptacle needs to be filled with each use, but easy-to-read water lines make it a cinch to do (we do recommend pouring from a spout as the tank is, you guessed it, small). And to launch the machine's self-cleaning process, just depress both buttons at the same time.
The coffee itself didn't quite rise to the same temperature of our other winners, and since it's made of plastic, the housing definitely is less durable. But for those who have limited counter space or are looking to add their own personal coffee machine to their cubicle or office (practically a must, post-pandemic, right?), this little guy is a wonderful fit.
So, yeah, there are other machines available that will do fancier things and will likely stand up longer to wear and tear. But for just under $60, the Sboly will keep you well-caffeinated, allow you to switch between grounds and pods, depending on what's in your pantry, and is so small you can easily stash it away. Just be prepared to pull it out often — this is a machine you'll love using again and again.
Best luxury single-serve coffee maker: Moccamaster Technivorm Cup One Coffee Brewer ($201.22, originally $249; amazon.com)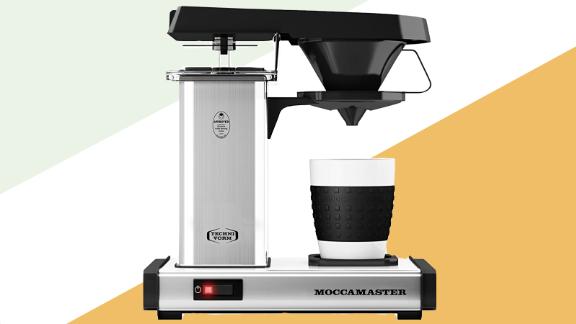 You've mastered banana bread, virtual yoga and indoor gardening during quarantine. If becoming an amateur barista is next on your list, the Technivorm is a terrific place to start.
Not only does this sophisticated machine look like it belongs in your favorite trendy coffee shop, but it also truly delivers a first-rate cup of coffee. Balanced and rich with just the right punch of acidity, the quality from this machine was noticeably better than that of others (seriously, it made Folger's taste upscale). The key to getting such an excellent brew in a mere four minutes? Moccamaster uses a copper boiling element that heats water fast, along with a drip-style system that helps maximize flavor.
We also appreciate that you only need grounds for this model. It also comes with its own 10-ounce porcelain mug, as well as a box of paper cone filters, and has a five-year limited warranty (the only machine tested that went longer than three).
Also the most expensive machine we tested, it scored high on durability — handmade in the Netherlands using sturdy metal housings (most of the machines on our list were plastic), it feels like a substantial, high-end product, but it's still uber easy to take apart and access areas like the water tank. It's also a breeze to use: Just add water and grounds, and push one button to start brewing. It does take up a decent amount of counter space, but again, it looks so pretty you'll want it to get the star treatment anyway.
So, who should buy this machine? If you take coffee seriously, value sleek, European design, put a premium on the quality of your java — and are willing to pay a higher price for all that — the Technivorm is a wise investment.
How we tested

We spent several weeks testing these single-cup coffee makers, evaluating each brewer based on overall function, durability, ease of setup and breakdown, aesthetics and included warranty — all areas important to consumers.
Each coffee maker was tested at least three times, using the same grounds for ground-based machines, the same K-cups for pod-based machines and Nespresso pods for the Nespresso machine. When a machine featured both ground and pod options, both were tested.
We took extensive notes to capture a plethora of details from each machine, including everything from how hot it made the coffee and brew time to user-friendliness, everyday durability and how much counter space it required. We looked at how easy the machines were to clean, our first impressions based on looks, whether it comes in multiple colors and warranty terms.
Many of these single-cup coffee machines were excellent, producing hot coffee quickly. However, some shined in certain testing areas, putting them at the head of the class. Read on for our pros and cons, as well as the criteria breakdowns we used in our evaluations.
Brew function
Optimum temperature: According to the National Coffee Association, the optimum temperature for freshly brewed coffee is typically 180-185 degrees. Using that standard we measured the temperature of each cup using a food thermometer, rating each machine on its heat.
Quality of brew: We noted how the coffee tasted after being brewed, including whether it was overly bitter or weak, if flavors or acidity existed that shouldn't be there, and whether too much — or not enough — heat impacted its taste.
Compatibility: We assessed whether the machine could be used with coffee pods or grounds (or both) as well as what filters, if any, were required. We also noted whether pods and filters were readily available, budget-friendly and eco-friendly.
Brew time: We pulled up our stopwatch app to keep track of how long it took to brew the coffee, with shorter brew times scoring more points.
User-friendliness: From unboxing and setup to brewing, cleaning and storing away, we took notes on how easy each machine was to use, including the value of the included instructions, whether the design was intuitive or overly complicated, how many buttons and settings were included and whether they were helpful or too much, and how easy the water tanks were to read and fill.
Serving size: The machines ranged from being able to deliver one cup to a whole pot. For each device, we noted how many cups of coffee each one made, how many options were available, how much water the reservoir could hold and whether it required being refilled for each use.
Brewing options: We looked at the number of brewing options available, including whether the machine offered just a basic brew, or if other options, such as single espresso shots, lattes, iced brews or tea, were also available.
The mess factor: No one wants coffee stains on their counter, so we assessed how much splatter or extra dripping occurred during brewing.
Durability
Everyday durability/signs of damage: For this category, we noted how easy or difficult each coffee machine was to set up, whether its parts felt sturdy or weak, and if standard brewing could cause any damage to the parts.
Build quality: We observed the materials each brewer was constructed of — metal, plastic, ceramic — and the tangible feel of the parts and materials, as well as their general heft.
Serviceability: We made notes on the ease of opening and taking apart each machine, should parts need to be replaced or serviced.
Set up and breakdown
Ease of assembly: We assessed the time it took to unbox each machine, how many minutes it took to read directions and assemble, and steps required besides the usual washing with soapy water and initial water-only brew cycle.
Size: We noted the counter space needed for each coffee maker and whether they could be easily stored away in a cupboard or cabinet.
Ease of cleanup: After testing each single-cup coffee machine, we observed how easy the cleaning process was, including cleaning filters, removing pods and washing parts, including drip trays and water reservoirs — and also noting whether they were easily removable or attached to the machine.
Aesthetic
First impression: We recorded our first impressions of each coffee maker, noting the appeal of the design, how nice it would look as a permanent resident of our kitchen counter or office space, and overall general appeal.
Color options: We researched whether each machine came in multiple finishes or colors besides the standard black.
Warranty: We noted the number of years of warranty for each machine.
How we rated

Using the above criteria we assigned scores in each subcategory to each machine, combined those numbers for a total score in each subcategory, and then added the scores for an overall total. The scores were broken down as follows:
Function had a maximum of 55 points: optimum temperature (10); taste (10); compatibility (10); brew time (5); user-friendliness (5); yield (5); brew options (5); mess (5).
Durability had a maximum of 20 points: everyday durability/damage potential (10 points); build quality (5 points); serviceability (5 points).
Setup/breakdown had a maximum of 15 points: ease of assembly (5 points); size/counter space consumption (5 points); ease of cleanup (5 points).
Aesthetic had a maximum of 10 points: first-impression looks (5 points); multiple colors available (5 points). Note: Most of these coffee makers did not come in additional colors.
Warranty had a maximum of 5 points: lifetime (5 points); two to five years (2 points); less than two years (0 points).
In addition to the overall score, we factored in the price of each device, which ranged from about $20 to $220.
Other single-serve coffee machines we tested

Keurig K-Cafe Coffee Maker ($169.25, originally $199.99; amazon.com)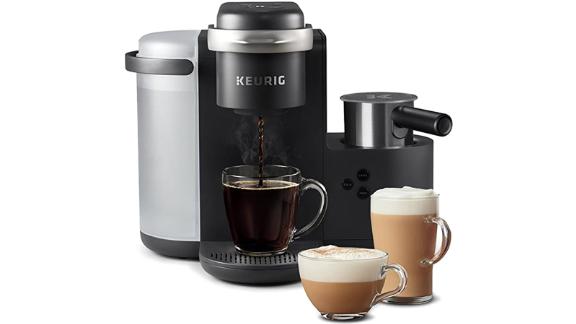 If the teens in our house were choosing the winner, they would have gone with this slick and nifty model based solely on the fact that it makes whipping up a latte — hot or cold — not only easy, but fun. The K-Cafe will take up a lot of space on your counter, but if you like cappuccinos and lattes as much as a regular cup o' joe, it may be well worth it.
The machine has a lot of going for it: The large, 60-ounce detachable water reservoir means you don't have to refill it with each use, the machine is compatible with all K-cups and is extremely easy to use (pop in your pod, choose from 6-, 8-, 10-, 12-ounce or shot sizes, select strong if you like, and push "coffee" or "latte & capp." About 45 seconds later: Coffee! To froth the milk, add it to the dishwasher-safe metal frother, select "latte" or "capp" and "cold" if you want iced coffee, and let it whirl. So what nudged this high-performer out of the winner's circle? The Nespresso was easier to use, smaller and seemed more durable. We also prefer the robust flavor of Nespresso pods compared to those of K-cups. But for honorable mention? This gets our vote.
Cuisinart DCC-3000 Coffee-on-Demand 12-Cup Programmable Coffeemaker ($99.99; amazon.com)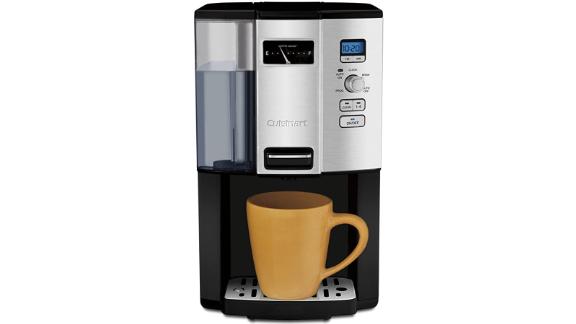 There is a lot to like about this coffee maker. First, it's different from the other models we tested, as it allows you to brew a full 12 cups that you can access throughout the day, perfect for those who like to space their caffeine breaks out a bit. The machine keeps coffee hot for four hours, and features a unique and lever you push to dispense your desired amount. A clever "coffee gauge," like a fuel gauge, lets you know how much coffee is left (pointing from empty to full). And for those who just want a cup or two? Just add the amount of water and coffee grounds you want. If the heat of your coffee is important, this is your machine: It scored among the highest of all the machines we tested. It also scored high on taste, though it took us a few tries to dial in the right amount of grounds-to-water ratio.
Now, for brew time: If you're opting for the full 12 cups, it takes as long as you'd expect a standard machine to take. It also took a lot longer than the other machines to assemble — we had to unpeel about a dozen stickers, remove paper inserts and there was a lot of plastic wrap involved. It's also big — the size of a standard machine. So if space and convenience are of big import, this might not be your first choice. But if you like to sip your coffee throughout the day, or frequently host visitors who like to sip while they chat, it's worth considering.
AdirChef Grab N' Go Personal Coffee Maker with 15-oz. Travel Mug ($19.95; originally $39.95; amazon.com)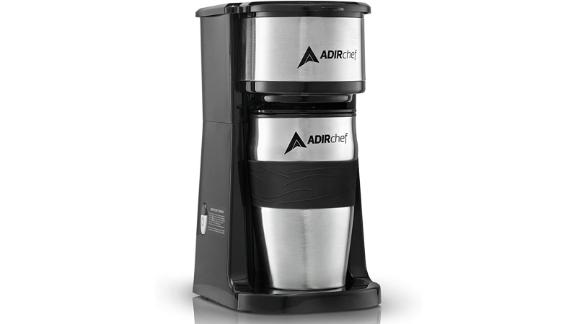 Let's start with the positive: If you're short on space (say, sharing a dorm room, studio apartment or are looking for a personal coffee maker for your office), this machine takes up a scant amount of room. Besides its tiny size, it also comes with a travel mug, and for those on a tight budget, rang up as the least expensive of the testing bunch. The AdirChef also delivers a really hot cup o' joe — one of the hottest, in fact, of all the candidates we looked at, but not as hot the Nespresso or Cuisinart on Demand. It was easy as pie to assemble, which basically entailed just lifting the machine from box to counter and plugging in.
But where it really falls behind is durability. It's extremely lightweight (read; not sturdy) and made of plastic. While the travel mug has a stainless steel facade, it's also plastic on the inside (you won't want to swap it for your trusted Yeti, in other words). So, for hot coffee at a really low price? Sure. Will it last you for years to come? Not likely.
Keurig K-Classic Coffee Maker ($79, originally $89.99; amazon.com)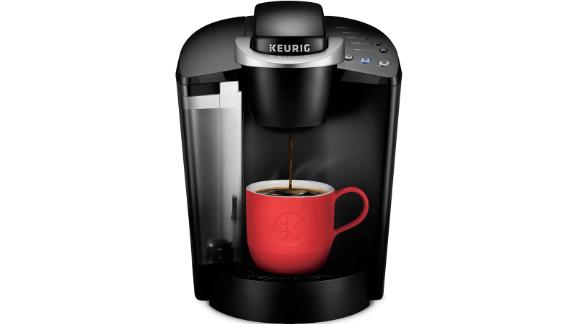 Just like its "classic" name, this is just a good, basic, single-cup coffee brewer. It's made of plastic and looks like your typical coffee maker. Not ugly, not fancy. But it scored high points for speed (we clocked it at a mere 48 seconds), high coffee temperature, the option of three brew sizes (6-, 8- and 10-ounce) and an easy-to-access, removable 48-ounce water tank. Size-wise, this Keurig landed on the larger end of the spectrum. Looks-wise, again, it was average. And, as far as ease of assembly, it was a piece of cake (lift out of box, remove stickers, rinse the water tank and go). Using it is simple: Add your pod, select your cup size and watch it go. In sum: This is a good, solid choice, but nothing to get too excited over.
Hamilton Beach Scoop Single Serve Coffee Maker ($44.99; originally $69.99; amazon.com)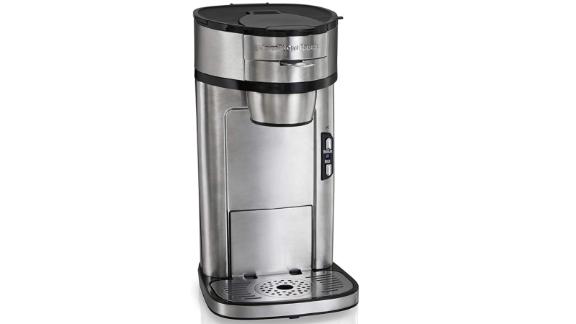 If you're looking for a bare-bones, entry-level, single-cup coffee maker that's small enough to be easily tucked into a cabinet, you might consider this model. The budget conscious will appreciate that it simply calls for a few scoops of grounds, no paper filter necessary, to brew up an 8- or 14-ounce cup of coffee. It doesn't come out super hot — at 152 degrees, it actually produced the least hot of all the machines we tested — but it's really easy to use. Just fill your 8- or 14-ounce mug or travel cup with water, dump it in the reservoir and push the brew button. Now, that attached water reservoir is small, so be prepared for some splashing as you pour your water in (but you won't see any coffee splashes — we sure didn't notice any). And while it's fast, brewing a cup in just two minutes, the coffee flavor was a bit on the weak side. In a sentence: It's a good machine, but not outstanding.
Mr. Coffee HotCup Single Serve/Pod Free Coffee Maker ($99.99; amazon.com)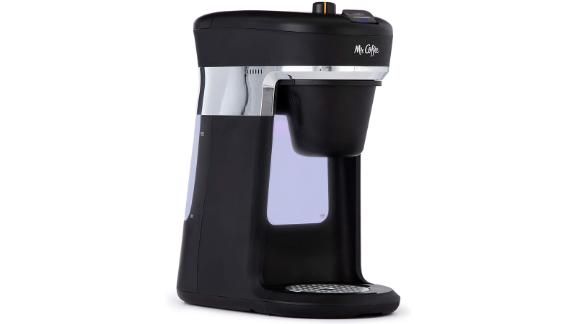 After totaling up the scores of all the machines we tested, this Mr. Coffee version fell right in the middle. At under $100, we liked the price. It scored points for durability — it felt sturdier than other plastic models — and set up — it couldn't have been easier to use straight out of the box. We liked the dial that allowed you to choose from 6-, 8-, 10-, or 12-ounce quantities and that you could fill the large, 72-ounce water reservoir so you don't have to add water to it with each cup brewed. But the rest? Well, most everything else was average. The coffee tasted as it should, if perhaps a bit on the weak side. It only allows for a basic brew, only uses grounds and No. 2 cone filters are recommended. It's big in size — equivalent to a standard machine. The coffee was on the low-end of the heat tests we performed. And its looks? Basic black. Our take: It's a fine machine at a good price. But we tested better models.
Cuisinart Premium Single-Serve ($139.99; bedbathandbeyond.com)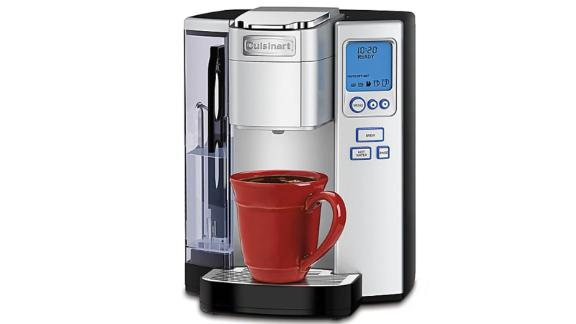 Straight out of the gate, this coffee maker was a true contender for our winner's circle. The first use yielded piping hot coffee, we loved that it allowed for both grounds and K-cups, and it included useful programmable settings including a choice of five quantity options, a rinse cycle and hot water button, and an easy-to-clean detached water reservoir. But as we fired it up to make a second cup the next morning, it started to whir, but quickly stopped, showing an "EEO" error on its digital display. We consulted the troubleshooting section of the manual and were alarmed when we read the answer was to call customer service. We called and were told to leave it unplugged for 24 hours so it could reset, and then it should work. We did that. The next day: same error. We called again and were told the machine had likely been dropped or "tapped too hard," neither of which were done on our watch (perhaps during the shipping process?), resulting in a faulty tube and that it would need to be replaced. So, sadly, we had to disqualify this machine.
Read more from CNN Underscored's hands-on testing:
Trump's misleading tweet about changing your vote, briefly explained
Searches for changing one's vote did not trend following the recent presidential debate, and just a few states appear to have processes for changing an early vote. But that didn't stop President Trump from wrongly saying otherwise on Tuesday.
In early morning posts, the president falsely claimed on Twitter and Facebook that many people had Googled "Can I change my vote?" after the second presidential debate and said those searching wanted to change their vote over to him. Trump also wrongly claimed that most states have a mechanism for changing one's vote. Actually, just a few states appear to have the ability, and it's rarely used.
Trump's claim about what was trending on Google after the debate doesn't hold up. Searches for changing one's vote were not among Google's top trending searches for the day of the debate (October 22) or the day after. Searches for "Can I change my vote?" did increase slightly around the time of the debate, but there is no way to know whether the bump was related to the debate or whether the people searching were doing so in support of Trump.
It was only after Trump's posts that searches about changing your vote spiked significantly. It's worth noting that people were also searching for "Can I change my vote?" during a similar period before the 2016 presidential election.
Google declined to comment on the accuracy of Trump's post.
Trump also claimed that these results indicate that most of the people who were searching for how to change their vote support him. But the Google Trends tool for the searches he mentioned does not provide that specific information.
Perhaps the most egregiously false claim in Trump's recent posts is about "most states" having processes for changing your early vote. In fact, only a few states have such processes, and they can come with certain conditions. For instance, in Michigan, voters who vote absentee can ask for a new ballot by mail or in person until the day before the election.
The Center for Election Innovation's David Becker told the Associated Press that changing one's vote is "extremely rare." Becker explained, "It's hard enough to get people to vote once — it's highly unlikely anybody will go through this process twice."
At the time of publication, Trump's false claims had drawn about 84,000 and 187,000 "Likes" on Twitter and Facebook, respectively. Trump's posts accelerated searches about changing your vote in places like the swing state of Florida, where changing one's vote after casting it is not possible. Those numbers are a reminder of the president's capacity to spread misinformation quickly.
On Facebook, the president's post came with a label directing people to Facebook's Voting Information Center, but no fact-checking label. Twitter had no annotation on the president's post. Neither company responded to a request for comment.
That Trump is willing to spread misinformation to benefit himself and his campaign isn't a surprise. He does that a lot. Still, just days before a presidential election in which millions have already voted, this latest episode demonstrates that the president has no qualms about using false claims about voting to cause confusion and sow doubt in the electoral process.
Open Sourced is made possible by Omidyar Network. All Open Sourced content is editorially independent and produced by our journalists.
---
Will you help keep Vox free for all?
The United States is in the middle of one of the most consequential presidential elections of our lifetimes. It's essential that all Americans are able to access clear, concise information on what the outcome of the election could mean for their lives, and the lives of their families and communities. That is our mission at Vox. But our distinctive brand of explanatory journalism takes resources. Even when the economy and the news advertising market recovers, your support will be a critical part of sustaining our resource-intensive work. If you have already contributed, thank you. If you haven't, please consider helping everyone understand this presidential election: Contribute today from as little as $3.
Nearly 6,000 civilian casualties in Afghanistan so far this year
From January to September, 5,939 civilians – 2,117 people killed and 3,822 wounded – were casualties of the fighting, the UN says.
Nearly 6,000 Afghan civilians were killed or wounded in the first nine months of the year as heavy fighting between government forces and Taliban fighters rages on despite efforts to find peace, the United Nations has said.
From January to September, there were 5,939 civilian casualties in the fighting – 2,117 people killed and 3,822 wounded, the UN Assistance Mission in Afghanistan (UNAMA) said in a quarterly report on Tuesday.
"High levels of violence continue with a devastating impact on civilians, with Afghanistan remaining among the deadliest places in the world to be a civilian," the report said.
Civilian casualties were 30 percent lower than in the same period last year but UNAMA said violence has failed to slow since the beginning of talks between government negotiators and the Taliban that began in Qatar's capital, Doha, last month.
The Taliban was responsible for 45 percent of civilian casualties while government troops caused 23 percent, it said. United States-led international forces were responsible for two percent.
Most of the remainder occurred in crossfire, or were caused by ISIL (ISIS) or "undetermined" anti-government or pro-government elements, according to the report.
Ground fighting caused the most casualties followed by suicide and roadside bomb attacks, targeted killings by the Taliban and air raids by Afghan troops, the UN mission said.
Fighting has sharply increased in several parts of the country in recent weeks as government negotiators and the Taliban have failed to make progress in the peace talks.
The Taliban has been fighting the Afghan government since it was toppled from power in a US-led invasion in 2001.
Washington blamed the then-Taliban rulers for harbouring al-Qaeda leaders, including Osama bin Laden. Al-Qaeda was accused of plotting the 9/11 attacks.
Calls for urgent reduction of violence
Meanwhile, the US envoy for Afghanistan, Zalmay Khalilzad, said on Tuesday that the level of violence in the country was still too high and the Kabul government and Taliban fighters must work harder towards forging a ceasefire at the Doha talks.
Khalilzad made the comments before heading to the Qatari capital to hold meetings with the two sides.
"I return to the region disappointed that despite commitments to lower violence, it has not happened. The window to achieve a political settlement will not stay open forever," he said in a tweet.
There needs to be "an agreement on a reduction of violence leading to a permanent and comprehensive ceasefire", added Khalilzad.
1/4 I return to the region disappointed that despite commitments to lower violence, it has not happened. The window to achieve a political settlement will not stay open forever. https://t.co/hVl4b032W6

— U.S. Special Representative Zalmay Khalilzad (@US4AfghanPeace) October 27, 2020
A deal in February between the US and the Taliban paved the way for foreign forces to leave Afghanistan by May 2021 in exchange for counterterrorism guarantees from the Taliban, which agreed to sit with the Afghan government to negotiate a permanent ceasefire and a power-sharing formula.
But progress at the intra-Afghan talks has been slow since their start in mid-September and diplomats and officials have warned that rising violence back home is sapping trust.
Classic toy tie-up: Etch A Sketch maker to acquire Rubik's Cube
Spin Master Corp., the company behind the Etch A Sketch and Paw Patrol brands, has agreed to acquire Rubik's Brand Ltd. for about $50 million, tying together two of the world's most iconic toy brands.
The merger comes at a boom time for classic toymakers, as parents turn to familiar products to entertain kids stuck in lockdown. Like sales of Uno, Monopoly and Barbie dolls, Rubik's Cube purchases have spiked during the pandemic, according to the puzzle maker's chief executive officer, Christoph Bettin. He expects sales to jump 15% to 20% in 2020, compared with a normal year, when people purchase between 5 million and 10 million cubes.
By acquiring Rubik's, Toronto-based Spin Master can better compete with its larger rivals, Hasbro Inc. and Mattel Inc. All three companies have pivoted to become less reliant on actual product sales, diversifying into television shows, films and broader entertainment properties based on their toys. Spin Master CEO Anton Rabie said he wouldn't rule out films or TV shows based on Rubik's Cubes, but he was focused for now on creating more cube-solving competitions and crossmarketing it with the company's other products, like the Perplexus.
"Whoever you are, it really has a broad appeal from a consumer standpoint," Rabie said in an interview. "It's actually going to become the crown jewel; it will be the most important part of our portfolio worldwide."
Hungarian inventor Erno Rubik created the Rubik's Cube in 1974, a solid block featuring squares with colored stickers that users could twist and turn without it falling apart. It gained popularity in the 1980s and has remained one of the best-selling toys of all time, spawning spinoff versions, international competitions of puzzle solvers, books and documentaries.
The toy has been particularly well-suited to pandemic conditions. During lockdowns, parents have sought to give kids puzzles that boost problem-solving skills useful in math and science careers. Normally, toys tied to major film franchises are among the most popular products headed into the holidays, but studios have delayed the release of major new movies because of coronavirus. So classic products are experiencing a mini-renaissance.
"The whole pandemic has really increased games and puzzles," Rabie said. "But whether the pandemic existed or didn't exist, we'd still buy Rubik's. It's had such steady sales for decades."
Rubik's CEO Bettin said it was the right time to sell the company, with the founding families behind it ready to move on. London-based Rubik's Brand was formed out of a partnership between Erno Rubik and the late entrepreneur Tom Kremer, while private equity firm Bancroft Investment holds a minority stake in the company.
Early on, Bettin felt Spin Master was the right home for the puzzle toy, he said. Spin Master, which was started by a group of three friends in 1994, has expanded through the purchase of well-known brands, including Erector sets and Etch A Sketch. Rabie says he works to honor the "legacy" of those products, which Bettin cited as a key reason to sell the brand to Spin Master over larger companies that were interested.
"It was important for us to not be lost in the crowd, and to be sufficiently important and cared for," Bettin said. "And there's a balance between being with someone large enough to invest, and agile enough to ensure you are key part of their plans."
Spin Master won't own Rubik's Cubes in time for the holiday season – the transaction is expected to close on Jan. 4. At that time, the company will move Rubik's operations from a small office in London's Notting Hill neighborhood to Spin Master's new games operations center in Long Island.
Some of Rubik's Brand's 10 employees will be part of the transition, but they won't stay permanently, Bettin said.