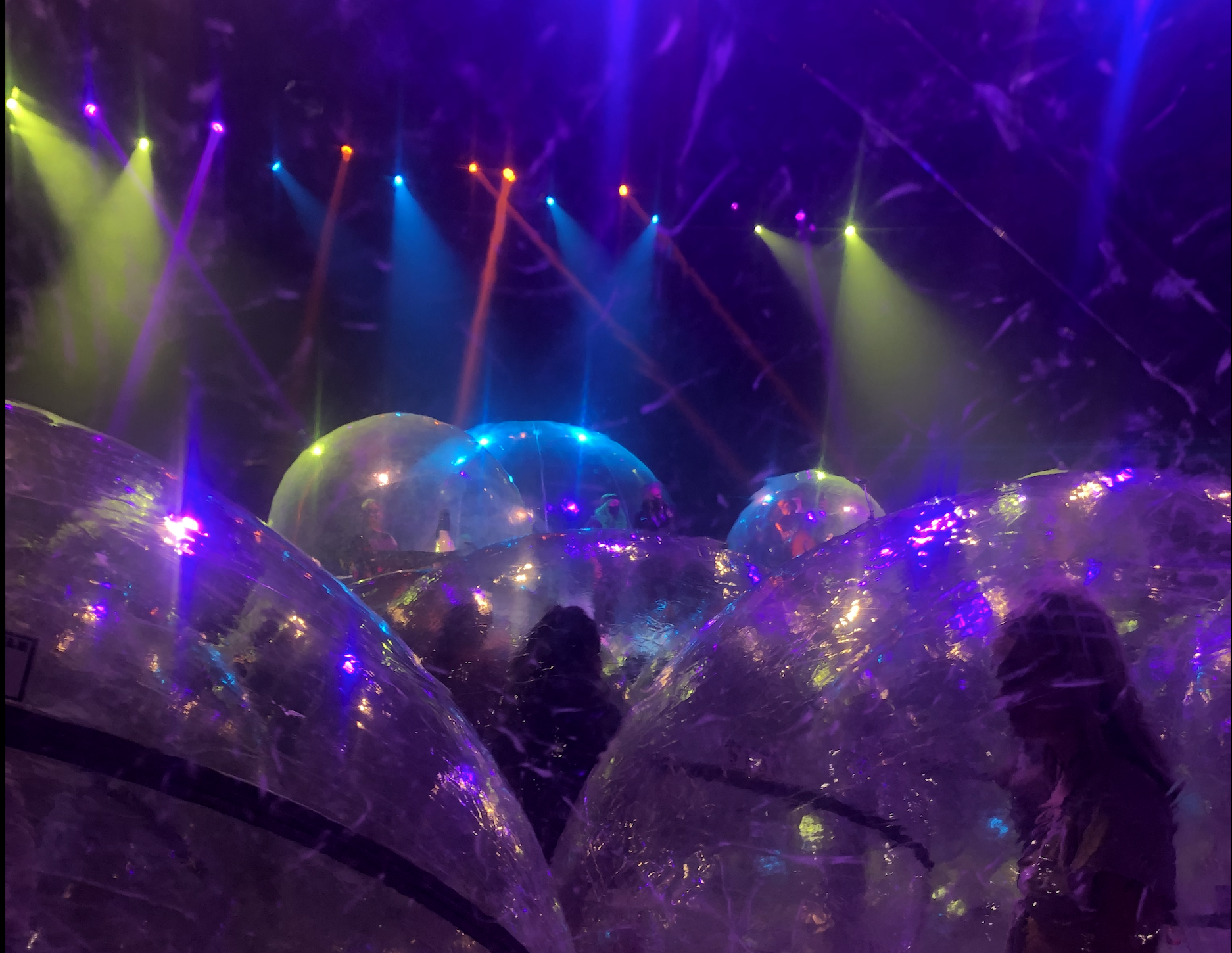 The COVID-19 pandemic has decimated concerts as we know them. With venues shut down nationwide and no widespread touring until there's a vaccine, the only ways to experience live music have required a lot of creativity. Because 2020 has been the year of ticketed live streams, drive-in concerts, and distanced "pod events," it's easy to speculate on the future of live music in a pandemic. How can concerts safely return at scale? How will large gatherings be safe? Will we have to wear weird space suits? But if you ask Flaming Lips frontman Wayne Coyne the future of concerts might include inflatable plastic bubbles, which he calls "space bubbles."
If you've been to a Flaming Lips show, chances are you've seen Coyne perform and crowdsurf in one of these bubbles. But now, thanks to coronavirus, the Flaming Lips are now hosting shows where the audience is in bubbles too. The band first debuted the bubble performances in June for appearances on The Late Show with Stephen Colbert and The Tonight Show Starring Jimmy Fallon but now, they're gearing up to host full concerts. "I mean, it seems absurd, but we at first were just doing it as not a joke, but just as a kind of funny thing, and now it's becoming kind of serious and real," Wayne told Brooklyn Vegan last week. Coyne said that they were planning on hosting concerts with 100 bubbles in a 4,000 capacity venue sometime after the election.
On Monday, the Flaming Lips appeared to do a test run of a full show at Oklahoma City venue the Criterion. They played two songs from their latest album American Head and each audience member had their own personal bubble. Coyne posted a video of the gig on his Instagram and the whole thing pretty nuts, so we asked Dayzie Smith, a Tulsa-based dispensary worker who attended the impromptu concert, on what it was like. And yes—we covered what would happen if you had to go to the bathroom. Read on below.
How did you end up being one of the fans to see the Flaming Lips in a bubble?
My way into the show was a bit different than most because I'm friends with one of the band's drummers, Matt Duckworth. I live in Tulsa and my friend and I were going to Oklahoma City to pick up a dresser that we bought online.  So I texted Matt and asked if he wanted to get dinner or see us while we're in town. And then he replied, "Oh, just come to the Criterion. We're doing this thing." I didn't know anything about it at all whatsoever. I was just told what time to be there. I showed up and had no idea it was going to be us in bubbles.
What happened when you got to the venue?
When we got to the venue, they had a split up into like four different lines. And they had to fill out forms about getting in the bubbles. They gave us wristbands that coincided with our assigned so I was B1R5, which was bubble one, row five. Then they ran us inside the venue super quickly with our masks on and they'd run us to our bubble and told us to get inside as quickly as we could. There were guys in hazmat suits who stuck a leaf blower in the zipper of the bubble. Then we'd just have to stand there while he blew us up and then zip it back up ourselves. It was a surprisingly quick process and they filled up the bubble in less than a minute.
What did it feel like inside the bubble?
I can't give a full idea of what it would be like for an entire concert because this was only two songs, which they played twice. But the bubble was so big that it wasn't really claustrophobic at all. It was almost that you had too much room. You wanted to put all your limbs up, like be a square and roll around in it.
What was the sound like?
It felt really echoey. It was weird, because you could hear everything inside your bubble. Everything was echoing inside of your bubble. And it sounded like everyone could hear what was happening inside your bubble, If you snapped or clapped or laughed, it was just so echoey and crazy. It felt like the sound could travel through all the other bubbles, because they're kind of pushed together. But I talked to my friend next to me and she said she couldn't hear anything from my bubble. So I guess you could only hear the music.
Did that affect how the music sounded?
Yeah, it sounded a little distorted or kind of underwater, but not too much but enough to notice. I mean, with it being the Flaming Lips that it would make sense for their music.
So it's probably not something other acts who make different kinds of music would want to replicate unless they're ok with having a distorted sound quality.
Definitely. I'm trying to think of a band where it wouldn't work without sounding mean but I'll bet there will be no solo acoustic sets in bubbles.
What rules did they give you for being in a bubble?
Honestly, none. I'm sure they would at a full concert but when we got in there were two bottles of water and a rag. My first thought was "good there's something I can pee in." But they did announce that the bubble can get sweaty. If you're like, getting kind of crazy. So there's a rag in there to wipe off the condensation. So some people who were dancing a lot harder you couldn't see them, their bubble just looked like it was full of fog. I'm sure they had to wipe it down pretty hard.
Wait, they didn't tell you what to do if you need to pee?
Not when I was in there. I would assume they would have to take breaks and rebubble everyone.
I can't imagine having to pee inside a Flaming Lips Space Bubble.
Yeah, imagine being drunk in a bubble? It sounds a little bit crazy but also a little bit tight. You're so compact with everyone that you're just bouncing off everyone else. It's kind of like a human ball pit.
It must've been fun to hear live music again.
Everyone was so fucking stoked that they just started jumping up. So all these bubbles were bouncing at the same time, up and over and then they were bouncing off each We looked little fish eggs. The whole thing looked crazy. You know when you're underwater, but not that deep. And you look above up towards the top of the water and you can kind of see that everything looks a little distorted but really pretty, it kind of looked like that. Being in a bubble and the way the lights were made everything look so cool.
Would you go to a full show in a bubble?
Oh, definitely. But I'm a little bit of dumbass. So I would probably do it without thinking of the hard stuff like what I'd do if there was a fire or what to do if I needed to go the bathroom. I would probably pee my pants in a bubble.
Philippines: Typhoon Molave displaces thousands, floods villages
At least 25,000 people evacuated in the Philippines as heavy rains and fierce winds swamp villages and rip off roofs.
Thousands of villagers were forced to flee their homes in the Philippines as a fast-moving typhoon made landfall, flooding rural villages, ripping off roofs and toppling trees and powerlines, officials said.
There were no immediate reports of casualties from Typhoon Molave, but authorities on Monday reported at least one person was missing and seven others were rescued after their yacht sank off Batangas province south of Manila.
The typhoon has sustained winds of 125 kilometres per hour (77 miles per hour) and gusts of up to 180 km/h (112mph) and was blowing westward at 25 km/h (15 mph). Molave is expected to start blowing out of the country into the South China Sea on Monday, government forecasters said.
At least 25,000 villagers were displaced with about 20,000 taking shelter in schools and government buildings which were turned into evacuation centres, according to the Office of Civil Defense.
"Villagers are now asking to be rescued because of the sudden wind which blew away roofs," Humerlito Dolor, governor of Oriental Mindoro province, told DZMM radio.
Dolor said pounding rains overnight swamped farming villages in his province, then fierce winds toppled trees and power posts early on Monday, knocking out power. Authorities were clearing roads of fallen trees and debris in some towns after the typhoon passed, he said.
More than 1,800 cargo truck drivers, workers and passengers were stranded in ports after the coastguard barred ships and ferry boats from venturing into rough seas.
Molave follows Tropical Storm Saudel, which last week caused widespread flooding in Quezon province in the Calabarzon region, southeast of the capital Manila.
About 20 typhoons and storms annually batter the Philippines, and the Southeast Asian archipelago is seismically active, with earthquakes and volcanic eruptions, making it one of the world's most disaster-prone countries.
Celebrations in Chile as voters back rewriting constitution
Tens of thousands of Chileans have taken to Santiago's main square in celebration after people across the country overwhelmingly backed re-writing Chile's dictatorship-era constitution that many see as the root cause of the country's social and economic inequalities.
In Santiago's Plaza Italia, the focus of the massive and often violent protests last year which sparked the demand for a new charter, fireworks rose above huge crowds of jubilant people singing in unison late on Sunday as the word "rebirth" was beamed onto a tower above.
With more than three-quarters of the votes counted in Sunday's referendum, 78.12 percent of voters had opted for a new constitution drafted by citizens. Many have expressed hopes that a new text will temper an unabashedly capitalist ethos with guarantees of more equal rights to healthcare, pensions and education.
"This triumph belongs to the people, it's thanks to everyone's efforts that we are at this moment of celebration," Daniel, 37, told Reuters News Agency in Santiago's Plaza Nunoa. "What makes me happiest is the participation of the youth, young people wanting to make changes."
Chile's President Sebastian Pinera said if the country had been divided by the protests and debate about whether to approve or reject plans for a new charter, from now on they should unite behind a new text that provided "a home for everyone".
"Until now, the constitution has divided us. From today, we must all work together so that the new constitution is the great framework of unity, stability and future," he said in a speech broadcast from his Moneda Palace surrounded by his cabinet.
The centre-right leader, whose popularity ratings plummeted to record lows during the unrest and have remained in the doldrums, spoke to those who wanted to keep the present constitution credited with making Chile one of Latin America's economic success stories.
Any new draft must incorporate "the legacy of past generations, the will of present generations and the hopes of generations to come," he said.
'A better life'
The vote came a year to the day after more than one million people thronged downtown Santiago amid a wave of social unrest that left 30 people dead and thousands wounded.
The sheer size of the October 25 march demonstrated the breadth of social discontent and proved a tipping point in demonstrators' demands for a referendum. Within weeks, Pinera had agreed to initiate a process to draft a new constitution, beginning with a referendum to decide the fate of the current text.
Chile's current constitution was drafted by the dictatorship of General Augusto Pinochet, and was sent to voters at a time where political parties had been banned and the country was subject to heavy censorship.
It was approved by a 66 percent – 30 percent margin in a 1980 plebiscite, but critics said many voters were cowed into acceptance by a regime that had arrested, tortured and killed thousands of suspected leftist opponents following the overthrow of an elected socialist government.
The free-market principles embodied in that document led to a booming economy that continued after the return to democracy in 1990, but not all Chileans shared. A minority was able to take advantage of good, privatised education, health and social security services, while others were forced to rely on sometimes meagre public alternatives. Public pensions for the poorest are slightly more than $200 a month, roughly half the minimum wage.
Cristina Cifuentes, a Santiago-based political analyst, called Sunday's results a "big blow for the conservative parties" and said a new constitution was necessary to provide equitable access to healthcare, education and pensions systems.
"If you're born in the least affluent areas of the city, you don't have access to a good health system, you don't have good education, you don't have transport. And you can't even dream of having a better life. It affects all aspects of life in Chile and that's why it was so important for Chileans to change the constitution," she told Al Jazeera.
'New beginning'
As votes were counted on Sunday on live television, spontaneous parties broke out on street corners and in squares around the country. Drivers honked car horns, some as revellers danced on their roofs, and others banged pots and pans. The flag of the country's Indigenous Mapuche people, who will seek greater recognition in the new charter, was ubiquitous.
Al Jazeera's Lucia Newman, reporting from Plaza Italia, said the landslide victory had given Chileans something to celebrate after a year of sometimes violent protests.
"Many people know it's going to take at least two years to have a new constitution, and that would only set a roadmap for the future. It won't solve all of this country's problems, but at least it does give them hope for a new beginning," she said.
Four-fifths of voters said they wanted the new charter to be drafted by a specially elected body of citizens – made up of half women and half men – over a mixed convention of legislators and citizens, highlighting general mistrust in Chile's political class.
Members of a 155-seat constitutional convention will be voted in by April 2021 and have up to a year to agree upon a draft text, with proposals approved by a two-thirds majority.
Among issues likely to be at the fore are recognition of Chile's Mapuche Indigenous population, powers of collective bargaining, water and land rights and privatised systems providing healthcare, education and pensions.
Chileans will then vote again on whether they accept the text or want to revert to the previous constitution.
The National Mining Society (Sonami), which groups the companies in the sector into the world's largest copper producer, said it hoped for "broad agreement on the principles and norms" that determine the sector's coexistence with Chilean citizens and that the regulatory certainty that have allowed the sector to flourish would continue.
A Lebanese artist created an inspiring statue out of glass and rubble from the Beirut port explosion
Hayat Nazer doesn't remember a time when Lebanon was at peace. But she has learned to channel her grief and pain into beautiful works of art.
"The explosion broke my heart. I was just devastated. I was traumatized, but honestly, all of us in Lebanon are traumatized," Nazer, 33, told CNN.
Like many residents, she joined efforts to clean debris and restore the city to its former glory. That's when she got the idea to use some of what she found to create a statue that could inspire her people to unite and rebuild.
"When I'm feeling that way I just try to help, and fix and heal through art, so this is my way of accepting reality and trying to build my people back up," she said.

The unnamed scultpure made from explosion debris depicts a woman with long flowing hair. Credit: Courtesy Hayat Nazer
For weeks, Nazer walked the streets of Beirut, collecting twisted metal, broken glass and people's discarded belongings to use in the sculpture.
"I traveled to people's homes after they were destroyed by the explosion and told them, 'I just want you to give me anything I can include to make you a part of my sculpture,'" Nazer said.
"I was shocked. People gave me such valuable things — things from their childhood, their grandparents who died in the civil war, things they wanted to save for their children. So many emotions went into this."
When Nazer finally had enough items, she put them together — creating a woman raising Lebanon's flag, her hair and dress flowing in the wind. The sculpture, which still
doesn't have a name
, even features a damaged clock stuck at 6:08, the moment of the explosion.
For Nazer, the process was cathartic. But it wasn't the first time she had created a work of art inspired by Lebanon's social and political troubles.
Nazer stands beside her sculpture of a woman made entirely from Beirut port explosion debris. Credit: Courtesy Hayat Nazer
"I suddenly started feeling the need to paint," Nazer said. "It was a need that I couldn't stop. I had to quit my job because I felt like I just couldn't make the change I want to see in the world without focusing on my art."
Her works include other found object sculptures, as well as graffiti and paintings on canvas.
In 2019, she created a sculpture called "
The Phoenix
," which was made from tents broken by counterprotesters during the country's political upheaval. The work depicts the mythological bird rising from ashes. She also created a giant heart from stones and tear gas canisters left over from riots.
Nazer, who chronicles her projects on
Instagram
, said most of her work has been destroyed by authorities who don't take kindly to criticism of the government.
Related video: The architectural heritage Beirut stands to lose
She fears the same fate will befall her latest work, the sculpted woman.
"After an explosion, you can build back homes and buildings, but what you can't bring back are memories. And throughout Lebanon's history, our government removes anything that reminds us of what has been done to us," Nazer said.
"That's what makes this project so special. It's fighting. We're raising our voices through art. We're telling our own stories."