Virgin Hyperloop to safety test its hyperloop technology at new West Virginia certification center
Virgin Hyperloop announced a key step in its long-term goal of making hyperloop transportation a reality in the U.S. on Thursday. The company revealed it will be doing its certification testing at a new West Virginia facility. This will be crucial to the creation of a national safety certification framework for the U.S., which will involve working directly with the U.S. Department of Transportation – a process already underway thanks to the DOT's issuance of guidance documentation in advance of a framework this past July.
Before now, Virgin Hyperloop has been developing and testing its hyperloop technology at its full-scale proving ground in North Las Vegas. The company created a 500-meter long 'development loop' for running its tests, and performed its first full-scale system test in 2017. This new facility will be used specifically for certification, but will involve similar large-scale systems testing and involve 'thousands' of new jobs created, according to the company.
Virgin Hyperloop ultimately hopes to fully safety certify its system by 2025, and then ultimately enter into commercial operation with a real system by 2030, if all goes well.
Superfast geofencing could be the answer to rogue escooter riders
This article was originally published by Christopher Carey on Cities Today, the leading news platform on urban mobility and innovation, reaching an international audience of city leaders. For the latest updates follow Cities Today on Twitter, Facebook, LinkedIn, Instagram, and YouTube, or sign up for Cities Today News.
American firm Superpedestrian claims to have designed an inbuilt sensor-based geofenced system on its LINK e-scooters which ensures riders cannot use them within a second of leaving an authorized zone.
The company, founded by urban transport experts at the Massachusetts Institute of Technology, has received approval to operate in the UK from the Department for Transport (DfT) and is currently in talks with local authorities in London regarding upcoming escooter trials.
Speaking to Cities Today, Paul White, Director of Public Affairs at Superpedestrian, said: "Geofencing has been implemented very imperfectly in the industry to date, nobody has got it right.
"The two limitations that really prevent this are, one, the inherent inaccuracies of GPS – especially in cities where you can see your location on a map on your phone that doesn't match your actual location.
"The other issue is the time lag. All other companies store their geofencing coordinates on a cloud, so it's necessary for the scooter to communicate to the cloud to enforce the geofence, and this communication via a cellular network can take one to five seconds, or even 30, depending on the strength of the signal."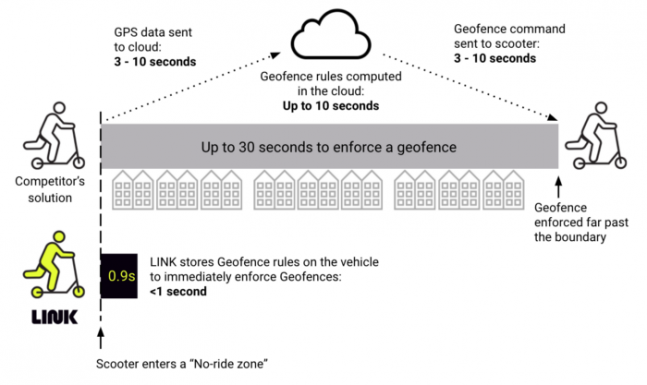 The firm says its mapping data is installed directly on to the scooter, so it doesn't have to rely on cellular technology for an accurate result.
Measures are also in place to ensure the scooters do not shut off in unsafe locations, such as in the middle of a junction.
"It's a very tricky demarcation between a multi-use pedestrian path, a bike lane and a road, but we can discern this in a very accurate and timely fashion," White added.
The LINK escooter launched in several US cities last year, and earlier this summer in Rome.
While the private use of escooters is currently illegal in the UK, a number of limited trials have been established by the government to determine their suitability. The latest is in Liverpool.
---
SHIFT is brought to you by Polestar. It's time to accelerate the shift to sustainable mobility. That is why Polestar combines electric driving with cutting-edge design and thrilling performance. Find out how.
Published October 20, 2020 — 07:33 UTC
Eat Just partners with Proterra to launch a new subsidiary in Asia
Eat Just, the plant-based food startup, is launching a new Asian subsidiary through a partnership with Proterra Investment Partners Asia. The agreement includes building Eat Just's first factory in Asia, which will be based in Singapore.
As part of the deal, Proterra, which focuses on agri-tech, will invest up to $100 million in the facility, while Eat Just will invest $20 million. The new subsidiary, called Eat Just Asia, will focus on creating a fully-integrated supply chain, working with manufacturers and distributers for Eat Just's flagship product, vegan egg substitute Just Egg, which is made from mung beans.
In addition to Just Egg, Eat Just and Proterra said they are also in talks to expand their partnership to include the development of plant-based meat alternatives.
Eat Just Asia also received support from the Singaporean government's Economic Development Board.
Eat Just's current distribution partners in Asia include SPC Samlip in South Korea, Betagro in Thailand and an as-of-yet undisclosed new partner in China, where Just Egg is already available on Alibaba's Tmall and JD.com.
Based in San Francisco and formerly known as Hampton Creek, Eat Just has received total of about $220 million in funding, according to Crunchbase. Its investors include Khosla Ventures and Li Ka-Shing.
Eat Just announced in March that it will focus on global expansion this year, with partnerships in North America, Latin America, Europe and Asia.
Over the following months, it announced a succession of distribution deals for Just Egg, including ones with American food manufacturer and distributor Michael Foods, a subsidiary of Post Holdings, and European plant-based food manufacturer Emsland Group.
In Asia, demand for plant-based protein foods grew during the COVID-19 pandemic, due in part to concerns about the safety of meat and other animal products. In an April 2020 Reuters article, Eat Just said sales of Just Egg on JD.com and Tmall had grown 30% since the beginning of the coronavirus outbreak.
Other plant-based food startups focusing on Asian markets include Impossible Foods, which announced funding of $500 million in March to expand in Asia; Karana, a Singaporean startup that makes meat substitutes from jackfruit; and Malaysian-based Phuture Foods, which uses a variety of plants to make pork substitutes.
WhatsApp might soon let you make calls from its desktop app
Video calls have increased due to the coronavirus pandemic, and companies such as Facebook and Zoom have taken full advantage of that. Earlier in the year, WhatsApp increased the group call limit from four to eight people. Now, it seems like the chat app will soon introduce the calling feature on its desktop app.
According to renowned WhatsApp sleuth WABetaInfo, the company has started creating the feature in one of its test builds. The under-development feature includes support for voice and video calls for both individual contacts and groups.
[Read: Google Assistant displays get a new UI, a dark theme, and more features]
Screenshots posted by WABetaInfo suggest that when you'll call someone through the WhatsApp desktop app, a new window will open up with controls to manage the call.
It's important to note that you can already make video calls to people through WhatsApp for desktop if you use the shortcut to create Facebook Messenger Rooms. However, the upcoming functionality will bank on WhatsApp's own infrastructure to make calls.
Since it's an under-development feature, we don't know when WhatsApp will roll out support for calls on its desktop app. We'll keep an eye out for you when this feature becomes available to everyone.