Ultra-Orthodox Jewish groups in New York state are suing Governor Andrew Cuomo over new restrictions aimed at preventing the spread of COVID-19, saying the curbs are unconstitutional and "explicitly target" members of the religious community.
In a lawsuit filed Thursday in United States District Court, organisations including Agudath Israel of America slammed an executive order Cuomo signed on Tuesday that puts limits on the number of people allowed to gather indoors, including in houses of worship.
The order "singles out and discriminates against all houses of worship – and synagogues in particular – by imposing occupancy and gathering restrictions that make it impossible for Orthodox Jews to comply with both their religious obligations and the Order", the lawsuit reads.
The plaintiffs – including a handful of synagogues and rabbis – are seeking a temporary restraining order, preliminary and permanent injunctions against the state's restrictions, and a judgement stating the governor's executive order is unconstitutional and void.
Amid a surge in COVID-19 cases, Cuomo signed an executive order that limits indoor gatherings in the most severe "red" COVID-19 infection zones to 10 people, and to 25 people in moderate infection areas.
A spokesman for New York City Mayor Bill de Blasio told the Wall Street Journal that the city would start enforcing the new restrictions on Thursday, and that among other penalties, a mass gathering could incur a maximum fine of $15,000.
"One of the prime places of mass gatherings are houses of worship. I understand it's a sensitive topic, but that is the truth – period. You want to solve the problem? Acknowledge the problem," Cuomo said during a news conference Tuesday.
[embedded content]
Cuomo said he consulted with ultra-Orthodox Jewish leaders before the measures were imposed. "I asked for them to work with me to follow these guidelines and that was positively received," he told reporters.
"I said to them that I'm doing this for a very simple reason: because I have such respect and love for the Orthodox community."
However, the new restrictions sparked criticism from many ultra-Orthodox community members, hundreds of whom protested in Borough Park, a neighbourhood of Brooklyn, on Tuesday and Wednesday nights.
"I understand you need to wear a mask. I understand you social distance. What bothers me is: You pick on the good people," Brooklyn resident Meir Nimni told the Associated Press news agency on Wednesday.
"Everybody here wants to live, and everybody cares" about stopping the novel coronavirus, Nimni said. But he saw a double standard that's "just not fair".
Local and state legislators also slammed the executive order, accusing Cuomo of singling out the ultra-Orthodox community without cause.
"His language was dangerous and divisive, and left the implication that Orthodox Jews alone are responsible for rising COVID cases in New York State," the legislators wrote in an open letter. "This implication is not born out by the state's own data."
The Governor is wrong, and he knows he's wrong.

My statement with @NYSenatorFelder, Assemblyman @SEichenstein & Councilman @ChaimDeutsch. pic.twitter.com/X7vGAZNUXN

— Kalman Yeger ונשמרתם מאד לנפשותיכם (@KalmanYeger) October 7, 2020
New York state reported 1,836 new COVID-19 cases on Thursday, the health department reported. Of that, 696 cases were in New York City.
Within the top 20 zip codes experiencing recent outbreaks, which include those in Brooklyn, Queens and Rockland and Orange counties, the average positive COVID-19 testing rate was 5.8 percent, the New York state government said on Thursday.
Elsewhere in the state, the positive test rate is 1.01 percent.
Those 20 areas also currently account for 23.2 percent of all positive COVID-19 cases in the state, but only account for 6.2 percent of the total population, the government said.
Covid cases surge across the US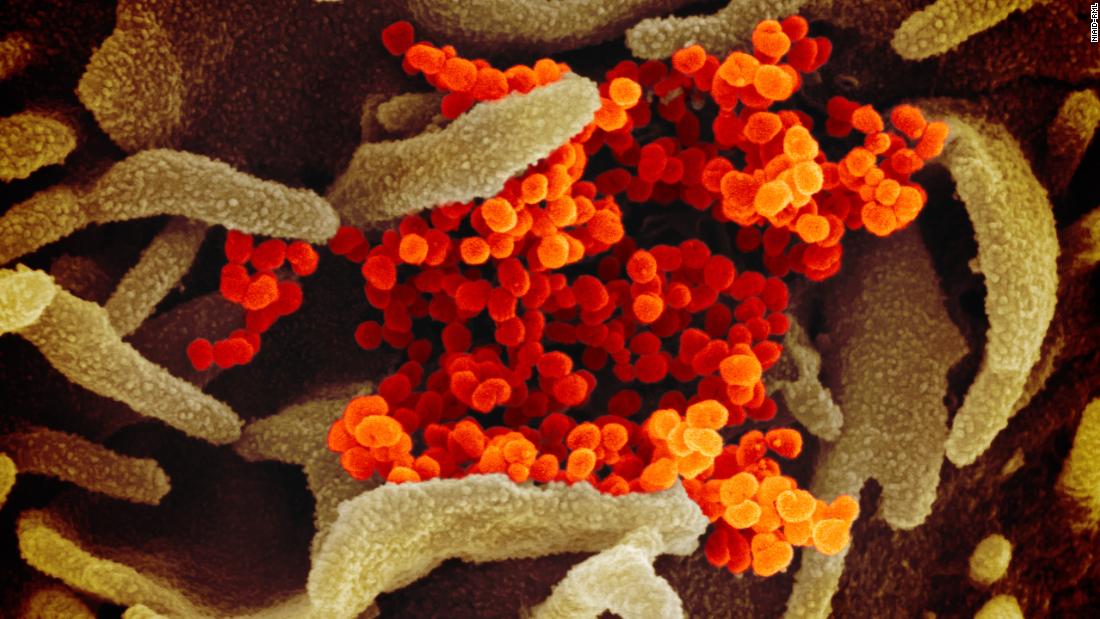 Coronavirus cases in Italy rose by 21,273 on Sunday, according to Health Ministry figures, a new daily high for the country since the start of the pandemic.
A total of more than 525,000 cases have now been confirmed in the country.
On Sunday, a further 128 people died from the virus, bringing Italy's total death toll to 37,338.
There are now 1,208 people with Covid-19 in Italy's intensive care units.
The new figures come as Italy's Prime Minister Giuseppe Conte acknowledged during a news conference announcing new restrictions that the "epidemic curve is rapidly increasing" in Italy.
But Conte said he wanted to avoid a nationwide lockdown like the one he imposed in March, because "the country could not afford it."
Italy imposes new measures: New coronavirus restrictions are set to come into force in Italy on Monday.
Unlike the country's national lockdown in March, not all economic and production activities are obliged to close under the new decree.
The main restrictions concern bars and restaurants and other food services. They must close at 6 p.m. local time and have no more than four customers per table. Gyms, swimming pools, theaters, cinemas, concert halls, bingo halls, casinos and beauty centers all must close.
Kindergartens and primary schools will stay open but to avoid overcrowded public transport, high schools must hold 75% of lessons remotely.
"We believe that during the next month (November) we will suffer a bit, but gritting our teeth and facing these restrictions, in December we will breathe again" Conte said.
Philippines: Typhoon Molave displaces thousands, floods villages
At least 25,000 people evacuated in the Philippines as heavy rains and fierce winds swamp villages and rip off roofs.
Thousands of villagers were forced to flee their homes in the Philippines as a fast-moving typhoon made landfall, flooding rural villages, ripping off roofs and toppling trees and powerlines, officials said.
There were no immediate reports of casualties from Typhoon Molave, but authorities on Monday reported at least one person was missing and seven others were rescued after their yacht sank off Batangas province south of Manila.
The typhoon has sustained winds of 125 kilometres per hour (77 miles per hour) and gusts of up to 180 km/h (112mph) and was blowing westward at 25 km/h (15 mph). Molave is expected to start blowing out of the country into the South China Sea on Monday, government forecasters said.
At least 25,000 villagers were displaced with about 20,000 taking shelter in schools and government buildings which were turned into evacuation centres, according to the Office of Civil Defense.
"Villagers are now asking to be rescued because of the sudden wind which blew away roofs," Humerlito Dolor, governor of Oriental Mindoro province, told DZMM radio.
Dolor said pounding rains overnight swamped farming villages in his province, then fierce winds toppled trees and power posts early on Monday, knocking out power. Authorities were clearing roads of fallen trees and debris in some towns after the typhoon passed, he said.
More than 1,800 cargo truck drivers, workers and passengers were stranded in ports after the coastguard barred ships and ferry boats from venturing into rough seas.
Molave follows Tropical Storm Saudel, which last week caused widespread flooding in Quezon province in the Calabarzon region, southeast of the capital Manila.
About 20 typhoons and storms annually batter the Philippines, and the Southeast Asian archipelago is seismically active, with earthquakes and volcanic eruptions, making it one of the world's most disaster-prone countries.
Celebrations in Chile as voters back rewriting constitution
Tens of thousands of Chileans have taken to Santiago's main square in celebration after people across the country overwhelmingly backed re-writing Chile's dictatorship-era constitution that many see as the root cause of the country's social and economic inequalities.
In Santiago's Plaza Italia, the focus of the massive and often violent protests last year which sparked the demand for a new charter, fireworks rose above huge crowds of jubilant people singing in unison late on Sunday as the word "rebirth" was beamed onto a tower above.
With more than three-quarters of the votes counted in Sunday's referendum, 78.12 percent of voters had opted for a new constitution drafted by citizens. Many have expressed hopes that a new text will temper an unabashedly capitalist ethos with guarantees of more equal rights to healthcare, pensions and education.
"This triumph belongs to the people, it's thanks to everyone's efforts that we are at this moment of celebration," Daniel, 37, told Reuters News Agency in Santiago's Plaza Nunoa. "What makes me happiest is the participation of the youth, young people wanting to make changes."
Chile's President Sebastian Pinera said if the country had been divided by the protests and debate about whether to approve or reject plans for a new charter, from now on they should unite behind a new text that provided "a home for everyone".
"Until now, the constitution has divided us. From today, we must all work together so that the new constitution is the great framework of unity, stability and future," he said in a speech broadcast from his Moneda Palace surrounded by his cabinet.
The centre-right leader, whose popularity ratings plummeted to record lows during the unrest and have remained in the doldrums, spoke to those who wanted to keep the present constitution credited with making Chile one of Latin America's economic success stories.
Any new draft must incorporate "the legacy of past generations, the will of present generations and the hopes of generations to come," he said.
'A better life'
The vote came a year to the day after more than one million people thronged downtown Santiago amid a wave of social unrest that left 30 people dead and thousands wounded.
The sheer size of the October 25 march demonstrated the breadth of social discontent and proved a tipping point in demonstrators' demands for a referendum. Within weeks, Pinera had agreed to initiate a process to draft a new constitution, beginning with a referendum to decide the fate of the current text.
Chile's current constitution was drafted by the dictatorship of General Augusto Pinochet, and was sent to voters at a time where political parties had been banned and the country was subject to heavy censorship.
It was approved by a 66 percent – 30 percent margin in a 1980 plebiscite, but critics said many voters were cowed into acceptance by a regime that had arrested, tortured and killed thousands of suspected leftist opponents following the overthrow of an elected socialist government.
The free-market principles embodied in that document led to a booming economy that continued after the return to democracy in 1990, but not all Chileans shared. A minority was able to take advantage of good, privatised education, health and social security services, while others were forced to rely on sometimes meagre public alternatives. Public pensions for the poorest are slightly more than $200 a month, roughly half the minimum wage.
Cristina Cifuentes, a Santiago-based political analyst, called Sunday's results a "big blow for the conservative parties" and said a new constitution was necessary to provide equitable access to healthcare, education and pensions systems.
"If you're born in the least affluent areas of the city, you don't have access to a good health system, you don't have good education, you don't have transport. And you can't even dream of having a better life. It affects all aspects of life in Chile and that's why it was so important for Chileans to change the constitution," she told Al Jazeera.
'New beginning'
As votes were counted on Sunday on live television, spontaneous parties broke out on street corners and in squares around the country. Drivers honked car horns, some as revellers danced on their roofs, and others banged pots and pans. The flag of the country's Indigenous Mapuche people, who will seek greater recognition in the new charter, was ubiquitous.
Al Jazeera's Lucia Newman, reporting from Plaza Italia, said the landslide victory had given Chileans something to celebrate after a year of sometimes violent protests.
"Many people know it's going to take at least two years to have a new constitution, and that would only set a roadmap for the future. It won't solve all of this country's problems, but at least it does give them hope for a new beginning," she said.
Four-fifths of voters said they wanted the new charter to be drafted by a specially elected body of citizens – made up of half women and half men – over a mixed convention of legislators and citizens, highlighting general mistrust in Chile's political class.
Members of a 155-seat constitutional convention will be voted in by April 2021 and have up to a year to agree upon a draft text, with proposals approved by a two-thirds majority.
Among issues likely to be at the fore are recognition of Chile's Mapuche Indigenous population, powers of collective bargaining, water and land rights and privatised systems providing healthcare, education and pensions.
Chileans will then vote again on whether they accept the text or want to revert to the previous constitution.
The National Mining Society (Sonami), which groups the companies in the sector into the world's largest copper producer, said it hoped for "broad agreement on the principles and norms" that determine the sector's coexistence with Chilean citizens and that the regulatory certainty that have allowed the sector to flourish would continue.