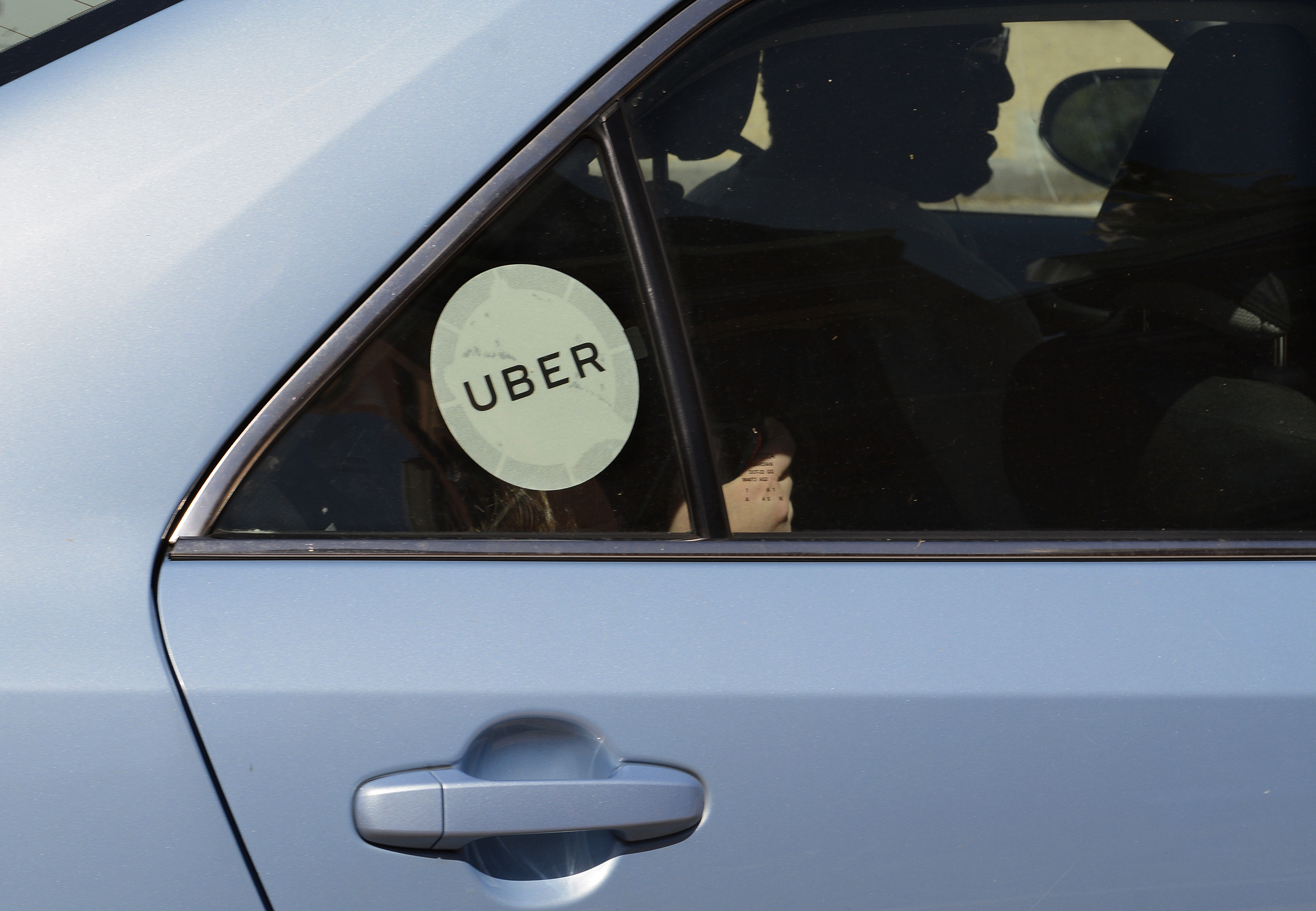 In recent weeks, gig economy companies including Uber and Lyft have bankrolled nonstop television, internet, and in-app advertisements supporting Proposition 22, a California ballot measure that would exempt gig economy companies from reclassifying their workers as employees.
Now, Southern California voters are receiving political mailers designed to trick progressive voters into supporting the ballot proposition.  
Over the weekend, voters posted to Twitter photos of mailers prepared by organizations named "Feel the Bern, Progressive Voter Guide," "Council of Concerned Women Voters Guide," and the "Our Voice, Latino Guide," all of which sent out a list of identical endorsements. These are not authentic political organizations, and appear to be the mass mailing creations of a firm called Gould and Orellana, LLC, the Long Beach address of which appears on the mailers. The firm's founder, David Gould, also happens to be treasurer of each group according to public records.
The Gould-run Progressive Voter Guide slate mailer organization was paid $20,000 by the Yes on Proposition 22 campaign, according to California public records. Yes on Proposition 22, which is backed by gig economy companies including Uber and Lyft, has raised over $186 million altogether, spending it on a flood of radio, television, digital, and physical advertisements as well as the services of lobbyists and various consultants. 
Electronic filings also show that Yes on Proposition 22 has spent at least $805,250 on slate mailers with groups such as: the Cops Voter Guide, Continuing the Republican Revolution, Californians for a Sustainable Future.
Slate mailers are mass mailed literature that tells voters whether they should support or oppose certain candidates or ballot measures. In California, they are essentially pay to play: candidates and groups behind ballot measures regularly use slate mailers to present themselves as being independently endorsed by some group that usually does not exist except for the purpose of mailing out said fake endorsements.
On Sunday, Bernie Sanders condemned the misleading mailers in a tweet. "This mailer in CA is a lie and I call on Uber and Lyft to publicly denounce the deception," the Vermont senator tweeted. "I'm opposed to Prop 22 because people working full time deserve decent wages and good benefits. CALIFORNIA: If you oppose corporate greed, vote no on Prop 22."
Spokespeople for the Yes on Prop 22 campaign did not respond to Motherboard's request for comment. 
Gould & Orellana has sent out fake mailers intentionally designed to deceive voters before. In 2018, the firm was behind fake "Feel the Bern" mailers sent out in San Luis Obispo County opposing Measure G, which sought to ban new oil wells and fracking in the county. Largely funded by Big Oil, the No on Measure G campaign successfully defeated the ballot measure by eleven points. David Gould—the firm's founder—has worked for years as a treasurer to many Democratic campaigns.
Gould and Orellana did not answer Motherboard's calls and did not immediately respond to a request for comment.
Gould also has a longstanding relationship with Renee Nahum—a self-described "20-year veteran of Los Angeles politics" that has worked on numerous Democratic Party campaigns and held prominent positions in the local party operation. In the first six months of 2019, Gould's faux-progressive mailing organization pulled in $1,750 in donations, but paid Renee Nahum & Associates $15,000 in consulting fees. Nahum is also connected to the Council of Concerned Women Voters slate mailing organization, which SFGate confirmed paid her $20,000. 
Uber and Lyft have a long track record of aggressive propaganda campaigns and lobbying operations. They've given the California GOP millions of dollars and tried to pitch Proposition 22 as a bold pro-worker ballot measure. The Yes on Prop 22 campaign has doubled down on painting its misclassification regime as a uniquely positive force in the lives of its predominantly Black and brown workforce, even though numerous studies and analyses have shown Black and brown workers are hurt the most when denied classification as employees.
Uber and Lyft have hired record numbers of lobbyists this year—many of them prominent GOP lobbyists—to fight reclassification threats in California and Washington DC, threatened capital strikes if denied the right to misclassify workers, organized harassment campaigns against critics, and been conveniently silent when misinformation about driver earnings is spread through prominent news media.
"It seems that these companies would sooner destroy their own businesses than grant workers the dignity of comprehensive benefits, guaranteed wages or unemployment insurance," the New York Times editorial board wrote in a recent op-ed opposing Prop 22. "Rejecting Prop 22 is a chance finally to ensure gig workers the protections all workers deserve."
Wilfred Chan, a contributor for The Nation and an app-based driver, wrote a breakdown of Prop 22, arguing it is part of a key platform strategy that called for "taking over industries by using under regulated labor and setting rock-bottom prices." It's only by constantly denying expensive things that drivers need to survive and thrive—healthcare and a minimum wage, for example—that gig economy companies could reduce costs, grow larger, break more laws, and eventually "become the sole provider of vital services, then raise prices, cut wages, and extract profits."
From the very beginning, the only way the companies behind Yes on Prop 22 have ever been able to improve their margins is by cutting wages and increasing prices. This has been done done by increasing hours worked without pay, reducing rates paid for work done, price discrimination targeting Black and Brown neighborhoods, and a host of other methods that hurt the human behinds behind the wheel just so a business model with no path to profitability can begin to provide investors with a mediocre return on their investment.
'Vendetta': Kashmir newspaper's office sealed by India officials
Srinagar, Indian-administered Kashmir – The regional administration of Indian-administered Kashmir has sealed the office of a leading English newspaper, whose publisher said the action was "vendetta for speaking out".
The local administration's estates department on Monday sealed the office of The Kashmir Times – one of the oldest newspapers in the region – located in the Press Enclave in the disputed region's main city of Srinagar.
Anuradha Bhasin, the owner and executive editor of The Kashmir Times, told Al Jazeera "no due process" was followed by the authorities in sealing their office, which Indian media reports said was allotted to them in the early 1990s.
"No notice was given to us," she said. "They [estates department officials] just came. Our staff was working in the office. They asked the staff to come out, saying they were putting a lock."
Today, Estates Deptt locked our office without any due process of cancellation & eviction, same way as I was evicted from a flat in Jammu, where my belongings including valuables were handed over to "new allottee". Vendetta for speaking out! No due process followed. How peevish! pic.twitter.com/J5P0eKxvbx

— Anuradha Bhasin (@AnuradhaBhasin_) October 19, 2020
Earlier this month, Bhasin alleged she was evicted from her official residence in Jammu city.
She said the sealing of her office was "vendetta politics" and an "attempt to suppress [her]" by the Indian administration.
"Vendetta because last year, I went to court against the communication blockade and right from that very day, government advertisements to Kashmir Times was stopped. It has been going on since then," Bhasin told Al Jazeera.
On August 5, 2019, India's right-wing government scrapped the partial autonomy of Kashmir and divided India's only Muslim-majority state into two federal territories, effectively bringing the region under New Delhi's direct control.
To forestall any protests over the move, the Indian government imposed a crippling, months-long shutdown and communications blackout, and arrested dozens of local politicians.
Bhasin, who filed a petition in India's Supreme Court challenging the cutting off of internet and telephone lines, said her newspaper continued to work "despite the communication blockade and staff being cut short because of financial distress".
"We continued to write against several government policies and actions critically," she told Al Jazeera.
"It [sealing of her office] is an attempt to gag me. It's an attempt to suppress me. They can put locks on our office but they can't put it on our voice."
Media in Kashmir has been facing the most difficult situation post-August 2019, and yet a few of us continue to fight it. In return, govt uses media policy, jails, summons, terror cases, intimidation to stop free press. It is daily battle to sustain freedom of press in Kashmir.

— Fahad Shah (@pzfahad) October 19, 2020
Defending the move, an official of the region's estates department told Al Jazeera on condition of anonymity that they have not closed the office of The Kashmir Times "as has been projected".
"We have only taken possession of the building that was allotted to late Ved Bhasin, who died some years back," he said.
Ved Bhasin, Anuradha's father and founder editor of The Kashmir Times, died in 2015.
"The building was allotted to Ved Bhasin but when the allottee has died, you cannot continue with the accommodation or any facility in the name of the person who is no more," said the official, alleging that the newspaper's office was being used "for residential purposes".
"At the same time, they have another quarter in the vicinity of this one in the name of Kashmir Times which they use as their office," he said.
'Attempt to throttle free press'
But journalists in the region are outraged, calling the action against The Kashmir Times yet another "attempt to throttle the free press in Kashmir by the government".
"The move is highly condemnable. The government should reverse it and ensure an enabling atmosphere for the press in Jammu and Kashmir free from fear and coercion," Ishfaq Tantry, general secretary of the Kashmir Press Club, told Al Jazeera.
Media watchdog, the Committee to Protect Journalists (CPJ), also condemned the move.
"We condemn the ongoing targeting and harassment of Anuradha Bhasin and The Kashmir Times. Authorities must stop trying to silence independent and critical voices and should respect press freedom," CPJ said in a statement.
On October 15, Kashmir News Service (KNS), a local news agency, was also told to vacate their offices in Srinagar by the authorities.
"I received a call from Jammu and Kashmir's estate department that we should vacate the office within an hour," KNS editor-in-chief Mohammad Aslam told Al Jazeera.
"No reason or eviction notice was served but we were verbally told so. The officer told me that they have orders from the higher authorities."
This explains why some of our "esteemed" publications have decided to become Government mouthpieces, printing only government press handouts. The price of independent reportage is to be evicted without due process. https://t.co/Vs7nfWWd4h

— Omar Abdullah (@OmarAbdullah) October 19, 2020
Aslam said the property was allotted to him by the government in 2004 and he was surprised they were forced to move out "in such a hurry".
"On one side, we are being accused of being pro-government and on the other, we face such measures from government. At least the authorities should have given us proper time even if they wanted us to vacate the property," he said.
Earlier this year, several leading Kashmiri journalists were charged by the Indian police under stringent laws for their "anti-national" social media posts – a move slammed by press and rights groups from around the world.
The former chief ministers of the region, Omar Abdullah and Mehbooba Mufti, condemned the government's action and expressed their solidarity with Bhasin.
Mufti said Bhasin was "one of the few local newspaper editors" in Kashmir "who stood up to Indian government's illegal and disruptive actions in the state".
"Shutting down her office in Srinagar is straight out of BJP's vendetta playbook to settle scores with those who dare to disagree," she posted on Twitter, referring to India's governing Bharatiya Janata Party, which has been accused of targeting journalists and activists.
India ranked 142 on the World Press Freedom Index this year over the communications blackout in the part of Kashmir it administers.
Ireland, Wales to re-enter lockdown as COVID-19 surges in Europe
Countries and regions in Europe are toughening coronavirus restrictions amid a surge in fresh infections, with Wales imposing a "fire-break" lockdown of 14 days, Ireland announcing a nationwide "stay at home" order for six weeks and Belgium shutting down bars and restaurants for a month as authorities there warned of a possible "tsunami" of new COVID-19 cases.
The latest European measures came as the World Health Organization on Monday blamed the surge in cases in the northern hemisphere on countries' failure to properly quarantine infected people.
According to the WHO, half of the 48 countries in its Europe region have seen a 50 percent rise in cases in the past week. With the continent firmly in the grip of a second wave of COVID-19, several countries have imposed curfews, while Wales and Ireland became the first territories to reimpose lockdowns.
In a televised address on Monday, Irish Prime Minister Micheal Martin announced the closure of non-essential retail, limiting restaurants and pubs to take away service and telling people not to travel more than five kilometres ( three miles) from their home.
The travel restrictions, which will come into force from midnight on Wednesday, are among some of the toughest in Europe. Martin said the strict measures were necessary as the "evidence of a potentially grave situation arising in the weeks ahead is now too strong".
In Wales, First Minister Mark Drakeford said he was backing a short, sharp "firebreak" to slow the spread of COVID-19, and announced that all non-essential retail, leisure, hospitality and tourism businesses will close for two weeks beginning at 6pm (17:00 GMT) on Friday – a lockdown similar in scope to the United Kingdom-wide measures imposed in March.
"This is the moment to come together to play our part in a common endeavour to do everything we can together to protect the NHS," Drakeford said, referring to the state-run health service.
In Belgium, where the numbers of people admitted to hospital rose 100 percent in just the last week, Health Minister Frank Vandenbroucke described the situation in the capital, Brussels, and in the south of the country as "the most dangerous in all of Europe".
"We are the most affected region in all of Europe. We are really close to a tsunami," he told broadcaster RTL, warning the new infections could overwhelm the healthcare system.
According to data from the European Centre for Disease Prevention and Control,  Belgium has seen an average of 7,876 new infections a day in the past week, while 12,051 infections were recorded last Tuesday – the highest number since the start of the pandemic.
Quarantine measures
Meanwhile, in Geneva, WHO emergencies director Michael Ryan, speaking at a virtual press conference, urged countries in Europe and North America to follow the example of Asian states by persevering with anti-COVID-19 measures and quarantining anyone who comes into contact with infected people.
If he could have one wish, he said, it would be to ensure "every contact of a confirmed case is in quarantine for the appropriate period".
"I do not believe that has occurred systematically, anywhere," he told reporters, saying it was "a good part of the reason why we're seeing such high numbers".
"The countries in Asia, South Asia, the Western Pacific that have been successful to my mind have really continued to follow-through on those key activities," he added.
WHO Director-General Tedros Adhanom Ghebreyesus also warned against people getting fed up with the pandemic and the measures imposed to control it, saying: "I know there's fatigue but the virus has shown that when we let our guard down, it can surge back at breakneck speed and threaten hospitals and health systems."
The WHO's plea for vigilance on Monday came as the number of confirmed coronavirus cases worldwide passed 40 million, with more than 1.1 million deaths. More than 250,000 of those deaths have been in Europe.
Italy, the initial epicentre of Europe's outbreak also announced fresh curbs including earlier closures for bars and restaurants and a push to increase working from home. In Poland, where about half the country is now designated as a coronavirus "red zone", the government said the national stadium would double as a field hospital to help ease the strain on overwhelmed health facilities.
Several Spanish regions also toughened their coronavirus restrictions on Monday, with authorities in the northern region of Castile and Leon announcing the city of Burgos and nearby Aranda de Duero would be closed to all but essential travel from Tuesday night. The measure came after infection rates in the area surpassed 500 cases per 100,000 people.
Switzerland, meanwhile, made mask-wearing compulsory in indoor public spaces and limited public gatherings after infections doubled over the last week. "The second wave is here, earlier and stronger than we expected, but we are prepared," Swiss Health Minister Alain Berset said.
France imposed its own overnight curfew from the weekend in nine cities including Paris, affecting 20 million people, with a record 32,400 new infections reported on Saturday, while the French presidency said President Macron's wife Brigitte Macron will self-isolate for seven days after coming into contact with someone who tested positive for COVID-19.
"Brigitte Macron has no symptoms of the disease at this stage," the statement said.
Slovenia has also followed suit with a curfew, with its roughly two million inhabitants forced to stay home between 9:00pm (19:00 GMT) and 6:00am (04:00 GMT) from Tuesday and banned from non-essential travel.
In Portugal, confirmed coronavirus cases passed 100,000 on Monday, with nearly 2,000 new infections in the past 24 hours, days after tough new measures to contain the disease came into force.
"Everyone's tiredness is legitimate but it cannot legitimise failure," the Secretary of State for health, Antonio Sales, told a news conference. "We continue to depend on each other – and our success is the success of Portugal."
Moderna CEO sees virus vaccine interim data in November: Report
US drugmaker's CEO says Washington could approve vaccine for emergency use in December, Wall Street Journal reports.
Moderna Inc's Chief Executive Officer Stephane Bancel expects interim results from its coronavirus vaccine trial in November and that the United States government could approve the drug for emergency use in December, the Wall Street Journal newspaper reported.
Speaking at the newspaper's annual Tech Live conference, Bancel also said on Monday that if sufficient interim results from the study are delayed, government permission to use the vaccine may not come until next year.
The first interim analysis of the vaccine's efficacy will happen when 53 people in the entire study show symptoms of COVID-19, the report said.
That first analysis is likely to occur in November, but "it's hard to predict exactly which week because it depends on the cases, the number of people getting sick," the report quoted Bancel as saying.
Moderna has one of the leading COVID-19 vaccines in development, along with a vaccine co-developed by Pfizer Inc. Large US trials for two other leading Covid-19 vaccines, from Johnson & Johnson and AstraZeneca PLC, have been paused, while the companies investigate unexplained illnesses among study subjects.
Bancel had told Financial Times newspaper last month that Moderna would not be ready to apply for emergency use of its COVID-19 vaccine before November 25 at the earliest.
Challenges ahead
Bancel also highlighted that a ramping up of production is a challenge. "If one ingredient is missing, we cannot make the vaccine," the Journal quoted him as saying.
Moderna is on track to produce 20 million doses of its experimental vaccine by the end of the year, the company had said last month, adding that 25,296 participants had enrolled out of a planned 30,000 in its late-stage study.
The company must monitor the safety of at least half of the study subjects for two months after vaccination before it can seek an authorisation for emergency use. Bancel said Moderna was likely to reach that threshold in late November. If Moderna files for an emergency use authorisation soon after, the Food and Drug Administration may take a few weeks to review the application before deciding in December.
Drugmakers are racing to develop a COVID-19 vaccine, with more than 150 potential therapies being developed and tested globally.
Bancel's comments suggest Moderna's timetable is not far off Pfizer's, which said last week it expects to seek US authorisation of emergency use of its vaccine by late November.