Trump's nominee defends previous critiques of the Affordable Care Act. If confirmed, she'd hear a challenge to the law next month.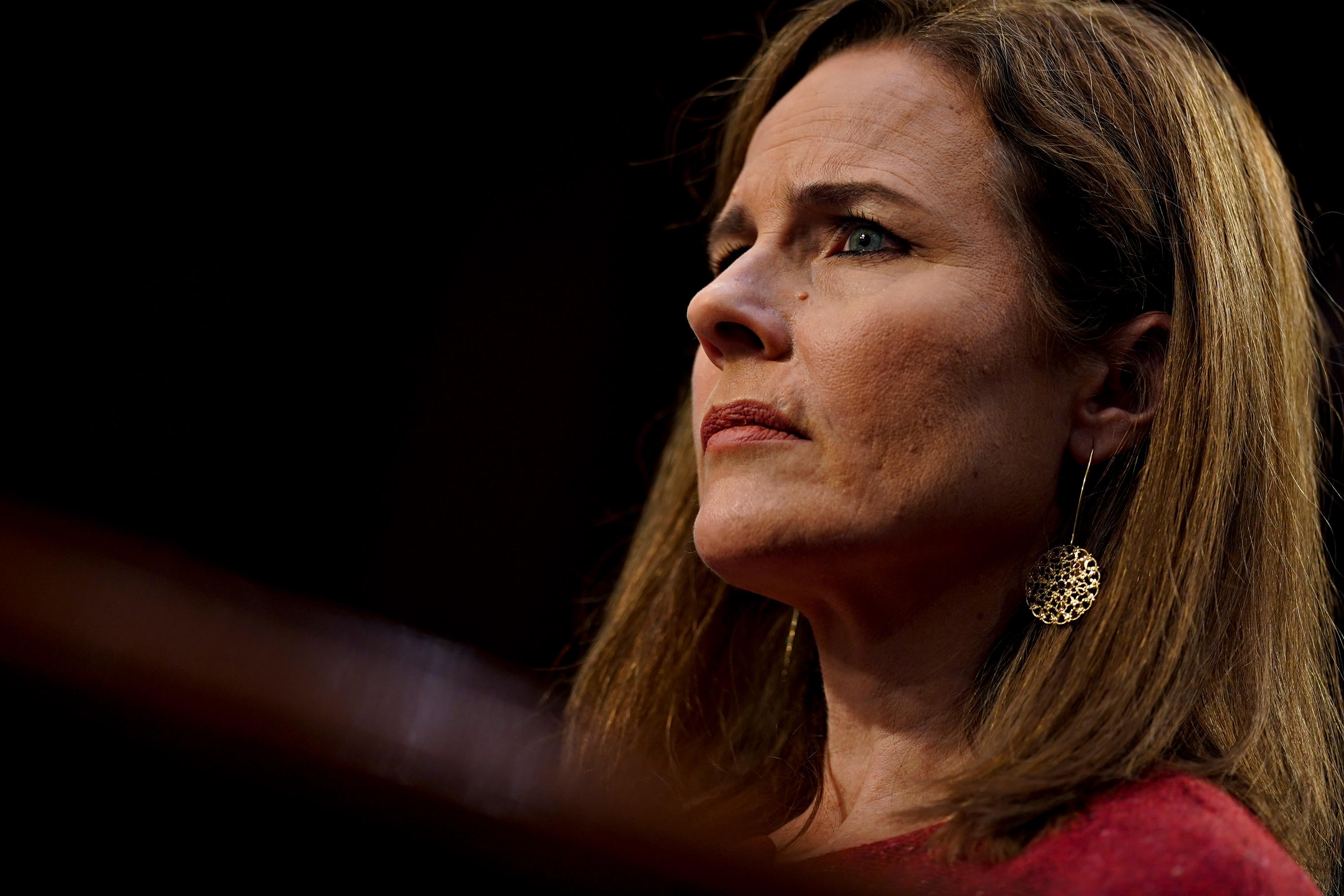 Many Democrats on the Judiciary Committee have asked Supreme Court nominee Amy Coney Barrett about the Affordable Care Act today.
The Supreme Court is scheduled to hear arguments on Nov. 10 regarding whether the Affordable Care Act, commonly known as Obamacare, should be tossed out. That could be just weeks after the full Senate has confirmed a new Justice Barrett.
A group of Republican states led by Texas, and backed by the Trump administration, has asked the justices to invalidate the entire law, including provisions that expanded Medicaid to low-income adults, allowed children to remain on their parents' policies until age 26 and guaranteed coverage for people with pre-existing health conditions such as diabetes and cancer.
Trump has opposed the law from its inception and derided the Supreme Court for upholding it. He had pressed Congress to throw out Obamacare to no avail. Now his administration is trying to do through litigation what it failed to accomplish legislatively. Trump's third appointee to the nine-member high court could soon be in a pivotal role toward that effort.
Barrett would succeed Justice Ruth Bader Ginsburg, who died on Sept. 18 and who had consistently voted for the ACA. When the justices first rejected a challenge to the constitutionality of the 2012 law, liberal Ginsburg was part of the narrow 5-4 majority. So was conservative Chief Justice John Roberts. He cast the fifth vote, with four liberals, to uphold Obamacare, but only after construing a disputed provision requiring Americans to purchase health insurance to be valid under Congress' taxing power.
Roberts' ruling has drawn the scorn of conservatives ever since.
What Barrett has said about the issue: Barrett, then a University of Notre Dame law professor, wrote in a 2017 law review essay, "Chief Justice Roberts pushed the Affordable Care Act beyond its plausible meaning to save the statute. He construed the penalty imposed on those without health insurance as a tax, which permitted him to sustain the statute as a valid exercise of the taxing power."
She continued, "Had he treated the payment as the statute did — as a penalty — he would have had to invalidate the statute as lying beyond Congress's commerce power."
Senate Minority Leader Chuck Schumer on Sunday pointed to that essay in calling for Barrett to commit to recusing herself from the Supreme Court's consideration of the law should she be confirmed to the bench, saying her "record on ACA is filled with evidence demonstrating the need for recusal."
Payment24 CEO: Criminal in the US, service provider to Iran
Tehran, Iran – To the United States, he is a criminal and a threat to national security. To Iranians cut off from the international financial system by US sanctions, he was an invaluable provider of services many people in other countries take for granted.
Last week, Iranian citizen Sajjad Shahidian, better known in Iran as Soheil Shahidi, was sentenced to 23 months in prison by a US federal court in Minneapolis, Minnesota for his role in operating Payment24 – an online financial services company prosecutors say helped Iranians conduct transactions with US-based businesses prohibited under sanctions.
The 33-year-old founder and former CEO of the now-defunct Payment24, Shahidian pleaded guilty in June to conspiring to defraud the US.
US prosecutors alleged that between 2009 and 2018, Shahidian and another Payment24 executive helped Iranian clients make online purchases from US-based businesses by offering a package that included a PayPal account, a fraudulent "ID card and address receipt", a remote IP address from the United Arab Emirates and a Visa gift card.
Many of the services the platform facilitated are routine in countries that do not land on Washington's economic blacklist; helping freelancers accept payment for their services in foreign currencies; enabling students studying abroad to pay for international university admission tests and tuition fees; helping businesses buy computer software licences from the US-based firms.
Certainly I don't regard Soheil Shahidi as a criminal
Shahidian was in London in November 2018 when he was arrested by the British police on behalf of US authorities in a surprise move. In May 2020, he was extradited to the US on money laundering, wire fraud, identity theft, and conspiracy charges.
After Shahidian was sentenced earlier this month, US Attorney Erica MacDonald said Payment24 engaged in actions that are "criminal and threaten our national security interests", adding that the ruling should send a clear message to others who wish to follow in his footsteps.
But not everyone agrees with the narrative that Shahidian is a criminal.
Iranian executive Reza Ghorbani says he met Shahidian several times and knew him as a bright member of the fervent local startup scene.
"Certainly I don't regard Soheil Shahidi as a criminal and a threat to any country's national security," the CEO of Way2Pay, a media and publishing company focused on financial technology, told Al Jazeera.
"He was simply someone who was trying to use technology to help people wire money internationally, something innovative businesses engage in all over the globe and it's called remittance."
A society isolated
Since the US sanctions were first imposed on Iran shortly after the Islamic Revolution in 1979, ordinary Iranians have been unable to harness common cross-border payment methods, such as internationally accepted credit cards, freely and easily.
Over the years, successive rounds of sanctions left the country more isolated.
Following the 2016 implementation of a landmark nuclear deal signed between Iran and world powers that lifted sanctions in exchange for curbs on the country's nuclear programme, there were hopes Iran would be reintegrated into the global financial system.
But the election of US President Donald Trump dashed those hopes.
In May 2018, the Trump administration unilaterally withdrew from the nuclear agreement Trump called "the worst deal ever", and began unleashing a torrent of sanctions to coerce Iran back to the negotiating table.
Iran has not bent to Washington's will, even as sanctions continue unabated during the coronavirus pandemic.
Just like many other places, Iranian people try to use innovative technology tools
The latest round imposed earlier this month saw 18 Iranian banks blacklisted, including those that facilitate humanitarian trade transactions – effectively cutting off Iran's entire financial sector from the global economy.
While the Trump administration maintains that the sanctions are meant to harm the Iranian "regime", ordinary citizens have borne the brunt of the pain.
In the past two years, a number of major international technology firms and even gaming companies have locked-out Iran-based users for fear of falling afoul of US sanctions, say experts.
"Just like many other places, Iranian people try to use innovative technology tools, so it is unacceptable to penalise the people of a country for using something that is their right because of limitations cruelly implemented by another government," Way2Pay's Ghorbani said.
'No action is worth violating US sanctions'
Last week, the Farsi Twitter account of the US State Department published a mug shot of Shahidian, warning, "As we have always said, no action is worth violating US sanctions."
The warning was not well received by Pouria, a 28-year-old student now living in the UK who used the services of a company similar to Payment24 to facilitate his move abroad.
"The Americans are proudly bragging about punishing a guy who helped families send money to their kids abroad or let students sign up for international science exams," he told Al Jazeera, asking that his surname be withheld to protect his privacy.
The Americans are proudly bragging about punishing a guy who helped families send money to their kids abroad
"Yes, sanctions are not aimed at ordinary people at all!" he added sarcastically.
The warning also failed to dissuade a chief executive of a private company with a similar mandate to Payment24 that is now active in several cities in Iran.
"Unfortunately the US imposes harsher sanctions on the Iranian people every day in a bullying manner, making ordinary Iranians' access to international tools increasingly difficult," the CEO told Al Jazeera on condition of anonymity.
The executive plans to keep his business up and running, he says, because he believes his firm is performing a valuable service.
"You can't say someone who flouts expansive sanctions that prevent everyday use of common tools is doing something wrong," he said. "It would be like throwing someone innocent in prison and branding them a criminal and condemning them again if they attempt to escape."
No, Trump hasn't been the best president for Black America since Lincoln
At last week's NBC town hall event, President Donald Trump leaned in to the camera to recite a statement that has become a fixture of his reelection campaign: "I have done more for the African American community than any president with the exception of Abraham Lincoln."
Over the past year, Trump has shouted this from the lectern at campaign rallies and from the balcony at the White House as a play to Black voters, a countermessage to his racist rhetoric. The phrase has morphed over time, starting in the fall of 2019 as something more restrained — "We've done more for African Americans in three years than the broken Washington establishment has done in more than 30 years" — and rising to the bold "No president has done more for our Black community" this year.
In June, Trump tweeted a similar statement bragging about what he has done for Black Americans. It came just days after George Floyd, a 46-year-old Black man, was killed by Minneapolis police officers, setting off unrest and protests for Black lives across the country. He had not actually addressed the reason for millions of people marching in the streets — the institutional racism in policing.
My Admin has done more for the Black Community than any President since Abraham Lincoln. Passed Opportunity Zones with @SenatorTimScott, guaranteed funding for HBCU's, School Choice, passed Criminal Justice Reform, lowest Black unemployment, poverty, and crime rates in history…

— Donald J. Trump (@realDonaldTrump) June 2, 2020
The tone-deaf display continued earlier this month, when in his first address since announcing he had tested positive for the coronavirus, Trump confidently shouted the claim to hundreds of Black and Latinx voters standing on the White House South Lawn: "Nobody can dispute it. Nobody can dispute it. It's true. Nobody can dispute it." The very fact that the president encouraged Black people to assemble in his name just days after his diagnosis, forgoing social distancing and despite the devastation the virus has wrought on Black and Latinx communities, one could argue undermined his message.
While Trump may be confident in his claim of having done the most for Black Americans, his record begs to differ. He has repeatedly cited his efforts on criminal justice reform and the economy as the reasons he's been the best president for Black America since Lincoln — who signed the Emancipation Proclamation, freeing enslaved people in the Confederacy and clearing the way for the ratification of the 13th Amendment, which abolished slavery across the US — but rarely does Trump put his supposed "wins" in context. For example, Trump often tries to take credit for a decline in violent crime, though the downward trend predates him by many years.
Trump's "since Lincoln" bit is also untrue on its face: Ulysses S. Grant created the Department of Justice and pushed for the prosecution of the Ku Klux Klan; Franklin Delano Roosevelt's Justice Department pushed for poll tax repeal; Harry S. Truman desegregated the military; Lyndon B. Johnson through Great Society legislation signed the Voting Rights Act, the Civil Rights Act, and the Fair Housing Act, and desegregated hospitals in the South through the Social Security Act Amendments of 1965; and Barack Obama, the first Black president, passed the Affordable Care Act, which has reduced racial disparities in health care.
Trump, meanwhile, has wholly disregarded how his strategy and policies don't help Black communities — from his rhetoric that sows division to his inaction in addressing the coronavirus pandemic that has killed nearly 1 in 1,000 Black people in the US.
Here's a look at what Trump has and hasn't done for Black communities and why his campaign's recently released plan for Black America is a vague last-ditch effort to lock in Black voters.
Trump passed a significant criminal justice reform measure, but his administration has worked to undo it
Standing before hundreds of Black and brown supporters earlier this month, Trump said that America has reached a "historic reduction of violent crime" during his presidency. "We signed a landmark criminal justice reform bill that nobody thought was possible to think about. I did that. I did that. I got that done," he said.
In December 2018, Trump did indeed sign the First Step Act, which made "the most substantial changes in a generation" to "tough on crime" laws that increased the federal prison population by 700 percent since 1970.
Since Trump signed the measure into law, more than 3,000 people have been released from federal prison due to the law's "good time credits," which provide early release for well-behaved inmates; hundreds have been released into the elderly home confinement pilot program, which places older federal inmates in home confinement before the end of their prison term; and more than 2,000 people — 91 percent of whom are Black — received sentencing reductions because the First Step Act retroactively applied the Fair Sentencing Act of 2010 (a law Obama passed), reducing the sentencing disparity between crack and cocaine charges.
While these changes are substantial, many have pointed to the areas where the act fails — and why Trump can't take full credit for the initiative.
As Catherine Kim reported for Vox, Trump's Justice Department, under Attorney General Bill Barr's direction, has "attempted to block hundreds of eligible beneficiaries" from being released and has tried to send those who have been released back behind bars, according to the Sentencing Project. "The department has tried to freeze applications or re-incarcerate former inmates by setting higher standards for their release," Kim wrote.
Moreover, Trump has failed to mention how the bill was the "culmination of several years of congressional debate" over how to reduce the size of the federal prison population and maintain public safety, according to the Congressional Research Service. The law is basically a scaled-down iteration of the Sentencing and Reform Corrections Act that was introduced in Congress in 2015.
Proponents of the law have also pointed out that its effects on the size of the federal prison system will ultimately be minimal. Vox's German Lopez reported:
The law may let thousands of federal inmates out early, but, as Stanford drug policy expert Keith Humphreys noted in the Washington Post, more than 1,700 people are released from prison every day already — so the First Step Act in one sense only equates to adding a few more days of typical releases to the year.
While much of what Trump has touted did not originate with him, this summer he had the opportunity to create his own criminal justice agenda when protests swept the country over the police shootings of Black Americans like Breonna Taylor, the 26-year-old killed in her home in Louisville, Kentucky, and Jacob Blake, the 29-year-old who survived after police shot him in the back several times in Kenosha, Wisconsin. Instead, Trump claimed that the phrase "Black Lives Matter" is a symbol of hate and responded to the unrest by celebrating law enforcement, directing them to meet the protesters with force and violence.
Trump's dismissal of the Black Lives Matter movement's repeated calls for police and criminal justice reform, coupled with his "law and order" rhetoric — rhetoric that incites violence and that has long been racist — counters the police reform efforts he touts. In June, Trump signed an executive order that called for more training for police officers and the establishment of a national database of police misconduct, among other actions — all steps that fall far short of the transformative changes that activists have called for.
Early on, Trump made his tone clear when he tweeted, "When the looting starts the shooting starts," focusing on the small number of people ransacking property and giving very little attention to the families burdened by police violence.
Trump has also tried to take credit for the reduction in violent crime nationwide, but he inherited the downward trend that has been in effect since 2000. Trump has tried to argue that because he expresses support for and honors police officers — supposedly unlike Obama — criminals have been less inclined to commit crimes. Yet researchers haven't been able to establish a link between rises in homicides and "disrespect for the police." According to economists at the Brennan Center, by claiming that he is responsible for lower crime rates, Trump is promoting dangerous misconceptions about the relationship between crime and policing.
Black employment gains before the pandemic were real — but not the result of Trump's presidential term
Trump has repeatedly patted himself on the back for achieving "the lowest Black and Hispanic unemployment rate in the history of our country."
Before the pandemic hit, the unemployment rate for Black Americans reached an all-time low (since the Bureau of Labor Statistics started keeping track in 1972) at 5.9 percent in May 2018. But as many have pointed out, the decline in the Black unemployment rate began during President Obama's presidency.
Even as the overall unemployment rate dropped after a sharp rise in March, the Black unemployment rate remained higher. White Americans have had found work more quickly overall, and the employment gap has persisted, even as further economic relief from the government remains nowhere in sight. The continued failure to contain the coronavirus epidemic makes a full recovery even more difficult.
Trump also chooses not to mention the kinds of jobs that Black Americans occupy. A Brookings Institution report found that Black Americans are overrepresented in low-wage, undervalued "essential" jobs in which they're more likely to die due to factors like the coronavirus.
According to an Associated Press fact-check, household median income was higher for Black people before Trump took office. Furthermore, Trump's focus on the unemployment rate ignores other economic hardships that Black people face, like low rates of Black homeownership and low Black male labor force participation rates, according to the New York Times.
In the same breath, Trump has often celebrated the "opportunity zones" provisions included in the 2017 tax bill that he signed into law. While opportunity zones are supposed to encourage investment in high-need communities, according to a 2019 New York Times report, the program has mostly just benefited wealthy Americans making the investments, and haven't been proven to help underresourced communities. The early beneficiaries of the tax breaks are billionaires and Trump family members for "high-end apartment buildings and hotels, storage facilities that employ only a handful of workers, and student housing in bustling college towns," according to the report.
Trump's claims on poverty don't tell the full story of racial disparity
Relatedly, Trump cites declining poverty rates before the pandemic as proof of his success. "Last year, Black and Hispanic American poverty reached the lowest ever in the history of our country," Trump said at the White House event earlier this month.
According to census data, Trump's claim is correct but ignores the major disparities that remain. According to the data, the US poverty rate was 10.5 percent in 2019, the lowest since 1959, when data was first collected and released on this scale, with an 18.8 percent poverty rate for Black people and a 15.7 percent poverty rate for Hispanics.
Despite these historic lows, Black and Hispanic people are overrepresented in the poverty population relative to their representation in the overall population. According to the data, Black people represented 13.2 percent of the total population in the United States but 23.8 percent of the poverty group — almost two times greater than their portion of the general population. Hispanics comprised 18.7 percent of the total population but 28.1 percent of the population in poverty — 1.5 times more than their share of the population.
Experts are torn about whether Trump should be credited with the declines in poverty — which may be reversed without further economic stimulus. Trump has taken credit for the number of people who have stopped receiving food stamps under his presidency — in February, he claimed that 7 million people stopped receiving assistance through the Supplemental Nutrition Assistance Program.
Experts say the decline in food stamp enrollment is due to "improving employment opportunities and pay increases," with enrollment decreases beginning in 2014 and 2015 under Obama, according to the New York Times. But there could also be another reason for the decline in SNAP assistance: Trump has tightened eligibility requirements. In March, it was estimated that 700,000 people would be kicked off food stamps because of the administration's new strict work requirement. A federal judge recently struck down that requirement, calling it "arbitrary and capricious."
The mechanism for funding HBCUs has very little to do with Trump
Trump has also repeatedly mentioned how his administration has funded historically Black colleges and universities. "They couldn't get funded. Nobody was funding them for years and years and decades, nobody was funding them," Trump said.
This is simply untrue: Under Obama, the federal government invested more than $4 billion in HBCUs over seven years.
And while federal funding for HBCUs has been renewed under Trump's presidency, Trump has not publicly acknowledged that the renewal is the result of congressional appropriations.
"Congress does all this work and presents it to him in the budget, and he can choose to sign it. This year, he held off on signing some significant STEM funding, making HBCUs beg for it," Rutgers professor and leading HBCU authority Marybeth Gasman told the Washington Post. "Trump has promised all kinds of things to HBCUs and has followed through on little. Under Trump, the White House Initiative for HBCUs was moved to the White House and is quite quiet compared to the work under President Obama's administration."
Trump is making a last-ditch effort to hold his ground with Black voters
In 2016, Trump won just 8 percent of Black voters. The same holds true in 2020 — his Democratic opponent, Joe Biden, leads Trump with Black voters, 83 percent to 8 percent, a 75-point margin, according to CNN. However, Trump's support among Black voters ages 18 to 44 has jumped from 10 percent in 2016 to 21 percent this year, according to FiveThirtyEight, "while older Black voters look as if they'll vote for Biden by margins similar to Clinton's in 2016."
"Black voters remain an overwhelmingly Democratic-leaning constituency, but a notable reduction in their support could still be a problem for Biden," according to the publication.
In a last-ditch effort to attract more Black voters, Trump unveiled his "Platinum Plan" for Black Americans mere weeks before the election. It includes proposals to designate the Ku Klux Klan and antifa as terrorist organizations, make lynching a hate crime, recognize Juneteenth as a federal holiday, and increase investments in Black communities by supporting Black homeownership, small businesses, and job creation. The plan is vague — it lists what Trump would seek to accomplish but doesn't explain how he'd get there. (For comparison, Biden's Lift Every Voice Plan, though far from perfect in the eyes of progressives, explains the steps a Biden-Harris administration would implement to support Black Americans.)
But if voters are still unclear about what Trump has done for Black Americans, no data is as stark as coronavirus data. From willfully misleading the public on the virus to dismantling the government's pandemic response team, Trump could have prevented tens of thousands of deaths early on. Instead, his inaction has left thousands of Black Americans dead, with the coronavirus killing them at twice the rate of white people.
Since contracting the coronavirus, Trump has further downplayed the severity of the disease, tweeting, "Don't be afraid of Covid. Don't let it dominate your life," dismissing the hundreds of thousands of Americans who have lost loved ones to the disease, many whose family members could not receive the kind of care and treatment the president did.
Whatever economic gains Black Americans experienced in the early years of his term have also been undone in the pandemic, especially since more than 90 percent of Black businesses that applied for loans through the federal Paycheck Protection Program were denied. Forty percent of Black-owned small businesses have since closed, according to a Brookings Institution report.
Ultimately, the idea of "who's done more for Black people" homogenizes Black communities — stripping them of their diverse identities and backgrounds — and makes elected officials accountable during election season only.
In 2016, Trump made his pitch to Black Americans, asking, "What the hell do you have to lose?" With the way the past four years have played out, it's clear they had a lot to lose — and stand to lose a lot more.
---
Will you help keep Vox free for all?
The United States is in the middle of one of the most consequential presidential elections of our lifetimes. It's essential that all Americans are able to access clear, concise information on what the outcome of the election could mean for their lives, and the lives of their families and communities. That is our mission at Vox. But our distinctive brand of explanatory journalism takes resources. Even when the economy and the news advertising market recovers, your support will be a critical part of sustaining our resource-intensive work. If you have already contributed, thank you. If you haven't, please consider helping everyone understand this presidential election: Contribute today from as little as $3.
The protests in Thailand are making history
For days now, tens of thousands have taken to the streets of Bangkok to demand the resignation of General Prayuth Chan-ocha's government, a new constitution and the legal, political, and economic reform of the Thai monarchy.
At the beginning of the summer, when this mobilisation started, the protest was mostly a student affair, organised through social media, with a focus on memes and political performances, and a harsh critique of the government's performance.
The anger of this young generation, which grew up under the stranglehold of a military government, was initially directed against Prayuth. His government came to power through a coup d'état in 2014, won an election of questionable legitimacy in 2019, and failed to respond to an economic crisis that only worsened when the coronavirus pandemic hit.
Largely ignored by the authorities, the movement evolved and its demands began to change in August, when Panusaya Sithijirawattanakul, a 21-year-old student, read in front of a crowded square a document destined to make history.
"There was fear lurking inside me, deep fear of the consequences," Panusaya told BBC News Thai, thinking back to the moments before going on stage. "I knew my life would never be the same again."
Panusaya read a series of unprecedented demands: to take away the monarch's legal immunity, to eliminate the lese-majeste law (which punishes any criticism of the monarchy with imprisonment), to cut the monarchy's funds, to make its investments transparent and taxable, to prohibit members of the royal family from expressing political opinions, to suspend all forms of monarchic propaganda, to investigate the disappearance in recent years of various critics of the monarchy and to make it illegal for the monarch to support a coup d'état.
A public statement of this magnitude questioning the monarchy had not been heard in Thailand since the 1930s, when a group of young bureaucrats, who the young protesters today see as an inspiration, put an end to the absolute monarchy, with the support of large portions of the military forces. Today, instead, the military leadership are perched around the monarchy and see the preservation of its power as indispensable for the maintenance of their own. Based on this transformation and the legal consequences of any criticism of the monarchy, Panusaya's fear was more than legitimate. Yet, it proved to be unfounded.
The 10 demands, instead of alienating supporters from the movement, galvanised it and broadened its base far beyond the students, attracting blue-collar workers, white-collar workers, people of various generations and social classes, including some former activists in the red shirts, a popular movement that had filled the streets of Bangkok in 2010 but remained largely dormant after the coup in 2014.
As a sign of this expansion, on October 14, tens of thousands of people stood in front of the government building asking for Prayuth's resignation. The general, determined to let the protesters run out of steam without accepting their demands, responded the next day by declaring a state of emergency prohibiting any gathering of more than five people, arresting the leaders of the protest, including Panusaya, and threatening violent repression.
Today the protests continue, both in Bangkok and around the county, despite the emergency decree, the arrests, and the authorities' intimidation techniques, which include reminding the protesters that anybody can die at any moment, discouraging them from trifling with Matjurat, the local deity of death, and attacking them with water cannon and tear gas.
Day by day, the protests are becoming more radical and direct in attacks against the monarch, who has now become, together with Prayuth, the main target of the mobilisation. Seen from abroad, this could seem like an obvious, and almost natural, conclusion of the last two decades of political struggle in Thailand in which the Thai monarchy has always taken the military's side in the struggle between democratic and authoritarian forces. Yet, in the Thai context, this is an epochal change, a sudden and profound transformation that many people find hard to grasp.
During the demonstrations on October 14, seemingly as a provocation, the royal family drove through the protest and, for the first time in Thai history, their yellow Rolls-Royce was surrounded not by a cheering crowd but by hundreds of people shouting, insulting and reminding the royals that their car is paid for with people's taxes.
The next day, during another protest in violation of the state of emergency imposed by Prayuth, thousands of people shouted insults out loud against the king, words that embarrassed local journalists who were forced to interrupt their live broadcast, record the same segments multiple times, or mute the background audio, in an awkward attempt not to broadcast them, due to the risk of being accused themselves of sedition or inciting unrest.
After a week of daily protests springing up across Bangkok and the rest of the country, what happens next is uncertain. Regardless of what the short-term consequences of these mobilisations will be, those verbal attacks against the monarch, which have become the new normal, represent an epochal shift for the country. It entails the surprising and sudden disintegration of monarchic hegemony, a political ideology that has dominated Thailand since the Cold War.
Now, much like the Berlin wall which once symbolised that cold conflict, the whole edifice of monarchical authority is coming down, reminding us that even a seemingly stable political structure can collapse at any moment.
The views expressed in this article are the author's own and do not necessarily reflect Al Jazeera's editorial stance.