President Donald Trump says he's recovered from COVID-19. Outside doctors say it's too soon for him to return to public events, he's coughing on Fox News, and he's taking a potent steroid that can mask symptoms — but Trump says he's not sick anymore. And he's crediting that recovery to an experimental drug made by the company Regeneron, which he said on Wednesday was a "cure."
"They gave me Regeneron, and it was, like, unbelievable. I felt good immediately," he said in a video recorded at the White House.
There's no evidence that the Regeneron drug had anything to do with how good Trump did or did not feel. There's hardly any data that the drug, which is a cocktail of artificial antibodies against the coronavirus, works at all. So far, all we have are a few bits of information on a small group of patients that were published in a press release. Trump was also given two other drugs, the antiviral remdesivir and the steroid dexamethasone. There's no reason to believe the Regeneron drug — which is actually named REGN-COV2; Regeneron is the name of the company that produces it — was the thing responsible for how he said he felt. For a single patient, there's no way to tell for sure.
Antibody treatments could be a good way to treat COVID-19. The strategy is similar to convalescent plasma, which contains coronavirus antibodies generated by recovered patients. Instead of an unpredictable mixture of antibodies in blood, though, the drugs are concentrated cocktails of a few specific antibodies that seem to be particularly good at blocking the virus. Another pharmaceutical company, Eli Lilly, also has an antibody drug in development.
But neither drug has been tested thoroughly enough to say if it helps, hurts, or does nothing at all. Trump's wild claims about Regeneron's candidate could make finding answers harder. That's what happened last time he talked up a treatment strategy — remember hydroxychloroquine? Trump's constant promotion of the anti-malarial drug, and the controversy around it, made people reluctant to enroll in clinical trials that were designed to figure out if it actually worked.
Trump also pressured federal agencies to quickly push out hydroxychloroquine. Experts worry that something similar could happen with Regeneron's antibody therapy. Trump is already pushing the Food and Drug Administration to authorize it quickly. The circumstances of his treatment also could skew the clinical trial process: he got the drug under compassionate use, which makes untested and experimental products available to people who are seriously ill. Heralding it as a cure makes it seem as if we know more about it than we actually do, while simultaneously leaving the impression that VIPs like the president can skip the line, while the rest of us run the risk of getting a placebo in a clinical trial.
In reality, though, we still don't know if someone who gets the drug is better off than someone who gets a placebo. That's what a trial is for. Hopefully, the drug works — but anyone who claims to have answers right now is just making things up.
Here's what else happened this week.
Research
Nearly One-Third of Covid-19 Patients in Study Had Altered Mental State
In one group of over 500 hospitalized COVID-19 patients, nearly a third had some kind of confusion or delirium. These sorts of mental problems show up in other viral infections, as well, and could be triggered by inflammation. (Pam Belluck / The New York Times)
Researchers around the world are taking pictures and building models of the tiny, destructive virus. The images are helping them understand how it attacks cells and makes copies of itself. (Carl Zimmer / The New York Times)
COVID-19 Is Now the Third Leading Cause of Death in the U.S.
The virus is killing more people than stroke, Alzheimer's, diabetes, kidney disease, and most other conditions that end up fatal. Right now, only heart disease and cancer are deadlier. (Youyou Zhou and Gary Stix / Scientific American)
Development
FDA Releases Long-Awaited COVID-19 Vaccine Guidance
Pharmaceutical companies have to track vaccine clinical trial participants for at least two months before they ask the Food and Drug Administration to authorize their candidates, new guidelines from the agency say. This all but guarantees there won't be an approval by election day — and could give people more confidence that the vaccines are being carefully evaluated. (Sydney Lupkin / NPR)
Eli Lilly says its monoclonal antibody cocktail is effective in treating Covid-19
Like Regeneron, Eli Lilly published a press release showing that its antibody drug can keep some people with COVID-19 from needing to be hospitalized. But the benefits were small, and the data isn't published in a medical journal. (Matthew Herper / Stat News)
'I Won't Be Used as a Guinea Pig for White People'
In the US, Black people are more likely to be hospitalized with and die from COVID-19 than white people. Because of historic mistreatment by the medical community, though, they're the least likely group to trust a vaccine and are reluctant to sign up for clinical trials. Community leaders are trying to encourage participation to ensure that the vaccines aren't only tested on white people. (Jan Hoffman / The New York Times)
Perspectives
He's fought COVID-19 for months. Can he ever really beat it?
Former Indiana State football player Larry Brown was on a ventilator for 50 days. He's been in rehab for months. He doesn't know if he'll ever be the same again. "Right now, I'm just trying to understand the new normal," Brown told the Associated Press. (Tom Murphy / Associated Press)
Only one of their children survived Sandy Hook. Now school posed a new threat: The virus.
Isaiah Marquez-Greene's sister was killed in the mass shooting at Sandy Hook Elementary in Newtown, Connecticut. He wasn't sure if his parents would be able to endure sending him back to his boarding school during a pandemic. (John Woodrow Cox / The Washington Post)
More than numbers
To the more than 36,933,166 people worldwide who have tested positive, may your road to recovery be smooth.
To the families and friends of the 1,068,995 people who have died worldwide — 213,795 of those in the US — your loved ones are not forgotten.
Stay safe, everyone
Yale may have just turned institutional investing on its head with a new diversity edict
It could be the long-awaited turning point in the world of venture capital and beyond. Yale, whose $32 billion endowment has long been led since 1985 by the legendary investor David Swensen, just let its 70 money managers across a variety of asset classes know that for the school, diversity has now moved front and center.
According to the WSJ, Swensen has told the firms that from here on out, they be measured annually on their progress in increasing the diversity of their investment staff, meaning their hiring, training, mentoring and retention of women and minorities.
Those that show little improvement may see the university pull its money, Swensen tells the outlet.
It's hard to overstate the move's apparent significance. Though the endowment saw atypically poor performance last year, Swensen, at 66, is the most highly regarded endowment manager in the world, growing Yale's endowment from $1 billion when he joined as a 31-year-old former grad student of the school, to the second-largest school endowment in the country today after Harvard, which currently manages $40 billion.
Credited for developing the so-called Yale Model, which is short on public equities and long on commitments to venture shops, private equity funds, hedge funds, and international investments, Swensen has inspired legions of other endowment managers, many of whom worked with him previously, including the current endowment heads at Princeton, Stanford, and the University of Pennsylvania.
It isn't a stretch to imagine that they will again follow Swensen's lead, which could go a long way in changing the stubbornly intractable world of money management, which remains mostly white and mostly male across asset classes.
While the dearth of woman and minorities within the ranks of venture firms may not be news to readers, a 2019 study commissioned by the Knight Foundation and cited by the WSJ found that women- and minority-owned firms held less than 1% of assets managed by mutual funds, hedge funds, private-equity funds and real-estate funds in 2017, even though their performance was on a par with such firms.
Swensen tells that WSJ that he has long talked about diversity with the fund managers to which the endowment commits capital, but that he had he held of anything systematic owing to a belief, in part, that there were not enough diverse candidate entering into asset management for a mandate to make sense.
After the Black Lives Movement gained momentum this spring, he decided it was time to take the leap.
What about that perceived pipeline concern? Fund managers will have to figure it out if they. For his part, says the WSJ, Swensen suggested to the U.S. managers that they forget the standard resume and consider recruiting directly from college campuses.
How Riot used tech from The Mandalorian to build Worlds' astonishing mixed reality stage
After a hard-fought win over Korean team Gen.G, all five members of Europe's G2 Esports stood at the edge of a pool of clear, glistening water to take a bow and celebrate their victory. Two members then picked up their star teammate, Rasmus "Caps" Borregaard Winther, and held him over the water, as if to throw him overboard. It's a good thing they didn't — despite how real the water may have looked to viewers, it was nothing but pixels.
The annual League of Legends World Championship is currently underway in Shanghai, and like most major events, it has had to be re-envisioned in order to be possible in our new pandemic-dominated reality. Typically, the early stages of the tournament are something of a traveling road show, with different rounds taking place in different cities. In 2020, things had to change.
With travel restrictions in place, and fans no longer able to attend matches, the team at League developer Riot tried something different. They built out a set made up of massive LED screens in a technology setup similar to what Disney used to create The Mandalorian's sci-fi landscapes. It has been used to startling effect. Matches have looked like they've taken place in a cloudy, cyberpunk Shanghai skyline or amid a flooded landscape. What could have been a drab competition in the absence of fans has turned into perhaps the most impressive Worlds in recent memory.
"There are any number of days where we come to the set and say 'Wait, I don't think this has ever been done before.' You just kind of get used to it after a while," says Michael Figge, creative director at Possible Productions, which partnered with Riot on the event.
The feat is all the more impressive when you consider the compressed schedule. Typically, producers from Riot and Possible spend well over a year planning for Worlds, but that simply wasn't possible this year. It wasn't until May that the decision was made to utilize this tech in a studio without fans.
The setup is a powerhouse, and Riot says that the LED screens — there are more than 900 LED tiles in total — display visuals at 32K resolution and at 60 frames per second. Those visuals were made using a modified version of the Unreal Engine, and in total, the team is made up of 40 artists and technicians. Nick Troop, executive producer for Worlds 2020 at Riot, describes it as "a creative tool that gives us effectively infinite power to manifest whatever our collective imaginations bring to the fore." And he says one of the most important elements of the whole setup is the way things are shot, powered by four specialized cross-reality cameras.
"Rather than having a single projected camera perspective, we actually have two running simultaneously, effectively all of the time," he explains. This allows the broadcast team to work in a more traditional way; they can swap between the two simulated perspectives at will, using four cameras to shoot the action on set. "It means that the broadcast team can do what feels to them what feels like a 'normal television show,' but in this curated, and beautiful series of environments," says Troop.
For viewers watching on Twitch or YouTube, the LED soundstage is transformed into a sprawling fantasy world, with AR technology used to make the images expand beyond just the screens. You still see players sitting at desks and playing, but their surroundings are quite elaborate. In a nod to the current state of League of Legends, where four elemental dragons are of pivotal importance in a game, each of the four preliminary rounds of Worlds was styled with a different element.
Initially, there were lots of crumbling rocks and mountains to represent the earth dragon; this was followed by the cloudy Shanghai skyline for the air dragons; later, the set appeared to be flooded with water that stretched on forever. This weekend, during the two semi-finals games, things will shift to fire.
While this technology has been used before, most notably on The Mandalorian, this is the first time it's been done live. "Pretty much every [cross-reality] expression that has been broadcast to this point has not been live," explains Possible's Figge, whose company has worked on everything from Super Bowl halftime shows to Justin Bieber concerts. "It's been pre-shot, similar to a lot of AR stuff for awards shows in North America. It's risky to do live. We're doing up to 10 hours a day of live television on this stage. There's no second chance at it."
One of the challenges was balancing the desire to make things look cool without interfering with the players. Everyone onstage — teams, coaches, and support staff — has a somewhat different visual experience than viewers at home, since the AR elements only appear for viewers at home. This turned into something of an advantage for the broadcast team.
"When we do these games, it's really important for the competitive integrity of the sport for the players not to be able to see the game on the Jumbotron or anything like that. It's a really difficult design problem," says Figge. "With this stage, everything that's above a certain level of height on the stage is completely virtual. It's augmented reality. So we have the game playing in the background and the players can't see it."
That said, while players don't get the full experience viewers do, it was still important that being onstage felt special. This is the World Championship, after all, something teams from across the globe have been striving for all year long. Without the roar of a crowd to hype up players, the spectacle of a vibrant fantasy backdrop is a solid second option. Those onstage can't see the AR elements, but they can see the graphics on the screens around them. "It helps ground the player," says Troop. "They can still have a sense of the [game] world reacting, in a way that I think helps with their Worlds experience. There is a certain mindset that comes from being on stage, and we wanted to preserve that."
In most years, the technical showcase of Worlds is reserved for the opening ceremonies at the finals. In the past, that's included an AR K-pop concert and a holographic hip-hop performance. It's still not clear what this year's big show will look like (though it will likely involve K-pop again), but you could argue that the early rounds have already stolen the show thanks to this new technology. Each round even opened with its own mini ceremony, featuring choreographed dances set in the fantasy realm; performers jumped across crumbling stone bridges and twirled around with magical spells. Despite the circumstances, Riot turned what could have been a low-key edition of Worlds into a surprisingly memorable one.
"It's been more educational than frustrating," says Troop of the experience so far.
The Apple Watch Series 6 Is Already $20 Off
Best Tech Deals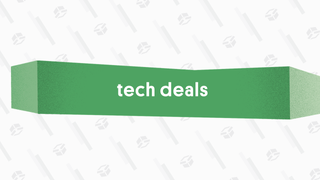 Best Tech Deals
The best tech deals from around the web, updated daily.
Apple Watch Series 6 (44mm) | $415 | Amazon
Apple Watch Series 6 (40mm) | $385 | Amazon
It's only been out a week since launch and we're already seeing discounts on the Apple Watch Series 6. Amazon has some 40mm models down to $375, while the 44mm falls to $415, both about $20 off and shipping anywhere between 1-4 weeks out.
The Apple Watch Series 6 runs laps around the competition as far as technology is confirmed. It features everything you love about the Series 5 watch like an ECG heart rate sensor, and also adds new tricks like a blood oxygen sensor and an always-on altimeter, making it more ideal than ever for fitness buffs.
G/O Media may get a commission
---
Source