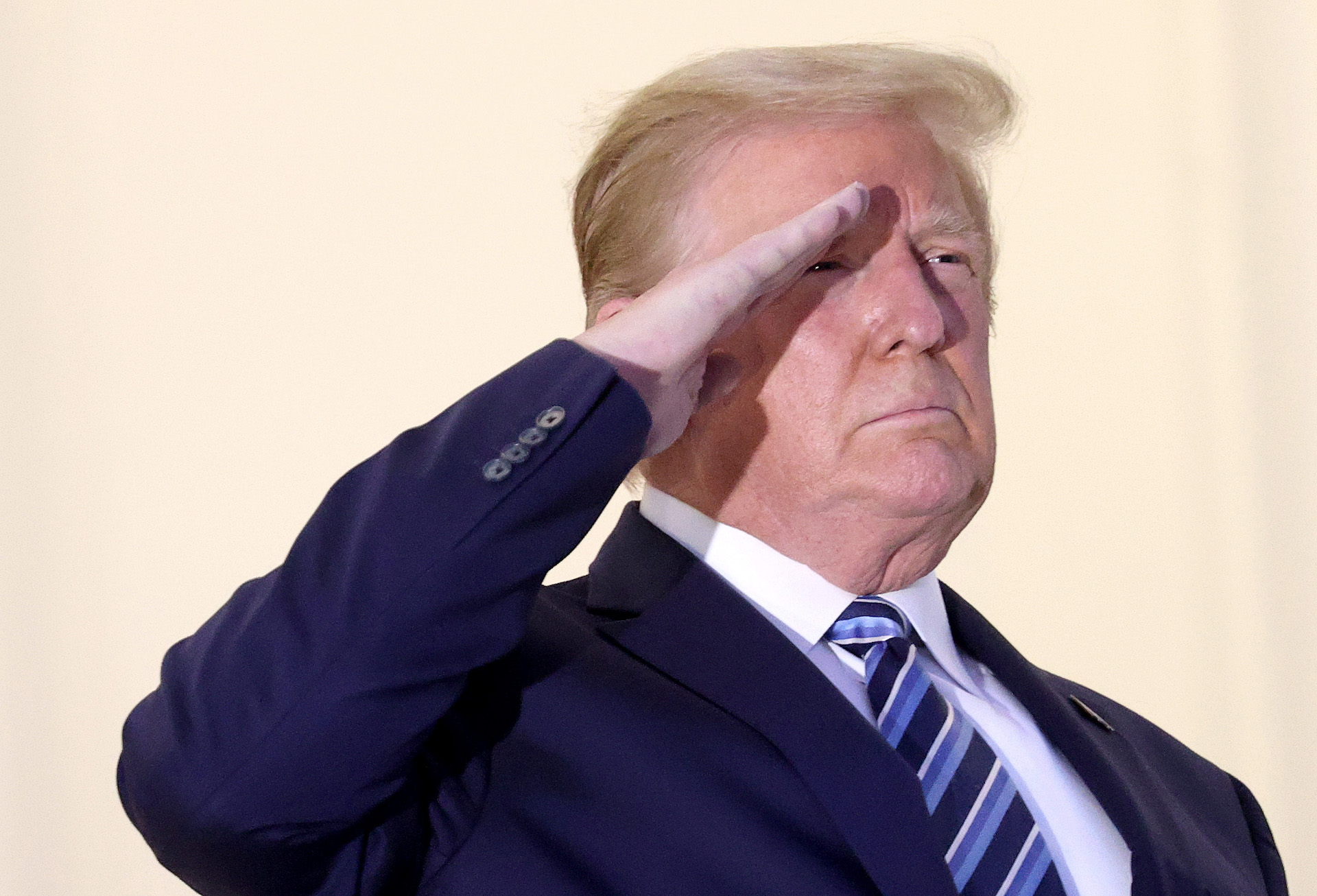 President Trump heads into the final four weeks before the election far behind Joe Biden — and he's running out of time to turn around his flagging reelection campaign.
A disastrous debate performance followed almost immediately by Trump's own hospitalization from the coronavirus has only added to the president's election woes. Fresh public and private polling indicates that the debate further damaged Trump's standing when he was already trailing. And while there isn't enough data to see how exactly the COVID outbreak in the White House will impact the race, early numbers suggest the events are hurting more than helping him.
There's still time until Election Day. But right now, Republicans are grim about where the race stands — and increasingly worried that the president could get blown out, cost them the Senate, and pad Democrats' House majority.
"The last week has crystallized a lot of peoples' lingering doubts and dislikes and distaste for Trump and reinforced his [poor] handling of the pandemic," said one GOP strategist who's involved in a number of House and Senate races. "It's just a perfect storm of coverage that encapsulated some pretty core weaknesses that Trump has."
A CNN poll conducted after the debate and mostly after Trump announced he had COVID found him trailing by 16 percentage points nationally. SurveyUSA's latest national weekly poll found Biden up by 10 points — but in the partial poll sample conducted after Trump was hospitalized, Biden's lead jumped to 16 points. An NBC/Wall Street Journal national survey of registered voters conducted after the debate but before Trump's COVID diagnosis found Biden up by 14 points.
Those numbers track closely with a handful of state-level public polls released on Monday and Tuesday, and strategists in both parties tell VICE News that private, internal polls have shown Biden improving on already-strong numbers across the map in recent days.
"Obviously the debate was not good," said one senior Republican pollster who warned that Trump was cooked if he couldn't get Americans to refocus on who they trust more on the economy — the only issue Trump has led Biden on in polls.
Four weeks is still plenty of time for another major crisis to shake the race once again. No one could have predicted a week ago that Trump would completely bomb the debate, then come down with the coronavirus and need to be hospitalized. At this point in 2016, Trump's Access Hollywood tape had just dropped, Russia was just kicking into high gear in its disinformation campaign against Hillary Clinton, and FBI Director James Comey had yet to damage Clinton with a last-minute public declaration that the FBI would be looking into newly discovered information about her emails. 
And this moment may be a low point for Trump rather than the beginning of the end — he could recover enough that Republicans could still keep the Senate, and there's an outside chance he can still win. 
But even before Trump's terrible week, he trailed former Vice President Joe Biden for months in every quality national poll by a wide margin, Biden had clear leads in polls in enough states to put him in the White House, and Biden and Trump were in a dead heat in a bevy of states that Trump can't afford to lose.
A dozen pollsters, data experts and senior strategists in both parties given anonymity to talk candidly about races they're involved with already thought it would take a black swan event for Trump to get reelected even before his COVID diagnosis.
"I have a very hard time seeing Trump winning," another GOP strategist involved in multiple Senate races told VICE News after the debate but before Trump's hospitalization. "Every state is going to be tight and they're getting massively outspent. I think it's hard to see a path for him now."
And in recent days, as post-debate public and private poll numbers began to trickle in, strategists in both parties have seen Biden and Democrats gain a few points in most states and congressional districts, putting the possibility of a Biden landslide within reach.
Money gap turns into a chasm
Biden also has a massive cash advantage on Trump — an amazing turn of events given how much more money Trump had earlier this year. Biden used that cash edge to outspend Trump by three-to-one on swing-state ads in September, and is currently expanding his ad spending into Iowa, Ohio and Georgia, states once thought to be out of reach. 
Trump has had to cut back on his own ad spending after a profligate summer. He recently canceled ad buys in Iowa and Ohio, two states where the race is tied, and cut a half million dollars out of his ad spending in Minnesota, once thought to be his best offensive target, according to strategists tracking the buy.
The only encouraging data point for Trump comes from Republicans' advantage in voter registration this year. Republicans kept up with a robust in-person field effort through the coronavirus pandemic while Democrats mostly shelved those efforts. That's led to a much smaller number of new Democratic registered voters compared to the period in 2016. Republicans also never stopped knocking doors, while Democrats are just returning to that practice. A GOP advantage in the ground game could help them win in states that are close.
And potential election chaos looms large. Hundreds of voting lawsuits are still in play across the map, with Republicans pushing hard to make it harder to vote, especially by mail, and easier to have ballots disqualified.
But those issues only matter at the margins — if Biden is winning nationally by more than five points, there's little to no chance Trump can pull off an electoral college win.
Trump pulled off an improbable victory in 2016 by scoring narrow upsets in three longtime "Blue Wall" states Democrats had won for decades — Michigan, Pennsylvania and Wisconsin. He almost certainly needs to win one of them if he wants a second term. But Biden has held a lead in nearly every high-quality public and private poll of all three states since he won the Democratic nomination. If he sweeps all three states, he's likely president.
Michigan looks all but done — Biden's lead in recent public and private polls has been in the mid- to high-single digits, and a poll released Tuesday found him up by 9 points. Trump's campaign has been barely spending there, a sign they see little chance of repeating his upset there from four years ago.
Pennsylvania and Wisconsin don't look much better for Trump. Biden has led Trump in nearly every public poll of both states since early summer, and while different surveys conflict on whether Trump is within striking distance in the pair of states, strategists say that private surveys have had Biden's lead consistently outside polls' margin of error. 
On Tuesday, Monmouth University released a Pennsylvania poll conducted after the debate, with half of it coming after Trump's COVID diagnosis. Biden led by 11 points among likely voters, up from a three-point lead the last time they polled in early September. Strategists say that might be a bit high — but it tracks with other recent high-quality public surveys of the state.
Wisconsin hasn't had as much recent high-quality public polling, but strategists in both parties think Biden has a comfortable lead there as well.
"The numbers are shaky — out of grasp, unless something changes," one GOP strategist who'd seen pre-debate Wisconsin polling told VICE News.
Biden's campaign has shown he's laser-focused on these states. On his first major campaign swing since COVID hit, Biden did a whistlestop train tour from the Cleveland debate site through western Pennsylvania on Wednesday and Thursday.
Red states are now tossups
Even if Trump manages to reverse his fortune and pull off an upset in one of the former "Blue Wall" states, Biden has other paths to victory.
Biden has consistently led Trump by a few points in Arizona, according to public and private polls, a state Democrats haven't won since 1996. A New York Times/Siena post-debate poll found Biden up by eight, and while private polling from both parties has found a closer race there, Biden has consistently been ahead.
Biden also has a solid — and growing — lead in Nebraska's Omaha-based district, as well as a narrow lead in Maine's rural second congressional district. (Both those states apportion an electoral college vote to each congressional district, and Trump carried both these districts in 2016.)
Biden and Trump have also been running neck-and-neck in Georgia, North Carolina and Florida. Democrats feel best about winning North Carolina, while Republicans are a bit more confident about Florida, because Trump is doing much better among Cuban-American voters than he did four years ago. Georgia, a state that hasn't been on the presidential map since the 1990s, has been a jump ball in both private and public surveys for months now, and Biden has begun to seriously spend in the state in recent weeks.
Biden also looks like he has a shot at Iowa and Ohio, two Midwestern states that Trump won by wide margins in 2016 but President Obama carried twice. Recent public and private polls show both states are within the margin of error, with Biden up slightly in Iowa and trailing slightly in Ohio.
Texas is a major reach for Biden, but polls there have found a relatively competitive race, with Trump running far behind his 2016 performance in the state's fast-growing suburbs around Houston, Dallas, San Antonio and Austin.
These states, with the possible exception of Arizona, are must-wins for Trump.
Democrats have edge in Senate fight
Biden isn't the only Democrat feeling good about his position, and with cash to spend to try to expand the map. 
Democrats have 47 Senate seats, and need to net three seats for control — a prospect that's looked brighter by the week. Strategists in both parties think Democrats are favored to flip the Senate, though no one thinks the fight is over.
Sen. Doug Jones (D-Ala.) is likely to lose, but so are Sens. Martha McSally (R-Ariz.) and Cory Gardner (R-Colo.).
Sen. Susan Collins (R-Maine) has also slipped behind Democrat Sara Gideon, and while Republicans say she's more competitive than in public polls that show Gideon with a solid lead, they concede that she has an uphill battle that's been made more difficult by the fight to fill former Supreme Court Justice Ruth Bader Ginsburg's seat.
Sen. Thom Tillis (R-N.C.) has also regularly trailed Cal Cunningham, his Democratic opponent, all year in both public and private polls. Republicans are hopeful that a new scandal can change the race — Cunningham, who is married, got caught sexting with a Democratic strategist — but if Trump can't carry North Carolina it's hard to see how Tillis wins.
Sen. Joni Ernst (R-Iowa) is neck-and-neck with her opponent, Theresa Greenfield, and if Biden carries the state, she could be toast as well.
If Democrats sweep all those races besides Alabama, they'd be at 51 seats — one more than needed for a majority (assuming Biden wins). But they see a chance for a romp that could give them a comfortable majority in the Senate.
Sen. David Perdue (R-Ga.) is in a tied race in Georgia, and if Biden can keep things close in the state, Democrat Jon Ossoff may be senator, though if neither candidate reaches 50% that race heads to a January runoff. The state has another Senate race as well. Appointed Sen. Kelly Loeffler (R-Ga.) is running hard right to fend off Rep. Doug Collins (R-Ga.) in an all-party election — she's running ads comparing herself favorably to Attila the Hun. Democrats think that Rev. Raphael Warnock has a real chance of winning a January runoff if she's the nominee.
Sen. Steve Daines (R-Mont.) is in a dogfight against Montana Gov. Steve Bullock (D), though Republicans feel more confident about their chances than Democrats do.  
Both parties are spending heavily in both South Carolina and Kansas, two states neither party expected to be truly competitive. Sen. Lindsey Graham (R-S.C.) is tied in public and private polls and is being outspent, to the point where he's repeatedly gone on Fox News to beg for donations. Republicans thought they could stop worrying about Kansas when Rep. Roger Marshall (R-Kan.) won the primary, but he has underwhelmed, while former Republican Barbara Bollier continues to impress. Polls show a tight race.
Republicans' sole offensive opportunity is in Michigan, where Sen. Gary Peters (D-Mich.) is facing John James, a Black military veteran who ran strongly in his first Senate bid in 2018. Republicans are hopeful about that race, and have begun spending in earnest to help James, but concede that if Trump doesn't turn things around he could be too much of a drag for James.
And Democrats haven't given up on winning races in Alaska, Texas, and Kentucky, though they concede that all are long shots.
Democrats' huge edge in fundraising is allowing them to make some big bets in uphill races, however.
They had already been leading the cash battle in the most important races, posting numbers that in previous cycles would have been considered near-impossible. And Ginsburg's death has supercharged the Democratic gold rush. Democrats are basically printing money at this point, and are using it to a huge cash advantage, outspending Republicans on TV ads in nine of the ten closest Senate races.
Democrats look to expand a House majority
Democrats began the cycle expecting to lose House seats — the goal was to minimize losses, defend the freshmen who won in the 2018 Blue Wave, and keep their newfound majority.
But today, they're playing just as much offense as defense.
A new congressional map is handing Democrats two new House seats, they're favored in two other open races in Georgia and Texas, and the Cook Political Report has as many Republican seats as Democrats as toss-ups in its ratings.
Longtime Rep. Collin Peterson (D-Minn.) and freshmen T.J. Cox (D-Calif.), Kendra Horn (D-Okla.), Xochitl Torres-Small (D-N.M.), Anthony Brindisi (D-N.Y.) and Ben McAdams () are the members that Democrats are most concerned about. But they're feeling very confident about a number of other suburban targets, including an open Indianapolis seat, as well as Reps. David Schweikert (R-Ariz.), Ann Wagner (R-Mo.), Don Bacon (R-Neb.), and a raft of seats in Texas.
Strategists in both parties say that Democrats are more likely to pick up than lose seats, and if the election were held today, their gains could be in the double digits.
Trump's misleading tweet about changing your vote, briefly explained
Searches for changing one's vote did not trend following the recent presidential debate, and just a few states appear to have processes for changing an early vote. But that didn't stop President Trump from wrongly saying otherwise on Tuesday.
In early morning posts, the president falsely claimed on Twitter and Facebook that many people had Googled "Can I change my vote?" after the second presidential debate and said those searching wanted to change their vote over to him. Trump also wrongly claimed that most states have a mechanism for changing one's vote. Actually, just a few states appear to have the ability, and it's rarely used.
Trump's claim about what was trending on Google after the debate doesn't hold up. Searches for changing one's vote were not among Google's top trending searches for the day of the debate (October 22) or the day after. Searches for "Can I change my vote?" did increase slightly around the time of the debate, but there is no way to know whether the bump was related to the debate or whether the people searching were doing so in support of Trump.
It was only after Trump's posts that searches about changing your vote spiked significantly. It's worth noting that people were also searching for "Can I change my vote?" during a similar period before the 2016 presidential election.
Google declined to comment on the accuracy of Trump's post.
Trump also claimed that these results indicate that most of the people who were searching for how to change their vote support him. But the Google Trends tool for the searches he mentioned does not provide that specific information.
Perhaps the most egregiously false claim in Trump's recent posts is about "most states" having processes for changing your early vote. In fact, only a few states have such processes, and they can come with certain conditions. For instance, in Michigan, voters who vote absentee can ask for a new ballot by mail or in person until the day before the election.
The Center for Election Innovation's David Becker told the Associated Press that changing one's vote is "extremely rare." Becker explained, "It's hard enough to get people to vote once — it's highly unlikely anybody will go through this process twice."
At the time of publication, Trump's false claims had drawn about 84,000 and 187,000 "Likes" on Twitter and Facebook, respectively. Trump's posts accelerated searches about changing your vote in places like the swing state of Florida, where changing one's vote after casting it is not possible. Those numbers are a reminder of the president's capacity to spread misinformation quickly.
On Facebook, the president's post came with a label directing people to Facebook's Voting Information Center, but no fact-checking label. Twitter had no annotation on the president's post. Neither company responded to a request for comment.
That Trump is willing to spread misinformation to benefit himself and his campaign isn't a surprise. He does that a lot. Still, just days before a presidential election in which millions have already voted, this latest episode demonstrates that the president has no qualms about using false claims about voting to cause confusion and sow doubt in the electoral process.
Open Sourced is made possible by Omidyar Network. All Open Sourced content is editorially independent and produced by our journalists.
---
Will you help keep Vox free for all?
The United States is in the middle of one of the most consequential presidential elections of our lifetimes. It's essential that all Americans are able to access clear, concise information on what the outcome of the election could mean for their lives, and the lives of their families and communities. That is our mission at Vox. But our distinctive brand of explanatory journalism takes resources. Even when the economy and the news advertising market recovers, your support will be a critical part of sustaining our resource-intensive work. If you have already contributed, thank you. If you haven't, please consider helping everyone understand this presidential election: Contribute today from as little as $3.
Nearly 6,000 civilian casualties in Afghanistan so far this year
From January to September, 5,939 civilians – 2,117 people killed and 3,822 wounded – were casualties of the fighting, the UN says.
Nearly 6,000 Afghan civilians were killed or wounded in the first nine months of the year as heavy fighting between government forces and Taliban fighters rages on despite efforts to find peace, the United Nations has said.
From January to September, there were 5,939 civilian casualties in the fighting – 2,117 people killed and 3,822 wounded, the UN Assistance Mission in Afghanistan (UNAMA) said in a quarterly report on Tuesday.
"High levels of violence continue with a devastating impact on civilians, with Afghanistan remaining among the deadliest places in the world to be a civilian," the report said.
Civilian casualties were 30 percent lower than in the same period last year but UNAMA said violence has failed to slow since the beginning of talks between government negotiators and the Taliban that began in Qatar's capital, Doha, last month.
The Taliban was responsible for 45 percent of civilian casualties while government troops caused 23 percent, it said. United States-led international forces were responsible for two percent.
Most of the remainder occurred in crossfire, or were caused by ISIL (ISIS) or "undetermined" anti-government or pro-government elements, according to the report.
Ground fighting caused the most casualties followed by suicide and roadside bomb attacks, targeted killings by the Taliban and air raids by Afghan troops, the UN mission said.
Fighting has sharply increased in several parts of the country in recent weeks as government negotiators and the Taliban have failed to make progress in the peace talks.
The Taliban has been fighting the Afghan government since it was toppled from power in a US-led invasion in 2001.
Washington blamed the then-Taliban rulers for harbouring al-Qaeda leaders, including Osama bin Laden. Al-Qaeda was accused of plotting the 9/11 attacks.
Calls for urgent reduction of violence
Meanwhile, the US envoy for Afghanistan, Zalmay Khalilzad, said on Tuesday that the level of violence in the country was still too high and the Kabul government and Taliban fighters must work harder towards forging a ceasefire at the Doha talks.
Khalilzad made the comments before heading to the Qatari capital to hold meetings with the two sides.
"I return to the region disappointed that despite commitments to lower violence, it has not happened. The window to achieve a political settlement will not stay open forever," he said in a tweet.
There needs to be "an agreement on a reduction of violence leading to a permanent and comprehensive ceasefire", added Khalilzad.
1/4 I return to the region disappointed that despite commitments to lower violence, it has not happened. The window to achieve a political settlement will not stay open forever. https://t.co/hVl4b032W6

— U.S. Special Representative Zalmay Khalilzad (@US4AfghanPeace) October 27, 2020
A deal in February between the US and the Taliban paved the way for foreign forces to leave Afghanistan by May 2021 in exchange for counterterrorism guarantees from the Taliban, which agreed to sit with the Afghan government to negotiate a permanent ceasefire and a power-sharing formula.
But progress at the intra-Afghan talks has been slow since their start in mid-September and diplomats and officials have warned that rising violence back home is sapping trust.
Classic toy tie-up: Etch A Sketch maker to acquire Rubik's Cube
Spin Master Corp., the company behind the Etch A Sketch and Paw Patrol brands, has agreed to acquire Rubik's Brand Ltd. for about $50 million, tying together two of the world's most iconic toy brands.
The merger comes at a boom time for classic toymakers, as parents turn to familiar products to entertain kids stuck in lockdown. Like sales of Uno, Monopoly and Barbie dolls, Rubik's Cube purchases have spiked during the pandemic, according to the puzzle maker's chief executive officer, Christoph Bettin. He expects sales to jump 15% to 20% in 2020, compared with a normal year, when people purchase between 5 million and 10 million cubes.
By acquiring Rubik's, Toronto-based Spin Master can better compete with its larger rivals, Hasbro Inc. and Mattel Inc. All three companies have pivoted to become less reliant on actual product sales, diversifying into television shows, films and broader entertainment properties based on their toys. Spin Master CEO Anton Rabie said he wouldn't rule out films or TV shows based on Rubik's Cubes, but he was focused for now on creating more cube-solving competitions and crossmarketing it with the company's other products, like the Perplexus.
"Whoever you are, it really has a broad appeal from a consumer standpoint," Rabie said in an interview. "It's actually going to become the crown jewel; it will be the most important part of our portfolio worldwide."
Hungarian inventor Erno Rubik created the Rubik's Cube in 1974, a solid block featuring squares with colored stickers that users could twist and turn without it falling apart. It gained popularity in the 1980s and has remained one of the best-selling toys of all time, spawning spinoff versions, international competitions of puzzle solvers, books and documentaries.
The toy has been particularly well-suited to pandemic conditions. During lockdowns, parents have sought to give kids puzzles that boost problem-solving skills useful in math and science careers. Normally, toys tied to major film franchises are among the most popular products headed into the holidays, but studios have delayed the release of major new movies because of coronavirus. So classic products are experiencing a mini-renaissance.
"The whole pandemic has really increased games and puzzles," Rabie said. "But whether the pandemic existed or didn't exist, we'd still buy Rubik's. It's had such steady sales for decades."
Rubik's CEO Bettin said it was the right time to sell the company, with the founding families behind it ready to move on. London-based Rubik's Brand was formed out of a partnership between Erno Rubik and the late entrepreneur Tom Kremer, while private equity firm Bancroft Investment holds a minority stake in the company.
Early on, Bettin felt Spin Master was the right home for the puzzle toy, he said. Spin Master, which was started by a group of three friends in 1994, has expanded through the purchase of well-known brands, including Erector sets and Etch A Sketch. Rabie says he works to honor the "legacy" of those products, which Bettin cited as a key reason to sell the brand to Spin Master over larger companies that were interested.
"It was important for us to not be lost in the crowd, and to be sufficiently important and cared for," Bettin said. "And there's a balance between being with someone large enough to invest, and agile enough to ensure you are key part of their plans."
Spin Master won't own Rubik's Cubes in time for the holiday season – the transaction is expected to close on Jan. 4. At that time, the company will move Rubik's operations from a small office in London's Notting Hill neighborhood to Spin Master's new games operations center in Long Island.
Some of Rubik's Brand's 10 employees will be part of the transition, but they won't stay permanently, Bettin said.