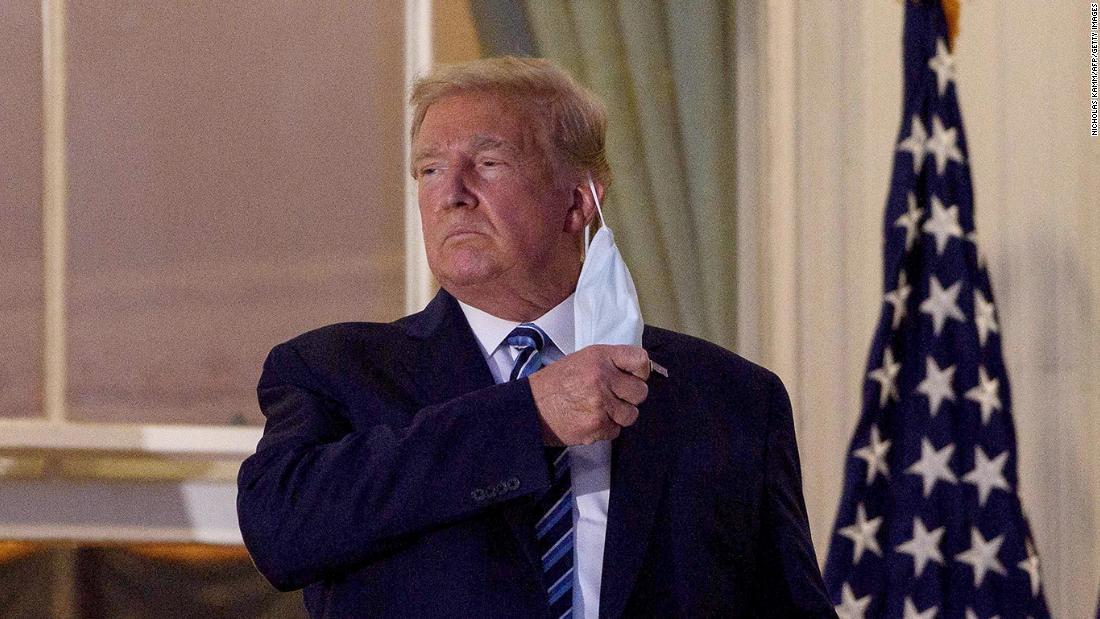 Joe Biden's presidential campaign on Tuesday is unveiling two new positive ads focused on health care and the candidate's leadership style following a decision to pull all its negative advertising Friday after President Trump's Covid-19 diagnosis. 
The ads, first viewed by CNN, both underscore the campaign's strategy to zero in on health care and the coronavirus pandemic as Election Day draws near. 
One spot, "Gets It Done," emphasizes the message the campaign has projected that Biden will heed the advice of experts on national matters, including on the pandemic and the economy.
"When Joe Biden wants an update on the virus, he calls on the nation's top health experts," a narrator begins. "When writing his health care plan, Joe Biden worked with both doctors and patients to make health care affordable by lowering premiums, reducing drug costs and protecting people with pre-existing conditions." 
The second ad, "No Matter What," exclusively focuses on health care, arguing that Biden's plan will make coverage accessible to all Americans. "He'll pay for it by getting rid of Donald Trump's tax cuts for the super-rich because Joe knows our economy's strength doesn't come from the top — it comes from working families," says a narrator. 
According to an aide, the campaign's decision to pull the negative ads was made before the White House announced Friday evening that Trump would be going to Walter Reed medical center for a few days. The president left the hospital and returned to the White House Monday evening, but the Biden campaign has yet to say when they will put those more critical ads back on the airwaves. 
Deputy campaign manager Kate Bedingfield said Sunday that the campaign will "adjust as we go." 
"Joe Biden is somebody who believes first and foremost in civility," Bedingfield told ABC's George Stephanopoulos on This Week. "We'll adjust that as we go and I think, either way, Joe Biden's going to continue making the argument about leadership, about experience, and about his ability to bring this country together."  
In response to the Biden campaign's decision to pull the negative ads, spokesman Tim Murtaugh told CNN the Trump campaign would not make a similar move. 
The new ads, part of the campaign's $280 million paid media investment through the fall, will play in the 15 battleground states where the campaign has previously bought airtime, including in several expanded media markets in states like Georgia, Virginia, Ohio and Texas. They will also air nationally on cable. 
Palestinian's hunger strike entering 'critical phase': Red Cross
ICRC calls on Maher al-Akhras and the Israeli authorities 'to find a solution that will avoid any loss of life'.
A Palestinian man on hunger strike for 85 days since his arrest by Israel is entering a medically "critical phase", the International Committee of the Red Cross said on Thursday.
Maher al-Akhras, 49, was arrested near Nablus and placed in administrative detention, a policy that Israel uses to hold suspected armed people without charge.
The father of six launched his strike to protest the policy.
He had been arrested several times previously by Israel.
"More than 85 days into the hunger strike, we are concerned about potentially irreversible health consequences," said Yves Giebens, the head of the ICRC's health department in Israel and the occupied Palestinian territories.
"From a medical perspective, he is entering a critical phase," Giebens added in a statement.
The ICRC said it had been "closely monitoring" the situation.
"The ICRC encourages the patient, his representatives and the competent authorities involved to find a solution that will avoid any loss of life," the statement said.
Palestinians in the occupied West Bank and the Gaza Strip have launched several demonstrations to demand the release of al-Akhras. They have also organised sit-ins and online campaigns to show their support for him.
Solidarity mural in Gaza in Solidarity with the Palestinian political prisoner Maher Al-Akhras on his 84th day of hunger strike for freedom ✊🏼🇵🇸#SaveMaher#ماهر_الأخرس pic.twitter.com/RqlhsznUD7

— The Global Campaign to Return to Palestine (@Return_ps) October 19, 2020
Following his arrest in early July, al-Akhras was transferred in early September to Kaplan Hospital, south of Tel Aviv.
His lawyers have appealed on multiple occasions to Israel's Supreme Court for his release.
Palestinian Prime Minister Mohammad Shtayyeh has also demanded his immediate release.
Israel's administrative detention system allows the internment of prisoners for renewable periods of up to six months each, without bringing charges.
Israel says the procedure allows authorities to hold suspects while continuing to gather evidence, but critics and rights groups say the system is abused.
About 355 Palestinians were being held under administrative detention orders as of August, including two minors, according to Israeli human rights group, B'Tselem.
Israel strikes Gaza after rocket attack
Israeli army says it struck Hamas military targets in the besieged strip after two rockets were fired into Israel.
The Israeli military says it launched overnight air attack in the besieged Gaza Strip after Palestinian fighters fired rockets, with no reports of casualties or significant damage on either side.
The military said Palestinian fighters fired two rockets into Israel late on Thursday. One was intercepted by the Israeli missile defence system, while the other fell in an open area.
"In response to the 2 rockets that were fired from Gaza at Israel earlier tonight, our Air Force just struck Hamas military targets in Gaza," the Israeli army said on Twitter.
"Hamas will bear the consequences for terror activity against Israeli civilians," it added.
Sirens were sounded in a region south of Israel that borders the Gaza Strip to warn residents of the incoming fire.
There was no immediate claim of responsibility for the rocket attack.
The last reported rocket attack from Gaza was on Tuesday night.
Israel and Hamas have fought three wars and several skirmishes since the Hamas seized power from rival Palestinian groups in 2007.
Israel holds Hamas responsible for all attacks emanating from Gaza, including those claimed by other fighter groups based in the region.
In response to the 2 rockets that were fired from Gaza at Israel earlier tonight, our Air Force just struck Hamas military targets in Gaza.

Hamas will bear the consequences for terror activity against Israeli civilians.

— Israel Defense Forces (@IDF) October 22, 2020
New tunnel discovered
Israel and Egypt have maintained a crippling blockade on Gaza Strip – a coastal territory which is home to two million Palestinians – since Hamas seized power.
The latest incident came after the Israeli army announced it had found a new tunnel that crosses "dozens of metres into Israel" from the Israeli-blockaded Palestinian coastal enclave.
The next day, the army said the tunnel belonged to Hamas.
Authorities have discovered some 20 tunnels originating from Gaza since 2014, army spokesman Jonathan Conricus said this week.
'True progressive Bangladesh': Cricketer hits critics for a six
Top cricketer Sanjida Islam's viral photoshoot – dressed for her wedding and holding a bat – triggers both accolades and criticism.
One of Bangladesh's top women cricketers has hit critics for a six after being accused of disrespecting national culture by posing for photos in full wedding attire and a bat.
Pictures of Sanjida Islam wielding a cricket bat while dressed in an orange sari and wearing dozens of bangles went viral after she posted them on social media last week.
The International Cricket Council – the sport's governing body – retweeted the pictures to hundreds of thousands of worldwide followers with a tick against a wedding-ceremony checklist reading: "Dress, jewellery, cricket bat."
Dress ✅
Jewellery ✅
Cricket bat ✅

Wedding photoshoots for cricketers be like … 👌

📸 🇧🇩 Sanjida Islam pic.twitter.com/57NSY6vRgU

— ICC (@ICC) October 21, 2020
But some in her Muslim-majority home country said she had gone too far.
"There is nothing in her that an Islamic society can follow," said one on Facebook. Others called for "strict punishment".
Most people, however, loved the impromptu photoshoot.
"I did not plan to pose with a bat," said Sanjida, who went to the stadium with groom Mim Mosaddeak – who plays for Rangpur in the Bangladesh championship – the day before their formal vows.
"I saw some kids playing; I just could not resist … my team-mates captured the moment beautifully.
"I shared the photos casually on Facebook and Instagram. I had no idea they would go viral," she told AFP news agency.
Fans of Sanjida, who has played 16 one-day internationals and 54 Twenty20 internationals for Bangladesh, agreed with the cricketer.
"This photo reflects true progressive Bangladesh," said one on social media.