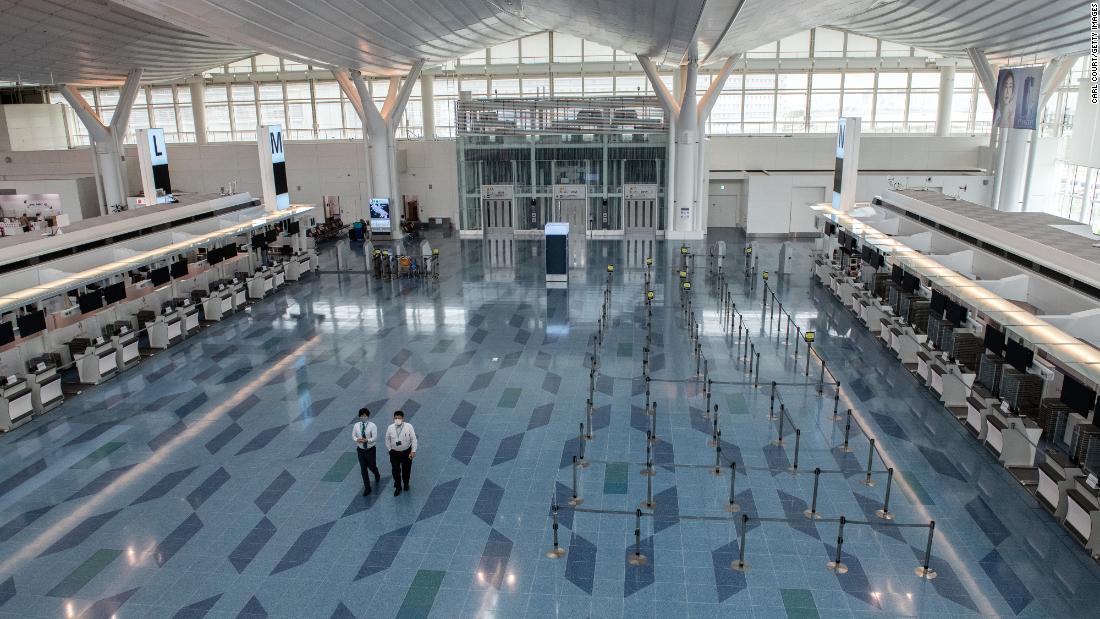 (CNN) — The final figures are in for air passenger traffic in 2019 at the world's busiest airports.
Unfortunately, the gutting of global air transportation by the coronavirus pandemic means that traffic levels are unlikely to rise to those levels again until 2024, according to Airports Council International, the airport trade association that compiles the data.
The 2019 list of the world's busiest airports, released by ACI on Thursday, showed a 3.5% increase in passenger numbers — coming in at more than 9.1 billion — compared with 2018.
For the first time, the report looks ahead at the drastic declines that came in the first half of 2020 as Covid-19 outbreaks decimated passenger traffic.
Passenger numbers decreased by 58.4% worldwide in the first half of 2020, compared with the same period in 2019, with international passenger traffic hit the hardest, with a 64.5% drop.
Atlanta and Beijing airports held the top two spots in 2019, with more than 110 million and 100 million passengers, respectively. But those airports saw passenger traffic drops of 56.6% and 73.6% in the first half of 2020.
Los Angeles International Airport moved up one spot in 2019 to become the third busiest airport for passenger traffic, with more than 88 million passengers in 2019. Passenger traffic there dropped 58.9% in the first half of 2020.
Path to recovery
The airport industry is anticipating a 60% reduction in revenues compared to previous projections, according to ACI.
The organization and its industry partners see reducing travel restrictions and quarantine requirements and a global approach to testing for the virus as keys to recovery.
"We are positive about the future, but we need consistency and collaboration across the globe on key issues like testing," said ACI World Director General Luis Felipe de Oliveira, in a statement.
"The industry is united in the view that widespread testing of passengers before travel, as an alternative to quarantine restrictions, will be a crucial way to foster public confidence in air travel and must be introduced."
ACI is aligning itself with the International Civil Aviation Organization (ICAO) and the World Health Organization (WHO) in its call for efficient, standardized testing, but ultimately countries would be responsible for working out a coordinated approach.
Testing as a safety measure that would boost traveler confidence is just one measure needed, not just for aviation's recovery, but for all the industries that are interconnected, says Patrick Lucas, ACI World's head of airport business analytics.
"When airports and airlines ask for these things, it's not just for our industry per se, it's because we're so connected to other industries. We're very much connected to, of course, tourism and the hospitality industries."
About 60% of tourists arrive by air, Lucas said, "so everything that is connected to the tourists — the restaurants and so on and so forth, all those businesses are connected."
Air travel has started to tick up from the darkest days in April, when traffic declines of more than 90% were recorded, but a full recovery is likely several years away.
World's top 10 busiest airports
1. Atlanta (ATL) — 110.5 million passengers in 2019; traffic dropped 56.6% in the first half of 2020
2. Beijing (PEK) — 100 million passengers in 2019; traffic dropped 73.6% in the first half of 2020
3. Los Angeles (LAX) — 88.1 million passengers in 2019; traffic dropped 58.9% in the first half of 2020
4. Dubai (DXB) — 86.4 million passengers in 2019; traffic dropped by 56.4% in the first half of 2020
5. Tokyo (HND) — 85.5 million passengers in 2019; traffic dropped by 59.2% in the first half of 2020
6. Chicago (ORD) — 84.6 million passengers in 2019; traffic dropped by 57.6% in the first half of 2020
7. London (LHR) — 80.9 million passengers in 2019; traffic dropped by 60.2% in the first half of 2020
8. Shanghai (PVG) — 76.2 million passengers in 2019; traffic dropped by 68.1% in the first half of 2020
9. Paris (CDG) — 76.2 million passengers in 2019; traffic dropped by 61.4% in the first half of 2020
10. Dallas/Fort Worth (DFW) — 75.1 million passengers in 2019; traffic dropped by 48.2% in the first half of 2020
How South Carolina became one of 2020's most unexpected Senate battlegrounds 
South Carolina is the Senate battleground that no one saw coming.
In a state where no Democrat has won a Senate seat for more than two decades, former South Carolina Democratic Party Chair Jaime Harrison has fielded an incredibly strong challenge to incumbent Sen. Lindsey Graham, a high-profile Trump ally. Although early polling had Harrison lagging Graham by as much as 17 percentage points in February, recent surveys have the two lawmakers in a statistical tie.
The support he's gotten has surprised many — including Harrison himself.
"I'm amazed by it," he told Vox. "I got into this race because I knew I had a shot, but not in my wildest dreams did I imagine a campaign growing like this campaign has grown."
Longtime South Carolina Rep. Jim Clyburn (D-SC), whom Harrison previously worked for as a congressional staffer, has echoed this sentiment. "Not a single soul alive believed when he announced for the Senate that he would be sitting here 30 days out, 48-48," Clyburn said in an early October interview with Politico.
By raising a staggering amount of money, and positioning himself as a moderate with close ties to the state, Harrison has been able to garner strong support from Democrats and independents, as well as a sliver of moderate Republicans. And now Graham faces one of the closest races of his political career.
Graham has acknowledged this by making appeals for donations during several Fox News appearances, and campaign spokesperson T.W. Arrighi seemed to project a mixture of optimism and realism in a statement to Vox: "Make no mistake — our internal polling has us on track for a victory in November, but Senator Graham is fighting for every vote as he never takes anything for granted."
Overall, the contest between Harrison and Graham could hinge on voters who split their ticket between the presidential and Senate races. President Donald Trump is still expected to win in South Carolina — even if it's by much narrower margins than he did in 2016, when he was ahead by 15 points. This means some Trump voters would likely need to defect from Graham — in favor of either Democrats or a third-party candidate — for Harrison to edge out the longtime Republican lawmaker.
That scenario, Winthrop University pollster Scott Huffmon says, is "Harrison's narrow path on a Nepalese cliff."
How Harrison closed a double-digit polling gap, briefly explained
Harrison's strength as a candidate and his ties with national Democrats (he's an associate chair of the Democratic National Committee) are among the factors that have helped him launch a robust campaign that's attracted millions in donations from both inside and outside the state. As of September, Harrison had raised $85 million compared to Graham's $58 million, and that advantage has translated to a huge presence on television and in digital advertising.
Harrison's massive fundraising haul has been critical in establishing him as a formidable challenger in part because it has allowed him to quickly go from being less well-known to having wide name recognition across the state.
"Jaime Harrison has done what no Democratic candidate has successfully been able to do, and that is raise enough money to take the fight to Lindsey Graham in every part of South Carolina," says Anton Gunn, a strategist and former state political director for President Barack Obama's 2008 campaign.
Harrison tells Vox this support has been driven by grassroots energy. "We have gotten thousands of volunteers, I think we're on [14,000] or 15,000 people who signed up to volunteer for our campaign. We've gotten well over a million contributions," he said. As the Guardian reported, both Harrison's and Graham's campaigns have seen a high proportion of their contributions coming from out of state.
Experts also note that Harrison began putting out advertising early in the year — months before Graham began mounting a comparable effort on the air — enabling him to introduce himself to voters by focusing on his background, family, and values. Throughout his campaign, Harrison's messaging has emphasized his ties to South Carolina and policies that relate to the state, like rural broadband access, rather than his partisan affiliation or opposition to Trump. A native South Carolinian who grew up in Orangeburg with a single mother, Harrison frequently talks about his personal connection to the state.
He's also taken more moderate positions broadly, shying away from support for Medicare-for-all and the Green New Deal and noting that he wouldn't back eliminating the filibuster, for now. "It's about opening a Pandora's box, and the question is, there may be short-term political gains, but are we comfortable with long term repercussions for that?" he said.
As the focus on health care has grown during the pandemic, Harrison has instead emphasized the need for Medicaid expansion. Graham, meanwhile, has continued to oppose the Affordable Care Act and has said he would prefer a system that involved block grants to states, which he says would give South Carolina more flexibility.
Because of the effects of the coronavirus, health care is a top issue for many voters. "The Trump administration's failure to address Covid-19 early and emphatically weighs on the minds of far too many South Carolinians." said Democratic strategist Lauren Harper, who's also the spokesperson for the Lindsey Must Go super PAC. "That failure has exacerbated the need for quality and affordable health care here in our state."
Broadly, in his messaging, Graham has characterized Harrison as being tied to the "far left," while emphasizing his own commitment to what he has referred to as "law and order." The senator has made it clear that he opposes criminal justice reforms like defunding the police (which Harrison has also said he's against). And Graham has argued that he not only has strong connections to the state but has brought South Carolina federal funding for projects like the development of the Port of Charleston.
Harrison has been able to counter Graham's campaign rhetoric so successfully, according to Furman University political science professor Danielle Vinson, because his ideological positioning and personal story make him an "ideal Democratic candidate for South Carolina."
"He's not too far left; he knows the state really well having been the South Carolina Democratic Party chair," Vinson says.
The coalition of voters Harrison needs include independents, moderate Republicans, and ticket splitters
Because of the political stance he's taken, Harrison has been able to connect with Democrats as well as a strong segment of independents and a small group of moderate Republicans who are likely turning away from President Donald Trump. To win, he'll need massive turnout from Democratic base voters — including the Black voters who comprise 60 percent of the Democratic electorate in South Carolina.
"We have to have the turnout that we had in 2008," said Gunn. That year, 65.2 percent of Black voters nationally turned out, compared to 59.6 percent in 2016, according to the Pew Research Center.
Per a September Quinnipiac poll of the state, Harrison has the backing of 97 percent of Democrats, 54 percent of independents, and 5 percent of Republicans. Gunn estimates that the state usually falls 55-45 in favor of Republicans, so securing GOP voters — especially moderate Republican women who may be moving away from both Trump and Graham — is vital for Harrison. Concerns about the president's handling of the pandemic, as well as his rhetoric, are among the factors turning these voters toward Democratic candidates.
Cook Political Report's Jessica Taylor has noted, too, that Democratic candidates for federal office have historically capped out at 48 percent of the vote in South Carolina, meaning eking out even an improvement of a few percentage points among swing voters could secure the race for Harrison.
There are some other trends in the state that could raise that 48 percent cap Democrats have struggled to surpass in the past. Among them is an influx of new residents who have moved from other left-leaning places. "New folks from other parts of the country that tend to be a little more blue are moving to South Carolina," says College of Charleston political science professor Gibbs Knotts. "That's been something that Democrats have been able to tap into."
In addition to garnering the support of all these groups, Harrison will also have to convince some Republicans who are still aligned with Trump to break with Graham and split their ticket.
It's unclear how Graham's weakness with conservative voters will affect the race
One of the biggest variables in the race is the bloc of conservative voters who support Trump but still aren't that excited about Graham.
Graham — like Republicans in some of the other contested races — is feeling the pressure from both wings of the GOP. On the conservative side, there are voters who think he still doesn't back Trump enough, despite his staunch defenses of the president's controversial Supreme Court nominees: first during a fiery moment in Supreme Court Justice Brett Kavanaugh's confirmation hearings in 2018, and more recently in the hearings for nominee Amy Coney Barrett.
Graham, before Trump's election, had been viewed as a more moderate figure in the Senate who aligned himself closely with Sen. John McCain (R-AZ), which many conservatives in the state weren't happy about. "Five years ago, certain elements of the Republican Party were burning him in effigy because of his affiliation with McCain," says Chip Felkel, a Republican strategist who's also an adviser for the Lincoln Project.
There's a question of whether these conservative voters' concerns with Graham are still so strong that they'll split their ticket: If they do, experts think a small fraction could vote for third-party for Constitution Party candidate Bill Bledsoe, though they're less likely to cross over to Democrats.
"I don't think there will be a lot of people who will vote for Trump and not Graham," says Felkel. "I think there are some former Tea Party members — now Trump enthusiasts — who might choose to vote third party, but I don't think there will be a lot of them."
Concerned that support for him would lead to Harrison winning the election, Bledsoe dropped out of the race in early October and endorsed Graham, saying, "President Trump has asked that conservatives stand together and reelect Lindsey Graham in order to help make America great again, and I agree."
But because his exit came so late, Bledsoe's name will still appear on the ballot. Harrison, hoping to take advantage of this fact, has recently put out advertising aimed at swaying this segment of conservative voters in favor of Bledsoe, including digital ads arguing that he is "too conservative" for South Carolina. Given how close the Senate race has shaped up to be, any narrow gains made from this strategy could potentially be decisive.
Graham has tried to avoid this scenario himself by shoring up his conservative bona fides, and proving his closeness to Trump — most recently playing a prominent role in the advancement of Barrett's nomination, which is a top priority for the president and many Republican voters.
And, in fact, Arrighi, Graham's spokesperson, highlighted Graham's push to seat Barrett as one of his key achievements, saying, "Senator Graham is fighting for South Carolina, helping families and businesses get through the pandemic, and working to ensure a conservative Supreme Court with Judge Amy Coney Barrett as the newest member."
Barrett's confirmation process, too, has highlighted the role a Republican majority plays in the Senate. If Republicans were to keep their majority, they'd be able to obstruct Democratic bills in a potential Biden administration, and continue advancing judges in a Trump administration. This could be a reason that some conservative voters ultimately back Graham, even if they don't fully agree with his record.
With just a few weeks to go, this race is poised to be close to the very end. "I think it's going to be razor-thin margins," said Gunn. "It's not going to be a blowout either way."
---
Will you help keep Vox free for all?
The United States is in the middle of one of the most consequential presidential elections of our lifetimes. It's essential that all Americans are able to access clear, concise information on what the outcome of the election could mean for their lives, and the lives of their families and communities. That is our mission at Vox. But our distinctive brand of explanatory journalism takes resources. Even when the economy and the news advertising market recovers, your support will be a critical part of sustaining our resource-intensive work. If you have already contributed, thank you. If you haven't, please consider helping everyone understand this presidential election: Contribute today from as little as $3.
Banksy's 'Show me the Monet' painting sells for nearly $10 million
Banksy's
take on a Claude Monet masterpiece has sold for £7.6 million ($9.8 million) following a nine-minute
bidding battle
, auctioneers at Sotheby's have said.
In "Show me the Monet," famed street artist Banksy reimagines Monet's "Bridge over a Pond of Water Lilies" as a modern-day scene.
The picture is complete with environmental pollution: A traffic cone and two shopping carts submerged in the otherwise idyllic scene.
Monet's original painting was one of 12 Impressionist works featuring views of the artist's Japanese bridge over his water garden, near Giverny, Northern France.
Executed between 1897 and 1899, Monet painted the variations depicting the same idyllic view at different times of the day, during varying weather conditions and seasons.

"Show Me the Monet" sold for far above estimates, auctioneers said. Credit: Michael Bowles/Getty Images
Banksy's painting, an oil on canvas created in 2005, was showcased as part of the "Crude Oils: A Gallery of Re-mixed Masterpieces, Vandalism and Vermin" exhibition, where the artist re-imagined famous works by artists including Edward Hopper, Jack Vettriano and Vincent van Gogh.
How do art auctions really work?
At Wednesday's auction, which was live streamed and attended by some select clients, the tongue-in-cheek artwork was sold to an Asian private collector for £7.6 million — above the estimate of £3-5 million, Sotheby's said.
The painting is the second most expensive one from the elusive British artist.
Last year, Banksy's "
Devolved Parliament,
" a satirical oil painting depicting the House of Commons filled with chimpanzees, sold at auction in London for a record-breaking £9,879,500 ($12,200,000).
The artist's identity remains a secret, but in October last year the artist's former agent and photographer, Steve Lazarides, published images alleged to show him at work — without revealing his face.
Air pollution killed over 470,000 newborns in 2019: Global study
More than 116,000 infants in India and 236,000 in sub-Saharan Africa died from air pollution in the first month of life.
Air pollution killed 476,000 newborns in 2019, with the biggest hotspots in India and sub-Saharan Africa, according to a new global study which said that nearly two-thirds of the deaths came from noxious fumes from cooking fuels.
More than 116,000 Indian infants died from air pollution in the first month of life, and the corresponding figure was 236,000 in sub-Saharan Africa, according to a State of Global Air 2020 study released on Wednesday.
The estimates were produced by the United States-based Health Effects Institute (HEI) and the Institute for Health Metrics and Evaluation's Global Burden of Disease project.
In 2019, air pollution contributed to nearly 500,000 deaths worldwide among newborns in their first month of life, according to the State of Global Air 2020 report.

Learn more: https://t.co/PP4MNM2VBp #CleanAirForAll #AirPollution pic.twitter.com/bSFyymbfPF

— State of Global Air (@HEISoGA) October 21, 2020
The authors wrote they relied on a growing body of evidence linking mothers' exposures during pregnancy to air pollution with the increased risk of their infants being born too small (low birth weight) or too early (preterm birth).
These conditions are associated with serious complications and already account for the vast majority of neonatal deaths in both regions.
The new analysis estimated what percentage of those deaths came from ambient and household air pollution.
"An infant's health is critical to the future of every society, and this newest evidence suggests an especially high risk for infants born in South Asia and sub-Saharan Africa," said Dan Greenbaum, president of HEI.
"Although there has been slow and steady reduction in household reliance on poor-quality fuels, the air pollution from these fuels continues to be a key factor in the deaths of these youngest infants," he added.
Overall, the report found that air pollution led to 6.7 million deaths worldwide in 2019, making it the fourth leading cause of death behind high blood pressure, tobacco use, and dietary risks.
The authors added that while the COVID-19 pandemic had led to significant societal and personal costs, "many countries around the world have experienced blue skies and starry nights, often for the first time in many years" – but these gains were short-lived.
"Nonetheless, the blue skies have offered a reminder of what pollution takes away," it said.