The vice presidential nomniee slams the GOP for rushing Barrett's hearing and vows to make clear what the justice's confirmation could mean for US health care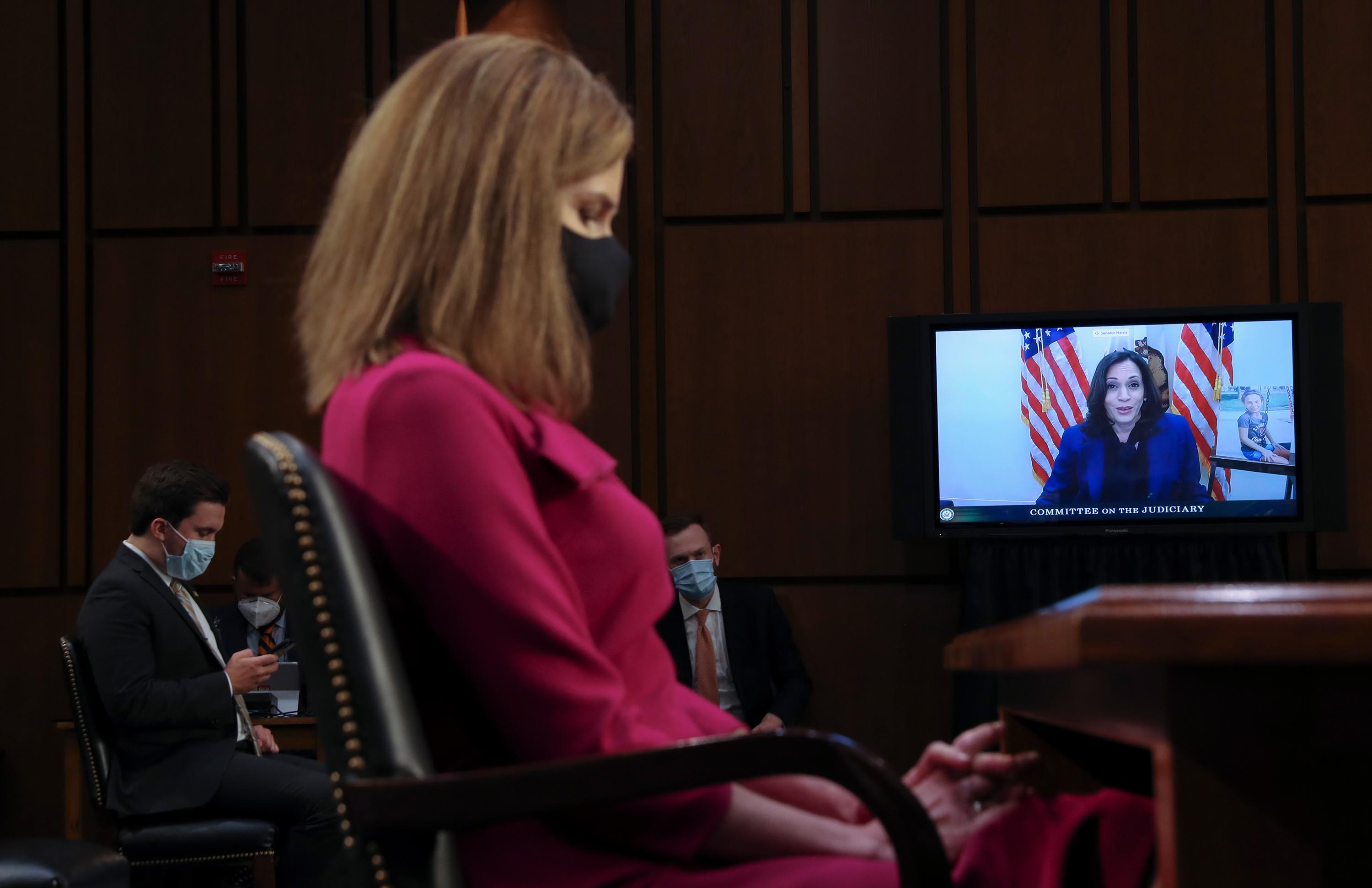 In perhaps the most heated statements so far in today's hearing, Sen. Josh Hawley, a Republican from Missouri, attacked Democrats for what he perceived to be veiled attacks on Amy Coney Barrett's Catholicism — something he called a "pattern and practice of religious bigotry." 
But in reality, today it has been Republicans, not Democrats who have referred to her religion. As for Barrett, she plans to nod to it in her opening statement where she will say that she believes in the power of prayer. 
Hawley specifically pointed to Barrett's confirmation hearing from 2017 when top-ranked Democratic member Sen. Dianne Feinstein pressed her on her writing about faith and the law. In a tense exchange, the Democratic senator questioned whether the judicial nominee could separate her Catholic views from her legal opinions.
"The conclusion one draws is that the dogma lives loudly within you," Feinstein pointedly said. "And that's of concern when you come to big issues that large numbers of people have fought for years in this county."
The exchange invigorated and emboldened conservatives who said she had been a victim of anti-Catholic bias.
Today Hawley said, "When you tell somebody that they're too Catholic to be on the bench, when you tell them they're going to be a Catholic judge, not an American judge, that's bigotry," he said. 
"The pattern and practice of bigotry from members of this committee must stop," he said, adding, "And I would expect that it be renounced."
Other Republicans, Sen. John Cornyn and Sen. Ben Sasse, have talked about religion.  
But Democrats like Sen. Chris Coons have said that they will concentrate not on religious liberty but on what she has written. 
The majority of the Supreme Court now is Catholic.
Watch:
The world is worried about the coronavirus. It's equally concerned about climate change.
Even amid a pandemic that has killed more than 1 million people, infected over 40 million, and tanked economies, people around the world are still extremely worried about the threat posed by climate change.
A recent poll from the Pew Research Center found that a median of 70 percent of respondents in 14 countries identified climate change as a major threat to their countries, while 69 percent expressed the same level of worry about the spread of infectious disease.
Majorities in all countries surveyed said both issues were major causes for concern. When comparing the two problems, respondents in eight countries were more worried about climate change as a significant threat.
Spain, France, and Italy showed the highest level of concern, at 83 percent, while 60 percent or greater in Denmark, Sweden, Germany, the Netherlands, and Belgium felt similarly. Respondents in Australia expressed the least concern for climate change, at 59 percent.
Canada was equally worried about climate change and the spread of infectious disease, with both issues accounting for 67 percent.
In South Korea, Japan, the United Kingdom, the United States, and Australia, a greater share of people viewed the spread of infectious disease as a more significant threat than climate change, ranging from 68 percent in Australia to 89 percent in South Korea.
One in 10 or fewer of all respondents did not think global climate change was a threat.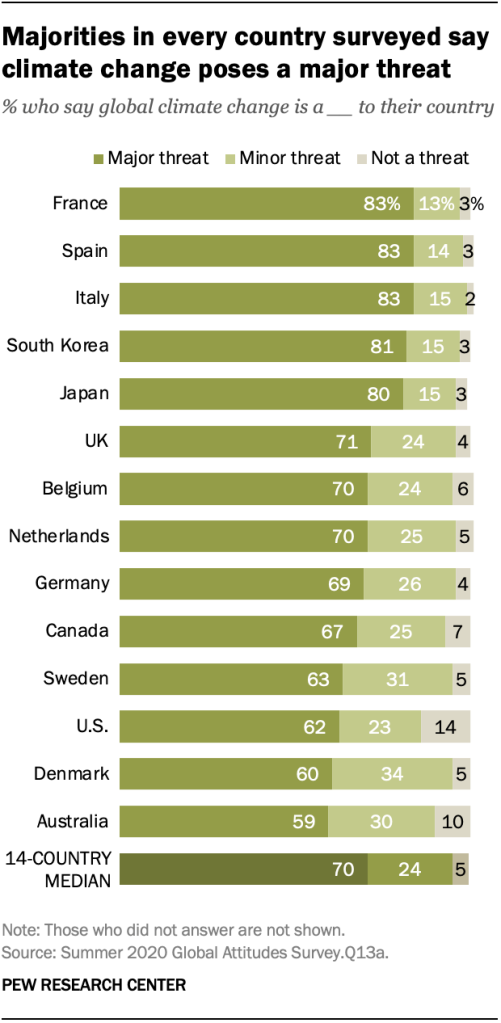 Many of the countries witnessed a substantial increase in the percentage of people who view climate change as a major threat since Pew first asked the question. In 2013, a median of 55 percent of respondents in 10 countries said climate change was a major threat, compared to 76 percent in 2020. Concern in France grew 29 points, from 54 percent to 83 percent. No noticeable increase occurred from the last time the question was asked in 2018.
The results of the Pew Research Center poll, which was conducted from June 10 to August 3, 2020, might seem surprising given how much space the Covid-19 pandemic has taken up in our global consciousness in recent months. But there are several possible explanations.
As stay-at-home orders were issued in countries worldwide, a number of reports cited the drop in carbon dioxide emissions due to a global collapse in airline travel and a sharp decline in the number of people commuting to work. Many were forced to consider the impact of their personal choices on the environment.
The economic crisis caused by the coronavirus pandemic has also prompted governments around the world to consider "green" stimulus plans that would jump-start economies while also tackling climate change. For example, South Korea, France, and Italy have used their Covid-19 responses as a chance to cut pollution and greenhouse gas emissions — which are accelerating global warming — in the energy, infrastructure, government, and industry sectors.
Democrats in the US have put forth a Green New Deal, and the European Commission has released its own version. Both plans suggest a complete overhaul of every sector of the economy toward clean energy sources, while protecting workers and fostering technological innovation. By some estimates, the US has the capacity to do so by 2035.
Given the level of concern about global climate change across 14 diverse countries, it might finally be time for governments to take decisive action.
---
Millions turn to Vox each month to understand what's happening in the news, from the coronavirus crisis to a racial reckoning to what is, quite possibly, the most consequential presidential election of our lifetimes. Our mission has never been more vital than it is in this moment: to empower you through understanding. But our distinctive brand of explanatory journalism takes resources. Even when the economy and the news advertising market recovers, your support will be a critical part of sustaining our resource-intensive work. If you have already contributed, thank you. If you haven't, please consider helping everyone make sense of an increasingly chaotic world: Contribute today from as little as $3.
If You Love Your Family, Cancel This Year's Holiday Gathering
Collage by Cathryn Virginia | Images from Getty and Shutterstock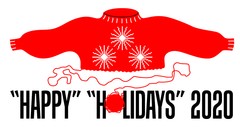 "Happy" "Holidays" 2020 is a series about feeling connected and vaguely festive during the coronavirus pandemic.
The 2020 holiday season grows nearer each day, and, with it, pressure from family members to please come home, despite the still-ongoing, no-sign-of-stopping COVID-19 pandemic. For most people who live any significant distance from their family of origin, or even those who live near aging or otherwise immunocompromised relatives, 2020 has been a year without any family visits. The desire to finally cave—to book the cheap flight you've been watching for months in order to make your relatives happy and maybe even hug them for the first time in this awful year—is strong. In March, 100 years ago, a lot of people assumed things would be back to "normal" by now.
Of course that isn't the case; thanks to an inept government, it remains unsafe and unwise to travel to stay with family this holiday season, and to gather with them indoors and/or unmasked at all. Just as has been the case since March, if you love your family, the best thing you can do for them is stay the hell away from them.
While most people realize that being around strangers or big groups indoors is a bad idea, others are still behaving like their friends and family couldn't possibly be sick or at risk of getting each other sick. "What we're seeing as the increasing threat right now is actually acquisition of infection through small household gatherings," CDC director Robert Redfield told reporters in mid-October. "Particularly with Thanksgiving coming up, we think it's really important to stress the vigilance of these continued mitigation steps in the household setting."
Cautionary tales abound. In June, a birthday party in Texas caused at least 18 members of one family to become infected with COVID-19. In July, two physicians let their "guard down" by hosting a family gathering—mostly outside, but without masks—that spurred at least eight COVID-19 cases. And over the summer, a 13-year-old girl who had tested negative on an antigen test (the type of test used incorrectly by the White House) two days before developing some nasal congestion, gave COVID-19 to 11 relatives across four states. The CDC wrote a report on the event, not because it's atypical, but because it's increasingly common.
"Everybody says, 'Oh, it's my family. I'm going to go see my brother. I'm going to see my cousin,' and they think that's a safe word," Ron Barbosa, the Texas man who didn't get sick because he didn't attend the birthday party with the rest of his family, told BuzzFeed News.
Months of living with this virus means we've had time to learn more about it, and also to get used to it. The former is a good thing—we now know that masks play a vital role in curbing spread, ventilation indoors is key, and social distancing and quarantining are highly effective for minimizing spread—but the latter is dangerous. There remains no wiggle room in the rules, no matter how incredibly tired we are of living by them.
As bioethicist Kelly Hills told VICE in July, we often assume our loved ones share our views toward pandemic safety—that "what I think is risky is what they think is risky, and what they think is common sense is what I think is common sense. It just doesn't work like that," she said. We also shouldn't assume we've been careful enough for people to be safe around us. No one thinks they are going to be the one to sicken or kill their loved ones, but people are still getting infected by those they know, and are even related to.
Maybe you're someone who understands this, who knows that going home for the holidays is a bad idea, and are already planning new, safer ways to celebrate the upcoming season without risking the health of your loved ones. But if your boomer parents, or your grandparents, or your sibling, or whoever is still on your case about coming home, and is sure that COVID wouldn't possible dare show its face at a "safe, small" family gathering, perhaps send them this recent account from a former COVID-denier of his family weekend in Texas that resulted in tragedy. Just after Governor Greg Abbott released the state from its brief lockdown and said small gatherings were probably fine, Green invited the family to his house, a visit that spurred at least 14 cases that resulted in multiple hospital stays—including his own—and at least two deaths.
"How many people would have gotten sick if I'd never hosted that weekend? One? Maybe two?" Green told the Washington Post. "The grief comes in waves, but that guilt just sits."
The desire to see family right now, to hug them and share big piles of food with them around a table where everyone's laughing and pretending the rest of this year didn't exist, is so strong, it hurts. But the guilt over sickening a family member—or worse—would be even more painful. There will come a holiday season where all of our favorite things are possible again. Strongly consider that this isn't the one. While choosing the safety of a holiday season apart might be hard for everyone involved, it may be ultimately easier to swallow than the potential consequences of indulging the desire to be close.
Follow Hannah Smothers on Twitter.
Trump campaign cries foul on final debate topics
The US president says he will participate in Thursday's debate, despite decrying the lack of a foreign policy topic.
The campaign for United States President Donald Trump has objected to the chosen topics for Thursday's election debate in Nashville, Tennessee, declaring the final face-off between the candidates was meant to be the "foreign policy debate" and accusing organisers of pro-Biden bias.
Trump's campaign manager Bill Stepien, in a Monday letter to the non-partisan Commission on Presidential Debates, said that debate "was always billed as the 'Foreign Policy Debate'" as was "agreed to by both the Trump campaign and Biden campaign many months ago".
On Friday, the debate moderator, NBC News' Kristen Welker, announced the debate topics would be fighting COVID-19, American families, race in America, climate change, national security and leadership. It was unclear if there had ever been a formal agreement on what the topics would be, although, in past elections, foreign policy has factored prominently in final presidential debates.
In the letter to the debate organisers, Stepien decried "the commission's pro-Biden antics" and said the foreign policy omission stood to benefit the Democratic challenger.
"We understand that Joe Biden is desperate to avoid conversations about his own foreign policy record, especially since President Trump has secured historic peace agreements among Israel, the United Arab Emirates, and Bahrain," he wrote, alleging the commission had intentionally sought to benefit Biden in the first debate and in the cancelled second one.
The campaign has also slammed the commission's decision, announced on Monday, to mute the candidates during portions of the debate when the other candidate is speaking – a response to the chaotic first debate in Cleveland, Ohio that often devolved into a shouting match.
A second debate scheduled for October 15 was cancelled after Trump refused to agree to a digital format following his COVID-19 diagnosis. The candidates instead were featured in dueling prime-time town hall events on separate US TV networks.
'Nothing fair'
Trump, for his part, has continued to attack the framework of the debate, while accusing moderator Welker of being a "radical left Democrat" during a rally in Arizona on Monday.
"These people are not good people," he said of the debate commission on Tuesday, in an interview on Fox News, adding there was "nothing fair" about the upcoming event.
Despite the harsh words, Trump and his campaign have said he will participate in the debate, hoping the final face-to-face meeting between the candidates will give the president a bump amid lagging polls going into Election Day on November 3.