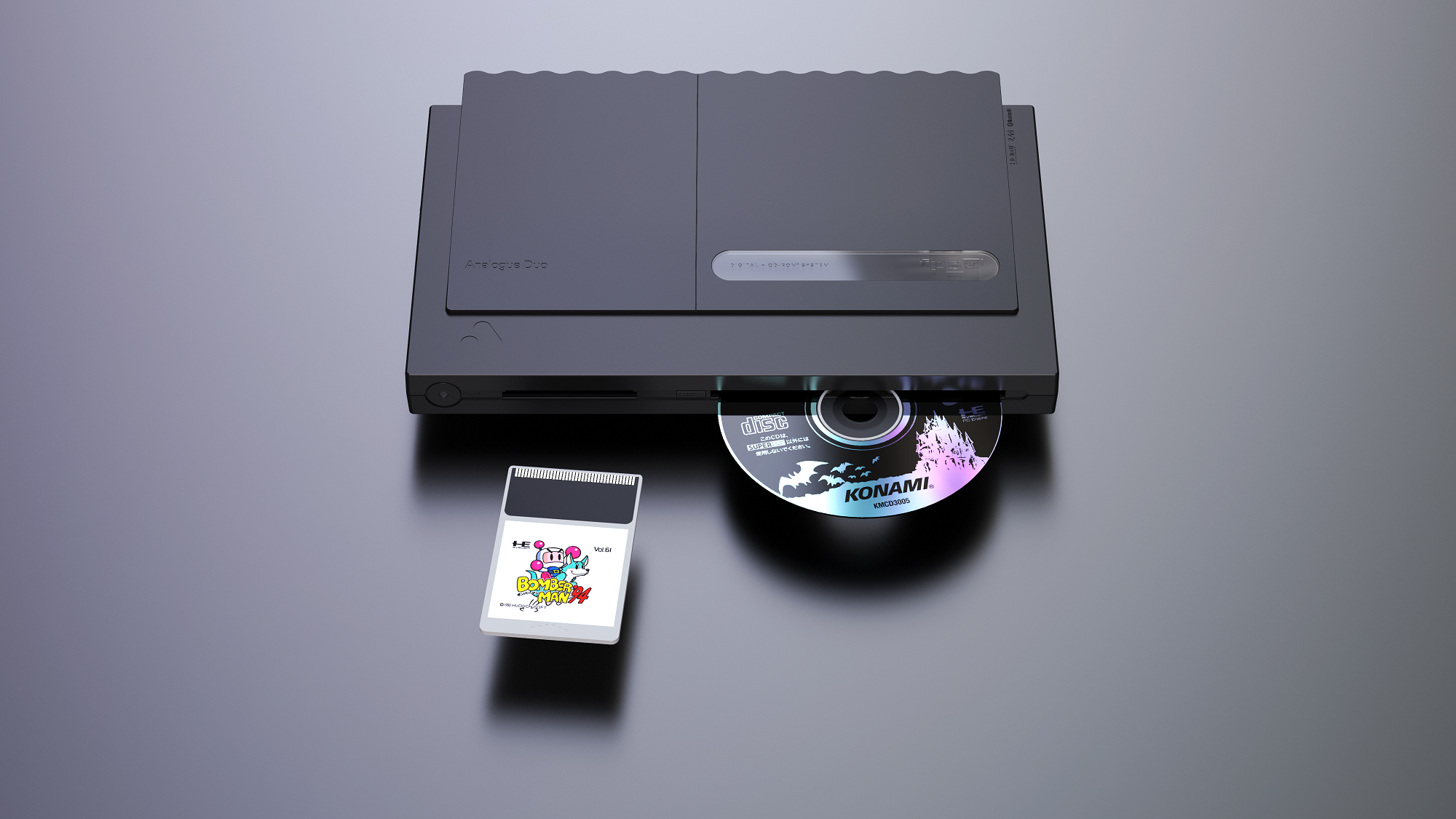 When Kanye West briefly talked about naming an album of his after the TurboGrafx-16 a few years back, it was honestly the most attention that the video game console had gotten in North America in a quarter century.
While the game console, developed by two Japanese companies—the game-maker Hudson Soft and the electronics manufacturer NEC, the latter of which sold the device—carried a strong reputation in its home market under the PC Engine name, it failed to carry the same weight in North America. The TG-16 proved a distant third banana to Nintendo and Sega's offerings, despite having some of the strongest graphics of its era—visuals that belie the fact that the whole thing is being driven by an 8-bit CPU, despite the 16-bit name. (The graphics were driven by 16-bit chips, see.)
The extent of memories many kids of the era have might be the many ads for the console that appeared on Nickelodeon in the early 90s.
Perhaps it's for this reason that the nostalgia train is finally, belatedly, taking a long glance at NEC's main contribution to gaming history, which got a few miniaturized variants earlier this year. (Seemingly reflecting the challenges that traditionally faced the console, the mini version came out just as COVID-19 screwed up the supply chain.) And now, the TG-16 is getting the high-end Analogue treatment.
On Friday, Analogue revealed the Analogue Duo, a high-end remake of the TurboGrafx-16 based on the same kind of FPGA (floating point gate array) innards as the company's prior consoles, the Nt Mini, the Super Nt, and the Mega Sg.
Like the Super Nt and Mega Sg, the Analogue Duo (which goes on sale next year) will have a starting price of $199, wireless controllers, and a crystal-clear, lag-free HDMI connection. Unlike those systems, a bit more introduction to the system being honored will be necessary. Christopher Taber, the founder and CEO of Analogue, says that, for many, the console is going to offer a new experience—and, with that in mind, the Duo reflects a reintroduction of sorts to a console he personally loves.
"Analogue Duo is designed to be the ultimate way to explore nearly all of NEC's history, and for most people, it's gonna be their first introduction to this piece of video game history," Taber said in an interview.
"The Higher Energy Video Game System": The TurboGrafx-16's surprisingly active release cycle
In many ways, the failure of the TurboGrafx-16 was a product of bad marketing, bad timing, a somewhat complex library of add-ons, and distinct geographical differences that can make the console somewhat difficult (and costly) to collect for in the modern day. 
Starting as the PC Engine in Japan in 1987, the console line went through numerous design iterations over its long life to account for a variety of upgrades and iterations, including the TurboExpress, a portable edition that competed directly with the Game Boy, Game Gear, and Atari Lynx. (There was even a laptop-style version that appeared nearly a decade before the Sony PlayStation did something similar.)
Design was a fluid thing for the NEC-based console series; the original PC Engine was a 5.5-inch block, significantly smaller than any other major console of the era. Despite this, NEC felt such a small console wouldn't sell well in the U.S., and made the original version of the TurboGrafx-16 absolutely massive as a result—large enough that the just-released mini version of the TG-16 is still larger than the original version of the PC Engine. (It may have been all for naught, as the system still didn't sell as well as its American competition.)
Part of what allowed the console to shape-shift so effectively involved the small size of its cartridges, known as HuCards, credit-card-sized objects that could hold up to 8 megabits of data. (Minus one exception—a surprisingly amazing late-era port of Street Fighter II: Champion Edition with a super-sized HuCard cartridge.) Of course, that meant a low ceiling—something NEC was willing to move past by being a first mover with a CD-ROM add-on for the PC Engine, which later appeared as the TurboGrafx-CD in the U.S.
All-in-all, there were 17 separate variants of the console that were released between different countries over its seven-year history—all of which the Analogue console supports right out of the box. (In fact, the only NEC-manufactured video game console the Analogue Duo doesn't support is the 32-bit PC-FX, a Japan-only system that was crushed by the PlayStation and Sega Saturn.)
Design-wise, the Analogue Duo mimics perhaps the most robust model, the TurboDuo, which combines the HuCard and a CD-ROM drive into a single unit with a slick design.
"I think the original Turbo Duo is one of the best video game console designs of all time and very few people have ever even seen one," Taber noted.
As a result, the system is the first developed by Analogue that includes a built-in CD-ROM unit. (The Sega-based Mega Sg, released last year, supported the Sega CD through an add-on interface.) While other retro-minded console-makers have dipped into CD-based game consoles—most notably the recently released Polymega, a modular retro system that relies on traditional emulation—it's a new approach for Analogue, though the company says it's likely open to future systems.
"FPGA is the ideal way to preserve video game history and of course experience each system now and forever," Taber says. "Analogue is dedicated to this whether or not it is CD or cartridge based is simply a matter of hardware and difficulty of engineering."
(One thing that hasn't proven too hard for Analogue: Supporting HuCard-based TG-16 games on its also-forthcoming Analogue Pocket, something the company also announced support for on Friday.)
Where the TG-16 truly shined: A game library full of hidden classics
Of course, we wouldn't be talking about the TG-16 today if not for the games, a library of nearly 700 titles, most of which never saw release in the U.S.
Perhaps the best-known title from the system today is ‌Castlevania: Rondo of Blood, a TurboGrafx-CD-based title that is considered one of the best games of that legendary series, one reproduced for other consoles under the Dracula X name.
Other notable titles include two early entries in the long-running Ys series, an action-role-playing franchise that first appeared on NEC's PC-8800 home computers, along with the highly promoted Bonk titles, which were a major part of the North American marketing for the TG-16. Hudson's popular Bomberman series had a strong showing on the TG-16 as well.
But for enthusiasts, the area where the console truly shines is its shoot-'em-ups (or "shmups," if you're really into them). It's where Taber says the console holds its strongest appeal.
"I pretty much only play shmups these days and NEC systems may have the strongest shmup lineup of all time," he says, citing classics of the form such as Ginga Fukei Densetsu Sapphire, ‌Magical Chase, and Sylphia.
Perhaps the value proposition for the TG-16 doesn't speak for itself in quite the same way as its contemporaries sold by Nintendo and Sega. But the release of some modern hardware might help to get these forgotten classics into fresh hands.
The US broke its record for the highest number of new coronavirus cases in a day
The United States broke its record for the highest number of confirmed coronavirus cases reported in a single day on Friday, an alarming sign that what some epidemiologists are calling a "third wave" of infections is spreading at breakneck speed as winter approaches.
According to the New York Times, by the end of the day on Friday, at least 85,085 cases were reported across the country — about 10,000 cases more than the previous same-day high on July 16.
Public health experts have long warned that uneven compliance with social distancing guidelines, inadequate contact tracing programs, and premature reopenings of indoor venues were creating conditions for a resurgence of virus transmission after its summer peak, and that is what appears to be happening now.
The new case numbers also show that the geographic spread is wider than during past spikes. According to an internal report produced on Thursday for officials at the Department of Health and Human Services, and obtained by the Washington Post, more than 170 counties across 36 states have been designated rapidly rising hot spots. And 24 states have broken single-day records of new cases in the past two weeks, the Post reports.
Also concerning is that in the past month there has been a 40 percent rise in the number of people hospitalized for Covid-19 infections. Deaths have not surged so far, but epidemiologists have pointed out that there can be a significant time lag between a surge in cases and deaths tied to that surge.
"Today's cases represent infections that probably happened a week or two ago," Boston University epidemiologist Eleanor Murray told Vox's Dylan Scott in July. "Today's deaths represent cases that were diagnosed possibly up to a month ago, so infections that were up to six weeks ago or more."
Saturday, President Donald Trump downplayed the record number of new reported cases on Twitter, and incorrectly claimed that cases were up only because testing ability is up.
But public health experts have pointed to state-level policies on distancing and contact tracing as a key driver of the current uptick. Moreover, the high rates at which coronavirus tests are coming back positive in many states — a key data point for estimating the true spread of the virus — and the surge in hospitalizations are signs that the new wave is not just a result of testing capacity. As Vox's German Lopez has explained, a high positivity rate actually suggests that not enough tests are being done to track and contain spread in a given area.
Murray, the epidemiologist at Boston University, told the Washington Post that the wide geographic range of the new wave will make it difficult to move health care workers to hot spots. Previous spikes were concentrated in certain communities, allowing medical professionals from less affected areas to be moved to deal with outbreaks. But the breadth of the current outbreak could tax US health care capacity in a manner that has not been seen before.
And Murray also pointed out that this wave is more dangerous that the two that preceded it, because it started from a higher point of infections.
"We are starting this wave much higher than either of the previous waves," she told the Post. "And it will simply keep going up until people and officials decide to do something about it."
Experts have warned about a third wave for a while
Medical professionals, epidemiologists and many public health officials have long pointed out the risk of a third wave.
As Vox's German Lopez wrote in early October, experts warned that a third wave looked likely in light of the fact that the virus was never really suppressed nationally, and that premature reopening, encouraged most aggressively by Trump and Republican governors, would simply accelerate its spread:
Consider Florida. Last month, the state reopened bars and, more recently, restaurants, despite the high risk of these indoor spaces. After Florida previously opened bars, in June, experts said the establishments were largely to blame for the state's massive Covid-19 outbreak in the summer. As Florida reopens now, it has roughly two to three times the number of Covid-19 cases that it had in early June, and its high test positivity rate suggests it's still likely missing a lot of cases. The state is fanning its flames while its most recent fire is nowhere near extinguished.

This is, in effect, what much of the country is doing now as it rushes to reopens schools, particularly colleges and universities, and risky indoor spaces. Coupled with recent Labor Day celebrations, experts worry that's already leading to a new increase in Covid-19 cases.
Experts have pointed out that Trump's persistent agenda to downplay the dangers of the virus — and his suggestions that the news of a third wave is a media conspiracy designed to throw the election in Democrats' favor — could intensify the problem as the virus is made into an increasingly partisan issue. The president has repeatedly failed to take responsibility for the troubled US pandemic response, including at the second presidential debate. He has instead blamed China and Democrats for the country's problems, while leaving it to individual states to create plans to lower the rate of infection.
Some states have had more success in reducing infection than others, but none have managed to eliminate spread altogether. And more worrying still is that cold weather and flu season have yet to fully settle in many states as winter approaches.
The good news is that we know how to counteract further spread.
"None of the ideas to prevent all of this are shocking or new," Lopez recently wrote. "They're all things people have heard before: More testing and contact tracing to isolate people who are infected, get their close contacts to quarantine, and deploy broader restrictions as necessary. More masking, including mandates in the 17 states that don't have one. More careful, phased reopenings. More social distancing."
---
Millions turn to Vox each month to understand what's happening in the news, from the coronavirus crisis to a racial reckoning to what is, quite possibly, the most consequential presidential election of our lifetimes. Our mission has never been more vital than it is in this moment: to empower you through understanding. But our distinctive brand of explanatory journalism takes resources. Even when the economy and the news advertising market recovers, your support will be a critical part of sustaining our resource-intensive work. If you have already contributed, thank you. If you haven't, please consider helping everyone make sense of an increasingly chaotic world: Contribute today from as little as $3.
Melania Trump to vote on Election Day, first lady's spokeswoman says
Shortly after Ohio State defeated Nebraska on the opening weekend of Big Ten college football, President Donald Trump took credit for the return of the conference's season. 
"And it's great to be back in Ohio to celebrate the return of Big Ten football with a big victory today for the Buckeyes," Trump told the crowd Saturday at a rally in Circleville, Ohio, just outside of Columbus. 
"So then I had an idea, I said I'm gonna get it open if it's shutdown, that's what happened," Trump said. "And I worked hard to bring back Big Ten and I got together with your commissioner, he did a good job, and we got it back, and today you won your football game and you were very happy about it."
Trump repeatedly pressured the conference to play football this fall, which it ultimately decided to do. However, it's unclear how much influence the President's pressure had on that decision despite him taking credit for it. 
CNN's Harry Enten wrote earlier that Trump obviously saw a political opportunity with concern to the Big Ten. There's a reason he focused most of his attention on the Big Ten suspending play, as opposed to the many other conferences that did. Most of those other conferences aren't based in swing states.
And Trump wasn't alone. Biden also made ads showing empty college football stadiums due to the coronavirus with the blame landing at Trump's feet.
Poland had some of the strictest abortion laws in Europe. They just got even stricter.
Poland's highest court on Thursday banned abortions due to fetal defects, a ruling that further narrows reproductive rights in a country with some of the most conservative abortion laws in Europe.
On Friday, protestors took to the streets and clashed with police in several major cities across Poland to demonstrate against what reproductive rights advocates say is effectively a near-total ban on abortions.
The Polish constitutional tribunal found that abortions in cases where "prenatal tests or other medical indications indicate a high probability of severe and irreversible fetal impairment or an incurable life-threatening disease" violate the right to life.
The only remaining reasons someone can get a legal abortion in Poland now are in the case of rape, incest, or when the mother's life is in danger. According to CNN, around 98 percent of legal abortions in Poland are conducted due to fetal defects.
Dunja Mijatović, the human rights commissioner for the Council of Europe, condemned the ruling and deemed it a "sad day for women's rights."
"Removing the basis for almost all legal abortions in Poland amounts to a ban and violates human rights," she tweeted. "Today's ruling of the Constitutional Court means underground/abroad abortions for those who can afford and even greater ordeal for all others."
The decision prompted fierce protests in many cities. In the capital of Warsaw, protesters gathered outside the house of Jarosław Kaczyński, the leader of Poland's right-wing ruling party, holding signs that read, "You have blood on your hands." After protesters clashed with riot police, a Warsaw police spokesperson said on Friday that 15 people had been arrested and the police had filed 89 motions in court.
More protests are expected throughout the weekend. "In a few days, hell for women will begin in this country," reads the Facebook event description for a protest planned this weekend in the city of Gdańsk, according to the Guardian.
Further restricting abortion isn't likely to be a popular move
Over 100 conservative and nationalist lawmakers asked the constitutional tribunal last year to consider the legality of abortion in the case of fetal defects, something they've framed as "eugenic" abortion.
Critics say that the governing Law and Justice (PiS) party has undermined judicial independence and packed the constitutional tribunal with partisans who will rule in favor of its political programs.
Political analysts say that the timing of the decision might reflect that tribunal's desire to help buttress the PiS party's political interests, particularly at a time when its governing coalition with a smaller, hard-right party is in a state of crisis.
"It's PiS trying to score points with the far right," Marta Lempart, an activist with Polish Women's Strike, a grassroots movement focused on abortion rights, told Politico Europe.
The court's ruling does not appear to be in sync with public opinion. "Although Poland is one of Europe's most staunchly Roman Catholic countries, opinion polls suggest there is a clear majority against making the abortion law stricter," BBC reported.
Former Polish Prime Minister Donald Tusk tweeted: "Throwing the topic of abortion and a ruling by a pseudo-court into the middle of a raging pandemic is more than cynical."
Women's rights organizations in Poland say that the actual number of abortions performed every year is far larger than the official numbers show — many are conducted illegally within Poland or legally in neighboring countries.
While the official number of abortions last year was 1,100, Lempart estimated that Poles conducted 100,000 to 150,000 abortions, either illegally within the country or across the border in neighboring countries with less stringent regulations on abortion.
The new ruling could push illicit abortions even further underground by making it an even rarer and more strictly regulated act — and that in turn could potentially make them more expensive.
"Safe abortion will effectively be accessible only to women who can afford it," Lempart told Politico Europe. "Others will look for cheaper and therefore more dangerous options."
---
Millions turn to Vox each month to understand what's happening in the news, from the coronavirus crisis to a racial reckoning to what is, quite possibly, the most consequential presidential election of our lifetimes. Our mission has never been more vital than it is in this moment: to empower you through understanding. But our distinctive brand of explanatory journalism takes resources. Even when the economy and the news advertising market recovers, your support will be a critical part of sustaining our resource-intensive work. If you have already contributed, thank you. If you haven't, please consider helping everyone make sense of an increasingly chaotic world: Contribute today from as little as $3.