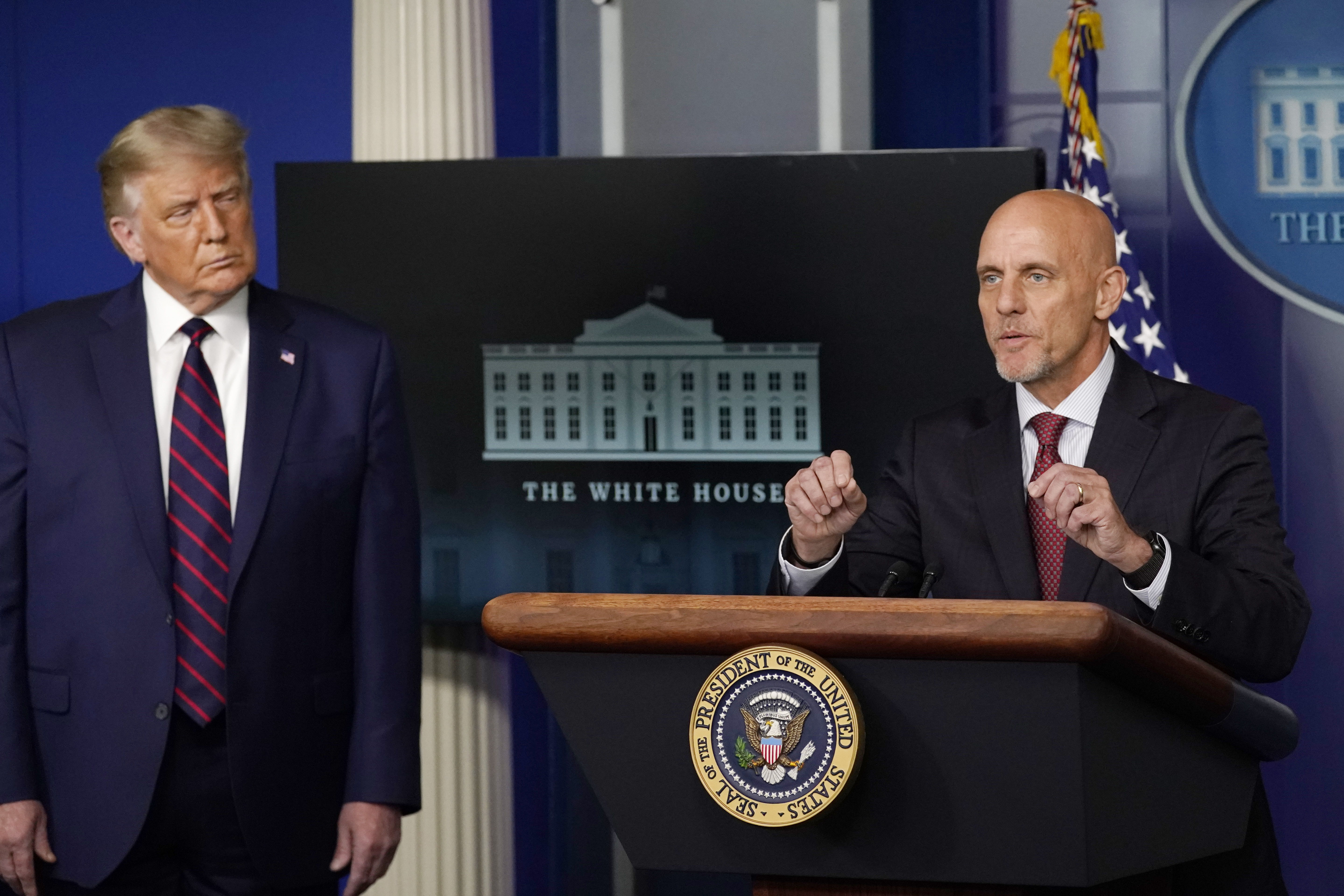 The Food and Drug Administration wants stronger standards for an emergency coronavirus vaccine that would go an extra step toward making sure it's safe and it works. The White House isn't having it.
The White House has blocked proposed Food and Drug Administration guidelines for the emergency authorization of a COVID-19 vaccine meant to ensure confidence in the safety of the vaccine, the New York Times reported on Monday. Just hours before the news broke, Trump himself left Walter Reed Army Medical Center in Maryland after being hospitalized with coronavirus symptoms. He revealed his positive diagnosis early Friday morning.
The guidelines call for tracking late-stage clinical trial participants for two months after they receive the vaccine, and for stronger safety standards than the ones used to approve the emergency usage of hydroxychloroquine and convalescent plasma. 
If enacted, these guidelines would all but seal shut the possibility of approving a vaccine before Election Day, a timeline Trump has repeatedly touted during his re-election campaign. During last Tuesday's debate with Vice President Joe Biden, Trump said that "we're weeks away from a vaccine," and that the "scientists in charge" will "have the vaccine very soon." 
"We have the best medicines in the world and it all happens very shortly, and they're all getting approved," Trump said in a video posted on Monday night, after he returned to the White House. "And the vaccines are getting approved momentarily."
The FDA submitted the new guidelines to the White House budget office more than two weeks ago but they've reportedly been held up in the office of White House chief of staff Mark Meadows ever since, with their approval now seen as "highly unlikely," according to the New York Times. In a meeting on September 23, Meadows reportedly implied to FDA director Dr. Stephen Hahn that Hahn was being overly influenced by the agency's career scientists.
The following day, Trump suggested the White House wouldn't approve the new guidelines. "We're looking at that and that has to be approved by the White House. We may or may not approve it," he said. 
The FDA, however, is reportedly looking for a way around the White House's opposition. The agency is reportedly considering sharing the standards as early as next week with its Vaccine and Related Biological Products Advisory Committee, a 15-member body made up of experts from outside the FDA that holds a public hearing before any authorization of emergency use. The committee is scheduled to next meet on October 22. 
The White House's reluctance to approve the new, more stringent guidelines puts it at odds not only with public health experts and its own administration officials, but the biotechnology industry itself. Dr. Michelle McMurry-Heath sent a letter to Department of Health and Human Services Secretary Alex Azar last week saying that the "release of FDA guidance would provide scientists and researchers greater regulatory clarity and strengthen public confidence" in the process and eventual vaccine.
"All new FDA guidance should be finalized and communicated with those on the frontlines developing potential vaccines," McMurry-Heath added. "Just as importantly, it must also be shared more broadly with the American public. We cannot allow a lack of transparency to undermine confidence in the vaccine development process."
Cover: President Donald Trump listens as Dr. Stephen Hahn, commissioner of the U.S. Food and Drug Administration, speaks during a media briefing in the James Brady Briefing Room of the White House, Sunday, Aug. 23, 2020, in Washington. (AP Photo/Alex Brandon)
Kristen Welker is moderating the final presidential debate. Trump is already attacking her.
Kristen Welker, a White House correspondent for NBC News and a co-anchor of Weekend Today, will moderate the final 2020 presidential debate between President Donald Trump and Democratic nominee Joe Biden on Thursday in Nashville, Tennessee.
Welker interned with the Today show while a student at Harvard University and has been with NBC full time since 2005. She started as a reporter and weekend anchor at NBC's affiliate station in her hometown of Philadelphia, then became a correspondent at the West Coast headquarters of NBC News in 2010. Welker, who has been a White House correspondent for the network since 2011, was named co-anchor of Weekend Today in January 2020.
On Friday, the Commission on Presidential Debates announced the six topics for the final face-off between Trump and Biden: fighting Covid-19, American families, race in America, climate change, national security, and leadership. But just as they did for the first presidential debate, the subjects have already sparked some controversy.
The Trump campaign sent a letter to the commission on Monday, demanding a bigger focus on foreign policy. The president sees foreign policy as a winning issue for him, as he can discuss his administration's efforts to normalize relations between Israel and the United Arab Emirates — and, potentially, raise conspiracy theories about Biden, his son Hunter, and Ukraine — and deflect attention from his mishandling of the Covid-19 pandemic. Trump campaign manager Bill Stepien accused the commission of "pro-Biden antics."
Biden's national press secretary, TJ Ducklo, said in a statement that both campaigns agreed months ago that it would be up to the moderator to select the topics.
Trump and his campaign criticizing a debate moderator is par for the course, although this time they're getting started before the debate itself. At a rally in Arizona on Monday, the president called Welker a "radical Democrat," saying she will be "no good." That followed his tweet from last Saturday, when he said Welker has "always been terrible [and] unfair, just like most of the Fake News reporters."
Welker works for the same network as Savannah Guthrie, who moderated Trump's town hall event last week to widespread commendation. As Vox's Emily Stewart explained, Guthrie "came in ready":
She didn't let Trump just drone on in silence, but she also didn't come back at him with a list of facts. She just asked him to explain himself, to really answer her question, to just say the thing that is true.
Guthrie was blasted on right-wing media after the event, with Sean Hannity of Fox News saying she was nasty to Trump.
Whether Welker will have a similar experience with both men on stage remains to be seen. She was one of four moderators for a Democratic primary debate in fall 2019, but this will be her first time moderating a general-election debate. Fox News anchor Chris Wallace and USA Today Washington bureau chief Susan Page, who moderated the first presidential debate and the vice presidential debate, respectively, struggled to assert control at times, so the pressure will be on Welker to help maintain order.
The debate commission made a recent rule change that should help her in that area: Both Biden and Trump will have two uninterrupted minutes to make their opening remarks for each discussion topic, during which time the other candidate's mic will be turned off. After that, they'll be allowed to talk back and forth about the issues.
---
Will you help keep Vox free for all?
The United States is in the middle of one of the most consequential presidential elections of our lifetimes. It's essential that all Americans are able to access clear, concise information on what the outcome of the election could mean for their lives, and the lives of their families and communities. That is our mission at Vox. But our distinctive brand of explanatory journalism takes resources. Even when the economy and the news advertising market recovers, your support will be a critical part of sustaining our resource-intensive work. If you have already contributed, thank you. If you haven't, please consider helping everyone understand this presidential election: Contribute today from as little as $3.
The GOP Just Broke the Rules to Advance Amy Coney Barrett's Supreme Court Nomination
This is a developing story. Please refresh for updates.
Republicans on the Senate Judiciary Committee tossed out committee rules Thursday morning and voted to advance Judge Amy Coney Barrett's nomination to the Supreme Court to the full Senate without any Democratic minority members present.
The 12-0 committee vote frees the full Senate to vote on President Donald Trump's nomination of Barrett on Monday. With a 53-47 majority, there's little to stop Senate Republicans from confirming a ninth Supreme Court justice just a few days before the November 3 election.
If confirmed, Barrett would cement the court's 6-3 conservative majority, likely for years to come. She would replace the late Justice Ruth Bader Ginsburg, a trailblazing feminist lawyer who died in mid-September after several bouts with cancer.
Under Senate Judiciary Committee rules, at least two members of the minority must be present for the committee to conduct business. But South Carolina Sen. Lindsey Graham, the committee chair, has broad latitude to control the committee's conduct.
"As a matter of committee rules, in practical terms, the chairman can kind of get around things, change the rules," Rich Arenberg, who wrote the book "Congressional Procedure," a guide to congressional legislative processes, told VICE News earlier this month. "In my view, Graham will be able to get the nomination reported to the floor."
Senate Minority Leader Chuck Schumer, a Democrat of New York, said in a statement ahead of the committee vote that Democrats intended to boycott the proceeding.
"Republicans have moved at breakneck speed to jam through this nominee, ignoring her troubling record and unprecedented evasions, and breaking longstanding committee rules to set tomorrow's vote," he said in a statement, as reported by the New York Times. "We will not grant this process any further legitimacy by participating in a committee markup of this nomination just 12 days before the culmination of an election that is already underway."
During Barrett's confirmation hearing last week, Democrats attacked the process as a rushed sham and a hypocritical turn from Republicans, many of whom agreed to block President Barack Obama's nomination of Merrick Garland in 2016 on the grounds that a new Supreme Court justice should not be confirmed in an election year.
They also sought to extract more information from Barrett, who sits on the U.S. Court of Appeals for the 7th Circuit, about her views on issues like abortion, LGBTQ rights, and the Affordable Care Act. The Supreme Court is set to hear oral arguments in a lawsuit over the Affordable Care Act on November 10, and Democrats fear that Justice Barrett would help gut the law. (Rather than showing up to the committee vote, the Democrats placed posters of people who, they said, could lose their healthcare if Barrett were confirmed, the Times reported.)
Area burned in Indonesia fires 'greater than the Netherlands'
Greenpeace slams Indonesia for lack of action against the palm oil sector as vast areas of forests burned in five years.
Tropical forest and peatland areas bigger than the Netherlands have burned in Indonesia in the past five years, Greenpeace has said, lambasting President Joko Widodo's government for allowing the pulpwood and palm oil sector to act with impunity despite bearing "considerable responsibility" for the fire crisis.
In a new report on Thursday, the prominent environmental group said some 4.4 million hectares (9.9 million acres) of land have burned in Indonesia between 2015 and 2019.
About a third of those areas were located in palm oil and pulpwood concessions, it said, citing an analysis of official maps.
However, despite government promises to punish companies found to be deliberately burning concessions – particularly in the aftermath of the 2015 crisis that caused trans-boundary haze, affecting tens of millions of people across Indonesia, Malaysia and Singapore – "palm oil and pulp firms continue to operate with few or no sanctions", Greenpeace said.
There has been no action against eight of the 10 palm oil companies with the largest burned areas in their concessions from 2015 to 2019, despite fires burning in multiple years within their concessions, it added.
Further exacerbating the situation, Indonesia's government and legislators recently passed a new law that dismantles environmental protections, Greenpeace said. The "omnibus" Job Creation law, drafted with the involvement of the plantation sector approved by parliament earlier this month, weakens liability for environmental crimes, the group said, as the "palm oil and pulp sectors will be relieved of responsibility for prior damage they have inflicted on Indonesia's peatlands".
The law – which drew huge protests in Indonesia over fears of weakened labour rights – will also protect the plantation sector from future liability for damage to the environment and fires in their concessions, the report said.
"Palm oil and pulp multinationals have practically set the rules in recent decades. Year after year they have broken the law by allowing forests to go up in flames, yet they evade justice and go unpunished," said Kiki Taufik, global head of Greenpeace Southeast Asia Forest campaign.
"Measures like the pro-business 'Omnibus Law' that ignore people and see nature as a bottomless resource to be extracted for short-term profit, can only have a catastrophic outcome for human health, human rights and the climate," he added, urging the Indonesian president, who is also known as Jokowi, to end "this madness" and veto the law.
Indonesia, which has the biggest forests outside the Amazon and the Congo, is the world's largest producer of palm oil and each year fires are linked to slash-and-burn practices used to clear areas for palm oil cultivation.
Three of the five companies, Greenpeace said, had the largest burned areas in their concessions from 2015 to 2019 are suppliers to Indonesia's biggest conglomerate, Sinar Mas Group, and one of the country's largest pulp and paper companies, Asia Pulp & Paper (APP).
A spokeswoman for APP, which is part of Sinar Mas Group, told Reuters news agency that APP has spent $150m on a fire management system, and that it continues to help local communities transition away from slash-and-burn land clearing towards more sustainable methods.
Indonesia's Ministry of Environment and Forestry did not comment immediately.
In February, Widodo told government officials to find a permanent solution to the annual fires, and ordered more frequent patrols on the ground by security personnel across the country, especially in fire-prone areas.
But in June, the environment ministry said, it had to scale back fire patrols because of budget cuts owing to the coronavirus pandemic.