On Friday, Donald Trump issued a proclamation declaring that today, the nation would celebrate Columbus Day—a pretty standard move for a president. But he also took the opportunity to unleash a screed against those who, in recent years, have advocated that we shift the focus of this annual holiday from honoring the voyage of the Italian explorer who brought Europe to the Americas to remembering the millions of indigenous peoples who were subsequently killed and displaced by centuries of colonialism.
Trump is not a fan of this "revisionist" history (and here, "revisionist history" is to be understood as "things that are 100% true, but for a long time America didn't like to talk about them.") His proclamation states, "These extremists seek to replace discussion of his vast contributions with talk of failings, his discoveries with atrocities, and his achievements with transgressions. Rather than learn from our history, this radical ideology and its adherents seek to revise it, deprive it of any splendor, and mark it as inherently sinister."
There is certainly no arguing the fact that the US would not exist without the efforts of colonizers like Christopher Columbus. It is also true that his world-changing achievements led to devastation for the people who were here already. Yet every year, on the second Monday of October, the US commemorates the anniversary of Columbus's arrival in the Americas on October 12, 1492. Even though he sailed for the Spanish, landed in the Caribbean, and was, according the historical record, a real jerk. So, uh, why is this a US holiday again? Is the life of this man worth celebrating? Let's consider the history.
Columbus, a Genoese explorer, was sailing under the Spanish flag in hopes of colonizing the "new world." After crossing the Atlantic in search of the fabled East Indies, which was certainly no easy feat at that time, he landed on the island of Hispaniola (now Haiti and the Dominican Republic) instead of Japan or some other part of Southeast Asia as intended. While there, he set up a colony, kicked off the transatlantic slave trade, forced locals to work in a gold mine or have their hands chopped off, most likely committed genocide of Hispaniola natives (don't worry, he did some jail time), and did so all in the name of Christianity. Oh, and he's also probably the reason indigenous people were referred to as "Indians" back then and are often still called that to this day. Stand-up fella.
G/O Media may get a commission
So why in the world would the US want to turn such a figure into some sort of national hero? Well, here are three reasons. For one, despite his methods, he did help establish transatlantic trade routes that eventually led to more colonization, which eventually led to the forming of our country. It's hard to say for certain, but the world could have been very different if Columbus hadn't succeeded. Second, several US presidents greatly romanticized the "Columbus discovering the New World" myth, including Ronald Reagan, Franklin D. Roosevelt—who instituted the federal holiday in 1937—and Benjamin Harrison, who called upon US citizens to celebrate the 400th anniversary in 1892.
Let's be clear: Columbus did not "discover America." People were already here, and if you're going to credit a European with discovery, it should be the Viking explorer Leif Erikson (who beat Columbus by a few hundred years).
But lastly, and most importantly, we celebrate Columbus Day because—drum roll please—we hated the English! Remember how Columbus landed in the Caribbean and not mainland North America? Well, there was another explorer—a Venetian by the name of John Cabot—who did land on the mainland in 1497, "discovering" the North American coast for the first time since the 11th century. So why aren't we celebrating John Cabot day every year? Simple—Cabot sailed under the English flag.
Both Columbus and Cabot were largely minor characters of history for hundreds of years after their deaths. But fast forward to the newly independent American colonies in 1776, and things have changed. As Brian Handwerk at Smithsonian Magazine explains, American colonists needed a "heroic symbol" for their newly born nation. In hindsight, Cabot should have been the obvious choice—he landed where their new nation actually is and he didn't mass murder the natives. In fact, he didn't even make contact with them, not advancing "beyond the shooting distance of a crossbow" when he made landfall. But as Handwerk puts it, Cabot sailed under an inconvenient flag. Nobody in the newly independent United States wanted to associate themselves with an explorer who worked for the British.
So that's why the US has celebrated Columbus since the late 18th century (there was a big celebration as far back as 1792 for the 300th anniversary), and why it became a state holiday in Colorado in 1905 before becoming a federal holiday in 1937. Increasingly—and despite the efforts of the President—many cities now choose instead to celebrate Indigenous People's Day on the second Monday of October. More than 130 cities and eight states around the country opt for this counter-celebration promoting Native American culture and history. How you choose to spend the day is up to you.
This post was originally published in October 2017 and revised in October 2020 with a new lede incorporating current political context and update the number of cities currently recognizing Indigenous People's Day.
5 innovations shaping the future of train travel
What will the future of public transport look like? The major projects being planned today, such as the UK's HS2 high-speed rail network, aren't fundamentally different to what's been built over the last 30 years. Maglev trains are largely confined to niche projects in China. Hyperloop remains an unproven glimmer in Elon Musk and Richard Branson's eyes.
The likes of HS2 can deliver considerable improvements in network capacity but through incremental changes in conventional designs, from tracks to train bogies. Yet while the rail sector is warily slow at introducing new technologies due to the long time it takes to plan and build new lines and vehicles, there are a number of technical innovations in development that, if adopted, could make the trains of tomorrow both faster and safer.
[Read: What audience intelligence data tells us about the 2020 US presidential election]
1. Mechatronic switches

Switch or points failure is responsible for nearly 20% of the total delay experienced by passengers on UK railways. This occurs when there's a problem with the mechanism that enables trains to move from one track to another at a junction. Despite the frequency of the problem, the technology used in these mechanisms has hardly changed since the first design nearly 200 years ago.
But a collaborative research project has explored radical alternative technologies. For example, one innovative design called Repoint has three independent motors that can lift and shift the rails, relying on gravity to lock them back into place and providing redundancy in case one or two of the motors fail.
This contrasts with existing switches that slide the rails sideways and can get stuck midway, so have costly additional layers of sensors and protocols to mitigate the risk. The next-generation "mechatronic" switches aim to work faster, improve ease of maintenance and reduce the risk of failure through their backup motors.
2. Active suspension
Conventional suspension systems restrict a train's speed as it travels on curved track, limiting how many trains you can run on a route. These suspension systems essentially work like large springs, automatically changing the distance between the wheels and the carriage as the train travels over uneven ground to make the ride feel smoother.
Active suspension systems are now being developed which introduce new sensors, actuators and controllers to more precisely alter the distance between wheels and carriage. This offers improved ride comfort and enables the train to travel round curves with greater speed and stability. This can be combined with systems to actively tilt the train as it rounds the corner, offering increased benefits.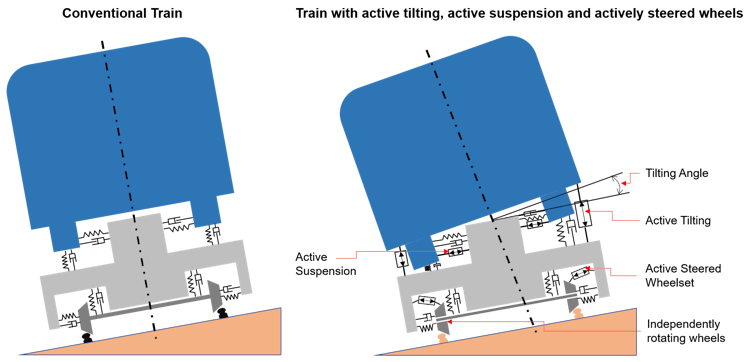 3. Actively steering
In a conventional wheelset, both wheels are interlocked and connected with a fixed axle, preventing any relative rotation between them. When a train enters a curve or a divergent route at a junction, it must slow down to ensure the wheels are guided over the track and to prevent unwanted vibration of the wheels.
Railway researchers are now developing independently rotating wheels to include a separate actuation mechanism that can help steer the wheelsets on the curved route.
4. Active pantograph
High-speed electric trains need to maintain good contact with the overhead powerlines via the pantograph that sits on top of the vehicle. On the UK mainline, pantograph height usually varies by about 2m to secure the connection in different areas such as in tunnels, level crossings and bridges.
Researchers are starting to develop active pantographs that have their height and the induced vibration involved in power transfer controlled by an actuator. These active pantographs can improve the contact force and eliminate contact loss problems due to rapid changes in the overhead line height and other environmental disturbances (such as wind).
5. Virtual coupling
The number of trains that can run on a route (and so the capacity of the line) depends in part on the signaling system. Most railways use a fixed-block system, which divides the tracks into sections. Only one train at a time can be in each section so there has to be a significant gap between the trains.
But some railways are now starting to use a moving-block signaling system, which determines the necessary gap between trains based on the distance it takes for them to come to a stop in an emergency. But this gap could be reduced further if it's based on real time information about what the train in front is doing and where it will stop if it hits the brakes.
This is known as "virtual coupling" and involves the two trains communicating information about their changing speed and brake activity so that they can decrease or increase the gap between them to the minimum necessary. With shorter gaps between them, more trains could run safely on a route, increasing overall network capacity.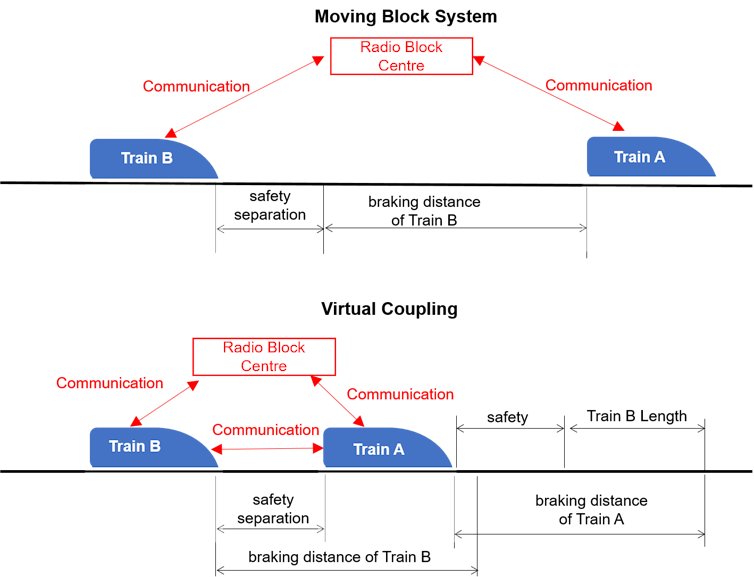 With such innovations, we could introduce trains that are able to adapt to the changing characteristics of the line in order to maintain high speeds throughout most of the journey and avoid those annoying stop-start periods of travel. Widening and disrupting the boundaries of current railway designs in this way would enable us to create a next-generation network with a step-change in performance that is fit for the 21st century – without any need for expensive levitating trains or vacuum tubes.

This article is republished from The Conversation by Saikat Dutta, Research Fellow in Railway Mechatronics Systems, University of Birmingham under a Creative Commons license. Read the original article.
Published October 24, 2020 — 13:00 UTC
Save on Samsung's Galaxy Tab S6, Pokémon Sword and Shield, and more this weekend
Prices taken at time of publishing.
Dell's capable G5 15 usually costs $1,640, but it's $1,200 right now. That's a great deal for a gaming laptop with a six-core Intel Core i7-10750H processor, 16GB of RAM, a 1TB NVMe SSD, a 1080p display with a 144Hz refresh rate, and an Nvidia GeForce RTX 2070 with Max-Q graphics chip.
Check Your Spices to See If They're Part of a Recall Over Salmonella Concerns
Remember when we learned about food safety in school and were told not to put raw chicken directly on the countertop, or eat raw cookie dough, and that was basically it? Well, as you probably already know, that list has gotten much, much longer, and now includes foods you never thought could be an issue—like onions.
The latest unexpected victims of a food recall are an assortment of dried herbs and spices from two different companies—both over salmonella concerns. Here's how to find out if the ones in your rack or cupboard at home are on the list.
Sauer Brands
More than two dozen spices from The Spice Hunter are part of a voluntary recall from Sauer Brands, Inc., over concerns about salmonella. Technically, there was only salmonella found in the parsley, but they're recalling the other spices manufactured at the same time out of an abundance of caution.
G/O Media may get a commission
What and where
The spices in question include organic cinnamon, pumpkin pie spice, sesame seeds, paprika, Chinese ginger and several others, which are all listed in the FDA announcement, along with the lot codes for the products. They were sold online, as well as in stories in Alaska, Alabama, Arizona, California, Colorado, Delaware, Florida, Georgia, Illinois, Indiana, Kansas, Kentucky, Louisiana, Maryland, Michigan, Missouri, North Carolina, New Jersey, New Mexico, Nevada, New York, Ohio, Oklahoma, Pennsylvania, South Carolina, Tennessee, Texas, Utah, Virginia, Washington and Wisconsin.
What to do
If you've purchased The Spice Hunter products on the FDA's list, don't use them, and bring them back to where you purchased them for a full refund. If you have any questions, you may contact Sauer Brands, Inc. at 1-800-444-3061, Monday thru Friday, from 8:30 am to 4 pm.
Red Monkey Foods
Basically, it's the exact same situation with Red Monkey Foods: parsley's the problem (salmonella again), but they're voluntarily recalling a few of their products. Actually, they're all some form of parsley or Herbes De Provence, and you can find the lot numbers and other information in the FDA announcement.
What and where
The Red Monkey spices were sold under the "Great Value" brand at Walmart, the house brand at Cost Plus World Market, plus a few others. They were sold in all 50 states and Puerto Rico.
What to do
If you've purchased a product with the listed "Best By" dates, don't use them. Either throw them out or bring them back to the store for a full refund. Call the company's Customer Service Center at (417) 319-7300 or by e-mail at customerservice@redmonkeyfoods.com for more information. Customer Service will be available in person from 8 am to 5 pm CST Monday to Friday.