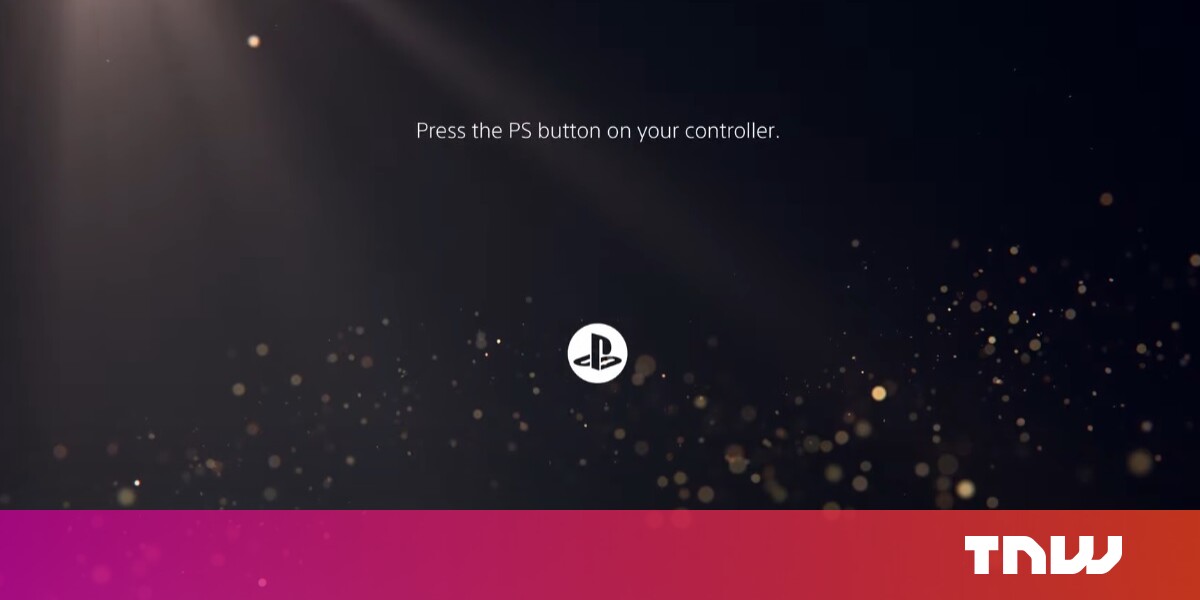 After so many months of delay, Sony is releasing a lot of new info on the PlayStation 5 in short order. Today, we got a look at what the new user interface looks like — and if you wanted more stuff in your console menu, then you certainly got that.
[embedded content]
The Home Screen looks similar to the PS4's, in that it'll show you a list of your games and media apps in a bar at the top of your screen — thankfully they have their own separate tabs. The new UI looks a bit better than the PS4's, especially because it looks like I'll actually be able to see the background art of the game and/or any wallpaper I might have. At the base level, it's aesthetically pleasing.
There's also a new Control Center, which you can access while you're playing the game. Instead of being kicked out to the Home Screen when you are within your game, you'll go to the Control Center, which you can use to check out various functions such as your friends list, your screenshots, downloads, notifications, etc. It certainly looks cleaner, and while I've never been one to care much about immersion breaking, it certainly looks less jarring than going from game to Home Screen does in PS4.
However, here's where things start to get a bit crowded. The Control Center shows various Activities, which let you jump to certain areas of the game and gives you an estimate of how long they'll take to play. You'll also be able to access assistance for how to meet in-game goals and get trophies — this can include short videos or screenshots. Supposedly, this would allow you to cut out the game walkthrough middle-man when it comes to getting yourself unstuck in a game.
Part of me does wonder whether this is something that'll be as fully utilized by other games as it is by the two games shown — Sackboy: A Big Adventure and Destruction All-Stars. It seems like one of those features like the touchpad on the DualShock 4 — neat in theory, but not really used much by developers. It'll also only be available for PlayStation Plus members in some PS5 games — they were very careful to mention that part.
Overall, it doesn't look terrible — obviously we'll all need to play with it a bit more to see if it's as intuitive and fluid as this first look makes it appear. It's maybe a little cluttered for my tastes, but they are trying to cram a bunch of new features in. My favorite, though, is the fact that the PS5 will add a spoiler tag to screenshots and videos taking at spoiler-y parts of the game. I'm hoping that, with this implemented, the PS5 won't stop you from recording certain areas like the PS4 does. I always found that rather patronizing.
We've now got an idea of what the interface looks like on both next-gen consoles, as the latest Xbox update — which will presumably carry over to the Series X & S — rolled out to the Xbox One recently. The new Xbox layout is far less of a sea change than the Ps5's. I'd love to see them side-by-side and see which one plays better.
Reliance says its $3.4 billion deal with Future Group 'fully enforceable under Indian law' despite Amazon winning an arbitration order
Reliance Retail, India's largest retail chain, said on Sunday evening that its proposed deal to acquire Future Group's assets for $3.4 billion — against which Amazon has filed a legal proceeding — is fully enforceable under the Indian law and it intends to complete the deal "without any delay."
Mukesh Ambani's firm issued the statement after Amazon won an emergency order from a Singapore arbitration panel to temporarily halt the proposed sale between the two Indian retail giants.
The American e-commerce group, which indirectly bought a 3.58% stake in Future Group's Future Retail business last year, reached out to a Singapore arbitration panel earlier this month over the multi-billion dollar proposed deal.
Amazon's deal with Future Retail had given the American e-commerce giant the first right to refusal on purchase of more stakes in Future Retail, the Indian firm had said at the time. Amazon, Walmart's Flipkart, and Reliance Industries, the most valuable firm in India, are locked in an intense battle to shape how hundreds of millions of Indians would shop in the future.
In a statement, an Amazon spokesperson said the company was "grateful for the order which grants all the reliefs that were sought. We remain committed to an expeditious conclusion of the arbitration process." The tribunal hearings are expected to commence in a few weeks.
At the moment, it is unclear whether today's injunction is enforceable in India. Indeed, in a statement, a Reliance Industry spokesperson said that Reliance Retail's transaction for acquisition of assets and business of Future Retail were conducted under "proper legal advice" and the "rights and obligations are fully enforceable under Indian law."
Reliance Retail "intends to enforce its rights and complete the transaction in terms of the scheme and agreement with Future group without any delay," the spokesperson added.
The legal proceeding in Singapore has come as a surprise to many in the industry, as Amazon is said to be preparing to acquire a multi-billion-dollar stake in Reliance Retail, according to earlier reports by ET Now and Bloomberg.
With e-commerce commanding only between 3 -7% of all retail sales in India — and Reliance Retail launching its own e-commerce business to fight Amazon and Flipkart — Amazon's reported future deal with Reliance Retail is already been seen by many industry analysts as crucial for the American e-commerce firm's future in India. Amazon, which kickstarted its journey in India seven years ago, has invested more than $6.5 billion in its local business in the country.
Founded in 2006, Reliance Retail serves more than 3.5 million customers each week (as of early this year) through its nearly 12,000 physical stores in more than 6,500 cities and towns in the country.
The retail chain, run by India's richest man, Mukesh Ambani, has raised about $5.14 billion by selling about an 8.5% stake in its business to Silver Lake, Singapore's GIC, General Atlantic and others in the past two months.
Ambani's other venture, Jio Platforms, this year raised over $20 billion from more than a dozen marquee investors, including Google and Facebook.
In the meantime, Walmart's Flipkart on Thursday acquired a 7.8% stake in Aditya Birla Fashion, a fashion retail conglomerate that operates over 3,000 stores in India, for $203.8 million. Flipkart dominates in the online sales of apparels in India, thanks in part to Myntra, a fashion e-tailer it bought it in 2014. Over the years, the Walmart-owned firm has made several more investments in strengthening its fashion category. In July, it invested $35 million in Arvind Fashions, part of a decades-old Indian retail giant.
The ewaste crisis could be avoided if we made batteries cheaper and easier to recycle
As concern mounts over the impacts of climate change, many experts are calling for greater use of electricity as a substitute for fossil fuels. Powered by advancements in battery technology, the number of plug-in hybrid and electric vehicles on U.S. roads is increasing. And utilities are generating a growing share of their power from renewable fuels, supported by large-scale battery storage systems.
These trends, coupled with a growing volume of battery-powered phones, watches, laptops, wearable devices and other consumer technologies, leave us wondering: What will happen to all these batteries once they wear out?
Despite overwhelming enthusiasm for cheaper, more powerful and energy-dense batteries, manufacturers have paid comparatively little attention to making these essential devices more sustainable. In the U.S. only about 5% of lithium-ion batteries – the technology of choice for electric vehicles and many high-tech products – are actually recycled. As sales of electric vehicles and tech gadgets continue to grow, it is unclear who should handle hazardous battery ewaste or how to do it.
[Read: What audience intelligence data tells us about the 2020 US presidential election]
As engineers who work on designing advanced materials, including batteries, we believe it is important to think about these issues now. Creating pathways for battery manufacturers to build sustainable production-to-recycling manufacturing processes that meet both consumer and environmental standards can reduce the likelihood of a battery waste crisis in the coming decade.
Hazardous contents
Batteries pose more complex recycling and disposal challenges than metals, plastics and paper products because they contain many chemical components that are both toxic and difficult to separate.
Some types of widely used batteries – notably, lead-acid batteries in gasoline-powered cars – have relatively simple chemistries and designs that make them straightforward to recycle. The common non-rechargeable alkaline or water-based batteries that power devices like flashlights and smoke alarms can be disposed directly in landfills.
However, today's lithium-ion batteries are highly sophisticated and not designed for recyclability. They contain hazardous chemicals, such as toxic lithium salts and transition metals, that can damage the environment and leach into water sources. Used lithium batteries also contain embedded electrochemical energy – a small amount of charge left over after they can no longer power devices – which can cause fires or explosions, or harm people that handle them.
Moreover, manufacturers have little economic incentive to modify existing protocols to incorporate recycling-friendly designs. Today it costs more to recycle a lithium-ion battery than the recoverable materials inside it are worth.
As a result, responsibility for handling battery waste frequently falls to third-party recyclers – companies that make money from collecting and processing recyclables. Often it is cheaper for them to store batteries than to treat and recycle them.
Recycling technologies that can break down batteries, such as pyrometallurgy, or burning, and hydrometallurgy, or acid leaching, are becoming more efficient and economical. But the lack of proper battery recycling infrastructure creates roadblocks along the entire supply chain.
For example, transporting used batteries over long distances to recycling centers would typically be done by truck. Lithium batteries must be packaged and shipped according to the U.S. Department of Transportation's Class 9 hazardous material regulations. Using a model developed by Argonne National Laboratory, we estimate that this requirement increases transport costs to more than 50 times that of regular cargo.
Safer and simpler
While it will be challenging to bake recyclability into the existing manufacturing of conventional lithium-ion batteries, it is vital to develop sustainable practices for solid-state batteries, which are a next-generation technology expected to enter the market within this decade.
A solid-state battery replaces the flammable organic liquid electrolyte in lithium-ion batteries with a nonflammable inorganic solid electrolyte. This allows the battery to operate over a much wider temperature range and dramatically reduces the risk of fires or explosions. Our team of nanoengineers is working to incorporate ease of recyclability into next-generation solid-state battery development before these batteries enter the market.
Conceptually, recycling-friendly batteries must be safe to handle and transport, simple to dismantle, cost-effective to manufacture and minimally harmful to the environment. After analyzing the options, we've chosen a combination of specific chemistries in next-generation all-solid-state batteries that meets these requirements.
Our design strategy reduces the number of steps required to dismantle the battery, and avoids using combustion or harmful chemicals such as acids or toxic organic solvents. Instead, it employs only safe, low-cost materials such as alcohol and water-based recycling techniques. This approach is scalable and environmentally friendly. It dramatically simplifies conventional battery recycling processes and makes it safe to disassemble and handle the materials.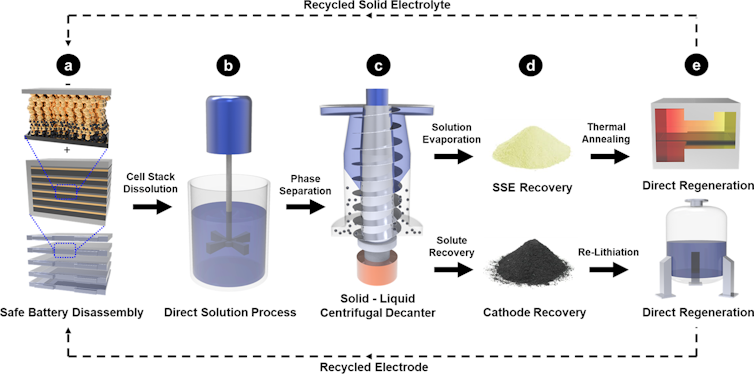 Compared to recycling lithium-ion batteries, recycling solid-state batteries is intrinsically safer since they're made entirely of nonflammable components. Moreover, in our proposed design the entire battery can be recycled directly without separating it into individual components. This feature dramatically reduces the complexity and cost of recycling them.
Our design is a proof-of-concept technology developed at the laboratory scale. It is ultimately up to private companies and public institutions, such as national laboratories or state-run waste facilities, to apply these recycling principles on an industrial scale.
Rules for battery recycling
Developing an easy-to-recycle battery is just one step. Many challenges associated with battery recycling stem from the complex logistics of handling them. Creating facilities, regulations and practices for collecting batteries is just as important as developing better recycling technologies. China, South Korea and the European Union are already developing battery recycling systems and mandates.
One useful step would be for governments to require that batteries carry universal tags, similar to the internationally recognized standard labels used for plastics and metals recycling. These could help to educate consumers and waste collectors about how to handle different types of used batteries.
Markings could take the form of an electronic tag printed on battery labels with embedded information, such as chemistry type, age and manufacturer. Making this data readily available would facilitate automated sorting of large volumes of batteries at waste facilities.
It is also vital to improve international enforcement of recycling policies. Most battery waste is not generated where the batteries were originally produced, which makes it hard to hold manufacturers responsible for handling it.
Such an undertaking would require manufacturers and regulatory agencies to work together on newer recycling-friendly designs and better collection infrastructure. By confronting these challenges now, we believe it is possible to avoid or reduce the harmful effects of battery waste in the future.

This article is republished from The Conversation by Zheng Chen, Assistant Professor of Engineering, University of California San Diego and Darren H. S. Tan, PhD Candidate in Chemical Engineering, University of California San Diego under a Creative Commons license. Read the original article.
For more gear, gadget, and hardware news and reviews, follow Plugged on Twitter and Flipboard.
Published October 25, 2020 — 18:00 UTC
Chrome OS may finally be getting a dark mode
Chrome OS may finally be getting a dark mode, but so far it's only been spotted in its experimental Canary channel, Android Central reported.
Before you go tinkering with Canary just be advised: Canary is Google's "bleeding edge" Chrome OS path, which receives daily updates of features before they've been widely tested. It can only be accessed from Chromebooks switched into a special developer mode (not to be confused with the Chrome OS Developer channel). Google warns that Canary can be "unstable."
But at the moment, to activate dark mode on your Chromebook, you need to have the Canary channel installed. Once you've done that, Android Central says you just open Chrome and type in chrome://flags/#enable-force-dark and chrome://flags/#enable-webui-dark-mode into the URL bar. I should note I tried this on my older Chromebook and wasn't able to get it to work. But here's the view Android Police captured:
Android Central says the dark mode has some bugs, but notes it seems to apply across the UI, not just as darker backgrounds.
Google has rolled out dark mode versions for its Gmail, Google Calendar, Google Fit, and its mobile app over the last several months. Both iOS and Android both began supporting dark mode at the system level last year.
We reached out to Google to see if there are plans to roll out dark mode in Chrome OS to all users, and will update if we hear back.