Following President Donald Trump's recent Covid-19 diagnosis, the next presidential debate is scheduled to be conducted remotely. Whether it will be held is in doubt, however, with Trump saying on Fox Business Thursday, "I'm not going to waste my time on a virtual debate."
After a chaotic first debate that left Trump lagging in the polls, the president and Democratic nominee Joe Biden were scheduled to debate each other on Thursday, October 15. The debate — if it proceeds — will be moderated by C-SPAN political editor Steve Scully. It would be the first remote debate, and would follows in person presidential and vice presidential debates that raised questions about safety — particularly after Trump began to experience Covid-19 symptoms days after debating Biden in Cleveland, Ohio.
The debate is currently scheduled to air live on ABC, CBS, CNN, C-SPAN, Fox, and NBC from 9 to 10:30 pm ET, and will be conducted with Biden and Trump at "separate remote locations," according to the Commission on Presidential Debates. (That's 8-9:30 pm CT, 7-8:30 pm MT, and 6-7:30 pm PT.) The debate was set to have a town hall format; Scully and the town hall participants will partake in the event from the Adrienne Arsht Center for the Performing Arts in Miami as originally planned.
Much has changed since the first debate on September 29. Most importantly, Trump is in isolation in the White House after testing positive for Covid-19 on October 2. Trump has been treated with a number of cutting-edge therapies for the deadly airborne coronavirus, but Biden has said he is hesitant to appear onstage with Trump because he could still be contagious on the day of the debate.
The Centers for Disease Control and Prevention recommends people who have Covid-19 stay away from others for at least 10 days following the appearance of symptoms, and notes that patients who — like Trump — were hospitalized and needed oxygen may be wise to self-isolate for at least 20 days. The debate date would seem to fall after the 10-day window, but before the 20-day mark, based on what is publicly known about the onset of the president's symptoms.
"I think if he still has Covid, we shouldn't have a debate," Biden told reporters Tuesday after delivering a speech in Gettysburg, Pennsylvania, adding, "Too many people have been infected. It's a very serious problem, so I will be guided by the guidelines of the Cleveland Clinic and what the docs say is the right thing to do."
Recently, Trump had seemed eager to debate despite is still being treated for Covid-19, tweeting, "I am looking forward to the debate on the evening of Thursday, October 15th in Miami. It will be great!"
However, in an interview with Maria Bartiromo on Fox Business Thursday, the president pushed back against the idea of a virtual debate, saying, "That's not what debating's all about; you sit behind a computer and do a debate, it's ridiculous. And then they cut you off whenever they want."
"I'm not going to waste my time on a virtual debate" — Trump, on with Maria Bartiromo, begins his first post-coronavirus interview by saying he's pulling out of the second debate. (He sounds a little hoarse.) pic.twitter.com/R43JSszfll

— Aaron Rupar (@atrupar) October 8, 2020
Ultimately, the Commission for Presidential Debates and the Cleveland Clinic, which is partnering with the commission to keep the debates safe, decided that an in person debate would be far too great a health risk. Organizers' ability to conduct debates safely was called into question during the first event, during which Trump's entire family declined to wear face masks throughout the proceedings. Wednesday night, some Pence supporters — including his wife, Karen Pence — failed to follow masking protocol. And following the first debate, the city of Cleveland reported at least 11 people became infected; city officials said the cases originated from the pre-debate planning and set-up.
Covid-19 testing for Trump and Biden was up to the campaigns before the September 29 debate, and it's not clear when Trump's last negative test was.
There's still one more presidential debate scheduled after Miami
The final presidential debate — on October 22 in Nashville, Tennessee — remains on the Commission for Presidential Debates' schedule. NBC anchor Kristen Welker has been selected to moderate that event; whether it too will be virtual, and whether Trump will be willing to participate, is not yet clear.
With just weeks to go before the November 3 election, Biden's advantage in the polls has only increased since the first debate and Trump's Covid-19 diagnosis. His national polling average on FiveThirtyEight rose from 7 percentage points last week to 9 percentage points as of Tuesday.
Biden is carrying a somewhat narrower lead in critical swing states, including Michigan, Pennsylvania, Nevada, and Arizona, according to RealClearPolitics averages. Several polls after the first debate showed that voters did not like Trump's constant interruptions of Biden during the first debate.
Polling also seems to suggest the first debate solidified two worrying trends for the president; the movement of older voters and suburban women away from Trump and toward Biden. A recent CNN poll showed Biden winning older voters by 22 percentage points, and a post-debate poll from NBC and the Wall Street Journal found the Democrat leading the president by 25 percentage points among suburban women.
It remains to be seen how much — or little — the second debate, and the final one on October 22, will shift those numbers.
---
Millions turn to Vox each month to understand what's happening in the news, from the coronavirus crisis to a racial reckoning to what is, quite possibly, the most consequential presidential election of our lifetimes. Our mission has never been more vital than it is in this moment: to empower you through understanding. But our distinctive brand of explanatory journalism takes resources. Even when the economy and the news advertising market recovers, your support will be a critical part of sustaining our resource-intensive work. If you have already contributed, thank you. If you haven't, please consider helping everyone make sense of an increasingly chaotic world: Contribute today from as little as $3.
Erdogan files complaint against Dutch far-right politician
Geert Wilders, Dutch leader of the Party for Freedom, shared an insulting cartoon of the Turkish president on Twitter.
Turkish President Recep Tayyip Erdogan has lodged a criminal complaint against Dutch far-right politician Geert Wilders over a series of insulting tweets.
Wilders shared a cartoon picture of Erdogan wearing a bomb-resembling hat on his head with the caption "terrorist" on Saturday. On Monday, he posted an image of a sinking ship with a Turkish flag on it. "Bye bye @RTErdogan. Kick Turkey out of NATO," he said under the photo.
Erdogan's lawyer Huseyin Aydin submitted the complaint to the Ankara Chief Public Prosecutor's office for "insulting the president" – a crime in Turkey punishable by up to four years in prison.
"Suspect Wilders, in his content targeting our first [directly] elected [by public] president, used expressions insulting the honour and dignity of our president, and committed the crime publicly by targeting his personality, dignity and reputation," state-run Anadolu news agency quoted the complaint as saying on Tuesday.
'Fascism'
Wilders is one of Europe's most prominent far-right politicians and has been a key figure in shaping the immigration debate in the Netherlands over the past decade, although he has never been in government.
"Fascism is not in our book, it's in your book. Social justice is in our book," Erdogan said on Sunday at a meeting of his ruling Justice and Development (AK) Party in eastern Malatya province.
Wilders – whose political career has been based largely on his strident anti-Islam rhetoric – has frequently shocked the Dutch political establishment and offended Muslims.
He was acquitted in a 2011 hate speech trial for remarks likening Islam to Nazism and calling for a ban on the Quran. Last month he was acquitted by an appeals court of discrimination, although it upheld a conviction for intentionally insulting Moroccans as a group.
Erdogan has persistently sued people for alleged insults since he took office as president in 2014. Thousands have been convicted. More than 29,000 people were prosecuted on charges of insulting Erdogan last year, according to the Birgun newspaper.
Wilders, who leads the largest opposition party in the Dutch parliament, shrugged off the Turkish criminal complaint and described Erdogan as a "loser". Wilders has lived under tight security for 16 years because of death threats following his anti-Islam rhetoric.
Dutch Prime Minister Mark Rutte called Ankara's move against Wilders unacceptable and said his government would raise the issue with Turkey.
"In the Netherlands, we consider freedom of expression as the highest good. And cartoons are part of that, including cartoons of politicians," Rutte told reporters.
Forbidden in Islam
Erdogan's criminal complaint comes as a widening rift is driving apart France and Muslim communities across the Arab and Muslim world over French President Emmanuel Macron's criticism of Islam in early October.
The gruesome beheading of a French teacher – who showed caricatures of the Prophet Muhammad during a lesson on freedom of speech to teenage students – further heightened debate over Islam in France.
The prophet's visual depiction is forbidden in Islam, and the French government's decision to project the images on buildings further outraged the Muslim world. Erdogan responded by questioning the French president's mental health.
Over the weekend, Muslims called for a boycott of French goods, while there have also been angry street protests across the Muslim world.
Devlet Bahceli, leader of Turkey's Nationalist Movement Party and an ally of Erdogan, said on Tuesday that Wilders had "dark ties with "terrorist" organisations.
"The degenerate leader of the Freedom Party has stooped so low as to call our president a terrorist. He has shown who truly is the terrorist, the fascist and the barbarian," Bahceli told parliament.
Turkey's pro-government newspaper Daily Sabah published a front-page editorial on Monday calling Wilders and Macron "the two faces of hatred, racism in Europe".
Erdogan's response to Macron was deemed "unacceptable" by some European leaders, including the German Chancellor Angela Merkel, the European Union's foreign policy chief Josep Borrell, as well as Rutte.
Philadelphia police shooting of Black man sparks unrest
Hundreds of people took to the streets to protest against the police shooting of Walter Wallace, a 27-year-old Black man.
Police shot and killed a 27-year-old Black man on a Philadelphia street after yelling at him to drop his knife, sparking violent protests that police said injured 30 officers and led to dozens of arrests.
The shooting occurred before 4pm (20:00 GMT) on Monday as officers responded to a report of a person with a weapon, police spokesperson Tanya Little said.
Officers were called to the Cobbs Creek neighbourhood and encountered the man, later identified as Walter Wallace, who was holding a knife, Little said. Officers ordered Wallace to drop the knife, but he instead "advanced towards" them. Both officers then fired "several times," Little said.
Wallace was hit in the shoulder and chest. One of the officers then put him in a police vehicle and drove him to a hospital, where he was pronounced dead a short time later, Little said.
Hundreds of people took to the streets to protest against the shooting late Monday into early Tuesday, with interactions between protesters and police turning violent at times, the Philadelphia Inquirer reported. Video showed many people yelling at officers and crying.
Police cars and dumpsters were set on fire as police struggled to contain the crowds. More than a dozen officers, many with batons in hand, formed a line as they ran down 52nd Street chasing protesters away from the main thoroughfare. The crowd largely dispersed then.
Thirty officers were injured, most of them from being struck by projectiles such as bricks and rocks, according to preliminary information from police. One officer was hospitalised in a stable condition with a broken leg and other injuries after she was struck by a pickup truck, police said, while the other injured officers were treated and released.
Video of the fatal confrontation recorded by a bystander and posted on social media shows officers pointing their guns at Wallace as he walks in the street and around a car. He walks towards the officers as they back away from him in the street, guns still aimed at him. They yell at him to put his knife down.
Both then fire several shots and Wallace collapses in the street. A woman runs up to him screaming. Several bystanders then approach him.
It is unclear in the video if he had a knife. Witnesses said he was holding one.
No officers or bystanders were injured in the confrontation, Little said. The names of the officers who fired the shots were not immediately disclosed. Both were wearing body cameras and were taken off street duty pending the investigation.
Some people spoke with city Police Commissioner Danielle Outlaw, who arrived at the scene a short time after the shooting occurred.
"I heard and felt the anger of the community," Outlaw said in a statement, adding that the video "raises many questions" and that "those questions will be fully addressed by the investigation".
Wallace's father, Walter Wallace Sr, told the Inquirer that his son was also a father, was on medication and struggled with mental health issues.
"Why didn't they use a taser?" he asked.
The race of the police officers was not immediately confirmed. The shooting occurred in a predominantly Black neighbourhood in west Philadelphia. The Inquirer reported that dozens of protesters gathered at a nearby park and chanted "Black lives matter".
Save on last-minute Halloween costumes, candy & more at Target
(CNN) —  
If Halloween snuck up on you, never fear: Target (as always) is here to save the day. The store is offering last-minute flash sale discounts on Halloween costumes for kids and grownups, as well as decor, books and more — plus there's further deals to be had right now on seasonal snacks and candy, too.
If you're concerned about your items arriving in time for the holiday this weekend, consider opting for same-day in-store pickup or delivery. We've rounded up some of the spookiest deals from the costumes and homewares sale below; read on to see and shop them, below.
Vickerman G12 Berry LED String Lights ($32.99, originally $40.99; target.com)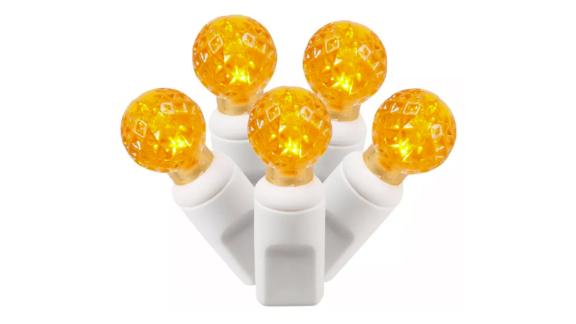 String lights that are seasonal but cute enough to leave up through Thanksgiving? Count us in.
Rubies Pink Bunny Jumper Adult Costume ($35.05, originally $47.24; target.com)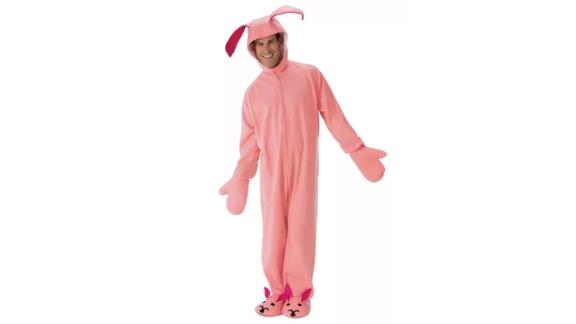 Is this a Halloween costume masquerading as a onesie, or a onesie masquerading as a Halloween costume? Does it matter? Get it for Halloween, save it for solo Netflix binges on cold evenings (the mittens do detach).
Northlight Metal Gray and Black Halloween "Spooky" Bat Banner ($27.40, originally $34.99; target.com)
The perfect finishing touch for your at-home celebration with family or flatmates, this banner's great for hanging across fireplace mantles, bookshelves and windows to set a seasonal mood.
"Room on the Broom" by Julia Donaldson ($4, originally $5, target.com)
This classic children's Halloween pageturner now comes in study board-book form for added durability.
California Costumes Monarch Butterfly Pet Costume ($15.99, originally $19.99; target.com)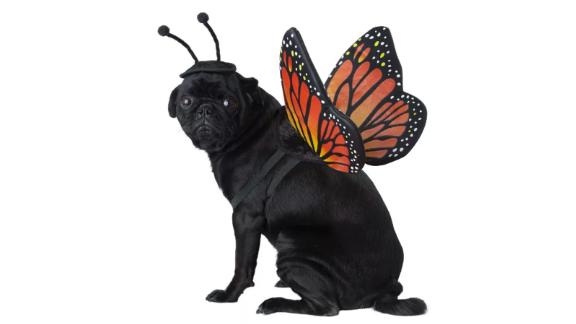 Transform your pup into a beautiful furry butterfly for Halloween with this frankly delightful costume.
C&F Home 18" x 18" Give Thanks Pillow ($26.24, originally $38.49; target.com)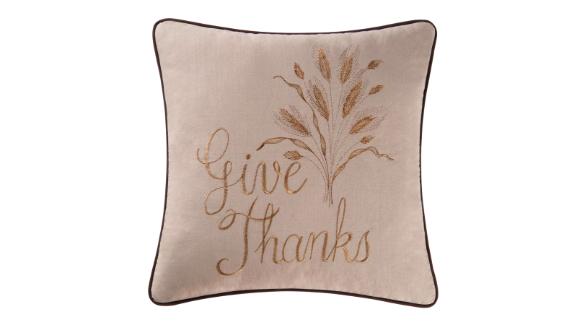 It's not just Halloween on sale at Target. This pillow blends into a ton of decor styles, whether your preference is midcentury modern or modern farmhouse.
Northlight Orange and Black Halloween Tinsel Garland ($17.49, originally $19.99; target.com)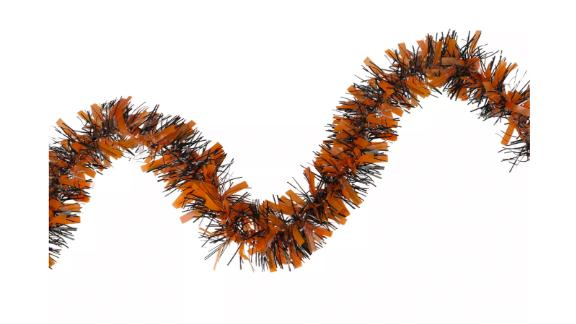 At a very long 50 feet, this garland adds seasonal vibes to your living room, dining room or rec room.
Disney Princess Tiana Dress ($17.99, originally $19.99; target.com)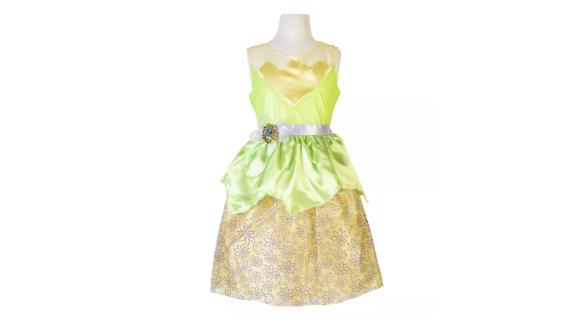 If this Disney movie has been on repeat most of the year, your little one can become Princess Tiana herself with this costume that adds a little sparkle to this year's Halloween. (Bigger kids can find a fit for them on sale, too.)
C&F Home 12" x 24" Boo Hooked Pillow ($30.74, originally $45.09; target.com)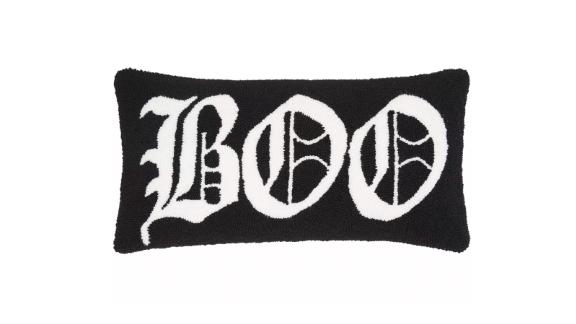 This cute hooked pillow adds a splash of Halloween spookiness, as well as a dash of hygge, to your living room (and looks stylish doing it).
For more great Target deals, check out CNN Coupons.