Hundreds killed, tens of thousands displaced
Dozens of civilians dead on both sides
Armenia says more than 400 soldiers killed, most of whom were about 20 years old
Azerbaijan does not announce military death toll
Actual tolls believed to be higher
On September 27, clashes between Armenia and Azerbaijan erupted over the disputed Nagorno-Karabakh region, killing hundreds, injuring hundreds more and displacing thousands.
The disputed territory, home to about 150,000 people, is an ethnic Armenian enclave and is internationally recognised as part of Azerbaijan by all countries, including Armenia.
But the people of Nagorno-Karabakh – an overwhelming majority of whom are ethnic Armenians, want to govern themselves or to join Armenia, as they once voted to do.
The region broke from Azerbaijan's control in a war in the 1990s that killed some 30,000 people.
A fragile ceasefire, brokered by Russia, went into effect on Saturday but was almost immediately broken, with both Armenian and Azerbaijan accusing each other of fresh attacks.
Azerbaijan said on Sunday at least nine people were killed from a long-range missile attack on an apartment building in its second city of Ganja, while Armenia alleged Azeri forces shelled the main city of Stepanakert in Nagorno-Karabakh, as well as the town of Hadrut.
Civilians on both sides have been caught in the deadliest fighting in the South Caucasus region for more than 25 years, with clashes involving artillery, tanks, unmanned aerial vehicles (UAV) and fighter planes.
Hundreds of soldiers have also been killed, presumably on both sides. While Armenian officials announce military death tolls, Azerbaijan does not.
Al Jazeera could not independently verify Armenian and Azeri assertions about the number of fatalities or injured, but it is widely acknowledged that the real death tolls from the crisis are believed to be much higher than what has so far been reported.
Death toll in Nagorno-Karabakh
According to the Armenia-backed Karabakh Human Rights Ombudsman, from September 27 until October 9, 20 civilians had been killed by Azeri forces.
This includes 12 men and eight women. At least 101 other civilians have been wounded.
The report said large-scale damage has also been caused to civilian buildings, as well as to infrastructure. Some 70,000 people have been displaced in the latest escalation, officials say.
Human Rights Ombudsman released the second interim report on the #Azerbaijan'i atrocities against #Artsakh population for the 27.09.2020-09.10.2020 time period.
Find the Report on the following link:https://t.co/nF6ziDK4CI…#DontBeBlind #StopAzerbaijaniAggression pic.twitter.com/Uk1z8mMJzV

— Artsakh / Karabakh Human Rights Ombudsman (@ArtsakhOmbuds) October 10, 2020
In total, some 5,800 private properties have been destroyed, in addition to 520 private vehicles. Damage has been caused to 960 pieces of civilian infrastructure, public and industrial objects.
Artak Beglaryan, the human rights ombudsman in Nagorno-Karabakh, said the day the ceasefire went into effect, Azeri forces in the town of Hadrut killed at least four civilians: Misha Movsisyan, his mother Anahit Movsisyan, Nver Grigoryan and Artyom Mirzovan.
#Azerbaijan'i side killed at least 5 civilians since ceasefire came into force. 4 ppl were killed in Hadrut-Misha Movsisyan with disabilities, Anahit Movsisyan, Nver Grigoryan & Artyom Mirzoyan. Pargev Saghyan (75) was killed in Martini & a woman (65) was wounded in Shosh village pic.twitter.com/D376uzX0ZJ

— Artsakh / Karabakh Human Rights Ombudsman (@ArtsakhOmbuds) October 11, 2020
Another 75-year-old civilian was killed in the town of Martini, bringing the death toll up to 25 on Monday.
According to the Armenian website Civil Net, which collates research-based articles, at least 429 ethnic Armenian soldiers have been killed in the conflict so far. Most who died were young, about 20 years old.
"When they released their names, they also released their birth dates," Al Jazeera's Bernard Smith said. "Almost all of them born in 2001 and 2002.
"When you see those figures you see the pressure the leaders on both sides are under to make sure they are not the ones to be seen to be giving way to the other side," he added.
Azerbaijan death toll
On Sunday, the Azeri Prosecutor General's Office said 41 civilians had been killed so far as the number of injured people rose to 205.
His is Omer Nasirov.

His home in #GanjaCity of #Azerbaijan was bombed by #Armenia last night, killing 9 & wounding more than 30 civilians.

Despite of the horror he faced, Omer is strong enough to smile.
If you want to support Omer, #StopArmenianAgression.#KarabakhisAzerbaijan pic.twitter.com/gkQPovB67F

— The humans of Karabakh (@Karabakh_Humans) October 11, 2020
Life goes on. The famous kid from #Ganja missile attack by #Armenia is back in his neighborhood. #GanjaStrong#StopArmenianAggression #StopAttackingCivilians#KarabakhIsAzerbaijan pic.twitter.com/pwY75rhn8L

— Leyla Abdullayeva (@LAbdullayevaMFA) October 12, 2020
The attacks from Armenia have destroyed 1,165 houses, 57 buildings and 146 public buildings, the statement added.
Ganja and Mingachevir cities have no active artillery units deployed there. No single rocket or bullet was fired from this cities. Yet Armenian army targets them. And somehow they keep hitting only civilian targets.

— Khadija Ismayilova (@Khadija_Ismayil) October 11, 2020
As in Nagorno-Karabakh, the clashes have not spared anyone.
Images of wounded Azeri children have circulated on social media, and on Monday, Al Jazeera's Sinem Koseoglu, currently reporting from Azerbaijan, shared a photo of a funeral.
A couple, named as Anar and Nurchin, died together under the rubble after an attack allegedly by Armenian forces in Ganja.
A farewell to #Anar and #Nurchin… A couple who died together under the rubbles as a #TOCHKA-U missile fired by #Armenianforces hit #Azerbaijan's 2nd largest city, #Ganja last night. pic.twitter.com/74JWdutFuu

— Sinem Köseoğlu (@sinemkoseoglu) October 12, 2020
Renegade Sheriffs Say They Might Not Enforce Ban on Guns at Michigan Polling Places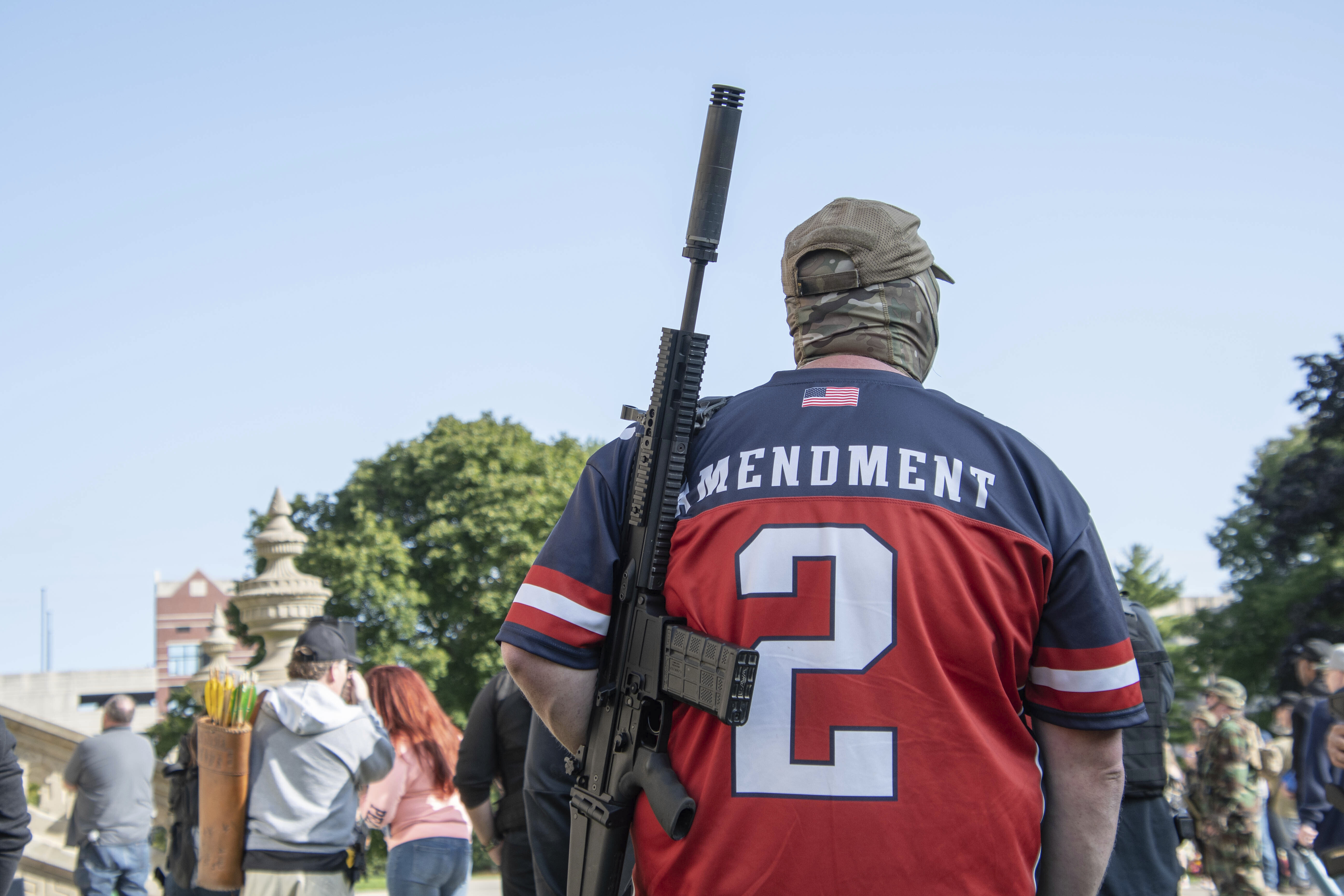 Renegade Michigan sheriffs are saying they won't enforce a ban on guns in polling stations, even after the feds busted an armed militia plot to kidnap the state's Democratic governor.
Michigan Secretary of State Jocelyn Benson issued a directive last week banning open carry at the polls on Nov. 3 amid growing concerns about armed voter intimidation and in response to a foiled militia plot to kidnap Gov. Gretchen Whitmer over COVID-19 lockdown restrictions.
But within days of Benson's directive, gun rights groups and some right-wing sheriffs said it was unnecessary and that they would ensure safety at the polls in their own way. To them, the freedom to openly carry a firearm while voting holds symbolic, historical significance. To others, the presence of guns at polling stations are an uneasy and unnecessary addition that has the potential to thwart the democratic process. 
Livingston County Sheriff Mike Murphy put out a Facebook video where he said he wasn't encouraging people to open carry, but if they did, he wasn't going to arrest them unless they were actively involved in "voter intimidation."
"As much as an Amendment guy as I am, as much as a freedom guy as I am, sometimes just because you can do something doesn't necessarily make it a good idea," Murphy said. "However, if you are gonna open carry, go in, get your ballot, fill in your bubbles, and get out and go home. Don't make an issue of it. Just do your thing and get outta there."
"I wouldn't say I would or would not enforce [the directive]," Leelanau County Sheriff Mike Borkovich told VICE News. "If people are disorderly, they're gonna be in trouble. I'll ask them not to be. If people are disruptive to the voting process, same thing."
At least three sheriffs including Murphy won't commit to enforcing the directive, and they're joined by a handful of local clerks in their opposition to the ban. One county GOP group called the directive "yet another brazenly unconstitutional overreach" from Democratic state leaders. The Michigan Association of Police Chiefs has also weighed in, saying that officers feel "uncomfortable trying to enforce something they clearly don't have the authority to enforce." 
Anticipating pushback from conservative counties, Attorney General Dana Nessel said her office would dispatch Michigan State Police to areas where officials suspected county sheriffs would not enforce the ban or other voter intimidation statutes. 
The sheriffs who voiced opposition to the ban are part of the growing, nationwide "Constitutional Sheriff" movement, which posits that the office of the sheriff has higher authority than state and federal office. In recent years, adherents of the movement have vowed not to enforce gun laws (which spurred the Second Amendment Sanctuary Movement), COVID-19 restrictions, and federal land use regulations. 
The movement has been criticized for espousing language and ideas that are closely related to the self-styled militia movement. 
The often cozy relationship between law enforcement and armed anti-government extremists has become increasingly scrutinized in recent months. Police in Kenosha, Wisconsin, thanked some armed, self-styled militiamen for being on the scene only hours before one of them shot and killed two protesters, and the police chief in Newport News, Virginia, gave chocolate milk and a PA system to an anti-government "Boogaloo Boi" who was staging a protest outside police headquarters. 
The relationship in Michigan was spotlighted when Sheriff Dar Leaf of Barry County made remarks that appeared to defend the men who were allegedly plotting to kidnap Gov. Whitmer. Leaf had also appeared alongside some of the men at an anti-lockdown rally at the Capitol in Lansing earlier this year.
"What concerns me… are the loose associations at all with law enforcement," Michigan AG Nessel said in an interview with MSNBC after the kidnapping plot arrests last week. "I have a hard time as a law enforcement official seeing how any law enforcement officials could support these groups or want to intermingle with them or participate in events, but I'm telling you this is what we've actually seen." 
In addition to the pushback from local law enforcement, Open Carry Michigan Inc., a gun rights advocacy organization, is preparing to sue the state. The group's president, Joey Roberts, told VICE News that their board of directors voted this week to pursue litigation, but he was unable to give a timetable for when it would be filed.
Asked whether bringing a gun to the polls is really worth fighting for, Roberts replied, "We have a fundamental right to self-protection, and we don't feel that simply going to the polls, you should have to give up that right to exercise another right."
Michigan isn't the only state where officials are on high alert for possible voter intimidation. Ten states (Arizona, California, Florida, Georgia, Louisiana, Mississippi, Missouri, Ohio, South Carolina, and Texas), plus D.C. and Puerto Rico, have laws explicitly banning guns and other weapons from polling places. But intense polarization and a surge in paramilitary activity across the country has led to widespread concerns about possible violence on Election Day. Paranoia and conspiracies about "voter fraud" have recently rippled from the fringes into the mainstream.
During the Sept. 29 debate, President Donald Trump urged supporters to "go into the polls and watch very carefully." Since then, a network of his supporters dubbed "Trump's Army" have pledged to station themselves at the polls. 
After Trump's remarks, experts at Georgetown University's Institute for Constitutional Advocacy and Protection published a fact sheet on voter intimidation, state laws on guns at polling places, and laws about "unauthorized private militia groups."
How America could lose its allies
More than 70 years ago the United States redesigned what an alliance could be used for. For centuries, countries allied with each other in order to fight and win specific wars. But after the devastation of World War II and the beginning of the Cold War, the US needed help preventing another from starting.
In the span of just a few years, it joined a collective alliance with 11 other countries, called the North Atlantic Treaty Organization, and signed several alliances with countries in Asia. These agreements obliged the US to protect these countries — but it also gave them an unprecedented number of partners around the world.
This system largely proved to be a success. A third world war never happened, and the US won the Cold War. But in the past decade, the US and its allies have been drifting apart, and many believe the system needs an update. The question is what to do about them.
Watch the video above to learn about the US alliance system and what the 2020 Presidential candidates plan to do about it.
This video is the sixth in our series on the 2020 election. We aren't covering the horse race; instead, we want to explain the stakes of the election through the issues that matter the most to you. To do that, we want to know what you think the US presidential candidates should be talking about. Tell us here: http://vox.com/ElectionVideos.
You can find this video and all of Vox's videos on YouTube. Subscribe for the latest.
---
Millions turn to Vox each month to understand what's happening in the news, from the coronavirus crisis to a racial reckoning to what is, quite possibly, the most consequential presidential election of our lifetimes. Our mission has never been more vital than it is in this moment: to empower you through understanding. But our distinctive brand of explanatory journalism takes resources. Even when the economy and the news advertising market recovers, your support will be a critical part of sustaining our resource-intensive work. If you have already contributed, thank you. If you haven't, please consider helping everyone make sense of an increasingly chaotic world: Contribute today from as little as $3.
Arkansas governor tests negative after possible Covid-19 exposure
Arkansas Gov. Asa Hutchinson has tested negative for Covid-19 after being in a meeting Friday with an individual who later tested positive, the governor said.
After contact tracing took place, the governor was notified early Monday morning, that there were questions about his exposure, "even though I had remained over six feet away from the individual," Hutchinson said. 
The governor said as a precaution, he was administered an antigen Covid-19 test early Monday morning, followed by a PCR test that was also negative. 
According to Hutchinson, the meeting with the infected individual did not lot rise to the level of CDC quarantine guidance. The governor said that "out of an abundance of caution," he would be limiting his meetings in order to make sure no one is inadvertently exposed. 
"That's a comfort matter, I don't want people in a meeting with me that feel uncomfortable, because I might have been around somebody that, even though they were 10 feet away, that there might have been, that they ultimately tested positive. And so this is really out of an abundance of caution," Hutchinson said. 
Arkansas Health Secretary Dr. José Romero said it is the Health Department's recommendation that the governor undergo testing on Monday, Wednesday, and Friday and again on Monday of next week, with both rapid tests and PCR based test being offered to the governor. Additional testing will be added as necessary, the health secretary said.