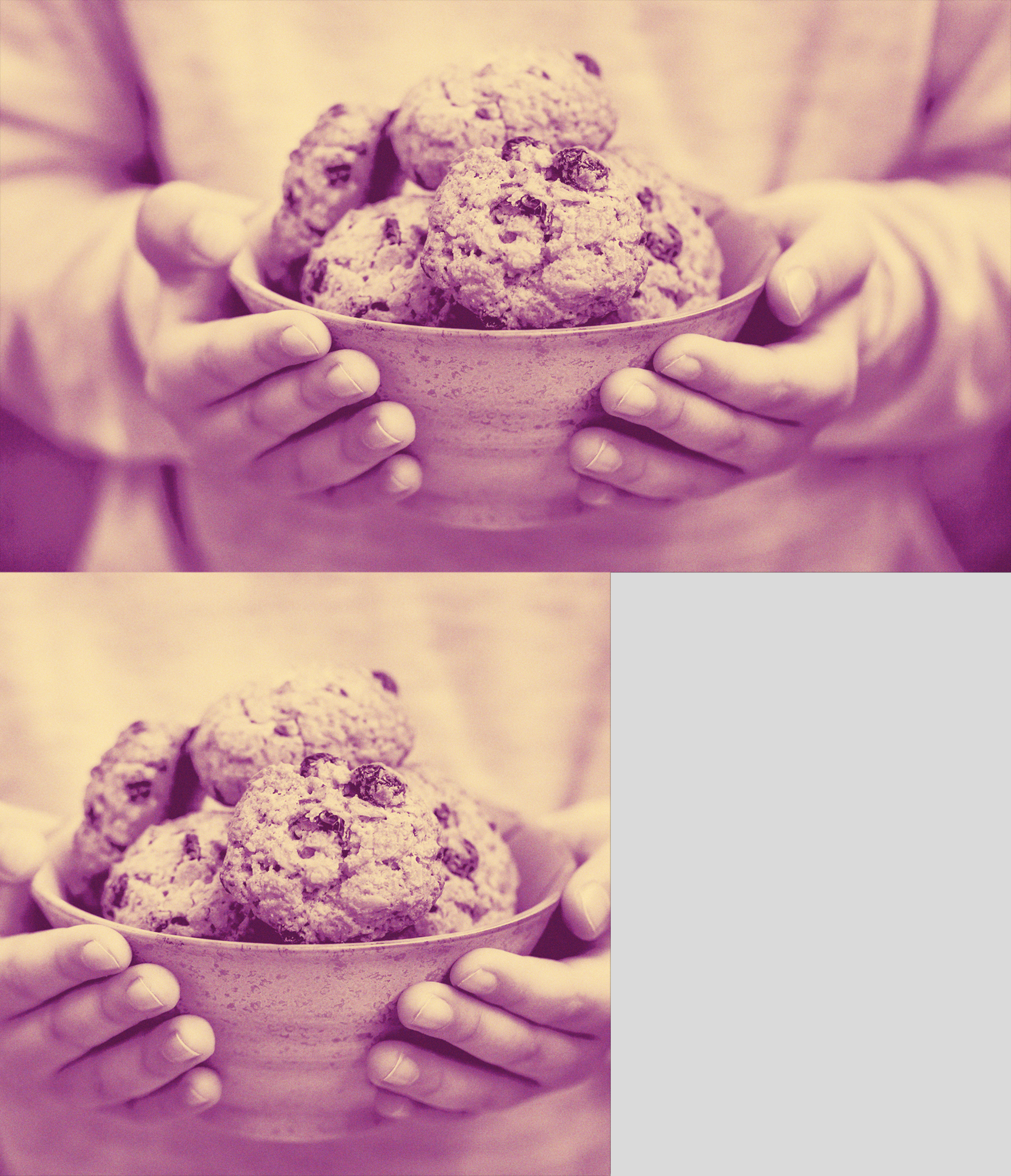 The idea of a dessert that's "not too sweet" has a Goldilocks quality suggesting that you've pushed away a cake that's too cloying and another that's insufficiently sugary. A sweet tooth isn't one-size-fits-all; my tolerance for "too sweet" likely isn't the same yours, and it's certainly no match for that of people who down candy-covered milkshakes to the last drop. But in the dessert world, the idea of "not too sweet" is growing in popularity.
Epicurious wrote this April that "not too sweet" is its "benchmark for a great bite" when it comes to desserts. It's become a sell for chocolate cake, matcha cookies, and packaged cold brew and tea. "Not too sweet" is a Millennial tagline, joked a popular Twitter post in August. The classic idea of dessert has historically depended on the difference between "sweet" and "savory", but the desirable ratio of the two has changed as the public's sweet tooth has come to favor less-sugary treats. 
"I don't necessarily think that things are more delicious when you're completely hit over the head with sugar," said Lani Halliday, owner and baker of New York City's Brutus Bake Shop. Though it shocks people since she's a pastry chef, Halliday said she's likely to skip dessert if a restaurant's options read like "sugar bombs." To her, the best desserts are more complex. "Some of the most beautiful things that I've had, dessert-wise, were incorporating bitterness and creaminess and crunch, and really playing with flavors and textures that aren't just like, hey, this is a thing that's sweet." 
The United States led the world in sugar (and fat) consumption as recently as 2015, but the following year indicated a shift as Americans appeared to be cutting back, with a 15 percent decrease in sweetener consumption from our peak in 1999. Epicurious suggested that the tip toward the "not too sweet" could be a response to previous overindulgence; cupcakes with "heaps of stiff buttercream" boomed through the late 00s. Giant artisanal doughnuts followed. Pastry chefs have noticed a shift over the past few years toward greater complexity, both from their perspective and from diners' interest, and the dessert scene in the United States has incorporated more saltiness, spiciness, and bitterness instead of just sweetness. 
Just look at salted caramel, which has, of course, become inescapable, alongside chocolate chip cookies with fleur de sel or pastries flecked with black pepper. As the New York Times wrote in a year-end retrospective at the time, 2008 was the flavor's "very lucky" year; it had gone from a traditional treat in the French region of Brittany, to an experiment of Parisian pastry chef Pierre Hermé in the late 1990s, to an element of high-end New York menus in the 2000s, to a product of the mass American market via Häagen-Dazs, Starbucks, and Walmart. Interest in the term skyrocketed to a peak in 2017, and salted caramel is now so easy to find that it seems staid and even dated. 
Though sweet and salty have long co-existed in American dessert culture—Cracker Jacks date to 1893, as the Times pointed out—savory desserts have had a moment in recent years. In 2015, market research firm Mintel forecasted a continued rise of sea salt-, olive oil-, and black pepper-flavored ice cream, and by 2018, the addition of mac and cheese or pizza in fancy doughnuts emerged as signs that we'd hit the trend's "peak stupid," as Extra Crispy put it. In a 2019 report, market research firm Datassential concluded that "some of the fastest-growing dessert terms and ingredients on American menus were salty or savory, including pretzels, olive oil, and bacon." 
Though salty has certainly made a play for sweet's reign, the growing integration of ingredients from around the world might also account for the break from sugar's unchecked dominance in the United States: According to Datassential's report, the surge in savory desserts coincided with the rising emergence of "globally influenced" ones. 
While American dessert flavors classically mirror the stripes of Neapolitan ice cream—heavy on chocolate, fruit, and vanilla—Asian desserts often use ingredients like beans, tea, and sesame, with less pronounced sugar. The same report that found Americans led the world in sugar consumption found that India, Israel, Indonesia, and China ate the least amount of sugar. Outside the classic "American" image of dessert, "not too sweet" is a more foundational idea. It's a common refrain in the Asian diaspora that calling a dessert "not too sweet" is the peak form of praise. 
"It would be a compliment because that means that they find it more enjoyable and more lasting, and they can eat more of it," said San Francisco-based pastry chef Penelope Lao, who runs a dessert pop-up series called "Not Too Sweet." (Still, when Eater explored the proliferation of the subtly sweet fruit cream cakes in Western-style bakeries in Asia and Asian bakeries in the West, it cited research that found no "compelling evidence" of Asian participants as a whole preferring less-sweet foods.)
When Bowl Cut Table, a New York-based collective of eight Asian American women, launched its first dessert variety box last month, the name came easy: "Not Too Sweet," describing a selection that included miso chocolate chip cookies, Swiss rolls with red bean paste, and chiffon cakes flavored with pandan. "We've always kind of joked about how our elder family members… will always talk about dessert that way," said member Tatiana Bautista, who works as an assistant editor at Taste. "Growing up, I always thought it was something that my grandparents said, but after talking to more of my friends about it, it definitely is this common theme."
Lao, who has baked professionally for around 10 years, has noticed a flavor shift in the pastry scene. "I would say dessert is trending more balanced, and definitely pastry chefs are embracing more of the savory aspects of pastry," she said. These more experimental, savory-influenced desserts can push the conventional understanding of the category as only—and at times, cloyingly—sweet. The dessert scene has diversified, and this change, alongside increased mindfulness about nutrition and health, could account for the rising interest in "not too sweet" options. Finding their way into desserts are the tart spice sumac; the Japanese spice mix shichimi togarashi; old faithful black pepper; warming blends of cardamom and coriander; the spice blend za'atar; and more.
From her 20 years in the industry, Halliday has found that, in general, economic expansion has led to evolution in the restaurant scene: When people have more money to dine out, the restaurant industry grows, and pastry programs expand. Accordingly, pastry chefs—frequently seen as more expendable than savory chefs—tend to come and go with budgets. 
Without a designated pastry chef, restaurants might rely on dessert recipes from a consultant or a chef with basic standbys. As a result, she said, they might lean on classics like flourless chocolate cakes and pot de cremes. While those options are beloved for a reason, their conventional flavors don't necessarily expand the idea of dessert.
But, Halliday speculated, when restaurants have the luxury of affording dedicated pastry programs, they can hire more people who are willing to experiment and break from standard dessert offerings. As people from different backgrounds—particularly young people and people of color—enter the industry, they bring different ideas, whether that's through new flavors or expanded notions of "comfort food." To Halliday, the broadening of who's making dessert doesn't just explain the niche's changing flavor profiles, but it also enriches the dining experience. 
"When you open the floor up to ideas and people [have] more opportunities to share their culinary point of view, you're gonna get things that aren't just this traditional 'American' idea—because what is 'American'?—or which is just classic French stuff, essentially, when we're talking about the food world," she said. "When we have new ideas, we get new flavor profiles and more exciting things. It's like more variety, more excitement, and more deliciousness." 
Black Tap milkshakes and other tooth-aching treats will always have their place in the American palate, and dessert will always be the sugary reprieve to the savory meal. Clearly, we need something sweet, but it doesn't have to be too sweet.
Follow Bettina Makalintal on Twitter.
Voting under way in Seychelles parliamentary, presidential polls
President Danny Faure, in power since 2016, is facing voters for the first time in the three-day election.
Voting is under way in presidential and parliamentary elections in Seychelles, with President Danny Faure, in power since 2016, facing voters for the first time.
Polling stations opened on Thursday for a three-day election as the Indian Ocean archipelago nation is expected to see its tourism-dependent economy contract by 14 percent this year, according to ratings agency Fitch, due to the coronavirus pandemic.
The contraction would reverse some fragile progress made since the government defaulted on its debt in 2008 and sought an International Monetary Fund (IMF) bailout.
The same party has been in power since 1977. Faure was previously vice president and became president when his predecessor resigned after a constitutional amendment was passed limiting presidents to two terms.
Despite the economic hardship, Faure is viewed as likely to retain power, in part because the opposition is divided.
An opposition coalition captured parliament in the 2016 election, but has since split. The leader of one its two parties told supporters to vote for the governing party after the electoral commission rejected his own presidential bid.
Walter Jeannevole, 45, said on Thursday he had cast his ballot for Faure.
"I trust that he will help the economy back on its feet and work for all Seychellois, like he is doing now."
Faure's two challengers – Wavel Ramkalawan, who has unsuccessfully contested the presidency since 1998, and Alain St Ange, a former tourism minister – have both promised voters that if elected, they will increase the monthly minimum wage of 5,800 Seychellois rupees ($318).
St Ange has also pledged to tackle a persistent complaint from locals that high-end hotels pay expatriate workers far more than local staff.
"I see Ramkalawan struggling to fight for justice for the country and now is the time to vote for him and make him our president," said a Ramkalawan supporter who declined to give his name.
Some voters in the English River district of Mahe island complained on Thursday they had to wait for more than six hours to cast their vote because there were too few voting booths.
There are about 74,600 voters out of a population of 100,000. Polling is spread over three days and the results are expected on Saturday.
Palestinian's hunger strike entering 'critical phase': Red Cross
ICRC calls on Maher al-Akhras and the Israeli authorities 'to find a solution that will avoid any loss of life'.
A Palestinian man on hunger strike for 85 days since his arrest by Israel is entering a medically "critical phase", the International Committee of the Red Cross said on Thursday.
Maher al-Akhras, 49, was arrested near Nablus and placed in administrative detention, a policy that Israel uses to hold suspected armed people without charge.
The father of six launched his strike to protest the policy.
He had been arrested several times previously by Israel.
"More than 85 days into the hunger strike, we are concerned about potentially irreversible health consequences," said Yves Giebens, the head of the ICRC's health department in Israel and the occupied Palestinian territories.
"From a medical perspective, he is entering a critical phase," Giebens added in a statement.
The ICRC said it had been "closely monitoring" the situation.
"The ICRC encourages the patient, his representatives and the competent authorities involved to find a solution that will avoid any loss of life," the statement said.
Palestinians in the occupied West Bank and the Gaza Strip have launched several demonstrations to demand the release of al-Akhras. They have also organised sit-ins and online campaigns to show their support for him.
Solidarity mural in Gaza in Solidarity with the Palestinian political prisoner Maher Al-Akhras on his 84th day of hunger strike for freedom ✊🏼🇵🇸#SaveMaher#ماهر_الأخرس pic.twitter.com/RqlhsznUD7

— The Global Campaign to Return to Palestine (@Return_ps) October 19, 2020
Following his arrest in early July, al-Akhras was transferred in early September to Kaplan Hospital, south of Tel Aviv.
His lawyers have appealed on multiple occasions to Israel's Supreme Court for his release.
Palestinian Prime Minister Mohammad Shtayyeh has also demanded his immediate release.
Israel's administrative detention system allows the internment of prisoners for renewable periods of up to six months each, without bringing charges.
Israel says the procedure allows authorities to hold suspects while continuing to gather evidence, but critics and rights groups say the system is abused.
About 355 Palestinians were being held under administrative detention orders as of August, including two minors, according to Israeli human rights group, B'Tselem.
Israel strikes Gaza after rocket attack
Israeli army says it struck Hamas military targets in the besieged strip after two rockets were fired into Israel.
The Israeli military says it launched overnight air attack in the besieged Gaza Strip after Palestinian fighters fired rockets, with no reports of casualties or significant damage on either side.
The military said Palestinian fighters fired two rockets into Israel late on Thursday. One was intercepted by the Israeli missile defence system, while the other fell in an open area.
"In response to the 2 rockets that were fired from Gaza at Israel earlier tonight, our Air Force just struck Hamas military targets in Gaza," the Israeli army said on Twitter.
"Hamas will bear the consequences for terror activity against Israeli civilians," it added.
Sirens were sounded in a region south of Israel that borders the Gaza Strip to warn residents of the incoming fire.
There was no immediate claim of responsibility for the rocket attack.
The last reported rocket attack from Gaza was on Tuesday night.
Israel and Hamas have fought three wars and several skirmishes since the Hamas seized power from rival Palestinian groups in 2007.
Israel holds Hamas responsible for all attacks emanating from Gaza, including those claimed by other fighter groups based in the region.
In response to the 2 rockets that were fired from Gaza at Israel earlier tonight, our Air Force just struck Hamas military targets in Gaza.

Hamas will bear the consequences for terror activity against Israeli civilians.

— Israel Defense Forces (@IDF) October 22, 2020
New tunnel discovered
Israel and Egypt have maintained a crippling blockade on Gaza Strip – a coastal territory which is home to two million Palestinians – since Hamas seized power.
The latest incident came after the Israeli army announced it had found a new tunnel that crosses "dozens of metres into Israel" from the Israeli-blockaded Palestinian coastal enclave.
The next day, the army said the tunnel belonged to Hamas.
Authorities have discovered some 20 tunnels originating from Gaza since 2014, army spokesman Jonathan Conricus said this week.