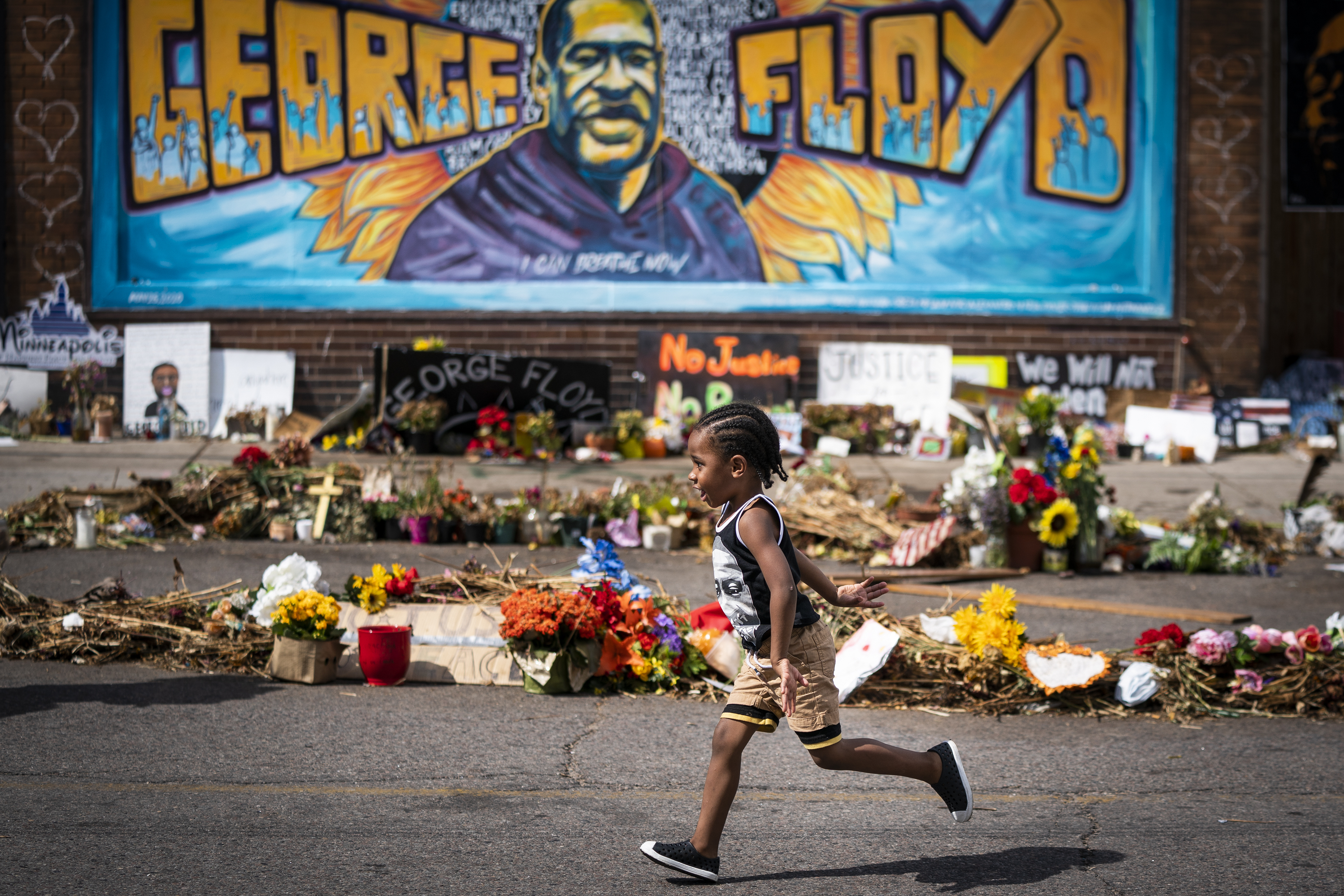 The former Minneapolis cop facing murder charges for George Floyd's death, which set off months of protests against police brutality and discrimination in the Black community, has been released from custody.
Derek Chauvin, 44, was released from the Minnesota Correctional Facility-Oak Park Heights, where he's been held since May 31 following his arrest on murder and manslaughter charges, according to a notice from the Hennepin County Sheriff's office. He was transferred to Hennepin County Jail sometime Wednesday morning, according to WCCO-CBS 4, and he posted $1 million non-cash bail, meaning the court-appointed amount was paid for by a third party in his stead. The bond was guaranteed by Allegheny Casualty Company.
Chauvin's release will have some conditions: The former cop will have to surrender all of his weapons, make all of his court appearances, have zero contact with the family of George Floyd, and agree to not leave the state of Minnesota.
He is the last of the four officers involved in Floyd's fatal May 25 arrest to be released from prison. Officers Tou Thao, Thomas Lane, and J. Alexander Kueng, who have all been charged with aiding and abetting second-degree murder, all posted $750,000 bail in June and July.
Chauvin, a 19-year veteran of the force, was directly responsible for Floyd's death after placing his knee on the Black man's neck while he was handcuffed. Floyd, a 46-year-old father of five, was seen on bystander video begging for his life for more than eight minutes, as Chauvin refused to let up and accompanying officers failed to intervene even as onlookers pleaded for him to stop.
Chauvin was fired from the Minneapolis Police Department the next day. He was arrested May 29 before eventually being charged with second-degree and third-degree murder and second-degree manslaughter. In the weeks that followed Floyd's death, the Minneapolis Star Tribune reported that Chauvin was previously involved in at least two police shootings, one of which was fatal. 
The trial is currently set for March 8, 2021. Last month, the four officers requested having separate trials from one another in the upcoming court procedures in hopes of avoiding more severe jail time.
The US broke its record for the highest number of new coronavirus cases in a day
The United States broke its record for the highest number of confirmed coronavirus cases reported in a single day on Friday, an alarming sign that what some epidemiologists are calling a "third wave" of infections is spreading at breakneck speed as winter approaches.
According to the New York Times, by the end of the day on Friday, at least 85,085 cases were reported across the country — about 10,000 cases more than the previous same-day high on July 16.
Public health experts have long warned that uneven compliance with social distancing guidelines, inadequate contact tracing programs, and premature reopenings of indoor venues were creating conditions for a resurgence of virus transmission after its summer peak, and that is what appears to be happening now.
The new case numbers also show that the geographic spread is wider than during past spikes. According to an internal report produced on Thursday for officials at the Department of Health and Human Services, and obtained by the Washington Post, more than 170 counties across 36 states have been designated rapidly rising hot spots. And 24 states have broken single-day records of new cases in the past two weeks, the Post reports.
Also concerning is that in the past month there has been a 40 percent rise in the number of people hospitalized for Covid-19 infections. Deaths have not surged so far, but epidemiologists have pointed out that there can be a significant time lag between a surge in cases and deaths tied to that surge.
"Today's cases represent infections that probably happened a week or two ago," Boston University epidemiologist Eleanor Murray told Vox's Dylan Scott in July. "Today's deaths represent cases that were diagnosed possibly up to a month ago, so infections that were up to six weeks ago or more."
Saturday, President Donald Trump downplayed the record number of new reported cases on Twitter, and incorrectly claimed that cases were up only because testing ability is up.
But public health experts have pointed to state-level policies on distancing and contact tracing as a key driver of the current uptick. Moreover, the high rates at which coronavirus tests are coming back positive in many states — a key data point for estimating the true spread of the virus — and the surge in hospitalizations are signs that the new wave is not just a result of testing capacity. As Vox's German Lopez has explained, a high positivity rate actually suggests that not enough tests are being done to track and contain spread in a given area.
Murray, the epidemiologist at Boston University, told the Washington Post that the wide geographic range of the new wave will make it difficult to move health care workers to hot spots. Previous spikes were concentrated in certain communities, allowing medical professionals from less affected areas to be moved to deal with outbreaks. But the breadth of the current outbreak could tax US health care capacity in a manner that has not been seen before.
And Murray also pointed out that this wave is more dangerous that the two that preceded it, because it started from a higher point of infections.
"We are starting this wave much higher than either of the previous waves," she told the Post. "And it will simply keep going up until people and officials decide to do something about it."
Experts have warned about a third wave for a while
Medical professionals, epidemiologists and many public health officials have long pointed out the risk of a third wave.
As Vox's German Lopez wrote in early October, experts warned that a third wave looked likely in light of the fact that the virus was never really suppressed nationally, and that premature reopening, encouraged most aggressively by Trump and Republican governors, would simply accelerate its spread:
Consider Florida. Last month, the state reopened bars and, more recently, restaurants, despite the high risk of these indoor spaces. After Florida previously opened bars, in June, experts said the establishments were largely to blame for the state's massive Covid-19 outbreak in the summer. As Florida reopens now, it has roughly two to three times the number of Covid-19 cases that it had in early June, and its high test positivity rate suggests it's still likely missing a lot of cases. The state is fanning its flames while its most recent fire is nowhere near extinguished.

This is, in effect, what much of the country is doing now as it rushes to reopens schools, particularly colleges and universities, and risky indoor spaces. Coupled with recent Labor Day celebrations, experts worry that's already leading to a new increase in Covid-19 cases.
Experts have pointed out that Trump's persistent agenda to downplay the dangers of the virus — and his suggestions that the news of a third wave is a media conspiracy designed to throw the election in Democrats' favor — could intensify the problem as the virus is made into an increasingly partisan issue. The president has repeatedly failed to take responsibility for the troubled US pandemic response, including at the second presidential debate. He has instead blamed China and Democrats for the country's problems, while leaving it to individual states to create plans to lower the rate of infection.
Some states have had more success in reducing infection than others, but none have managed to eliminate spread altogether. And more worrying still is that cold weather and flu season have yet to fully settle in many states as winter approaches.
The good news is that we know how to counteract further spread.
"None of the ideas to prevent all of this are shocking or new," Lopez recently wrote. "They're all things people have heard before: More testing and contact tracing to isolate people who are infected, get their close contacts to quarantine, and deploy broader restrictions as necessary. More masking, including mandates in the 17 states that don't have one. More careful, phased reopenings. More social distancing."
---
Millions turn to Vox each month to understand what's happening in the news, from the coronavirus crisis to a racial reckoning to what is, quite possibly, the most consequential presidential election of our lifetimes. Our mission has never been more vital than it is in this moment: to empower you through understanding. But our distinctive brand of explanatory journalism takes resources. Even when the economy and the news advertising market recovers, your support will be a critical part of sustaining our resource-intensive work. If you have already contributed, thank you. If you haven't, please consider helping everyone make sense of an increasingly chaotic world: Contribute today from as little as $3.
Melania Trump to vote on Election Day, first lady's spokeswoman says
Shortly after Ohio State defeated Nebraska on the opening weekend of Big Ten college football, President Donald Trump took credit for the return of the conference's season. 
"And it's great to be back in Ohio to celebrate the return of Big Ten football with a big victory today for the Buckeyes," Trump told the crowd Saturday at a rally in Circleville, Ohio, just outside of Columbus. 
"So then I had an idea, I said I'm gonna get it open if it's shutdown, that's what happened," Trump said. "And I worked hard to bring back Big Ten and I got together with your commissioner, he did a good job, and we got it back, and today you won your football game and you were very happy about it."
Trump repeatedly pressured the conference to play football this fall, which it ultimately decided to do. However, it's unclear how much influence the President's pressure had on that decision despite him taking credit for it. 
CNN's Harry Enten wrote earlier that Trump obviously saw a political opportunity with concern to the Big Ten. There's a reason he focused most of his attention on the Big Ten suspending play, as opposed to the many other conferences that did. Most of those other conferences aren't based in swing states.
And Trump wasn't alone. Biden also made ads showing empty college football stadiums due to the coronavirus with the blame landing at Trump's feet.
Poland had some of the strictest abortion laws in Europe. They just got even stricter.
Poland's highest court on Thursday banned abortions due to fetal defects, a ruling that further narrows reproductive rights in a country with some of the most conservative abortion laws in Europe.
On Friday, protestors took to the streets and clashed with police in several major cities across Poland to demonstrate against what reproductive rights advocates say is effectively a near-total ban on abortions.
The Polish constitutional tribunal found that abortions in cases where "prenatal tests or other medical indications indicate a high probability of severe and irreversible fetal impairment or an incurable life-threatening disease" violate the right to life.
The only remaining reasons someone can get a legal abortion in Poland now are in the case of rape, incest, or when the mother's life is in danger. According to CNN, around 98 percent of legal abortions in Poland are conducted due to fetal defects.
Dunja Mijatović, the human rights commissioner for the Council of Europe, condemned the ruling and deemed it a "sad day for women's rights."
"Removing the basis for almost all legal abortions in Poland amounts to a ban and violates human rights," she tweeted. "Today's ruling of the Constitutional Court means underground/abroad abortions for those who can afford and even greater ordeal for all others."
The decision prompted fierce protests in many cities. In the capital of Warsaw, protesters gathered outside the house of Jarosław Kaczyński, the leader of Poland's right-wing ruling party, holding signs that read, "You have blood on your hands." After protesters clashed with riot police, a Warsaw police spokesperson said on Friday that 15 people had been arrested and the police had filed 89 motions in court.
More protests are expected throughout the weekend. "In a few days, hell for women will begin in this country," reads the Facebook event description for a protest planned this weekend in the city of Gdańsk, according to the Guardian.
Further restricting abortion isn't likely to be a popular move
Over 100 conservative and nationalist lawmakers asked the constitutional tribunal last year to consider the legality of abortion in the case of fetal defects, something they've framed as "eugenic" abortion.
Critics say that the governing Law and Justice (PiS) party has undermined judicial independence and packed the constitutional tribunal with partisans who will rule in favor of its political programs.
Political analysts say that the timing of the decision might reflect that tribunal's desire to help buttress the PiS party's political interests, particularly at a time when its governing coalition with a smaller, hard-right party is in a state of crisis.
"It's PiS trying to score points with the far right," Marta Lempart, an activist with Polish Women's Strike, a grassroots movement focused on abortion rights, told Politico Europe.
The court's ruling does not appear to be in sync with public opinion. "Although Poland is one of Europe's most staunchly Roman Catholic countries, opinion polls suggest there is a clear majority against making the abortion law stricter," BBC reported.
Former Polish Prime Minister Donald Tusk tweeted: "Throwing the topic of abortion and a ruling by a pseudo-court into the middle of a raging pandemic is more than cynical."
Women's rights organizations in Poland say that the actual number of abortions performed every year is far larger than the official numbers show — many are conducted illegally within Poland or legally in neighboring countries.
While the official number of abortions last year was 1,100, Lempart estimated that Poles conducted 100,000 to 150,000 abortions, either illegally within the country or across the border in neighboring countries with less stringent regulations on abortion.
The new ruling could push illicit abortions even further underground by making it an even rarer and more strictly regulated act — and that in turn could potentially make them more expensive.
"Safe abortion will effectively be accessible only to women who can afford it," Lempart told Politico Europe. "Others will look for cheaper and therefore more dangerous options."
---
Millions turn to Vox each month to understand what's happening in the news, from the coronavirus crisis to a racial reckoning to what is, quite possibly, the most consequential presidential election of our lifetimes. Our mission has never been more vital than it is in this moment: to empower you through understanding. But our distinctive brand of explanatory journalism takes resources. Even when the economy and the news advertising market recovers, your support will be a critical part of sustaining our resource-intensive work. If you have already contributed, thank you. If you haven't, please consider helping everyone make sense of an increasingly chaotic world: Contribute today from as little as $3.