Prime Day is officially here, and with it comes incredible savings on some of the most coveted and popular kitchen appliances and gadgets on Amazon.
With so many bargains to choose from, we're here to make your life a little easier and highlight the absolute best kitchen appliance deals happening now, whether you're looking to streamline food prep, make breakfast even easier or brew the best coffee of your life. For a full list of notable Prime Day deals, check out our complete guide here.
For smart chefs
Instant Pot products (starting at $49.99; amazon.com)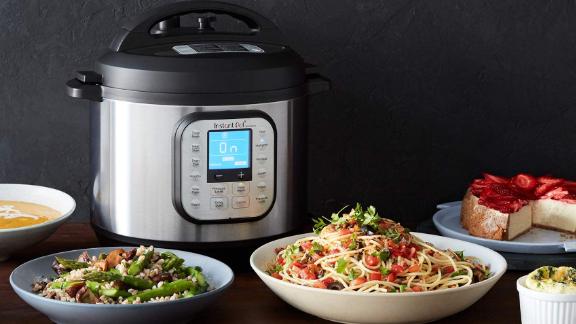 Instant Pot products are up to 58% off this Prime Day, with its most popular Instant Pot Duo Nova now just $99.99, down from $149.99, and the smaller Instant Pot Ultra just $49.99, down from $119.95.
Crock-Pot slow cookers (starting at $20.93; amazon.com)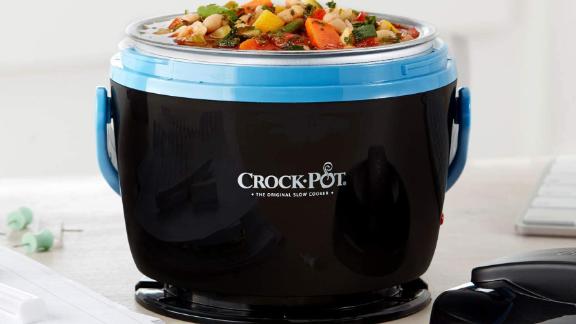 Crock-Pot's set of ultra-portable food warmers and slow cookers is an extra 20% off this Prime Day, with its lime green Food Warmer now $20.93 at checkout, down from $29.99, while its blue Slow Cooker is now $24.16, down from $30.20.
Hamilton Beach Digital Programmable Rice Cooker ($28.27, originally $35.34; amazon.com)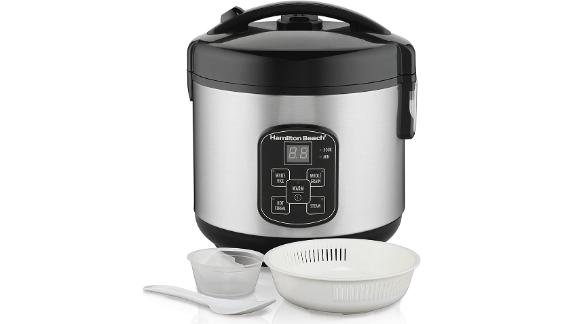 Trusted brand Hamilton Beach is discounting its extremely popular rice cooker, which has more than 3,500 reviews, 20% off.
T-fal P45007 Clipso Stainless Steel Pressure Cooker ($56.55, originally $129.99; amazon.com)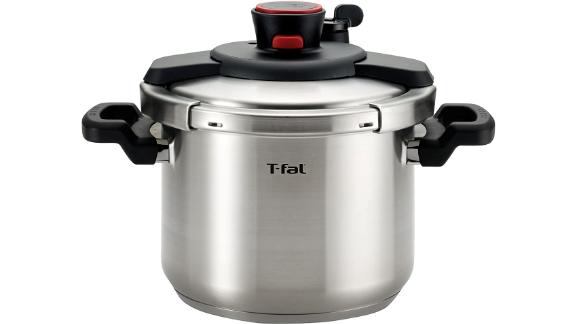 This magic cooking appliance can cut cooking time by 70%, and it's now more than half off.
T-fal TG403D52 Compact Smokeless Indoor Grill ($42.60, originally $79.99; amazon.com)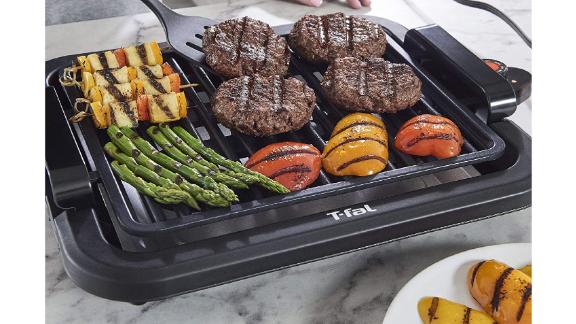 If you're in the mood to grill some meat, but don't have access to an outdoor grill or even a precious outdoor space, this smokeless indoor grill is just right for you.
Beasea 11-Inch Pizza Pan ($11.04, originally $12.99; amazon.com)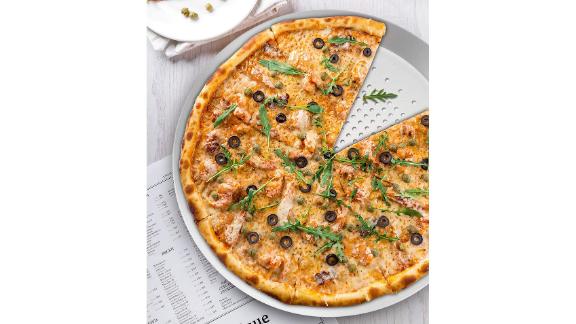 What better time than now to have a pizza night? Get the crisp pizza crust you've always dreamed of with this bargain pan.
Related: Are you using the best credit card when you shop at Amazon?
T-fal cookware (starting at $28.85; amazon.com)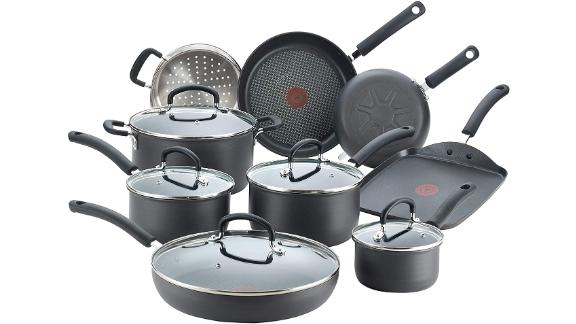 If you're looking to seriously upgrade your kitchen, look no further than T-fal pans. Snag the T-fal E918SE Ultimate Hard Anodized Nonstick 14 Piece Cookware Set ($104.99, originally $159.99; amazon.com) and you probably never have to replace your pans again. And don't forget to check out our pick for the best nonstick pan of 2020, the T-fal Nonstick Dishwasher Safe Cookware Lid Fry Pan ($28.85, originally $55.93; amazon.com)
Isiler Electric Crepe Maker ($25.45, originally $39.95; amazon.com)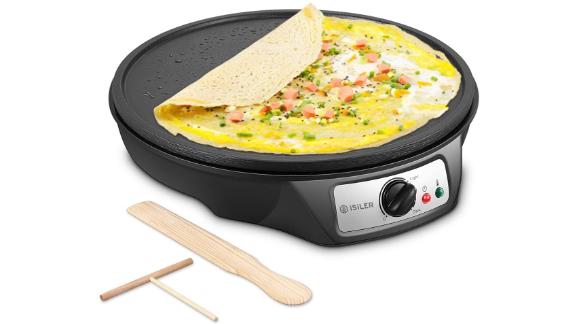 Make breakfast a breeze with this highly versatile crepe maker, which you can make everything from omelettes and quesadillas on to roti and perfectly-cooked eggs.
Fasta Pasta Microwave Pasta Cooker ($11.95, originally $19.99; amazon.com)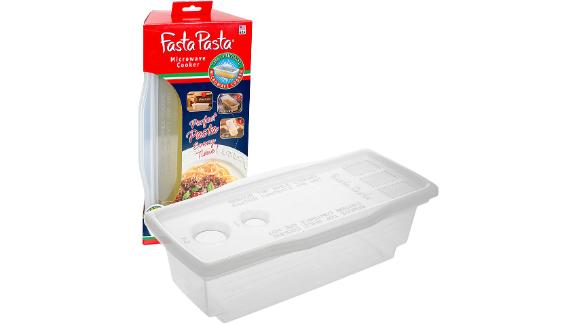 If you've got a kid who's recently gone off to college or you're frankly just over waiting for your water to boil every night, here's a kitchen gadget for you. Just a simple container that cooks your pasta perfectly in the microwave, no waiting around for boiling water necessary.
For coffee lovers
Mr. Coffee espresso makers (starting at $119.99; amazon.com)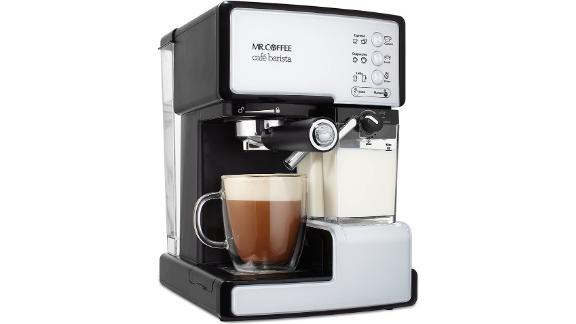 Brew an amazing cup of espresso with any one of Mr. Coffee's discounted makers, including the most popular Mr. Coffee Cafe Barista Espresso and Cappuccino Maker, which is now just $159.99, down from $199.99.
Mr. Coffee coffee makers & accessories (starting at $8.79; amazon.com)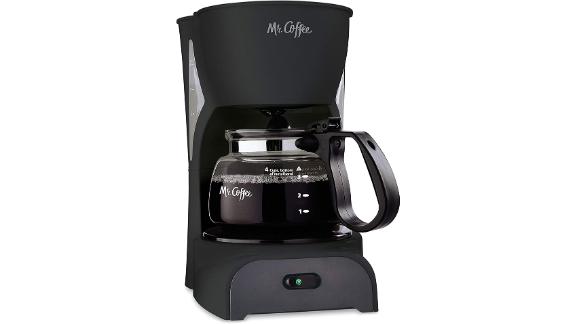 Some of Mr. Coffee's non-expresso products are also 20% off, including its Mr. Coffee Simple Brew Coffee Maker, 4-Cup ($17.94, originally $22.43; amazon.com), Mr. Coffee Electric Coffee Grinder ($14.39, originally $17.99; amazon.com) and Mr. Coffee Mug Warmer ($8.79, originally $15.99; amazon.com)
For meat aficionados
Aobosi 3-in-1 Meat Mincer & Sausage Stuffer ($55.99, originally $73.79; amazon.com)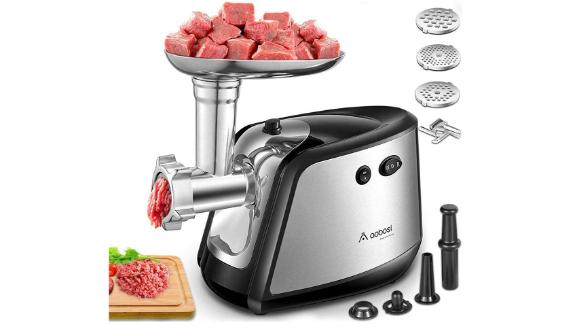 For the meat aficionado, this meat mincer and sausage stuffer is about to bring some serious carnivorous joy.
Ostba Meat Slicer Electric Deli Food Slicer ($87.99, originally $109.99; amazon.com)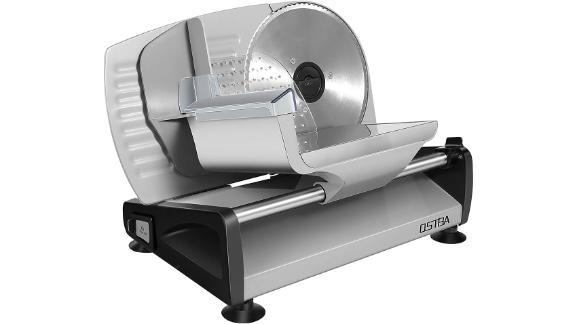 Now how's this for a professional-grade product to have in your home? Get your cold cut sandwich game on with this slicer that's deli-ready.
For the ultra-organized chef
Flafster Kitchen Electric Salt and Pepper Grinder Set ($28.04, originally $36.99; amazon.com)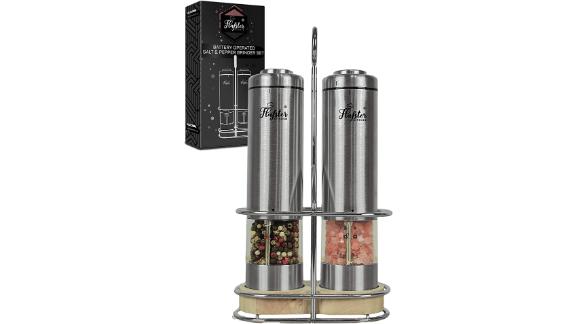 Get two kitchen tools in one with this salt and pepper grinder set, which conveniently has an electric grinder built into the bottles.
KitchenAid Dual Platform Digital Kitchen Scale ($37.84, originally $49.99; amazon.com)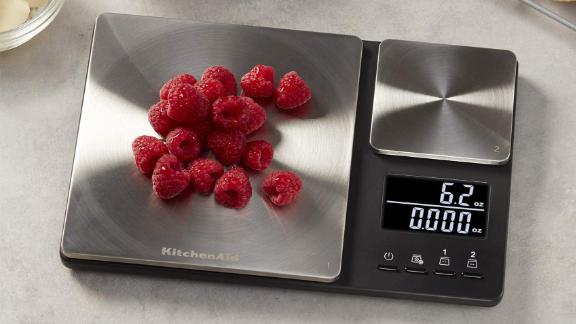 Get all your ingredients perfectly weighed out with this handy digital scale.
Whynter freezers (starting at $129.48; amazon.com)
If this year's stay-at-home orders have made you someone who can't have enough stocked frozen goodies (just in case!), then check out these small high-quality freezers from Whynter, which are now an additional 20% off at checkout.
Trump's misleading tweet about changing your vote, briefly explained
Searches for changing one's vote did not trend following the recent presidential debate, and just a few states appear to have processes for changing an early vote. But that didn't stop President Trump from wrongly saying otherwise on Tuesday.
In early morning posts, the president falsely claimed on Twitter and Facebook that many people had Googled "Can I change my vote?" after the second presidential debate and said those searching wanted to change their vote over to him. Trump also wrongly claimed that most states have a mechanism for changing one's vote. Actually, just a few states appear to have the ability, and it's rarely used.
Trump's claim about what was trending on Google after the debate doesn't hold up. Searches for changing one's vote were not among Google's top trending searches for the day of the debate (October 22) or the day after. Searches for "Can I change my vote?" did increase slightly around the time of the debate, but there is no way to know whether the bump was related to the debate or whether the people searching were doing so in support of Trump.
It was only after Trump's posts that searches about changing your vote spiked significantly. It's worth noting that people were also searching for "Can I change my vote?" during a similar period before the 2016 presidential election.
Google declined to comment on the accuracy of Trump's post.
Trump also claimed that these results indicate that most of the people who were searching for how to change their vote support him. But the Google Trends tool for the searches he mentioned does not provide that specific information.
Perhaps the most egregiously false claim in Trump's recent posts is about "most states" having processes for changing your early vote. In fact, only a few states have such processes, and they can come with certain conditions. For instance, in Michigan, voters who vote absentee can ask for a new ballot by mail or in person until the day before the election.
The Center for Election Innovation's David Becker told the Associated Press that changing one's vote is "extremely rare." Becker explained, "It's hard enough to get people to vote once — it's highly unlikely anybody will go through this process twice."
At the time of publication, Trump's false claims had drawn about 84,000 and 187,000 "Likes" on Twitter and Facebook, respectively. Trump's posts accelerated searches about changing your vote in places like the swing state of Florida, where changing one's vote after casting it is not possible. Those numbers are a reminder of the president's capacity to spread misinformation quickly.
On Facebook, the president's post came with a label directing people to Facebook's Voting Information Center, but no fact-checking label. Twitter had no annotation on the president's post. Neither company responded to a request for comment.
That Trump is willing to spread misinformation to benefit himself and his campaign isn't a surprise. He does that a lot. Still, just days before a presidential election in which millions have already voted, this latest episode demonstrates that the president has no qualms about using false claims about voting to cause confusion and sow doubt in the electoral process.
Open Sourced is made possible by Omidyar Network. All Open Sourced content is editorially independent and produced by our journalists.
---
Will you help keep Vox free for all?
The United States is in the middle of one of the most consequential presidential elections of our lifetimes. It's essential that all Americans are able to access clear, concise information on what the outcome of the election could mean for their lives, and the lives of their families and communities. That is our mission at Vox. But our distinctive brand of explanatory journalism takes resources. Even when the economy and the news advertising market recovers, your support will be a critical part of sustaining our resource-intensive work. If you have already contributed, thank you. If you haven't, please consider helping everyone understand this presidential election: Contribute today from as little as $3.
Nearly 6,000 civilian casualties in Afghanistan so far this year
From January to September, 5,939 civilians – 2,117 people killed and 3,822 wounded – were casualties of the fighting, the UN says.
Nearly 6,000 Afghan civilians were killed or wounded in the first nine months of the year as heavy fighting between government forces and Taliban fighters rages on despite efforts to find peace, the United Nations has said.
From January to September, there were 5,939 civilian casualties in the fighting – 2,117 people killed and 3,822 wounded, the UN Assistance Mission in Afghanistan (UNAMA) said in a quarterly report on Tuesday.
"High levels of violence continue with a devastating impact on civilians, with Afghanistan remaining among the deadliest places in the world to be a civilian," the report said.
Civilian casualties were 30 percent lower than in the same period last year but UNAMA said violence has failed to slow since the beginning of talks between government negotiators and the Taliban that began in Qatar's capital, Doha, last month.
The Taliban was responsible for 45 percent of civilian casualties while government troops caused 23 percent, it said. United States-led international forces were responsible for two percent.
Most of the remainder occurred in crossfire, or were caused by ISIL (ISIS) or "undetermined" anti-government or pro-government elements, according to the report.
Ground fighting caused the most casualties followed by suicide and roadside bomb attacks, targeted killings by the Taliban and air raids by Afghan troops, the UN mission said.
Fighting has sharply increased in several parts of the country in recent weeks as government negotiators and the Taliban have failed to make progress in the peace talks.
The Taliban has been fighting the Afghan government since it was toppled from power in a US-led invasion in 2001.
Washington blamed the then-Taliban rulers for harbouring al-Qaeda leaders, including Osama bin Laden. Al-Qaeda was accused of plotting the 9/11 attacks.
Calls for urgent reduction of violence
Meanwhile, the US envoy for Afghanistan, Zalmay Khalilzad, said on Tuesday that the level of violence in the country was still too high and the Kabul government and Taliban fighters must work harder towards forging a ceasefire at the Doha talks.
Khalilzad made the comments before heading to the Qatari capital to hold meetings with the two sides.
"I return to the region disappointed that despite commitments to lower violence, it has not happened. The window to achieve a political settlement will not stay open forever," he said in a tweet.
There needs to be "an agreement on a reduction of violence leading to a permanent and comprehensive ceasefire", added Khalilzad.
1/4 I return to the region disappointed that despite commitments to lower violence, it has not happened. The window to achieve a political settlement will not stay open forever. https://t.co/hVl4b032W6

— U.S. Special Representative Zalmay Khalilzad (@US4AfghanPeace) October 27, 2020
A deal in February between the US and the Taliban paved the way for foreign forces to leave Afghanistan by May 2021 in exchange for counterterrorism guarantees from the Taliban, which agreed to sit with the Afghan government to negotiate a permanent ceasefire and a power-sharing formula.
But progress at the intra-Afghan talks has been slow since their start in mid-September and diplomats and officials have warned that rising violence back home is sapping trust.
Classic toy tie-up: Etch A Sketch maker to acquire Rubik's Cube
Spin Master Corp., the company behind the Etch A Sketch and Paw Patrol brands, has agreed to acquire Rubik's Brand Ltd. for about $50 million, tying together two of the world's most iconic toy brands.
The merger comes at a boom time for classic toymakers, as parents turn to familiar products to entertain kids stuck in lockdown. Like sales of Uno, Monopoly and Barbie dolls, Rubik's Cube purchases have spiked during the pandemic, according to the puzzle maker's chief executive officer, Christoph Bettin. He expects sales to jump 15% to 20% in 2020, compared with a normal year, when people purchase between 5 million and 10 million cubes.
By acquiring Rubik's, Toronto-based Spin Master can better compete with its larger rivals, Hasbro Inc. and Mattel Inc. All three companies have pivoted to become less reliant on actual product sales, diversifying into television shows, films and broader entertainment properties based on their toys. Spin Master CEO Anton Rabie said he wouldn't rule out films or TV shows based on Rubik's Cubes, but he was focused for now on creating more cube-solving competitions and crossmarketing it with the company's other products, like the Perplexus.
"Whoever you are, it really has a broad appeal from a consumer standpoint," Rabie said in an interview. "It's actually going to become the crown jewel; it will be the most important part of our portfolio worldwide."
Hungarian inventor Erno Rubik created the Rubik's Cube in 1974, a solid block featuring squares with colored stickers that users could twist and turn without it falling apart. It gained popularity in the 1980s and has remained one of the best-selling toys of all time, spawning spinoff versions, international competitions of puzzle solvers, books and documentaries.
The toy has been particularly well-suited to pandemic conditions. During lockdowns, parents have sought to give kids puzzles that boost problem-solving skills useful in math and science careers. Normally, toys tied to major film franchises are among the most popular products headed into the holidays, but studios have delayed the release of major new movies because of coronavirus. So classic products are experiencing a mini-renaissance.
"The whole pandemic has really increased games and puzzles," Rabie said. "But whether the pandemic existed or didn't exist, we'd still buy Rubik's. It's had such steady sales for decades."
Rubik's CEO Bettin said it was the right time to sell the company, with the founding families behind it ready to move on. London-based Rubik's Brand was formed out of a partnership between Erno Rubik and the late entrepreneur Tom Kremer, while private equity firm Bancroft Investment holds a minority stake in the company.
Early on, Bettin felt Spin Master was the right home for the puzzle toy, he said. Spin Master, which was started by a group of three friends in 1994, has expanded through the purchase of well-known brands, including Erector sets and Etch A Sketch. Rabie says he works to honor the "legacy" of those products, which Bettin cited as a key reason to sell the brand to Spin Master over larger companies that were interested.
"It was important for us to not be lost in the crowd, and to be sufficiently important and cared for," Bettin said. "And there's a balance between being with someone large enough to invest, and agile enough to ensure you are key part of their plans."
Spin Master won't own Rubik's Cubes in time for the holiday season – the transaction is expected to close on Jan. 4. At that time, the company will move Rubik's operations from a small office in London's Notting Hill neighborhood to Spin Master's new games operations center in Long Island.
Some of Rubik's Brand's 10 employees will be part of the transition, but they won't stay permanently, Bettin said.