In Bangkok, Thailand on Saturday, tens of thousands took part in continuing pro-democracy protests following a government crackdown Friday, which saw riot police unleash water cannons containing a chemical irritant on crowds calling for the resignation of Prime Minister Prayuth Chan-ocha.
Protests against the prime minister began in March this year, following the dissolution of a popular pro-democracy party, but have dramatically increased in size this week, with crowds numbering in the tens of thousands.
The government responded to these growing protests with an emergency decree on Thursday, which bans groups of more than five people and gave police the authority to make areas of Bangkok off limits to protesters. Along with this new measure has come the arrests of protesters, including a human rights lawyer and several student activists.
The protesters have released several demands, chief among them that the prime minister resign. A former general, Prayuth, seized power in a 2014 military coup. A new constitution was put in place by military leaders three years later that sets aside parliament seats for military officials — so many that protesters argue the prime minister will maintain power regardless of the outcome of elections.
As Panu Wongcha-um reported for Reuters, protesters made three demands in July: "the dissolution of parliament, an end to harassment of government critics, and amendments to the military-written constitution."
Demonstrators are still working towards those goals, but increasingly, protesters are demanding changes to the country's monarchy as well.
As Richard Bernstein has explained for Vox, citizens of Thailand has traditionally avoided statements that could be seen as critical of the royal family, which is currently led by King Maha Vajiralongkorn, due to the country's "lèse-majesté laws, which outlaw 'defaming, insulting, or threatening' of a member of the royal family."
That has changed: For example, at an August protest, a student protest leader gave a speech accusing the government of "fooling us by saying that people born into the royal family are incarnations of gods and angels," and asking, "Are you sure that angels or gods have this kind of personality?"
The king, who ascended to the throne four years ago, rules largely from Europe, but has nevertheless spent extravagantly and "steadily amassed power" in a way that hearkens back to the bygone days of Thailand's absolute monarchy, according to the Economist. His support for the prime minister has frustrated Prayuth's critics, and his successful efforts to bring royal wealth and military forces under his direct control have led some protesters to call for new limits on the monarchy's powers.
Arrests for breaching the country's lèse-majesté laws have continued, and Friday, two protesters were charged under an obscure law for "an act of violence against the queen's liberty," — in this case, for yelling near Queen Suthida Vajiralongkorn Na Ayudhya's motorcade. The two protesters face a potential sentence of life in prison for "endangering the royal family."
These charges — as well as threats from the prime minister — have not deterred the protesters. After Friday's police offensive, peaceful demonstrations continued Saturday appear to have remained largely peaceful — and were well-attended despite a shutdown of Bangkok public transit. As many as 23,000 people turned out at several locations around the city, according to a police estimate reported by the Bangkok Post.
"The goal is to change the whole political system, including the monarchy and the prime minister," one Bangkok student told the New York Times.
A democratic legitimacy crisis
As Vox's Zeeshan Aleem explained in August, Thailand's protests hinge on the tenuous legitimacy of the current government.
Though the current prime minister, ostensibly won another mandate in 2019, the results of that election are disputed. Since then, a major opposition party has been disbanded by the courts, and pro-democracy activist Wanchalearm Satsaksit was disappeared in Cambodia, possibly by the Thai government.
Wanchalearm hasn't been seen since his abduction in June, and Jakrapob Penkair, another dissident living in exile, told the BBC in July that Wanchalearm was likely dead.
"I think the message is: 'Let's kill these folks. These are outsiders, these are people who are different from us and they should be killed in order to bring Thailand back to normalcy,'" Jakrapob said. "But nothing could be more wrong in that interpretation. I believe their decision to kidnap and murder Tar, and others before him, has been subconsciously radicalizing the people."
The protest movement has been fueled by student activism, but lacks defined leadership, according to the BBC. That's by design — activists have reportedly drawn inspiration from decentralized pro-democracy protests in Hong Kong in order to maintain momentum amid arrests.
In part in order to circumvent restrictions on speech, activists have also relied on pop culture symbolism at protests. According to Aleem,
Protesters have used creative methods drawn from the world of popular fiction to veil their criticism of the government and mitigate charges for violating restrictions on political speech. For example, some protesters have dressed up as characters from Harry Potter in order to advance their arguments against the government and monarchy. Other pro-democracy protesters display three-finger salutes inspired by the Hunger Games series.
The Thai government's crackdown on protesters has been condemned by multiple international organizations. Human Rights Watch, for instance, argued that the ban on protests, as well as other new restrictions, meant that "rights to freedom of speech and holding peaceful, public assemblies are on the chopping block from a government that is now showing its truly dictatorial nature," and Amnesty International has decried the arrests of protesters as an intimidation tactic.
It's unlikely that the protest movement will stop soon, though — even if the government's response begins to echo the violent anti-protest crackdowns Bangkok saw in the 1970s.
"The dictatorship must be confronted by the people, even under the threat of arrest," activist Panupong Jadnok told the Washington Post. "We won't step back. We will fight until our death."
---
Will you help keep Vox free for all?
The United States is in the middle of one of the most consequential presidential elections of our lifetimes. It's essential that all Americans are able to access clear, concise information on what the outcome of the election could mean for their lives, and the lives of their families and communities. That is our mission at Vox. But our distinctive brand of explanatory journalism takes resources. Even when the economy and the news advertising market recovers, your support will be a critical part of sustaining our resource-intensive work. If you have already contributed, thank you. If you haven't, please consider helping everyone understand this presidential election: Contribute today from as little as $3.
Amy Coney Barrett has officially been confirmed as a Supreme Court justice
In a narrow 52-48 vote, the Senate has officially confirmed Amy Coney Barrett for appointment to the Supreme Court, a huge win for Republicans who worked quickly — and ignored past precedent — to advance her nomination.
Barrett, who will now take the seat of the late Justice Ruth Bader Ginsburg, is a staunch conservative whose vote could be the deciding one on upcoming cases involving the Affordable Care Act, abortion rights, and voting rights. Her confirmation solidifies a 6-3 conservative majority on the high court, and is likely to affect its skew for decades.
Ultimately, every Republican senator except Susan Collins (R-ME) voted in favor of Barrett's confirmation, while no Democrats did. Collins voted against Barrett because she disagreed with the process used for her nomination, something Democrats had objected to as well. Democrats had also expressed concerns about the conservative slant of Barrett's past writings and opinions.
Overall, Barrett's nomination has been controversial for many reasons including its timing: In 2016, Senate Republicans refused for months to consider a Supreme Court nominee until after the general election, because they argued that the American people — through their votes — should have a voice in the decision-making process. This year, however, with less than two months to go until the election, Republicans moved to expedite Barrett's confirmation.
To do so, Republicans made approving Barrett's nomination their absolute priority, even as multiple lawmakers were diagnosed with coronavirus and as stimulus talks remained at an impasse. "Nothing about this is normal," Sen. Cory Booker (D-NJ) emphasized at the start of Barrett's confirmation hearing. "Instead of doing anything to help people who are struggling right now, we are here."
Just eight days before the general election, Barrett now joins the high court. Her rushed confirmation further underscores how determined Republicans are to continue their work remaking the federal judiciary — and opens the door for a comparable Democratic response should they retake the Senate majority.
Amy Coney Barrett's nomination, briefly explained
With her confirmation, Barrett, 48, becomes the Supreme Court's youngest justice and the first justice to be a mother of school-aged children.
Previously a judge on the Seventh Circuit and a longtime Notre Dame law professor, Barrett has also clerked for former Supreme Court Justice Antonin Scalia — and emphasized that her focus on originalism is similar to his. "His judicial philosophy is mine, too," she's said.
Barrett is also a devout Catholic, and she has written in the past about how faith relates to judicial decisions about the death penalty. She will also be among six justices on the court who subscribe to the Catholic faith.
As Vox's Ian Millhiser has written, Barrett has the potential to roll back the Affordable Care Act, undo Roe v. Wade, and expand the interpretation of the Second Amendment as a member of the court. While she's only been a judge for a few years, she's critiqued the Court's decisions to uphold the ACA in the past, and contributed to opinions that signal an openness to limiting abortion access.
Among the first cases that Barrett will consider as a Supreme Court justice is one examining whether the Affordable Care Act should be overturned: Pending any decision to recuse herself, she'll weigh in on whether a change to the individual mandate — the tax Americans had to pay for not getting health insurance — would affect the validity of the entire law.
Much like previous judicial nominees, Barrett did not comment on how she'd rule on particular cases like this one. She has been critical of Justice John Roberts's past opinions preserving the ACA. After the 2012 NFIB v. Sebelius decision, which preserved the ACA, she published an argument noting that Roberts's conclusion "pushed the Affordable Care Act beyond its plausible meaning to save the statute." There is reason to believe that she may view the current case differently, however.
There are outstanding questions about how Barrett would handle a slew of issues — including possible recusal in a case involving the upcoming election outcome, if that comes before the Supreme Court. Multiple Democrats had asked if Barrett would recuse herself from a case like this, since it could pose a conflict of interest given her recent appointment by Trump — who'd likely have a stake in the lawsuit. During her hearing, she declined to say whether she'd recuse herself, but noted that she'd take the steps needed to see if that would be appropriate.
Overall, Barrett — following in the tradition of other judicial nominees — did not offer much indication on how she'd evaluate contentious subjects. But Democrats have expressed frustration at her evasiveness in general. She dodged a number of straightforward questions, included ones asking whether she believed that climate change was real and if she felt a president had the unilateral authority to delay an election.
This nomination process has fired up voters in both parties ahead of the election
Members of both parties have said that they're fired up by the Supreme Court confirmation process, and the energy it has created could have an impact on the upcoming presidential and Senate races.
And for Democrats, the rapid-fire nature of Barrett's confirmation, specifically, stood out as problematic — particularly since McConnell even told the White House to hold off on a badly needed stimulus agreement, in part, out of concern that it would complicate the timing of Barrett's nomination, per the New York Times.
According to an October survey by Data for Progress, 47 percent of Democratic likely voters, 32 percent of independents and 47 percent of Republicans said that Barrett's Supreme Court nomination was a factor they were considering as they headed to the polls. Meanwhile, 75 percent of likely Democratic voters think the entire confirmation process has been rushed, while 38 percent of independents, and 30 percent of Republicans agree.
Certain lawmakers on the Senate Judiciary Committee like Sens. Lindsey Graham (R-SC) and Kamala Harris (D-CA) have also used this opportunity to energize their respective bases as they vie for reelection and the White House, respectively.
In the long term, Democrats have signaled that Republicans' willingness to expedite Barrett's nomination has opened the door to similar actions on their part if they retake power. Progressive groups and lawmakers have urged Senate Democrats to consider modifying how the Court operates — or even expanding the size of the Court — if they end up winning the seats needed to do so, for example.
"Don't think when you have established the rule of 'because we can,' that should the shoe be on the other foot, you will have any credibility to come to us and say: 'Yeah, I know you can do that, but you shouldn't,'" Sen. Sheldon Whitehouse (D-RI) said earlier this month. "Your credibility to make that argument at any time in the future will die in this room and on the Senate floor if you continue."
---
Will you help keep Vox free for all?
The United States is in the middle of one of the most consequential presidential elections of our lifetimes. It's essential that all Americans are able to access clear, concise information on what the outcome of the election could mean for their lives, and the lives of their families and communities. That is our mission at Vox. But our distinctive brand of explanatory journalism takes resources. Even when the economy and the news advertising market recovers, your support will be a critical part of sustaining our resource-intensive work. If you have already contributed, thank you. If you haven't, please consider helping everyone understand this presidential election: Contribute today from as little as $3.
Amy Coney Barrett Was Just Confirmed to the Supreme Court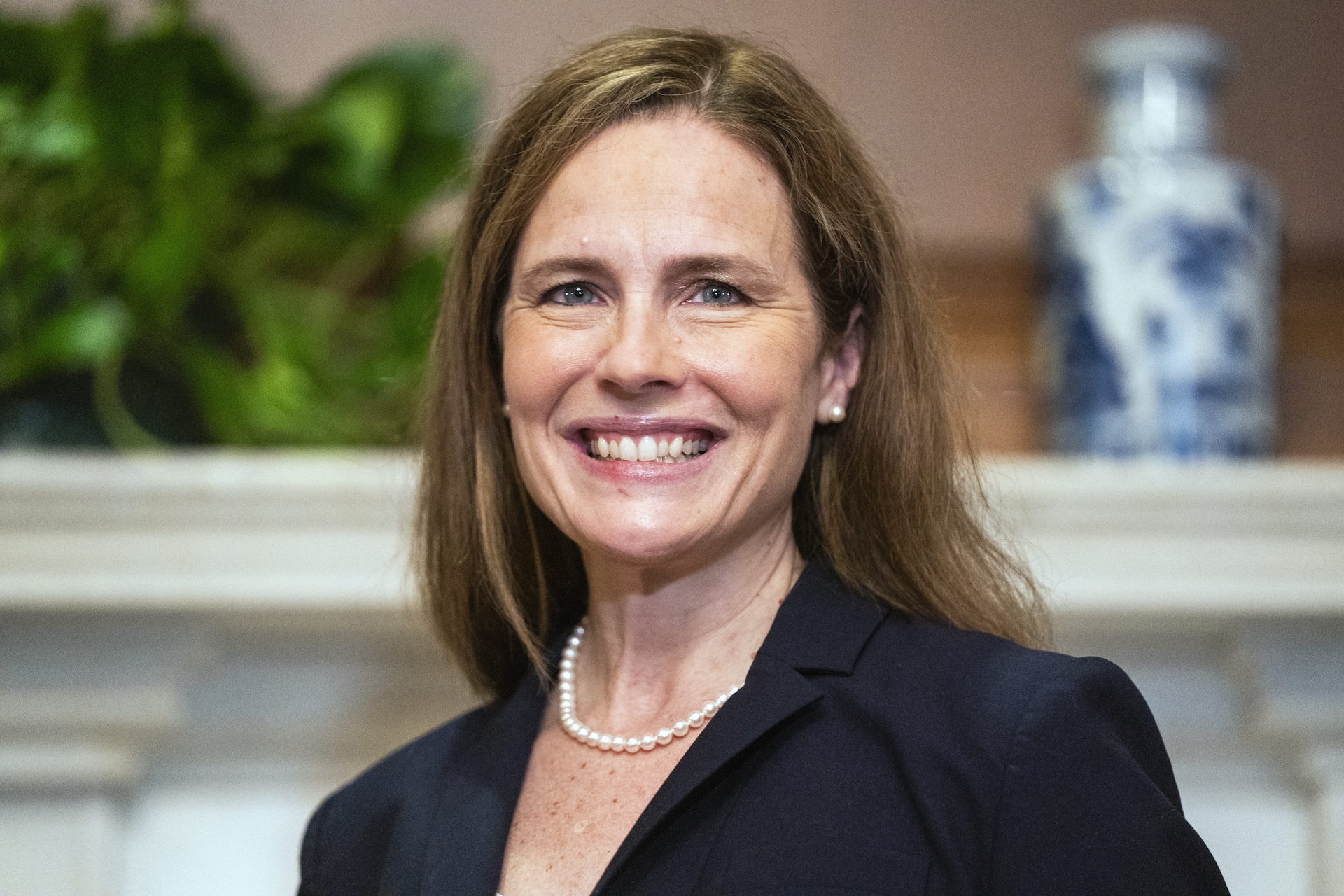 Want the best of VICE News straight to your inbox? Sign up here.
Judge Amy Coney Barrett will be the next associate justice on the U.S. Supreme Court.
The Senate voted 52-48 to confirm Barrett to the nation's highest court on Monday evening, just eight days ahead of the November 3 presidential election. Barrett, a judge on the U.S. Court of Appeals for the 7th Circuit and a conservative darling, will replace the late, liberal Justice Ruth Bader Ginsburg on the Supreme Court and seal a 6-3 conservative majority that will likely last for years.
The vote, as expected, split almost entirely along party lines, with every Democrat voting in opposition to Barrett's confirmation. The only Republican senator to break ranks was Sen. Susan Collins, Republican of Maine, who voted against Barrett.
Senate Democrats had spent the last month fighting in vain against replacing Ginsburg, who died in mid-September after several bouts of cancer, before the election. They've tried to paint the confirmation process as a rushed and hypocritical sham, pointing out that, in 2016, Republicans blocked President Barack Obama's Supreme Court pick Merrick Garland on the grounds that a new Supreme Court justice shouldn't be confirmed in an election year. (The GOP has argued it's fine this time, because the same party—the Republicans—control both the Senate and the White House.)
"Elections have consequences, and what this administration and this Republican senate has done is exercise the power that was given to us by the American people in a matter that is entirely within the rules of the Senate and the Constitution of the United States," said Senate Majority Leader Mitch McConnell, Republican senator of Kentucky, just minutes ahead of the vote.
Democrats have also tried to highlight just how much power Justice Barrett, 48, will have to rewrite American law—and, potentially, shape the course of an election in which nearly 60 million people have already voted. Not only are issues like abortion, LGBTQ rights, and gun control likely to come before the bench in the coming years, but the Supreme Court will hear oral arguments in another lawsuit over the Affordable Care Act on November 10, just days after the election.
During her confirmation hearing in front of the Senate Judiciary Committee two weeks ago, Democratic senators drew parallels to the legendarily conservative Justice Antonin Scalia, who Barrett clerked for. When President Donald Trump introduced Barrett at a Rose Garden ceremony in late September, Barrett told the crowd of Scalia, "His judicial philosophy is mine."
Barrett told the Democrats that she would make her own decisions on cases, rather than mirror Scalia's. But she also largely avoided giving any clues about how she may rule on future cases or how she feels about some of the hottest political and legal issues in the United States right now.
In particular, Barrett evaded answering questions about the limits of presidential power: She declined to say if Trump can pardon himself, if a president can unilaterally move an election, or if presidents should commit to peaceful transfers of power. She has also declined to say whether she believes that systemic racism and climate change are real.
But Senate Republicans didn't try to hide that Barrett, a devout Catholic, is personally opposed to abortion. Supporters of abortion rights fear that Barrett will help overturn Roe v. Wade, the 1973 Supreme Court decision that legalized abortion nationwide.
When the Senate Judiciary Committee met last week to vote on whether to advance Barrett's nomination, Democrats ended up boycotting the vote. South Carolina Sen. Lindsey Graham, the committee chair, waived the committee's rules and held a vote anyway, without any Democrats president, to advance Barrett's nomination to the full Senate.
On Sunday, Democrats tried to filibuster Barrett's nomination, to no avail.
"This Republican senate majority is breaking faith with you, doing the exact opposite of what it promised four years ago, because they wish to cement a majority on the Supreme Court that threatens your fundamental rights," Senate Minority Leader Chuck Schumer, Democrat of New York, told the American people in a speech before the vote. "And I want to be very clear with my Republican colleagues: You may win this vote and Amy Coney Barrett may become the next associate justice of the Supreme Court, but you will never never get your credibility back."
The Trump administration plans to swear Barrett in right after the vote, in a White House ceremony Monday. The Rose Garden ceremony where Trump first introduced Barrett is now suspected to have contributed to a coronavirus outbreak among Senate Republicans and White House staffers; Trump even tested positive for the coronavirus after the ceremony.
Barrett marks Trump's third appointment to the Supreme Court, following Justices Neil Gorsuch and Brett Kavanaugh. Trump has also now appointed more than 200 federal judges and tilted the American federal judiciary towards conservatism for a generation to come.
How an anti-democratic Constitution gave us Amy Coney Barrett
In 2016, President Trump lost the national popular vote to Democratic nominee Hillary Clinton. He lost it by a lot — 2,865,075 votes, to be precise.
Meanwhile, the Senate just voted to confirm Trump's third nominee to the Supreme Court. The vote was almost entirely along party lines, with Sen. Susan Collins (R-ME) crossing over to vote with all 47 members of the Senate Democratic caucus.
Yet, while pro-Barrett senators control a majority of the Senate, they represent nowhere near a majority of the entire nation. Indeed, the senators who voted against Barrett represent 13,524,906 more people than the senators who voted for her. (I derived this figure using 2019 census estimates of each state's population. You can check my work using this spreadsheet.)
These two numbers — 2,865,075 and 13,524,906 — should inform how we view the actions Barrett will take now that she is one of the nine most powerful judges in the country. Barrett owes her new job to two of our Constitution's anti-democratic pathologies.
If every American's vote counted equally in a presidential election, Hillary Clinton would be president right now and Barrett would still be a law professor at Notre Dame. And if the Senate did not give Wyoming the same number of senators as California — despite the fact that California has more than 68 times as many people as Wyoming — Barrett would not have been confirmed.
And Barrett is not unique. The first justice in American history to be nominated by a president who lost the popular vote, and confirmed by a bloc of senators who represent less than half of the country, is Neil Gorsuch, Trump's first nominee. The second is Brett Kavanaugh, Trump's second nominee. The third is now Barrett. That's half of the Supreme Court seats held by Republicans.
It is likely, moreover, that the Court's newly enlarged Republican majority will make the United States even less democratic. Republican-appointed justices severely weakened the Voting Rights Act — the primary legal safeguard against racist voter discrimination — in Shelby County v. Holder (2013) and Abbott v. Perez (2018). Just last week, the Court divided 4-4 on whether to toss out an unknown number of ballots in the pivotal state of Pennsylvania.
The Pennsylvania Republican Party, which hopes to see these ballots tossed out, has already asked the Supreme Court to take up this case again. With Barrett on the Court, the GOP may now have five votes to prevail.
And that's just the beginning. The Supreme Court plans to hear two related cases this term, Brnovich v. Democratic National Committee and Arizona Republican Party v. Democratic National Committee, which could potentially dismantle what remains of the Voting Rights Act. At the very least, these cases are likely to weaken the nation's protections against racist voting laws, adding to the damage done by Shelby County and Perez.
Giving states broad leeway to target Black and brown voters will also likely hamper the ability of the Democratic Party, with its multi-racial coalition, to compete for the presidency or for control of Congress.
American democracy, in other words, has slipped into a death spiral. Anti-democratic features of our Constitution enabled a party that does not enjoy majority support to gain power. That party is now entrenching its power by appointing judges who tend to be hostile to voting rights. And, as the courts hand down more and more decisions undermining the right to vote, Democrats will find it harder and harder to compete in national elections.
Democrats, however, may have a brief opportunity to pull the nation out of this death spiral. Right now, polls show Democratic presidential nominee Joe Biden favored to win his upcoming election, and Democrats are favored to gain control over both houses of Congress.
If Democrats control Congress and the White House, they can add seats to the Supreme Court or enact other judicial reform measures that can dilute the influence of judges like Barrett and even reestablish a pro-democracy majority on the nation's highest Court.
Even in the best-case scenario for Democrats, however, there is no guarantee that they will hold onto the Senate for more than two years. Indeed, because of Senate malapportionment, Republicans stand a decent chance of regaining control of the Senate in the 2022 midterm elections — especially if a Republican Supreme Court spends the two years between now and the midterms limiting the right to vote.
Democrats, in other words, will likely need to make a very difficult decision very quickly: add seats to, or drastically reform, the Supreme Court, or risk the further entrenchment of Republican power thanks to our anti-democratic Constitution.
---
Will you help keep Vox free for all?
The United States is in the middle of one of the most consequential presidential elections of our lifetimes. It's essential that all Americans are able to access clear, concise information on what the outcome of the election could mean for their lives, and the lives of their families and communities. That is our mission at Vox. But our distinctive brand of explanatory journalism takes resources. Even when the economy and the news advertising market recovers, your support will be a critical part of sustaining our resource-intensive work. If you have already contributed, thank you. If you haven't, please consider helping everyone understand this presidential election: Contribute today from as little as $3.