Back in March, when my grocery store's shelves were barren and COVID-19 infection rates began to dangerously ascend in New York City, where I live, I picked up a near-daily habit: After cooking each evening, I took a picture of my dinner, and texted it to my mom.
I've sent pictures of food to my mom before, of course. She is Chinese, and food is one way we relate to each other. Visits and holidays are punctuated by good meals, cooked or eaten out, and later discussions about how good those meals were. 
Yet this ritual of showing her what I was eating, at least once a day, took on a heavier, unspoken meaning during a pandemic that has now killed over 200,000 people in the United States, and keeps us geographically separated from each other.
"It's about nutrition," said Becky Hsu, an associate professor of sociology at Georgetown University, when I told her about my texts. "It's about your physical health. But you're not explicitly saying how you feel. It's an interesting, quick, way to connect on a very gentle and physical level." 
Hundreds of people were dying per day in my city. My friends were laid off. One of my best friends died. My partner lost his job. A picture of my dinner was a simple reassurance, a way to say that my physical body was okay—even amongst ongoing emotional turmoil. To show her that I was trying my best, making an effort to nourish myself. And for my mom, someone born in China during a famine that killed millions of people, my dinner was also proof that I was safe.
In China, instead of "How are you?" people often ask, "Have you eaten?" 
Hsu said she has several Chinese American friends whose parents call them every day, "and their conversation is: 'Hi.' 'Hi.' 'Did you eat?' 'Yeah.' 'What did you eat?' 'I ate this.' 'Okay, bye,'" Hsu said. "The point isn't the words so much, it's just the connection. 'Have you eaten?' is like, 'I love you.'"
My mom and I don't say "I love you" to each other, and many Asian parents don't communicate love verbally. In a viral video from 2014, young Chinese people told their parents "I love you," and their parents reacted with shock, anger, or confusion. 
Journalist Candice Chung wrote in The Sydney Morning Herald that her parents also regularly inquire, "So, have you eaten?" "It doesn't matter what time of day it is or which meal, specifically," she wrote. "Rather than asking each other how we are, we'd end up spending most of the time describing our dinners over the phone." If Chung was feeling upset, instead of receiving a hug or verbal affirmations, her mother might "put an unexpected fried egg in our noodles." 
In 2017, I wrote in Undark about how Asian people have been found to express their emotions more through the body, something that has been observed by cultural psychologists and anthropologists since at least the 1980s. 
Early research in this area can be rife with racist tropes—claims that Chinese people feel emotions in a less sophisticated manner, or don't have the vocabulary to express what they feel, using the body or food instead. But more recent work by Asian academics has continued to find that the ways East Asian people express their emotions are not better or worse than the way others do—they simply reflect an emotional schema that's developed over time, as all of our mental states are culturally shaped, at least in part. 
In times of trouble, Chinese people might reach out not with words or feelings, but with action. In a study from 2017, Hsu and her co-authors looked at how breast cancer survivors interacted with their families. They found that the relatives of Chinese American women wanted to do practical things, like offer medical advice, help someone to eat well, and enact their love through acts of service. "I'll do chores for you," Hsu said. "I'll cook for you. That is love. They didn't want to necessarily get into emotions. In contrast, the European Americans said it was a great opportunity to talk and really cry it out together."
I'll admit that sometimes it's not enough. I have desired to talk more explicitly about emotions and mental health, and wanted to not have those subjects feel off-limits or taboo. But in 2020, it can be remarkably freeing to leave words and cognition behind and return to physiological basics. At times when there was nothing to say, no way to talk through the deluge of emotions, I could gesture at my perseverance with a colorful plate of vegetables. 
"It's not that Chinese people have no emotions, it's just different," Hsu said. "A different way of relating."
This summer, Hong Li, a professor of pedagogy and Chinese at Emory University, heard that many of her students from China weren't able to go home because their flights were cancelled, or they were unsure if they could go home and still return to the US in the fall for school.
Li co-teaches a summer class called Noodle Narratives on the Silk Road, which began in the summer of 2016, and explores the cultural importance of noodles in different countries. 
For their midterm assignment during COVID, the students were asked to cook a dish personally meaningful to them. 
"Making something allows them to feel this connection to their loved one back home," Li said. 
Alex Li, a economics major and Eastern Asian Studies minor, cooked pepper sautéed pork (辣椒炒肉). In his reflection essay he wrote that he chose this dish because of his homesickness—he was able to leave Atlanta for Vancouver but was unable to return to China in June, as he planned, because of China's travel restriction and his status as a Canadian citizen. "I do not even know when I will be able to return," he wrote. 
Cooked peppers with sautéed pork is originally from the Hunan province near the south of China. Alex wrote that when he was growing up, he had eaten this dish with noodles on his way to kindergarten, with rice at home for lunch, or at restaurants.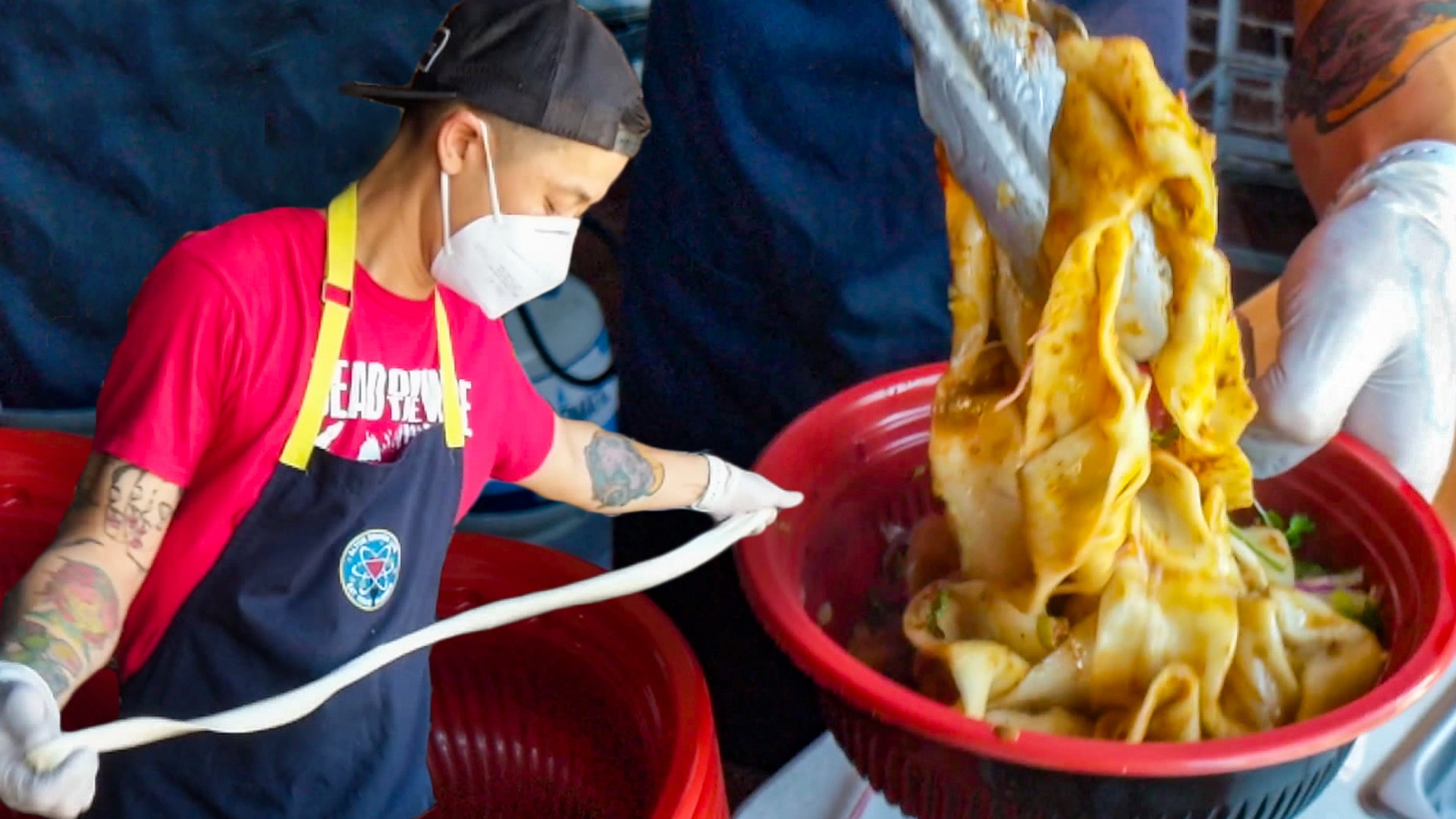 "Whenever I prepare 辣椒炒肉 away from home, I also take a picture and send it to my family on WeChat," Li wrote. "It is my way of expressing how much I have missed them while away from home."
Cherie Wang, a student from Beijing, cooked Da Lu Mian, a noodle dish, for her assignment, inspired by her memories of her grandparents feeding it to her. "However, my studies have taken me away from my grandma," she wrote. " I no longer get the chance to eat my grandma's most delicious dish of the Da Lu Mian."
She called her grandma to get her recipe, and her noodles turned out good, but something was missing. "At the end of the cooking, I realized that my grandma's love and warmth of family members at home were just as an important ingredient as the other ingredients," Wang wrote. "I guess that is what makes the Da Lu Mian dish special. For me, it is all about family."
When I was growing up, it was sacrilegious to skip a meal. If fate intervened and delayed lunch or dinner, panic ensued; a mad scramble to find sustenance. Eating before you were hungry, "just in case," was encouraged. 
Many Chinese adults living today have pasts marked by a traumatic lack of food. My mom was born in 1961 in Sichuan in the midst of China's Great Famine, which killed 45 million people by conservative estimates. The same year she was born, there were parts of Sichuan where the death rate was 50 percent. 
During the famine, people ate whatever they could find to keep themselves alive: wild plants and animals, bugs, tree trunks, or decomposing animals. People ate white clay, dubbed "immortal clay," which dulled the overpowering sensation of hunger, but also caused severe constipation. Many of those who didn't die from starvation became sick or died from eating toxic or poisonous plants, or the indigestible substances like earth and clay. 
Today, food is one way that survivors still grapple with this time period. Xun Zhou, a reader in modern history at the University of Essex, wrote in 2012 that the recipes and kitchen practices people used during the Great Famine "continued to provide solace and are often the only hope and consolation for many survivors. Their shared remedies and recipes, which they used to sustain hunger and to survive famine, provide a non-threatening context to elicit and explore what are often painful memories."
Hunger or a lack of food are warning signs that something has gone horribly wrong; that one's environment is crumbling, and that fatal events loom. The first time I had to stand in line to get into my grocery store, thinking of the overflow of dead bodies being stored in refrigerated trucks in Queens, I wondered if this was going to be my great catastrophic historical event. 
Though standing in line at Whole Foods has little actual resemblance to the Great Famine, I also, somehow, felt a sense of guilt. My mother suffered to give me a life where I should never have to stand in line for food. The pictures of my dinner were a promise: Things aren't great, but they're still better than that. 
Food is meaningful in all cultures, not just in China. It is much more than sustenance; it is family, childhood innocence, vulnerability, tradition, and a way to relate. When I worked in restaurants, I felt a warm bemusement and understanding towards families that were quiet and morose until the food arrived, and then—like puppets being pulled by their strings—animated and chatty upon the arrival of their entrees. 
With family, those inextricably dear, but at times, tortuous others we are bound to, there are not always words. But there is food. To lose that vital communication strategy has been a tragic, and sometimes necessary, consequence of the pandemic.
Ruize Niu, from Nanjing, wrote that he still remembered the last plate of fried rice noodles her grandmother made her before he came to the US in January. "I have not tasted my grandmother's noodles since then," he wrote. 
He cooked tomato and egg stirred noodles for his assignment in Li's class, "which brought me back to the alley where my home is located," he wrote. He reflected on how the food was much more than just its ingredients, but the memories that came with is: "The days with grandmother, a crush on a girl, the smile on the owner's face, and many stories that are never told to others." 
Li told me that before a long journey, it is traditional to prepare dumplings for someone—a symbol of your good wishes and hope that they stay safe. When loved ones return home, it's customary to prepare a bowl of noodle soup. "It represents the joy of having loved one back home," Li said. "Everything is expressed through the noodles, not necessarily through a physical interaction, like a big hug, or language—saying I love you." 
My grandmother is currently in China, living alone; we are not able to visit her or eat with her. I know when we see each other again, she will prepare our arrival meal days before I board a plane. She will peel fruit so that I eat only the tender, naked flesh of apples and pear, and not the fibrous skins. She will tell the story of how, when I was a baby, I would only stop crying when she fed me segments of the springtime's sweetest oranges.
Until then, my mother will tell her each week how many vegetables I am eating, and how good my meals are. When my grandmother can finally ask me: "Have you eaten, 吃饭了吗?" I will tell her, "Yes, 吃了."
Follow Shayla Love on Twitter.
Pennsylvania Supreme Court rules mail-in ballots can't be rejected over mismatched signatures
The Pennsylvania Supreme Court ruled unanimously on Friday that mail-in ballots cannot be rejected if a voter's signature looks different than the one on their registration form.
The ruling came after Pennsylvania's Democratic Secretary of State Kathy Boockvar, the state's top election official, turned to the court for clarity on the legality of her signature-matching policy. She introduced guidance in September that said ballots shouldn't be thrown out due to mismatched signatures, and has since been mired in a legal battle with President Donald Trump's reelection campaign and other Republicans.
The court decision — backed by five Democrat and two Republican justices — marks a victory for Democrats and voting-rights advocates in a critical battleground state Trump won by roughly 44,000 votes in 2016. It comes on the heels of another loss for Republicans in the state: the October 19 order by the US Supreme Court, which let stand a Pennsylvania Supreme Court ruling that mailed-in ballots received up to three days after Election Day must be counted.
"County boards of elections are prohibited from rejecting absentee or mail-in ballots based on signature comparison conducted by county election officials or employees, or as the result of third-party challenges based on signature analysis and comparisons," the court wrote, upholding Boockvar's guidance.
"If the Voter's Declaration on the return envelope is signed and the county board is satisfied that the declaration is sufficient, the mail-in or absentee ballot should be approved for canvassing unless challenged in accordance with the Pennsylvania Election Code," Boockvar wrote in September. "The Pennsylvania Election Code does not authorize the county board of elections to set aside returned absentee or mail-in ballots based solely on signature analysis by the county board of elections."
Over 1.4 million Pennsylvanians have already submitted mail ballots, according to the US Elections Project, the overwhelming majority of which have been sent by registered Democrats.
Pennsylvania and other states across the US are expecting an unprecedented surge in mail ballots as voters attempt to find ways to avoid in-person voting due to the coronavirus pandemic.
Signature-matching processes are a contentious issue because, as political scientists and voting rights advocates point out, election officials who are likely to reject far more authentic signatures than false ones in an electoral system in which fraud is exceedingly rare.
As The Atlantic reported, a Carroll College political scientist working on behalf of plaintiffs challenging a signature-matching law in Ohio calculated that there was a 97 percent chance that a given ballot in Ohio rejected on the basis of a signature mismatch was wrongly rejected. And in 2016, perceived signature mismatches constituted the biggest reason mail ballots were disqualified.
Voting rights advocates have also pointed out that signature matching processes are likely to disproportionately exclude authentic signatures from very young voters, very old voters, disabled voters, and voters of color.
In battleground states — like Pennsylvania — with potentially razor thin margins between candidates, policies surrounding matching signatures could play a decisive role in the outcome of the election. With a significant 20 electoral votes at stake, and an ideologically heterogeneous population, Pennsylvania's laws on including ballots are particularly pivotal. According to FiveThirtyEight's polling averages, Democratic nominee Joe Biden holds a 6 point lead in the polls over Trump in Pennsylvania — but both candidates have made the state a focus in the final days ahead of the election, hoping to win over new supporters.
---
Will you help keep Vox free for all?
The United States is in the middle of one of the most consequential presidential elections of our lifetimes. It's essential that all Americans are able to access clear, concise information on what the outcome of the election could mean for their lives, and the lives of their families and communities. That is our mission at Vox. But our distinctive brand of explanatory journalism takes resources. Even when the economy and the news advertising market recovers, your support will be a critical part of sustaining our resource-intensive work. If you have already contributed, thank you. If you haven't, please consider helping everyone understand this presidential election: Contribute today from as little as $3.
What the next GDP figure will — and won't — mean
Five days before Election Day, new data will be released providing the first look at how fast the economy grew in the third quarter of 2020. It's a safe bet that third-quarter growth will clock in at the fastest pace ever recorded. It's also a safe bet that the number will be ballyhooed as a great accomplishment. Maybe the greatest ever.
But in reality, the job of rebuilding the economy will be far from done.
Most economic forecasters expect the GDP growth figure announced on October 29 to be somewhere in the neighborhood of 25 to 30 percent at an annual rate; some think it could even come in a few percentage points higher than that.
If the number is somewhere in that range, it will indeed earn the title of the fastest GDP growth figure ever posted. And it will signify that the country has made some progress on the road to recovery. But it will not mean the economy is booming, or even that it has fully recovered. In fact, the third-quarter increase will represent only a partial rebound from another record-setter: the sharpest collapse ever recorded during the second quarter.
The truth is that the recovery is far from complete; momentum has slowed in the past few months; and risks to further progress abound.
Even record-breaking growth won't be enough to undo what happened this spring
During the spring quarter, there was a colossal drop in real GDP—more than 31 percent at an annual rate. That drop resulted from the imperative to put the economy into a temporary deep-freeze, in hopes of slowing the spread of the virus. The shape of this recession differed dramatically from any other in living memory. In the typical post-World-War-II recession, manufacturing and construction have been hit especially hard. This time, it was service industries that took it on the chin—especially ones that depend on lots of people being close together. Think bars, restaurants, air travel, hotels, conventions, and the like.
The second-quarter decline was triple the size of the previous worst-ever quarterly drop since the current method of score-keeping began in 1947. A couple of quarters during the Great Depression and during the decommissioning from World War II were probably worse, but when you need to reach back to the '30s and '40s for comparisons, you begin to get the idea for how bad the second quarter of this year was.
In fact, the decline was so bad that even the record-breaking growth we're likely to see announced for the third quarter won't be enough to reverse it. As shown in the chart, even if the late-October announcement comes in at 33 percent—toward the more optimistic end of the range, and in line with the expectation of the economic forecasting firm IHS Markit—real GDP will remain 3½ percent below its previous peak, reached at the end of last year. And it will remain a little more than 5 percent below where it would have been if growth had continued steadily, uninterrupted by the pandemic, at the average pace of 2018 and 2019.
Real GDP would have to have increased a whopping 53 percent at an annual rate in the third quarter to return to its previous level. (Why not 36.4 percent, if GDP declined at a 5 percent annual rate in the first quarter, and a further 31.4 percent rate in the second quarter? Because that's not how it works. Suppose GDP was at 100, and then it fell to 50 — a drop of 50 percent. If it then rose by 50 percent, it would only move back to 75. A similar calculation is required here.)
The recovery has slowed
Most of the rebound reflected in the GDP growth figure that will be published at the end of October actually occurred in May and June — before the third quarter even began.
IHS Markit constructs estimates of monthly GDP using methodology that mimics as closely as possible the procedures underlying the official quarterly numbers published by the Commerce Department. According to their estimates, real GDP rebounded about 5 percent in May and 6 percent in June. After that, though, monthly growth slowed sharply, to 1½ percent in July and ½ percent in August. If their estimates prove accurate, a 33 percent GDP growth rate for the third quarter would be consistent with essentially no growth in the month of September.
Sound crazy? Plenty of other indicators suggest that momentum has slowed. In May and June, the pace of household spending rebounded quickly following a breathtaking collapse in the preceding two months. But in July and August, the improvement slowed to a crawl.
Job growth has slowed as well. By September, employment had recovered only about half the losses sustained in March and April. Even if the September pace of job recovery is maintained, the previous peak level of employment will not have been reattained until January 2022. The unemployment rate in September—the latest figure currently available—was 7.9 percent. That was down from a peak of 14.7 percent in April, but still more than twice the 3.5 percent rate in February, just before the roof fell in.
Why has the momentum of recovery slowed? One likely contributing factor is that the easy part has already been done. Once the initial lockdown was lifted, many employers were still financially viable, and their lines of business didn't depend on bringing together large numbers of people, so they could bring more workers back on board. But others were not so fortunate. For them, the current situation has begun to look more like a classic recession. A second likely contributing factor is that with each passing day, more and more families have run out of spending power: The $600 supplement to weekly unemployment insurance benefits provided under the CARES Act expired at the end of July; the relief payments of $1,200 per adult and $500 per child have not been not renewed; and the aid provided to small businesses under the Paycheck Protection Program has in many cases run dry.
Unfortunately, there's ample cause for concern that the recovery may continue to stall. The virus remains out of control. No one knows for sure when a safe and effective vaccine will be widely available, but everyone agrees that it will be difficult to build a durable and complete economic recovery until one is. Somehow, not all hope for a near-term fiscal agreement has been snuffed out, and one may yet be struck before November 3. But another possibility is that Congressional action will have to await a lame-duck session late this year, or even be postponed until the new Congress is seated in 2021.
Amid all the conflicting interpretations that you will hear over the next few weeks, what we know is this: The economy has taken a step toward recovery since the bottom fell out in April. But the job is nowhere near complete; if you need convincing on that point, just ask the millions of people who remain jobless or the millions who report being food-insecure.
The big number for GDP growth during the July-September period will represent a step back toward normal, but it will be no cause for unfurling another "Mission Accomplished Banner." Unfortunately, there is still a long way to go yet in putting back together any semblance of a robust economy. Congress can help in that process by passing another fiscal support bill.
---
David Wilcox is a nonresident senior fellow at the Peterson Institute for International Economics and the former director of the Division of Research and Statistics at the Federal Reserve Board.
The FDA approved remdesivir to treat Covid-19. Scientists are questioning the evidence.
The Food and Drug Administration on Thursday gave its first full approval for a drug to treat Covid-19 to the antiviral remdesivir. But some researchers say the FDA is once again promoting a Covid-19 therapy based on shaky evidence.
Developed by Gilead Sciences and marketed under the brand name Veklury, remdesivir previously received emergency use authorization from the FDA in May, which allowed it to be used to treat patients with severe Covid-19. In August, the FDA relaxed its guidelines to allow the drug to be used in less serious cases. President Donald Trump also took the drug as part of his treatment when he was diagnosed with Covid-19 earlier in October.
Full FDA approval promotes remdesivir to the standard of care for hospitalized patients, and other potential treatments for Covid-19 will now have to be compared to it during clinical research.
"Today's approval is supported by data from multiple clinical trials that the agency has rigorously assessed and represents an important scientific milestone in the Covid-19 pandemic," FDA commissioner Stephen Hahn in a statement Thursday. The FDA based its decision on three randomized controlled trials. (The largest of those looked at 1,062 hospitalized patients.) The trials' results showed that remdesivir reduced the length of hospital stays in some Covid-19 patients.
However, shortly before the approval was granted, a study from the World Health Organization announced preliminary results that found the drug had no effect on mortality and — unlike the FDA's findings — negligible effects on how long patients were in hospitals. The study, known as the Solidarity Trial, recruited almost 12,000 patients, making it the largest Covid-19 treatment study in the world thus far. Researchers say the findings should have given the FDA pause.
"I think it's really inappropriate to give this a full approval because the data don't support it," said Eric Topol, a professor of molecular medicine at the Scripps Research Translational Institute. "What [the FDA] should have done instead of issuing the approval was put on the brakes."
Absent a vaccine, doctors are desperate for an effective treatment for Covid-19, and the FDA's approval of remdesivir finally gives them an option. In the United States, Covid-19 case counts are rising again, with states like Wisconsin opening field hospitals to deal with a looming surge.
But the approval of remdesivir has raised concerns, not only because of the results of the WHO's trial but also because it follows a number of questionable FDA authorizations for other Covid-19 therapies that appear to have been influenced by political pressure from the White House.
Now some researchers and doctors are concerned that remdesivir could not only be less effective than promised, but that its approval could also undermine other efforts to develop better Covid-19 therapies.
How remdesivir works against Covid-19 — and why its effects are limited
Remdesivir seems to be most effective relatively early on for hospitalized patients with severe Covid-19. To help beat back the illness, it interferes with how SARS-CoV-2, the virus that causes Covid-19, makes copies of itself. The virus uses genetic instructions in the form of RNA, written in a code made of molecules represented by the letters A, U, G, and C. The drug mimics the molecule represented by A, adenosine. The fake adenosine blocks the virus from copying itself but doesn't fool human cells. The result is the virus can't reproduce as much within a patient's body.
The antiviral drug was originally developed to treat the Ebola virus, and it has received a hefty investment from the US government over almost two decades, as Ekaterina Cleary, lead data analyst and research associate at the Center for Integration of Science and Industry, wrote in a piece for Stat News:
Research from the Center for Integration of Science and Industry, with which I am affiliated, determined that between gathering knowledge behind remdesivir's chemical structure and molecular target, the NIH invested as much as $6.5 billion between 2000 and 2019.
Remdesivir treatment is not without risks. It has been shown to cause some side effects in some people, such as elevated liver enzymes, which could indicate liver damage. The drug can also trigger allergic reactions, resulting in fever, shortness of breath, wheezing, swelling, low blood oxygen, and changes in blood pressure.
For a patient with private insurance, the intravenous drug can cost $3,120 for a five-day course of treatment.
Antivirals like remdesivir are most effective early on during the progression of Covid-19, when most of the damage is being done by the virus itself. It's less effective in later stages, when the problem isn't just the virus. "The severe manifestations of the disease are caused by an out-of-control immune response to the infection," said Angela Rasmussen, a virologist at the Columbia University Mailman School of Public Health.
If the immune system gets riled up, it can cause a lot more destruction than SARS-CoV-2 and require more drastic interventions like intubation, at which point another approach is needed. That's a big reason why corticosteroids like dexamethasone, which tamp down on the immune system, are the only drugs so far reliably demonstrated to actually reduce mortality from Covid-19.
But giving a patient steroids too early in an infection could prevent the immune system from mounting an effective response against SARS-CoV-2.
Coming up with an effective treatment regimen for Covid-19 requires delicately balancing where a patient is in the course of their infection and how severe their illness has become. But given how murky it is to identify a Covid-19 infection to begin with, let alone confirming the diagnosis and starting the correct treatment during the appropriate window, researchers have a hard time teasing out what interventions work best.
That's why carefully controlled large-scale clinical trials are so important. And with mixed results coming from the studies conducted to date, some scientists don't think the evidence produced for remdesivir's effectiveness is enough for the FDA to grant approval.
"I was really surprised when I saw that news," Rasmussen said.
The approval of remdesivir may actually complicate research and treatment of Covid-19
The FDA has already made some controversial decisions around drugs to treat Covid-19. In March, the agency granted an emergency use authorization for the anti-malaria drug hydroxychloroquine after President Trump called it a "game changer." Then in June, FDA revoked the EUA, saying hydroxychloroquine was "unlikely to be effective" and could cause lead to heart problems.
Then in August, the agency granted an EUA for convalescent plasma to treat Covid-19. But the National Institutes of Health said that the evidence the FDA used was "insufficient."
There is more evidence that remdesivir works, but that's not saying much. "It's not as weak as the case for plasma, but that's no standard. The case for plasma is nonexistent," said Jeremy Faust, an attending physician in the Brigham and Women's Hospital and an instructor at Harvard Medical School. "There is actually randomized controlled trial data that suggests for a subset of patients remdesivir can decrease hospital length of stay."
The strongest results in favor of remdesivir show that the patients who received it had a median recovery time of 10 days compared to 15 days for those who took the placebo. It's a significant effect, but it's not huge, and it's certainly not a cure for Covid-19 — or a way to guarantee fewer deaths.
Faust said that one of his concerns with this new FDA approval is a phenomenon known as indication creep, where a treatment that is shown to work in only a limited set of circumstances gets prescribed to more and more people. In this case, the worry is remdesivir, which is approved only for Covid-19 patients over 12 years old who needed to be hospitalized, could start being used in patients with milder courses of the illness, or used in more severe cases of the disease past the point where it could be effective.
"What will happen, I guarantee, is people will start to use the medication more than they need it," Faust said. And since the course of treatment is five days, it could extend the length of hospital stays in patients who would otherwise have remained for a shorter duration, while saddling them with unnecessary costs.
Another concern is that the approval of remdesivir, especially with such mixed evidence for its effectiveness, could undermine further research.
Topol noted that with remdesivir now as the only fully approved standard of care, it becomes much more difficult to conduct studies on other therapies, since they now have to be compared to remdesivir, the new standard of care, as well as a placebo.
That raises the cost and complexity of trials, delaying results. Such comparisons are worthwhile if the standard of care is effective, but it adds unnecessary complications if it's not.
It also makes it harder to recruit people for subsequent clinical trials of the drug to better validate its effectiveness. People may be more reluctant to sign up for a trial where they could get a placebo when they know they could get the actual drug.
"The biggest, most serious problem is that we won't get to the truth," Topol said.
It's worth noting that remdesivir could still be a viable treatment for Covid-19, but the evidence presented so far is contradictory, and more investigation is needed to clarify its effectiveness. So then why did FDA go ahead with its approval?
It's hard to say, but Herschel Nachlis, a research assistant professor of government at Dartmouth College, suggested that the FDA approval might be a strategic move by the agency to deflect political pressure away from the all-important Covid-19 vaccination campaign. There is no evidence that the White House is interfering with the vaccine approval process directly, but President Trump has linked a vaccine to his election prospects and blamed the FDA for holding it back. The appearance that a Covid-19 vaccine was rushed to meet political needs could make people reluctant to get vaccinated, so regulators are keen to distance themselves from the 2020 election campaign.
"If, in the short term, approving remdesivir gives the President a win and alleviates some pressure on the agency from the President about vaccines, that helps buy the FDA important time," Nachlis said in an email. "It might be another case, like convalescent plasma, of giving up some ground in a battle to put yourself in the position to be able to win the broader war."
Whether Nachlis's hypothesis is correct isn't yet known. But what is clear is that the evidence on remdesivir's effectiveness appears to be mixed, which is why it would have been helpful for the FDA to have held a public advisory committee meeting to discuss the evidence, a step it typically takes for full pharmaceutical approvals.
Since it may be months before a vaccine for Covid-19 is available, treatments are still urgently needed — and other approaches are being studied. Trump, for example, also underwent a course of an experimental monoclonal antibody therapy from the company Regeneron when he was treated for Covid-19. There are now multiple clinical trials of these drugs underway, but now they have competition.
---
Millions turn to Vox each month to understand what's happening in the news, from the coronavirus crisis to a racial reckoning to what is, quite possibly, the most consequential presidential election of our lifetimes. Our mission has never been more vital than it is in this moment: to empower you through understanding. But our distinctive brand of explanatory journalism takes resources. Even when the economy and the news advertising market recovers, your support will be a critical part of sustaining our resource-intensive work. If you have already contributed, thank you. If you haven't, please consider helping everyone make sense of an increasingly chaotic world: Contribute today from as little as $3.