I don't hate using the Surface Laptop Go. It didn't give me any problems. But I do have an issue with it, philosophically.
I really liked the Surface Laptop 3; I'm looking forward to an eventual Surface Laptop 4. Microsoft hasn't announced one, though. Instead, it's announced the Surface Laptop Go, a smaller, lower-priced laptop. It's intended to be a budget option that competes with Chromebooks and other student-y offerings.
Well, "budget." There's an asterisk.
There are three models of the Surface Laptop Go, and I can really only see myself recommending one of them in good conscience. The base model is $549, and it only includes 4GB of RAM and 64GB of storage. I don't see why you would buy that — even students are going to fill up 64GB in a second, and you can buy budget laptops like the Acer Aspire 3 with twice the RAM and storage (and a bigger, better screen) for the same price or the Acer Aspire 5 for just a bit more. The next model ($699) includes 8GB of RAM and 128GB of storage. I also have a problem with this one: $699 is more than I recommend spending on a laptop for kids (there are plenty of solid options under $400), but I would advise any adults or older students to look for more than 128GB of storage in a Windows laptop. It's not enough for most people, and you can get at least 256GB for much cheaper.
And then there's the model I have, which is the one that actually looks usable on paper. It has 8GB of RAM and 256GB of storage, in addition to the same quad-core Core i5-1035G1 available across the line. But it also costs $899, which means it's competing with very good laptops. And I just don't think it competes well.
Part of the premium is certainly for the Surface brand and design. The Go weighs just 2.45 pounds, making it noticeably lighter than the 13-inch Surface Laptop 3 (2.89 pounds), MacBook Air (2.8 pounds), and 13-inch MacBook Pro (3.1 pounds). That makes it the lightest ever Surface Laptop; it feels almost weightless.
On the lid is the same lustrous Windows-adjacent logo that adorns other Surface Books, Surface Laptops, and Surface Pros. But compared to those, the Laptop Go feels a bit like a toy. The top and keyboard cover are aluminum, but the base is made of what Microsoft calls "polycarbonate composite resin system with glass fiber." It's plastic. The base is made of plastic. Its rubbery texture reminds me of the outsides of Amazon's Fire HD tablets, which regularly sell for around $100. The keyboard and touchpad, while very functional, also have a plastic-y texture and feel like budget affairs.
There are a few other areas where Microsoft seems to be cutting some costs. The keyboard isn't backlit, which is a really weird omission from a $900 laptop. The camera isn't compatible with Windows Hello. And the port selection (the same as the Surface Laptop 3's) is limited to Microsoft's proprietary charging port, an audio jack, a USB-C, and a USB-A.
But the biggest area of compromise is the display. I'm generally a huge fan of 3:2 screens, and this display did afford some extra real estate; I was always able to work in multiple windows and tabs without zooming out. That said, the 12.45-inch touchscreen has just 1536 x 1024 resolution. That's better than 720p but really below today's standards. The 10.5-inch Surface Go 2 offers 1920 x 1280, and even the 10.1-inch $300 Lenovo Chromebook Duet manages 1920 x 1200. So in this case, Microsoft hasn't provided a ton of extra vertical screen space. It's more so shaved the sides off a traditional 1920 x 1080 display. If you're looking for an excellent 3:2 touchscreen and don't want to pay extra for the Surface Laptop 3, I highly recommend Acer's $629 Chromebook Spin 713, if Chrome OS meets your needs.
There are some things I like a lot about the Laptop Go. There's a fingerprint reader built into the power button (only on the $699 and $899 spec models), which is in a convenient location at the top-right corner of the keyboard, and it works quickly and reliably. And the audio was also a nice surprise. It's about average for laptop speakers, which is much better than I was expecting from such a small product. The speakers don't get loud enough to replace an external device, but my music sounded nice, and the percussion delivered a nice punch.
The Core i5-1035G1 is a year old at this point, but it's still a competent chip for this type of laptop. (That's another reason I find the base model bizarre: pairing a processor like this with 64GB of slow eMMC flash storage and a paltry 4GB of RAM feels like putting a car engine on a bicycle.) This system will be just fine for all of your office tasks, emails, video calls, and streaming. Nothing got hot, and I only ever heard the fans when I was running Adobe Premiere Pro, an uncommon task for this type of computer. The processor comes with Intel's UHD integrated graphics, which means it's not a good choice for gaming.
Speaking of Premiere Pro, the Laptop Go took an hour and nine minutes to export a five-minute, 33-second 4K video. Obviously, we wouldn't expect a thin-and-light midrange system to do exceptionally well on that task, but the result underscores the fact that you'll want to skip this product if you ever see yourself needing to do demanding work like this. For context, last year's XPS 13 with a Core i7-10710U and UHD graphics took 24 minutes to complete the same task.
I'd hoped that we might see great battery life — that's sometimes a perk of small lower-powered devices like this — but I only got six hours and 13 minutes of my daily office workload (which includes a load of 12 to 24 Chrome tabs and spreadsheets, a couple of apps, including Slack and Spotify, and various downloads) on Better Battery (Microsoft's recommended profile) with the screen around 200 nits of brightness. That's better than I get with the MacBook Pro and the MacBook Air but worse than plenty more powerful laptops that last me over seven hours, including the 13.5-inch Surface Laptop 3.
Microsoft also says the Laptop Go supports fast charging. My test unit was decent; it took 52 minutes to charge up to 60 percent with Microsoft's brick. I ran that test with the computer on to simulate a real-world scenario as best as possible. The laptop will certainly juice faster while it's off.
There's nothing I hate about the Surface Laptop Go. It's quite portable, it looks nice, and it works just fine as a daily driver for schoolwork or everyday multitasking. But Microsoft has cut some corners. And with those corners cut, I don't understand why this laptop is still $900.
At that price, you can buy a number of outstanding laptops that don't compromise nearly as much. For $779, you can get an HP Envy x360 with the same RAM and storage, a six-core processor with great integrated graphics, all-day battery life, and a standout keyboard and display. For $749, you can get an Acer Swift 3 with 512GB of storage, a 3:2 screen, and way more ports. If you would consider a Chromebook, the $629 Chromebook Spin 713 is excellent in almost every way. I could go on and on.
All of these computers are a bit heavier than the Go but still quite portable — and they don't ask as many sacrifices in return for that portability. They all have backlit keyboards, bigger and better displays, better port selections, and the look and feel of premium competitors.
Plus, if you're willing to spend a little bit more, you're in the territory of XPS 13s, MacBooks, and Surface Laptop 3s. (The latter is old enough now that you can snag a sale price on some configurations if you keep an eye out.)
It's understandable to cut corners for a good price. Some (like the lack of facial recognition) are understandable at $900. But this laptop doesn't fit into today's market. It's too expensive to compete in the budget space, and it makes too many compromises to rise to the top of the midrange. When it goes on sale, maybe take another look.
New AI-powered sensor measures starlight distortion to help discover new planets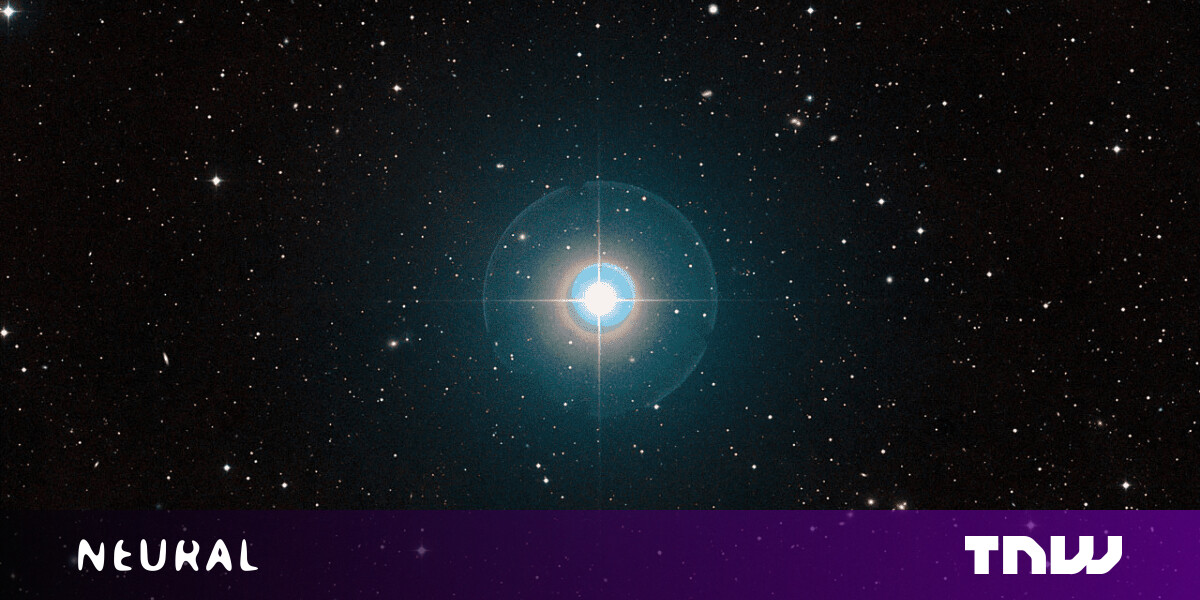 Sydney University scientists have invented a sensor that neutralizes a star's twinkle, which could help astronomers find new planets in distant solar systems.
The sensor uses an advanced light convertor and AI to measure and correct the distortion of starlight caused by the Earth's atmosphere. It will now be installed on the 8.2m Subaru telescope on the summit of Maunakea, Hawaii, one of the largest optical-infrared telescopes in the world.
"The main way we identify planets orbiting distant stars is by measuring regular dips in starlight caused by planets blocking out bits of their sun," said study lead author Dr Barnaby Norris in a statement.
"This is really difficult from the ground, so we needed to develop a new way of looking up at the stars. We also wanted to find a way to directly observe these planets from Earth."
[Read: ]
The "photonic wavefront sensor" will help astronomers directly image exoplanets around distant stars from Earth.
"Unlike conventional wavefront sensors, it can be placed at the same location in the optical instrument where the image is formed," explained Dr Norris. "This means it is sensitive to types of distortions invisible to other wavefront sensors currently used today in large observatories."
You can read the full research study in Nature Communications.
Published October 21, 2020 — 17:32 UTC
Kite adds support for 11 new languages to its AI code completion tool
When Kite, the well-funded AI-driven code completion tool, launched in 2019, its technology looked very impressive, but it only supported Python at the time. Earlier this year, it also added JavaScript and today, it is launching support for 11 new languages at once.
The new languages are Java, Kotlin, Scala, C/C++, Objective C, C#, Go, Typescript, HTML/CSS and Less. Kite works in most popular development environments, including the likes of VS Code, JupyterLab, Vim, Sublime and Atom, as well as all Jetbrains IntelliJ-based IDEs, including Android Studio.
This will make Kite a far more attractive solution for a lot of developers. Currently, the company says, it saves its most active developers from writing about 175 "words" of code every day. One thing that always made Kite stand out is that it ranks its suggestions by relevance — not alphabetically as some of its non-AI driven competitors do. To build its models, Kite fed its algorithms code from GitHub .
The service is available as a free download for Windows users and as a server-powered paid enterprise version with a larger deep learning model that consequently offers more AI smarts, as well as the ability to create custom models. The paid version also includes support for multi-line code completion, while the free version only supports line-of-code completions.
Kite notes that in addition to adding new languages, Kite also spent the last year focusing on the user experience, which should now be less distracting and, of course, offer more relevant completions.
Who is Google's market power hurting?
Yesterday, the Department of Justice and 11 states sued Google for violating antitrust law. The complaint argued that Google had become "the unchallenged gateway to the internet for billions of users worldwide," but that its success depends on unfair and monopolistic behavior. In some ways, the case is an obvious and long-awaited move. But it's also an early test of how American antitrust law will handle the coming decade's tech giants.
Since the late 1970s, antitrust cases have typically focused on demonstrating consumer harm, like a company cornering the market on oil and jacking up gas prices with its power. This can be less straightforward with free services like Google search, but it's hardly impossible. The landmark Microsoft antitrust case — which this complaint is modeled on — started when it released the free but widely disliked Internet Explorer browser while stifling the innovative paid competitor Netscape Navigator and limiting the overall market.
Google has countered by saying that 2020 is a different era. "This isn't the dial-up 1990s, when changing services was slow and difficult, and often required you to buy and install software with a CD-ROM," it said in a blog post. "Today, you can easily download your choice of apps or change your default settings in a matter of seconds—faster than you can walk to another aisle in the grocery store."
The Justice Department lays out a multipronged argument for why this isn't right. It argues that Google has tipped the scales across web browsers, mobile devices, and emerging products like smart devices, ensuring that "all search access points funnel users in one direction: toward Google." It pays for placement as Safari's default iOS search engine — possibly providing a hefty chunk of Apple's profits — and requires Android phone makers to preinstall search widgets on their phones. Meanwhile, its Chrome browser has around 60 percent of the US browser share, giving Google yet another venue for promoting search. "By using distribution agreements to lock up scale for itself and deny it to others, Google unlawfully maintains its monopolies," the complaint says.
The filing touches on how this might affect consumers. It notes that some search companies, like privacy-focused startup DuckDuckGo or the subscription-based Neeva, could appeal to consumers who distrust Google's targeted advertising or data collection policies. "Google's control of search access points means that these new search models are denied the tools to become true rivals."
Google disagreed by saying that people proactively choose its product, even when it's not the first option. In 2014, for example, Mozilla started offering Yahoo as its default search engine. "Most Americans promptly switched their search engine to their first choice —Google," says Google. Mozilla ultimately terminated the deal early, citing "what's best for our brand, our effort to provide quality web search, and the broader content experience for our users" as its reasons.
Some of the company's critics have put forward counterexamples, making a case that Google's search decisions aren't actually good for users. In 2015, Yelp and legal scholar Tim Wu released a study arguing that Google's reviews carousel offers inferior results from its own products rather than more relevant ones from third-party sites. When given a plug-in with alternative results, Google users would click more often on the non-Google offerings.
Yelp and TripAdvisor later launched a site called Focus On The User, which calls on Google to use an "organic, merit-based process" instead of favoring its own products. If this truly provided a better experience and Google faced more pressure to compete, the company would have a greater incentive to take that step. Accordingly, Yelp praised yesterday's decision, with public policy head Luther Lowe calling it "a critical first step in confronting Google's anticompetitive abuses and monopoly power in search."
But there's a bigger factor in play: lots of people want to overturn this consumer-centric standard, focusing on a much broader definition of harm. And that idea got a big boost earlier this month, when Congress released its sweeping report on monopolistic practices online. The Democratic majority called for establishing a legal standard "designed to protect not just consumers, but also workers, entrepreneurs, independent businesses, open markets, a fair economy, and democratic ideals."
Critics of Google have offered reasons it fits that bill. "While Google's anti-competitive practices hurt companies like us, the negative impact on society and democracy wrought by their surveillance business model is far worse," said DuckDuckGo's founder and CEO Gabriel Weinberg after the announcement. "The endless data collection and behavioral targeting originated by Google and forced onto the world through its search engine monopoly has led to discrimination, polarization, and the widespread false belief that getting privacy online is difficult."
But the Justice Department is waiting for Congress to pass new laws that would let it focus on that case. According to some reports, the Department of Justice also rushed the case to announce it before the election. So it's working with existing laws, at least for now.
Even so, Charlotte Slaiman of Public Knowledge, which praised the Justice Department's complaint, says the processes can roll out in tandem. "I don't think the case requires any changes to antitrust law in order to be successful. But I do think that Congress and an antitrust case can be working in parallel at the same time," Slaiman says. As the Justice Department brings its case against Google, Congress can take a broader view of the industry — and potentially change the course of antitrust cases to come.