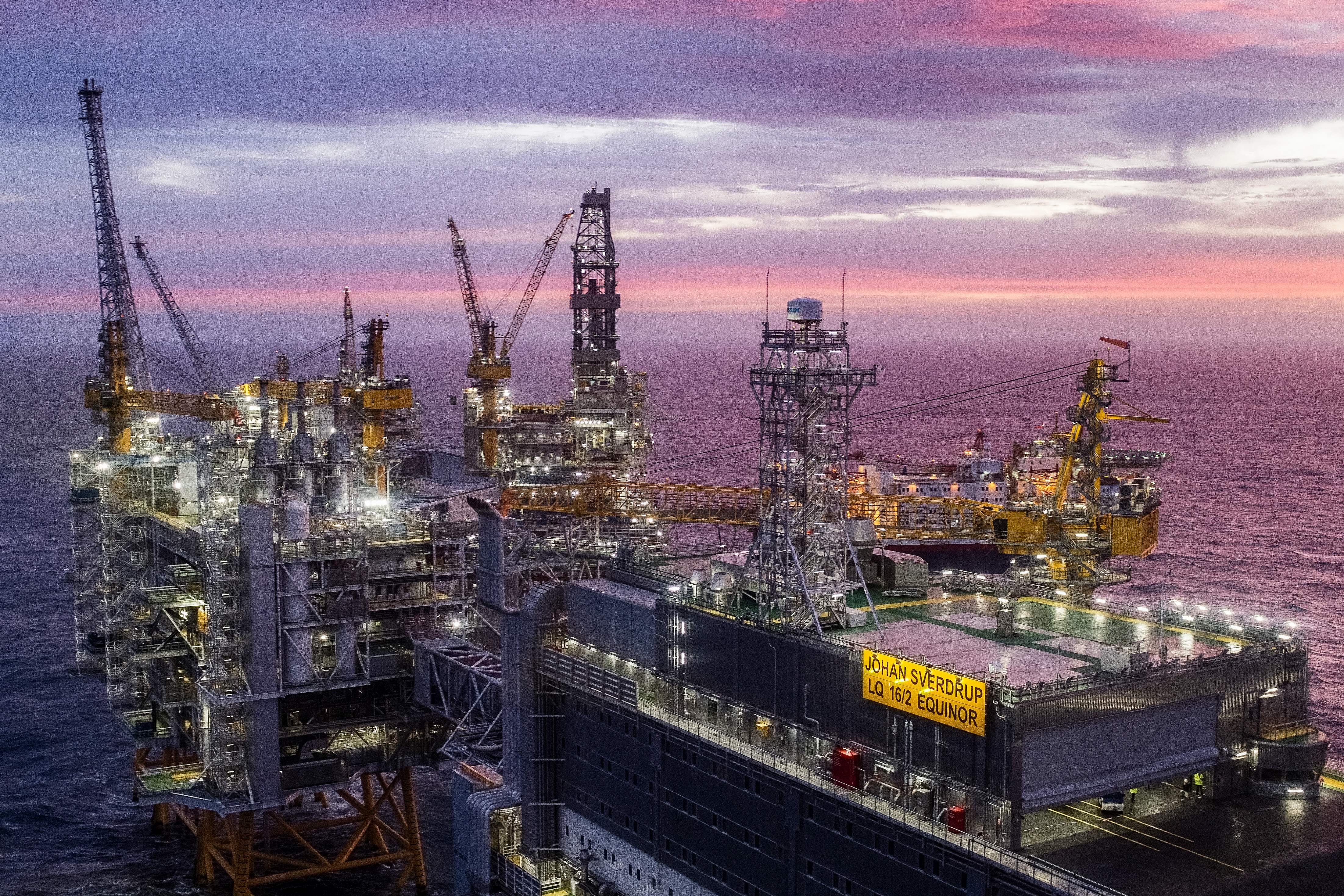 Forty-three workers in Norway could bring Sverdrup, the largest oil field on stream in Western Europe to a grinding halt on October 14, in a strike over pay and working conditions. 
The looming shutdown of the Sverdrup oil field is part of an ongoing work stoppage that spread earlier this week across the Norweigan continental shelf, one of the top oil producing regions in the world. 
"If the ongoing strike on the Norwegian continental shelf continues until 14 October, the Johan Sverdrup field in the North Sea will have to close production until further notice," Equinor, which owns the Sverdrup oil field said in a statement on October 7. 
One hundred and sixty nine striking workers across four oil platforms are demanding the Norwegian Oil and Gas Association match the pay and conditions at onshore remote-control rooms with those of offshore platform workers. 
On Thursday, their union announced an escalation, saying the strike will spread to four new oil platforms on Sunday if the Norwegian Oil and Gas Association and the union cannot reach an agreement. One of these platforms is run by U.S. producer ConocoPhillips. 
The Norwegian Oil and Gas Association, which represents oil and gas employers across the country, said the strike could soon wipe out 25 percent of Norway's oil and gas production. 
"Nearly a quarter of total oil and gas production from the Norwegian continental shelf could be affected if the Norwegian Organisation of Managers and Executives opts to remain on strike," Norwegian Oil and Gas Association wrote in a statement on its website on Thursday.
While the number of striking workers is relatively small—the impact of their strike could cost oil and gas producers hundreds of millions of dollars. Sverdrup alone has an output of up to 470,000 barrels of oil per day. 
Norway's oil and gas production has declined in recent decades, but the development of the massive Sverdrup oil field, which lies 86 miles off the coast of western Norway, has prompted industry experts to speculate about a new oil boom in the country—worrying climate activists that this will hamper efforts to fight climate change. 
Equinor and Lederne did not immediately respond to Motherboard's requests for comment. 
NFL announces 8 positive tests among players
Ventilation and student placement can affect how coronavirus particles move around a classroom, according to a study published on Tuesday in the journal Physics of Fluids. The study also found that removing some seats, opening windows, placing glass barriers on desks and focusing on hand hygiene may help to reduce spread of the virus.
The authors conducted 20 computer simulations of how particles could spread based on a classroom including nine students and an instructor and desks with and without glass screens on the front.
Each student's placement went beyond the typical recommendation of 6 feet of separation – instead there was 7 feet and 10 inches between each person. The model's floor plan consisted of three rows of three desks with an instructor at the front corner. 
"Aerosol distribution in the room is not uniform and is strongly influenced by air conditioning layout," said the authors, from the University of New Mexico. 
Based on the simulation, the authors suggest removing the middle seat to reduce potential spread. Students in the back corners received two to three times fewer particles on average than other students, so those may be better positions for students at risk for Covid-19 complications, the study said.
The authors said opening windows while the air conditioning was on increased the particles exiting the room and decreased particles deposited on those in the room. 
The study emphasizes the need for "efficient filtering in the air conditioning systems."
Ventilation from air conditioning systems reduces the number of particles in the air. However, since air flow is often recycled, the authors said particles exiting the classroom "may pose greater risk to individuals in other rooms." 
Even with only nine students and distance between them, aerosol "is transmitted in significant quantities between students and from one student other students' desks," the study said, highlighting the need for hand sanitization.
In the simulations, glass screens on desks reduced the spread of small particles from one student to another, and the authors said they should be used. But effectiveness will vary depending on air conditioning and the source of the aerosol.
Khashoggi's fiancee, rights group sue MBS for journalist's murder
Hatice Cengiz files US suit alleging that the Saudi crown prince and officials planned Khashoggi's 'ruthless' murder.
Hatice Cengiz, the fiancee of late Washington Post columnist Jamal Khashoggi, has filed a lawsuit in the United States against Saudi Crown Prince Mohammed bin Salman (MBS) over the journalist's grisly murder.
Cengiz and a rights group founded by Khashoggi before his death filed the lawsuit on Tuesday in a Washington, DC District Court against MBS and more than two dozen other top Saudi officials.
It alleges that Khashoggi was the victim of a ruse that began in Riyadh's US embassy when he went there to secure documents to marry Cengiz.
The lawsuit claims the "plan to permanently silence Mr Khashoggi by murdering him was put in motion no later than the summer of 2018" by MBS and other Saudi officials named in the document.
The plan was crafted after the defendants allegedly learned of Khashoggi's plans to use Democracy for the Arab World Now (DAWN), the rights group he founded, "as a platform to espouse democratic reform and promote human rights", the suit continues.
New: Hatice Cengiz, the fiancee of slain journalist Jamal Khashoggi, filed a civil lawsuit this a.m. in federal court against Mohammed bin Salman, the Crown Prince of Saudi Arabia, and other Saudi officials seeking to hold them liable for Khashoggi's death https://t.co/wb3PSxbIrg pic.twitter.com/FBoAdTKvTm

— Zoe Tillman (@ZoeTillman) October 20, 2020
It accuses MBS and Saudi officials of having "manufactured an opportunity to murder him" in which Saudi officials in the Washington Embassy told Khashoggi he could not receive the documents in the US, and would instead have to travel to Istanbul to get them at the Saudi consulate there.
"This fatal misdirection took place in the United States and was part of the overall conspiracy intended to have a direct impact on Mr Khashoggi's political activities in the United States. Defendants and their co-conspirators orchestrated these actions with the intention of murdering Mr Khashoggi"  the lawsuit alleges.
Khashoggi was ultimately killed in the consulate in October 2018, and his remains have not been found.
Saudi Arabia acknowledges its agents killed Khashoggi but blames it on a botched rendition operation that was executed without MBS's consent, an explanation excoriated by critics who doubt the killing could have been conducted without the direct knowledge and consent of MBS, the kingdom's de facto ruler.
The CIA, the US international intelligence service, believes that MBS directed Khashoggi's murder, according to reports from the Washington Post, New York Times and BBC.
Khashoggi's killing was internationally condemned. US lawmakers introduced a Senate resolution to blame MBS for Khashoggi's killing. Turkish President Recep Tayyip Erdogan has also repeatedly promised to bring the perpetrators to justice.
The lawsuit filed by Cengiz and DAWN seeks significant monetary damages, which it says should be determined by a trial jury.
"I am hopeful that we can achieve truth and justice for Jamal through this lawsuit," Cengiz said in a statement. "I place my trust in the American civil justice system to give voice to what happened and hold those who did this accountable for their actions."
Trump's new attack: Biden "wants to listen to Fauci"
In the final weeks of his reelection campaign, President Donald Trump is facing harsh polling in key states and a major financial disadvantage, notwithstanding a pandemic that has left over 220,000 Americans dead and millions in dire economic straights. In response, Trump has debuted a new line of attack on former Vice President Joe Biden: "He wants to listen to Dr. Fauci."
At a rally in Phoenix, Arizona, on Monday, Trump told the crowd in disparaging tones that "Biden wants to lock it down," and heed the advice of National Institute of Allergy and Infectious Diseases Director Dr. Anthony Fauci. The day before, at a rally in Carson City, Nevada, Trump mocked Biden by saying "he'll listen to the scientists. If I listened totally to the scientists we would right now have a country that would be in a massive depression."
Biden's subsequent tweet indicates he's likely not worried about this line of attack.
The Washington Post reported that this attack may have less to do with Biden and more to do with Fauci, who gave a critical 60 Minutes interview that reportedly angered the president. During the interview, Fauci said that "the president's conduct made it unsurprising that he caught the coronavirus and that the administration had tried to muzzle him." The next day Trump named him in his attacks on Biden in Arizona.
Trump may have a hard time rallying more supporters by vilifying the 79-year-old public health expert. A Morning Consult poll conducted October 9-11 among 1,986 registered voters shows that "nearly 2 in 3 voters rate Dr. Fauci's coronavirus response as excellent or good." In stark contrast, Trump has "never topped the 42 percent of voters" who gave him a "good or excellent" rating in late April. In early October, this poll indicates that 58 percent of voters believe Trump's handling of the virus has been "poor" or "just fair."
Another poll from the Kaiser Family Foundation conducted August 28 to September 3 among 1,199 American adults has 68 percent of voters with "a great deal" or "a fair amount" of trust in Dr. Fauci to "provide reliable information on coronavirus." The same poll has only 40 percent of voters saying the same of Trump.
Whether personal vendetta or strategic move — this is unlikely to be the game-changer Trump needs to shake up the race.
---
Will you help keep Vox free for all?
The United States is in the middle of one of the most consequential presidential elections of our lifetimes. It's essential that all Americans are able to access clear, concise information on what the outcome of the election could mean for their lives, and the lives of their families and communities. That is our mission at Vox. But our distinctive brand of explanatory journalism takes resources. Even when the economy and the news advertising market recovers, your support will be a critical part of sustaining our resource-intensive work. If you have already contributed, thank you. If you haven't, please consider helping everyone understand this presidential election: Contribute today from as little as $3.