Still no first stimulus check? How to track it and report your absent payment to the IRS – CNET
If you never received your first stimulus payment, it could be time to contact the Internal Revenue Service at the phone numbers below. We recommend that before you do, you take a moment to see if you can track the whereabouts of your check. It might be that the IRS just hasn't sent it yet, or there could be an actual problem you need to help solve. We've laid out some steps below to track and report its absence.
The IRS has already sent out the payments for the majority of adults who were eligible for the first stimulus payment and is currently rectifying some mistakes by sending checks for dependents that were meant to be sent sooner. That could be one problem holding your money up that's unbeknownst to you.
If you're unsure of what's taking so long, it's a good idea to track down the issue now, especially if you think you'll qualify to get a second stimulus payment and potential additional benefits, should another relief package be signed into law.
This story updates often.
This is when you should report your late stimulus check to the IRS
If you're certain you meet the qualifications to receive the first stimulus check, these are warning signs that you should contact the IRS right now:
The Get My Payment tracking tool reports the IRS made your payment weeks ago and you haven't received it (see below).
You received a confirmation letter from the IRS that your payment was sent, but you didn't get the funds.
You think you accidentally threw your prepaid card or check in the trash (see below).
You suspect someone stole your check or otherwise defrauded you.
Keep reading for more on these issues and for phone numbers to call to contact the IRS.
Did you receive a confirmation letter, but no check in the mail?

A handful of CNET readers reported that the IRS sent them a letter confirming their payment but that they haven't received their checks.
"Last week I got a letter in the mail saying that I received my payment. But, no, I have not," a CNET reader reported after getting the confirmation letter the IRS sends out 15 days after it sends the payment.
The IRS didn't respond to our question about how it handles payments reported to have been sent but that people say are missing.
Is there another form the IRS still needs you to file?
If you filed a 2018 or 2019 tax return or receive government benefits, the IRS should automatically send your check without you having to do anything.
If, however, you're a US citizen or permanent resident, had a gross income in 2019 under $12,200 — or $24,400 as a married couple — and didn't file a return for 2018 or 2019, you may need to give the IRS a bit of information before it can process your payment. Head to the Non-Filers site and see if the IRS needs something from you.
The nonfilers tool will be available till Oct. 15, the IRS told CNET, and people who register for a payment using the tool before then will receive their check by the end of the year.
Try the IRS Get My Payment tracking tool first
It's worth visiting the IRS' online portal designed to track the status of your 2020 payment. Generally, it should tell you when your check will be processed and how you'll receive it (for example, as a paper check in the mail). If the Get My Payment tool doesn't give you information you can understand or says your check is on the way and you haven't received it, you may need to eventually report the discrepancy to the IRS.
If you see a 'Need More Information' message from the Get My Payment app…

If the Get My Payment tool gave you a payment date but you still haven't received your money, the IRS may need more information. Check the Get My Payment tool again and if it reports "Need More Information," this could indicate that your check has been returned because the post office was unable to deliver it, an IRS representative told CNET.
After you see the "Need More Information" message, the online tool will let you enter your banking information to receive your payment straight to your bank account. The IRS said If you don't provide your bank account information, the agency will hold your payment till it receives a current mailing address. Head to the IRS change-address page for how to update your address with the IRS.
Could you have accidentally thrown away your check or debit card?
Four million people were to receive their stimulus money on a prepaid debit card called the Economic Impact Payment Card, instead of a paper check. The EIP card arrives in a plain envelope, the IRS said, with "Money Network Cardholder Services" as the sender.
Some people, taking it for junk mail, may have mistakenly thrown these letters away. If you've misplaced or thrown away your card, the EIP card service has an FAQ on what to do if your card is lost or stolen. You can also call 800-240-8100 to request a replacement. It's free, according to a spokesperson for the Treasury Department. To request a new card, press option 2 when prompted.
However, the EIP card website says, "Your Card will be deactivated to prevent anyone from using it and a new replacement Card will be ordered. Fees may apply."
We recommend calling the above number for a lost or stolen card and speaking to a representative.
Could the IRS have sent your check to a closed account?

Your check may have bounced back to the IRS if the agency tried to send your payment to a now-closed bank account or to a temporary prepaid debit card a tax preparer set up for you. If your payment was returned to the IRS, the agency will mail your check to the current address it has on file for you.
Did the federal government intercept your payment?
If you owe child support, the IRS can redirect your payment to cover past-due support. The Bureau of the Fiscal Service will send you a notice if this happens.
Was your payment only a portion of what you think you're owed?
A different, but related, issue could be a change in your income in 2020. In some cases, the IRS may owe you more money than you received if the income figure used to calculate your payment from your tax returns in 2018 or 2019 is less in 2020.
Likewise, if you now have a new dependent, such as a child, who isn't reflected on your tax returns, you may be owed more money. In either case, the IRS said, you can claim the additional amount on your 2020 tax return when you file next year. We recommend keeping a detailed record so you don't forget.
Were you a victim of mail fraud or a scam?
Though it's uncommon, you may believe you've been scammed out of your payment or had it stolen. The Federal Trade Commission has a website where you can report a stolen stimulus check. We've asked the IRS what other recourse you have if this situation applies to you, and we'll update this article when we hear back. If you're worried about theft, you can sign up for a free USPS service that will send you a picture of every piece of mail coming your way — including your stimulus payment.
How to call the IRS to ask about your absent stimulus check
If you do contact the IRS by the phone, it's a good idea to give yourself plenty of time for the call. We wouldn't be surprised if call volumes are up, or if conversations take some time. It's also a smart idea to gather your information in front of you before you make the call, like a copy of your most recent tax ID and the letter that the IRS sent if you received one.
Within 15 days after it sends out your payment, the IRS should mail you a letter confirming the payment. At the bottom of the letter is a number you can call for more information: 800-919-9835.
In May, the IRS added 3,500 telephone representatives to help with potential problems regarding payments. The IRS help number is 800-829-1040.
Source : CNET Read More
The Apple Watch Series 6 Is Already $20 Off
Best Tech Deals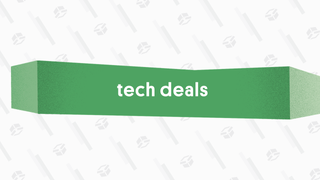 Best Tech Deals
The best tech deals from around the web, updated daily.
Apple Watch Series 6 (44mm) | $415 | Amazon
Apple Watch Series 6 (40mm) | $385 | Amazon
It's only been out a week since launch and we're already seeing discounts on the Apple Watch Series 6. Amazon has some 40mm models down to $375, while the 44mm falls to $415, both about $20 off and shipping anywhere between 1-4 weeks out.
The Apple Watch Series 6 runs laps around the competition as far as technology is confirmed. It features everything you love about the Series 5 watch like an ECG heart rate sensor, and also adds new tricks like a blood oxygen sensor and an always-on altimeter, making it more ideal than ever for fitness buffs.
G/O Media may get a commission
---
Source
Samsung thinks its new 85-inch Interactive Display is the digital whiteboard for the COVID-19 classroom
Samsung would like you to believe its new 85-inch Interactive Display can bridge the gap between students in the classroom and students studying at home, now that blended-learning is the new normal across the country. In reality, it's just a slightly bigger digital whiteboard — but assuming it doesn't cost too much, the tweaked vision does sound intriguing.
Now that COVID-19 has swept the country, some students are huddling around tiny Chromebook screens at home while others stay in class, and Samsung's internet-connected digital whiteboard promises to let students and teachers collaborate with each other, whether they're in that classroom drawing on the board or adding to it in real-time from their laptop at home. The goal here isn't to necessarily connect everyone better – they've had a few months to get a handle on that over Zoom – but rather to let the kind of collaboration that can happen when everyone's together, happen while students are apart.
While the Interactive Display is mostly just a larger version of Samsung's existing Flip 2 digital whiteboards, the 85-inch size means it's as large as an actual school whiteboard (though it weighs far more at 164 pounds). Compared to the previous 55- and 65-inch models, more students could theoretically use the board at once. Samsung imagines the display primarily mounted in a classroom where they can use its 4K touchscreen and support for four pens (it comes with two) to write and draw; it supports up to 20 fingers (and pen tips) simultaneously. Teachers might be able to hook up multiple computers or other video sources to the display, too, with two HDMI 2.0 ports compared to the one on the Flip 2.
But before you petition your school for one, it's worth mentioning that the device has no announced price. The 65-inch Flip 2 comes in at $2,599.00, and Samsung's 85-inch TVs start at $1,799.99, so perhaps the Interactive Display won't cost too much more than those? Still, most schools are even more constrained during the pandemic than they would be normally, and this screen doesn't even come bundled with some of the education software Samsung is advertising. I think it would be great for these to be used in schools, but to me, Samsung's framing for the Interactive Display sounds a little more opportunistic than realistic.
How to enable dark mode on all of your essential apps
Welcome to TNW Basics, a collection of tips, guides, and advice on how to easily get the most out of your gadgets, apps, and other stuff.
Ah, dark mode — the charcoal gray color palette associated with night time and eyeball-saving. It's not without its detractors, not even among my own colleagues. But there are plenty of people, including me, who can't get enough of the dusty-colored theme. Luckily dark mode is available on just about every device and app — so we'll walk you through how to make your digital life just a little bit darker.
Note that we're going to show you how to enable dark mode on several of the most essential apps and services — there isn't enough time or space on our servers to show you how to enable dark mode everywhere, as it's a very omnipresent theme. But these will make a good starting point.
Social media
Most social media apps have added dark mode to make late-night browsing easier. Facebook, of all sites, is one of the latecomers. It only added dark mode with the latest redesign, which you can read about here. The dark mode toggle is in the main drop-down menu of the site. While Instagram doesn't have an in-app dark mode option, it syncs to your phone's dark mode — you can read about how that works here.
Twitter has a similar setting to Instagram, in that you can sync its color palette with the system settings — meaning, if your phone is already in dark mode, it'll go dark automatically. You can also manually set it to dark mode by going to the settings, and looking for the dark mode toggle under "Display and Sound. You can read more about the options here.
Messenger originally only had dark mode via an emoji-based Easter egg, but it has since joined the bandwagon for real. In order to switch on dark mode, you just have to tap your profile picture and the toggle is right there at the top of the options. You can read more about it here.
Workplace apps
It's not just social media that wants to spare your eyes. Several of your favorite workplace apps have also added dark mode settings, so even your work computer can look as sooty as a fireplace. For starters, Slack now has a dark mode available on its iOS and Android apps (which you can read about here) as well as its desktop client (which you can read about here).
WhatsApp has also added dark mode to its web and mobile version, albeit at different times. You can read about how to enable dark mode on the web client here, and on Android here. As with other apps mentioned here, WhatsApp will automatically go into dark mode on iOS when iOS itself is set to dark mode.
Google has also added dark mode to its Docs, Sheets, and Slides on Android, which you can read abut here. Also, it's not a workplace app per se, but Google Play also has dark mode — in order to switch it on, you just need to go to the app settings and look for the Theme menu. You can read about it here.
Operating systems
Just like all of the above, the different operating systems for phones offer dark modes for you to turn on at night to make browsing or working easier on your eyes. Apple added dark mode to iOS 13, and as mentioned, turning it on will kick most apps into dark mode if it's available. You can read about how to turn it on here. Similarly, Android introduced a Dark theme in the Android 10 update, which you can find in the Display settings.
If you want some variety, Windows 10 also has a light mode in addition to dark — you can find both in the personalization settings. You can read more about it here.
And that's it! While this won't necessarily make your whole life an obsidian paradise, it'll at least put dark mode on all of your favorite apps. Good luck!