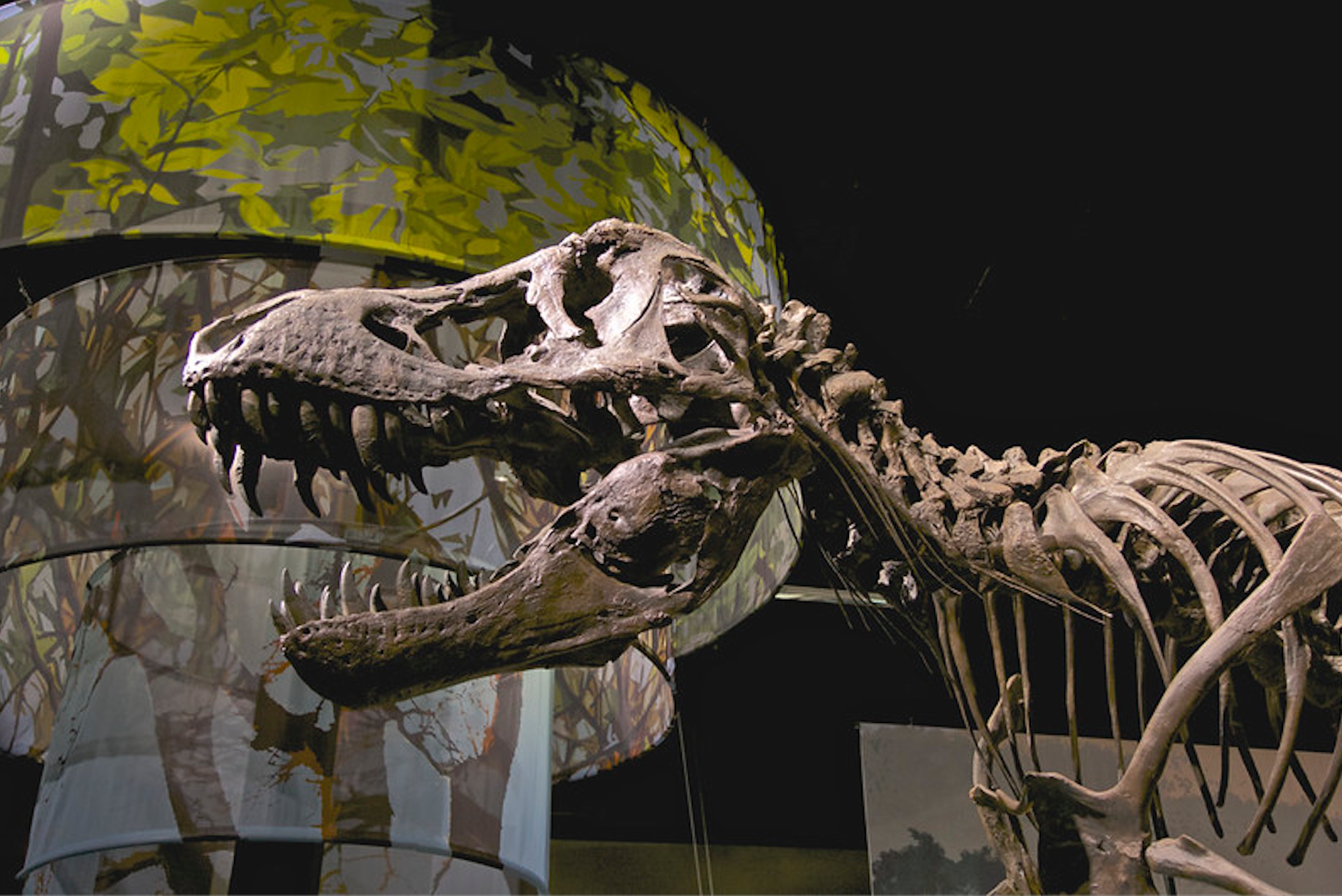 The remains of a Tyrannosaurus rex that lived some 67 million years ago have been sold at auction for $31.8 million, a world record for a fossilized dinosaur.
The near-complete T. rex skeleton, named "Stan," now belongs to an anonymous buyer who secured the milestone bid at the "20th Century Evening Sale" held Tuesday at Christie's in New York.
The hefty price tag dwarfs what the Field Museum in Chicago paid for its T. rex, named "Sue," which was procured for $8.4 million in 1997. Sue held the title of "most expensive dinosaur" for more than two decades—until this week.
Stan, also known as Lot 59, was expected to attract a price comparable to Sue, but the bidding war blew past the $6-8 million guide price within minutes and ended up at $27.5 million, with a few million more tacked on for commission fees and other costs.
James Hyslop, head of Christie's science & natural history department, called the opportunity to buy Stan "a once-in-a-generation chance" in a statement.
"There simply aren't T. rexes like this coming to market," he said. "It's an incredibly rare event when a great one is found."
Stan was discovered in 1987 by its namesake, amateur paleontologist Stan Sacrison, at Hell Creek Formation in South Dakota. For decades, the remains of the iconic T. rex have been on display at the Black Hills Institute of Geological Research in Hill City, South Dakota. The specimen was put on sale at the request of a 2018 court resolution between the museum shareholders, who are brothers.
Measuring some 40 feet in length and 13 feet tall, Stan is among the most complete T. rex fossils in the world. The specimen contains 188 bones, representing about 70 percent of the full skeleton. Its skeletal features suggest that it was a male.
Because of the dinosaur's exceptional condition, casts of Stan have ended up at dozens of museums around the world. Stan's skull is particularly well-preserved, and contains puncture wounds that suggest the animal tousled with other tyrannosaurs. Some of Stan's wounds appear to have partially healed before the animal died, at an estimated age of 20.
Given that the buyer remains unidentified, it's unclear where Stan will end up now. Sue has become a beloved attraction of the Field Museum, so many paleontologists hope to see Stan remain accessible to the public, instead of hidden away in a private collection.
"I am keeping my fingers and toes crossed that this remarkable fossil stays in the public domain for all to enjoy," Phil Manning, a paleontologist at University of Manchester, told BBC News.
India reportedly considers Taiwan trade talks, angering China
Support is growing within India's government to formally start talks on a trade deal with Taiwan as both democracies see relations with China deteriorate.
Taiwan has sought trade talks with India for several years, but Prime Minister Narendra Modi's government has been reluctant to move ahead because it would involve a messy fight with China once any pact is registered at the World Trade Organization, according to a senior Indian government official who asked not be named, citing rules for speaking with the media.
Yet over the past few months the hawks in India who want to start trade talks are getting the upper hand, the official said. A trade deal with Taiwan would help India's goal of seeking greater investments in technology and electronics, the official said, adding that it's unclear when a final decision would be made on whether to start talks.
Earlier this month, Modi's government gave approval to firms including Taiwan's Foxconn Technology Group, Wistron Corp. and Pegatron Corp. as he looks to attract investment worth more than 10.5 trillion rupees ($143 billion) for smartphone production over five years.
Indian Commerce Ministry spokesman Yogesh Baweja didn't immediately respond to a request seeking comment. Taiwan's top trade negotiator, John Deng, didn't immediately respond to emails seeking comment.
Any formal talks with India would amount to a big win for Taiwan, which has struggled to begin trade negotiations with most major economies due to pressure from China. Like most countries, India doesn't formally recognize Taiwan, with the two governments maintaining unofficial diplomatic missions in the form of "representative offices."
India and Taiwan in 2018 signed an updated bilateral investment agreement in a bid to further expand economic ties. Trade between them grew 18% to $7.2 billion in 2019, according to India's Department of Commerce.
India "should remain committed to the One China principle and approach Taiwan-related issues prudently and properly," Chinese Foreign Ministry spokesman Zhao Lijian told a daily briefing in Beijing on Tuesday. "There is only one China in the world and Taiwan is an inalienable part of China. One China Principle is a universal consensus of the international community, India included."
'Country' Spat
President Tsai Ing-wen's administration has raised its profile in India in recent weeks after China issued a statement telling Indian media outlets not to refer to Taiwan as a country when reporting on its Oct. 10 National Day celebrations. Twitter users in India lambasted China and its ambassador to New Delhi, Sun Weidong, while heaping praise on Taiwan and making the hashtag #TaiwanNationalDay go viral.
Indian public sentiment toward China has fallen in the wake of deadly border clashes between the two neighbors starting in May. Modi's government has since banned dozens of Chinese apps including TikTok, while also speaking with Japan, Australia and the U.S. about creating alternative supply chains to diversify away from China in the wake of the coronavirus pandemic. India has seen more than 7.5 million infections and 115,000 deaths from Covid-19.
China's Insistence That Taiwan Isn't a Country Starts Backfiring
That displeasure with China, as well as Taiwan's successful handling of the pandemic, is translating into a soft power opportunity for Tsai. Taiwan's 24 million have seen fewer than 600 infections and only seven deaths.
"We have to think about the way for democracies, for like-minded countries, to work further together," Taiwan foreign minister Joseph Wu said during an interview last week on the television network India Today. "We have traditional good relations with the United States, with Japan, and we want to develop closer ties with India as well."
Tsai, who was voted into a second term in a January landslide, has sought to capitalize on the wave of interest in Taiwan among Indians online. On October 11, she thanked Indian Twitter users who had sent national day greetings. Two days later she went viral again, posting photos of her visiting the Taj Mahal.
On October 15, Tsai tweeted a photo of Indian food accompanied by a cup of masala chai, which some Twitter users saw as a possible reference to the so-called Milk Tea Alliance that has united activists from Taiwan, Hong Kong, Thailand and elsewhere against Chinese nationalism. All three tweets received more than 40,000 likes each and thousands of friendly messages from Indian accounts.
China's Communist Party, which claims Taiwan as its territory despite having never ruled it, has pushed back against the Tsai administration's overtures to India.
"We urge relevant Indian media to adhere to the correct position with regard to the significant core interests of China's sovereignty and territorial integrity," Ji Rong, a spokesperson for China's embassy in New Delhi, said in a statement on Friday. Indian media, Ji continued, "should not provide 'Taiwan independence' forces a platform, so as to avoid sending the wrong message."
Sana Hashmi, a fellow at Taipei-based National Chengchi University and author of "China's Approach Towards Territorial Disputes: Lessons and Prospects," said it makes sense for India to align with Taiwan economically.
"Increasingly there seems to be an awareness not just among Indians but even in other nations about how China has dictated relationships in the region," said Hashmi, who has penned op-eds in Taiwanese and Indian media encouraging closer ties between the two democracies. "And it's not like China is going to give any concessions to India or Taiwan for toeing its line."
Netflix show reveals the power of plastic surgery for trauma victims
For vanity or medical necessity? To enhance or to correct? Clients or patients?
Plastic surgery
has traditionally been divided into two separate camps: the cosmetic and the reconstructive.
Cosmetic procedures are broadly about the quest for beauty, whereas reconstructive ones restore functions lost or impaired. The two may share history, expertise and technology, but when it comes to our attitudes toward going under the knife, the dichotomy matters.
Netflix's new reality show "Skin Decision: Before and After" demonstrates, however, the distinction between what is considered cosmetic and reconstructive isn't always so clear.
Across the first season's eight episodes, Dr. Sheila Nazarian and nurse Jamie Sherrill consult patients carrying the scars, irregularities and deformities of personal trauma. Some have suffered violent attacks or road accidents; others bear painful reminders of lifelong acne or the physical damage of alcoholism.

Dr. Sheila Nazarian and nurse Jamie Sherrill. Credit: Netflix
But it could be argued that all of the participants stand to gain psychologically from undergoing some form of surgical or non-surgical cosmetic procedure, even if it isn't strictly necessary. Using their field's latest technologies, Nazarian and Sherrill eliminate scar tissue, smooth damaged skin and restore patients' smiles (quite literally in the case of one man, whose facial injuries caused pain every time he smiled).
They use tucks, fillers and lasers — treatments that are, on paper, cosmetic rather than reconstructive. Yet, their patients aren't searching for perfection.
Unlike other plastic surgery reality shows, which routinely document wealthy participants' efforts to remove wrinkles, enlarge breasts or lift buttocks, those appearing on "Skin Decision" often just want to return to their former selves. As a patient with large amounts excess skin, following a dramatic weight loss, explains in one episode: "I don't have to look like Barbie. I just want to look normal."
"It's an emotional change, it's a therapeutic thing we do rather than just vanity and a spectacle."
Dr. Sheila Nazarian, "Skin Decision"
Few participants better exemplify surgery's potential to transform people's lives than Katrina Goodwin, who appeared on the show following a horrific
2017 attack
in which she was shot nine times by her then-husband, who went on to kill the pair's two young daughters. Nazarian and Sherrill helped to remove scar tissue on Goodwin's abdomen, reconstruct cavernous bullet wounds and remove a tattoo bearing her ex-husband's name using advanced laser equipment.

Before and after shots show Katrina Goodwin's transformation following a horrific attack. Credit: Netflix
"Every time I took a shower I was reminded (of the tragedy)," she told CNN over the phone from Washington, D.C. "Now, when I take a shower I'm reminded … that this is phase two. This is my new beginning.
"Before appearing on the show, I didn't realize how defeated I was — defeated in my whole body language," she added. "Now friends and family say, 'You walk taller, you walk prouder, you seem happier.' So it was a transformation, and a way for me to reclaim myself and feel complete, like a normal woman."
Differing motives
When it comes to plastic surgery, the idea of normality is a subjective one, according to professor of clinical psychology and psychotherapy at Germany's Ruhr-University Bochum, Jürgen Margraf, who has studied the mental impact of undergoing cosmetic procedures.
"There's nothing to argue against getting rid of a scar — why should you walk around with a scar?" he said in a phone interview. "But then you can extend this argument. Let's say you're born with a crooked nose. Why should you live with that and try to make the most of it?"
Assessing patients' psychological suitability for surgery, therefore, also comes down to what they hope to achieve. There is a difference, Margraf said, between patients with just one bodily feature they're dissatisfied with and those with
body dysmorphic disorder
, for instance, who have such a distorted view of themselves that they "will never be satisfied with whatever surgery you do."

Nazarian pictured in surgery during an episode of "Skin Decision." Credit: Netflix
"Skin Decision" surgeon Dr. Nazarian, who carries out a broad range of procedures at her Beverly Hills clinic, also appears more concerned with how realistic patients' expectations are — and how likely they are to be pleased with the results.
"The question I'm constantly asking myself is, 'Is this person capable of happiness?'" she said in a phone interview. "If I think someone is perseverating over something imperceptible, I'll tell them, 'I don't think I can make you happy.'
"I think ('Skin Decision') is the first time that plastic surgery has been shown for what it is," she added. "It's an emotional change, it's a therapeutic thing we do rather than just vanity and a spectacle."
Patients in need
Today, a variety of cosmetic procedures are being used to treat patients in unexpected ways, according to Dr. Linda Lee, an assistant professor of otolaryngology at Massachusetts Eye and Ear's Facial Nerve Center, part of Harvard Medical School.
Lee, who specializes in facial plastic surgery, has started using cosmetic fillers to
treat patients with Bell's palsy
, a condition that causes partial or complete paralysis on one side of the face. The non-invasive procedure sees a gel-like substance injected beneath the skin to restore volume.
"When the muscle is wasted, there's no surgery that's going to make that better. But two syringes of cheek filler make an amazing difference in five minutes," Lee said in a phone interview, saying that the injections have given her patients' faces a more balanced appearance.
"It's a different skill (as a doctor) — I'm not trying to make you look younger, I'm trying to make you look symmetrical."

Research by Massachusetts Eye and Ear's Facial Nerve Center, part of Harvard Medical School, used facial filler injections to help patients with Bell's palsy. Credit: Massachusetts Eye and Ear Facial Nerve Center
But as far as insurers — or, in countries with public healthcare systems, state hospitals — are concerned, work like this exists in a "gray area" between cosmetic and reconstructive surgery, Lee said. Healthcare policies traditionally only pay out for procedures that are shown to restore function or the ability to carry out everyday tasks. (Nazarian said she would not expect the procedures carried out in "Skin Decision" to be covered by insurance companies in the US).
As such, participants in the Harvard Medical School study had to pay out of pocket for the injections, though they were offered at cost price (around $350 to $400 each). Lee hopes that her research can help encourage insurers to cover the treatment, which is far less invasive than alternatives like facial reanimation surgery — even though "people think of fillers as for aging and wrinkles."
As one of the study's patients, Suzanne Nevins, attests, this "cosmetic" procedure can help restore function too. Having suffered paralysis on the right side of her face, the 67-year-old postnatal nurse said that her speech and ability to eat foods like soup had been impaired by the condition.
"I could cry, because I could not believe how much getting that lower lip firmer helped," she said in a phone interview. "I ate better, I spoke better and I was much more comfortable. It's physical health, but it's also mental."
Related video: How red lipstick became a symbol of strength
For Lee, demonstrating the psychological benefits of the treatment is an important part of her research. Her study
found
that Bell's palsy patients were less likely to avoid photographs after receiving filler injections, and were less worried about people thinking they had suffered a stroke. Participants also reported what Lee described as a "significant" improvement in personal confidence after receiving the filler.
Beyond function
As our understanding of mental wellbeing becomes more nuanced and holistic, so too may our definition of "functionality." It more often relates to the physical, but what if a body issue affects a patient's ability to function socially, professionally or interpersonally?
"There's a continuum, from having social anxiety to being severely impaired (by it)," said Margraf. "At one end of the continuum, social anxiety has an illness-like quality that impairs your quality of life more than being a terminal cancer patient."

"Skin Decision" uses a variety of surgical and non-surgical cosmetic procedures. Credit: Netflix
For patients in "Skin Decision" and Harvard's Bell's palsy study alike, the potential psychological gains of cosmetic work are self-evident. Yet, there is evidence that patients' ability to benefit from aesthetic procedures depends on their mental well-being going into them.
"If you're not ready, if you're not strong enough and if you haven't gotten the right help mentally before doing this, you may be doing it for the wrong reasons."
Katrina Goodwin, patient on "Skin Decision"
A
13-year study
in Norway found that women with mental health issues who underwent cosmetic surgery were more likely to later experience depression, anxiety and eating problems, while
another
found that women who underwent breast augmentation were more likely to die by suicide.
"Past behavior is a good predator of future behavior," Margraf said. "So, if you're depressed before the procedure, you'll come out more depressed, in comparison to others, in the future."

Nazarian and Sherrill in a promotional still from Netflix's "Skin Decision." Credit: Netflix
Goodwin, who completed filming for the show two-and-a-half years after surviving the tragic murder-suicide, said that having cosmetic surgery "opened my own mental prison." But the 39-year-old also pointed to the dangers of treating it as a psychological cure-all.
"Your heart and mind have to be emotionally ready… If you're not ready, if you're not strong enough and if you haven't gotten the right help mentally before doing this, you may be doing it for the wrong reasons."
Top image: Nicholas Bravo, a participant in "Skin Decision," after receiving treatment for facial scarring following a road accident.
An earlier version of this story did not include Linda Lee's title. She is Dr. Linda Lee.
Rihanna's latest Savage X Fenty campaign stars Black breast cancer survivors
Rihanna is using her latest Savage X Fenty campaign to shine a spotlight on Black breast cancer survivors.
In support of Breast Cancer Awareness Month, the singer's lingerie brand asked three "survivors and thrivers" to model new styles from
a capsule collection
that will directly benefit the Clara Lionel Foundation,
a charity founded by Rihanna in 2012. A press statement said that Savage X Fenty will donate a portion of
the proceeds — up to $250,000 in total — to help the organization fund cancer research and support for Black people diagnosed with the disease.

Leiva, one of the three models, wanted her scars to be shown in photos. "I do not see my scars as scars," she said in an e-mail. "I look at them as my handmade jewerly pieces … reminding me and others I am here and thriving." Credit: Courtesy of Savage x Fenty
The campaign photographs feature Cayatanita Leiva and Ericka Hart, both 34, and Nykia McKenzie, 26, wearing the collection's sporty new styles against draped pink fabric. Each model had a hand in how they were presented, either taking the pictures themselves or with the help of a loved one.
Hart, who posed in a gray bralette and panty set, was diagnosed with two types of breast cancer at once: HER2-positive and triple-negative. The model credited the Black femme and queer communities with being a source of support.
"The Savage X Fenty campaign was affirming of my experience as not just a breast cancer survivor but all of my intersections of identity as a Black, queer, non-binary femme," Hart said in an email interview.
"Many cancer campaigns focus on one aspect, your chronic illness but not how your various identities play a role in how you navigate cancer … I also loved that the campaign didn't focus on poses that focused on strength as the sole image for living with breast cancer, but rather is just showcasing people who want to share their experience to make a difference for someone else."

McKenzie, 26, models for the new Savage X Fenty campaign. Credit: Courtesy of Savage x Fenty
Rihanna has focused on Savage X Fenty's inclusive appeal since launching the lingerie brand, a follow up to
Fenty Beauty
, in 2018. The product range caters to a variety of "nude" skin tones, and offers a wide range of sizes. Her two runway shows to date, both held at recent editions of
New York Fashion Week,
grabbed attention
for their theatrical performances and representation of diverse body types, ethnicities and genders, in stark contrast to the kind of lingerie shows the industry is accustomed to.
"My vision for the Savage X brand has always been having women feel confident and expressing themselves," she said
earlier this year
, in a behind-the-scenes video following the second of her brand's runway shows.
A striking disparity
As well as offering visibility to three individual Black breast cancer survivors, the campaign also brings attention to what it calls "unfair disparities" in the US health care system, due to factors like age and race.
A 2012 report from the Centers for Disease Control and Prevention, based on data from 2005-2009,
revealed
that the death rate for African-American women death rate was 41% higher than that of White women, despite fewer cases. A study published four years later found the gap
had lessened
for younger Black women, but not for those over 50.

"Black women, brown women, women of color, we need to be listened to and paid attention to," McKenzie said in a video for Savage X Fenty. Credit: Courtesy of Savage x Fenty
Model Leiva, who also appears in the Savage X Fenty's second runway show was diagnosed with triple-negative cancer in 2018.
"What was … great was having to bring things to light and to share my personal journey," she said over email, adding that the campaign spoke about "Black and brown concerns in the health care system and how there is a need for more representation in our communities."

"You know your body better than anyone else knows your body," said Hart in a video for the campaign. Credit: Courtesy of Savage x Fenty
McKenzie, who found a lump in her breast last June, said she was misdiagnosed twice before finally receiving treatment by a third doctor. "By March, my breast was the size of a mini watermelon. At that point, I knew what was going on," she said in a video accompanying the campaign.
"Knowing that these images will be seen worldwide means everything to me, mainly because I know now my story is being heard and that my storm was always bigger than me because the triumph is even bigger," she added in an email interview. "I know now that black women will be heard in regards to our health and our healing. I hope these images convey to you all that there's work to do and that starts with listening to young women who look like me."