A lot of American soccer fans only dove fully into European club soccer when the Premier League started showing up live on their television about a decade ago. These fans have only heard about AC Milan; they have not yet seen the storied club in full flight.
Like college football's USC Trojans, Milan are glamorous and dominant when piloted by just the right leader, finicky and mediocre in a less capable set of hands. They have won more Champions League/European Cup titles than anyone besides Real Madrid, but it has been 13 years since they last made even a semifinal. Hell, it has been more than six years since they played a Champions League match at all. Since finishing third in Serie A in 2013, their average league finish has been 6.9. Fishy signings, faulty ownership, poor managerial hires and Financial Fair Play violations conspired to hold them back.
Milan have enjoyed a fantastic run of quality signings, however, and damned if their results haven't actually been encouraging for once. Since the summer's coronavirus restart, the Rossoneri have yet to lose in league play — they've won 14 league matches with four draws and a 49-17 scoring margin. They are first in Serie A through six matches, and their core stats say this isn't a lucky start.
They're also 5-1 in Europa League play, qualifying for the group stage with wins over Shamrock, a spry Bodo/Glimt and Rio Ave in a shootout; they've won group games over Celtic and Sparta Prague. (They hosted Lille on Thursday, losing 3-0 to take a tiny bit of shine off their run.) And they've done all this while battling the temporary loss of key players such as goalkeeper Gianluigi Donnarumma and ageless striker Zlatan Ibrahimovic to positive COVID-19 tests.
It's fun to write about an old power that looks like a power again, but is this rise sustainable?
---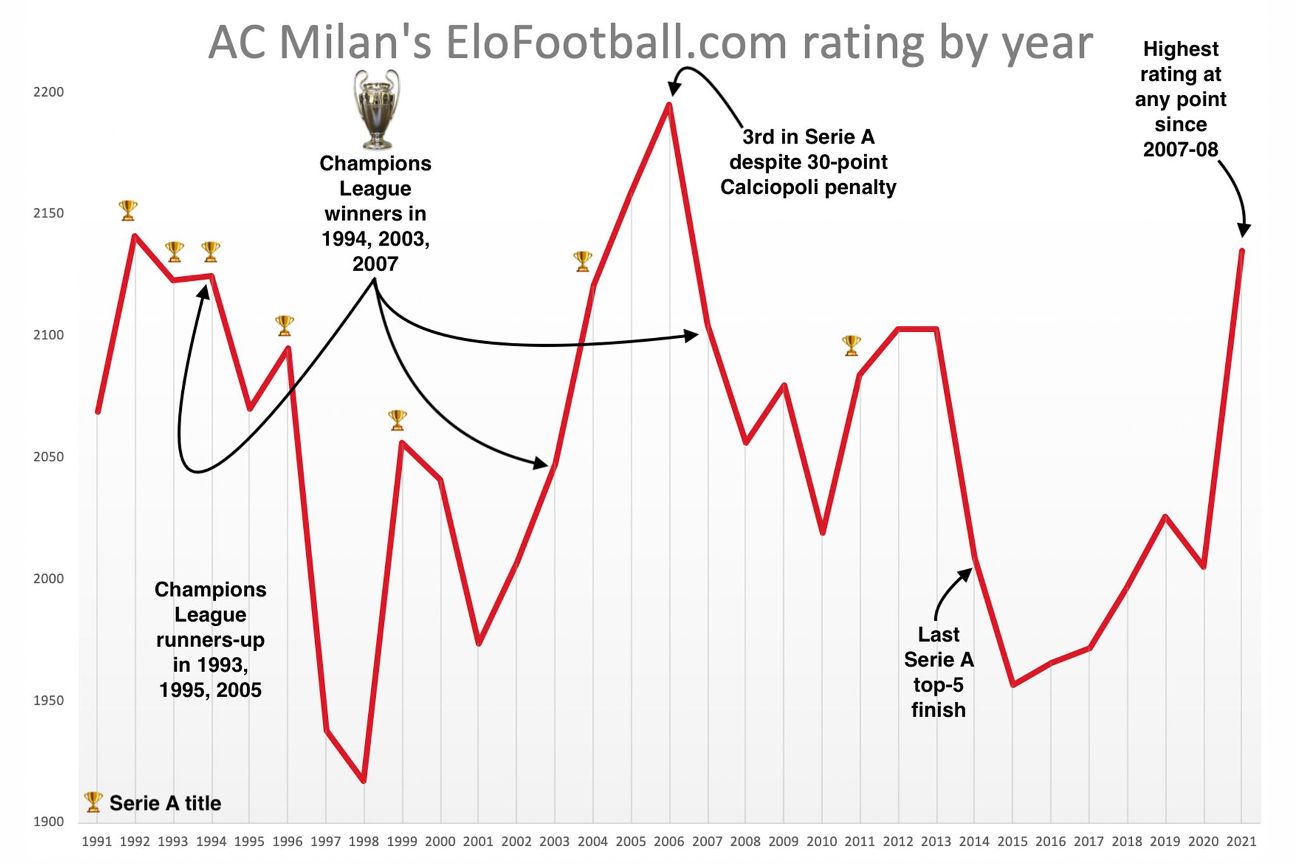 Milan's surge is the result of a pretty incredible rebuilding job that began in the summer of 2019. Thus far, 63% of their minutes in league play have gone to players acquired within the past 16 months.
Last year, they added left-back Theo Hernandez from Real Madrid, center-back Simon Kjaer from Sevilla, defensive midfielders Franck Kessie and Ismael Bennacer from Atalanta and Empoli respectively, and winger Rafael Leao from Lille. They are all part of manager Stefano Pioli's preferred XI, as is former Anderlecht winger Alexis Saelemaekers, added in January. All but Kjaer are 23 years old or younger.
To somewhat counter this inexperience and give Pioli a big target man for his 4-2-3-1 formation, they also added the 39-year old Ibrahimovic over the winter. That leaves only four members of Pioli's preferred XI who were with the club before last summer.
– Stream ESPN FC Daily on ESPN+ (U.S. only)
– Predict results in ESPN's English Soccer Pick 'Em!
– ESPN+ viewer's guide: Bundesliga, Serie A, MLS, FA Cup and more
Their depth has been impressive, too. Former Frankfurt forward Ante Rebic has been solid when healthy, young loanees Brahim Diaz (from Real Madrid), Diogo Dalot (Manchester United) and Sandro Tonali (Brescia) have impressed, and another wave of youngsters — 18-year-old forward Lorenzo Colombo, 21-year-old defender Matteo Gabbie, 21-year-old forward Jens Petter Hauge (added from Bodo/Glimt after shining in their Europa battle) — has passed initial tests as well. Injury and positive COVID-10 diagnoses have not slowed down the team, and there appears to be a sturdy backup option for each position on the field.
Teams don't tend to win titles leaning on either 21-year olds or 39-year olds, though, and Milan don't have many key players near or in the peak age range of 25-29 or so. Maybe inexperience eventually holds them back in the end, but we can say that their statistical profile befits that of a league leader so far.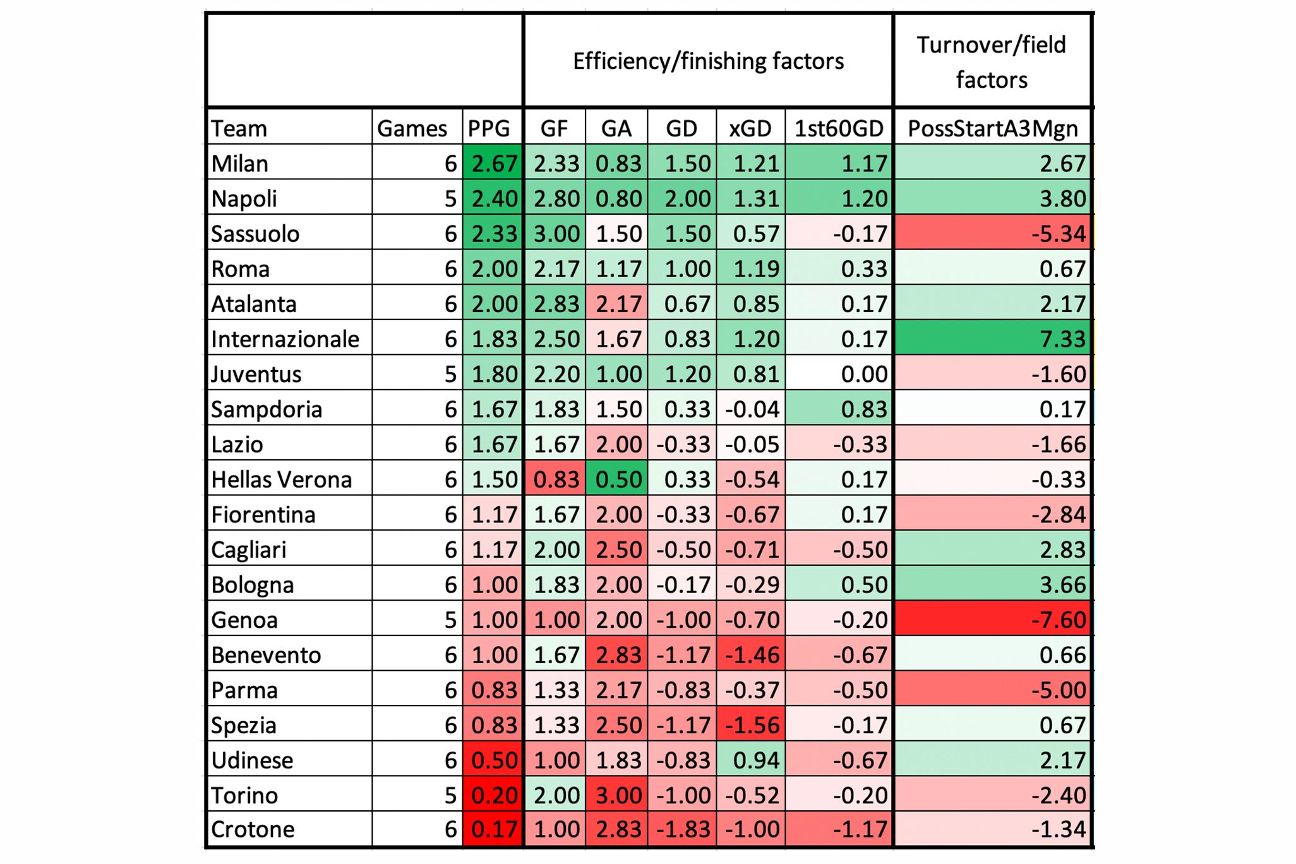 (Note: a lot of the stats from this piece were introduced in a September piece previewing the season. "1st60GD" stands for "goal differential in the first 60 minutes," and "PossStartA3Mgn" is a team's margin of possessions starting in the attacking third. This table also doesn't count Napoli's default loss to Juventus — it looks only at matches that have been played.)
Unlike an Atalanta or Sassuolo, Milan's output has been balanced: they're fifth in the league in average goals scored and third in goals allowed. Their biggest issue at the moment might simply be that a lot of teams have their respective acts together as well.
Milan have dropped only two points in six matches, but seven other clubs have at least 11 points. Milan's xG differential is rock solid, but so are Napoli's, Inter Milan's, Roma's and, to a lesser extent, Juve's and Atalanta's. (Udinese's xG differential is also bafflingly good despite five losses in six matches.)
In the Premier League, it almost feels like no team is playing incredibly well at the moment; this is eye-of-the-beholder stuff, obviously, but in Serie A it feels like the opposite.
An average number of shots, a high level of shot quality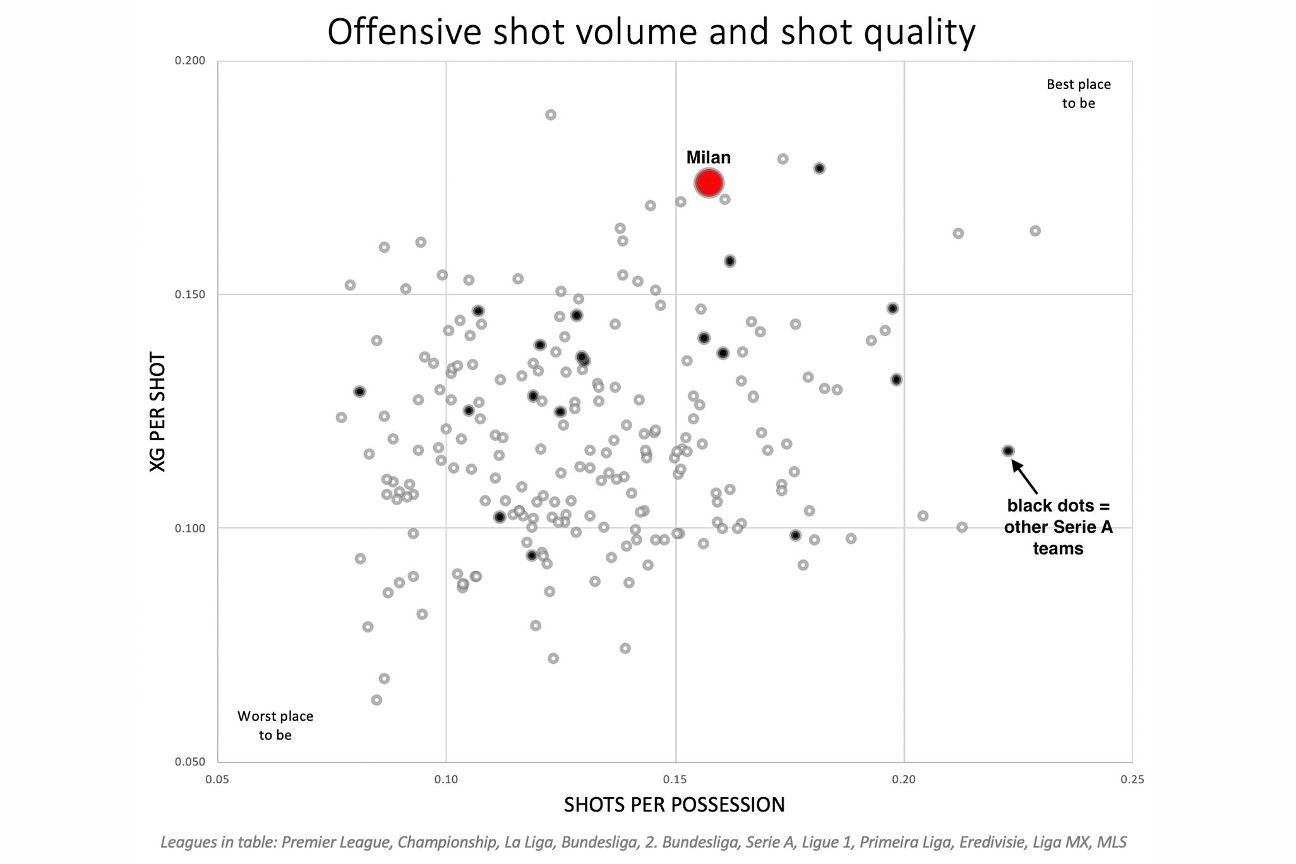 Milan are slightly above average in terms of the number of shots they take, but they stand out in shot quality. Among all of the clubs in Europe's big five leagues, only Leicester City, Bayern Munich and Roma are averaging higher xG per shot.
Granted, Leicester are also the only Big Five club averaging more penalties drawn.
Most penalties drawn per match in 2020-21 (Europe's big five leagues):
1. Leicester City (0.86)
2. Milan (0.67)
3. Chelsea (0.57)
4. Lens (0.57)
5. Lyon (0.56)
Milan have drawn four penalties in six matches, converting three and scoring off of a rebound on a fourth. They're on pace for 25 penalties drawn, and considering no team topped 18 last year even in the penalty-heavy Serie A, that's likely unsustainable. Milan are, however, still third in the league in xG per shot if you take penalties out of the equation. This isn't merely a flop-and-hope attack.
Pioli, who was rumored to be on his way out until realizing that "don't ever lose a match" is a pretty good way to keep your job, primarily deploys a 4-2-3-1 formation. As a rule, the 4-2-3-1 can end up a little stodgy: it's wonderfully balanced between defense and attack, but it can also result in quite a bit of "possession for possession's sake." But if your three attacking midfielders/wingers are energetic and you have a good target man up front, it can work beautifully.
Milan most certainly has that. Leao on the left, Hakan Calhanoglu in the middle and Saelemaekers on the right have combined for 26 chances created (15 from Calhanoglu) and four assists in league play, plus three goals (two from Leao) on 21 reasonably high-quality shots (0.14 xG/shot). Diaz has created three chances and scored once, as well, and Hauge scored against Celtic. They have space to get creative, and in Ibrahimovic they have a Patrick Ewing-style post-up man to float crosses toward if they can't create a better option.
Better yet, their collective energy has allowed Ibrahimovic to play to his own strengths, and it's allowing them to build for a Zlatan-less future — Ibrahimovic is their leader in xG created, but the next six guys on the list are all 23 and under.
The team can afford for its attacking midfielders to take some risks, too, because the defensive block has been sturdy.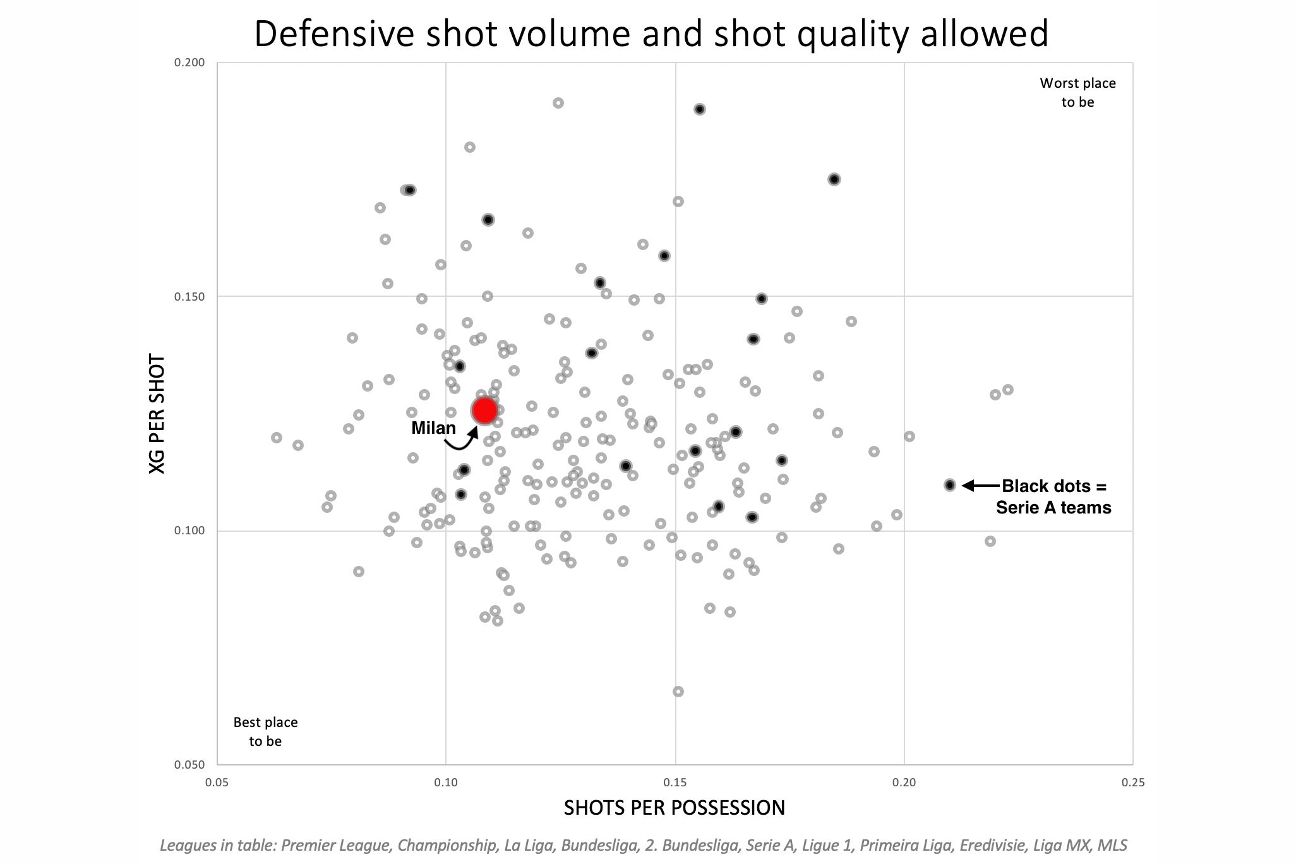 Milan have generated solid possession numbers and a lot of possession teams have a certain defensive profile: low numbers of shots allowed, but because of counterattacks, a high average shot quality. Thanks to the work of their defensive core, however — Kjaer and Alessio Romagnoli/Gabbia at center-back, Kessie and Bennacer in defensive midfield — opponents have been limited in their transition opportunities. Put another way, Milan are generating the benefits of the 4-2-3-1 and minimizing its limitations.
Because of injuries and other absences, Kjaer has already put in more than 1,000 minutes in Serie A and Europa play, which is suboptimal for anyone, much less a 31-year-old. But Gabbia's play has been encouraging in response.
Shaka Hislop cannot believe how Zlatan Ibrahimovic managed to connect with a bicycle kick aged 39 in Serie A.
Age isn't the only limitation
I look at a few regression-to-the-mean factors during a given season:
— xG differential in losses. Are you a bit unlucky? Are you getting stomped? The latter suggests problems even if you're doing well overall at the moment.
— Close-game performance. Few teams tend to average higher than about 2.1 points per game in matches decided by zero or one goal. Top that mark and you're likely going to suffer some close losses in the near future.
— Save percentage margin and set-piece goals. Only a few teams tend to enjoy consistent advantages here.
— Red cards and second yellows. If your opponent has more of these than you, then obviously you're enjoying some numbers advantages that probably won't be sustained.
What do these factors look like in Serie A so far?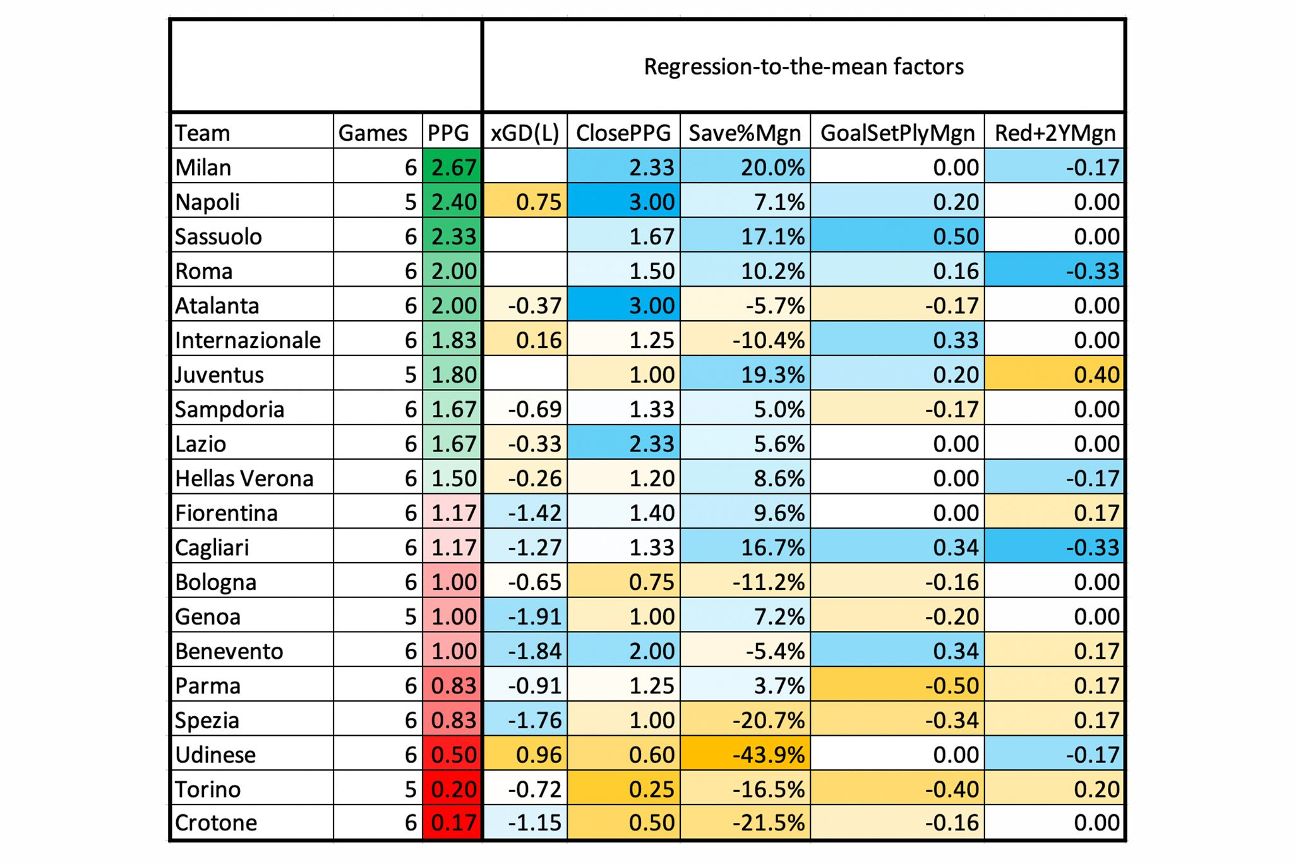 After winning their first three matches by a combined 8-0, the road has gotten trickier. They're still generating points — 2-1 over a diminished Inter, 3-3 vs. Roma, 2-1 over Udinese thanks to a late Ibrahimovic strike — but again, you don't usually maintain that. (Plus, they only advanced to the Europa group stages because of a one-goal win and a shootout.) You also don't usually maintain a save percentage advantage of 20 percentage points, even when you've got one of the best young keepers in the world in Donnarumma.
This is shaping up to be the title race we expected/hoped for, and Milan should remain a part of it
I was optimistic that Serie A would see its best title race in years and the numbers back up that sentiment, especially if or when Inter, Juve and Atalanta find their form. But amid a crowded field, Milan have stood out to date.
Milan's statistical profile is mostly sound, as is its defense. They've got known quantities in guys like Donnarumma, Ibrahimovic, Kjaer and Kessie, and they aren't relying solely on penalties in attack. Still, it wouldn't be hard to see a funk setting in at some point. Players like Leao, Rebic, Colombo and maybe Hauge will have to step up if or when Ibrahimovic gets injured, the goals could dry up if the shot quality regresses at all, and a few wins could turn into draws and draws into losses.
Even if they lose pace in league play, they have solid odds of reaching next year's Champions League — 72%, according to FiveThirtyEight's club soccer ratings (plus a 25% chance at winning the league) — and even beyond this year, the future at the San Siro is so, so much brighter than it seemed even six months ago. Few teams have signed more exciting young players of late, and you don't have to squint to see a core roster that could remain in place for quite a while.
The 10 Best Deals of November 23, 2020
Best Deals of the Day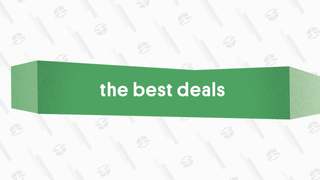 Best Deals of the Day
The best deals from around the web, updated daily.
Monday's Best Deals | Kinja Deals
It's November 23, and we at Kinja Deals are here to bring you the top 10 deals of the day. Get a head start on your holiday preparation with up to 30% off Hallmark's wrapping paper and Bed, Bath, & Beyond's 18″ pre-lit wreaths. Maybe try to moisturize your COVID-19 fears away with It's a 10 Miracle Leave-In spray.
And if you're still craving more deals, take a peek at Monday's best deals overall.
If you haven't already been planning your gift-giving this week is a great time to start. We need to be a little more strategic with shopping and shipping in 2020. If you're waiting for the perfect present to go on sale go ahead and grab some cute wrapping paper to cover it in. Right now take up to 30% Off Hallmark Holiday Gift Wrap.
There are over 11 bundles of gift wrap to pick from including a handful of bags and cards. We all know Thanksgiving basically starts the mad dash to all the holidays in December so get a jump on it. I have an aunt that writes all her holiday cards on Thanksgiving night and sends them out the next day. And given the pandemic thinking ahead for shipping on anything is a very good idea. No matter what you pick and wrap I'm sure your friends and family will be delighted. Fingers crossed we can give these gifts in person next year.
G/O Media may get a commission
Free shipping on all these for Prime members.
This deal was originally published by Sheilah Villari.
While the holidays are looking to be bleaker and bleaker because of this damn pandemic that just won't quit, you can still be optimistic and celebrate. Decorate your door with 18-inch Pre-lit Wreaths for a low $20. They're battery-operated, so you won't have to plug it in anywhere. So what are you waiting for?! Spread joy amoungst the darkness and grab one now!
This deal was originally published by Ignacia Fulcher.
Foolishly, I bought the 44mm Apple Watch Series 6 at full price—$529—back in September. For a limited time, however, you can snatch one up yourself in the smaller, 40mm size featuring GPS and LTE cellular functions for up to $120 off the sticker tag, with prices starting at just $390 in the Blue, Gold, and (PRODUCT)RED colorways. Silver with the White Sport band is marked down to $479 while Cyprus Green and Graphite are $579. From there, lavish models can exceed $600, such as the Graphite and Gold stainless steel variants, both of which sport Milanese loops.
As for GPS-only models, you'll find both 40mm and 44mm Watches on sale as well. Those who find the junior-sized watch face acceptable can grab it in (PRODUCT)RED or Blue for $330 and Silver or Space Gray for $379. The 44mm version ranges from $360 for (PRODUCT)RED and $409 for Blue or Space Gray. The Pink Sport band-equipped Gold aluminum model is unfortunately out of stock, and some of these won't ship until late November to early- and mid-December, but worry not, you won't find an estimated arrival date any further out than 12/22, which means regardless of the Apple Watch you pick, it'll reach your doorstep in time for non-denominational holiday gift giving.
This deal was originally published by Gabe Carey.
The more time we spend indoors, the more frustrated we may become with things that aren't that big a deal. Having to get up to turn off the kitchen light after you're already snuggled up in bed isn't fun, and neither is having to tap through your list of playlists to find your favorite cooking tunes. Luckily, smart speakers help with a lot of that, and they aren't too pricey. Right now, you can get Amazon's latest Echo, which is supposed to feature improved sound over its predecessor, for $30 off at Amazon, Best Buy, and Staples.
This deal was originally published by Jordan McMahon.
Okay, I know we're not allowed to start hyping the holidays yet. Thanksgiving is still upon us and I promise I won't try to pull the rug out from turkey day with yuletide cheer. That said, you can start revving your engines over at GameStop. The retailer currently has gaming, superhero, and generally nerd-themed holiday decorations for 40% off. There's a lot to love among the list of options. The super star tree topper is certainly a yuletide statement piece. You can also grab a bunch of ornaments, like Pikachu and Yoshi, to make your tree into a regular old Super Smash Bros. character selection screen. Look, if your mom gets to hang all of her 40 year old ornate ducks on the tree, I don't see why you can't put Baby Yoda up there.
This deal was originally posted by Giovanni Colantonio.
When it comes to first-party Nintendo games, $30 is an almost unheard of price. The company just doesn't discount their games often and when they do it's rarely ever much lower. Things appear to be different this Black Friday season as lots of Switch games are getting price cuts. Mario Tennis Aces is among the selection of games on sale and it's lower than the rest of the pack at the moment. Amazon currently has the Mario sports title for $30, while other Switch games are only down to $40. That's a real game, set, match moment. Probably. I don't know, I don't watch tennis.
This deal was originally published by Giovanni Colantonio.
This is the time of year where the throw blanket rules. It makes a great addition to any room and is kind of the perfect gift for those who just don't know what to get. Charter Club's Cozy Throws are 80% off right now in this amazing holiday sale from Macy's.
There are 15 styles and colors available so you're sure to find one that perfectly fits in with your decor or that of a loved one. These are soft and plush and can add a touch of whimsy depending on the pattern you choose. But they will definitely warm you up on a chilly sofa or if you're in a drafty guest room. These are pretty sizable at 50″ x 70″, are made of polyester, and can be washed in the machine.
Free shipping on all orders over $25.
This deal was originally published by Sheilah Villari.
As an early Black Friday deal, you can get a robot to sweep your floors for about 40% off. At a decent $180, you can tell your Eufy RoboVac 30C to wake up and get to work collecting dust mites and crumbs for your wooden and carpeted floors. With the added boundary strips, you can "tape" off areas it doesn't need to clean and keep it from falling down a flight of stairs. What are you waiting for?
This deal was originally published by Ignacia Fulcher. 
One of Ulta's best sellers is 40% off in this early Black Friday deal. Grab this mini collection of 16 lippies in this Lip Glossary Kit for only $10. This is a great kit with these being sample sizes because if there's a shade you don't like you won't feel like you're wasting a whole tube. And if you've never had an Ulta product this is a perfect way to see if they're for you.
In this kit you'll get 4 tinted lip oils, 4 sheer lip glosses, 4 matte liquid lipsticks, and 4 patent liquid lipsticks. The colors run the gamut from classic pinks to bold purples and browns. This is a killer gift for sharing too or even breaking them up and using them as stocking stuffers if you've got a few beauty gurus on your list.
Free shipping on all orders over $35.
This deal was originally published by Sheilah Villari.
Because of an early Black Friday deal, you can get a bottle of It's a 10 Miracle Leave-In for a cheap $10. You'll be able to moisturize straight and natural curly hair with a couple of sprays, which is perfect for the winter when curls are drier than usual.
This deal was originally published by Ignacia Fulcher. 
---
Source
Francisco Lindor's uncertain future with the Indians — and his greatest victory
Picking the second-best day of Francisco Lindor's tenure with the Cleveland Indians is a daunting task. Maybe it was the night in 2017 when Lindor slammed a double to extend Cleveland's winning streak to 22 games, or perhaps it was the day when he hit the home run against the Boston Red Sox in the 2016 playoffs, a grin covering his face as he circled the bases. Maybe it was the moment when he first stepped into the Indians' dugout for his first game in the big leagues, with manager Terry Francona.
Lindor is only 26 years old and he has already built so much history in Cleveland, with three top-10 finishes in the AL MVP voting, a couple of Gold Gloves, four All-Star appearances. But Lindor is nearing the end of his time with the Indians — it's within the realm of possibility that he'll play his last game in a Cleveland uniform on Wednesday or Thursday if the Indians don't survive their wild-card series. It's also possible that with the American League's best pitcher and position player in the 2020 season — Shane Bieber and Jose Ramirez, respectively — Cleveland could play well into October, as it did in 2016. It might turn out that Lindor's second-best moment with Cleveland occurs in the American League Championship Series in 2020, or the World Series; maybe Lindor will share in the first championship dogpile by an Indians team since 1948.
The best moment of Lindor's time with the Indians? Well, that's easy. Nothing surpasses what happened on Nov. 2, 2016, the day the Chicago Cubs beat Cleveland in the extra inning of World Series Game 7.
---
The word in elementary school was that the young Francisco Lindor talked too much in class. Like a water hose you couldn't turn off, the words pouring out. His energy, his joy, was irrepressible, not to be constrained by any supposed rules about who was allowed to talk at any given moment.
"We called him Pacquito," said Legna, his oldest sibling, smiling. "We'd ask him, 'Can you please zip it for five minutes. We only ask you five minutes. OK, how about two minutes?' It was like that around friends at school. It's been like that everywhere. He loves to talk."
Their mom, Maria Serrano, worked hard, and as the oldest child at home, Legna watched over her siblings. She had felt an incredible bond with her little brother the first time she saw him, as an infant. "I felt that moment that I kind of like had a son," she recalled. "Since then, I treat him like a son, more than like a brother. So I have been watching over him."
For Francisco, any dictum from Legna was law. He might've debated with his mom, but when his big sister rendered a judgment, well, that was that. "She always looked out after us." Francisco recalled. "She always made sure we were doing things the right way. It's the way she is, and I just respect her a lot for that. … She's always been the strongest one. She's always been the role model."
Early in the 2016 season, Legna was diagnosed with stage 2 cervical cancer, and when her doctors talked about immediate options, she had a condition: Before her treatment would begin, she said, she needed to fly to see her little brother. To tell him the news, in person. She flew to Cleveland, asked Francisco if they could go for a drive, and explained her diagnosis. He remembers not even being able to look at her, while Legna comforted him. "She was trying to make me feel a bit better."
"I'm the brother, I'm the man, I gotta act strong," Francisco recalled. "And she's always been strong for me, since day one, so now I gotta be strong for her. How do I do this?"
As always, Legna had thoughts about this: Just play, she told him. Just keep playing. Just keep doing what do you. At the end of the drive, Francisco went to a bathroom and cried, fearful about his sister. "I was asking why — why was this happening to her, why was this happening to me?" he recalled.
Francisco already had a habit of praying for well-being, for himself, friends and family, and as he stood on the field in Cleveland shaken by his sister's diagnosis, he felt like a hypocrite. Now was the time to believe, to have faith. "It was my turn to understand that it happens for a reason," he recalled in an interview with E:60. "It was my turn to understand that I gotta be there, and I gotta be supportive. After that, it was like, 'It's all right, it's OK. She'll be fine, she'll be fine, she'll be fine."
Legna went for treatment, and Francisco played, with a new purpose. He was named to the American League All-Star team for the first time, and unbeknownst to him, Legna got the OK from doctors to fly to San Diego to share in the experience — surprising her brother with a knock on the door.
The Indians would make the playoffs that year, first beating the Red Sox in the division series, then the Toronto Blue Jays in the ALCS, to advance to face the Cubs in the World Series. Legna was unable to travel, remaining in Puerto Rico for treatment. "She was watching me on TV, and I was doing it for her," he said.
The Indians won three of the first four games in the World Series, before losing Games 5 and 6, to set up a winner-take-all Game 7 in Cleveland. On his way to Progressive Field, Lindor got a phone call — Legna, calling with news. "I beat cancer," she told him.
Francisco said, "I walked in that clubhouse, I'm good. I got my sister. I'm in the postseason, but I'm good. … If we win it, we did it for the city of Cleveland. If we didn't win — I still won."
In one of the best World Series games ever, the Indians mounted a comeback, punctuated by Rajai Davis' home run off Aroldis Chapman. But after a rain delay, the Cubs scored a run in the 10th inning to clinch that franchise's first championship in 108 years. After the game, Lindor was incredibly circumspect in speaking with reporters, talking about the experience of playing in the World Series. He had not yet spoken publicly about his sister.
Lindor went to a restaurant with a group of family and friends, and someone at the table was near tears over the Indians' loss. Francisco stepped in with some perspective. "I'm like, 'Why are you crying? We got Legna now — we good, we good. We'll be in the World Series next season. Don't worry, we'll win the World Series at some point."
---
The Indians made the playoffs in 2017 and 2018 and didn't advance past the division series, and Cleveland has another chance to move through the postseason, before the front office must again assess what to do with Lindor before he simply becomes too expensive for them.
The Indians' baseball operations department is regarded within the game as one of the best, a group that executes sound decisions for a franchise with far fewer resources than other clubs. They tried to sign Lindor early in his career, hoping to lock him down with relative gobs of guaranteed money when he was making relative pennies. This approach worked with Jose Ramirez, who signed a long-term deal. But Lindor's choice was different: He effectively bet on himself by bypassing those early Indians proposals, and soon, he will cash in big time.
Within the Indians' organization, there was respect and understanding for Lindor's decision, and a coinciding realization that it meant the shortstop would leave Cleveland someday. For the Indians, who typically have a payroll in the range of $100 million to $120 million, there is too much risk in investing $25 million to $35 million annually in one player, and that's the range in which Lindor will be paid when he signs the first multiyear deal of his career.
So there will almost certainly be a day when the Indians do what they did with CC Sabathia and Cliff Lee and Trevor Bauer and Mike Clevinger: They will take advantage of Lindor's trade value, flipping him to a big-market team for younger, cheaper players — perhaps a club with a strong belief that it can sign Lindor to a long-term deal before he becomes a free agent, along the same lines that the Dodgers landed Mookie Betts. The Yankees seem to have a long-term need at shortstop, and have the wherewithal to make that kind of deal; so do the Mets.
The optimal conditions to deal Lindor might have come and gone, lost to the coronavirus pandemic. Rival executives had expected the Indians to listen intently to any offers for the All-Star shortstop in the midst of the 2020 season, after weighing proposals last winter, but in this truncated season that didn't happen.
Through arbitration, Lindor will get an enormous bump in salary in 2021, from $17.5 million to something closer to $25 million, and with a lot of teams preparing major payroll cuts, the number of clubs willing to take on that kind of salary will be diminished. Additionally, there could be viable market alternatives to Lindor, in the winter before an unprecedented class of free-agent shortstops could hit the market: Beyond Lindor, Javier Baez, Carlos Correa, Corey Seager, Trevor Story and others are in line to become free agents next winter.
But Lindor will draw interest, and assuming that the Indians follow their longstanding history, they will deal him, whether it be this winter — and the offseason is a more suitable time to deal elite position players — or next summer.
Whenever that happens, Lindor's time with the Indians will have been glorious, with nothing better than that beautiful Cleveland day in early November 2016 when Legna called with the best possible news.
News from around the major leagues
Trevor Bauer is omnipresent in social media, and for that reason alone, he can rub some peers the wrong way in a sport in which sharing opinions publicly will draw scrutiny. Baseball's long-standing culture has been that players have an obligation to teammates to go about their work mostly in anonymity, and Bauer has never been and will never be fenced in by that kind of convention. In 2020 in particular, that is a good thing; in 2020, without fans in the stands, Bauer has been one of the best things about the sport, reminding everyone that this is supposed to be fun.
In his start against the Brewers the other day, Bauer pitched with extraordinary emotion, shouting excitedly after strikeouts, keeping his eyes on the hitters after he dominated them, strutting off the mound — and other than a couple of double-takes, the Milwaukee players seemed to react in stride, probably because Bauer had walked the talk. In his prior start, Tim Anderson had bested Bauer, getting to a high fastball and blasting a home run, and afterward, Bauer questioned on his Twitter feed why Anderson hadn't celebrated more, why he hadn't responded with a gaudy bat flip; he effectively encouraged Anderson and others to play with more outward emotion.
Generally, that can be a whole lot more fun for everyone — for most players, and definitely for fans locked down in the way they can watch sports this year. It's as if Bauer has launched a one-man assault on baseball's unwritten rules and in 2020, he's winning — and is likely to win the NL Cy Young Award, as well.
• How the major award races look from here, on this (likely) last day of the regular season:
AL Cy Young Award: Bieber, who has the lowest ERA in the big leagues, the most strikeouts, and thrown the third-most innings. Right now, he holds the title of best pitcher on the planet. Think about this: The No. 1 hitters in opposing lineups have combined to score a total of one run in his 12 starts.
NL Cy Young Award: Bauer, whose separated himself from the pack with the dominant outing against Milwaukee. With runners in scoring position this season, opposing hitters are 3-for-35 with 15 strikeouts.
NL Most Valuable Player Award: Freddie Freeman. The Braves' first baseman has an OPS of 1.105 OPS, with 43 walks and 37 strikeouts. If this had been a longer season, the Nationals' Juan Soto might well have overtaken Freeman — Soto has 26 extra-base hits, 38 walks and 27 strikeouts. Given his understanding of the strike zone and how pitchers deploy breaking balls, he could be poised to win this award more than a couple of times over the next decade.
AL MVP: Like Bauer, Jose Ramirez has finished strong and overtaken the rest of the MVP field. Ramirez has built a substantive lead in WAR over the rest of the AL field, according to FanGraphs' accounting.
AL Rookie of the Year: The Mariners' Kyle Lewis, who has an excellent wRC+ of 132. Luis Robert seemed to be in a good position to win this award earlier in the season, but his offense has collapsed in September.
NL Rookie of the Year: If I had a vote — and I don't — I'd take the Brewers' Devin Williams, who has had unmatched dominance among first-year players, striking out 53 of the 100 batters he has faced this season, allowing just one earned run in 27 innings. No. 2: Jake Cronenworth of the Padres, who has a .370 on-base percentage and .500 slugging percentage.
The pandemic is forcing Democrats to ask: Does knocking on doors work?
A resident of the Villages campaigns for Joe Biden during a golf cart parade on August 21 in Sumter County, Florida. | Chandan Khanna/AFP via Getty Images
Political scientists say contacting voters by phone might be just as good as going door to door.
Among the many impossible-to-predict consequences of the Covid-19 pandemic for the 2020 presidential campaign, this may be one of the most surprising: The Trump campaign is taking door-knocking much more seriously than the Biden campaign.
Door-to-door canvassing — where campaign workers knock on doors to either persuade residents to vote for their candidate or remind the already persuaded to turn out — is traditionally a strong suit of Democratic campaigns. "Field," as it's called, is where many leading party strategists, from 2008 Obama campaign manager David Plouffe to 2020 Biden campaign manager Jen O'Malley Dillon, came up. Political scientists have written whole books about Obama's effort to mobilize millions of volunteers for field operations in 2008 and 2012. In 2016, the conventional wisdom that Hillary Clinton was a heavy favorite to defeat Trump derived partly from a sense she had a better "ground game."
But in 2020, the politics of Covid-19 mean that pattern is reversed. Trump is knocking on doors, and Biden just isn't.
Politico's Alex Thompson reported in early August that the Biden campaign was knocking on zero doors each week, while the Trump campaign claims to have knocked on over a million. More recently, in Michigan, the Trump campaign boasts that it has "an army of over 43,000 volunteers and staff covering all 83 counties," whereas the state Democratic Party told reporter Jonathan Oosting it was "not yet comfortable" knocking on doors. On August 28, the Trump campaign bragged about knocking on its 1 millionth door in Florida. Door-knocking numbers like this aren't really useful (they don't tell you how many people were actually contacted), but the pattern is illustrative.
The Biden campaign is responding to the risk that door-to-door canvassing will spread Covid-19 infection by shutting down its door-knocking efforts. If you go to the campaign's volunteer page, you get options to call voters, to text voters, to download an app for pushing your friends and families to vote for Biden, to attend virtual events — but not to go knocking on doors. The Trump campaign, reflecting the president's efforts to downplay the pandemic and speed up "reopening," is doing the opposite, and still doing volunteer recruitment for canvassing.
Given the central role canvassing has played in recent Democratic presidential campaigns, you would think this discrepancy would prompt some concern among Democrats who believe in the ground game. But some people in the world of Democratic campaigns are coming around to a different view: Maybe door-knocking really isn't as important as we all thought.
Most political scientists I talked to affirmed this view. Melissa Michelson, professor of political science and an expert on field experiments for voter turnout, told me, "That the Biden campaign can't engage in door-to-door canvassing is maybe not that big of a loss because we actually have tons of data about how to effectively and in a cost-efficient way mobilize voters from all different parts of the Democratic coalition — younger voters, low-income voters, Black voters, Latino voters — without going door to door."
Indeed, there's a growing body of research suggesting that methods like calling voters and "relational" voter turnout seem to be as effective — if not more effective — than traditional door-knocking.
To be clear, there's a consensus that field work can juice turnout and even persuade voters in primary elections or local elections where the candidates are less well-known and voters' opinions are less formed.
But skeptics argue that you can't just look at whether the effect of a field operation is positive or negative. You have to ask how many votes it pulls in per dollar spent, and compare that to whatever the equivalent figure is on alternative uses of campaign money: TV ads, digital ads, direct mail, and non-knocking fieldwork like phone banking. Given the expense of running a good field team, skeptics argue that the cost-per-vote is too high relative to alternatives and that Covid-19 might serendipitously be pushing campaigns away from inefficient uses of resources and toward more efficient ones.
"There's not any other kind of information we try to communicate by going door to door," says David Shor, an independent Democratic data analyst who helped develop Obama's data analytics operation in 2012. When big companies want to get the word out about their products, they use ads — and Shor and other field skeptics think campaigns should double down on those, too.
Persuading voters in presidential general elections is difficult
It's important to distinguish between two different purposes of political campaigns. One purpose is persuasion: convincing an undecided voter, or even one who's decided for the other candidate, to support your candidate. The other purpose is turnout: getting people who are already persuaded to support your candidate to actually vote.
Persuasion obviously happens by some mechanism in elections — swing voters are rare, but real, and a large number of voters switched from supporting Trump in 2016 to supporting Democrats in the 2018 midterms. That's persuasion of at least some kind taking place.
But when political scientists try to evaluate the effect of specific campaign interventions at persuasion, the results tend to be quite dire. Even though persuasion happens, it's hard for campaigns to reliably pull it off. UC Berkeley's David Broockman and Yale's Joshua Kalla conducted an evidence review in 2017 of studies evaluating how effective interventions aimed at persuading voters are, be they canvassing, phone calls, direct mail, TV, online ads, or anything else under the sun.
They found that there's lots of room for persuasion in primaries; a canvass during the 2015 Philadelphia mayoral primary, an open race where voters didn't know the candidates that well, was quite effective. But in general elections? Nope.
"The best estimate for the persuasive effects of campaign contact and advertising — such as mail, phone calls, and canvassing — on Americans' candidate choices in general elections is zero," they write. "Our best guess for online and television advertising is also zero, but there is less evidence on these modes."
There are unique circumstances where persuasion tactics become more effective for campaigns (see the last section here). But the 2020 presidential election doesn't feel like one of them. Voters know who Donald Trump is. They know who Joe Biden is. Given everything voters have learned about both of them over the past four years, or past several decades even, it's unlikely that door-knocking or phone banking is going to be the decisive factor in changing people's votes.
Turning out existing voters, however, is possible
Even though campaign contact doesn't seem to persuade people in general elections, it's not necessarily a bad idea. That's because campaign contact can increase turnout, too.
The empirical literature here was kicked off by political scientists Alan Gerber and Donald Green two decades ago, and their book Get Out the Vote! is still one of the best sources on the evidence base around the effectiveness of canvassing, phone banking, and direct mail at turning out voters.
In the book's fourth edition, released in 2019, Gerber and Green estimate that the average per-conversation effect size of canvassing turnout operations is 4.0; the average effect of commercial phone banks is 0.947; the average effect of volunteer phone banks is 2.8. This is across a variety of elections, though, not just presidential ones, where effect sizes might be lower.
That's a lot of numbers, so let me spell it out: If canvassing has an effect size of 4.0, that means that a door-knocking operation that knocks on 5,000 doors, and gets a response at 1,000 of those doors (a pretty standard or even high response rate) will generate 40 new voters. Similarly, a volunteer phone bank that reaches 1,000 people will produce about 28 new voters, since the effect size is 2.8.
Contacting voters by phone might be just as good as door-knocking anyway
When you put it like that, it makes door-knocking look considerably better than calling voters, which is likely to replace it in a Covid-19 environment.
But you can also talk to more people in an hour through phone banking than through canvassing. You don't have to walk or drive between addresses. Put it all together and Gerber and Green's rough estimate is that canvassing can garner campaigns a vote for about $33, while volunteer phone-banking can garner a vote for $36 — not too different, especially when you consider how imprecise these estimates necessarily are.
Michelson, the professor of political science at Menlo College, has evaluated dozens of experiments testing turnout and persuasion, reporting many in her 2012 book with UC Berkeley's Lisa García Bedolla, Mobilizing Inclusion. They found that calling voters produced more consistently positive results than door-to-door canvassing, in part because it was easier for callers to stick to a script than it was for canvassers. "What we found is that although door-to-door canvassing could generate the largest effects, it was not actually our recommended method," Michelson told me. "We thought that other things like two-round phone banks were more effective."
In "two-round" phone banks, voters are first contacted several weeks before the election, and then get a follow-up call to encourage them to vote a day or two before the election.
Door-knocking and phone banking are not the only possible ways to contact voters, of course. Gerber and Green estimate that the average effect of conventional mailers from nonpartisan groups meant to get out the vote is 0.296 per mailer (so a mailer that reaches 1,000 people might produce 3 new voters). Robocalls and explicitly partisan direct mail (fliers advertising a particular candidate, say) don't seem to have any effect.
But "social pressure" mailers have a bigger effect on average. In that tactic, campaigns or other turnout organizations use mail to remind voters that whether or not they voted in the past is public information, and share information on which of their neighbors voted.
In a study of the June 2012 Wisconsin recall election for Gov. Scott Walker, Green, Harvard's Todd Rogers, Yale's John Ternovski, and Carolina Ferrerosa Young (now working for Democratic Sen. Mark Warner) found that social pressure mailers like this sent out by an anti-Walker group boosted turnout of Democratic-leaning voters substantially, working out to a cost per vote of roughly $55. And in a 2006 primary election in Michigan (a much less visible race), Gerber, Green, and Christopher Larimer found that social pressure mailers produced votes for $1.93 each, an astoundingly low price.
Social pressure techniques can generate backlash — as when Ted Cruz used them in the 2016 Iowa caucus but used made-up voter histories and told voters they'd committed a "VOTER VIOLATION" in a font that kind of implied they'd done something illegal — but they seem consistently effective.
The limits of our existing data
There are a few factors, however, that complicate this public data. For one thing, only a small share of all studies conducted on the effects of canvassing and phone banking on turnout are public. The majority are conducted through firms like the Analyst Institute (for Democrats) or Evolving Strategies (for Republicans), and the results are typically proprietary. Democrats don't want Republicans to benefit from studies they spent millions of dollars conducting and vice versa (though everyone acknowledges that Democrats invest vastly more in these kinds of experiments than Republicans do).
Don Green, the Columbia political scientist and doyen of campaign field experiments, told me, "When [Gerber and I] do the meta-analysis, we are super careful to get our hands around everything we can find," including unpublished working papers and even individual regressions. He believes that their public summary of the evidence is representative of what groups like the Analyst Institute know privately. But there's a limit on how much journalists like me or the general public can know about the evidence base, given how much of it is secret.
The other complication is that phone banking has diminished in effectiveness as people have moved to cellphones, which are harder to match to voter records, and which they're less likely to use as phones and less likely to pick up calls from unfamiliar numbers. Parties are getting better at reaching cellphones — the Democratic National Committee announced a massive purchase of tens of millions of cellphone numbers in January — but it does complicate matters.
Advertising matters — potentially a lot
Digital advertising is another arrow in a campaign's quiver. In recent months, it has become a highly public topic of controversy in light of Facebook and Twitter's role in spreading false or misleading ads.
Most evidence to date, though, is dismissive or murky as to digital advertising's effectiveness. An early randomized experiment by Broockman and Green using Facebook found that ads weren't effective at boosting favorability or name recognition for a Republican state legislative candidate or a Democratic congressional candidate. The nonpartisan group Rock the Vote conducted experiments in 2012 and 2013 using Facebook ads, garnering millions of impressions, meant to boost turnout, and found no difference between the treatment group and the control group.
Kalla evaluated a similar experiment conducted by NextGen Climate, an advocacy group founded and funded by billionaire Tom Steyer. The experiment assigned over 1 million voters in New Hampshire, Nevada, and Pennsylvania to receive online ads urging them to turn out and vote in the 2016 general election. Two-thirds of the ads were on Facebook. Kalla found a very small effect on turnout, with an overall cost of $474 per vote, which is very high compared to phone banking or door-knocking.
Political scientists tend to be similarly dismissive of television ads. "The turnout effects of TV and digital ads are basically zero," Green told me, with some exceptions like Rock the Vote that he himself has tested. Green and UCLA's Lynn Vavreck found that an advertisement specifically designed to boost youth turnout did just that — but most campaign ads aren't as laser-focused on turnout.
"I don't know that there's a study that shows that the turnout effects of a regular TV campaign, not the old ones that Lynn Vavreck and I crafted 16 years ago that were specifically about get-out-the-vote. It's basically a null set. There are some non-experimental papers that purport to find effects, though there are plenty of non-experimental findings that show no effect," he said.
But those TV ads are generally trying to do persuasion, not turnout — and some non-experimental papers suggest they help with persuasion. There's a long history of observational studies (looking at ads after the fact rather than deploying them in a randomized way as part of a formal experiment) evaluating the effectiveness of TV ads, and analysts like Shor find them compelling. Moreover, they think the weight of the non-experimental evidence is more in favor of TV than against it.
In 1999, University of Texas at Austin's Daron Shaw found substantial statewide effects of TV advertising in statewide races from 1988 to 1996; a book by a trio of political scientists found that TV advertising was effective in the 2000 race. Studies analyzing the 2004 and 2006 elections came to similar conclusions.
Most recently, a study under the unassuming title of "Political Advertising and Election Results," from economists Jörg Spenkuch and David Toniatti (un-paywalled copy here) pooled results across three elections and used a particularly compelling design. Spenkuch and Toniatti exploit the fact that TV ad-buying is done on the "media market" level, and that neighboring and similar counties are often in different "media markets" due to FCC regulations, to measure the effect of TV ads on US presidential elections from 2004 to 2012.
They find substantial effects: "Showing someone 100 ads in the month before the election in a presidential race increases their odds of voting for you by 1 percent," Shor summarizes. If a TV ad costs only, say, $30 per 1,000 impressions, then that's a much more favorable cost-per-vote than phone banking or canvassing.
Shor also points to the 2020 primary for a particularly illustrative example:
[Elizabeth] Warren spent the entire cycle building up this massive army of organizers in Iowa who knocked on a bunch of doors. This is a low-salience race: only 7.6 percent of Iowans voted in the [Democratic] caucuses. But what [Pete] Buttigieg did is take roughly the same amount of money she spent on field, and spent it on TV in the summer [of 2019]. That made him go up in the polls to the point that the media started covering him. That helped him raise more money so he could buy more TV, and he almost won.
Shor's conclusion: The Warren organizer-based model is a waste of money. The Buttigieg strategy, based on TV and earned media, got much closer to succeeding.
"A solid 95 percent of people who work in data for politics are coordinating field programs, which is wild," Shor says. "What we actually need are people with a different skillset, who are good at making ads, are good at ad tech, or work in video production. I have a friend who's a professional video producer who was asking me where she should go knock on doors. That's a massive misallocation of resources."
Others, like Green and Kalla, consider the Spenkuch/Toniatti study a rather thin reed to build a pro-TV, anti-field case upon. Kalla acknowledged that the study "changed my prior a bit" in favor of TV being effective.
But he noted that it identified "a very weird mechanism" for its effects. TV ads tend to be geared more toward persuasion than turnout. But TV, Spenkuch and Toniatti find, changes the turnout of the electorate. When one party has an advantage on TV, its supporters turn out more in general elections than supporters for the candidate who fell behind on TV ads. Green calls the study "basically an anomaly. What is the mechanism that would cause turnout to be the driving force behind a vote shift? That really struck me as strange."
This debate might seem esoteric, but the stakes are high. If Shor (and Spenkuch/Toniatti and their precursors in the literature) are right, then campaigns should be investing far less in the ground game and much more in TV ads with messages refined and perfected through iterative field experiments. If Green is right, then phone banking and canvassing for turnout are still crucial activities for campaigns to be engaged in.
The future is canvassing your friends
Beyond the disagreement over TV, there's widespread agreement and optimism across the political scientist/data consultant spectrum about the possibilities of "relational voter turnout" that exploits people's friendships and social attachments.
Case in point: In 2010, Facebook conducted a 61 million-person experiment testing whether a banner urging US members to vote in the midterm elections could juice turnout. Simply putting up an informational banner didn't work at all. But including faces of friends who'd clicked an "I Voted" button was effective at increasing turnout.
More recently, campaigns have turned to "relational voter turnout," where instead of phone banking or canvassing strangers, volunteers try to turn out people close to them, like friends and family. Persuading friends and family can be hard, as anyone who's gotten into a Facebook argument with an uncle can attest, but encouraging turnout is somewhat easier.
"Everybody, even a relatively high-probability voter … would nonetheless know people in the same family, in the same congregation, on the same street, in the same workplace, you name it, who are low-propensity voters," Green says. "That's what you're looking for in 2020: Find 10 people who haven't voted in a while, are 19, etc."
Recently, Green and Columbia University's Oliver McClellan conducted an experiment for the nonpartisan group Turnout Nation in which 43 organizing "captains" in four states each put together lists of 20 "friends or relatives who would be eligible to vote" in upcoming municipal elections. Half of the names were assigned to be treated, meaning captains were encouraged to contact them and ask them to vote. The other half the captains were told not to contact. The effect was 13.2 percentage points, which the authors call "extraordinary, exceeding estimates from any other randomized trial on voter turnout." In Ohio, where the program was more regimented, the effects were even greater.
Shor disagrees with Green on TV ads, but he's absolutely on board regarding relational organizing. One informal way for people to engage in it is to, well, post about who they're voting for and remind people to vote on social media networks like Instagram and Facebook. "The most effective thing that anyone can do is go out and shit-post and talk to their friends and tell people what they believe and what they care about," Shor says. "That's what politics is about."
2020 in general has been a year in which people have struggled to find digital, or at least socially distant, replacements for in-person experiences: eating at restaurants, connecting with friends, celebrating big events. While the particulars are controversial, one unanimous message from political scientists and election analysts is that electioneering translates quite well to a post-pandemic world. Campaign volunteers don't necessarily need to knock on strangers' doors as much as they need to be texting their friends to get them to vote.
---
Help keep Vox free for all
Millions turn to Vox each month to understand what's happening in the news, from the coronavirus crisis to a racial reckoning to what is, quite possibly, the most consequential presidential election of our lifetimes. Our mission has never been more vital than it is in this moment: to empower you through understanding. But our distinctive brand of explanatory journalism takes resources — particularly during a pandemic and an economic downturn. Even when the economy and the news advertising market recovers, your support will be a critical part of sustaining our resource-intensive work, and helping everyone make sense of an increasingly chaotic world. Contribute today from as little as $3.
Source : VoxRead More