Save More Than 20 Percent on This Electric Standing Desk That's Perfect for Working From Home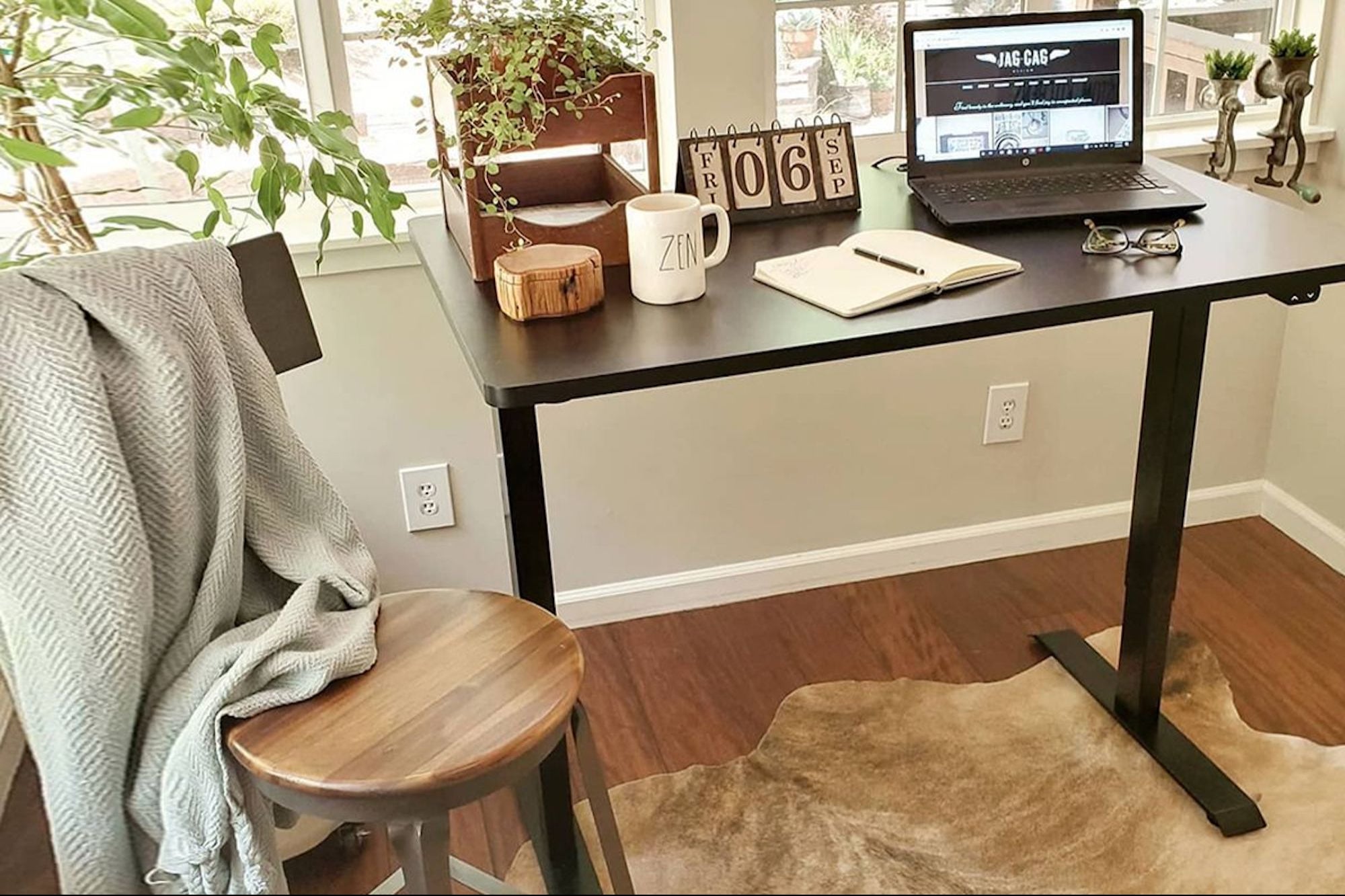 Work smarter, not harder.
Grow Your Business,

Not Your Inbox

Stay informed and join our daily newsletter now!
October 15, 2020 2 min read
Disclosure: Our goal is to feature products and services that we think you'll find interesting and useful. If you purchase them, Entrepreneur may get a small share of the revenue from the sale from our commerce partners.
Some people are just more productive when they're standing. You could have the most tricked out work from home space imaginable, but if you're used to the standing desk at your office or you simply can't sit for long periods of time, you won't be as productive as you once were. Upgrade to the EC1 Electric Height Adjustable Standing Desk and get your professional mojo back.
[embedded content]
This adjustable desk can help improve your posture and help with that productivity issue. It has an electric single motor mechanism and a simple 7-button digital display so you can go from sitting to standing in less than ten seconds. The rectangular desktop is a full 1″ thick and measures 55″ x 28″, so you have a ton of space to work with, but it's minimalist in design, making it easy to fit into a variety of remote workspaces. Plus, it has memory for three programmable presets so you can save your favorite seated, standing, and under-desk heights and get to them quickly. You never know what you'll be in the mood for, after all.
The desk also lets you set up activity alerts to remind you to sit or stand at regular intervals throughout the day. That option is available on the same convenient keypad as the presets, allowing you to completely manage the desk from one easy-to-use hub.
Start working smarter. Normally $329, you can now get the 55″ x 28″ EC1 Electric Height Adjustable Standing Desk in white for 22 percent off at just $254.99. It's also available in black in that same size, as well as in a smaller size: black at 48″ x 30″ and white at 48″ x 30″.
Disneyland, Other California Theme Parks, Get Rules for Reopening
California health officials issued long-awaited guidance for reopening theme parks in the state on Tuesday, setting targets for when attractions like Disneyland Resort, in Anaheim, and Universal Studios Hollywood, in Los Angeles, can open their doors. For the big parks, it could be a long road: their counties must reach the least-restrictive "yellow" tier of the state's four-tier Covid-19 economic-reopening plan.
In terms of coronavirus cases, Orange County, home to Disneyland, is currently in the "red," or second, tier and Los Angeles County, Universal Studios' location, is currently in the most restrictive "purple" tier. It could be months before either county meets the guidelines for the "yellow" tier, which requires there be fewer than one case a day per 100,000 residents and a testing positivity rate of less than 2 percent. The parks have been closed since March.
The secretary of California's Health and Human Services Agency, Dr. Mark Ghaly, issued the guidelines in a video conference on Tuesday and said that he believes that the tier guidelines can be reached. He said that San Francisco County had already met them.
"There's lots of work we can do together — both state, local, business leaders, community leaders, individuals — to do what we can to make sure that we reduce transmission throughout our county and there is a path forward there," Dr. Ghaly said. "We do not know when, but we do know how, and I think we'll continue to put in the hard work to get us there one county at a time."
However, Disneyland Resort's president, Ken Potrock, said in a statement that the guidelines are "arbitrary" and "unworkable."
"We have proven that we can responsibly reopen, with science-based health and safety protocols strictly enforced at our theme park properties around the world," Mr. Potrock said. "Nevertheless, the State of California continues to ignore this fact, instead mandating arbitrary guidelines that it knows are unworkable and that hold us to a standard vastly different from other reopened businesses and state-operated facilities."
When parks do reopen, they will have to implement a reservation system allowing guests to book visits ahead of time. They will also have to screen guests for symptoms and mandate masks everywhere inside the park, except when people are eating and drinking. Larger parks, like Disneyworld and Universal Studios Hollywood, will have to limit capacity to 25 percent.
Smaller parks in California can reopen when they reach the third or "orange" tier. They will be allowed to have up to 25 percent capacity or 500 guests, depending on which number is less, and only people from the park's home county will be allowed to visit.
Disney World, the company's Orlando, Fla., park, reopened in July with strict social distancing and capacity requirements and there have been no major outbreaks of the coronavirus associated with the park. But low attendance has led the company to start layoffs there. The pandemic has cut off many of Disney's lines of business, including films, theater productions and cruises. Disneyland generated an estimated $3.8 billion in revenue last year, according to Michael Nathanson, a media analyst.
On Monday, a coalition of unions representing thousands of workers at Disneyland told California Gov. Gavin Newsom that it is generally satisfied with the health measures laid out by the company for operating safely.
Follow New York Times Travel on Instagram, Twitter and Facebook. And sign up for our weekly Travel Dispatch newsletter to receive expert tips on traveling smarter and inspiration for your next vacation.
Trump Records Shed New Light on Chinese Business Pursuits
President Trump and his allies have tried to paint the Democratic nominee, Joseph R. Biden Jr., as soft on China, in part by pointing to his son's business dealings there.
Senate Republicans produced a report asserting, among other things, that Mr. Biden's son Hunter "opened a bank account" with a Chinese businessman, part of what it said were his numerous connections to "foreign nationals and foreign governments across the globe."
But Mr. Trump's own business history is filled with overseas financial deals, and some have involved the Chinese state. He spent a decade unsuccessfully pursuing projects in China, operating an office there during his first run for president and forging a partnership with a major government-controlled company.
And it turns out that China is one of only three foreign nations — the others are Britain and Ireland — where Mr. Trump maintains a bank account, according to an analysis of the president's tax records, which were obtained by The New York Times. The foreign accounts do not show up on Mr. Trump's public financial disclosures, where he must list personal assets, because they are held under corporate names. The identities of the financial institutions are not clear.
The Chinese account is controlled by Trump International Hotels Management L.L.C., which the tax records show paid $188,561 in taxes in China while pursuing licensing deals there from 2013 to 2015.
The tax records do not include details on how much money may have passed through the overseas accounts, though the Internal Revenue Service does require filers to report the portion of their income derived from other countries. The British and Irish accounts are held by companies that operate Mr. Trump's golf courses in Scotland and Ireland, which regularly report millions of dollars in revenue from those countries. Trump International Hotels Management reported just a few thousand dollars from China.
In response to questions from The Times, Alan Garten, a lawyer for the Trump Organization, said the company had "opened an account with a Chinese bank having offices in the United States in order to pay the local taxes" associated with efforts to do business there. He said the company had opened the account after establishing an office in China "to explore the potential for hotel deals in Asia."
"No deals, transactions or other business activities ever materialized and, since 2015, the office has remained inactive," Mr. Garten said. "Though the bank account remains open, it has never been used for any other purpose."
Mr. Garten would not identify the bank in China where the account is held. Until last year, China's biggest state-controlled bank rented three floors in Trump Tower, a lucrative lease that drew accusations of a conflict of interest for the president.
China continues to be an issue in the 2020 presidential campaign, from the president's trade war to his barbs over the origin of the coronavirus pandemic. His campaign has tried to portray Mr. Biden as a "puppet" of China who, as vice president, misread the dangers posed by its growing power. Mr. Trump has also sought to tar his opponent with overblown or unsubstantiated assertions about Hunter Biden's business dealings there while his father was in office.
"He's like a vacuum cleaner — he follows his father around collecting," Mr. Trump said recently, referring to Mr. Biden's son. "What a disgrace. It's a crime family."
In a misleading claim amplified by surrogates like his son Donald Trump Jr. and his lawyer Rudolph W. Giuliani, the president has said the younger Mr. Biden "walked out of China" with $1.5 billion after accompanying his father on an official trip in 2013. Numerous news articles and fact-checking sites have explained that the huge figure was actually a fund-raising goal set by an investment firm in which Hunter Biden obtained a 10 percent stake after his father left office. The firm did receive financial backing from a large state-controlled bank, but it is not clear the fund-raising target was ever met, and there is no evidence Hunter Biden received a large personal payout.
As for the former vice president, his public financial disclosures, along with the income tax returns he voluntarily released, show no income or business dealings of his own in China. However, there is ample evidence of Mr. Trump's efforts to join the myriad American firms that have long done business there — and the tax records for him and his companies that were obtained by The Times offer new details about them.
As with Russia, where he explored hotel and tower projects in Moscow without success, Mr. Trump has long sought a licensing deal in China. His efforts go at least as far back as 2006, when he filed trademark applications in Hong Kong and the mainland. Many Chinese government approvals came after he became president. (The president's daughter Ivanka Trump also won Chinese trademark approvals for her personal business after she joined the White House staff.)
In 2008, Mr. Trump pursued an office tower project in Guangzhou that never got off the ground. But his efforts accelerated in 2012 with the opening of a Shanghai office, and tax records show that one of Mr. Trump's China-related companies, THC China Development L.L.C., claimed $84,000 in deductions that year for travel costs, legal fees and office expenses.
After effectively planting his flag there, Mr. Trump found a partner in the State Grid Corporation, one of the nation's largest government-controlled enterprises. Agence France-Presse reported in 2016 that the partnership would have involved licensing and managing a development in Beijing. Mr. Trump was reportedly still pursuing the deal months into his first presidential campaign, but it was abandoned after State Grid became ensnared in a corruption investigation by Chinese authorities.
It is difficult to determine from the tax records precisely how much money Mr. Trump has spent trying to land business in China. The records show that he has invested at least $192,000 in five small companies created specifically to pursue projects there over the years. Those companies claimed at least $97,400 in business expenses since 2010, including some minor payments for taxes and accounting fees as recently as 2018.
But Mr. Trump's plans in China have been largely driven by a different company, Trump International Hotels Management — the one with a Chinese bank account.
The company has direct ownership of THC China Development, but is also involved in management of other Trump-branded properties around the world, and it is not possible to discern from its tax records how much of its financial activity is China-related. It normally reports a few million dollars in annual income and deductible expenses.
In 2017, the company reported an unusually large spike in revenue — some $17.5 million, more than the previous five years' combined. It was accompanied by a $15.1 million withdrawal by Mr. Trump from the company's capital account.
On the president's public financial disclosures for that year, he reported the large revenue figure, and described it only as "management fees and other contract payments." One significant event for the company that is known to have occurred in 2017 was the buyout of its management contract for the SoHo hotel in New York, which Bloomberg reported to have cost around $6 million.
Mr. Garten would not comment on the specific amount cited by Bloomberg, but said that the contract buyout represented a "significant portion" of the company's revenue and that the remaining money was not related to China.
Outside of China, Mr. Trump has had more success attracting wealthy Chinese buyers for his properties in other countries. His hotels and towers in Las Vegas and Vancouver, British Columbia — locales known for attracting Chinese real estate investors — have found numerous Chinese purchasers, and in at least one instance drew the attention of the Federal Bureau of Investigation.
During the 2016 campaign, a shell company controlled by a Chinese couple from Vancouver bought 11 units, for $3.1 million, in the Las Vegas tower Mr. Trump co-owns with the casino magnate Phil Ruffin. The owner of a Las Vegas-based financial services firm told The Times he was later visited by two F.B.I. agents asking about the company behind the purchases, which he said had used his office address in incorporation papers without his knowledge. It is not known what became of the inquiry.
Mr. Garten said the Trump Organization had "never been contacted by the F.B.I. and has no knowledge of any investigation."
In Vancouver, numerous Chinese buyers of units in Mr. Trump's hotel and tower helped increase licensing fees from that project to $5.8 million in 2016, the year it was completed, according to tax records. The project was built by a Canadian-based firm controlled by the family of Malaysia's richest man, Tony Tiah Thee Kian, who operates hotels in China and elsewhere. CNN reported in 2018 that the Vancouver operation was the subject of a counterintelligence review related to Ivanka Trump's need for a security clearance.
And not long after winning the 2016 election, Mr. Trump reported selling a penthouse in one of his Manhattan buildings for $15.8 million to a Chinese-American businesswoman named Xiao Yan Chen, who bought the unit, previously occupied by Ivanka Trump and her husband, Jared Kushner, in an off-market transaction. Ms. Chen runs an international consulting firm and reportedly has high-level connections to government and political elites in China.
Mr. Trump's tax records show that he reported a capital gain of at least $5.6 million from the penthouse sale in 2017, his first year as president.
Jo Becker contributed reporting.
Here's what the Justice Department had to say about its antitrust lawsuit against Google.
The United States on Tuesday accused Google, a unit of Alphabet, of illegally maintaining a monopoly over search through several exclusive business contracts and agreements that lock out competition.
At a press briefing Tuesday morning, Deputy U.S. Attorney General Jeffrey A. Rosen outlined the rationale behind the case.
Mr. Rosen hailed the Google lawsuit as a "milestone" in the Justice Department's efforts to foster competition in the internet markets, but he emphasized that this was not a stopping point — suggesting that the D.O.J. may continue to pursue other monopoly cases of technology companies.

Mr. Rosen said that Google "has maintained its monopoly power through exclusionary practices that are harmful to competition."

"Google is the gateway to the internet and a search advertising behemoth," he said.

Mr. Rosen said the Google lawsuit had "nothing to do" with complaints from President Trump and other Republicans that technology companies exercise political bias in policing speech on their platforms, calling it a separate worry from these "competitive concerns in the marketplace."

The Justice Department lawyers were guarded about many aspects of the investigation, including their conversations with the company and whether they considered building out the case into other parts of Google's business or their conversations with the company. They specifically avoided answering a question about whether the D.O.J. spoke to Larry Page, Google's co-founder and former chief executive of its parent company, Alphabet.

The lawyers stopped short of calling for specific relief, such as pulling apart pieces of Google's conglomerate of business lines. Remedies such as divestitures are typically reached further along in a case, experts say.