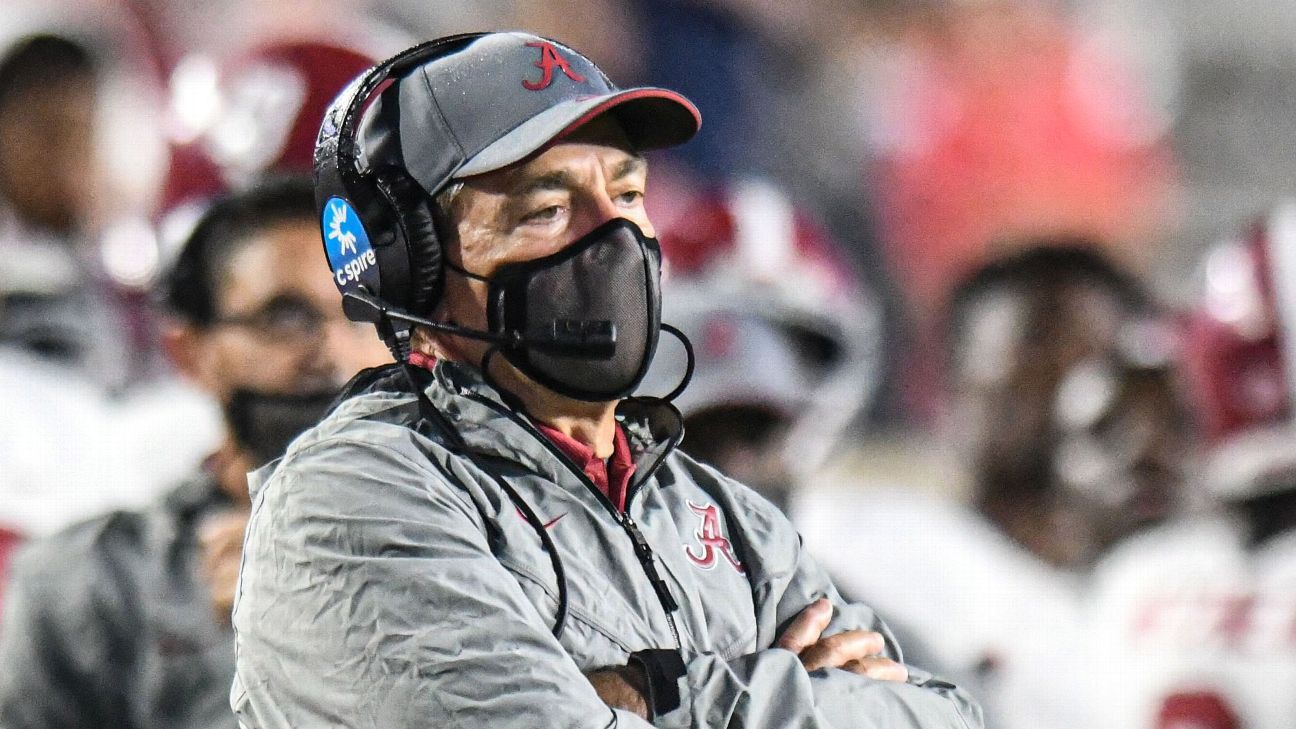 Alabama coach Nick Saban, who tested positive for COVID-19 on Wednesday afternoon, appeared on his weekly radio show from home on Thursday night and told listeners that he was feeling great and would hate to miss Saturday's game against No. 3 Georgia.
"I'm doing great," he said. "I don't have any symptoms. I don't have a fever."
Saban said he would like to be a part of the game against Georgia but that COVID-19 protocol prohibits in-game communication with anyone on the staff while he is in quarantine and he cannot travel to the stadium while in quarantine, either.
But if Saban has three negative tests, including the second two in a 24-hour span, he could conceivably be cleared to return to athletic activities before Saturday's game in Tuscaloosa.
"I would hate to not be at the game Saturday if that's what this turns out to be," Saban said.
Still, Saban said, he wishes there was a way for a coach in quarantine to be able to participate, adding that it "doesn't seem quite right" that he wouldn't be able to communicate with his staff or players during a game from a remote location like his home.
"There's ways to do this so you wouldn't be putting anyone in harm's way," he said. "But I also believe in the safety of all the people … so there would have to be some logistical things to work out."
Saban, who turns 69 later this month, said that he has been able to do a lot from home as he helps the No. 2 Crimson Tide prepare to face Georgia. He oversaw practice on Wednesday and Thursday via Zoom.
"I've done everything that I would normally do, I just have to do it from here — for now," he said.
Alabama football released an update on Saban's health status earlier Thursday, saying, "Coach Saban was evaluated by our team physician Dr. Jimmy Robinson today. Coach remains asymptomatic at this point and is doing fine. He is continuing to self-isolate and will remain in the SEC testing protocol while being evaluated daily."
SEC guidelines state that if an individual has three successive negative polymerase chain reaction (PCR) tests and remains asymptomatic, they may be "released from isolation and medically cleared to return to athletics activities only."
Alabama, as is its policy, has not released any information about any subsequent tests and what they might have shown. Alabama is not likely to release that information until there is a resolution.
Saban told listeners to his show that he met with members of the leadership group on Thursday, joking with them that he's "getting beat up on both ends" trying to work with his wife in the house.
"When I come there I can raise hell with you guys," Saban said he told the players, "and now I'm here with Miss Terry and she's raising hell with me."
Saban also took a moment to thank all those who have reached out since his diagnosis.
"The support from so many people from all over the United States — phone calls, text messages, emails — have been wonderful," he said. "It's very uplifting the relationships you've made through the years and so many people who would be concerned about your well-being, and I really appreciate it and I want everybody to know that."
Should Saban be unable to coach on Saturday, Alabama offensive coordinator Steve Sarkisian would assume the role of head coach.
Sarkisian, who was head coach most recently at USC in 2015, would still maintain playcalling duties on offense.
Joe Thornton spoke to Joe Montana about leaving Bay Area
While considering a move to the Toronto Maple Leafs as a free agent, center Joe Thornton of the San Jose Sharks sought as much advice as possible.
He spoke with family and friends. He spoke with Joe Pavelski and Patrick Marleau, former San Jose teammates who left the team via free agency. But Thornton said the most memorable guidance he received was from another Bay Area sports legend.
"I actually talked to Joe Montana. I think Joe gave me some good advice. He just talked about leaving San Francisco and going to Kansas City," said Thornton, who signed a one-year deal with the Leafs on Friday.
In 1993, Montana requested a trade from the 49ers, who shipped the 37-year-old quarterback to Kansas City, where he finished his career with the Chiefs.
"I had so many people I talked to over the last week. I'm just blessed I had a chance to talk to some great people. He was one guy who offered me some good advice," Thornton said.
Thornton, 41, is skating with HC Davos in the Swiss National League in preparation for the upcoming NHL season. His contract with the Leafs is for $700,000.
The decision to join Toronto ended Thornton's 15-season run with the Sharks. In 1,636 games with San Jose and the Boston Bruins, he amassed 1,509 points — most among active players. He's 14th all time in career points and seventh in career assists (1,089). He won the NHL scoring title and MVP honors in 2005-06.
"The emotions I feel are appreciation and reflection. It's hard to put into words what Joe meant for this franchise over 15 seasons," San Jose general manager Doug Wilson said. "I think there are very few players in pro sports that can alter a franchise the way he did."
Thornton praised the organization and the fans in San Jose.
"They loved me and I loved them right back," he said. "The Shark Tank was one of the best buildings to play in, and we had a lot of memories there."
But after he and Wilson were unable to find a landing spot for Thornton on a contender at the most recent trade deadline, the veteran center found one through free agency.
"It was probably the hardest hockey decision I ever had to make. But with the roster [the Maple Leafs] have, the guys that they picked up this offseason, they're ready to win now and I'm ready to win," Thornton said.
Zeke on Dallas loss: 'I'm sorry; this one is on me'
ARLINGTON, Texas — Dallas Cowboys running back Ezekiel Elliott was not blaming any part of the 38-10 loss to the Arizona Cardinals on Dak Prescott's absence. He was putting it all on himself.
"I don't think we can use that as an excuse," Elliott said of not having Prescott because of a compound fracture and dislocated right ankle. "I'm just going to keep saying it over and over — I started the game out with two fumbles, gave the ball away and gave them all the momentum they need to go take off. I want to say I'm sorry and this one is on me. I need to be better."
Elliott finished with 49 yards on 12 carries and caught a team-high eight passes but for just 31 yards. However, it was fumbles on back-to-back drives in the first and second quarters that changed the complexion of the game.
The first fumble came after catching a short pass from Andy Dalton on second down, but safety Budda Baker stripped the ball free and Jordan Phillips recovered. Eleven plays later Kyler Murray and Christian Kirk hooked up for a 6-yard flip for a touchdown.
Two plays into the next possession, Elliott fumbled again with Phillips poking the ball free at the Dallas 30. Five plays later, Kenyon Drake scored the Cardinals' second touchdown and a 14-0 lead.
"I mean, when you're fumbling every game obviously teams are going to lock in on it and go for it even more," Elliott said. "That's even more of a reason I need to figure it out, man. I don't want to keep talking about it, but I've got to figure out a way to figure it out."
When the Cowboys took the field after Elliott's second fumble, Tony Pollard was the running back. When Elliott returned to the field after eight snaps, there was a murmur among the crowd.
"Every player that plays in this league, no different on our football team, if you don't take care of the football, it does affect your opportunities," coach Mike McCarthy said. "Tony got an opportunity and I thought he did some really good things with his opportunities."
Elliott has lost a career-high four fumbles in six games and the opponents have turned every takeaway into a touchdown. According to ESPN Stats & Information, the other top-10 rushers have combined for three lost fumbles in nearly 900 fewer touches this season. Elliott has 133 touches, while the nine other backs have 1,014 touches.
"I'm giving the ball away," Elliott said. "I wasn't helping my team. I think they did the right thing and gave some of those reps to TP, but I can't do that. I have to be a guy this team can lean on, especially at times like right now with so many of our starters hurt and not playing. So it's not acceptable and I need to figure it out."
Elliott said he focuses on keeping the ball tight in practice. The Cowboys do ball-handling drills every day in practice.
"I just got to have a short memory," Elliott said. "I've got to get that behind me and play some good ball and get on a roll."
Elliott has gone a career-long six games without a 100-yard outing. He had a five-game drought in Weeks 10-14 last season. He had not gone more than two games to open a season without a 100-yard game to his credit.
Some of that can be pinned on a defense that has struggled, but 84 of the 218 points the Cowboys have allowed this season have come off turnovers.
"He understands that. He knows that," Dalton said. "Zeke's going to get this thing fixed."
He also knows he needs to get it fixed quickly.
"At the end of the day, Zeke is our bell cow, and we need to get it right," McCarthy said. "He's part of the plan. He's going to be part of the success. We have to get it right. We have to take care of the football and that's for everybody that touches the football on our team."
Allen says Bills 'can't afford' his recent struggles
After a 4-0 start to the season during which Josh Allen resembled a possible MVP candidate, the Buffalo Bills have now dropped two games in a row, with their struggling quarterback acknowledging, "This team can't afford to have me play poorly."
Playing in his second consecutive prime-time game Monday night, Allen completed just 14 of 27 passes for 122 yards against the Kansas City Chiefs in a performance reminiscent of his 2018 and 2019 seasons. Although he threw two touchdown passes, he also recorded his fourth interception of the season and missed receivers throughout the game, culminating in a 26-17 loss in Orchard Park, New York.
The third-year quarterback took responsibility for his performance, directly tying his team's success — or lack thereof — to his play.
"We weren't good enough — I was not good enough. I got to do a better job, it's plain and simple," Allen said. "I didn't play very good tonight. I know that. I understand that. This team can't afford to have me play poorly.
"Early on just not being as accurate with the ball as I should have been. Making the right reads, making the right throws, and we turned it on a little too late there."
Through the first four weeks of the season, only Dallas' Dak Prescott threw for more yards than Allen's 1,326, and only Seattle's Russell Wilson and Green Bay's Aaron Rodgers threw for more touchdowns than Allen's 12. After failing to eclipse 300 passing yards in a game during his first two professional seasons, Allen did so in three consecutive outings to open 2020, including a career-high 415 yards against the Miami Dolphins in Week 2.
However, he looked far from an MVP candidate during a 42-16 loss to the Tennessee Titans in Week 5; he completed 26 of 41 passes for a then-season-low 263 yards, two touchdowns and season-high two interceptions.
Against the Chiefs, Allen's 122 passing yards marked his lowest total since Week 6 of his rookie season, excluding a Week 17 game against the New York Jets last season when he played only one series.
Allen and the Bills get a bounce-back game against the winless Jets in Week 7 before hosting the New England Patriots in Week 8.
Buffalo has publicly stated its goal of winning the AFC East for the first time since 1995, and in order for the Bills to do so, Allen must return to a level of play comparable to what he showed during the first four weeks of the season.