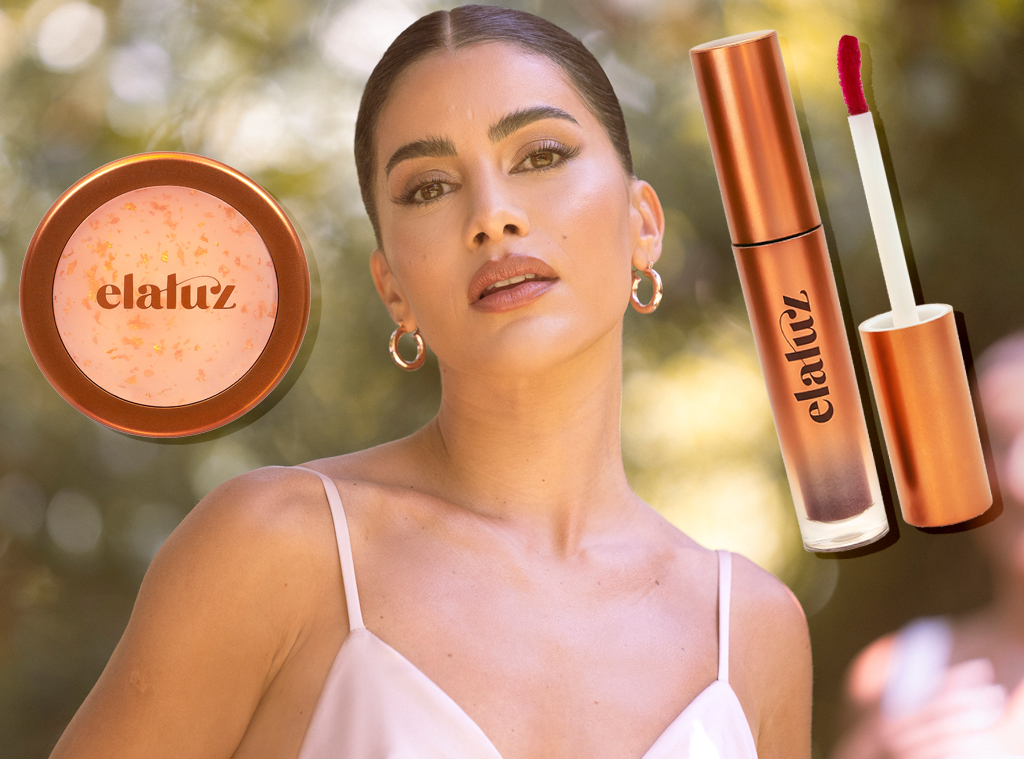 We love these products, and we hope you do too. E! has affiliate relationships, so we may get a small share of the revenue from your purchases. Items are sold by the retailer, not E!.
If you've been looking for the perfect balm to nourish your lips, or a red tinted lip stain to uplevel your summer beauty style, look no further. Camila Coelho's beauty line, Elaluz, has officially launched with two lip products you'll definitely want to add to your beauty collection!
The inspiration behind Elaluz springs from Coelho's personal connection to makeup, ranging from her memories of being a little girl getting red lipstick from her grandmother for a passport photo, to a job at a Dior makeup counter after high school, to her experience as a makeup artist, all leading up to her YouTube career. And throughout those experiences, Coelho was acutely aware of how makeup could transform and empower people.
"I started dreaming of one day having my beauty line, my beauty brand, and my mom always told me, 'Camila, anything is possible. You can dream as big as you want. If you work hard, if you believe in yourself, you will accomplish one day,'" Coelho tells E! exclusively. "I always kept that to myself, and you know I dream really big because I think about it, 10 years ago, my life was completely different than it is today. But I believed in it, and launching this brand, it's definitely my biggest professional dream coming true. So, why create the brand? Because beauty is where I started. It's part of my life. I know I have a fashion line, but a beauty brand it's really like, in a way, my life is coming full circle."
Believe it or not, the last little push to create Elaluz came from fashion icon Diane Von Furstenberg. The two talked about creating Elaluz at the Met Gala in 2019, and their conversation was exactly what Coelho needed to keep following her dream. The result is a brand that's fresh and accessible, with a focus on offering essentials that are parsed out in smaller drops rather than launching a full line in one fell swoop (keeping in line with Coleho's personal preference for mindful consumption). Plus, the flagship lip products are free of parabens, sulfates, phthalates, silicones, PEGs, TEA, DEA, GMOs and artificial fragrances, along with being cruelty-free, gluten-free, vegan and Leaping Bunny Certified.
But most importantly, Elaluz was designed to be inclusive.
"I'm Brazilian. I come from a multicultural country. I know my multicultural Brazilian heritage. And I have such a global following as well," says Coelho. "Over the years, I listened to so many comments and questions that would touch on, you know, 'I love this concealer but unfortunately I can't find my color' or, 'I love this product, I would love to try it but it didn't work for me because of many reasons.' I felt the need and the desire for Elaluz to be an inclusive brand in every single way with our products, in our team, in our photo shoots, in our campaigns. I want everyone to look at Elaluz and feel represented in a way. So I'm sure we're gonna learn so much throughout the years, we're not perfect, but we are willing to learn, we are willing to change. I want people to look at Elaluz and feel represented, so that's one of our keys."
As for Coelho, launching a new beauty line among all her other creative pursuits has made for a busy and challenging time, but she still makes time for self care. Coelho feels her mental health is important, and ensures she takes time each day to sit outside in the sun and feel connected to nature to help calm her mind. Another thing she does? Says Coleho, "If you're, you know, feeling nervous, whatever it is, like, that's kind of making your mind stressed, try the twenty second hug. Hugging someone for 20 seconds relieves stress, and it's so crazy how well that works so every day I do that every single day."
But she also makes sure to do a home spa day once a week, with a bath and hair mask, and a face mask when she can. "I love doing face masks at least once a week, sometimes it's like scrubbing face masks, other times a sheet mask," she says. "And in my bath water, I put Epsom salt. It's a type of salt that you can find at pharmacies, that once it goes in really warm water, it kind of becomes kind of like ocean water, so that is amazing for your skin in general, and also for your face. I take a clean white face towel, and I wet it and I just keep dabbing it on my face like that clean Epsom salt hot water. And it's amazing for your pores and also relaxes your body.
"And I've been trying to take more care of my hair, my face. I'm not wearing too much makeup. I'm taking care of my skin, keeping it very hydrated. I have this one product that I love. It's from NeoStrata. I'm doing that twice a week, every other day or twice a week. It's made for people who have acne prone skin. It keeps my skin really controlled. When I use that it closes my pores and I really never get pimples."
Elaluz's first two products, the 24K Lip Therapy and Lip & Cheek Stain, are available now. Shop them both below!
Elaluz Lip & Cheek Stain
You know that barely-there wash-of-color that everyone seems to be wearing on their lips this season? This is the perfect product to help you achieve that look. This combo lip and cheek stain is coconut water-infused and super lightweight, and features other lip nourishing ingredients such as Brazilian guarana and prickly pear extracts to hydrate your lips with this sheer, buildable color in a perfect shade of red.
Source : E!News Read More
Netflix is developing a live action 'Assassin's Creed' show
Netflix announced this morning that it's partnering with Ubisoft to adapt the game publisher's "Assassin's Creed" franchise into a live action series.
The franchise jumps around in history, telling the story of a secret society of assassins with "genetic memory" and their centuries-long battle the knights templar. It has sold 155 million games worldwide and was also turned into a nearly incomprehensible 2016 film starring Michael Fassbender and Marion Cotillard, which underperformed at the box office.
The companies say that they're currently looking for a showrunner. Jason Altman and Danielle Kreinik of Ubisoft's film and television division will serve as executive producers. (In addition to working on adaptations of Ubisoft's intellectual property, the publisher is also involved in the Apple TV+ industry comedy "Mythic Quest.")
"We're excited to partner with Ubisoft and bring to life the rich, multilayered storytelling that Assassin's Creed is beloved for," said Netflix's vice president of original series Peter Friedlander in a statement. "From its breathtaking historical worlds and massive global appeal as one of the best selling video game franchises of all time, we are committed to carefully crafting epic and thrilling entertainment based on this distinct IP and provide a deeper dive for fans and our members around the world to enjoy."
It sounds like there could be follow-up shows as well, with the announcement saying that Netflix and Ubisoft will "tap into the iconic video game's trove of dynamic stories with global mass appeal for adaptations of live action, animated, and anime series."
Netflix recently placed an eight-episode order for "Resident Evil," another video game franchise that was previously adapted for the big screen. And it also had a big hit with its adaptation of "The Witcher," which is based on a fantasy book series that was popularized via video games.
Original Content podcast: 'Lovecraft Country' is gloriously bonkers
As we tried to recap the first season of HBO's "Lovecraft Country," one thing became clear: The show is pretty nuts.
The story begins by sending Atticus "Tic" Freeman (Jonathan Majors), his friend Leti Lewis (Jurnee Smolett) and his uncle George (Courtney B. Vance) on a road trip across mid-'50s America in search of Tic's missing father. You might assume that the search will occupy the entire season, or take even longer than that; instead, the initial storyline is wrapped up quickly.
And while there's a story running through the whole season, most of the episodes are relatively self-contained, offering their own versions on various horror and science fiction tropes. There's a haunted house episode, an Indiana Jones episode, a time travel episode and more.
The show isn't perfect — the writing can be clunky, the special effects cheesy and cheap-looking. But at its best, it does an impressive job of mixing increasingly outlandish plots, creepy monsters (with plentiful gore) and a healthy dose of politics.
After all, "Lovecraft Country" (adapted form a book by Matt Ruff) is named after notoriously racist horror writer H.P. Lovecraft, but it focuses almost entirely on Black characters, making the case that old genres can be reinvigorated with diverse casts and a rethinking of political assumptions.
In addition to reviewing the show, the latest episode of the Original Content podcast also includes a discussion of Netflix earnings, the new season of "The Bachelorette" and the end of Quibi.
You can listen in the player below, subscribe using Apple Podcasts or find us in your podcast player of choice. If you like the show, please let us know by leaving a review on Apple. You can also follow us on Twitter or send us feedback directly. (Or suggest shows and movies for us to review!)
And if you'd like to skip ahead, here's how the episode breaks down:
0:00 Intro
0:36 Netflix discussion
3:18 "The Bachelorette"
6:30 Quibi
14:35 "Lovecraft Country" review
31:32 "Lovecraft Country" spoiler discussion
The short, strange life of Quibi
"All that is left now is to offer a profound apology for disappointing you and, ultimately, for letting you down," Jeffrey Katzenberg and Meg Whitman wrote, closing out an open letter posted to Medium. "We cannot thank you enough for being there with us, and for us, every step of the way."
With that, the founding executives confirmed the rumors and put Quibi to bed, a little more than six months after launching the service.
Starting a business is an impossibly difficult task under nearly any conditions, but even in a world that's littered with high-profile failures, the streaming service's swan song was remarkable for both its dramatically brief lifespan and the amount of money the company managed to raise (and spend) during that time.
A month ahead of its commercial launch, Quibi announced that it had raised another $750 million. That second round of funding brought the yet-to-launch streaming service's funding up to $1.75 billion — roughly the same as the gross domestic product of Belize, give or take $100 million.
"We concluded a very successful second raise which will provide Quibi with a strong cash runway," CFO Ambereen Toubassy told the press at the time. "This round of $750 million gives us tremendous flexibility and the financial wherewithal to build content and technology that consumers embrace."
Quibi's second funding round brought the yet-to-launch streaming service's funding up to $1.75 billion — roughly the same as the gross domestic product of Belize, give or take $100 million.
From a financial perspective, Quibi had reason to be hopeful. Its fundraising ambitions were matched only by the aggressiveness with which it planned to spend that money. At the beginning of the year, Whitman touted the company's plans to spend up to $100,000 per minute of programming — $6 million per hour. The executive proudly contrasted the jaw-dropping sum to the estimated $500 to $5,000 an hour spent by YouTube creators.
For Whitman and Katzenberg — best known for their respective reigns at HP and Disney — money was key to success in an already crowded marketplace. $1 billion was a drop in the bucket compared to the $17.3 billion Netflix was expected to spend on original content in 2020, but it was a start.
Following in the footsteps of Apple, who had also recently announced plans to spend $1 billion to launch its own fledgling streaming service, the company was enlisting A-List talent, from Steven Spielberg, Guillermo del Toro and Ridley Scott to Reese Witherspoon, Jennifer Lopez and LeBron James. If your name carried any sort of clout in Hollywood boardrooms, Quibi would happily cut you a check, seemingly regardless of content specifics.
Quibi's strategy primarily defined itself by itself by its constraints. In hopes of attracting younger millennial and Gen Z, the company's content would be not just mobile-first, but mobile-only. There would be no smart TV app, no Chromecast or AirPlay compatibility. Pricing, while low compared to the competition, was similarly off-putting. After a 90-day free trial, $4.99 got you an ad-supported subscription. And boy howdy, were there ads. Ads upon ads. Ads all the way down. Paying another $3 a month would make them go away.
Technological constraints and Terms of Service fine print forbade screen shots — a fundamental understanding of how content goes viral in 2020 (though, to be fair, one shared with other competing streaming services). Amusingly, the inability to share content led to videos like this one of director Sam Raimi's perplexingly earnest "The Golden Arm."
It features a built-on laugh track from viewers as Emmy winner Rachel Brosnahan lies in a hospital bed after refusing to remove a golden prosthetic. It's an allegory, surely, but not one intentionally played for laughs. Many of the videos that did ultimately make the rounds on social media were regarded as a curiosity — strange artifacts from a nascent streaming service that made little sense on paper.
Most notable of all, however, were the "quick bites" that gave the service its confusingly pronounced name. Each program would be served in 5-10 minute chunks. The list included films acquired by the service, sliced up into "chapters." Notably, the service didn't actually purchase the content outright; instead, rights were set to revert to their creators after seven years. Meanwhile, after two years, content partners were able to "reassemble" the chunks back into a movie for distribution.