I've been looking at color e-reader prototypes as long as I've been a tech journalist. Back in the early days of The Verge, we'd often cover display technology like Qualcomm's Mirasol or various E Ink prototypes and come away thinking that while it wasn't quite ready, it was just a matter of time. That's how technology is meant to work, right? We see it in unfinished form at a trade show and it turns up in mainstream products a few years later.
Needless to say, that has not turned out to be the case. Amazon and Kobo still don't sell color e-readers, and if anything the prospect seems even further off than it did a decade ago, now that it's possible to sell passable LCD tablets for well under $100. They don't have the battery life or the outdoor readability of E Ink, but it's clear that that's a niche concern.
E Ink is still working on the idea, though, and this year the company shipped its best shot yet at color screen tech that's appropriate for e-readers: Kaleido. I've been testing one of the first e-readers to use this type of display, the new €199 ($234) PocketBook Color, and while it's not a perfect device, it's good enough to give me hope in the future of color E Ink.
PocketBook is an e-reader manufacturer headquartered in Switzerland and mostly selling to various European markets. The company has been around since 2007 and says it's the world's third largest maker of premium E Ink-based e-readers, presumably putting it behind Amazon and Rakuten's Kobo.
Screen aside, the PocketBook Color doesn't look much different to any other 6-inch e-reader. It's all plastic, but the design is fairly sleek with a matte silver finish on the back and a soft-touch texture on the front. You'll find a power button, a Micro USB port (boo), and a microSD slot (yay) on the bottom edge. There's a bundled Micro USB-to-headphone jack adapter so you can listen to audiobooks, and the device also has Bluetooth support for wireless headphones.
There are home, menu, and page-turn buttons located below the screen, and they're all easily accessible; at 160g, the PocketBook Color is light enough to hold with your thumb resting at the bottom. I actually prefer this to the side-mounted page-turn buttons on previous Kindles I've owned, which never quite felt like they were at the right height — at least not for my thumbs.
The PocketBook Color runs a custom Linux-based OS that includes various apps. There's a web browser, a notes app, and even some games like chess and sudoku. Page-turn and menu performance is reasonable, if not quite as fast as my Kindle Oasis. Battery life has been very good — I haven't charged the PocketBook Color in weeks.
All of this is nice enough, but the PocketBook Color would be an entirely unremarkable device if not for the screen. So let's talk about the screen.
The key element of Kaleido screens is that E Ink has developed a thinner, higher quality color filter array than it used in its older Triton technology, which required a glass-based color filter layer on top of the monochrome panel. E Ink says Kaleido displays can show up to 4,096 colors and 16 levels of grayscale, which is the same as it claimed for Triton, but the overall color reproduction is much improved.
The catch is that the color filter array severely reduces the screen's overall resolution, since it sits in front of the monochrome E Ink microcapsules. The PocketBook Color's 6-inch screen has a resolution of 1072 × 1448 when displaying black and white content, which makes for a high pixel density of 300 ppi, but areas of the screen that show color see pixel density drop to 100. The filter is also visible when reading monochrome content if you look closely, giving the screen a slightly grainier look than modern conventional e-readers.
Kaleido screens obviously aren't going to compete with tablets in brightness, contrast, or vibrancy. But I like using the PocketBook Color in the same situations where I'd prefer to use a Kindle over an iPad. The screen looks its best outdoors in the sun — I'd compare the color reproduction to a newspaper that's faded over a few days. Not exactly stunning, then, but certainly readable and glare-free. The resolution isn't a big problem in practice, either, because the text remains sharp and images look fine at normal viewing distances.
The screen is less impressive indoors, because you really need to use the front light to see much of anything. Crank it up too high and you don't really feel like you're looking at an e-reader any more, but the colors are hard to make out at too low a brightness. I found setting it to around 30-percent brightness usually offered the best balance of color and comfort. But with glare and power consumption less of a concern at home, I'd be more likely to reach for a regular tablet in the first place.
Overall, I think Kaleido is imperfect but at least viable as an e-reader screen technology, and the PocketBook Color is by far the best color e-reader I've ever seen. But its biggest problem is that I just didn't know what to do with it.
PocketBook's store has an extremely limited selection of English-language content. I'm not going to criticize the product too hard for that, since it isn't even sold in Anglophone markets, but you should expect to have to load it up with your own DRM-free content if you choose to import. The PocketBook Color supports several book formats including EPUB, CBR, CBZ, MOBI, and PDF, and you can sync files to the device either over Dropbox or through PocketBook's own cloud service, which is simple and fast.
But even in a world where the PocketBook store was stacked with bestsellers, or where you had legal, DRM-free copies of everything you'd ever want to read, the PocketBook Color wouldn't be the best way to make the most of a Kaleido screen. Basically, it's too small. Magazines and comic books look good, but they're just too hard to read on a 6-inch display. Manga is a good fit, but tends to be overwhelmingly in black and white. Regular books with the occasional color illustration or graphic work pretty well, but that's not a very common or exciting use case, and monochrome e-readers have better overall screen quality.
There are modes for zooming, scaling, and viewing individual panels, but I didn't find them to be very convenient or effective. While the PocketBook Color's performance is generally fine, it isn't really up to the task of manipulating a large PDF. I would be really interested in a version of this device with an 8- or 9-inch screen, because I think it'd be a much better fit for the type of content that works best on the Kaleido display.
The one thing that does reliably look great on the PocketBook Color is book covers, and you know what they say about judging books on those. If anything, though, that could be the thing that drives adoption of the technology. It's definitely nice to look at your library and the book store in color — even E Ink itself sells Kaleido as enabling "a more fully realized ebook shopping experience." If anything's going to get Amazon on board, you'd think it would be that.
Color E Ink isn't quite there yet. Even though the PocketBook Color is the best device of its kind to date, it's hard to recommend over traditional e-readers unless you know what you want to read on it, considering it's almost twice the price of a Kindle Paperwhite. Do you have a 6-inch e-reader already and often use it for things that you wish you could read in color? This might be worth checking out. Are you waiting for a perfect comic-reading device? This isn't it.
I don't think Kaleido in its current form is the technology that's going to take color E Ink mainstream, but it's getting there. Even though the color reproduction is never going to compete with LCD tablets, a bigger screen with equal (or ideally higher) sharpness would be great for reading things like comics and magazines outdoors, and the battery life advantage remains significant.
Kaleido color E Ink is good for the same reasons as monochrome E Ink. It still comes with a lot of trade-offs, though, and the PocketBook Color isn't the device that will show off its true potential. Keep an eye on this technology, though — for the first time in a long while, it actually feels like color e-readers could be viable soon.
Yale may have just turned institutional investing on its head with a new diversity edict
It could be the long-awaited turning point in the world of venture capital and beyond. Yale, whose $32 billion endowment has long been led since 1985 by the legendary investor David Swensen, just let its 70 money managers across a variety of asset classes know that for the school, diversity has now moved front and center.
According to the WSJ, Swensen has told the firms that from here on out, they be measured annually on their progress in increasing the diversity of their investment staff, meaning their hiring, training, mentoring and retention of women and minorities.
Those that show little improvement may see the university pull its money, Swensen tells the outlet.
It's hard to overstate the move's apparent significance. Though the endowment saw atypically poor performance last year, Swensen, at 66, is the most highly regarded endowment manager in the world, growing Yale's endowment from $1 billion when he joined as a 31-year-old former grad student of the school, to the second-largest school endowment in the country today after Harvard, which currently manages $40 billion.
Credited for developing the so-called Yale Model, which is short on public equities and long on commitments to venture shops, private equity funds, hedge funds, and international investments, Swensen has inspired legions of other endowment managers, many of whom worked with him previously, including the current endowment heads at Princeton, Stanford, and the University of Pennsylvania.
It isn't a stretch to imagine that they will again follow Swensen's lead, which could go a long way in changing the stubbornly intractable world of money management, which remains mostly white and mostly male across asset classes.
While the dearth of woman and minorities within the ranks of venture firms may not be news to readers, a 2019 study commissioned by the Knight Foundation and cited by the WSJ found that women- and minority-owned firms held less than 1% of assets managed by mutual funds, hedge funds, private-equity funds and real-estate funds in 2017, even though their performance was on a par with such firms.
Swensen tells that WSJ that he has long talked about diversity with the fund managers to which the endowment commits capital, but that he had he held of anything systematic owing to a belief, in part, that there were not enough diverse candidate entering into asset management for a mandate to make sense.
After the Black Lives Movement gained momentum this spring, he decided it was time to take the leap.
What about that perceived pipeline concern? Fund managers will have to figure it out if they. For his part, says the WSJ, Swensen suggested to the U.S. managers that they forget the standard resume and consider recruiting directly from college campuses.
How Riot used tech from The Mandalorian to build Worlds' astonishing mixed reality stage
After a hard-fought win over Korean team Gen.G, all five members of Europe's G2 Esports stood at the edge of a pool of clear, glistening water to take a bow and celebrate their victory. Two members then picked up their star teammate, Rasmus "Caps" Borregaard Winther, and held him over the water, as if to throw him overboard. It's a good thing they didn't — despite how real the water may have looked to viewers, it was nothing but pixels.
The annual League of Legends World Championship is currently underway in Shanghai, and like most major events, it has had to be re-envisioned in order to be possible in our new pandemic-dominated reality. Typically, the early stages of the tournament are something of a traveling road show, with different rounds taking place in different cities. In 2020, things had to change.
With travel restrictions in place, and fans no longer able to attend matches, the team at League developer Riot tried something different. They built out a set made up of massive LED screens in a technology setup similar to what Disney used to create The Mandalorian's sci-fi landscapes. It has been used to startling effect. Matches have looked like they've taken place in a cloudy, cyberpunk Shanghai skyline or amid a flooded landscape. What could have been a drab competition in the absence of fans has turned into perhaps the most impressive Worlds in recent memory.
"There are any number of days where we come to the set and say 'Wait, I don't think this has ever been done before.' You just kind of get used to it after a while," says Michael Figge, creative director at Possible Productions, which partnered with Riot on the event.
The feat is all the more impressive when you consider the compressed schedule. Typically, producers from Riot and Possible spend well over a year planning for Worlds, but that simply wasn't possible this year. It wasn't until May that the decision was made to utilize this tech in a studio without fans.
The setup is a powerhouse, and Riot says that the LED screens — there are more than 900 LED tiles in total — display visuals at 32K resolution and at 60 frames per second. Those visuals were made using a modified version of the Unreal Engine, and in total, the team is made up of 40 artists and technicians. Nick Troop, executive producer for Worlds 2020 at Riot, describes it as "a creative tool that gives us effectively infinite power to manifest whatever our collective imaginations bring to the fore." And he says one of the most important elements of the whole setup is the way things are shot, powered by four specialized cross-reality cameras.
"Rather than having a single projected camera perspective, we actually have two running simultaneously, effectively all of the time," he explains. This allows the broadcast team to work in a more traditional way; they can swap between the two simulated perspectives at will, using four cameras to shoot the action on set. "It means that the broadcast team can do what feels to them what feels like a 'normal television show,' but in this curated, and beautiful series of environments," says Troop.
For viewers watching on Twitch or YouTube, the LED soundstage is transformed into a sprawling fantasy world, with AR technology used to make the images expand beyond just the screens. You still see players sitting at desks and playing, but their surroundings are quite elaborate. In a nod to the current state of League of Legends, where four elemental dragons are of pivotal importance in a game, each of the four preliminary rounds of Worlds was styled with a different element.
Initially, there were lots of crumbling rocks and mountains to represent the earth dragon; this was followed by the cloudy Shanghai skyline for the air dragons; later, the set appeared to be flooded with water that stretched on forever. This weekend, during the two semi-finals games, things will shift to fire.
While this technology has been used before, most notably on The Mandalorian, this is the first time it's been done live. "Pretty much every [cross-reality] expression that has been broadcast to this point has not been live," explains Possible's Figge, whose company has worked on everything from Super Bowl halftime shows to Justin Bieber concerts. "It's been pre-shot, similar to a lot of AR stuff for awards shows in North America. It's risky to do live. We're doing up to 10 hours a day of live television on this stage. There's no second chance at it."
One of the challenges was balancing the desire to make things look cool without interfering with the players. Everyone onstage — teams, coaches, and support staff — has a somewhat different visual experience than viewers at home, since the AR elements only appear for viewers at home. This turned into something of an advantage for the broadcast team.
"When we do these games, it's really important for the competitive integrity of the sport for the players not to be able to see the game on the Jumbotron or anything like that. It's a really difficult design problem," says Figge. "With this stage, everything that's above a certain level of height on the stage is completely virtual. It's augmented reality. So we have the game playing in the background and the players can't see it."
That said, while players don't get the full experience viewers do, it was still important that being onstage felt special. This is the World Championship, after all, something teams from across the globe have been striving for all year long. Without the roar of a crowd to hype up players, the spectacle of a vibrant fantasy backdrop is a solid second option. Those onstage can't see the AR elements, but they can see the graphics on the screens around them. "It helps ground the player," says Troop. "They can still have a sense of the [game] world reacting, in a way that I think helps with their Worlds experience. There is a certain mindset that comes from being on stage, and we wanted to preserve that."
In most years, the technical showcase of Worlds is reserved for the opening ceremonies at the finals. In the past, that's included an AR K-pop concert and a holographic hip-hop performance. It's still not clear what this year's big show will look like (though it will likely involve K-pop again), but you could argue that the early rounds have already stolen the show thanks to this new technology. Each round even opened with its own mini ceremony, featuring choreographed dances set in the fantasy realm; performers jumped across crumbling stone bridges and twirled around with magical spells. Despite the circumstances, Riot turned what could have been a low-key edition of Worlds into a surprisingly memorable one.
"It's been more educational than frustrating," says Troop of the experience so far.
The Apple Watch Series 6 Is Already $20 Off
Best Tech Deals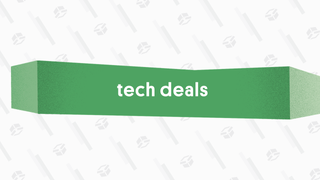 Best Tech Deals
The best tech deals from around the web, updated daily.
Apple Watch Series 6 (44mm) | $415 | Amazon
Apple Watch Series 6 (40mm) | $385 | Amazon
It's only been out a week since launch and we're already seeing discounts on the Apple Watch Series 6. Amazon has some 40mm models down to $375, while the 44mm falls to $415, both about $20 off and shipping anywhere between 1-4 weeks out.
The Apple Watch Series 6 runs laps around the competition as far as technology is confirmed. It features everything you love about the Series 5 watch like an ECG heart rate sensor, and also adds new tricks like a blood oxygen sensor and an always-on altimeter, making it more ideal than ever for fitness buffs.
G/O Media may get a commission
---
Source