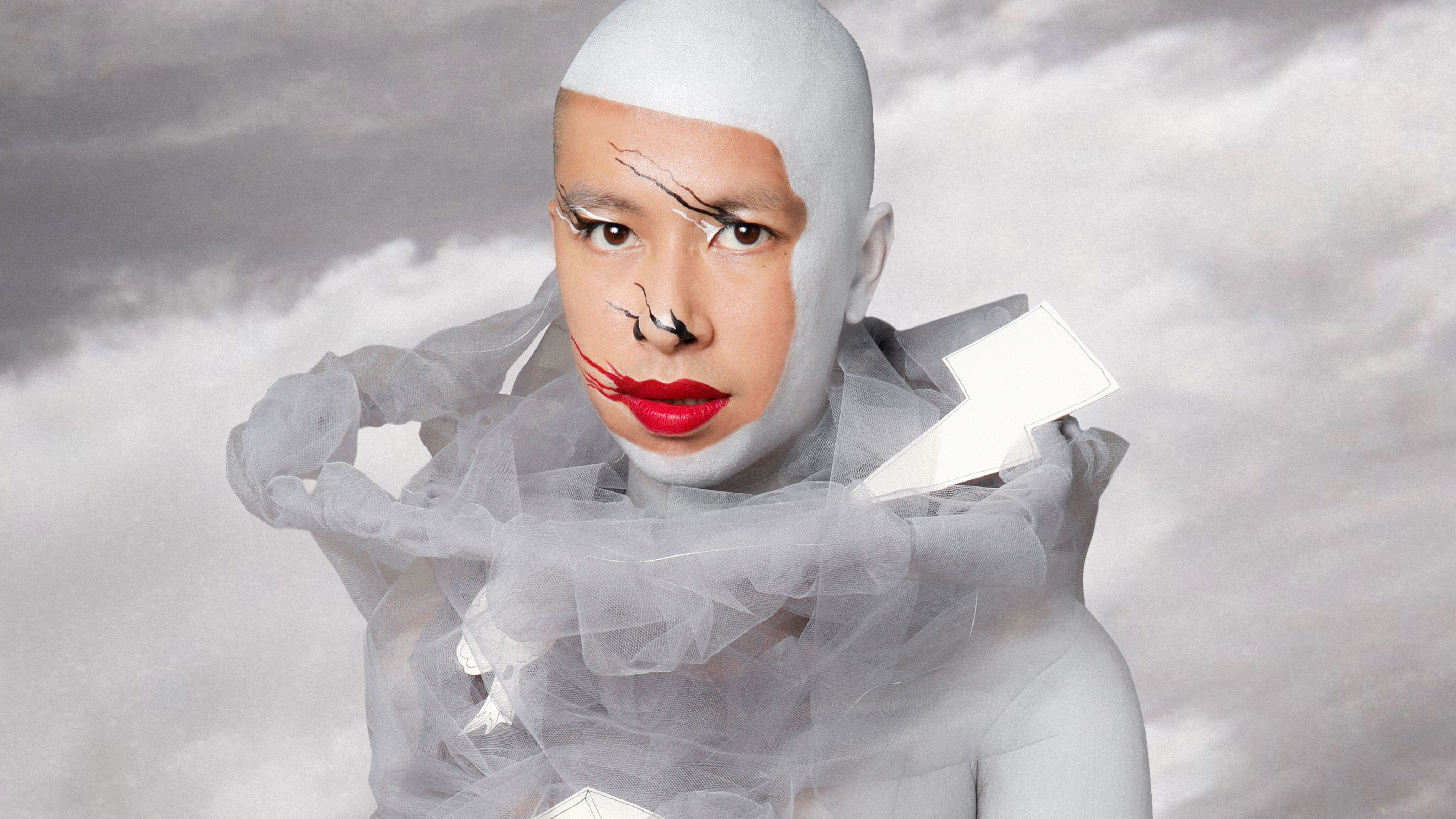 To celebrate the start of the most terrifying #SPOOKYSZN in living history, VICE asked a few of our favorite artists and photographers to create costumes based on prompts forged from the depths of our brains. Armed with nothing but $25 and their own wild imaginations, the artists were tasked with building cheap Halloween costumes and sharing their scary good savings tips. Supported by GEICO.
This year has been a whirlwind. That in mind, VICE asked Brooklyn based photographer/artist Brian Vu to create a costume, something that might inspire Oohs and Ahs at whatever Zoom Halloween party he finds himself at this year. His prompt: only one of the most feared calamities in the natural world…the tornado. The twist(er): we only gave him $25. No matter. He delivered.
Vu's approach to portraiture is wholly his own. He creates bold images that conjure strength and representation from subjects that inspire him—radiant, colorful portraits of people isolated in dramatic backgrounds, adorned in elaborate wardrobes that accentuate their presence. Here we talk to him about his costume, what inspires him, and his aesthetic.
What was your initial reaction to the prompt?
I was blown away. Just kidding. I was nervous at first because it was out of my comfort zone! It was so fun to figure it out step by step. I asked a few people what they would do and they gave me tips. I did a lot of searches online and thought of American films that depicted the tornado. I knew I wanted to create an all gray look right away. Since there was a budget of $25 there were a lot of different approaches I could have taken. I thought the wire and the tulle would be a good approach to take.
What were the challenges of the "tornado" as a concept for a costume?
The biggest challenge for me was figuring out how to create the actual tornado. There was a bit of hesitation on the execution. I was worried whether the wire could hold up the fabric well enough.
How would you describe your interpretation of the tornado?
A tornado blowing all of the color away.
Do you typically make your own costume for Halloween?
Yes! I'm getting better at it year by year. It's just so much more fun to make your own from scratch.
How did you develop your aesthetic?
I've been working on portraiture on and off since I've moved to New York eight years ago so it's been a slow process of figuring out what works and what doesn't for me. With this recent body of works I've studied renaissance paintings and portraiture. The way subjects and stories were portrayed in [Gustave] Moreau paintings moved me a lot.
What subjects inspire you?
I'm extremely inspired by the queer community. The endless creativity and ideas they share on a daily basis bring me so much joy. I look up to these people so much. I always try to photograph them in the best light I possibly can.
How did you use the $25?
With the $25 I was able to purchase three items total. Wire ($3.50), Gray body paint ($10.67), and tulle fabric ($8.99).
Walk us through the steps to making your costume, while giving us some hints on how to save money.
I wanted to create a costume that would wrap around my entire body to make a spiral tornado-like shape. I wrapped the wire with a lot of tulle to give it texture and volume. If you don't have tulle, then you can use party crepe paper, which is a lot more affordable.
The next step was to create elements that would be typically sucked up in a tornado. My main inspiration behind these drawings were from films. I drew different animals, houses, cars, and trees of different sizes. I then cut them out. I decided to keep everything black and white to give the image an overall graphic look. These didn't cost a thing to make, just paper and a pen is all you need.
Now it's time for makeup. This is always my favorite part of any photoshoot or costume. I wanted to keep the products very limited. I had purchased the body paint and I painted it all over my body with a paint brush. I own a beauty brand and we create eyeliners and lip paints so I used the products for the costume. I had a black eyeliner, a brown eyeliner, and a red lip paint. I created diagonal streaking motions that made it look like my face was in motion and being blown away. If you don't have brushes you can do these streaks with your fingers and some cheap body paint that you'd find at any party store.
Next was putting on the costume. This took a while to figure out and I got tangled up a bunch. But with trial and error came success! I wanted an asymmetrical tornado that went from my shoulders down to my waist. The wire was easily bendable and great to work with. I then attached the drawings I did with tape.
How did you create your backdrop?
I shot everything in my studio once I was finished. I already had a gray seamless backdrop there. I shot the image with flash and a self-timer. Then I took out the gray in photoshop and added a sky over it. You can do this as well on a phone editing app. Another method is to go outside and photograph yourself with a sky behind you. After that you can edit the sky black and white.
Lastly, do you have any additional tips for fledgling DIY costume designers on a budget?
Borrow things from friends. Go thrifting for outfits at second-hand stores. Makeup helps tie in the look, and can be purchased at low prices from local drug stores. There are also a lot of resources and ideas online that can help. Just a simple search will go a long way.
Supported by GEICO.
'Amplifiers for idiots': Former Google CEO slams social media
Eric Schmidt says more regulation may be needed for social media, but US antitrust suit against Google is misplaced.
Former Google Chief Executive Officer Eric Schmidt said the "excesses" of social media are likely to result in greater regulation of internet platforms in the coming years.
Schmidt, who left the board of Google's parent Alphabet Inc. in 2019 but is still one of its largest shareholders, said the antitrust lawsuit the U.S. government filed against the company on Tuesday was misplaced, but that more regulation may be in order for social networks in general.
"The context of social networks serving as amplifiers for idiots and crazy people is not what we intended," Schmidt said at a virtual conference hosted by the Wall Street Journal on Wednesday. "Unless the industry gets its act together in a really clever way, there will be regulation."
Google's YouTube has tried to decrease the spread of misinformation and lies about Covid-19 and U.S. politics over the last year, with mixed results. Facebook Inc. and Twitter Inc. have also been under fire in recent years for allowing racist and discriminatory messages to spread online.
Schmidt also argued Google's massive search business — the target of the U.S. Department of Justice's antitrust suit — continues to be so successful because people choose it over competitors, not because it uses its size to block smaller rivals.
"I would be careful about these dominance arguments. I just don't agree with them," Schmidt said. "Google's market share is not 100%."
US officials say Russia, Iran have obtained voter information
Intelligence officials link Iran to threatening emails sent to Democratic voters in multiple battleground states.
The United States' top intelligence official has accused Russia and Iran of obtaining US voter information and making moves to influence public opinion ahead of the 2020 presidential election.
John Ratcliffe, director of National Intelligence, made the announcement at a hastily arranged news conference on Wednesday that also included FBI Director Chris Wray.
The announcement two weeks before the November 3 election showed the level of alarm among top US officials that foreign actors were seeking to undermine Americans' confidence in the integrity of the vote and spread misinformation in an attempt to sway its outcome.
"We have confirmed that some voter registration information has been obtained by Iran and separately, by Russia," Ratcliffe said during the news conference.
Most of that voter registration is public, but Ratcliffe said that government officials "have already seen Iran sending spoofed emails designed to intimidate voters, incite social unrest and damage"
Ratcliffe was referring to emails sent on Wednesday and designed to look like they came from the pro-Trump Proud Boys group, government sources told the Reuters news agency. A number of voters in Florida and other key states in the election battle between the Republican president and Democrat Joe Biden said they had received the messages.
[embedded content]
"You will vote for Trump on election day or we will come after you," the emails said. "Change your party affiliation to Republican to let us know you received our message and will comply. We will know which candidate you voted for."
"I would take this seriously if I were you," the message ends, adding the voter's address.
'Desperate attempts'
In addition to the threatening emails, Ratcliffe said Iran also distributed a video that falsely suggested voters could cast fraudulent ballots from overseas.
"These actions are desperate attempts by desperate adversaries," Ratcliffe said, adding that Russia and Iran seek to "to communicate false information to registered voters that they hope will cause confusion, sow chaos and undermine confidence in American democracy".
The top national security official did not explain how the Russians and Iranians had obtained the voter information or how the Russians might be using it.
US intelligence agencies previously warned that Iran might interfere to hurt Trump while Russia was trying to help him in the election. Outside experts said that if Ratcliffe was correct, Iran would be trying to make Trump look bad by calling attention to support and threats by the sometimes violent Proud Boys group.
A spokesman for Iran's mission to the United Nations denied Iran had sought to meddle in the US election.
"Iran has no interest in interfering in the US election and no preference for the outcome," spokesman Alireza Miryousefi said in a statement.
[embedded content]
US Senate Democratic leader Chuck Schumer, who received a classified briefing on Wednesday afternoon on election security, said he disagreed with Ratcliffe that Iran was specifically trying to hurt Trump.
"It was clear to me that the intent of Iran in this case and Russia in many more cases is to basically undermine confidence in our elections. This action I do not believe was aimed … at discrediting President Trump," Schumer told broadcaster MSNBC in an interview.
White House spokesman Judd Deere said Trump has directed government agencies "to proactively monitor and thwart any attempts to interfere in US elections, and because of the great work of our law enforcement agencies we have stopped an attempt by America's adversaries to undermine our elections".
Wray, the FBI director, meanwhile stressed that US election systems remained safe.
"We are not going to tolerate foreign interference in our elections or any criminal activity that threatens the sanctity of your vote or undermines public confidence in the outcome of the election," he told reporters.
"We've been working for years as a community to build resilience in our infrastructure and today that infrastructure remains resilient – you should be confident that your vote counts."
More than half of small European firms fear closure: McKinsey
One in 10 small and medium-sized firms in Europe expect to file for bankruptcy within six months, 55 percent in a year, the McKinsey survey found.
More than half the small- and medium-sized enterprises (SMEs), which together provide jobs for two-thirds of European workers, fear for their survival in the coming 12 months, according to a survey released by management consultancy McKinsey on Thursday.
The survey was conducted in August, before the current acceleration in coronavirus cases across Europe that is forcing governments to impose new restrictions on activity and prompting speculation of fresh national lockdowns.
The finding comes as warnings multiply of an impending wave of business insolvencies and as the International Monetary Fund (IMF) and others urge the region's governments to boost state support to help companies weather the coronavirus pandemic.
The McKinsey survey of more than 2,200 companies in five countries – France, Germany, Italy, Spain and Britain – found that 55 percent expected to shut down by September next year if their revenues remained at current levels.
At the current trajectory, one in 10 SMEs were expected to file for bankruptcy within six months.
"This is a substantial burden on the financial sector," report co-author Zdravko Mladenov said of just one of the knock-on impacts of such a development, which would also send jobless totals surging and stymie wider investment in the economy.
Economists polled by Reuters last month forecast that the euro area economy would grow by just 5.5 percent next year, after a fall of approximately 8 percent this year, but warned that even that patchy recovery was vulnerable to a further spread of the virus.
SMEs are defined as companies with 250 or fewer employees.
In Europe, they employ more than 90 million people, but their small size makes them vulnerable to cash flow crises. In Spain, for example, 83 percent of the 85,000 businesses that have collapsed since February employ fewer than five workers.
'Whatever it takes'
State measures across the region, ranging from moratoria on bankruptcies to loan repayment holidays, have until now kept thousands of struggling businesses afloat. But as those measures are in some cases wound down, Germany's Bundesbank and the Bank of England are among those warning of rising insolvencies.
"Policymakers need to do whatever it takes to contain the pandemic and its economic damage, and not withdraw support prematurely to avoid repeating the mistake of the global financial crisis," the IMF said in its blog this week.
"For companies, policies now need to go beyond liquidity support and ensure that insolvent but viable firms can remain in business," it added, citing measures to facilitate debt restructuring or make equity available to viable firms.