Islamabad, Pakistan – Pakistan is prepared to sit down for talks with regional rival India, with whom it came close to an all-out military conflict last year, provided that Kashmiris are provided a seat at the table, Pakistan's national security adviser has said.
"I will tell you very honestly, in the past year, we've gotten messages about a desire for conversation [from India]," Moeed Yusuf told Indian journalist Karan Thapar during a wide-ranging interview on Tuesday.
Yusuf advises Pakistani Prime Minister Imran Khan on national security and strategic policy.
"We have got to think strategically. These are two countries, have terrible relations, we need to sit down like adults," he told Thapar. "There are […] fundamentally two issues: Kashmir and terrorism. I want to talk about both."
Yusuf also accused India of sponsoring armed groups that carry out attacks on Pakistani soil.
He said Pakistan had specific evidence linking India's intelligence services to the 2014 massacre of more than 130 pupils in Peshawar, a 2019 attack on a luxury hotel in southern Pakistan, a 2018 attack on a Chinese consulate in Karachi and the recent merger of several Pakistani Taliban factions into a single group.
The interview, conducted at times in a combative tone, was the first time a senior Pakistani official had spoken to Indian news media since August 2019, when India revoked a special status for the portion of the disputed territory of Kashmir that it administers.
The Pakistani NSA said there was a need for the Kashmir dispute and issues around "terrorism" to be on the agenda for any future talks.
"There are three parties to the Kashmir dispute. There is Pakistan, there is India and there is the principal party, the humans called Kashmiris," said Yusuf.
"If the Kashmiris can't stand the sight of India, can't bear to be in the same room as the Indians, how are we going to have a dialogue?"
Yusuf did not specify which group or individuals he meant specifically when he called for the "Kashmiris" to be a part of the talks.
Pakistan and India have fought two of their three wars over the disputed Himalayan territory of Kashmir, which both claim in full, but administer over separate portions divided by a Line of Control.
Last year, the two countries came close to another war, after Indian air strikes on Pakistani soil prompted aerial skirmishes that saw Pakistan launch retaliatory strikes and shoot down an Indian aircraft.
India's action was sparked by the killing of more than 40 security personnel in a suicide attack in Indian-administered Kashmir's Pulwama town, an attack India blamed on Pakistan-based armed groups.
Pakistan denies allowing armed groups to use its territory for action against other countries, specifically India.
'Fiction' and 'pipe dream': India
In his interview, Yusuf also claimed India had sent a "message for a desire for conversation" with Pakistan, without elaborating further.
"But why is there a desire? In my reading, to talk, to get somewhere," he said. "There has to be an enabling environment to talk."
Relations between the two South Asian nuclear powers have remained frozen since India changed the constitutional status of Indian-administered Kashmir, absorbing the Muslim-majority territory into the country's administrative and political mainstream – a move decried by Pakistan.
India's government did not offer official comments on the interview.
However, in a report on Wednesday, India's Hindustan Times newspaper quoted a top Indian official as saying Yusuf's claims were "fiction" and not just "mischievous but also a pipe dream".
"Officials added that New Delhi's stand on holding any conversation with Pakistan had been consistent and was preconditioned on Islamabad taking concrete steps to build an atmosphere free from the shadow of terror and violence," said the report, which did not reveal the identity of the official.
India's intelligence agency targeted
Pakistan has routinely accused India of being associated with attacks on Pakistani soil, particularly in the southwestern province of Balochistan.
On Tuesday, however, Yusuf made specific allegations against India's intelligence agency, the Research and Analysis Wing (RAW or R&AW).
"[In] 2019, the Indian embassy funds were used, more than a million US dollars, to effect the merger [of Pakistan Taliban]," he said. "Congratulations to the RAW, they have succeeded in creating an organisation to kill Pakistanis."
Yusuf accused RAW of being in contact with Malik Faridoon, a man he identified as the "mastermind" of the 2014 attack on a school in the northwestern Pakistani city of Peshawar that killed 132 children – one of the deadliest attacks ever on the country's soil.
"We have records of eight phone calls, we have records of phone numbers, we have records of handlers who orchestrated this entire thing sitting in a third country," he said.
He also linked RAW to the attack on the Chinese consulate in the southern Pakistani city of Karachi in 2018, and to an attack on a luxury hotel in the southern port town of Gwadar last year that killed five people. India denies the allegations.
Responding to Indian allegations that Pakistan had delayed the trials of those Pakistanis accused of involvement in the 2008 Mumbai attacks, which killed more than 160 people, Yusuf said the law was taking its course.
"We have to follow the course of law, and India is not cooperating in the evidence it needs to provide," said Yusuf. "Get the witnesses over, provide the evidence, I want to end this before anybody else."
He made similar allegations regarding the slow pace of progress in the appeal of Indian citizen Kulbhushan Jadhav, who was convicted for spying and sentenced to death by a Pakistani court in 2017.
Yusuf also responded to a question on Pakistan's silence on the issue of the alleged persecution of Uighur Muslims in China, a strategic ally and Pakistan's northeastern neighbour, by terming the allegations "a non-issue".
"Even our delegations have visited, we have seen and we are 100 percent satisfied that it is a non-issue," he said. "The West can say what it wants […] we have zero concerns."
Al Jazeera's Asad Hashim contributed to this report from Islamabad.
20 cozy, comfy cardigans to snuggle up in all fall and winter
(CNN) —  
It's official: Sweater weather is here. As we all collectively say "buh-bye" to our beloved summer wardrobes, the good news is that a fall season brings with it the opportunity to throw on a big ol' sweater and get cozy. And we're not just talking any sweater — we're talking cardigans, people.
The workhorse of the sweater category, cardigans are everyone's favorite because they're just so versatile. With limitless designs on the market — cropped and bulky, soft as butter and buttoned up, knit and ultra long — cardigans can be worn solo or layered, making them a sure bet when you just don't know what the day's weather will have in store…which is fall in a nutshell.
More good news: Cardigans are a great way to look professional when working from home. Throw one over pajamas and your appearance will go from sleepy to snappy in a second. To help you navigate your sweater journey this season, we've rounded up 20 great cardigans, from luxe cashmere options (read: splurge time!) to more affordable alternatives that are equally adorable (and so cheap you can afford to buy a few). The hardest part is going to be deciding how many you need as we head into the winter months.
Old Navy Long-Line Open-Front Sweater for Women (starting at $28, originally starting at $39.99; oldnavy.com)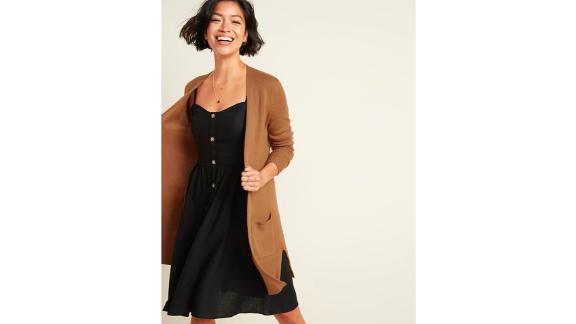 Ultra soft and lightweight to boot, this cotton/rayon cardigan has a lovely long-line silhouette that's super versatile. Available in six colors, the sweater has two cute front pockets and venting, making it the perfect option to layer over a T-shirt and leggings.
Barefoot Dreams CozyChic Lite Circle Cardigan ($116; nordstrom.com)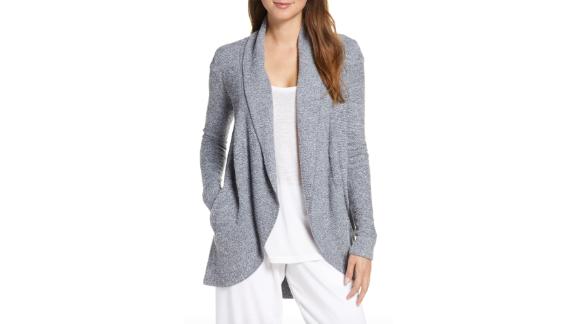 Nearly 3,500 Nordstrom customers agree that this Barefoot Dreams cardigan, which has a 4.7-star rating, is worth the purchase. Raving that it's the "coziest, softest sweater ever" and "comfy, cuddly perfection," reviewers also note that shoppers should size down. Available in seven colors, the lightweight knit sweater has hidden welt pockets too. Looking to spend a bit less? Check out this much cheaper Amazon lookalike.
Zesica Open-Front Leopard Print Cardigan (starting at $24.64; amazon.com)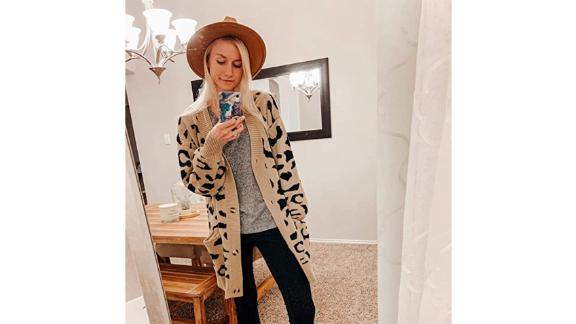 We told you all about the Amazon nightgown dress, the Amazon coat and the Amazon pajamas — now it's time to dish on the Amazon cardigan. With more than 3,200 positive reviews and a 4.5-star rating, this super-cute, oversize cardi comes in 20 hues, though the A-beige leopard print is the one you've probably spotted on influencers time and again. The best part? It costs only 25 bucks.
Prologue Puff Button-Front Cardigan ($34.99; target.com)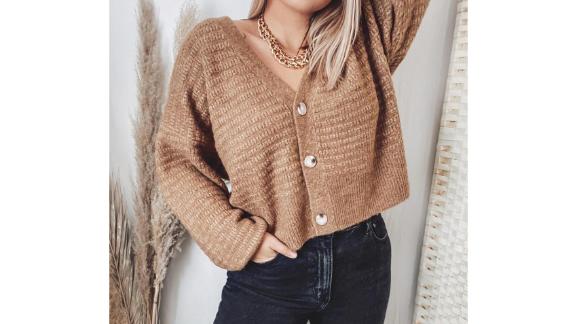 Bursting with cool-girl style, this fuzzy cardigan features a V-cut neckline, puffy sleeves and at-hip length. The black hue is currently sold out, but that's OK because we preferred the totally fall-approved cream and camel colors anyways.
AE Oversized Cardigan ($49.95; ae.com)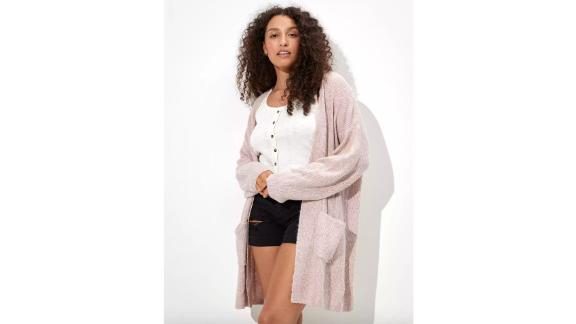 Remember that big ol' sweater we talked about throwing on earlier? Well, this is it. Oversized to perfection, this rib-knit cardigan looks like you grabbed it out of your grandpa's closet — it's just a wee bit too long and just a wee bit too baggy, making it absolutely right for lounging around on chilly days this winter. We love the pine and pink hues, but don't worry, it comes in black, gray and cream as well.
Cropped Cable-Knit Cardigan ($175; naadam.co)

Naadam, the brand known for its fairly priced cashmere sweaters, has a cardigan we've fallen head over heels for this season. In this bright purple color that would pair beautifully with your favorite black or gray coat (or even a slinky slip dress underneath), it's perfectly cropped and features a lovely cable knit, plus it's ultra cozy in a fabric that's 90% wool and 10% cashmere.
Old Navy Pointelle-Knit V-Neck Button-Front Cardigan Sweater for Women ($40, originally $44.99; oldnavy.com)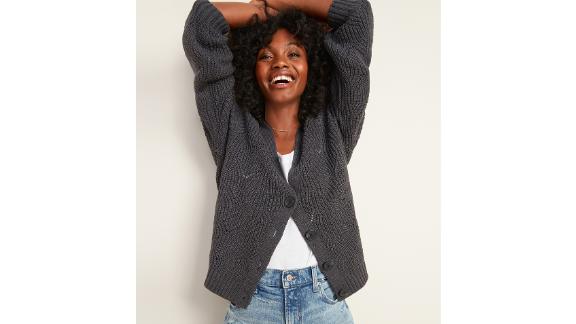 Chock-full of sweet details — from the pointelle stitching to the blouson sleeves and the rib-knit cuffs — this cardi will look just as great layered over a tank or tee as it will worn solo or over a sexy cami. Available in dark gray and marled burgundy, this sweater is thin enough to be tucked in too.
Athleta Pranayama Wrap (starting at $71.99; athleta.com)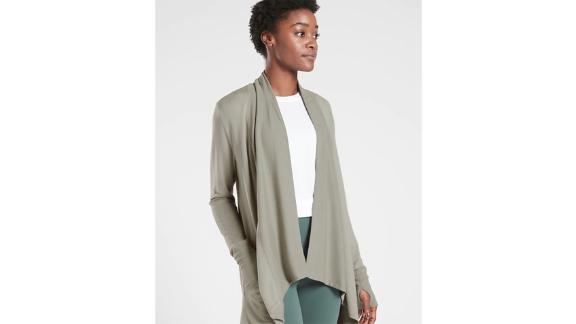 Crisp and clean, this beloved wrap-style cardigan from Athleta is a customer favorite — it has more than 3,000 reviews, 2,700 of which gave the sweater 5 stars. Available in nine colors, the super-soft wrap is lightweight and breathable too, making it perfect for some post-workout warmth.
A New Day Colorblock Open-Front Cozy Cardigan ($27.99; target.com)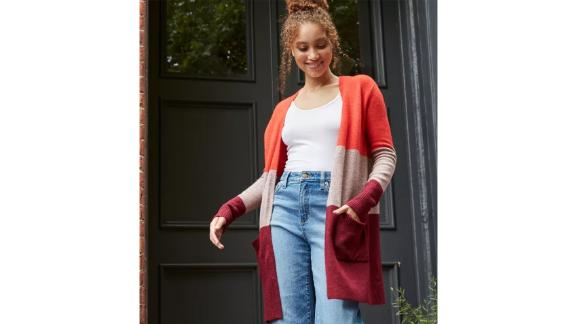 If you're looking for a basic medium-length cardigan to get you through the colder months, look no further than this option from Target brand A New Day. Available in nine colors and patterns and in sizes XS to 4X, the ultra-versatile sweater is totally soft and has some stretch in it too.
AE Cropped Balloon-Sleeve Button-Up Cardigan ($33.71, originally $44.95; ae.com)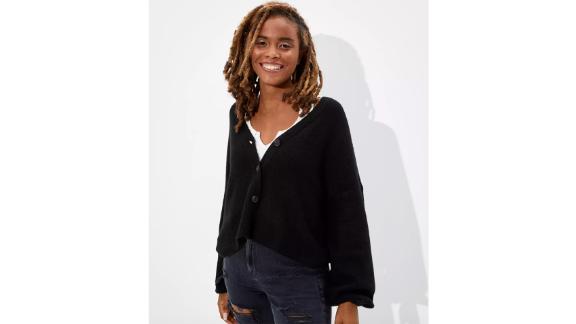 It's official: Cropped cardigans are having a moment. This one, with its slouchy silhouette and boxy frame, is perfection.
Italic Office Cashmere Cardigan ($80; italic.com)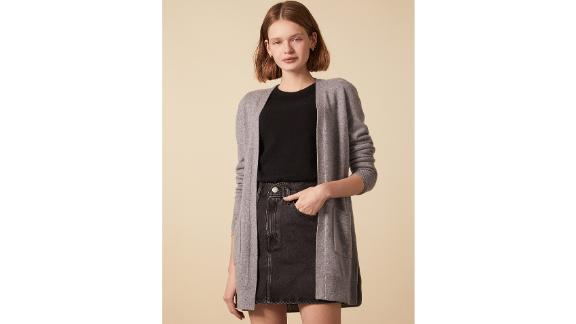 Paper thin and light as air, this chic cashmere cardigan from members-only brand Italic is notable for two reasons — first, it's gorgeous in real life. And second, it's a steal at this price. The sweater would normally retail for triple the cost, but Italic's direct-to-consumer model eliminates retailer fees and brand markups. Whether you wear it loose or cinched at the waist with a belt, you're going to love this pick.
H&M Rhinestone-Button Cardigan ($29.99; hm.com)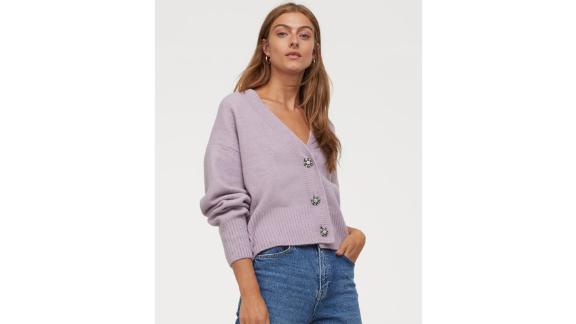 We're just going to go ahead and declare this cardi to be red carpet-ready, thanks to its glam rhinestone buttons and pretty lavender hue. Drape it over a little black dress on a chilly night and you'll be good to go — alternatively, pair it with distressed denim for an adorable high/low look.
Banana Republic Cropped Cardigan Sweater (starting at $47, originally $79.50; bananarepublic.gap.com)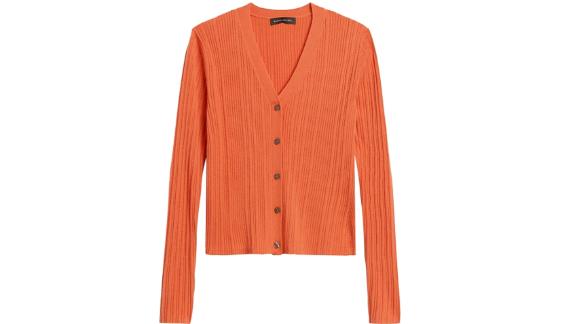 Part cardigan sweater, part adorable top, this piece comes in five cute colors and is perfect for pairing with jeans for a night out.
Athleta Spirit Wool Cashmere Wrap ($199; athleta.com)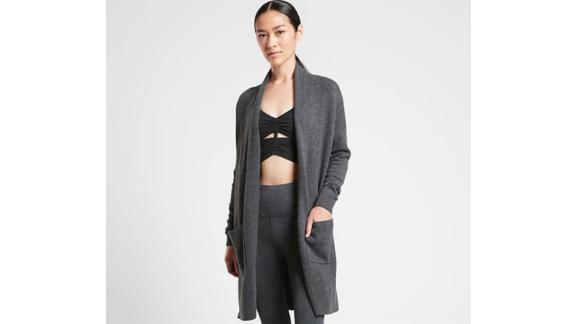 Splurge alert: This lovely cashmere wrap from Athleta is a total dream of a sweater, perfect for throwing on after a yoga sesh, on your way out the door or as an extra layer of warmth while you binge-watch some TV this winter. Available in three neutral tones (black, gray and taupe), the incredibly soft cardigan has easy-access pockets, side slits and some upper shoulder ribbing details that add some detail to the simple silhouette.
Banana Republic Merino Long Cardigan Sweater in Responsible Wool ($50, originally $84.50; bananarepublic.gap.com)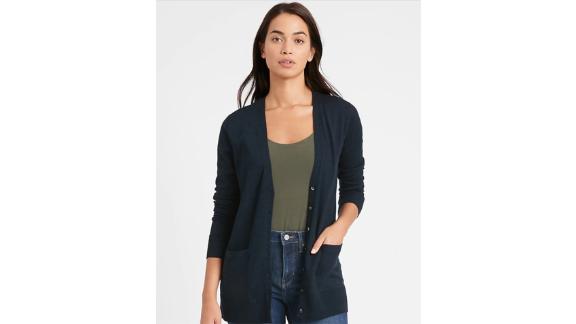 Part of Banana Republic's new responsible wool collection — knitwear composed of wool compliant with the global standard that protects both the sheep and the land they graze on — this easy, breezy cardigan is light enough to wear in the spring and summer but also warm enough for chilly nights. Machine-washable, the sweater comes in seven colors (we're smitten with the gray!) and has a loose cut perfect for layering over a tank and jeans or leggings.
Old Navy Cozy Long-Line Open-Front Sweater for Women ($35, originally $39.99; oldnavy.com)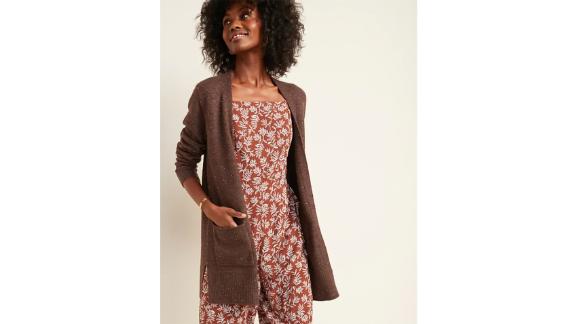 Similar in design to the above cardigan from Old Navy, this version is made of an acrylic/nylon yarn that is definitely heavier and warmer (and cozier too!). Available in a brown and gray and an adorable striped pattern (teal is available in limited sizes), this sweater is a staple your closet needs.
Madewell Bobble Cardigan Sweater ($98; nordstrom.com)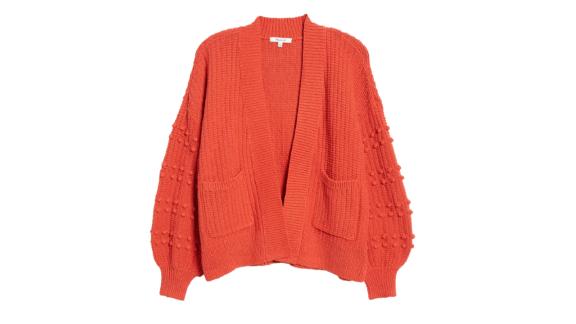 If you're looking for a statement cardigan, this is it. Ultra cozy, the "bobble" sweater from Madewell features adorable pompoms on the balloon sleeves and a shawl-collar design that makes it perfect for layering over a button-down shirt on Zoom calls. More to know: Ample sizes are available, from XXS to 3X.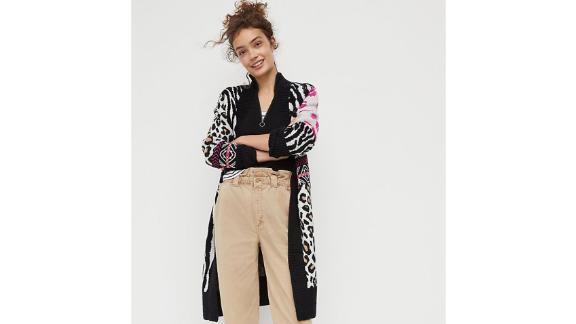 Fun personified, this cardigan is busy and loud, and that's exactly why we love it. Featuring multiple animal prints — yes, that's zebra and leopard — as well as pops of bright pink, this sweater is also super cozy and perfect for layering over jeans or sweatpants.
Nenona V-Neck Button-Down Knit Cardigan (starting at $19.99; amazon.com)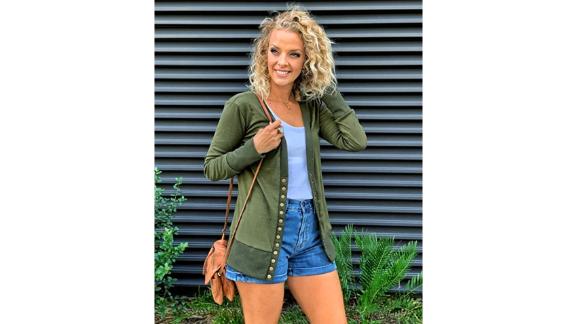 Another Amazon favorite is this thin cardigan that has racked up more than 4,000 positive reviews. Featuring a dozen dainty buttons, the cotton/polyester blend has ribbed detailing and comes in 26 colors and patterns.
H&M Long Cardigan ($19.99; hm.com)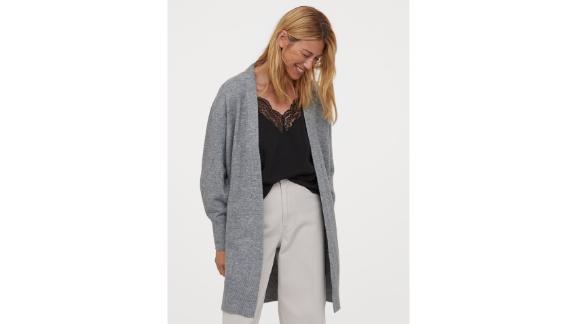 Don't let this cardigan's price fool you; it's much more expensive-looking (and -feeling) in person, thanks to its crisp, clean design. Available in five colors, the classic cardigan is a wardrobe staple that can be dressed up or down.
Amazon packs bold sound and smart home brains into the spherical Echo
(CNN) —  
The Echo has gone spherical. Round. Orblike. Globular. Whatever you want to deem it, the fourth-generation Echo is packed with new features, and for the same $99.99 price tag.
Amazon really wants the Echo to be an all-in-one smart home speaker. And, from our experience with the speaker, Amazon has succeeded. A dependable set of speakers inside powers a rich and vibrant audio experience. Alexa is on-board with all her smarts, alongside a custom Amazon-made chipset internally. And taking from the Echo Plus (which this Echo is replacing), there's a Zigbee smart hub inside that allows the Echo to be a true smart home hub.
So, at just shy of $100, does the orb design and upgraded internal hardware make the Echo shine?
It's a whole new look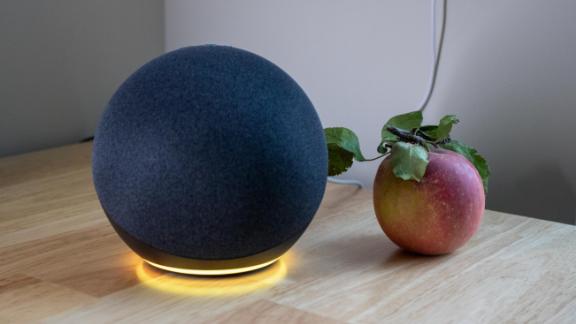 Admittedly, we were a little skeptical of the new spherical design — when it was announced, unlike any other smart speaker we've seen.
But the Echo isn't a giant orb that feels out of place. Over the past few days, we've used it plopped on our nightstand, desk and even kitchen counter. Like previous Echo speakers, it has a cozy design with a fabric outer shell. It's available in Twilight Blue, Glacier White and Charcoal. No matter where we placed it, the Echo blended seamlessly. It's close to a grapefruit size-wise; it's wider over previous Echos and shorter, so it will take a bit of space.
The top features physical buttons — which rest above the fabric shell — that work to engage Alexa, mute the microphones and set volume levels. Over on the backside is the proprietary power port and a 3.5-millimeter audio jack. We'd also be remiss if we didn't mention that the rear side is plastic, so the fabric shell is only partial.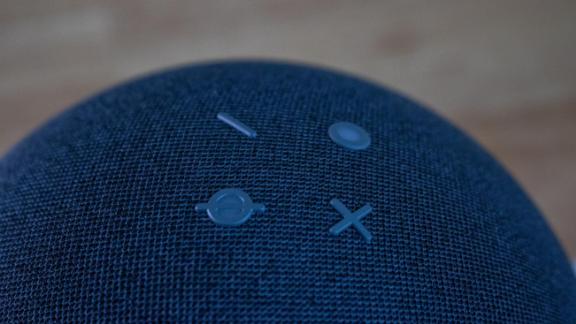 The underside of the fourth-generation Echo contains a mounting port and a rubberized grip for proper positioning. There's even a small rectangular button for resetting the device if need be. Amazon includes a 30-watt wall plug with the cord attached in the box. Regardless of the color you pick, the power plug will be off white.
Amazon didn't remove the circular ring of LEDs, but moved its location. On all previous Echos, it sat at the top; now, it's on the bottom. For starters, it's still easy to see when Alexa is listening as it glows blue, or if you have a notification as it glows yellow. When the microphone is mute, it will glow red. But it doesn't just shine in the ring — it actually shines on the surface the Echo is sitting on.
The fabric outer shell is made from 100% post-consumer recycled fabric, the aluminum used is 100% recycled die-cast and the plastic is 50% post-consumer. So, it's pretty sustainable all around. The Echo also features a low-power mode. If it doesn't sense sound, it will conserve energy. You'll be able to monitor how much energy your Echo uses in the companion Amazon Alexa app for Android and iOS as well.
It can pump out tunes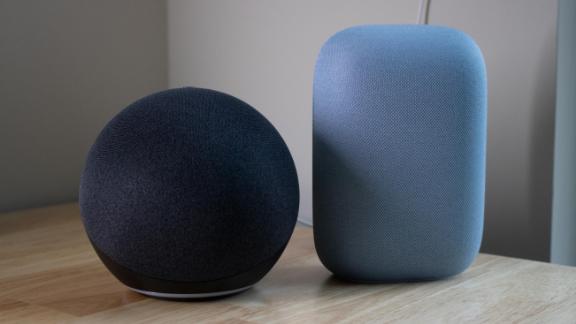 Last year, we called out the improved sound quality of the third-generation Echo, thanks to a 0.8-inch tweeter and a 3.0-inch woofer inside. With the fourth-generation, Amazon packed an extra tweeter (so, count them: two 8.0-inch alongside a 3.0-inch woofer).
And the placement inside a spherically shaped speaker is different. Since it's wider. Amazon had the ability to place both tweeters facing forward, with one angled to the left and the other to the right. The woofer is stationed up time and has more space, both height and width, for the bass to settle and be pushed out.
This adds up to a very robust experience, but it's also no longer a 360-degree omnidirectional one. On this Echo, the sound is pushed out the front, so you'll want to consider that when placing it in your space. The old corner trick for amplification that we called out last year, is still helpful here, but it doesn't produce the effect as well since sound isn't pushed out the rear side. Essentially, when a 360-degree speaker is placed in a corner of the room, the design of that corner amplifies the sound. It's especially useful for Bluetooth speakers as it's a no-cost way to boost the volume.
Loudness really shouldn't be an issue, though. The fourth-generation Echo gets considerably loud for a speaker at this price point — it really knocks the Nest Audio to the side in terms of loudness. It doesn't push the overall volume to the maximum of the audio mix; there's a large amount of clarity and balance that comes with this speaker. But that mix can be bass-heavy by default.
The Echo, like the Echo Studio, will also read the room to get a sense of the space. Essentially, it'll listen for how the audio sounds and determine how close it is to something that could impact that sound, like a wall. You can also customize the mix via an equalizer. And, since Alexa is here, you can ask her or open the companion app.
As a whole, we're really happy with the audio experience. With volume set to 10 on a song like "Helter Skelter" by The Beatles, the speaker produces lots of power, filling a moderately sized bedroom. The track on its own can be a little muddy, but even with a range of instruments, the Echo handles it pretty well. Similarly, "Born To Run" by Bruce Springsteen comes through with a bit more clarity, and the Echo has enough audio prowess to deliver a large wall of sound effect. If anything you get to hear more details of the track — piano, bass, several guitars and a robust reproduction of the saxophone solo.
With a pop track like "Paper Rings" by Taylor Swift, the bass is powerful with the opening drum beat and her vocals come through cleanly on the higher-range of the audio spectrum. On "Bad Guy" by Billie Eilish, you can clearly hear the broader range of bass and feel the woofer actually shaking the surface the Echo is on.
Overall, Amazon managed to deliver a wide soundstage with the Echo that works for a variety of genres.
Alexa smarts in full force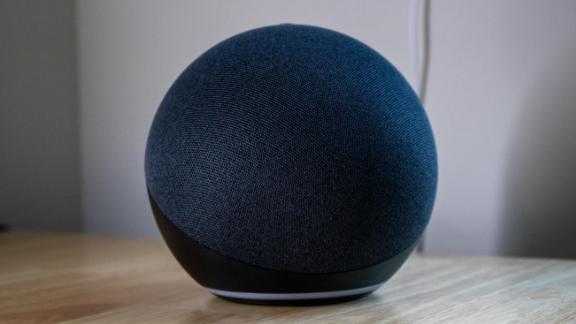 It might be hard to believe, but the Echo first launched in 2014. In the tech space, that means Alexa is getting old. But with age comes wisdom, and Alexa is arguably one of the smarter assistants on the block from our testing. And, on this Echo, you're getting Alexa in full force.
You can get a flash briefing every morning for the latest news (that which matters to you, or course), get the latest weather and, if you're traveling somewhere, even get traffic alerts. If you have other Echo smart speakers, you can use them to announce messages to other speakers in your home. And if a family member or friend has an Echo, you even make a call to them.
All of this is powered by not only Alexa's smarts, but six far-field microphones inside and the Amazon-made AZ1 Neural Edge processor. The latter is a first-generation chipset that can speed up voice recognition and deliver Alexa responses in a faster manner. While the chip is inside, we didn't notice any major impact on this yet, as the all-neural speech recognition model (which powers the faster experiences) will launch later this year.
In use, we didn't notice any slowdowns on the fourth-generation Echo. Alexa was quickly able to answer questions and respond to our queries. Our only qualm was that with music at full volume, we did have to raise our voice to get her to hear the work word. Other smart speakers, like the Nest Audio, HomePod and previous Echos, performed better at listening for the command word — loud music and all.
From a smart home perspective, the fourth-generation Echo is loaded with connectivity. Along with Wi-Fi connectivity, you get Zigbee, Bluetooth Low Energy and Amazon Sidewalk. And these are all standards for how smart home devices connect to a broader network. Like how you can ask Alexa to turn a smart plug on and off. Sidewalk is the only standard proprietary to Amazon as well. It's used to get connectivity on Ring Smart Lighting, so with this Echo, you wouldn't need to buy a bridge.
And for a Bluetooth- or Zigbee-powered smart home product, you wouldn't need to buy a separate hub or bridge. It's all right inside this Echo. We, for instance, were able to pair a few Ring bulbs, a Philip Hue Bluetooth bulb and even a door sensor that uses Zigbee. It's also very easy to find devices that work with Alexa, as you can just ask her to search. It even completes the pairing process for you.
Bottom line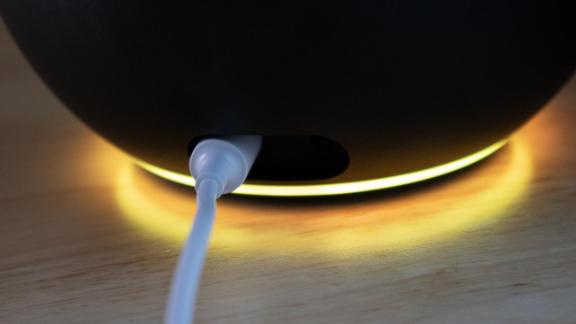 After nearly a week with the fourth-generation Echo, we can safely say that the move to a spherical design was two fold. It's a new design that is more unique and, at the same time, fits better in more spots. But it also allowed the audio team that works on Echo to really improve the sound on this device.
Year over year, it's not only louder but provides a fuller mix with a wider soundstage. Upgrading from a first or second generation Echo will deliver an even more impactful sound experience. All while not sacrificing the main part of this product: Alexa.
At $99.99, the Echo brings a tremendous amount of value. In comparison to Nest Audio, this is the clear winner. (We'll be testing the upgraded Echo Dot and Dot with Clock soon.) The fourth-generation Echo gets the job done — and then some — as an all-in-one smart home device. As long as you're cool playing in Amazon's ecosystem.
Armed Men Who Claimed to Be Hired By Trump Showed Up at a Florida Polling Place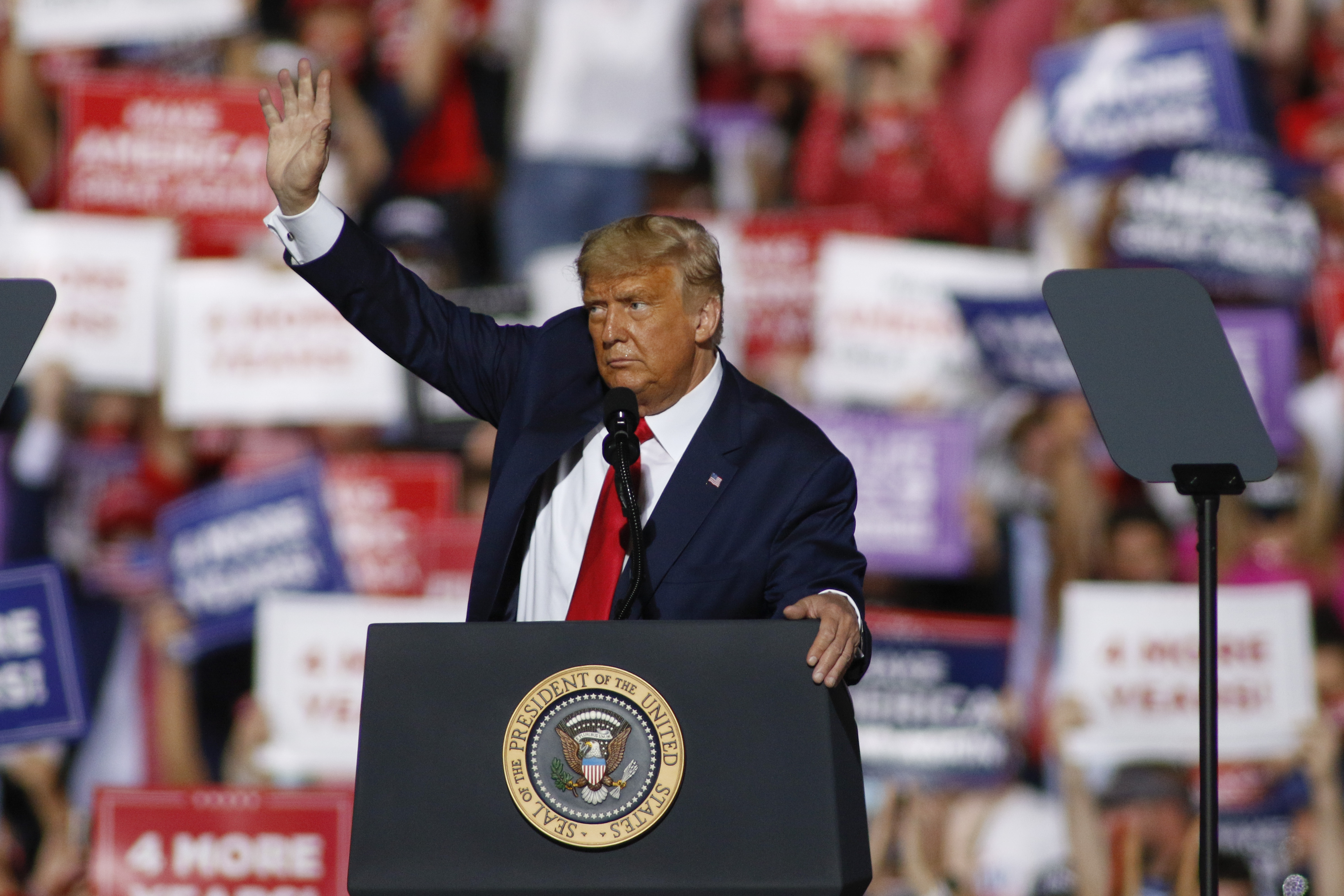 The Trump campaign denied Wednesday that they hired two armed men who showed up to an early voting site in one of Florida's most hotly-contested counties, after the president repeatedly called for an "army" of poll-watchers to supposedly prevent election fraud.
Pinellas County elections supervisor Julie Marcus, a Republican, said that the men, dressed like security guards, arrived at an early voting site in St. Petersburg on Wednesday, pitched a tent, and told sheriff's deputies they'd been hired by the Trump campaign, according to WFLA, NBC's Tampa affiliate. They also said they'd be back on Thursday. 
Florida is one of only seven states that explicitly ban bringing guns to the polls, Fast Company reported earlier this week. In 2016, 85 voters reported seeing guns at the polls in more than two dozen states, according to gun control advocacy group Guns Down America.  
"The sheriff and I take this very seriously," Marcus told WFLA. "Voter intimidation, deterring voters from voting, impeding a voter's ability to cast a ballot in this election is unacceptable and will not be tolerated in any way shape, or form."
The Trump campaign flatly denied hiring the men. "The Campaign did not hire these individuals nor did the Campaign direct them to go to the voting location," deputy press secretary Thea McDonald told WFLA.
But given Trump's rhetoric over the course of the campaign, it's hardly surprising that this is happening. The campaign has boasted that it's training 50,000 volunteer poll watchers, labeling the effort "Trump's Army."
During the first presidential debate last month, Trump said he was "urging my supporters to go into the polls and watch very carefully," after falsely claiming that Philadelphia elections officials were engaging in corruption by barring unapproved poll-watchers from a satellite elections office.
Last week, officials in Michigan—a hotbed of anti-government sentiment, where an alleged kidnapping plot against Democratic Gov. Gretchen Whitmer was foiled earlier this month—banned open carry at the polls.
"The most important thing is this, we don't want people to harass voters when they are in the process of exercising what is a fundamental right, which is their right to vote," Michigan Attorney General Dana Nessel said in an interview with Showtime last week.
In Minnesota, Tennessee-based private security company Atlas Aegis posted a job listing earlier this month calling on former U.S. military special operations personnel to apply for "security positions in Minnesota during the November Election and beyond to protect election polls, local businesses and residences from looting and destruction," the Washington Post reported. Minnesota Attorney General Keith Ellison opened a probe into the company earlier this week.
In August, Trump also claimed that he would send law enforcement to polling locations, despite having no real authority to do so. "We're going to have everything," Trump told Fox News in August. We're going to have sheriffs and we're going to have law enforcement and we're going to hopefully have U.S. Attorneys and everybody — attorney generals." 
Pinellas County sheriff Bob Gualtieri told WFLA he would work closely with Marcus to keep polling places safe, though he didn't elaborate on what that meant.
"I just don't want to get too deep into the specifics because we're trying to balance it," Gualtieri told WFLA. "But I'll say it's a combination of uniformed personnel who will be in the area and also we're gonna use some undercover personnel just to monitor the situation."