There are many purported benefits of "reclaiming" the streets during a pandemic. Encouraging cycling may reduce crowding on buses and subways, where people can struggle to get distance from one another. Vehicle-free roads also offer those without access to parks the ability to exercise safely.
But few other cities have been so committal. And it will be harder to make the case for pedestrian- and cycle-friendly streets once their benefits are weighed against the knock-on effects of congestion elsewhere — especially in countries as dependent on cars as the US.
In other words, the pandemic may only have served as a catalyst. But urban planning is a long game in which change is piecemeal and the legacies of past decisions take time to overcome. Public spaces and amenities cannot always be expanded or reconfigured at will.
So, looking to the coming years rather than the coming months, how else might the virus — or attempts to prevent future ones — re-shape our cities?
Reimagining public space
It is too soon to know which, if any, may be realized. But each idea suggests that the practice of social distancing and unease over shared surfaces could continue long after the current crisis.
"Everybody from Daniel Burnham — who was the planner of Chicago — to Le Corbusier came up with arbitrary measurements on their own," she said in a phone interview. "Le Corbusier writes extensively that every 'unit' in the Radiant City (or "Ville Radieuse," the celebrated architect's proposed utopia) needed a specific amount of light … and a certain amount of cubic feet of air to circulate within it.
"So six feet could be the new unit we use when we think about cities and public parks."
Yet, the idea of keeping people apart seems to contradict the emphasis planners have traditionally placed on human interaction. Architects, whether designing parks or social housing, have often valued meeting points as sources of collaboration, inclusion and community-building.
"In fact, if you look at the literature on the health benefits of green spaces, one of the primary (advantages) is social connectivity — people seeing their neighbors and being part of a community.
"Planners talk about creating 'sticky' streets — places where people linger and stay around," he added, speaking on the phone from lockdown in Barcelona. "So the question now is: Will those efforts continue, or how will they need to be changed? Can we still achieve connectivity if we all keep social distancing?"
Rather than outlining solutions at this early stage, Honey-Rosés' paper (which, subject to peer review, is set to publish in the journal Cities & Health) instead lays out the questions facing urban planners. Many relate to how cities manage the green spaces that he thinks "will, overall, be more valued and more appreciated" after the current crisis.
Neither line of inquiry has yielded conclusive results. But should a definitive link between pollution and the virus emerge, it would "really be a game-changer" for green urban planning, Honey-Rosés said.
"Then, cities will be able to say, 'We're going to redesign our streets not only because we need social and physical distance, but because we need to increase our probability of survival," he suggested.
A matter of density
The biggest questions may center around population density. Fears that disease spreads more easily in busy urban centers could already be having an impact on people's attitudes towards living in cities.
"Space now means something more than square feet," Harris CEO John Gerzema said in a press release. "Already beset by high rents and clogged streets, the virus is now forcing urbanites to consider social distancing as a lifestyle."
So will there be a long-term push for cities to sprawl outwards in order to reduce downtown populations?
According to Carr, the backlash against city centers may be especially acute in America, where high rates of car ownership make suburban life less inconvenient. "The United States has always been a country that somewhat fears density," she said.
"I think as designers and urban planners we have to think about how we emphasize the benefits of density," Carr added. "Because now, whenever anyone tries to build new housing anywhere, it's probably going to be the first question that people have."
Whether the use of public transport is a significant factor in Covid-19's spread is a theory still being explored. And while, again, the findings remain far from conclusive, mistrust of buses and subways may nonetheless see their use decline.
Honey-Rosés suggested we may instead see the growth of "micromobility" — vehicles like scooters and e-bikes — though this could be accompanied by reduced demand for initiatives like bike-sharing schemes.
"The sharing model is going to have additional costs related to hygiene and cleaning, which will be very challenging," he said, adding that sharing schemes "might get hurt in this pandemic."
Blue-sky thinking
Epidemics can have radical and unexpected effects on architecture and design.
So although considering the impact of Covid-19 is, at this stage, largely speculative, there's plenty of scope for innovation.
Regardless of such proposals' viability, there is plenty of optimism that this crisis can improve the way cities are designed and run, said Honey-Rosés. But he caveated this by saying politics and opportunism may play significant roles in dictating which ideas come to fruition. ("I'm seeing a lot self-interest in the optimism — the cyclists are talking about having bigger bike lanes, because that's in their interests," he offered as an example.)
But despite his self-professed skepticism, the researcher nonetheless believes that the pandemic has presented real opportunities to rethink public space.
"This is a time for humility on the part of pundits," he said. "And researchers need to be asking good questions. But I also think it's time for city leaders to be bold.
"Things that were not possible before, now are."
How corporations and SMBs can turn competition into collaboration
We can finally live out our Jetsons fantasies – almost. Pandemic permitting, in a few years we should be able to hire an aircraft to get from A to B. Volocopter's drone-like, electric-powered helicopters will be cleared to take off with passengers in two to three years. 
During its first public flight in Europe last year, CEO Florian Reuter stated that backing from Daimler gave his company the credibility and traction that his competitors cannot claim to have. CEO of Mercedes-Benz Cars and Chairman of its parent company Daimler, Ola Källenius said that by partnering with Volocopter, Daimler can be part of "the mobility of the future." Thanks to this collaboration, catching a lift will have a whole new meaning.
So how important are this type of collaboration or partnership to a digital ecosystem? 
What is an ecosystem in the first place? 
A digital ecosystem is always more than the sum of its parts but there are common ingredients among the most successful ones. Founders with problems to solve. Co-founders who believe in their vision. Networking events so they can find each other. Funding from friends and family, angels, VCs, and private equity funds. Support organizations like workplace communities, growth platforms, and networking and membership groups. Venues and co-working spaces. Support programs like accelerators, incubators, and open innovation initiatives.  A qualified talent pool, technical infrastructure like fast broadband, links to education to create a talent pipeline and access to academic research. Backing from local and national governments and big companies that take an active interest in what the smaller ones are doing.
This isn't an exhaustive list so what do the experts say? Carlos Espinal, Managing Partner at Seedcamp start-up platform, would add tax relief for risky ventures, access to legal counsel, tolerance for failure, and a strong media presence.
Steven Renwick, entrepreneur across London and Berlin and CPO at Regis 24 broke it down to The Next Web in simpler terms. Essentially, in his view, a healthy ecosystem has the presence of both people who are building businesses and of good investors who share ideas and best practices with each other.
The importance of idea validation
 Having all the ingredients present is one thing but sharing ideas and best practices is an action that shouldn't be reserved for the good investors. Collaboration, especially between smaller businesses and their larger counterparts, is the catalyst that precipitates innovation. That innovation then ripples out, positively affecting other parts of the cluster. 
There are several direct benefits to the small business. These include investment, project funding, access to corporate information and data.
For Renwick, just as important are the intangible benefits: expertise, guidance, idea validation, connections, and forming strong relationships with existing and potential customers. 
He said: "Small companies need to speak to big companies to find out if their problems are relevant or not. And there's no accounting for serendipity. You never know who is going to introduce you to an investor or an employee."
Finding product-market fit
Speaking to the benefits of idea validation is Sebastian Weyer, Co-Founder of Statice, a privacy and compliance start-up. He took part in Data Pitch, an EU-funded innovation program in which corporates share their data with start-ups. By working with the data of a digital health company Weyer was able to confirm Statice's utility. 
He told The Next Web: "The collaboration went very smoothly as we laid out the project to apply our technology to their data. The final result was to show that the company was able to protect its user data with our software while still enabling them to use the data in a meaningful way."
Gaining a deeper understanding of a sector is necessary for founders with experience in a different industry as Karl Lorey, a Stuttgart-based Technologist and Investor explained to The Next Web. He said: "Many start-ups are founded by people not from a specific industry so they need to understand how things work there in order to find product-market fit. The way to do it is to talk directly to your customer and understand their needs to build products that corporates want, thus generating sustainable revenue early." 
Speaking of revenue, Weyer also attested to the fact that collaborations can assist with sales and customer acquisition. He said: "Usually, collaborations are part of our sales process. Quite often these include setting up a proof of concept project with corporates to test our product together. This is usually handled by our salespeople."
Mutually beneficial partnerships
Christian Deilmann, Co-Founder and MD of smart heating company tado, recognizes first-hand the benefits to the SMB of collaborating but he also understands the pros to the other party. His smart heating and wireless thermostat company has collaborated with energy suppliers including Essen, Germany-based E.ON while participating in Data Pitch. 
He told The Next Web: "Start-ups are very fast in developing and creating new innovations and being very close to the consumers and seeing what their specific needs are. And the large corporations, their products are ready for new innovations. If you put the two together, the corporation has customer reach and innovations."
Lorey said that from his perspective, collaboration often leads to an acquisition which is a way to bring the agility and innovation of a start-up into the larger company. This form of partnership, buy-outs, and corporate venture capital is long term and not for the commitment-shy. 
The importance of community
Other locations where collaboration can take place are accelerators, co-working spaces, events, and competitions. Other forms of collaboration include procurement, co-development, and free tools. Even investors can play their part as Lorey has been asked to make introductions between fund investors from medium-sized companies and start-ups in order to initiate a project.
The events hosted by or at start-up communities like Google for Startups, Silicon Allee, and Digital Hub Initiative can be fruitful for finding a collaborative partner.
Karolin Hewelt, Head of Hub Agency underlines Digital Hub Initiative's role as points of interaction between start-ups and corporates in Germany. She says: "Established companies in many industries seldom had access to the great start-up hotspots like Berlin, Hamburg or Munich, although there were sometimes great teams and talents and also start-ups at the excellent universities in their vicinity. But they hardly ever learned about each other." 
Making connections is a key part of the Digital Hub Initiative mission and the 12 Hubs that form part of its network specialize in various technology areas so organizations that share a sector interest can connect more easily. The Digital Logistics Hub is in Dortmund, Smart Infrastructure Hub in Leipzig, and Media Tech Hub in Potsdam. A young company that is part of the InsurTech Hub in Munich is Smartlane Transport Intelligence. The start-up uses cloud-based software and artificial intelligence to help fleet operators plan and optimize their vehicles' journeys more efficiently and now counts Deutsche Bahn as one of its customers.
With so much action and interaction in a digital ecosystem, the positive effects of collaboration are felt not just by those who are directly participating. 
According to Deilmann, collaborations are beneficial in general because they highlight opportunities for improvement plus they eliminate inefficiencies in uncertain value chains. From his perspective, there is a multiplier effect when corporations see their competitors working with start-ups on innovation projects and bringing them to market quickly. By observing what others are achieving and seeing customers react well to those innovations, they are stimulated to also seek out partnerships with start-ups and innovate. 
German industries would be left behind in an analog past without collaborations, said Ueberheide, as he believes they would not be able to successfully digitize themselves without those partnerships.
It is clear that many see innovative collaborations as the way for old-school industries and corporations to understand and make use of the technological advances of the future. 
Lorey said: "Start-ups and big corporates have different areas of expertise and can greatly benefit from each other. Especially in Germany, there are many corporates that have understood that they need to innovate in order to survive and many innovative startups with exciting technologies and services. I think corporates need meaningful connections to startups to leverage this potential and to bridge the gap."
Weyer added that collaborations support sales, product development, and research, and that pooling resources facilitates many technological advances. These aspects of business impact many other areas of the ecosystem. 
So it seems collaborations are necessary for the innovation required for company survival, and with those corporations serving as one of the pillars of a digital ecosystem, the importance of partnering cannot be understated.
This article is brought to you by the Digital Hub Initiative.
What it's like to travel from the US to Hong Kong right now
The last time I was in the United States was in January; the first known local case of Covid-19 had just been detected in Seattle and the virus was beginning to spread across the West Coast. The World Health Organization hadn't yet declared the coronavirus a pandemic.
By October 2020, the States passed a bleak milestone of recording more than 210,000 coronavirus-related deaths — the most in any country in the world.
Unlike in Hong Kong, where almost any health care provider can test and return results to patients in a few hours, finding a hospital or clinic with a similarly speedy turnaround in New York — let alone in the US as a whole — was trickier. Public hospitals in Hong Kong can test patients for $22.50; testing in private hospitals is more expensive ($300 but include detailed lab reports). Without health insurance, a polymerase chain reaction (PCR) test — the "gold standard of Covid-19 testing" and most popular among travelers — could cost up to $300 in the States.
After days of research — digging around on Google, calling clinics and relying on friends and family for information, I found a hospital that was familiar with the Hong Kong government's requirements. I scheduled a virtual consultation with a doctor who gave me the green light to book a PCR test. This doctor would, later on, sign and stamp the documents for my flight home.
72 hours before flying
When I arrived for my test appointment at a Manhattan hospital, I was told to follow signs leading to a makeshift "testing center". A nurse was there, anticipating my arrival, and explained how the procedure would pan out. She reassured me that I would get my results in 24 to 48 hours. Then, without much warning, she stuck a long cotton swab up my right nostril, wriggled it around for seven seconds and stored the sample in a plastic container.
I was in and out of the hospital in less than five minutes. Because I bought travel insurance from Atlas America ahead of time, I didn't need to pay a cent. Twelve hours later, I received a report indicating that I had tested negative for SARS-COV-2.
Day of the flight
Terminal 8 at John F. Kennedy Airport was always a buzzing transit hub where business people, students and tourists congregated in preparation for long-haul journeys across the world. On the day of my flight home on August 31, the terminal was deserted.
Since the pandemic started, Cathay Pacific has significantly reduced their flight count from the US to Hong Kong. I was scheduled to fly on the only direct flight to Hong Kong that day. Unlike most people I knew, who flew into Hong Kong and were transferred to the city's Asia World-Expo Center for mandatory testing, passengers on my flight would make our way to Hong Kong International Airport's Terminal 2 — a terminal that, before the pandemic, exclusively operated Asia-bound flights.
Members of Hong Kong's Department of Health guided us through various stations where we would fill out forms, receive a wristband with a tracking device in it and conduct a self-test.
Since our flight arrived in the afternoon, we could wait for our test results in a government-subsidized hotel. Those arriving in the morning would have to wait for results at the airport — sometimes taking up to eight hours.
Boarding and flight experience
There were eight airport staff standing by the security checkpoint — although there were only two travelers passing through. Before Covid-19 caused disruption to travel, security screenings at JFK would typically take 20 to 30 minutes — this time, the whole process lasted less than three.
An eerie silence filled the halls leading to the boarding gates. I passed by duty-free shops clad with shutters. Only one or two coffee shops and bookstores were open. The sound of my footsteps echoed against the steel walls.
A member of the crew took our temperatures as we boarded the aircraft. I counted 13 passengers total, meaning that the Airbus 350-1000 was just at 3% capacity. With so few people on board, those of us in Economy class each had a row to ourselves. Just before takeoff, the captain announced that everyone would have to fill out a digital health declaration form.
On board, all flight attendants wore masks and protective glasses and kept a safe distance from passengers. Bathrooms were cleaned every hour, and bottles of water distributed just as frequently. All passengers were given the same two hot meals, plus there were the usual snacks — including my favorite, Cup Noodles — upon request.
Landing in Hong Kong
When we touched down in Hong Kong, I felt the same sense of relief and excitement as I always do when I come home, despite knowing that the next 14 days would bring about so much uncertainty.
At the airport, signs guided travelers from high-risk countries to a testing site at Terminal 2. Along the way, airport security staff checked health declaration forms, ensuring that all details like local ID card numbers, phone numbers and hotel quarantine addresses were properly filled out. Each passenger was given a personalized QR code to pass through each station efficiently.
A member of the Department of Health called my phone number to check if it was working — she told me it was so authorities could contact me during quarantine. Another staff member tagged me with a secure wristband with a tracker, the tracker would then connect to an app called "Stay At Home," which I was asked to download on my phone.
Each person on my flight was given a self-test kit and instructed to go to a private booth to spit into a plastic container. We were given leaflets outlining step-by-step directions, from how to properly extract "deep throat saliva" (by making a "kuuragh" sound) to how to thoroughly sanitize and secure sample containers. After all passengers completed their tests, we picked up our checked luggage and were taken to a government-subsidized hotel for one night.
The hotel was clean, and we were given both dinner and breakfast for free. At 10 a.m. the next morning, I received a call from the Department of Health saying that I had tested negative for coronavirus and could make my own way to the hotel I booked for the remaining time of quarantine.
To my surprise, there were taxis lined up outside the quarantine hotel. Drivers didn't seem to mind that we could potentially carry the virus. I took a taxi across the harbor to my hotel in Causeway Bay. Rolling down the car windows, I savored the final few moments "outside" — feeling the Hong Kong humidity and sunshine on my skin.
At the hotel
My room at the Park Lane Hotel was 340 square feet and included all the usual amenities of a room at a four-star hotel — a flat-screen TV, a large desk, reading chair, a mini fridge (which was empty), water bottles, a bath and shower.
There was just enough space on either side of my bed to stretch out and exercise. I had a view of Victoria Park, the green lungs of the busy commercial district below me. Like many of the high-rise buildings around Hong Kong, my windows were locked for safety reasons.
Certain rules were nonnegotiable. For the duration of my quarantine, no one was allowed in or out of my room. Family and friends could drop off items, but they would have to leave them at reception for hotel staff to bring up. Everything from food and water to fresh sheets and towels were left outside my door — I was not allowed to have any interaction with anyone.
As part of the hotel package, I was sent breakfast and coffee every morning but otherwise, my meals were ordered via Deliveroo or dropped off at reception by family and friends.
For the first few days, as I was adjusting to jet lag, I spent early mornings watching the sunrise and seeing people slowly trickle into the park. There was a dance troupe rehearsing the same routine every morning, a group of older men practicing tai chi at the rear end of the park. Most schools were still closed, so children spent hours playing on the lawn in the afternoons.
No place like home
Hong Kong was beginning to bounce back after the government imposed strict lockdown measures in response to a third wave of infections. Being confined and seeing the city from one perspective allowed me to take in moments that would otherwise go unnoticed. I felt lucky to be in the position I was in.
Throughout the two weeks, I made a conscious effort to stick to a routine — to move my body, stimulate my mind and stay in touch with the outside world through conversations with friends and family. I was sent coloring books and puzzles to keep me occupied during my down time. I listened to podcasts and slowly made my way through a few books.
But to say that the entire quarantine experience was as romantic as the quiet moments would minimize just how much the pandemic is a mental fight as it is physical. There were times when I felt like I lost control — not being able to prepare a meal for myself, for instance, or manage the portions of my food without being wasteful.
As per strict government regulations, all my food was sent to me in single-use plastic and as the days went by, I felt increasingly paranoid about how much waste I was producing. Every afternoon, I would receive a "wellness call" from the hotel manager, and while the check-in was much appreciated, even he couldn't help me with my concerns for the environment.
Journaling was a cathartic and mindful way to blow off steam, as was talking to friends for hours and keeping up with writing and other creative projects. Two days before my release, I was sent another self-test kit and tested negative. I received a text from the Department of Health on my last day and, at 11:59 p.m., I was allowed out of my room. I saw a familiar face at the check-out counter — a woman who had been on my flight from New York what seemed like centuries ago.
Despite the whirlwind process, I'm grateful that the Hong Kong government is taking extra precautions to keep residents safe. Even as we edge towards the precipice of a potential "fourth wave" of infections in Hong Kong, I feel that I'm in one of the safest places in the world.
Karina Tsui is an independent journalist covering politics and arts in Hong Kong. She was previously a reporter at Monocle.
What CNN's latest polls show about Pennsylvania and Florida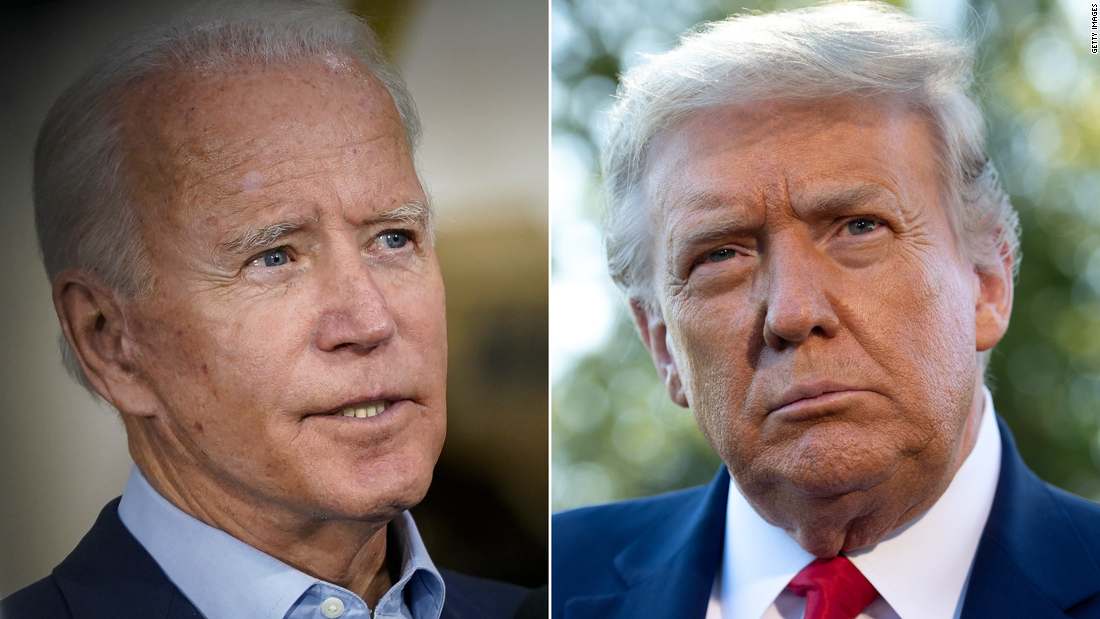 Former Vice President Joe Biden holds a lead in Pennsylvania and neither he nor President Trump leads in the critical state of Florida, according to new CNN polls conducted by SSRS.
The polls, which completed fielding two weeks before Election Day, find sizable minorities of voters saying they have already voted, with those voters breaking heavily for Biden in both states. Those who have yet to cast their ballots, though, break in Trump's favor, but not by as large a margin as Biden holds among those who have voted now.
In Florida, which has 29 electoral votes and is a critical battleground in the presidential race, 50% of likely voters say they back Biden, 46% Trump. The difference between the two is right at the poll's margin of sampling error, meaning there is no clear leader in the survey.
The Pennsylvania results show Biden well ahead in the state, which holds 20 electoral votes, with 53% of likely voters behind him and 43% backing Trump.
Across both surveys, Biden holds a double-digit advantage over Trump as more trusted to handle the coronavirus outbreak (54% Biden to 42% Trump in Pennsylvania and 53% Biden to 43% Trump in Florida), and the same is true for handling racial inequality in the US (58% Biden to 39% Trump in Pennsylvania and 54% Biden to 42% Trump in Florida).
In both states, he also has a small edge over Trump on handling nominations to the Supreme Court (51% to 45% in Pennsylvania, 50% to 46% in Florida). Biden is more often seen as the candidate who would unite the country rather than divide it (56% Biden to 39% Trump in Florida and 58% Biden to 35% Trump in Pennsylvania), and as caring more about people like you (55% Biden to 42% Trump in Pennsylvania and 52% Biden to 43% Trump in Florida).
In Pennsylvania, Biden's advantage also includes an edge on having a clear plan for solving the country's problems (50% Biden to 42% Trump) and keeping Americans safe from harm (51% Biden to 46% Trump).
In Florida, the margin on those two metrics is far tighter, with 49% saying Biden has a clear plan to solve the country's problems vs. 45% who say Trump does, and 49% that Biden will keep Americans safe from harm vs. 47% saying Trump will.
Trump holds a lead over Biden as more trusted on the economy in Florida, 51% say they prefer Trump vs. 46% Biden. In Pennsylvania, though, the two are near even on this question, 50% say they trust Trump more, 48% Biden.
The new polls are consistent with other high-quality polling in the two states in recent days. In Florida, a CNN Poll of Polls average shows Biden at 49% support in the state and Trump at 44%. The current average of high-quality polls in Pennsylvania also shows a Biden lead, with 52% on average behind the former Vice President and 43% backing the current president.
Read more about the polling here.