Courtney Atencio rides low to the ground, swerving in and out of long, empty California streets. In one video, she grabs the back of a Toyota Camry and cruises along behind it. In another, she's with her pals, practicing tricks at a local skate park. Every time, Atencio's clips are undeniably cool, and they quickly become flooded with comments from fans asking for tips on how to start skating. Atencio didn't start skating or her TikTok account to achieve fame, but she quickly found communities in both that she never experienced when she was growing up.
"When I was 14, guys would make fun of me for trying to go to the skate park because I'm the only female there," Atencio told The Verge. "Having TikTok, to be able to show girls that you're not alone, you can still skate, you don't even listen to all those guys, is so important."
Skate culture has found a new life on TikTok, where short videos of impressive tricks, painful wipeouts, and hangs at the local skatepark have collectively brought in billions of views. The explosion in skateboarding videos has encouraged one-time skaters to pick up the hobby again and convinced complete newbies to try it for the first time — and unlike the male-dominated world that was the face of skate culture for decades, many of TikTok's stars are women and queer folks.
Hashtags like #girlswhoskate and #skatergirl are constantly growing, creating a never-ending sea of videos starring girls and women. Swipe around, and you'll find skaters like Brianna King, an incredibly popular creator known for offering tips that newcomers can use when starting out, or skateboobs, an all-girl skateboard group in Scotland, which regularly post videos of their time skating. But many creators are more like Atencio, who simply posts videos of solo rides through her home in suburban Los Angeles or her time spent hanging out at skateparks with friends.
"I see a lot more women skateboarding on TikTok than I ever did growing up," Faeth Perryman, who also posts skate videos to TikTok, told The Verge. "I don't really know if that's because there a lot of girls on TikTok in general, or if TikTok just made skateboarding videos more accessible."
Thanks to TikTok's recommendation algorithm, more than 250,000 people watched a video of Perryman skateboarding down an empty road in Acadia, Maine, the Atlantic Ocean spanning for miles behind her as the sun rises. The app constantly serves up new videos to people who engage with similar types of content. Basically, if you like, comment, or share a couple of skateboarding videos, TikTok will fill your feed with more and more.
After waning in the late '00s and beyond, skate culture had a resurgence over the last few years. The success of streetwear brands like Supreme that lean heavily on skateboarding aesthetics helped drive new interest in boarding, the pandemic gave people more time to finally try their hands at it, and a remaster of the first two Tony Hawk's Pro Skater games offered up even more nostalgia. Skateboarding was even about to have its Olympic debut this year until the games got canceled.
It's not like women and trans skaters weren't around in the last half-century, but it was men who dominated the covers of Thrasher Magazine, men who starred in the coveted VHS compilations that would get passed around skate shops, and men who made up nearly all of the featured skaters in the hugely popular Tony Hawk games. TikTok has helped skaters with less visibility find more inclusive communities.
Perryman grew up around skateboarding — her brothers and dad all skated — but she still felt intimidated by the male-dominated culture. On TikTok, she found herself with a new platform and a group of young girls who wanted to emulate her style. Atencio, who has 76,000 followers, says she's constantly surprised by the number of young girls who reach out to her asking about what size board they should get.
C, a trans nonbinary artist, said they were inspired by the trans skaters who popped up on the app's main feed, and thought, "I might be able to do that myself." While C grew up skateboarding, they fell out of it as an adult. It wasn't until the pandemic hit, and C found more time to pick up old hobbies, that they jumped back into it.
"Skating is such a punk, anti-society thing, and in my opinion, so is being trans and existing specifically outside of the binary," C told The Verge. "Seeing those two things happen on TikTok was so beautiful."
Problems that existed in skate culture for years are present on TikTok, too. Men show up in comments calling girls posers and commenting negatively on the way women skate. Perryman tries not to pay attention to the comments, but Atencio argues the positive comments she receives outweigh the negative ones.
"For every negative comment there's going to be like 20x more complimentary comments where people are pushing me and saying good job," Atencio said.
But creators like Atencio and Perryman want to encourage people to get off TikTok and actually try skateboarding. Skateboarding to Perryman and Atencio is about getting on a board and meeting others just as much as it is watching people. It's Atencio's closest friends — the ones she found at skateparks, she says — who pushed her "to do what I do on TikTok."
SoftBank's $100 million diversity and inclusion fund makes its first bet … in health Vitable Health
SoftBank's Opportunity Growth Fund has made the health insurance startup Vitable Health the first commitment from its $100 million fund dedicated to investing in startups founded by entrepreneurs of color.
The Philadelphia-based company, which recently launched from Y Combinator, is focused on bringing basic health insurance to underserved and low-income communities.
Founded by Joseph Kitonga, a 23 year-old entrepreneur whose parents immigrated to the U.S. a decade ago, Vitable provides affordable acute healthcare coverage to underinsured or un-insured populations and was born out of Kitonga's experience watching employees of his parents' home healthcare agency struggle to receive basic coverage.
The $1.5 million commitment was led by the SoftBank Group Corp Opportunity Fund, and included Y Combinator, DNA Capital, Commerce Ventures, MSA Capital, Coughdrop Capital, and angels like Immad Akhund, the chief executive of Mercury Bank; and Allison Pickens, the former chief operating officer of Gainsight, the company said in a blog post.
"Good healthcare is a basic right that every American deserves, whoever they are," said Paul Judge, the Atlanta-based Early Stage Investing Lead for the fund and the founder of Atlanta's TechSquare Labs investment fund. "We've been inspired by Joseph and his approach to addressing this challenge. Vitable Health is bridging critical gaps in patient care and has emerged as a necessary, essential service for all whether they're uninsured, underinsured, or simply need a better plan for their lifestyle."
SoftBank created the opportunity fund while cities around the U.S. were witnessing a wave of public protests against systemic racism and police brutality stemming from the murder of the Black Minneapolis citizen George Floyd at the hands of white police officers.  Floyd's murder reignited simmering tensions between citizens and police in cities around the country over issues including police brutality, the militarization of civil authorities, and racial profiling.
SoftBank has had its own problems with racism in its portfolio this year. A few months before the firm launched its fund, the CEO and founder of one of its portfolio companies, Banjo, resigned after it was revealed that he once had ties to the KKK.
With the Opportunity Fund, SoftBank is trying to address some of its issues, and notably, will not take a traditional management fee for transactions out of the fund "but instead will seek to put as much capital as possible into the hands of founders and entrepreneurs of color."
The Opportunity Fund is the third investment vehicle announced by SoftBank in the last several years. The biggest of them all is the $100 billion Vision Fund; then last year it announced the $2 billion Innovation Fund focused on Latin America.
I've fallen for the electric Hummer and I hate myself for it
If you've switched on the motoring news this morning you'll see it's dominated by something that's more used to dominating tarmac than headlines: the Hummer. Not just any Hummer, though, but the upcoming 1,000 horsepower all-electric brute from GMC.
Needless to say, people are pretty pumped that the Detroit icon is reviving the Hummer name for the 21st century, but what exactly is there to be excited about?
Well the vehicle itself is the center of the show right now, so let's take a look at its specs and what's been announced.
As already mentioned, GM estimates that it'll produce 1,000hp and over 11,000 lb ft of torque, enough to help it go from zero to 60 mph in three seconds — allegedly.
[Read: ]
It's also slated to come with a host of driver aids such as under body cameras for whenever it goes off-road, and a "crab walk" feature, which enables the truck to strafe its way diagonally out of tight spots. This could actually make it a heck of a lot easier to park — even though that's not really what that system was designed for.
For those that refuse to let go of the past, you're in luck, it looks decidedly Hummerish. It's also proportioned like a Hummer, in that it's bloody massive. Looking at it head-on, you're faced with the recognizable slab-like front-end, a lobster it is not. From the side, you'll see the wide and square arches that have been a feature of Hummers since their US military days.
Even though it's as aerodynamic as a barn, GMC still expects its rangiest variant to be able to drive around 350 miles on a single charge. It's also supposed to be able to add 100 miles of range in just 10 minutes when hooked up to a compatible charger.
The biggest battery EVer
How does it do this? Well, it crams in an absolutely huge battery pack. Jason Fenske of Engineering Explained — who got a sneak peak at the Hummer EV — was told that the battery is more than 200 kWh in capacity. That's more than double the size of the average EV battery. Given that its 0-60 time and range is on par with Teslas, which have much smaller packs, this is a big hint at how inefficient this thing really is. This is a problem, but we'll get to that shortly.
The upside is that the Hummer is built on GM's Ultium platform that's going to underpin a smorgasbord of EVs. The huge battery pack fitted here could be a Boone for delivery vans and commercial vehicles that benefit from the increased range.
Thankfully, the inside of the vehicle is a significant departure from old Hummers, which somehow always felt a lot smaller than they should have given their exterior dimensions. 
The interior is like any other large modern SUV. Luxurious, draped in leather, and with space for five people. The car's interior features dashboard screens that, 20 years ago, would have been acceptable sizes for living room TVs.
Under the hood, it's also nothing like Hummers of old and that's obviously why we are here to talk about it, because it's electric. Depending on the spec level you can get either two or three motors. The cheaper two motor versions have less power and less range, it's only the $113,000 top spec Edition 1 that gets three motors to put out 1,000hp.
Because there's no gas-guzzling motor under the hood, it also has a generous frunk, which is a nice addition for a pickup as it gives drivers somewhere secure to store valuables instead of leaving them on a truck bed for anyone to pinch.
What's more, thanks to its motor arrangement, drivers will be provided with heaps of control over how it drives. This means they can force the rear wheels to match speed, simulating the effect of a locking rear differential which is great for towing and off-roading in bad conditions.
There's also rear-wheel steering which means the Hummer EV will actually be able to navigate tight turns better than its combustion-powered predecessors. And of course, it gets GM's Super Cruise ADAS tech to take the sting out of long drives with some partial automation.
It's a Hummer, but it's electric
So, the new Hummer EV in a nutshell: it's electric, it's packed with modern features, it's not quite as ridiculous as it used to be, and its performance figures make some sport scars look slow. Indeed, there's a lot to love about it, and there is a truck loving part of me that is very very excited about it. But I also hate that part of myself.
The new Hummer couldn't be any different from the original civilian Hummer (which is a very good thing) but at the same time, it's still very much a Hummer in spirit and that's very bad.
It's inefficient and needlessly excessive. This truck isn't exactly about saving the planet. On its launch website, there's just one mention of it being zero emission, one! There's also no mention of recycled materials used in its construction.
The focus is on performance, power, and presence, which it has in spades, but those are just a distraction from the reality that it's huge, expensive, and will never actually be used in conditions it was designed for.
Amazing truck, mediocre EV
I expect the Hummer to be a very good truck, perhaps one of the best. But as far as EVs go, it can't be held in high regard, simply because GMC engineers have given it its performance by using a massive battery.
What's more, it uses pouch cell batteries, not cylindrical cells that are becoming increasingly common. Pouch cell EV batteries have been around for ages, they're used in the BMW i3 which is getting on for eight years old. Cars of the future need to be intelligently and efficiently designed, should use resources sparingly, and should strive for minimal impact on the world. But the Hummer…? A Hummer will never be those things, EV or not.
Yes, it's a good thing that it's powered by electricity and cuts emissions. If GMC can convert even a few hundred old-school truck-loving coal-rolling climate change-deniers who are unable to let go of the past to EVs then it's a worthy victory.
The main reason the original civilian Hummers, the H1 and H2, were pulled from production 10 years ago is because they drank gasoline like it was booze the night before new lockdown measures, and pumped out emissions like there was no tomorrow. The electric drivetrain of this new one might fix that, but the Hummer EV is still massive. It will be wildly impractical in towns and cities, and screams of unnecessary excess.
The sad reality is that the people that will buy these won't be buying them for their performance or off-road capability. This car does not demonstrate a collective cultural progression towards a sustainable future, it's an attempt at remedying our oil loving hangover with electrified Alka-Seltzer.
We just don't need cars like this.
Even though the new Hummer EV is everything we don't need right now, I still love it, and I hate myself for that.
---
SHIFT is brought to you by Polestar. It's time to accelerate the shift to sustainable mobility. That is why Polestar combines electric driving with cutting-edge design and thrilling performance. Find out how.
Published October 21, 2020 — 13:53 UTC
The Desklab 4K touchscreen monitor is the work from home laptop accessory you need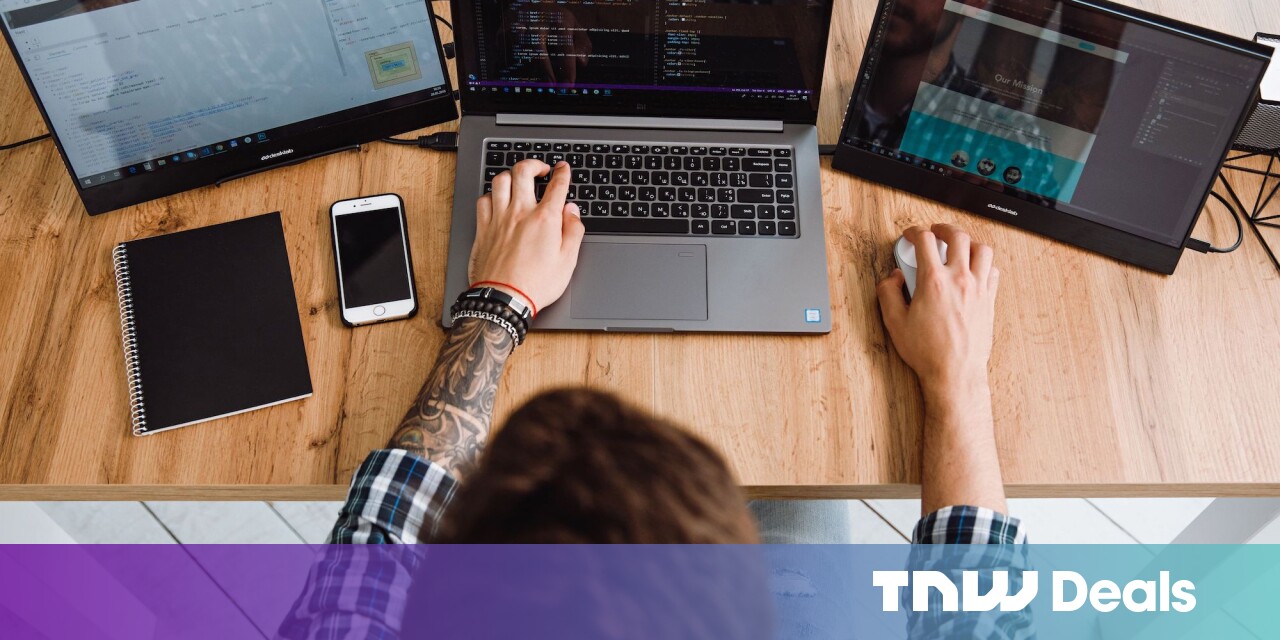 TL;DR: Between a stunning 4K display, multiple connection ports, a power battery, and more, the Desklab Portable Touchscreen Monitor is as versatile as they come.
Computer accessories really have to prove their worth these days. However, there's probably little chance a new device is going to play its way into becoming a part of your already overloaded everyday carry collection.
As it turns out, the Desklab Portable 4K Touchscreen Monitor is kind of like that kid in school who constantly raised their hand to answer every teacher question. Because the Desklab has an answer for just about every laptop and smartphone owner's need in a peripheral device.
Backed by nearly $700,000 in funding on Kickstarter, the Desklab starts by being a stellar 4K travel screen. The unit is a 15-inch screen weighing just 1.3 lbs and at just over 0.2 inches thick. The Desklab is not only thinner than most tablets, but the screen size and resolution are also comparable with anything else in its weight class. 
[embedded content]
Hooked to a laptop, it's a perfect extra screen to optimize your workflow. Attached to a smartphone, it transforms all your videos and other media in your phone into a stunning, scaled-up, crystal clear cinematic experience with true LED backlighting and vivid color. You can even attach it to a gaming platform like an Xbox, Playstation, or Nintendo Switch and have 4K gameplay with stereo sound from the built-in speakers anywhere. The Desklab is plug-and-play with virtually everything.
While its screen performance is mighty, it's the Desklab's added versatility that makes it so instantly valuable. If your laptop is short on available ports, the Desklab sports five of its own, including two USB-C ports, HDMI, Micro USB, and even 3.5mm AUX for all your other devices and connections.
It's even got its own on-board power battery, allowing it to pull extra duty as a portable charger, keeping any of your other devices charged up.
Its wide-ranging functionality is already drawing great reviews, with Nerdy Tech saying in terms of the overall design, "it's clearly one of the best." And Yanko Design said, "Think of everything you wish your laptop had and put it in a laptop accessory, and you get something quite like the Desklab."
Right now, the power of the Desklab Portable 4K Touchscreen Monitor is available on sale for $319. Don't need all that resolution? Save some cash and opt for the Desklab Portable Touchscreen Monitor 1080P, on sale for $249.