NYC Ferry Limits Service Because New Pier Owner Won't Let It Dock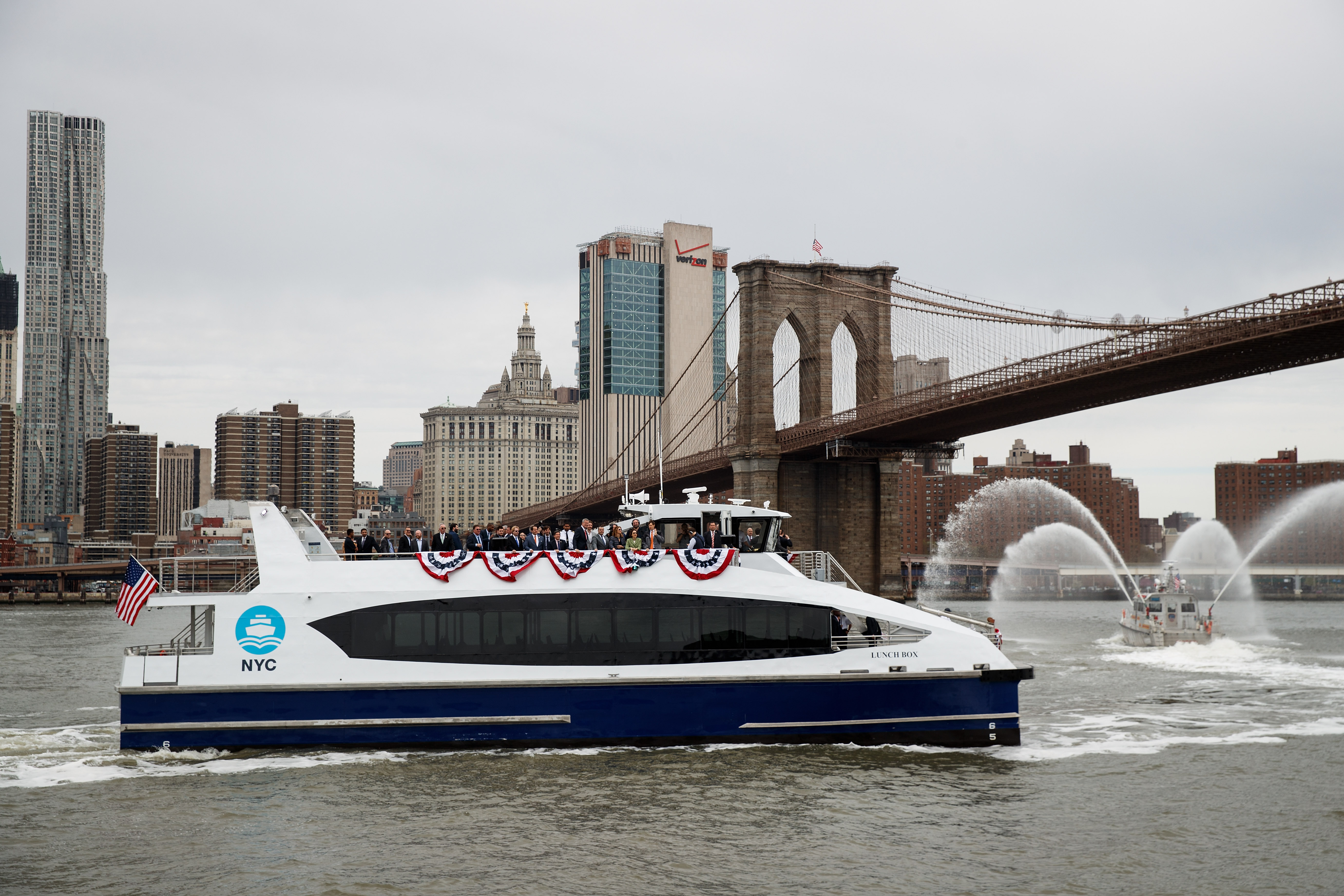 Over the weekend, the NYC Ferry announced its Greenpoint, Brooklyn stop was suddenly no longer operating thanks to a property dispute between the city and the pier's new owner.
Earlier this month, two Australian firms—real estate developer Lendless and pension fund Aware Super—partnered to purchase 1 Java Street for $110.8 million from RedSky Capital, making the partners the new owners of a large waterfront property that includes the India Street ferry pier.
"Due to temporary restrictions to the Greenpoint pier, ferry service to and from the Greenpoint landing will be suspended until further notice," Hornblower, a company which operates the NYC Ferry, tweeted on Sunday morning.
According to New York Daily News, an EDC spokesman said the ferry was barred from using the pier until "insurance issues" and "the transition of paperwork from the old owner to the new one" are resolved.
"We are hopeful we can resolve it today," Mayor de Blasio said at his daily COVID-19 press conference on Monday. "This one is confusing to people because it's confusing in general, and the goal is to settle it very quickly and get that ferry stop back into service."
Lendlease and the NYC Ferry service did not respond to Motherboard's request for comment.
Despite being built with public money through the city's Economic Development Corporation (EDC) and operated on the city's behalf by Hornblower Cruises, the city hasn't actually ever owned the Greenpoint ferry pier.
In 2010, the EDC solicited developer proposals for a new East River pier. Stiles Properties (an intermediary of RedSky Capital) was the only applicant and won the contract, buying a strip of land from the city's Industrial Development Agency for $60,000 in 2011 on the condition that it also build a pier. At the same time, Stiles Properties applied to build another pier on India Street and would go on to focus its efforts there. 
On June 13 2011, the East River ferry service was launched. The Greenpoint stop is one of many to provide reliable service between Manhattan, Brooklyn, Queens, and Governors Island. Ever since, however, while the stop has been operational it has also seen constant service disruption thanks to construction and repair work.
While yet another service disruption may seem extraordinary, it makes sense when considering some of the early criticisms of the initial pier development project and the woes that its developers have faced since. 
NYC Ferry service has a small ridership and a high cost of operation—each ride costs $10 and ridership has dropped 80 percent thanks to covid-19. Even before covid, ridership numbers were low and concerns were abound about whether the project could ever sustain itself without taxpayer subsidies. This suggests, then, that early critics were right in characterizing the pier as a bid its owners to attract more interest in future development projects
In fact, RedSky Capital has admitted as much. The firm is open about the fact that it developed the pier as part of a risky gambit in anticipation of rising waterfront property values that it could reap the rewards of with a 40-story skyscraper. The bet quickly fell apart and soon, RedSky Capital's partner had substantially written down its stake in the real estate portfolio, the debt used to finance the project was unloaded. 
Either way, this is just the latest example of yet another public-private partnership that has left the public out to dry.
Singapore tech-based real estate agency Propseller raises $1.2 million seed round
Propseller, a Singapore-based real estate agency that combines a tech platform with in-house agents to close transactions more quickly, announced today it has raised $1.2 million in seed funding.
The round included investment from Iterative; Hustle Fund; XA Network; Rapzo Capital; Lazada co-founder Stein Jakabo; and Dot Property founder Ben Neve. Propseller also said "three undisclosed highly strategic investors" and returning private investors participated.
Propseller's last funding announcement was in December 2018, when it raised SGD $1 million (about $737,000) in seed funding.
Founded in 2018 and launched the next year, Propseller says its technology platform enables transactions to close more quickly, helping with tasks like property valuations, and reduces standard commission fees to 1% from 2% because the startup's in-house agents are able to finish more transactions in less time.
The company claims it is currently handling about SGD $75 million worth of properties each year. During the pandemic, tech-enabled services like online dashboards and virtual viewings have allowed Propseller's agents to continue working with clients.
Despite the economic impact of COVID-19, Singapore's real estate market is expected to recover relatively quickly, especially the residential sector, because of demand for new condominiums and foreign investment.
Another Singaporean real estate-focused startup that recently raised funding is PropertyGuru. Last month, the property listing platform announced an investment of $220 million from KKR and TPG to expand into new Southast Asian markets. PropertyGuru's most direct competitor is 99.co, but startups like Propseller, Ohmyhome and Greyloft, which offer agent services combined with tech platforms, all provide an alternative in the Singaporean real estate market.
In a press statement about its investment in Propseller, Iterative partner (and founder of Divvy Homes, a San Francisco-based proptech startup) Brian Ma said, "Worldwide, modern estate agencies are already taking market share at breakneck speeds. In a market like Singapore with high property prices and the need for high quality service, we believe digitalization will be inevitable. We're excited for Propseller to lead the charge there."
Merging Airbnb and the traditional hotel model, Mexico City's Casai raises $23 million to grow in Latin America
With travel and tourism rising across Latin America, Casai, a startup combining Airbnb single unit rentals with hotel room amenities, has raised $23 million to expand its business across Latin America.
The company, which initially was as hit hard by regional responses to the COVID-19 pandemic as other businesses in the hospitality industry has recovered to reach nearly 90 percent of total capacity on the 200 units it manages around Mexico City.
The company was co-founded by chief executive Nico Barawid, a former head of international expansion at Nova Credit and consultant with BCG, and chief operating officer María del Carmen Herrerías Salazar, who previously worked at one of Mexico's largest hotel operators, Grupo Presidente.
The two met two years ago at a barbecue in Mexico City and began speaking about ways to update the hospitality industry taking the best of Airbnb's short term rental model of individual units and pairing it with the quality control and standards that guests expect from a hotel chain.
"I wanted to define a product from a consumer angle," said Barawid. "I wanted this to exist."
Before the SARS-Cov-2 outbreak Casai's units were primarily booked through travel partners like HotelTonight or Expedia. Now the company has a direct brisk direct booking business thanks to the work of its chief technology officer, a former engineer at Google named Andres Martinez.
The company's new financing was led by Andreessen Horowitz and included additional commitments from the firm's Cultural Leadership Fund, Kaszek Ventures, Monashees Capital, Global Founders Capital, Liquid 2 Ventures, and individual investors including the founders of Nova Credit, Loft, Kavak and Runa.
Casai also managed to nab a debt facility of up to $25 million from TriplePoint Capital, bringing its total cash haul to $48 million in equity and debt.
The big round is in part thanks to the company's compelling value proposition, which offers guest not only places to stay equipped with a proprietary smart hardware hub and the Casai app, but also a Google Home, smart lights, and Chromecast-kitted televisions, but also a lounge where guests can stay ahead of their check-in or after check-out.
And while the company's vision is focused on Latin America now, its management team definitely sees the opportunity to create a global brand and business.
The founding team also includes a chief revenue officer, Alberto Ramos, who worked at McKinsey and a chief growth officer, Daniel Hermann, who previously worked at the travel and lifestyle company, Selina. The head of design, Alexa Backal, used to work at GAIA Design, and its vice president of experience, Cristina Crespo, formerly ran WeWork's international design studio.
"To successfully execute on this opportunity, a team needs to bring together expertise from consumer technology, design, hospitality, real estate and financial services to develop world-class operations needed to deliver on a first-class experience," said Angela Strange, a general partner at Andreessen Horowitz, who's taking a seat on the Casai board. "It was obvious when I met Nico and Maricarmen that they are operationally laser-focused and have uniquely blended expertise across verticals, with unique views on the consumer experience."