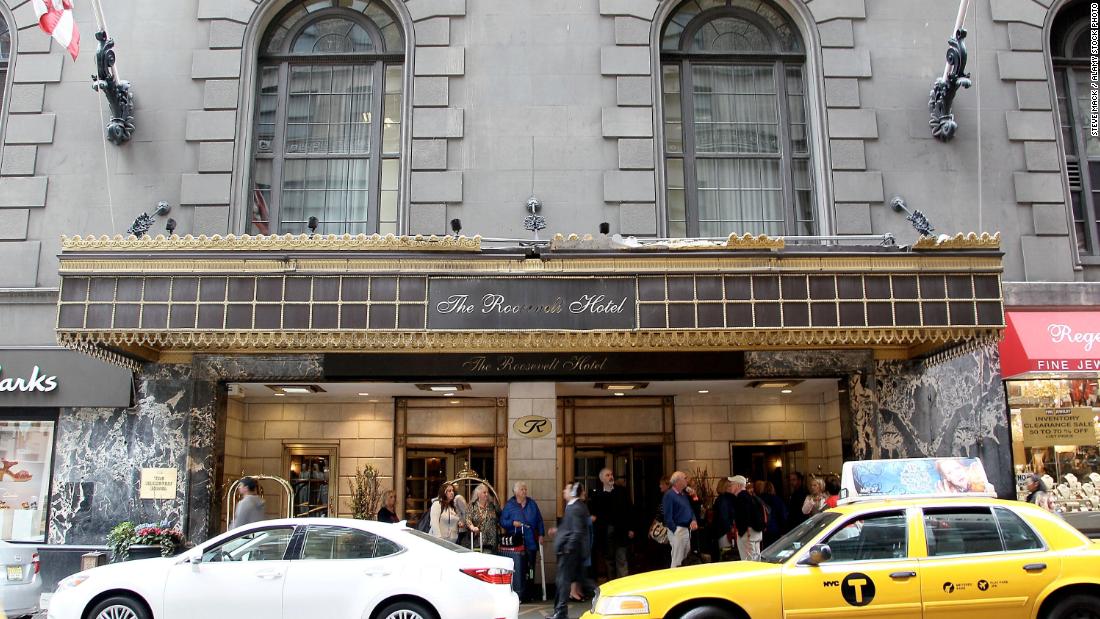 (CNN) — Since 1924, the Roosevelt Hotel has been a witness to history.
The New York landmark was the election headquarters for Gov. Thomas Dewey when he incorrectly announced he defeated Harry Truman in the 1948 presidential election. It has served as the backdrop for movies such as "The Irishman" and it helped start a New Year's Eve tradition.
A fixture of the Manhattan skyline, the hotel boasts elegant architecture and is minutes away from Times Square and Grand Central Terminal.
But now, The Roosevelt Hotel will no longer bear witness to motion pictures or moments in history.
The hotel will permanently close its doors this year, a spokesperson told CNN in a statement.
The Roosevelt Hotel, owned by Pakistan International Airlines, cited the coronavirus pandemic and the ensuing drop in business as the principal reasons it will cease operations.
"Due to the current, unprecedented environment and the continued uncertain impact from COVID-19, the owners of The Roosevelt Hotel have made the difficult decision to close the hotel and the associates were notified this week," the statement read. "The iconic hotel, along with most of New York City, has experienced very low demand and as a result the hotel will cease operations before the end of the year. There are currently no plans for the building beyond the scheduled closing."
The coronavirus has devastated the hospitality industry, forcing many hotels around the country to take drastic steps to survive. Occupancy rates have reached new lows and many employees in the industry have been furloughed or laid off.
In addition, a survey by the American Hotel Lodging Association found that 74% of US hotels say more layoffs are coming if the industry doesn't get additional federal assistance.
Named after President Theodore Roosevelt, the hotel has also been seen in films including "Maid in Manhattan," "Malcolm X" and "Wall Street."
In addition, it was at the Roosevelt Hotel Grill in 1929 where Guy Lombardo first broadcast "Auld Lang Syne" on New Year's Eve.
Libya: UN condemns arrest of media authority chief
UN Support Mission in Libya denounces 'unlawful arrest' of Mohammed Baayou after he spoke out against Islamist groups in Tripoli.
The United Nations on Thursday condemned the "unlawful arrest" of the head of Libya's government media authority demanding "his immediate and unconditional release".
Mohammed Baayou, a journalist and prominent media official under the leadership of deposed ruler Muammar Gaddafi, has spoken out strongly against Islamist groups as well as the many armed forces vying for control of swaths of Libya.
The UN Support Mission in Libya (UNSMIL) said Baayou, head of the Libyan Media Corporation, was arrested on Tuesday in the capital, Tripoli.
His two sons and a journalist at Libya's al-Wataniya TV channel, Hind Ammar, were also arrested but they have since been released, it added.
Libya has been racked by violence since a NATO-backed uprising in 2011 overthrew and killed veteran leader Gaddafi.
Since then, the North African country has been dominated by armed groups, riven by local conflicts, and divided between two bitterly opposed administrations: the UN-recognised Government of National Accord (GNA), headed by Prime Minister Fayez al-Serraj, and a rival administration in the east affiliated with renegade military commander Khalifa Haftar.
'Arbitrary arrests'
Photographs posted on social media purport to show Baayou being held inside the headquarters of a powerful armed group, the Tripoli Revolutionary Brigade, which is allied to the GNA.
The Tripoli administration has yet to comment on the arrest.
"This latest round of arbitrary arrests highlights the personal risks journalists take to promote the right to freedom of expression in Libya," the UN statement said.
"Media freedom is critical to Libya's democratic transition," it added.
The US embassy in Tripoli also condemned "the unlawful detention" of Baayou and said it "reaffirms American support for the rule of law in Libya and the protection of journalists and all Libyans in their right to freedom of expression".
Trumpism never existed. It was always just Trump.
In 2016, Julius Krein was one of Donald Trump's most ardent supporters. In Trump's critiques of the existing Republican and Democratic establishments, Krein saw the contours of a heterodox ideology he believed could reshape American politics for the better. So he established a pro-Trump blog and, later, a policy journal called American Affairs, which his critics claimed was an attempt to "understand Trump better than he understands himself."
Today, Krein finds himself in an unusual position. Upon realizing Trump was not committed to any governing vision at all (but was as racist as his critics suggested), Krein disavowed the president in 2017. But as the editor of American Affairs, he's still committed to building an intellectual superstructure around the ideas that were threaded through Trump's 2016 campaign.
This conversation on The Ezra Klein Show is about the distance between Trump and the ideology so many tried to brand as Trumpism. We also discuss Krein's view that the US has always functionally been a one-party system, the disconnect between Republican elites and voters, what a new bipartisan economic consensus could look like, whether Joe Biden and the Democrats take Trump's ideas more seriously than Trump does, which direction the GOP will go if Trump loses in a landslide in November, why Republicans lost interest in governance, whether media coverage is the true aim of right-wing populists, why Krein thinks the true power lies with the technocrats, and more.
My conversation with Krein can be heard on The Ezra Klein Show.
Subscribe to The Ezra Klein Show wherever you listen to podcasts, including Apple Podcasts, Google Podcasts, Spotify, and Stitcher.
Julius Krein's book recommendations:
Innovation in Real Places by Dan Breznitz
History Has Begun by Bruno Maçães
The Hall of Uselessness by Simon Leys
---
Millions turn to Vox each month to understand what's happening in the news, from the coronavirus crisis to a racial reckoning to what is, quite possibly, the most consequential presidential election of our lifetimes. Our mission has never been more vital than it is in this moment: to empower you through understanding. But our distinctive brand of explanatory journalism takes resources. Even when the economy and the news advertising market recovers, your support will be a critical part of sustaining our resource-intensive work. If you have already contributed, thank you. If you haven't, please consider helping everyone make sense of an increasingly chaotic world: Contribute today from as little as $3.
Rights group condemns Egypt's mass executions
Human Rights Watch calls Egypt's killing of 49 prisoners in 10 days 'outrageous'.
Egypt executed 49 prisoners in just 10 days in October, the Human Rights Watch (HRW) said on Thursday, calling on authorities to immediately halt carrying out death sentences.
"Egypt's mass executions of scores of people in a matter of days is outrageous," HRW's Joe Stork said.
The rights group said it compiled the executions between October 3 and 13 from reports in pro-government newspapers as these killings are not typically announced – or even the prisoner's family informed, the group said.
"The systematic absence of fair trials in Egypt, especially in political cases, makes every death sentence a violation of the right to life," Stork added.
Two women were among the executed. Of the 49 killed, 15 were convicted of alleged involvement in political violence following the military overthrow in July 2013 of Egypt's first democratically elected president, Mohamed Morsi.
Morsi hailed from the ranks of the Muslim Brotherhood, the country's oldest Islamist group. Since his removal, authorities banned the group and rounded up most of its leaders, including the ex-president.
Morsi collapsed in a court last year – a death that human rights activists said was evidence of the "inhumane living conditions" in Egyptian prisons.
Some executed were found guilty in three separate cases including 10 prisoners accused of carrying out attacks in 2014 for the armed group Ajnad Masrm (Soldiers of Egypt).
Another three were executed for their alleged involvement in a 2013 attack on a police station in the Kerdassa suburb of Cairo, and two others for a violent demonstration in Alexandria in 2013.
Prison attack
The New York-based rights group said 13 of this month's executions took place in Cairo's notorious supermax facility known as Scorpion following clashes last month inside the death row ward that left four policemen and four inmates dead.
At the time, authorities said the four prisoners, who had been sentenced to death in separate terrorism-related cases, were killed during an escape attempt.
However, the Human Rights Watch statement cited an anonymous human rights lawyer who challenged the government's account after having spoken with relatives of two of the inmates. The lawyer said the four prisoners ambushed and fatally stabbed the guards during a routine inspection. Other inmates later saw security forces enter the cell and gunshots were heard.
"Egypt has had a pattern of judicial and suspicious extrajudicial killings following attacks on security forces or civilians in recent years," the HRW statement said.
Other prisoners put to death had been sentenced for crimes including murder and rape.
An Egyptian government media officer could not immediately be reached for comment on the report.
HRW estimates since President Abdel Fattah el-Sisi was elected in 2014, Egypt has become one of the top 10 countries in the world carrying out death sentences.