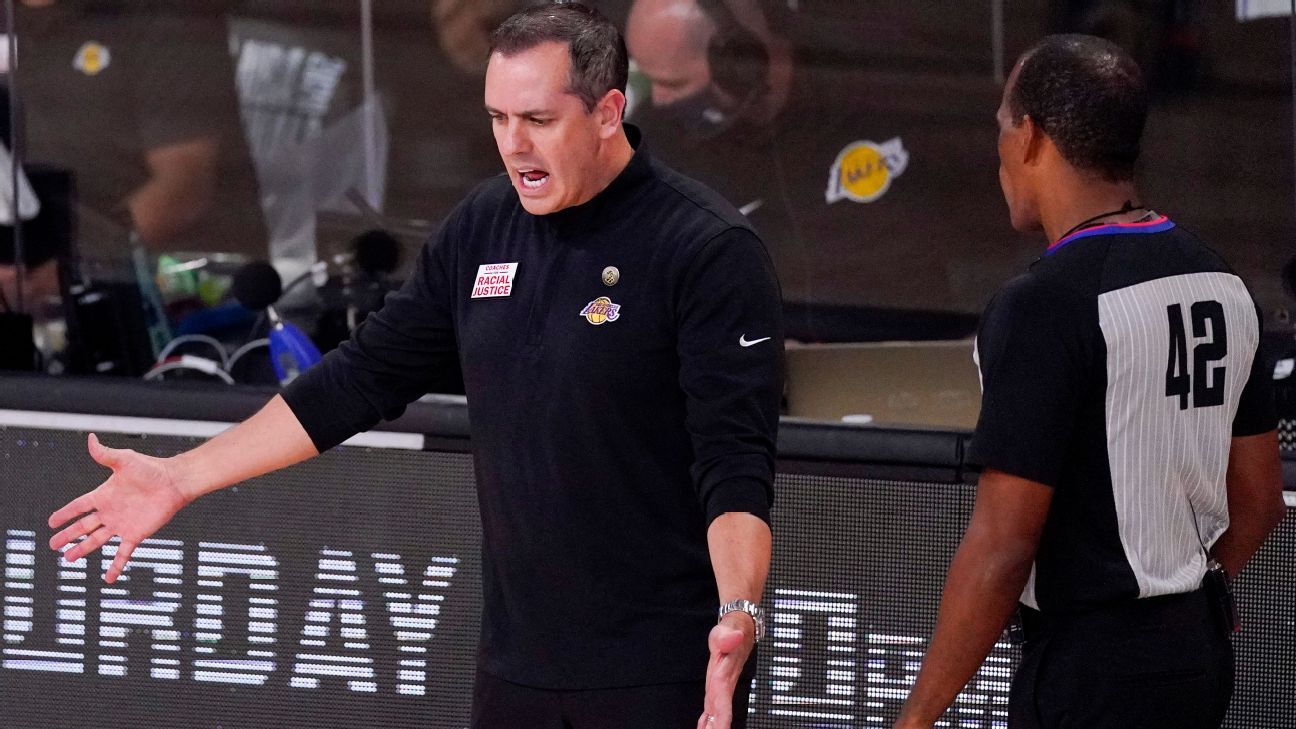 LAKE BUENA VISTA, Fla. — The NBA upheld the two calls Los Angeles Lakers coach Frank Vogel took exception with in L.A.'s 111-108 Game 5 loss to the Miami Heat in the NBA Finals on Friday, however the league did find two other calls that should have gone the Lakers' way.
In its last two minute report released Saturday, the NBA announced that Jimmy Butler should have been called for a shooting foul on LeBron James with 1:01 remaining in the fourth quarter for extending his arm and making contact with the side of James' head on a drive to the hoop and L.A. trailing 105-104. The missed call ended up being inconsequential as James corralled his own miss and laid the ball in to put L.A. up 106-105 with 58.2 seconds left.
It also determined that with 28 seconds remaining, Miami's Andre Iguodala should have been called for a defensive three seconds violation for not clearing the lane when not actively guarding an opponent. Again, the no call did not affect the Lakers as that possession ended with a layup for Anthony Davis to put L.A. up 108-107 with 21.8 seconds on the clock.
After Butler finished 12-for-12 from the free throw line — including 4-for-4 in the final minute — Vogel felt like the officials had too much of a heavy hand in determining the final outcome.
"I felt two bad calls at the end put Butler to the line, you know, and that's unfortunate in a game of this magnitude," Vogel said. "Anthony Davis has a perfect verticality, should be a play-on. And the time before that, Markieff Morris has his hands on the ball — that should be a play-on. They were given four free throws and made it an uphill battle for us. Very disappointed in that aspect of the game."
The L2M report showed that Morris' foul on Butler with 46.7 seconds remaining was correct because the Lakers forward made contact with Butler's left arm after the Heat star gathered the ball to enter his shooting motion.
As for the call on Davis with 16.8 seconds remaining, the league also labeled it correct, explaining in the L2M that Davis "jumps from point A to point B and initiates body contact with Butler during his driving shot attempt."
The Lakers lead the Finals 3-2 and can close out the series with a win in Sunday's Game 6 (7:30 p.m. ET, ABC).
Daryl Morey Made A Lot Of Trades. How Much Did They Help The Rockets?
Daryl Morey's 13-year tenure as general manager of the Houston Rockets ended the way most things end: badly. The Rockets bowed out of the 2020 playoffs in the second round, falling to the eventual champion Los Angeles Lakers in a gentleman's sweep that didn't feel all that close, with each of their final three losses coming by double digits.
The next day, Rockets coach Mike D'Antoni informed the team that he would not seek a contract renewal and would instead enter the free-agent market. A month and two days later, Morey himself stepped down from his post — even after Rockets owner Tilman Fertitta had previously said the GM's job was "safe."
Though the end was ugly, there were many successes on the journey. The Rockets posted the second-best record in the NBA during Morey's tenure, winning 61.5 percent of their regular-season games. They made 10 playoff appearances and two trips to the conference finals, scoring the eighth-most playoff wins (51) of any team in the league along the way. They consistently pushed the league forward with innovations on the floor. They shattered records (several times over) for 3-pointers made and attempted, revolutionizing what it meant to be an efficient NBA offense.
But there were also distinct disappointments. Houston was one of just two teams with 50-plus playoff victories during Morey's tenure that did not also win a championship.1 The Rockets of recent vintage went all-out to defeat the Golden State Warriors but fell short in two series — once when Chris Paul injured his hamstring and missed the final two games and once despite Kevin Durant suffering a calf injury and sitting out the clincher.
Morey is most famous, though, for his role as a pioneer in the basketball analytics movement.co-founder of the Sloan Sports Analytics Conference.
">2 Morey's adherence to the math behind basketball shone through most notably in the team's shot selection (which consisted almost exclusively of 3-pointers and attempts in the immediate area around the rim), but it also extended outside the confines of the hardwood and into the executive suite. Morey firmly believed that a team needs multiple star players to truly contend for a championship, and he relentlessly pursued that structure throughout his tenure.
"People say, 'They'll do and trade anything,'" Morey once told the Elyria (Ohio) Chronicle-Telegram. "Yeah, we will. Until you have your foundational players, your franchise should be in a state of flux. You need to keep trading and moving players until you get to that point."
When he said that, he really meant it. In 13 seasons as general manager, Morey completed a whopping 77 trades.voided and rescinded after former Rockets forward Donatas Motiejūnas failed his physical with the Detroit Pistons.
">3 Only one NBA team — the Philadelphia 76ers, who at one point were helmed by Morey's protégé, Sam Hinkie — made more swaps during that time.
In those deals, Morey acquired 27 draft picks and sent 37 out the door.4 He brought in 70 players and sent 72 packing — including 30 players that made it on both of those lists.
He traded and/or acquired the rights to Ukrainian guard Sergei Lishouk five times. He traded cash for a draft pick that was eventually used on Australian forward Brad Newley (who never played in the NBA), then traded Newley's rights a full decade later. He made three different deals involving the draft pick that became Chandler Parsons, including two on the same day. He executed quite possibly the funniest trade in NBA history, sending Patrick Ewing Jr. to the New York Knicks in exchange for the rights to Frédéric Weis.
But was all the moving and shaking worth it? Did Morey's wheeling and dealing actually add value to the team? Short answer: yes. Longer answer: yes, a whole lot.
Most crucially, each of the five pieces Morey packaged together to acquire James Harden from the Oklahoma City Thunder (Kevin Martin, Jeremy Lamb, the Nos. 12 and 32 overall picks in 2012 and a top-20 protected pick in 2014) was acquired in a previous trade. Just that, right there, made everything worth it. But Morey added value beyond the Harden deal.
How much value? We're glad you asked, because we actually can quantify it. To do so, we turned to Value Over Replacement Player (VORP). For each of Morey's trades, we tabulated the following:
The VORP produced during the remainder of that specific tenure with the Rockets by players the Rockets acquired and the VORP produced during the remainder of their tenure with the specific team to which the Rockets traded them by players the Rockets traded away.
The VORP produced during their tenure with the Rockets by any player whose draft rights the Rockets acquired5 and the VORP produced during their tenure with the specific team to which the Rockets traded them by any players whose draft rights the Rockets traded away.
The projected VORP of all future draft picks traded to the Rockets6 and the projected VORP of all future draft picks traded away by the Rockets.
Take Morey's first significant trade: In 2007, the Rockets sent the draft rights to Vassilis Spanoulis to the San Antonio Spurs along with a 2009 second-round pick and cash in exchange for Jackie Butler and the draft rights to Luis Scola.
Spanoulis never played in the NBA and thus never produced any VORP. The 2009 second-round pick eventually landed at No. 53, which we could project would be worth just over 0.1 VORP. Butler never actually played a game with the Rockets because he was waived at the end of training camp, but Scola stayed in Houston for five seasons and produced 4.7 VORP during his tenure. Subtract 0.1 (No. 53 pick) from 4.7 (Scola), and Morey added 4.6 VORP for the Rockets with the deal.
There were some other true gems along the way: a 2009 three-team trade in which the Rockets sent Rafer Alston to Orlando and acquired Magic forward Brian Cook and Grizzlies guard Kyle Lowry (plus-5.7 VORP); a 2010 three-team deal with the Knicks and Kings in which Houston acquired Kevin Martin, Hilton Armstrong, Jordan Hill, Jared Jeffries, the right to swap 2011 first-round picks with New York and a protected future first-round pick in exchange for Tracy McGrady, Carl Landry, Joey Dorsey and cash (plus-5.4); and a 2011 trade of Aaron Brooks to the Suns for Goran Dragić and a future first-round pick (plus-3.4).
There were also some clunkers. The 2012 swap that sent Lowry to the Raptors for guard Gary Forbes and a protected first-round pick comes to mind (minus-27.5 VORP). So does the 2008 draft-day deal that saw the Rockets acquire the rights to Donté Greene and Dorsey, plus a 2009 second-round pick, in exchange for the rights to Nicolas Batum (minus-15.9).
Perform the same calculation for each of Morey's trades, though, and the Rockets came out ahead by 34.8 VORP. Think of it this way: In his 13-year tenure as Rockets GM, Morey added almost the same value over replacement player via trade that Lowry did on the court (35.5).
The significant majority of the value Morey generated via trade came in the Harden deal. To date, Harden has produced 58.2 VORP for the Rockets. Martin produced 1.6 VORP during his time in OKC, and Lamb produced 1.3. The Nos. 12, 32 and 24 picks could be projected for around 4.8 VORP, meaning the Rockets have so far won this trade by 50.3 VORP. That's just about as good as it gets. It's a career-making trade.
Morey's efforts to secure Harden a second star, though, were largely less successful. The first and arguably worst attempt was the signing of Dwight Howard. Howard bristled at a perceived lack of touches, his back injuries accelerated his physical decline, and his personality clashes with Harden accelerated his ignominious exit from Houston.
The Rockets thought they had a Chris Bosh signing lined up in 2014 and traded away a future first-round pick to offload Jeremy Lin's contract and open up the necessary cap space, but Bosh elected to stay with the Heat at the last minute. Bosh's spurning Houston meant the Rockets played three more seasons before finding Harden a proper second star: Chris Paul.
That deal worked about as well as could be expected for Houston on the floor: The 2017-18 and 2018-19 Rockets are two of the 14 most efficient offenses in NBA history, and the team made the conference finals in 2018. But it was actually a loser by VORP (minus-9.8 and counting) because three of the pieces Morey sent to the Clippers became key rotation pieces in L.A.: Patrick Beverley, Montrezl Harrell and Lou Williams.
And Paul's reported falling-out with Harden motivated the Rockets to ship him out last year, dumping his contract on the Thunder for the even-more-onerous contract of Russell Westbrook and sacrificing two future first-round picks (2024 and 2026) and two pick swaps (2021 and 2025) just to do it. Paul then outplayed Westbrook in the players' first seasons with their new teams, and now that Morey will no longer be in charge of building the Rockets' future, it's entirely possible that the picks he traded will end up being more valuable than he projected they'd be when he sent them to Oklahoma City.
In the end, Morey's tenure as general manager largely followed the trajectory of the Rockets as a franchise, which isn't all that surprising. He spent years meticulously accumulating assets without ever bottoming out, hoping against hope that he could eventually pounce on a chance for the type of superstar who could lead the team to championship contention.
He eventually found the right player at the right price, and he hit his shot so far out of the park that it might actually have been attached to a rocket. He then nailed moves for supporting players, like trading for Trevor Ariza in 2014 (plus-9.9 VORP); drafting Clint Capela and elevating him to the starting lineup after letting Howard walk; rebounding from being rebuffed by Andre Iguodala by signing P.J. Tucker in 2017; and signing quality role players like Luc Mbah a Moute, Gerald Green, Nenê, Austin Rivers, Ben McLemore and Danuel House (for the last one, bubble indiscretions notwithstanding).
But the big post-Harden moves didn't quite work out — or at least, they didn't achieve the desired result. Howard was a bad fit. Bosh changed his mind. Ryan Anderson had a couple of great shooting seasons but eventually became unplayable on defense. Eric Gordon had three years of good health before his body failed him again this season. Paul and Harden couldn't get over the hump. Westbrook got injured, tested positive for COVID-19 and wasn't himself in the bubble.
Now, Morey has moved on. Eventually, the Rockets will as well. They'll hire a new GM, find a new coach, swap out some players, send draft picks flying around the league — all in an effort to climb the mountaintop for the first time since 1995. But for the first time in more than a decade, they won't have one of the league's most prolific dealmakers calling the shots.
Neil Paine contributed research.
How did figure skaters prepared for Skate America during a pandemic? It wasn't easy
After months of being joined at the hip, ice dancers Caroline Green and Michael Parsons found themselves cut off from each other from March until June of this year, living with their families 15 minutes apart in Rockville, Maryland, during the initial wave of the COVID-19 pandemic.
The spring and early summer are normally crucial building-block times for ice dance and pairs teams constructing new programs as they choose new music and work on choreography. Green and Parsons didn't want to lose momentum in just their second season as a duo at the senior level, so they were diligent about doing fitness workouts led by their coaches via Zoom. Parsons built a contraption to do pullups and inverted situps in his backyard, and used a downed tree limb for shoulder presses.
Staying in shape artistically was a different matter. Parsons and Green had decided they wanted to change up the music for their short program, or rhythm dance. So Green applied an old adage: She danced with the one who brought her, persuading her older brother and former partner Gordon to serve as a stand-in until she could train with Parsons again.
It wasn't as simple as it sounds. Sure, the siblings had skated together for 10 years and won the 2019 junior national championship, but Gordon had since left the sport and was looking ahead to his freshman year of college. And the required pattern for the rhythm dance this season isn't the easiest romp around the rink. It's the Finnstep, a showy ballroom quickstep that, as stated on ice-dance.com, calls for "very crisp and tidy timing as well as footwork."
"I do not know all of the boys' steps, so it was kind of just a lot of trial and error," Caroline Green said, laughing. "There was no video, thank goodness. I'm sure it was a little rough. Some of the things I tried — oooh, they didn't quite work."
In some ways, elite U.S. ice dancers and pairs skaters were no different from millions of people worldwide who adapted to taking movement classes via Zoom or other video applications. But there was one important difference. The skaters eventually had to transfer those remotely taught dance moves, intricate step sequences and lifts — the athletic maneuvers that are often the highlight of programs — to their far more slippery workplace.
The steps that worked as they slid around hardwood floors in their socks, or the flips they practiced in the backyard, didn't necessarily fly once they got back on the ice. Imagine water polo players training on grass. It's just not quite the same.
The programs that U.S. dance and pairs teams will debut for a national television audience at Skate America (Friday through Sunday, NBCSN) at the Orleans Arena in Las Vegas — the first major event in a truncated international figure skating season — are the product of innovation born of necessity and aided by technology.
Dallas-area pairs skaters Ashley Cain-Gribble and Timothy LeDuc assembled new short and long programs despite not having seen their choreographer, Michigan-based Pasquale Camerlengo, in person since last season. Normally, the 2019 national champions would work together on the ice for at least two weeks, with periodic checkups and fine-tunings throughout the season.
"Having to look at what they're doing on a small screen or a computer, sometimes with bad wi-fi, and then they have to see how you're interpreting that over a small screen, and doing all of this on the floor, so you're not even on the same medium … oof, it was challenging," LeDuc said. "It was definitely very outside our comfort zone. When we started, I would have been like, 'You're crazy, that's never gonna happen, how on earth would we do that?' And here we are."
Now that they have journeyed this far, actual competition will test the athletes in a different way. Performing in an empty arena will deprive the skaters of the crowd energy they normally feed off. But the show is going on, and they are troupers, as recent months demonstrate.
For many top skaters, this season began abruptly with the end of the previous one, as the 2020 world championships in Montreal were canceled a week out.
Veteran ice dancers Madison Chock and Evan Bates had been looking forward to competing in the city that has been their training base since mid-2018.
"The pandemic took us off the ice for the longest time since we started skating," Chock said. Both began competing as young children and have since been selected for two Olympic teams together. (Bates made a third with an earlier partner.) "Not having that build and release and letdown after the competition — we were so ready and primed to compete, and to have to go into lockdown right after that was very strange. Our bodies were a bit confused."
During the three months she and Bates were unable to access ice and unsure of when they might compete again, they found themselves relying on their longtime choreographer and dance coach at the Ice Academy of Montreal, Sam Chouinard, for technique and inspiration.
"Sam is the most energetic person I've ever met," Bates said. "He's like, "HEY GUYS OK WE'RE GONNA DO THIS." The couple laughed.
Chouinard, who said he learned an enormous amount from teaching remotely, has since treated himself to what he calls a "Britney mic" — the same type of cordless headset favored by Britney Spears in concert — so his exhortations can be heard above music on a video call. His attitude helped Chock and Bates through some tedium as they danced in the entryway near their kitchen, or practiced lifts in a space thankfully high-ceilinged enough not to endanger her head.
"Prior to COVID we would have said that's kind of silly, but we just got used to it," Bates said. "Our norms have changed so much."
While Chock and Bates elected to stay put in Canada, fellow ice dancers and Montreal academymates Kaitlin Hawayek and Jean-Luc Baker moved in with her family in Buffalo. They began working on new programs almost immediately in Zoom sessions with Chouinard and their main coach, Marie-France Dubreuil.
Two-time U.S. bronze medalists Hawayek and Baker caught a break with ice time when a Buffalo rink was allowed to reopen early in order to convert one ice sheet into a daycare center for children of essential workers. The team was able to rent ice while staying sufficiently distanced from others in the building. Still, they faced the issue of being physically separated from their coach and choreographer and communicating exclusively via Zoom.
"Usually the cycles of feedback we go through, we're always incorporating what other people want to see in our programs. We haven't dealt with that, so everything we've put into this is us. Which I think is a really cool thing." Michael Parsons, ice dancer with partner Caroline Green
Working on their own and consulting frequently with their coaches, Hawayek and Baker gradually built confidence. It was the first time they'd ever had that much input in a competitive program, although they had choreographed their own exhibition numbers.
They had a useful tool provided by the federation — an auto-follow camera system called Move N See, which can be used with smartphones or tablets that sync with a watch worn on the ice. The system tracks from multiple spots around the rink and enabled Dubreuil to give the skaters feedback in real time from the big screen in her living room.
"We would record ourselves doing the same movement three different ways, from different angles, and be inspired by the work we did in Zoom on the floor and try to make it ours on the ice," Hawayek said.
She and Baker moved back to Montreal in June and, after an obligatory 14-day quarantine, reunited with Dubreuil on the ice in early July — properly distanced, of course. The result? A modified version of their previous season's disco-themed rhythm dance (2 minutes, 40 seconds) and an entirely new four-minute free dance program skated to the music of Philip Glass and Blondie.
"What you can see on video sometimes is deceiving, sometimes it's great and sometimes it's not," Hawayek said. "Marie-France was very happy seeing only a two-dimensional view with this camera, that it worked out well in a three-dimensional way when we got here.
"We got to bring our own flair and creativity to the work. We kind of took the reins a little bit in our career in a way."
Green and Parsons echoed that sentiment.
"I think it's made these programs more ours, if that makes sense," Parsons said. "Usually the cycles of feedback we go through, we're always incorporating what other people want to see in our programs. We haven't dealt with that, so everything we've put into this is us. Which I think is a really cool thing. These programs feel very genuine."
Cain-Gribble and LeDuc livened up their at-home training with help from husband-and-wife skaters Robin Johnstone and Andy Buchanan, who have performed with Cirque du Soleil. With their instruction, Cain-Gribble and LeDuc incorporated walkovers — where Cain exits a lift by putting her hands on the ice and flipping over into their new programs.
The pairs took advantage of sunny spring weather in Dallas to try some lifts and throws in a grassy yard, and posted one Instagram video of Cain-Gribble spinning airborne over LeDuc's outstretched arms on a concrete sidewalk outside their home.
Indoors, "we were on a hardwood floor in our socks so we could kind of shoosh around and do our best to fake ice-skate," LeDuc said. "Everything on ice relies on speed and how we're using the space that we have. On the floor, you can't predict how many pushes you need, how long it will take. When we finally got back on the ice, there were times it was like, 'We're gonna have to retool this.' Other parts we predicted perfectly."
As assiduous as they'd been about trying to simulate skating, cold reality awaited when their rink reopened. "You're super excited and you have all this adrenaline to skate, and you're doing your jumps and everything feels good," Cain-Gribble said. "Then a week went by. My body hurt, everything's hurting. We had no idea what was coming next. You train, and you don't know what you're training for."
Charlie White, the 2014 Olympic ice dance champion and 2010 Olympic silver medalist with his partner Meryl Davis, has choreographed programs for all levels since he retired but stepped back from the sport in this strange year. "I would want to be able to be present," he said. "There's nuance that comes from the physical participation of the choreographers. I really feel for those who are pushing through this."
The 2020-21 international figure skating season keeps shrinking as the pandemic continues its global spread.
The Grand Prix series, normally six events that winnow the field for a final, is down to four after the Canadian and French skating federations canceled events in those countries. Skaters will compete in just one event apiece on their home continents in North America, Europe and Asia. Chinese officials have indefinitely postponed the Grand Prix final originally scheduled for Beijing in December. The U.S. championships in San Jose, California, in mid-January and the world championships slated for Stockholm in March are still on.
Chock and Bates never stopped trying to make the best of their situation, but karma didn't always cooperate. An injury to Chock sidelined the duo for two weeks this past summer, and they had to retreat to their home for another two weeks of total quarantine after learning they had been exposed to COVID-19. (Neither tested positive or became ill.)
They had made good progress on their free dance for the 2020-21 season, but didn't feel it was competition-ready this month — and traveling to Las Vegas for Skate America would have meant yet another 14 days of quarantine back in Montreal when they returned. Chock and Bates withdrew and will continue training with the goal of defending their national title in January. They also decided to table their new free dance and compete with the same two programs as last year.
"Being an athlete at this level means being adaptable and being comfortable with discomfort — the difference here is managing not knowing," Bates said. "The unknown is greater than it ever has been. It takes a lot of commitment and faith to continue to put everything into the preparation with that unknown looming. But we still feel very motivated."
Top U.S. skaters had a dress rehearsal of sorts for the closed-door competition at Skate America, in the form of a virtual event held by U.S. Figure Skating last month. More than 100 junior- and senior-level athletes performed programs in their home rinks and sent videos to a judging panel. Prize money was awarded and the placements factored into slots at Skate America and the national championships. In videos posted on the federation's website, a single clap is sometimes the only reaction.
Skaters are used to doing run-throughs in near-vacant rinks, but it's the absence of facial feedback, even from their coaches, that affects them most.
"You don't see much when the face is covered," Baker said. "I understand it's for safety and that's great, but it was very different for us. You look at them and smile and try and perform, and you're not getting anything back. It's something we need to work with and learn from, and imagine a smile underneath."
Artistic and theatrical elements are a major part of figure skating. Part of the job description is to emote, tell a story through a program and project energy — unlike football, baseball and basketball players who have the luxury of executing without having to worry about their expressions or staying in character.
"What I told them is even if we can't see them, know there's a lot of people watching," Chouinard said. "'Dig into your memories of previous competition. Look at YouTube. Picture that feeling before you go on the ice. You're backstage, you hear the crowd … be led by that feeling.' But that's easy to say, and not easy to do."
Parsons said he always tries to perform in a way that will reach "the farthest audience member in the arena. Now, that will be anyone online."
His partner is also looking for the upside on their end of what has become a season of remote learning. "It almost encourages us to be twice as big and twice as bright on the ice, because if you aren't super expressive, some of that might not translate through the camera," Green said. "We'll have to step up our game."
Sources: Vikes ship Ngakoue to Ravens for picks
The Vikings have traded defensive end Yannick Ngakoue to the Ravens, Minnesota announced Thursday.
Sources told ESPN's Adam Schefter that the Vikings are receiving a 2021 third-round draft pick and a 2022 conditional fifth-round pick. The Vikings did not disclose the picks involved in the deal.
Ngakoue will fly to Baltimore in the next 24 hours to go through COVID-19 testing so he can be ready to join his new team next week after it comes off its bye and returns to start preparations for its Week 8 game against the Pittsburgh Steelers.
Baltimore has attempted to acquire Ngakoue multiple times in recent months, according to Schefter. Ngakoue hoped to land in Baltimore all along. He grew up in Bowie, Maryland, and starred at Maryland before being drafted by the Jacksonville Jaguars in 2016.
The Vikings had acquired Ngakoue in August by trading a 2021 second-round pick and 2022 conditional fifth-round pick to the Jaguars. Ngakoue, who had been given the franchise tag by the Jaguars in the offseason, agreed to a one-year, $12 million deal with the Vikings — instead of his franchise tender of $17.8 million — to complete the trade.
Ngakoue had five sacks and two forced fumbles in six games this season for Minnesota, but the Vikings have stumbled to a 1-5 start.
The trade reunites former Jaguars teammates Ngakoue and Calais Campbell. They were on the field together for 1,829 snaps over three seasons in Jacksonville (2017-19) and were the starting defensive ends for the Jaguars in the 2017 AFC Championship Game.