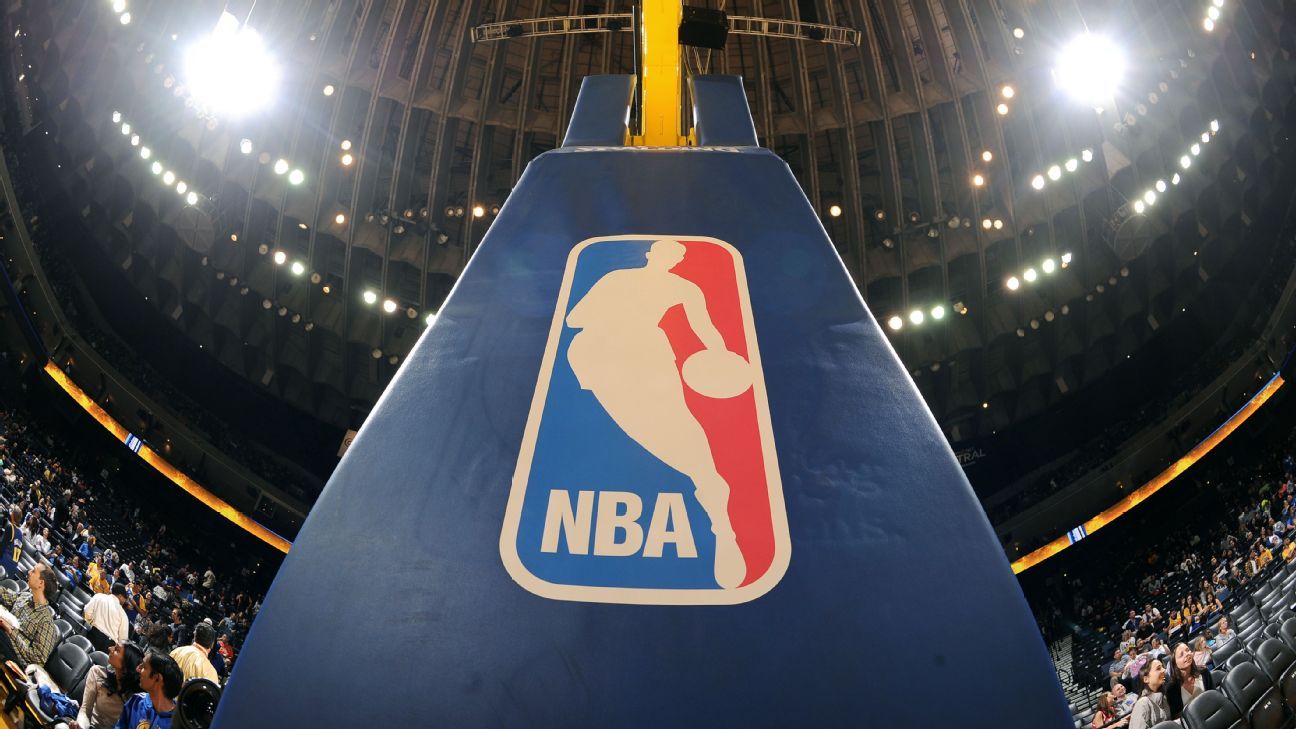 China's CCTV announced it plans to televise Game 5 of the NBA Finals live, the first game on broadcast television there in more than a year.
The state-run behemoth, which started carrying NBA games in the early 1990s, pulled all NBA games from its programming in the wake of Houston Rockets general manager Daryl Morey's tweet supporting protests in Hong Kong on Oct. 4, 2019.
In its statement, CCTV cited the NBA's assistance with fighting COVID-19 in the country as a reason for restoring broadcasts. The league donated more than $1 million and medical equipment to China earlier this year. The league as well as some players have expressed support for China during the last year.
"During the recent Chinese National Day and Mid-Autumn Festival celebrations, the NBA sent their well wishes to fans in China," CCTV said in a statement. "We also took note of the league has been continuously delivering goodwill (to China), particularly making positive contributions to Chinese people's fight against COVID-19 pandemic."
The NBA didn't immediately have a comment on the announcement.
This is a major step in improving relations between the NBA and China, which had been badly damaged by Morey's tweet and NBA commissioner Adam Silver's comments that supported Morey.
Silver has made improving relations with China a priority for months. He said in February the league was facing more than $300 million in losses as numerous Chinese companies pulled their support of NBA teams. Those losses could extend into next season as well.
In May, the NBA announced a new head of its Chinese operations, Michael Ma, the son of the founder of CCTV Sports, Ma Guoli. It was thought that connection could help the league but at the time CCTV released a statement "reiterating its consistent stance on national sovereignty" and continued its position.
Games have been available for streaming over the internet in China but fewer than in years past. Last year the NBA announced a $1.5 billion rights deal with streaming partner Tencent, which is also a partner with ESPN, to show games in China over the next five years.
Cards knock off unbeaten Seahawks in wild OT
GLENDALE, Ariz. — Of all the players to lead the Arizona Cardinals to an overtime win over the Seattle Seahawks, it was one of the most unlikely.
Rookie linebacker Isaiah Simmons intercepted Seahawks quarterback Russell Wilson with 1:04 left in overtime on his fourth snap of the game. He didn't play in the first half.
That led to Cardinals kicker Zane Gonzalez redeeming himself after missing the game-winning field goal earlier in overtime, making a 48-yard kick with 20 seconds left in the extra period to give Arizona a 37-34 win while handing the Seahawks their first loss of the season.
Arizona improved to 5-2, holding onto second place in the NFC West with the Los Angeles Rams playing Monday night.
Coach Kliff Kingsbury nearly cost the Cardinals the game earlier in overtime, when he iced Gonzalez with 2:47 left on second-and-15. Gonzalez made the initial kick but it didn't count, then he missed the next one.
Then came Simmons' pick.
It was just another typical Cardinals-Seahawks game — full of drama, twists and turns.
Both teams combined for 1,091 yards — 572 by Seattle and 519 by Arizona.
Kyler Murray threw for 360 yards, three touchdowns and an interception on 34-for-48 passing. He also had 67 rushing yards and a touchdown on 14 carries.
DeAndre Hopkins had 10 catches for 103 yards and a touchdown. Running back Chase Edmonds, who had two of the biggest plays in overtime, caught all seven of his targets for 87 yards. Larry Fitzgerald had 62 yards while catching all eight of his targets.
The game was moved to Sunday night amid concerns the Bucs-Raiders game might have to be postponed due to a positive coronavirus test on the Raiders and additional players being placed on the reserve/COVID-19 list due to contact tracing.
Kershaw pitches Dodgers to brink of World Series
ARLINGTON, Texas — As Los Angeles Dodgers manager Dave Roberts strolled to the mound with two outs in the top of the sixth inning, a chorus of boos rained down from the crowd at Globe Life Field. Even though this was Game 5 of Major League Baseball's first neutral-site World Series, Dodgers fans have overrun the stadium, and they let their feelings be known: They did not want Roberts to remove Clayton Kershaw from the game.
Roberts did not abide, and as Kershaw strode off the mound, it was to a sound too often unfamiliar to him in October: cheers. If ever there were a postseason to huzzah the Dodgers' left-hander, of course, this is it, and his plenty-solid performance in Game 5 laid the foundation for the Dodgers' 4-2 victory over the Tampa Bay Rays on Sunday.
The win, on the heels of the Dodgers' brutal Game 4 loss a day earlier, gave the Dodgers a 3-2 advantage in the series and put them one victory shy of their first championship since 1988. They can lock up a title in Game 6 on Tuesday night.
If this was Kershaw's last appearance in the 2020 postseason — there's always a potential Game 7 relief appearance looming — there's a good argument that it's his finest playoffs yet. His shakiness in Game 5 evened out in the middle innings – he even foiled the first attempted straight steal of home in a World Series game since 1982 — and by the time Roberts yanked him, Kershaw had retired eight batters in a row to gussy up a final line for 5 2/3 innings, 5 hits, 2 runs, 2 walks and 6 strikeouts. In total, he has thrown 30 2/3 innings these playoffs, allowed 23 hits, walked 5 and struck out 37 with a 2.93 ERA and 4 wins.
Though the jeers that greeted Roberts on his way to the mound were even worse as he returned to the dugout, his maneuvering in Game 5 worked far better than his bungling the day prior — even if it placed the Dodgers in one particularly hairy situation. Dustin May, the fireballer who replaced Kershaw, struck out Rays cleanup hitter Manuel Margot on a 101.5-mph fastball to end the sixth and threw another scoreless 1 1/3 innings afterward.
He exited with a runner on first when Rays manager Kevin Cash pinch hit left-handed hitter Ji-Man Choi, which prompted Roberts to go to lefty Victor Gonzalez. Cash immediately pinch hit right-hander Mike Brosseau, who mashes lefties, and he walked. Up stepped Randy Arozarena, the Rays' best hitter and a right-hander as well.
On the first pitch, Gonzalez induced a flyout. Brandon Lowe floated a ball to center field for the third out. The Dodgers had escaped, and Blake Treinen — not Kenley Jansen, who blew Game 4 — came on in the ninth and recorded the save.
The Dodgers had played nine innings of clean baseball less than 20 hours after their two-error debacle with two outs and two strikes in the ninth inning allowed Arozarena to pound home plate for the winning run and Brett Phillips to airplane into the outfield after loosing the single that led to the chaotic series of events evening the series.
Mookie Betts ripped a leadoff double off Rays starter Tyler Glasnow, Corey Seager plated him with a single and Cody Bellinger's two-out infield single scored him, giving the Dodgers a 2-0 advantage. Joc Pederson's home run in the second extended it to 3-0 — the same lead he had and frittered away in Game 5 of the 2017 World Series.
World Series Game 5s, in fact, had been a bugaboo for Kershaw. The Boston Red Sox tarred him with four runs in four innings of the 2018 World Series, and he was beginning to bend in the third inning Sunday. Kevin Kiermaier singled, Yandy Diaz tripled him in and Arozarena drove him in to cut the lead to 3-2.
The key moment came an inning later. Manuel Margot drew a leadoff walk, stole second and advanced to third on a bad throw. Hunter Renfroe walked. With runners on the corners, Joey Wendle popped out and Willy Adames struck out. With Kevin Kiermaier at the plate and down 0-1, Margot dashed for home. Kershaw recognized in time and threw to Austin Barnes, who slapped a tag with Margot's fingertips inches from home plate.
From there, Kershaw cruised, passing Justin Verlander for the most strikeouts all-time in the postseason with 206. Kershaw, circa 2020, is more craftsman than conqueror, and though this wasn't the coronation he wanted nor the dominant start he desired, it was plenty good — something well worth cheering.
Dodgers snap back vs. Rays, now a win away from winning World Series
ARLINGTON, Texas — The theme late Saturday night and early Sunday afternoon — in the aftermath of a heart-wrenching, stomach-churning loss — was universal among the members of the Los Angeles Dodgers: They had to forget. They had to wipe away the memory of an improbable ninth-inning breakdown, bounce right back and win a crucial, World Series-shifting Game 5.
"We're still pretty confident we're the best team in baseball," Dodgers catcher Will Smith said, "and we're gonna win this thing."
Thanks to more early runs, a gutsy start from Clayton Kershaw and a major recovery from the bullpen, the Dodgers moved a step closer with their 4-2 victory over the Tampa Bay Rays, taking a 3-2 Series lead and moving one victory away from their first championship since 1988.
The Dodgers picked up a couple of first-inning runs off Tyler Glasnow, then got solo homers from Joc Pederson and Max Muncy. But the game shifted in the bottom of the fourth when, with nobody out, two Rays batters on base and the Dodgers leading by only a run, Kershaw induced a shallow popup, recorded a strikeout, then retired Manuel Margot as he attempted to steal home.
Kershaw went on to retire the next five batters and, just as important, Dustin May retired the four who followed to protect the lead. The Dodgers pen protected that lead when Victor Gonzalez finished up the eighth and Blake Treinen nailed down the ninth to preserve the lead.