Menlo Ventures, the 44-year-old venture firm with offices in Menlo Park and San Francisco, is taking the wraps of its fifteenth early-stage fund today, a vehicle it closed with $500 million in capital commitments.
It's the same amount that Menlo announced last year for a growth-stage fund, the second in the firm's history.
We talked with managing director Venky Ganesan earlier this week about the new fund. It will not, notably, include longtime Menlo managing director Mark Siegel, who joined the firm 24 years ago after a business development stint at Netscape, and who — like peers Bill Gurley of Benchmark and Todd Chaffee of IVP — is now making room for some of the firm's more recent additions.
Ganesan also said that Menlo, which invests in consumer, enterprise, frontier tech, and healthcare startups, might index a bit more on health-related bets, which is unsurprising but also interesting in an historical context.
Gilead Sciences was actually incubated at Menlo back in 1987, but the firm dropped its life sciences practice for roughly 20 years before resuscitating it in 2017, hiring Greg Yap as a partner to lead related investments. At the time, Yap's mandate was to invest roughly 15% of the firm's last, $450 million, early-stage fund into tech-driven life sciences, but Ganesan can imagine that even more of its new fund will be poured into tech-driven health and medical startups.
As for check sizes, Ganesan said that Menlo will continue to do the occasional seed round but that it's far more focused on Series A and B deals, writing initial checks of between $8 million to $15 million at the Series A for a targeted 20% of each startup, and checks beginning at $12 million to $14 million at the Series B stage. (Its later-stage fund makes the bigger bets beyond that.)
Menlo has long counted Washington State as its anchor tenant, and this fund is no different, having secured a $125 million commitment from its investment board.
A newer investor, says Ganesan, is the State of New Mexico Investment Council, which is one of three new investors in the fund — all of which were introduced to Menlo through other investors, and all of which agreed to back the firm via Zoom.
Given the firm's recent exits, institutional interest in the new fund isn't surprising. Menlo led Uber's Series B round back in 2011, and according to the firm, even before Uber's IPO last year, Menlo had already earned $973 million — or a 93x return — on its $10.5 million investment by selling nearly half of its Uber stock to a syndicate led by SoftBank.
Another big win for the firm has been Roku, which makes a variety of digital media players for video streaming and went public in 2017. At the time, its shares traded at around $15 each; today its shares trade at $233 apiece.
Meanwhile, Menlo has active portfolio companies that also appear poised to produce returns for its investors. The consignment company Poshmark said late last month that it has confidentially submitted to securities regulators a draft registration statement for its IPO, for example. And Chime, a start-up that delivers banking services through mobile phone, closed a round of funding last month that valued the company at $14.5 billion.
Original Content podcast: 'Lovecraft Country' is gloriously bonkers
As we tried to recap the first season of HBO's "Lovecraft Country," one thing became clear: The show is pretty nuts.
The story begins by sending Atticus "Tic" Freeman (Jonathan Majors), his friend Leti Lewis (Jurnee Smolett) and his uncle George (Courtney B. Vance) on a road trip across mid-'50s America in search of Tic's missing father. You might assume that the search will occupy the entire season, or take even longer than that; instead, the initial storyline is wrapped up quickly.
And while there's a story running through the whole season, most of the episodes are relatively self-contained, offering their own versions on various horror and science fiction tropes. There's a haunted house episode, an Indiana Jones episode, a time travel episode and more.
The show isn't perfect — the writing can be clunky, the special effects cheesy and cheap-looking. But at its best, it does an impressive job of mixing increasingly outlandish plots, creepy monsters (with plentiful gore) and a healthy dose of politics.
After all, "Lovecraft Country" (adapted form a book by Matt Ruff) is named after notoriously racist horror writer H.P. Lovecraft, but it focuses almost entirely on Black characters, making the case that old genres can be reinvigorated with diverse casts and a rethinking of political assumptions.
In addition to reviewing the show, the latest episode of the Original Content podcast also includes a discussion of Netflix earnings, the new season of "The Bachelorette" and the end of Quibi.
You can listen in the player below, subscribe using Apple Podcasts or find us in your podcast player of choice. If you like the show, please let us know by leaving a review on Apple. You can also follow us on Twitter or send us feedback directly. (Or suggest shows and movies for us to review!)
And if you'd like to skip ahead, here's how the episode breaks down:
0:00 Intro
0:36 Netflix discussion
3:18 "The Bachelorette"
6:30 Quibi
14:35 "Lovecraft Country" review
31:32 "Lovecraft Country" spoiler discussion
Upgrade Your PC Gaming Setup Today With a New Respawn Desk ($50 Off) And Gigabyte G27F Monitor ($40 Off)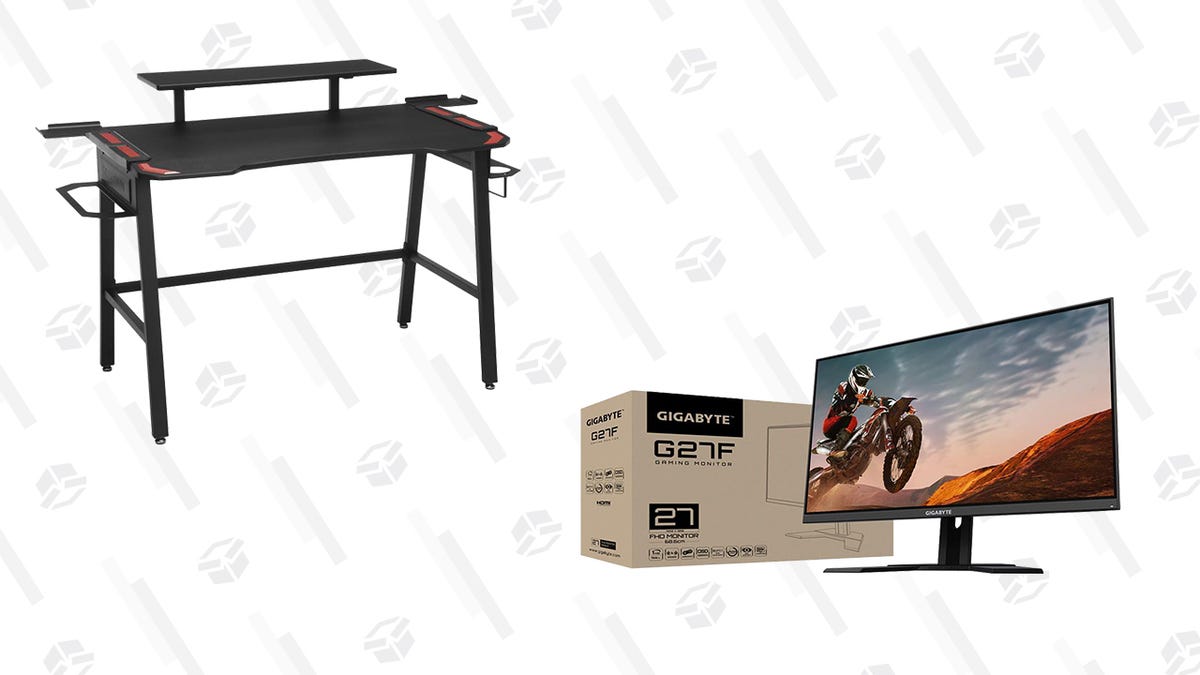 Respawn 1010 Gaming Desk in Red | $150 | Newegg
Gigabyte G27F 27-in. Gaming Monitor | $210 | Newegg | Promo code 93XPW42
This Gigabyte G27F 27-inch gaming monitor has a 144Hz refresh rate and a 1 millisecond response time, as well as a 1920 x 1080 IPS display. You can get it for $40 off, bringing it down to $210, when you apply promo code 93XPW42 at checkout.
Why not grab a new Respawn 1010 gaming desk to put your spanking new monitor on? It's $50 off today and can also be found on Newegg. Both of these deals are good for today only, and they also both ship for free.
---
Source
Download These Creepy Zoom Backgrounds to Scare Your Colleagues
Halloween is going to look a little different this year, thanks to the COVID-19 pandemic. If you have kids, you've probably already put a decent amount of thought into how to be able to give them some type of Halloween experience, whether that's through creative use of face masks, candy chutes or DIY decorations.
But what about yourself? If you work in a place that embraces Halloween, like Dunder Mifflin, wearing costumes to work from home isn't the same. And a Halloween Zoom happy hour isn't quite the same thing as getting buzzed with your colleagues and then eating an entire bag of candy corn to try to figure out whether or not you like it.
Allow us to present another option: adding a creepy Zoom background for your meetings this week. Not only will it hide the mess in your home office (aka the corner of a kitchen counter), but it'll get your colleagues in the Halloween spirit. Here's what to do.
How to download free Halloween Zoom backgrounds
Sure, you can go the traditional route and find a spooky photo and make it your Zoom background. Or, you could download a Halloween Zoom background from the video platform Clipchamp and use that instead. And did we mention these backgrounds were videos? They are available to download for free on the Clipchamp website.
G/O Media may get a commission
The options include the usual: bloody hands, old-timey damaged baby dolls, a hand reaching out from the ground in a graveyard, a TV with static, an abandoned psychiatric hospital, a single light bulb swinging in a room, a few different shots of the moon, a person pressed up against the outside of a window, and a ghost town. And if you've never set up a video as a Zoom background before, Clipchamp provides this handy step-by-step guide.