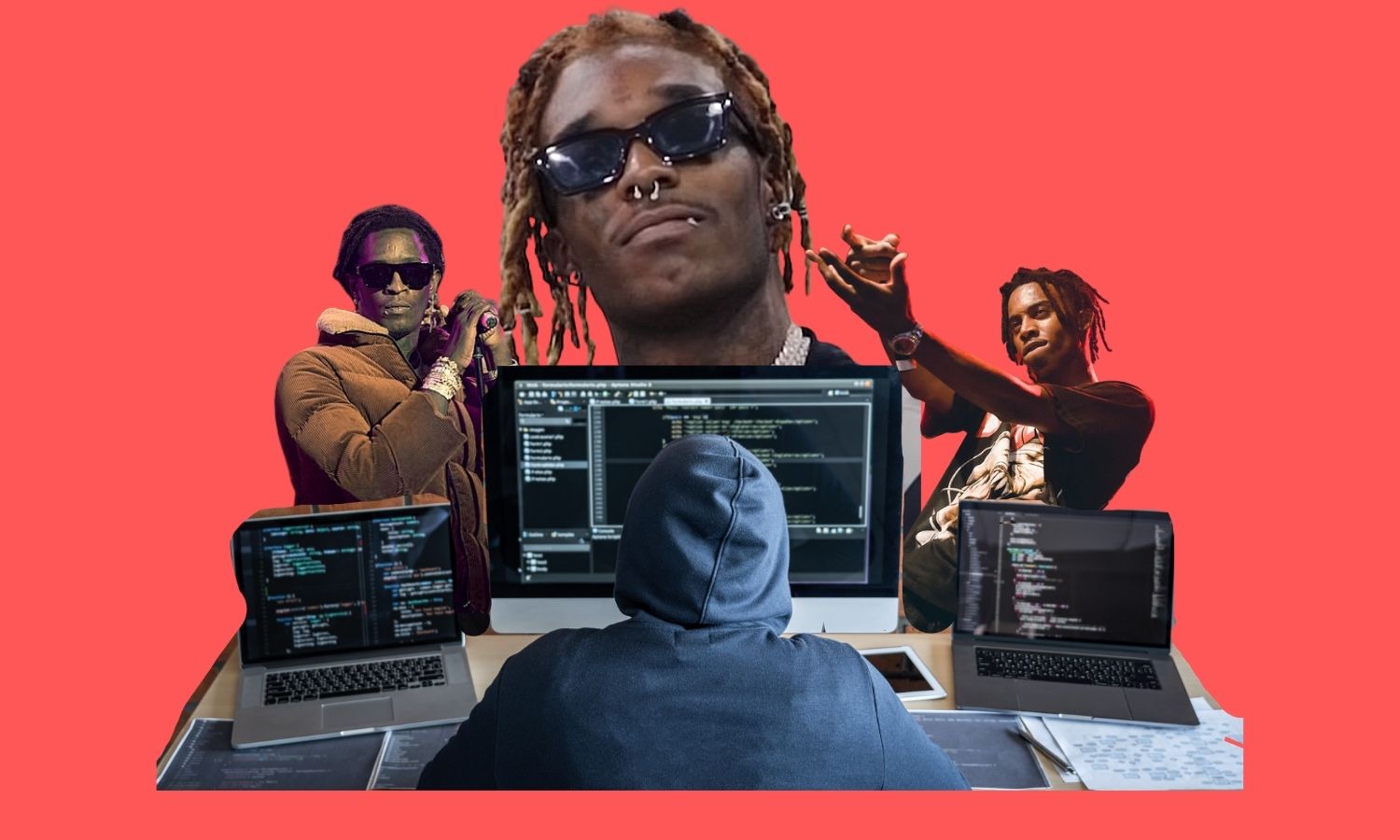 Back in the year 2000, when Metallica took Napster to court, the concept of music piracy was very much in the public eye. But while that case eventually spelled the end for Napster, the problem has never gone away.
In September last year, a 19-year-old UK man was arrested for allegedly stealing unreleased music, apparently by accessing "world-famous recording artists' websites and cloud-based accounts illegally."
This last detail might sound implausibly high-tech for a teenager from Suffolk, but the fact is that the global music leaking scene is largely run by young hackers.
On communal leaking hubs like the RapLeaks subreddit or LEAKTH.IS, you can find a demographic of predominantly white male teens sharing and debating the latest unauthorised releases found on YouTube and SoundCloud. These are people who love the thrill of hunting down new music and compiling spreadsheets that painstakingly track every unreleased song in an artist's discography.
But how do these songs get from an artist's private server or email, and onto a platform like YouTube?
To find out, VICE News reached out to a notorious figure in the leaking community: a 17-year-old who goes by the handle propkers22. He told us over the phone how he makes thousands of dollars selling unreleased music.
VICE: Hey, so let's start with how songs leak. What can you tell us about that?
Propkers22: There's actually so many different ways that songs leak. If you find people that sell you unreleased music, they're called sources—and that's somebody who brings a song that's never been seen before into the community. Just as an example, I know a few people in this artist's camp, so I offered them a few hundred dollars to buy songs that they have because artists send music out to their friends like it's nothing. That's a common method.
I think some music also comes from labels because I see people selling songs that are about to come out in a week's time. If a song is going to drop in a week, who else would have that other than someone in a label? If that was safe from the leak community for months and months, and it's only surfaced a week before it's dropped, who else would it be?
And hacking?
Yeah, you also get a lot of music through hacking emails. You get into the email account, filter through emails that have attachments, and then you'll find songs because they all send songs via email. That's how I get most of the songs.
I used to buy songs from people on forums but it's so pointless, trust me. I've spent over $10,000 on songs and all of those songs I've bought end up leaking, or something weird ends up happening with it.
There's other ways songs leak but I'd rather not give light to methods that still work great to this day.
How much unreleased music would you say you've had access to since you've been doing this?
Over 1,000 songs probably. I have a lot of music from various artists; Lil Uzi Vert, Juice WRLD, Playboi Carti, Unotheactivist, Future, Young Thug, Lil Keed—just to name some.
Once you get these leaks, what do you do with them?
Mainly I get stuff for myself. I don't think many people get unreleased music just to straight up leak it. At one point I was buying songs for thousands of dollars and leaking them the same day just for people to enjoy. Although you can benefit a lot from just selling unreleased music.
How much does an average leak sell for?
Of course it depends on the artist, the hype for the song, and the production. For smaller underground artists, like Robb Banks, Unotheactivist, Warhol, songs go for anywhere from US$100 to $200. Then some bigger artists like Swae Lee, Lil Yachty, Offset, people like that go for $300 to $500, maybe even $600 sometimes.
Then the really hyped up artists like Young Thug, Playboi Carti, Lil Uzi Vert Uzi go for more. I'd say Young Thug songs go roughly for about $700 and Lil Uzi Vert & Playboi Carti songs go for an average of like $2,000. The highest priced artist right now is Juice WRLD, for whatever reason. I guess Juice WRLD group buys have a cult following.
What about the highest amount you've seen them go for?
The highest I've ever sold a song for was "Shrooms" by Lil Uzi Vert, which I got from the Working on Dying hack earlier this year. I sold that for $1,400. In terms of general leaks, the record was broken the other week for the biggest group buy which was for a Jay Electronica album from 2012, Act II: The Patents of Nobility (The Turn) which was completed at $9,000.
Also, the other day I saw an incomplete Juice WRLD group buy for the song "Rental" which was set at $15,000. The group buy got to about $12,000 before somebody else leaked the song and the buy was cancelled with everybody refunded. That is crazy. The fact they got $12,000 is insane.
How do these sales happen?
Generally speaking, most of the sales are group-bought because not a lot of people have thousands of dollars to spend on songs. All of these sales happen on [messenger app] Discord. The links get spread through Instagram pages or LEAKTH.IS and then fans all jump in and start to put together the money for the song.
For me personally, recently I have been sharing the snippets of the leaks on Discord to tease people. Sometimes I put a price on them, sometimes I don't, and I see if anybody wants to buy them.
Discord is big for sales but in general the leaking community is pretty split. The Instagram leak community is pretty big: if someone has an unreleased Playboi Carti song they'll get hundreds of views on their Instagram lives, but all the main source of original information comes from LEAKTH.IS.
How does someone like yourself get involved in the leaking culture?
I got into the culture through my favourite artist at the time called Trippie Redd; he had this one song "Wish" which leaked around 2018. I asked the person who uploaded the leak about it and he told me about a subreddit called RapLeaks. From there I began checking RapLeaks everyday for new leaks.
How did you go from looking at a reddit to getting deeper into the leaking community?
I only really got into the leaking culture deeply this year—before that I was just checking the reddit—and it happened when I started using LEAKTH.IS and learning more about the scene. This was right after I hacked Joey Badass' social media because I saw someone talking about it on LEAKTH.IS. From there I found out about people buying and selling music and was like woah, that's crazy.
So you were hacking people before you were into the leaking culture?
Yeah.
Okay, so how did you get into hacking?
I've always been interested in computers and I always thought it was cool and funny when celebrities got hacked. A few of my friends showed me the ropes of how to get into regular emails and social media accounts, but for music and stuff I pretty much taught myself everything in terms of where to look and who to attack if I want the most music.
You're pretty infamous for this. We've seen you hack high-profile artists' social media accounts numerous times. When you hack those accounts, is that for fun or to try and get information?
Both actually. You can get a bunch of information from social media accounts. When I hacked Unotheactivist I got like 600 contacts for people like Swae Lee, Trippie Redd and a bunch of other information.
Posting on their social media is just for the laughs because it's fun to see everybody's reaction, but pretty much every time I've hacked a rapper I've found so many leads to hack other rappers. It's just an endless cycle: I hack one, which gets me information about another rapper, hack them, and repeat.
I also gain attraction to myself. Sometimes I promote unreleased music on their social media accounts, so I definitely have gained a few customers from hacking rappers.
What are some of the artists you've hacked?
Joey Badass, Zillakami, Working on Dying, Horsehead, Murda Beatz, Jetsonmade. That's not all of them. I don't really keep track of them at this point.
Tell me: is this ethical? These artists are making music to get paid, and you're effectively preventing them from getting paid.
Yeah but I mean, it's just music. We're all going to die one day; we might as well have beautiful music. Some of these fans are crazy and go on as if they know the artists personally. I don't know these rappers personally so I don't really feel for them.
Put it this way: I won't be losing sleep over leaking an artist's music. And at the end of the day, realistically, what does a music leak do to damage an artist's career? They lose a few streams? Reworking entire albums due to leaks barely happens, and a lot of the time they'll still include leaks on upcoming albums.
What about for someone like Playboi Carti, who's had entire albums leaked?
For someone like Playboi Carti I can understand it's a bit different because his leaks get millions and millions of views. But usually your average leaks don't get a lot of attention. Also, who is making the decision to not put out the music that leaks? Is it the artist or is it the label?
What motivates you to do this?
Music has a really big place in my heart; it's one of the greatest things ever made. And it feels good having people know you have unreleased music. Like it feels good waking up to 20 DMs begging you for a song or playing unreleased music on Instagram live. It's really fun when you're playing music people have never heard before and the whole chat is just fire emojis.
The buzz you get from logging into an email and just seeing hundreds of songs is amazing. I've done a lot of stuff before music leaks, and music leaks probably give me the biggest buzz out of all of them.
Do artists or people from record labels ever contact you?
I've had a lot of contacts from artists. Usually the general response from them is they don't really care about who has the music, just as long as it doesn't leak.
I've never had a conversation with anybody from a label but I've had a few big threats. Honestly it seems like the labels get more mad than the artists. I had an email from someone at a label the other day, the title was in all caps: "WE ARE GOING TO SUE YOU!" [Laughs] It's funny man.
Do you take their threats seriously?
It's whatever to me. I'm still young and only 17; I don't know, I don't really take anything seriously right now. That's just me though. I have gotten in legal trouble before for computer-related actions, so I don't recommend people getting involved because eventually you'll get caught. I've seen a lot of my online friends go to jail.
Interview by Dylan Raffaele. Follow him on Instagram
Muted microphones for Thursday's final US presidential debate
Organisers say the move will avoid the chaos of last month's first encounter, when Trump repeatedly interrupted Biden.
US President Donald Trump and Democratic challenger Joe Biden will have their microphones muted for parts of their final debate on Thursday to allow each candidate a block of uninterrupted time to speak and avoid the rancour of the two candidates' first encounter.
The Commission on Presidential Debates, the sponsor of the televised debate in Nashville, said changes were necessary after the bad-tempered first debate.
Trump repeatedly interrupted Biden during the encounter in Cleveland on September 29, and the discussion ended up in name-calling and insults.
"We realize, after discussions with both campaigns, that neither campaign may be totally satisfied with the measures announced today," the commission said in a statement. "We are comfortable that these actions strike the right balance and that they are in the interest of the American people, for whom these debates are held."
For this week's 90-minute debate, the organisers will give each candidate two minutes of uninterrupted time at the beginning of each 15-minute segment of the debate. NBC News correspondent Kristen Welker will moderate.
"The only candidate whose microphone will be open during these two-minute periods is the candidate who has the floor under the rules," the commission said.
Trump's campaign objected to the change, but said he would still take part.
"President Trump is committed to debating Joe Biden regardless of last-minute rule changes from the biased commission in their latest attempt to provide advantage to their favoured candidate," campaign manager Bill Stepien said.
The commission is a non-partisan body.
The Biden campaign did not immediately respond to a Reuters' request for comment on the latest developments.
Uninterrupted time
Trump's camp is also unhappy with Thursday's proposed topics, which include families, climate change and race, arguing that the discussion should focus more on foreign policy.
Biden's campaign said both sides has previously agreed to let the moderators choose the subjects. It said Trump wanted to avoid discussing his stewardship of the coronavirus pandemic, which surveys show is the top issue for voters.
"As usual, the president is more concerned with the rules of a debate than he is getting a nation in crisis the help it needs," Biden spokesman TJ Ducklo said.
Trump, who was admitted to hospital with COVID-19 in early October, backed out of the second scheduled debate, which was supposed to take place last Thursday, because it would have been in a virtual format. Instead, the two men broadcast rival town-hall sessions.
With just two weeks before the presidential election on November 3, Biden has a strong lead nationwide, although the race is closer in some key states.
More than 30 million people have already cast their ballot through early voting.
More than 220,000 people have died from Covid-19 in the US
President Trump's attacks on Dr. Anthony Fauci, director of the National Institute of Allergy and Infectious Diseases, won't help the United States battle the coronavirus pandemic, said Dr. Ashish Jha, the dean of Brown University School of Public Health.
It's "disturbing and "upsetting" to hear the President say such things, Jha told CNN's Jake Tapper.
"We're in the middle of the worst pandemic in a century and Dr. Fauci is America's most respected infectious disease expert for good reason," Jha said. 
"He is the best there is and to attack him personally is very unfortunate and it is not going to help the country out," Jha added. 
"I mean, right now we're heading into a difficult fall and winter. Attacking your best experts is not what you want to be doing if you're President of the United States."
It could also have dire health consequences, Jha said.
"Dr. Fauci isn't just somebody that the public respects. All of us in the medical field who study these things look up to him as the best there is," Jha noted.
"And so undermining him and undermining his message really makes it so much harder to control this virus, so much harder to control this pandemic. I think the President's doing a great disservice to Dr. Fauci, but really to the country."
Trump called Fauci a "disaster" and referred to him and other health experts as "idiots" in a campaign phone call on Monday.
Dr. Richard Besser, the former acting director of the Centers for Disease Control and Prevention, told CNN's Anderson Cooper on "Full Circle" if political leaders aren't working with scientists to pull the nation together in their coronavirus response, they're likely going to fail.
"The only way response works is when you have a unity of message between the political leaders and the science leaders because the science leaders are never going to be asking people to do things that are easy. They're asking people to change their lifestyle, to take action, to reduce the spread of an infectious agent and that requires sacrifice and when you don't have your political leaders pulling the nation together and making it a national effort, you're going to fail," he said.
"Infectious agents don't care what political party you support. They don't care where you live. They will infect everybody and anybody," he said.
Watch:
Democrats are cheering a Supreme Court ruling on mail-in ballots. Here's why it's worse than it looks.
The Supreme Court handed down a brief, unsigned order on Monday, which effectively rejected radical arguments by the Republican Party of Pennsylvania that sought to make it harder to vote in that state. This order, in other words, is a victory for voting rights — but that victory may only last a matter of days.
Republican Party of Pennsylvania v. Boockvar involves a state Supreme Court order holding that many ballots received up to three days after Election Day must be counted. Monday's order means that this state Supreme Court decision will stand, for now.
The Court's decision not to grant relief to the GOP in Republican Party is not especially surprising. What is surprising is the vote breakdown in this case. The Court voted 4-4, with Chief Justice John Roberts crossing over to vote with the three liberal justices.
So in the almost certain event that Trump Supreme Court nominee Amy Coney Barrett is confirmed to join the Supreme Court, there could be five votes on the Supreme Court who support the GOP's effort to toss out many ballots in the state of Pennsylvania. Indeed, it is possible that Republicans will attempt to raise the same issue before the justices after Barrett is confirmed.
The dissenting justices did not explain why they dissented
The Supreme Court's order in Republican Party is only two sentences long. The first sentence states that the GOP's request to stay the state Supreme Court decision is denied. The second merely states that "Justice Thomas, Justice Alito, Justice Gorsuch, and Justice Kavanaugh would grant the application." None of the four justices in dissent explained why they dissented.
In its brief asking the Supreme Court to block the state court's decision, however, the GOP advanced two legally dubious theories.
The first is that a federal law providing that the election shall take place "on the Tuesday next after the first Monday in November." Republicans argue that federal law requires "the 2020 general election to be consummated on Election Day (November 3, 2020)." So any ballots that may have been mailed after this date must be tossed.
One serious problem with this argument, however, is that the provisions of federal law setting an election date should not be enforceable in federal court. As I've previously explained, private parties are only allowed to bring a lawsuit seeking to enforce a federal statute if that statute contains particular language. And the federal law setting the date of the election does not contain such language.
The GOP's other argument is potentially breathtaking in its implications. The Constitution provides that "each State shall appoint, in such Manner as the Legislature thereof may direct," members of the Electoral College. In their brief, the GOP hones in on the word "Legislature," arguing that only the Pennsylvania state legislature may set the state's rules for choosing presidential electors — not the state Supreme Court.
But there's a glaring problem with this argument. As the Supreme Court held in Marbury v. Madison (1803), "it is emphatically the province and duty of the Judicial Department to say what the law is." In Republican Party, two parties had a disagreement about what Pennsylvania law says about how ballots should be counted. Ultimately, the state supreme court resolved that disagreement in a manner that the GOP disagrees with.
The GOP argues in its brief that the state Supreme Court's decision relied on reasoning that is "tortured at best." But so what? There was a disagreement between two parties. Someone had to resolve that dispute. And, in questions of state law, the state Supreme Court is supposed to be the final word on such disputes.
One of the most basic principles of American law is that the Supreme Court of the United States has the final word on questions of federal law, but state supreme courts have the final word on how to interpret the law of their own state.
Indeed, if state supreme courts cannot interpret their state's own election law, it's unclear how that law is supposed to function. There will inevitably be legal disagreements between candidates, parties, and election officials during an election. Perhaps the Democratic Party believes that a particular ballot should be counted, and the Republican Party disagrees.
But someone has to have the power to resolve such disagreements, and, in this country, disputes about the proper meaning of an existing law are resolved by the judiciary. If the judiciary cannot perform this function, we have no way of knowing what the law is — and we may have no way of knowing who won a disputed election.
In any event, because the four dissenting justices did not explain their reasoning, we do not know whether they voted with the GOP because they were moved by one or both of the GOP's arguments — or maybe because they came up with their own reason to back their own political party in this case.
What we do know is that four plus one equals five. Thus, in the likely event that Judge Barrett becomes Justice Barrett, there will probably be a majority on the Supreme Court to hand a victory to the GOP in cases like this one.
Indeed, the GOP may be able to raise this issue again after Barrett is confirmed, potentially securing a Court order requiring states like Pennsylvania to toss out an unknown number of ballots that arrive after Election Day. If the election is close, that could be enough to change the result.
---
Will you help keep Vox free for all?
The United States is in the middle of one of the most consequential presidential elections of our lifetimes. It's essential that all Americans are able to access clear, concise information on what the outcome of the election could mean for their lives, and the lives of their families and communities. That is our mission at Vox. But our distinctive brand of explanatory journalism takes resources. Even when the economy and the news advertising market recovers, your support will be a critical part of sustaining our resource-intensive work. If you have already contributed, thank you. If you haven't, please consider helping everyone understand this presidential election: Contribute today from as little as $3.