Mark Zuckerberg is politically worn down these days — besieged from both the left and the right and watching what little political capital he had amassed over the last decade deplete itself with each new data scandal and congressional flogging.
And yet Zuckerberg has chosen to embark on a decidedly dicey political crusade: an attempt to touch the so-called third rail of California politics — the state's 40-year-old landmark tax law — in the most expensive electoral play of the billionaire's career.
Zuckerberg has been waging a costly and risky political battle for more than a year against California's Proposition 13, the law that critics say has hamstrung the state's economy by capping its property taxes, and thus underfunding two priorities of Zuckerberg and his wife, Priscilla Chan: schools and housing. While other tech leaders have conspicuously avoided weighing in until the very last minute, if at all, Zuckerberg stuck his neck out early and has now spent almost $11 million — including $4.5 million more just this month — on the cause, raising the stakes for Election Day.
Zuckerberg is backing what is called the "split roll" reform measure through his and his wife's philanthropy, the Chan Zuckerberg Initiative. For the past year, he has been a key player behind the scenes and the only major Silicon Valley leader who has publicly endorsed it. And because he has been so alone in this effort, the vote on Prop 13 reform in some ways serves as a test of his and his ambitious philanthropy's political muscle.
Zuckerberg and Chan, who personally signed off on the effort and have made it a strategic priority inside CZI, are just two of many donors behind the new measure. They are not playing an operational role nor are they involved in day-to-day strategy. But because Zuckerberg is its highest-profile supporter, his money has also made him a target for the measure's opponents, who are eager to make him a piñata in the election and capitalize on his toxicity, as CZI aides expected.
"If he thinks more money should go to education, why doesn't he pull in some of his money from overseas and put that money into education?" poked Rob Lapsley, the head of the California Business Roundtable, the group leading the opposition. "There's a lot of bad feelings in the business community toward him and what he's doing on this."
The Facebook founder has stumbled before in his advocacy work. The $100 million that Zuckerberg donated to Newark, New Jersey, schools in 2010 at the request of Newark mayor Cory Booker and New Jersey governor Chris Christie accomplished little. The immigration and criminal justice reform group that he started three years later, FWD.us, faced its share of early struggles. And Zuckerberg has managed to enrage all comers with his mistakes in his day job at Facebook, particularly in the run-up to the presidential election.
So if Zuckerberg accomplishes big political wins at CZI — which is structured as a hybrid between a traditional philanthropy and a political advocacy organization — it will offer one of the world's wealthiest people a new avenue to improve his civic record.
"This is perhaps something of a do-over," said tech historian Margaret O'Mara, surmising that Zuckerberg has learned a lesson about his own limitations from these previous struggles. "We're seeing the political education of all these tech leaders in real time."
Mark Zuckerberg's political gamble
Split roll, or officially this year's Proposition 15, is just one of many political projects, including a push for education reform and four other CZI-backed ballot initiatives in California this year, undertaken by the five-year-old philanthropy, which now has 400 employees. But it is by far the most expensive — and therefore high-stakes — electoral battle CZI has picked yet.
That's because what Zuckerberg is attacking isn't just a California tax law. It's the nucleus of the modern, national anti-tax movement.
When Proposition 13 passed in California four decades ago, it capped both residential and commercial property taxes by assessing most property's value based on how much it was worth as far back as 1976, with minimal established tax increases. Homeowners and businesses alike embraced the legislation, but critics say it has left California with far less money for schools, roads, and other social services for its 40 million residents. Studies say that California, which has the highest poverty rate in the country and is grappling with a housing crisis, needs as many as 3.5 million new homes by 2025 and $22 billion more in school funding.
This year's Proposition 15 would reform Prop 13 so it only applies to residential properties. Homeowners' taxes would stay the same while many businesses' property tax rates would go up. That's why it's called "split roll."
The split-roll fight was expected to be explosive — but then the coronavirus pandemic overwhelmed California politics and took up voters' attention. That might be why you haven't heard as much as you might think you would about the chance to finally amend a landmark law that undergirds so much of life in California. The most recent polls have shown the split-roll effort with just over 50 percent support.
On the surface, the battle lines appear like a stereotypical business-versus-labor streetfight. Organized labor has long been the force behind split roll, which proponents say would raise $12 billion yearly for the state to spend on schools and housing programs favored by unions. And traditional corporate interests — particularly those from the real estate industry — are spending tens of millions to beat split roll, which makes sense, given that, for some of them, a property tax increase is an existential threat to their corporations. They also argue that a recession is the wrong time to raise taxes on small businesses.
But then you throw in Zuckerberg and the picture gets more complicated. And that's the point.
"Having visible tech industry support is helpful in funding the measure — but it also sends a clear signal that this is not an attack on the business community," said Scott Wiener, a California state senator who is close with many tech leaders and is backing the measure.
But the support of Zuckerberg goes beyond the $11 million check. A CZI-backed nonprofit, TechEquity Collaborative, and its leader, Catherine Bracy, have been leading the effort to convince other tech companies and workers to get off the sidelines and support split roll, too. At a fundraiser for the measure that TechEquity hosted last year at the headquarters of the food-delivery startup Postmates, Weiner recalled about 80 people, largely from the tech industry, crowding into a room and offering strategy suggestions and getting organized for the fight to come.
Zuckerberg also did some initial outreach on his own to other tech billionaires to try and rally them to his side. And one tech leader pitched on funding split roll said CZI's support was used by proponents in private meetings to help validate and sell the effort to Zuckerberg's peers in the industry.
But billionaires can be a rivalrous bunch, and sources say there were concerns that some of them would actually be turned off by Zuckerberg's involvement.
A fierce lobbying battle across Silicon Valley
Over the last few years, seemingly every Silicon Valley giant has unveiled much-ballyhooed financial commitments to support affordable housing in the Bay Area. Apple promised to spend $2.5 billion last fall. Facebook announced $1 billion in new grants and loans around the same time.
But none of them have come out in favor of reforming Proposition 13.
That's why, to split-roll activists, these announcements are hollow. If these corporations really wanted to support nearby communities, the thinking goes, they'd fight to change the system rather than throw nickels at tinkering with the status quo under the banner of "philanthropic altruism," as Bernie Sanders named it.
Rather than depending on this after-the-fact charity, split-roll proponents argue that its passage would remove the incentive for cities to charge fees to developers that then are passed along in higher rents, a process that leads to less housing construction. Its opponents argue that it is California's bureaucracy, not its tax system, that is to blame for the housing shortage.
Publicly, very few tech leaders or companies have endorsed split roll. The only Silicon Valley players that came out in favor of it until recently were Zuckerberg and Postmates. Tech companies are often ultra-cautious when it comes to advocacy campaigns, only acting after assessing how much heat they'll come under from activists, the media, and other companies if they fall on one side or the other. And they're especially cautious if the ballot initiative doesn't directly affect their bottom line.
That's why advocates tried to create pressure and change that. Behind the scenes, well-funded forces — including CZI — twisted arms and lobbied some of the biggest players in business to try to build a coalition of marquee names.
The Silicon Valley Community Foundation, which advises the philanthropic work of many tech billionaires and is backing split roll, has been pitching its clients for more than a year on spending their money on the split-roll fight, including at a town hall held last month. Billionaire powerbroker Ron Conway, who had intentionally avoided the issue, last month decided to co-host a fundraiser for the measure alongside CZI political adviser and former Obama campaign manager David Plouffe, according to a copy of the invitation obtained by Recode.
But tech billionaires have on the whole proved timid, despite years of private meetings from split-roll proponents who came around asking for million-dollar-plus contributions but came away empty-handed. For instance, Sam Altman, the former head of Y Combinator, had talks with proponents about making a major contribution to the split-roll effort, but then ultimately declined, according to two people familiar with the matter.
The real big fish, though, were Silicon Valley's iconic companies — and largest landowners. Six companies were the core targets of lobbying efforts on both sides: Apple, Facebook, Google, Stripe, Square, and Salesforce. And for months, all of them punted.
In theory, tech had some unique rationale to back Prop 13 reform. Most tech companies were, of course, not around in 1976 — and so they have far less to lose than traditional California businesses that sit on low-taxed property as a result of Prop 13. And at the same time, these tech companies' workforces suffer from the consequences of high housing prices and under-funded schools — and are under pressure from employees to act.
Backing split roll could have proven to be a good political move, too. Some companies thought it could have given them a chance to strengthen their ties to organized labor, a persistent critic of tech. Others saw it as a way to take the air out of tax measures that activists push to punish tech companies specifically.
Those political considerations might explain why, in an era when companies are nervous about being shamed as poor corporate citizens, at least none of the tech giants are loudly opposing split roll. All but one of the six targeted companies declined to comment when asked to share their thinking on split roll.
Of those six, Salesforce's unwillingness to endorse split roll has been the most surprising to close observers. Salesforce, the largest private employer in San Francisco and led by Marc Benioff, a voluble CEO who has called for tech companies to pay more in taxes, was seen as the biggest possible "get" by the backers of split roll. And keeping him at least neutral was seen as a major priority for those opposing it.
For a while, the opponents succeeded. One tech leader close to the split-roll effort said last year that they saw Benioff's lack of involvement as a flashing warning sign of the effort's struggles to gain tech support.
But a month before Election Day, Recode has learned that Salesforce is now coming out for the measure. The company is making a $400,000 contribution to the effort.
"We're supporting California Proposition 15 because it's an important step in addressing the resource deficits that both our schools and local governments face," a company spokesperson said. "COVID-19 has shown how important it is to support our local and state institutions as they are the backbone of our communities."
Google and Apple met with both sides to try to make a determination about whether to weigh in, but neither ultimately has.
And then there was Facebook — which, having been founded by the same person who founded the Chan Zuckerberg Initiative, put it in an unusual situation. Getting Facebook to come out in favor of the proposal was a key priority of those backing split roll — although, like many other tech companies, it seems to have ultimately decided this didn't rank as a political priority in 2020.
"They're fighting other fights," said Fred Main, a California lobbyist who works closely with tech companies. "Will they see the fight over dollars — which is really what the property tax comes down to — as their fight?"
CZI officials take pains to point out that it and Facebook are separate entities, although work at the latter sometimes affects work at the former. In theory, the two institutions can disagree. But opponents are making it plain that they see "zero" distinction.
"We see CZI as a tool of Mark Zuckerberg and Facebook. It's a tool in his toolbox," said Lapsley, who alleges CZI's support is an attempt to stamp out small business rivals to Facebook and for the company to curry favor with public-sector unions. "It's a very cynical and transparent ploy."
CZI, obviously, takes umbrage at that accusation.
"Look at what CZI is tackling — some of the most inequitable, unjust systems in our country: Immigration, housing, criminal justice reform, education," said Mike Tronsoco, CZI's leader of its Justice and Opportunity initiatives. "Our decisions are made based on whether they impact these issues in a meaningful way, not on what's good for another company or for Facebook. If we were looking for quick positive wins, we certainly wouldn't be setting 100+ year goals and taking on some of the toughest policy fights out there."
But the problem for Zuckerberg is that, in this political climate, everything he touches has become indelibly linked to the man himself. In recent years, some groups backed by Zuckerberg have begun downplaying their ties to him as he has grown more unpopular.
When CZI backed a ballot initiative in Ohio in 2018 to defelonize drug possession, for instance, opponents zeroed in on Zuckerberg's $3 million in donations, with one opposing politician publicly saying that she took "particular exception to Mark Zuckerberg" because he would not suffer any consequences from the initiative's passage. "There will be people who will die," she said starkly.
A similar thing is happening in Zuckerberg and Chan's home state in 2020. Split-roll opponents online have latched onto Zuckerberg's involvement, authoring one op-ed, for instance, alleging that he would ruin California's economy and turn it into a "Silicon Valley ghetto." Lapsley said he brings up Zuckerberg's donations in every meeting he has with prospective donors, using the specter of the billionaire to motivate his own supporters to dig deep.
Last month, a group of Black-led and Hispanic-led groups including the California NAACP, which opposes the measure, went on the attack, sending Zuckerberg a letter arguing that for minority-owned businesses, the "last thing they need is a billionaire pushing higher taxes on them under the false flag of social justice." They banged that drum again publicly last week.
That's all a reminder that Zuckerberg is not just any political donor these days. He is a juicy target, too.
---
Millions turn to Vox each month to understand what's happening in the news, from the coronavirus crisis to a racial reckoning to what is, quite possibly, the most consequential presidential election of our lifetimes. Our mission has never been more vital than it is in this moment: to empower you through understanding. But our distinctive brand of explanatory journalism takes resources. Even when the economy and the news advertising market recovers, your support will be a critical part of sustaining our resource-intensive work. If you have already contributed, thank you. If you haven't, please consider helping everyone make sense of an increasingly chaotic world: Contribute today from as little as $3.
Philadelphia police shooting of Black man sparks unrest
Hundreds of people took to the streets to protest against the police shooting of Walter Wallace, a 27-year-old Black man.
Police shot and killed a 27-year-old Black man on a Philadelphia street after yelling at him to drop his knife, sparking violent protests that police said injured 30 officers and led to dozens of arrests.
The shooting occurred before 4pm (20:00 GMT) on Monday as officers responded to a report of a person with a weapon, police spokesperson Tanya Little said.
Officers were called to the Cobbs Creek neighbourhood and encountered the man, later identified as Walter Wallace, who was holding a knife, Little said. Officers ordered Wallace to drop the knife, but he instead "advanced towards" them. Both officers then fired "several times," Little said.
Wallace was hit in the shoulder and chest. One of the officers then put him in a police vehicle and drove him to a hospital, where he was pronounced dead a short time later, Little said.
Hundreds of people took to the streets to protest against the shooting late Monday into early Tuesday, with interactions between protesters and police turning violent at times, the Philadelphia Inquirer reported. Video showed many people yelling at officers and crying.
Police cars and dumpsters were set on fire as police struggled to contain the crowds. More than a dozen officers, many with batons in hand, formed a line as they ran down 52nd Street chasing protesters away from the main thoroughfare. The crowd largely dispersed then.
Thirty officers were injured, most of them from being struck by projectiles such as bricks and rocks, according to preliminary information from police. One officer was hospitalised in a stable condition with a broken leg and other injuries after she was struck by a pickup truck, police said, while the other injured officers were treated and released.
Video of the fatal confrontation recorded by a bystander and posted on social media shows officers pointing their guns at Wallace as he walks in the street and around a car. He walks towards the officers as they back away from him in the street, guns still aimed at him. They yell at him to put his knife down.
Both then fire several shots and Wallace collapses in the street. A woman runs up to him screaming. Several bystanders then approach him.
It is unclear in the video if he had a knife. Witnesses said he was holding one.
No officers or bystanders were injured in the confrontation, Little said. The names of the officers who fired the shots were not immediately disclosed. Both were wearing body cameras and were taken off street duty pending the investigation.
Some people spoke with city Police Commissioner Danielle Outlaw, who arrived at the scene a short time after the shooting occurred.
"I heard and felt the anger of the community," Outlaw said in a statement, adding that the video "raises many questions" and that "those questions will be fully addressed by the investigation".
Wallace's father, Walter Wallace Sr, told the Inquirer that his son was also a father, was on medication and struggled with mental health issues.
"Why didn't they use a taser?" he asked.
The race of the police officers was not immediately confirmed. The shooting occurred in a predominantly Black neighbourhood in west Philadelphia. The Inquirer reported that dozens of protesters gathered at a nearby park and chanted "Black lives matter".
Save on last-minute Halloween costumes, candy & more at Target
(CNN) —  
If Halloween snuck up on you, never fear: Target (as always) is here to save the day. The store is offering last-minute flash sale discounts on Halloween costumes for kids and grownups, as well as decor, books and more — plus there's further deals to be had right now on seasonal snacks and candy, too.
If you're concerned about your items arriving in time for the holiday this weekend, consider opting for same-day in-store pickup or delivery. We've rounded up some of the spookiest deals from the costumes and homewares sale below; read on to see and shop them, below.
Vickerman G12 Berry LED String Lights ($32.99, originally $40.99; target.com)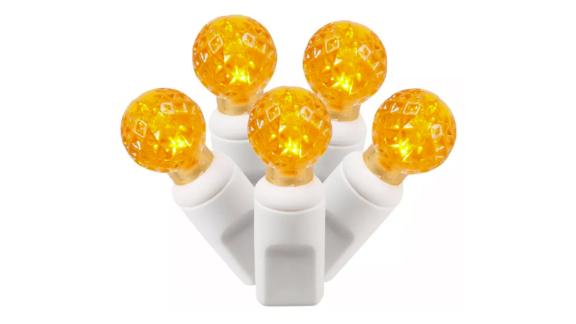 String lights that are seasonal but cute enough to leave up through Thanksgiving? Count us in.
Rubies Pink Bunny Jumper Adult Costume ($35.05, originally $47.24; target.com)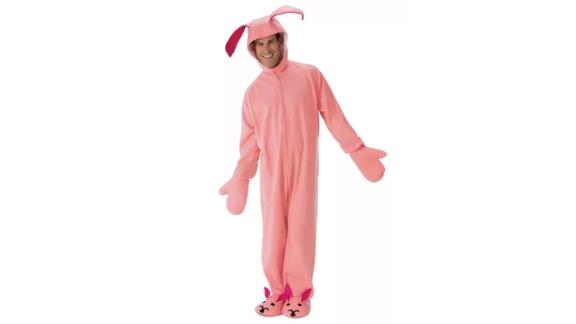 Is this a Halloween costume masquerading as a onesie, or a onesie masquerading as a Halloween costume? Does it matter? Get it for Halloween, save it for solo Netflix binges on cold evenings (the mittens do detach).
Northlight Metal Gray and Black Halloween "Spooky" Bat Banner ($27.40, originally $34.99; target.com)
The perfect finishing touch for your at-home celebration with family or flatmates, this banner's great for hanging across fireplace mantles, bookshelves and windows to set a seasonal mood.
"Room on the Broom" by Julia Donaldson ($4, originally $5, target.com)
This classic children's Halloween pageturner now comes in study board-book form for added durability.
California Costumes Monarch Butterfly Pet Costume ($15.99, originally $19.99; target.com)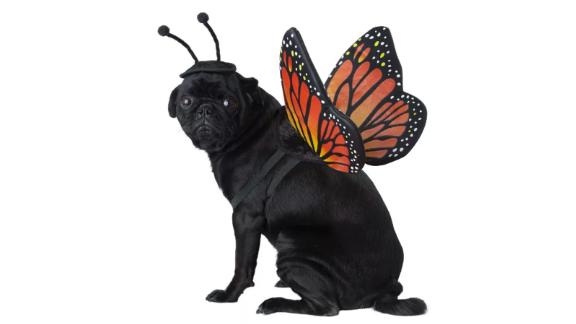 Transform your pup into a beautiful furry butterfly for Halloween with this frankly delightful costume.
C&F Home 18" x 18" Give Thanks Pillow ($26.24, originally $38.49; target.com)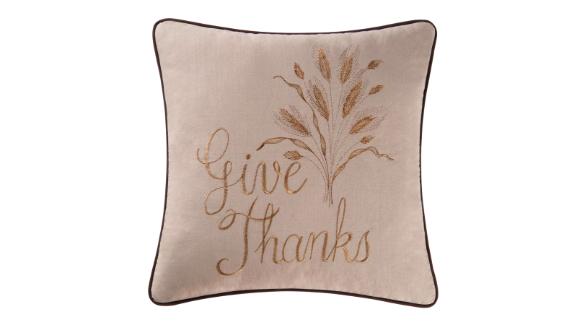 It's not just Halloween on sale at Target. This pillow blends into a ton of decor styles, whether your preference is midcentury modern or modern farmhouse.
Northlight Orange and Black Halloween Tinsel Garland ($17.49, originally $19.99; target.com)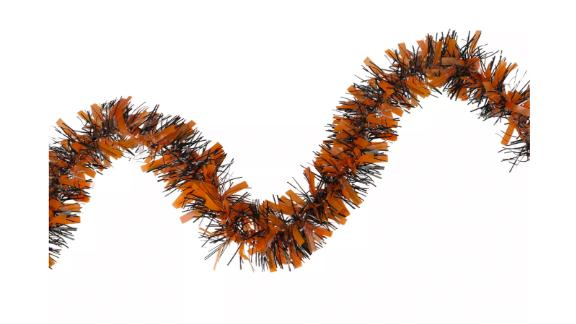 At a very long 50 feet, this garland adds seasonal vibes to your living room, dining room or rec room.
Disney Princess Tiana Dress ($17.99, originally $19.99; target.com)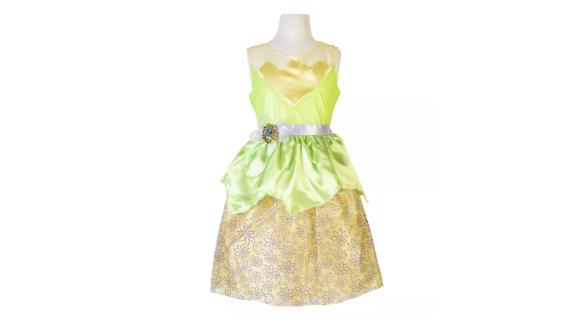 If this Disney movie has been on repeat most of the year, your little one can become Princess Tiana herself with this costume that adds a little sparkle to this year's Halloween. (Bigger kids can find a fit for them on sale, too.)
C&F Home 12" x 24" Boo Hooked Pillow ($30.74, originally $45.09; target.com)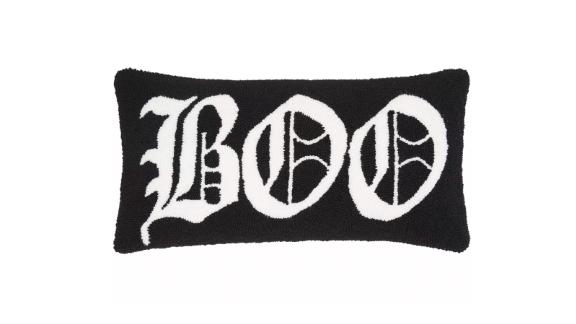 This cute hooked pillow adds a splash of Halloween spookiness, as well as a dash of hygge, to your living room (and looks stylish doing it).
For more great Target deals, check out CNN Coupons.
States need billions to prepare for Covid-19 vaccines. The federal government isn't helping.
Early results from the two leading US Covid-19 vaccine trials are expected in November, in what will likely be a major milestone in the race to end the pandemic.
The final leg of the race, however, will be actually getting people vaccinated.
The US Centers for Disease Control and Prevention (CDC) has offered guidance on jurisdictions' plans, and has given them a deadline of November 1 to be ready to roll out a potential vaccine (a timeline administration officials assert is unrelated to the November 3 election).
Will health departments be ready to distribute a vaccine by then?
"Probably not, if you mean completely ready," says William Schaffner, a professor of preventive medicine and infectious diseases at Vanderbilt University Medical Center, who also serves as a consultant to the Tennessee Department of Health. "Are they working hard? Absolutely."
No matter when it commences, a nationwide vaccine administration effort will require a massive workforce of health professionals (who are already in short supply and are often already working on other Covid-19 responses). It also may require costly medical-grade freezers to keep vaccine doses at supercold temperatures — or lots and lots of dry ice. And it needs a robust new data management system to track who gets which vaccine when and where, particularly if vaccines require multiple doses to be effective, and if there ends up being more than one approved vaccine.
The trouble is, states and local health departments have not received funding from Congress to make any of this happen. This "makes it nearly impossible to do what you need to be doing at this stage of the game if your go date is November 1," says Adriane Casalotti, head of government affairs for the National Association of City and County Health Officials (NACCHO).
Like many things in the pandemic, it didn't have to be this way, she says. "This is one of the few areas of Covid-19 where we can plan in advance, where we don't have to build the plane while flying it." She adds that although their group has been asking the federal government for support for distribution since early vaccine research began, "now it's late."
To be sure, there will not be enough vaccine to immunize 328 million people right away, which simplifies logistics somewhat. And many experts are expecting it will be the end of this year or the beginning of 2021 before the first doses are available. (Health and Human Services Secretary Alex Azar recently said there might be enough doses to vaccinate health care workers, first responders, and seniors by the end of January, with some doses arriving sooner.)
But even with a relatively modest beginning (and we're still talking about tens of millions of people), public health workers want to make sure they have plans and systems in place, rather than rushing to meet a deadline, Schaffner points out. "The government is antsy about getting things started, but most health departments are saying, 'Whether I start vaccination this week or next week doesn't matter so much because this is going to be going on for eight months,'" he says.
Let's take a closer look at the challenges facing the vaccine rollout and how the government could help things get on track sooner rather than later.
Health experts say they need billions of dollars to be ready; the federal government hasn't promised any money
State health departments were asked in late September to submit their proposed vaccine rollout plans to the CDC by October 16. For this task, the federal government distributed $200 million, which was split among the states, major metropolitan areas, and US territories.
Not only did this mean relatively little funds for each of the 64 jurisdictions (states, territories, and major cities), Casalotti notes, but it also did not guarantee any funding would reach the thousands of smaller local health departments around the country, which is where much of the on-the-ground work of preparing to get people vaccinated will take place.
More importantly, the government has yet to promise any money to support actually building out these plans and helping the health organizations be ready when the vaccines are.
A well-coordinated, well-supported effort by health departments to vaccinate the US population will likely cost at least $8.4 billion, according to an October 1 letter NACCHO sent to Congress requesting that much be appropriated for the effort. And other public health groups, including the Association of State and Territorial Health Offices (ASTHO), agree.
CDC Director Robert Redfield put the number slightly lower, but still in the billions. In a congressional subcommittee meeting in mid-September, Redfield said the CDC would need $6 billion to help states and localities adequately prepare to distribute a potential vaccine.
But the federal government still has not said if it will fund the effort, or how much it will allocate to vaccine distribution and administration.
"That needs to change soon, or that's going to be a limiting step," says Marcus Plescia, chief medical officer for ASTHO. "It's great that we have an opportunity to plan for some element of the Covid-19 response, because so far we've just been reacting."
Health officials are hoping a new, broad Covid-19 relief package, approved by Congress, will include funds earmarked specifically for vaccine distribution readiness. And soon. "That would mean we could finally be really prepared, and we could finally get a step ahead of things," Plescia says.
If the federal government doesn't step up, would states and localities be able to? Experts we spoke with agree that the funds need to come from the top. The first reason for this is logistical. With local and state budgets tapped out from pandemic response and lost revenue — and unable to run deficits — the federal government remains the only level of government that could bankroll this effort.
The second reason has to do with equity. "We've seen throughout the pandemic response when we're not working as a nation, it's really hard for us to make any ground," Casalotti says. For a vaccine rollout to be most effective, it needs to be supported at a national level, she notes. "People travel, and what happens across state borders can directly impact your community. The virus doesn't care about jurisdictional boundaries."
If states and localities are left to somehow support vaccine deployment, the results are going to be uneven, and likely accentuate disparities the pandemic has already laid bare, she says.
"It really has to come from federal sources," concludes Plescia.
Major unknowns remain, making preparations even more difficult
Planning a national vaccine rollout is a sizable ask, but it is also happening in the midst of major continued uncertainties — and not just about funding. This has left state and local health departments scrambling to prepare as best they can. "They're not only planning, but they have to plan for several different contingencies," Schaffner says.
One big unknown is which vaccine or vaccines will be approved and distributed first. This matters in part because many have different requirements, such as extreme cold chains. If health departments need to keep vaccine doses in storage way below zero, as some front-running candidates require, that will necessitate medical-grade freezers.
"You're not going to find those freezers in pharmacies and doctors' offices," Schaffner says. Nor are they "something you can just run down to the hardware store and buy," Casalotti adds.
So if thousands of vaccine locations around the country are ordering these freezers at the same time — on an expedited timeline — it is possible there could be a shortage.
Or if there is not a shortage, they could follow the path many other pandemic specialty supplies have: With such a sudden increase in demand, there could also be a drastic price increase. This would throw another wrench in even the best-laid plans. It's quite possible, Casalotti says, for example, that health departments could already have established how many freezers they will need, and where they will procure them, but then encounter a new price, many times higher due to the surge in demand.
The federal government has the ability to step in and prevent this sort of price gouging. Although "we haven't seen those tools deployed" in previous instances of this during the pandemic, Casalotti says.
Pfizer's vaccine candidate, which is among those leading the race to approval, requires temperatures of about -94 degrees Fahrenheit (and even then is only stable there for about 10 days). To address this challenge in distribution, it has devised a freezer alternative, in which the vaccine vials can be stored in specially designed boxes filled with dry ice. Although these boxes will need to have their dry ice replenished during storage, which means that "all of our states have been spending a lot of time sorting out their dry ice supplies," Plescia says.
Even this workaround might not prove to be a solution for everyone. Dry ice isn't readily available everywhere, such as in some US territories, notes Plescia. And a shortage in the carbon dioxide supply has made it hard for some dry ice makers to keep up with demand. So Plescia hopes that even if a vaccine requiring drastic cold storage is approved first, a less temperamental one will not be far behind.
Another big unknown is precisely who will get the vaccine first and when. The CDC's Advisory Committee on Immunization Practices, which Schaffner also helps advise, is working on finalizing this rubric for who will get the vaccine first. But they might not be able to complete their work until it's known what vaccine or vaccines will be approved.
Many expect that health care workers and first responders will be first to receive an approved vaccine, which aligns with an assessment put out by the National Academy of Medicine in September and the CDC's interim playbook for states. (President Trump, at an October 16 stop in Florida, claimed inaccurately that "seniors will be the first in line for the vaccine." The CDC has listed those 65 and older — along with others at higher risk for severe Covid-19, and essential workers — in the second half of the first phase for vaccination, although this could change based on the results of the ongoing vaccine trials.)
Vaccinating health workers first would also give those working on vaccine distribution a slightly gentler start. As Plescia notes, this population would generally be easy to reach and follow up with through their employers, and tend to be in favor of vaccinations in general.
If this prioritization group does come first, he is optimistic about the possibility of health departments being equipped to provide these early doses when they become available. "I think being ready for that is not overly ambitious, and as we roll that out, we start to learn more and gives us a little more time to be ready to do it in community settings — those are the things that are going to require more capacity and more planning, and just more people," he says.
What distribution might look like after that is fuzzier, making it hard for health departments to plan logistics, but also communication.
Local health departments are eager for the federal government to take on the job of clear messaging once these priority groups get established.
If local health departments are in charge of telling their communities who gets priority for the vaccine, "that's just putting local health departments in a really hard position as people are looking at who is at the front of the line and who is at the back of the line," Casalotti says. And animosity toward health departments has already been building, resulting in reluctance to participate in contact tracing efforts and even, in some cases, threats of violence, she notes.
So she asks for "clear messages from the top that we're all in this together, and not everyone is in prioritization group 1 — and that's okay because we, as a nation, are all going to get through this."
Health departments will need time to get staff and systems up and running
One clear challenge in being ready to vaccinate millions of people as quickly as possible is having enough well-trained workers to give those shots. Hiring people to give shots in a public health setting is challenging even in the best of times, Casalotti says. The pay tends to not be that great and the hours can be hard. Not only that, but much of this available workforce has already been hired out to other much-needed positions, like those in hospitals, she notes.
There are also procedural considerations. "In most governmental structures, you can't get a million dollars on Monday and hire people on Friday," Schaffner says. "You have to go through a laborious administrative process to post openings, make sure they are available to everybody, interview applicants — and this all takes time." And after they get hired, they still need to be trained before they can get to work.
Public health departments and other locations will also likely need to acquire additional ancillary supplies, such as PPE and other items that are already in high demand in the midst of the pandemic and flu season.
"We can be all ready to go and have planned perfectly and have our people in place and our capacity built, and then we run out of PPE," Plescia says. He worries about that, he says, because "that supply still doesn't seem to be secure." And shortages, as we saw earlier in the pandemic, lead to unequal distribution, in which larger and wealthier states can procure more supplies.
There is also the little-discussed — but critical — issue of data infrastructure. As a country, we have a patchwork method for tracking vaccinations. For most adult vaccines, only the patient and office or clinic receive records about a given dose. (As Schaffner jokes, "When my father-in-law lived in New Hampshire, and spent time in Tennessee, then spent winters in Florida, I was his vaccine registry, I told his doctors. It worked fine for my father-in-law, but I can't do that for everybody.") Even pediatric vaccinations are usually logged just on a state-level basis. (And still the CDC encourages parents and caretakers to be in charge of tracking their child's vaccines themselves.)
So the idea of states and localities tying into a robust national vaccine tracking program — and on short order — is daunting, but crucial. Especially with many leading candidate vaccines requiring multiple doses, and different time spans between doses.
And this information will have to flow easily among vaccine administration sites across the country in close to real-time. "We have to have a good ability to track people and know who got the initial dose, and we need to be able to do that across state lines," Plescia says. "If someone got the first dose in Florida and moves to South Carolina, we need to see what they got." Even beyond that sort of rapid record look-up, health workers will also need a way to get in touch with people to remind them to get their second dose in the right time frame, he says. One candidate vaccine has a 21-day space between doses; another is 28 days.
"It would be good to go ahead and have the funding so we can start building those systems," Plescia says.
And not only that, Casalotti says, "we need time to make sure those systems are interoperable, and to train the users in how to employ them. And, frankly, we don't have the time."
"The marathon continues"
For many health departments, support from the federal government can't come soon enough. Despite asking the federal government for vaccine distribution guidance and funding since this spring, Casalotti says they have still wound up behind the eight-ball. "We have ended up in a position where we no longer have the luxury of time. Now we're behind."
Additionally, many local health departments still hadn't recovered from the budget cuts of the 2008 recession, and now a number of them have faced further budget reductions and have had to furlough staff. "That is certainly not what you want to be doing when you know you're going to be in the middle of a pandemic," she says.
In the meantime, the CDC has been directed to transfer $300 million from its budget to the public affairs office at its parent agency, the Department of Health and Human Services, Redfield said in a September 16 Senate subcommittee hearing. At least $250 million of that has been allotted for a massive public relations campaign "to defeat despair and inspire hope," with the bulk of the funds to be used before January.
Some of this could be used toward general vaccine safety education and information, but experts are dubious that will be the case. "I haven't seen that this program would be addressing this issue," Casalotti says.
She asks for support from the federal government in reminding people that even after the first round of vaccine doses is distributed, the pandemic lifestyle will be here to stay for most people for quite a while. "The marathon continues, and we're all running it whether we want to or not."
Other public health experts are also looking to the federal government for a unified message and response. "This is a pandemic; it's a national issue," Schaffner says. "We have not had a coherent, sustained response to Covid-19 from the beginning. Every public health person I know of thinks we need it. This has to be largely directed and funded from a federal level. This is akin to disaster assistance. Sure, the locals go to work, but you really have to deal with this from a federal level. This is a hurricane that's hit all 50 states."
Katherine Harmon Courage is a freelance science journalist and author of Cultured and Octopus! Find her on Twitter at @KHCourage.
---
Millions turn to Vox each month to understand what's happening in the news, from the coronavirus crisis to a racial reckoning to what is, quite possibly, the most consequential presidential election of our lifetimes. Our mission has never been more vital than it is in this moment: to empower you through understanding. But our distinctive brand of explanatory journalism takes resources. Even when the economy and the news advertising market recovers, your support will be a critical part of sustaining our resource-intensive work. If you have already contributed, thank you. If you haven't, please consider helping everyone make sense of an increasingly chaotic world: Contribute today from as little as $3.