Any eulogy for Daryl Morey's groundbreaking tenure as Houston Rockets general manager should probably start with the 2017-18 season — when Houston took a 3-2 lead in the conference finals over perhaps the greatest team ever assembled, and might have upset those Golden State Warriors had Chris Paul not suffered a hamstring injury at the end of Game 5.
Morey's critics — and there are many — might clown him today upon his resignation for failing to win a title; underestimating the importance of chemistry and culture; and tossing away much of Houston's future to build a team — centered around James Harden and Russell Westbrook, but without any centers — that is not good enough to win the title now and only projects to get worse as the Western Conference gets better.
Some of those criticisms have merit, even if some of the critics delivering them do so at least in part out of some visceral and almost personal distaste for what Morey represents: the invasion of analytics into basketball decision-making, and all the stylistic consequences of the revolution Morey portended. Morey is not the only analytics-savvy person to assume a position of enormous power within an NBA team. But he was the forerunner, and his influence on the game — on the rise of the 3-pointer, the advance of metrics to evaluate defense, hiring patterns within teams, much more — has been massive. It is reasonable to argue NBA basketball is both more mathematically efficient and (with some teams) less interesting to watch because of Morey.
But just remember that 2017-18 Rockets team that won 65 games and pushed Golden State to the limit — including in a Game 7 that was closer than some people remember, and close enough for the Rockets (in a fit of bitterness that came back to bite them) to produce a report arguing referees cost them the series.
Morey was good for the league because he was willing to go for it. Some teams cowered before the Warriors' dynasty once Kevin Durant signed there. Morey didn't. He has long argued that any team with a 5% chance to win the title in any given season should go all-in — that any title window, even a 5% sliver, is too precious to squander with risk-averse behavior. He lived up to his word after Houston acquired Harden, a trade years in the making that altered the NBA's landscape in ways that still reverberate.
After the Warriors' 16-1 scorched-earth run to the title in Durant's first season there, Morey told ESPN he still wasn't backing down — that he had "something up [his] sleeve." That something turned out to be a megatrade bringing Paul from the LA Clippers.
No team besides Houston won more than a single game in any playoff series against the Warriors over 2017 and 2018. Houston got three in 2018. There is no shame in losing to the Durant-era Warriors. Sometimes, a historically great team — this one enabled by a fluke salary-cap spike — is just too good.
The second Paul-Harden team bowed out to the Warriors one round earlier in 2019, in one fewer game, even with Durant sitting out the end of Game 5 and all of Game 6 with a calf injury. The Warriors, dancing and sneering all over Houston's home floor down the stretch of Game 6, broke the Rockets' spirit and closed down that era of Houston basketball.
But it wasn't an era, really. Paul and Harden lasted two seasons before their relationship chilled, and then it was time to pivot again — to chase another star, another identity, another chance to find something sustainable around Harden.
Maybe the constant reshuffling around Harden — the lusting for superstars intrinsic to Morey's stars-over-everything philosophy — cost Houston some ineffable continuity or trust that every champion must have. It's certainly a tempting logical leap. Just remember in taking that leap how close the Rockets got in 2018, and what a juggernaut it took to derail them. Morey's way could have worked.
Maybe the constant reshuffling is linked to Harden himself — the challenges of his style of play. If so, is that about Harden or Morey — or both of them?
Harden and Morey have become so closely connected that it is very hard now to untangle one from the other. From the moment Houston acquired Harden late on a Saturday night in October 2012, Harden became the on-court avatar for so much of what Morey believes about basketball: an algorithm come to life, all 3s, layups, and free throws.
Acquiring Harden was Morey's masterstroke. Houston has made the playoffs all eight years since, the league's longest-running streak. It was the culmination of almost a half-decade's work that began as Yao Ming and Tracy McGrady declined.
Yao and McGrady were true-blue superstars. Morey understood any team hoping to win a championship had to feature a top-10 player, and likely two. There were exceptions, of course. But exceptions were by definition long shots, and Morey was interested only in what gave his team the best shot. History said that was two stars, and you can't get the second without one already on the roster.
The easiest way to get a star is to tank. Easiest is not the same as easy. The NBA's lottery does not guarantee anyone the No. 1 pick, and even picking there does not guarantee the chance to select a franchise superstar. Every path to a superstar is a bad-odds path. Some are less bad than others. Tanking is the least bad. That is why Sam Hinkie, Morey's longtime lieutenant, triggered The Process in Philadelphia — and why Morey would likely not be averse to taking that route if his next job (he does want one, sources say) comes with a green light from ownership to play the draft game and circumstances that favor it.
(There is uncertainty around the league over whether Morey's role in igniting the NBA's China controversy — with a tweet in support of Hong Kong — might make some teams wary about the fallout of hiring him. In a vacuum, Morey should shoot toward the top of the candidate list for any open front-office job.)
Leslie Alexander, the former owner of the Rockets, wanted Houston to stay relevant. Morey would have to tread water while somehow cobbling assets to trade for a star.
Every move the Rockets made was geared toward that theoretical superstar trade. They acquired extra first-round picks for Aaron Brooks, Jordan Hill, and a young Kyle Lowry. When Harden became available, they threw everything they had at Oklahoma City.
It's hard to remember now, but there was skepticism about how good Harden could really be. He came off the bench in Oklahoma City. Some potential suitors did not share Houston's belief in Harden's star potential. There was much snickering, including in the local Oklahoma City media, when Harden shot 2-of-17 in an October 2012 preseason game both Durant and Westbrook sat out: That's what life as a No. 1 option is.
The Rockets saw it all along. They were not the only team to see it, but they were the only one among those that did in the right moment — and with the right assets — to strike an agreeable deal.
Morey then spent his working life crafting an on-court identity around Harden, and searching for second and third stars to complement him. After years hoarding picks, Morey began trading them.
He lured Dwight Howard from the Los Angeles Lakers in the summer of 2013 — considered a coup then. A year later, he tried to sign Chris Bosh away from the Miami Heat as the Heat were reeling from LeBron James' departure. Morey was confident enough in Houston's chances that he gave the Lakers a first-round pick to take Jeremy Lin — and unlock the cap space required for Bosh. (The Rockets also lost Chandler Parsons that summer after declining a cheap option on him, but pivoted by snagging Trevor Ariza — who became an indispensable role player.)
Houston made the conference finals in 2015, and Morey then traded another first-round pick to acquire Ty Lawson from Denver — where Lawson had fallen out of favor in part because of a DUI arrest. As part of the deal, Morey somehow persuaded Lawson to make his contract non-guaranteed for 2016-17. Part of Morey's legacy to date is his stretching the collective bargaining agreement to its breaking point. He helped pioneer the concept of reverse-protected picks in trading Lowry to the Toronto Raptors, and was ahead of the curve extending players — including Harden — before most teams would have contemplated doing so. In other cases, Morey's creativity backfired — including in his attempt a year ago to sign Nene to a bonus-laden deal designed to make his contract an artificial trade asset. (The league vetoed it.)
Houston fell to 41-41 in 2015-16; the Harden-Howard synergy dissipated. Howard walked that summer — a mutually acceptable divorce, something that would become a pattern. The Rockets then veered from character, splurging on Eric Gordon and Ryan Anderson — non-stars. There were rumors Morey was on thin ice. He acknowledged the moves ran counter to his track record. "Last year hurt us in terms of perception around the league," Morey told ESPN at the start of the 2016-17 season. "We felt like if we didn't have a more successful season this year, our ability to be a top destination would be hurt."
Morey traded another first-round pick for Lou Williams in 2017, but the Rockets fell in the second round to the San Antonio Spurs — with Harden wilting in the clincher. Anderson's salary became an albatross. Gordon's extension, which runs through at least 2023, looks like one now.
The Rockets appeared stuck — before Morey traded Williams, Patrick Beverley, Montrezl Harrell, another first-round pick, and some other assets for Paul. Clint Capela was the only homegrown first-round pick left on Houston's roster. Morey also landed P.J. Tucker for about $8 million per season — a shrewd signing. They leaned into a switch-everything defense and more isolation on offense — reinvention after reinvention.
Two years later, the Paul-Harden partnership expired just as the Harden-Howard tandem had. (In fairness, Howard had trouble finding a home before landing with the Lakers this season.) In one last, wild swing, Morey swapped Paul, two first-round picks, and two pick swaps for Westbrook. It was an overpay for a much worse fit. Westbrook's jumper so impinged on Harden's driving lanes that the Rockets had to trade Capela and another first-round pick for Robert Covington.
Harden has become the only constant. He isn't the center of Houston's universe so much as he comprises the entire universe. They get the players he wants and trade away those whose relationships with Harden fray — no matter the cost.
They play the way he wants. Perhaps that has a shelf life. Players and coaches talk often about how staying involved on offense — touching the ball, moving around — motivates players to go hard on defense, and keeps morale high.
Mike D'Antoni hoped winning would resolve any chafing from everyone else about standing still to watch the Harden show.
"There is something to the human nature of it," D'Antoni said in 2016. "But I don't want to believe it. Because when they feel their paycheck every two weeks, shouldn't that make you play hard on both ends? Look: You have to be a star in your role. And here, your role is: When James gets the ball to you, shoot it, and then run back and play hard as heck."
Players did chafe, off and on. Houston has not had much of a Plan B in tough playoff games. The math says Harden isolating is the best option, and the Rockets under the Morey-Harden regime obeyed the math. The monotonous predictability of it is one reason Harden has struggled in the biggest moments of his biggest games. Harden refuses to move away from the ball. Take it from him, and he recedes into nothingness.
Morey and Harden have been equal partners in building the Rockets. If Houston has sacrificed culture, continuity, and damn near every future asset at the altar of efficiency, that is on both of them.
Contrary to the popular caricature of him, Morey has said chemistry matters. But he would probably also say it doesn't matter quite as much as we think it does — that we sometimes fetishize it, or assign it importance in hindsight. Star talent matters, above all.
That philosophy got Houston to the precipice of history. Houston falling short does not invalidate Morey's tenure.
The Westbrook trade — driven more by Harden and Rockets governor Tilman Fertitta than Morey, per ESPN's Tim MacMahon — leaves a stain. For the first time since acquiring Harden, the Rockets' short- and medium-term future feel rickety. They are out so many picks that retooling via the draft and trades will prove difficult. If things go south, they may have to explore the trade market for Harden, who has two guaranteed seasons left on his deal — plus a $47 million player option for 2022-23.
The Rockets are not nearly ready to go there as they fill their coaching vacancy. They want to win, as they did year after year after year under Morey. Perhaps the best sign of Morey's success is that the league at large mimicked Houston's embrace of the 3-pointer — an imitation that flattered Morey, but also reduced his mathematical edge.
He tried to bump it back up by dispensing with centers, and going all-in on small ball. In Year 1, it failed. Houston's next reinvention — another cycle of churn — falls to someone else now.
JuJu Smith-Schuster relishes role as Steelers' No. 1 hype man
PITTSBURGH — Still holding the football after he scored for the second time this season, Pittsburgh Steelers wide receiver James Washington skipped over to JuJu Smith-Schuster — who was waiting for him in the end zone.
Smith-Schuster stooped and hoisted the 5-foot-11, 213-pound receiver across his shoulders, holding on to his right leg with one hand and his right hand with the other as he twirled Washington around. Tight end Eric Ebron grabbed the ball in Washington's outstretched left hand and jumped in a circle around the pair as he held the ball in the air.
It should come as no surprise the celebration was Smith-Schuster's brainchild.
"We actually didn't practice that," Washington said. "That was just JuJu just thinking. So we were kind of thinking like 'The Fresh Prince of Bel-Air,' where they kind of picked [Will Smith] up and spun him on the court."
Washington, of course, is describing a moment in the intro to the popular 1990s sitcom, which aired its finale six months before the 23-year-old Smith-Schuster was born. Even still, it's relevant in today's pop culture — especially for a kid from Los Angeles.
"Something we all grew up with and I would say we all watched is 'Fresh Prince of Bel-Air,'" Smith-Schuster said. "It's very funny that we can relate to that. So I pick up James, spun him around. The boys around me, we're just enjoying our time. A lot of our celebrations either may come the night before, the week before or even the series before we go out there. If you score multiple touchdowns with multiple wide receivers, when we run out of celebrations, we make them up as we go."
Through five games, Smith-Schuster looks less like Pittsburgh's No. 1 receiver and more like its No. 1 hype man — and that's not a knock.
It's a byproduct of the balanced passing attack, one that's given Smith-Schuster plenty of opportunities to get creative with TD celebrations and energize his teammates.
"He is the fun leader in the group," quarterback Ben Roethlisberger said. "He brings a lot of energy and excitement to the team. That's what we are excited about. When I said last week that he was excited for other guys, what you see on Sunday is what you get with JuJu. He is that guy. That's truly who he is; he's not putting on a show. He loves playing the game and he loves the teammates, and I think that is a great combination."
Entering a contract year tabbed as the No. 1 wide receiver, it would be easy for Smith-Schuster to get upset about having modest totals for targets (28), yards (194), touchdowns (3) and receptions (23). But that's not his attitude. Praised by Roethlisberger a week ago for his selflessness during Chase Claypool's big day, Smith-Schuster echoed that attitude on Wednesday, after his lowest receiving yard total since his rookie debut: two receptions for six yards.
"People were talking about 'He only got me two points this week for fantasy.' I was like, 'Well, I mean, I'd rather have two points and be 5-0 than to be 1-4 and to have 25 fantasy points," Smith-Schuster said. "So for me, I like it for myself, so I'm always having fun regardless."
Entering Sunday's game against the unbeaten Tennessee Titans (1 p.m. ET, CBS), Roethlisberger has thrown 11 touchdowns to five different pass catchers, including one to Ebron, the tight end.
Titans reporter Turron Davenport and Steelers reporter Brooke Pryor preview the quarterback matchup between Ryan Tannehill and Ben Roethlisberger.
"I just feel like we have so many weapons, you just never know who's gonna have a day," Washington said. "With as many mouths to feed on offense as we have, you can't just keep one guy or two guys, because I feel like everyone's capable of having a big game."
Roethlisberger, who entered the year somewhat concerned about building chemistry with his newer receivers in an abbreviated offseason, is confidently spreading the ball around. And each week, a hot target emerges.
Recently it's been the rookie Claypool and Washington, but Smith-Schuster had two touchdown catches in the season opener against the New York Giants. To celebrate his first, he did the "Who's Next?" dance, popularized on TikTok, and Ebron and Diontae Johnson joined in.
"TikTok is popular right now," Smith-Schuster told teammate Bud Dupree on Dupree's web series. "So we grab the fans from TikTok and get them to tune in and get my teammates involved. The more people you have, the better it is. Everyone's like, 'Oh my god, no he did not just do that.'"
After the second touchdown, he ran to the goal line and lay on his stomach in front of the pylon camera, cradled his face in his hands and kicked his feet back and forth behind him. He initially planned to pick up the pylon camera for a selfie, he told Dupree, but when he had checked with a referee ahead of time, he was told that wasn't allowed.
Smith-Schuster doesn't just celebrate when he gets into the end zone. He also helps his teammates come up with choreography.
He got Claypool on TikTok and taught him some of the viral dances, something that came in pretty handy in Claypool's four-touchdown day against the Philadelphia Eagles.
In one of Claypool's celebrations, he mimed that the football was glued to his hand. Then Smith-Schuster and Washington ran over and pretended to pull the ball really hard. All three of them fell over as the ball came "unstuck" from Claypool's glove. On another TD, running back James Conner pretended to box Claypool in the corner. The next time, Claypool ran back to the end zone, pretending to help Washington reel in a fish, played by Smith-Schuster. Then Washington and Claypool posed with the horizontal Smith-Schuster on the field.
"I'm having fun all the time, whether I get the ball or not, whether I get two catches for 10 yards or I get six catches for 60 yards," Smith-Schuster said. "For me, it's more so about the team, the atmosphere. If our defense is having fun and they're doing their job, offense is having fun, my teammates are having fun, I come in with the celebrations."
What if Jon Gruden had never been traded by the Raiders to the Buccaneers?
HENDERSON, Nev. — The rumors had been percolating all year. So much so that Jon Gruden took the time to address them in team meetings throughout the 2001 season.
"I'm not going anywhere," Gruden would insist to his Raiders team. "I know what you're hearing about Notre Dame. I like it here. I'm not going anywhere. I want to be here."
Gruden was in his fourth season as the then-whiz kid coach of the then-Oakland Raiders, and his team had quickly become a power, having already played host to an AFC Championship Game. But contract negotiations on an extension had stalled midseason, and Gruden was linked to jobs ranging from Notre Dame to Ohio State in college to, yes, Tampa Bay in the NFL.
And when the Raiders dropped four of their last six games, including the final three, to close out the regular season and finish 10-6, there was a thought that the rumors had become a real distraction. That Gruden might have lost the team.
Losing to the New York Jets in the regular-season finale not only dropped the Raiders out of a first-round bye and into a wild-card round playoff game, it set in motion a course of events the franchise has tried for nearly two decades to course correct. And with the Tampa Bay Buccaneers set to play the now-Las Vegas Raiders on Sunday in this, Gruden's third season back with the team, it picks at a certain scab.
What if Gruden had never been traded from the Raiders to the Buccaneers on Feb. 18, 2002?
'Dude, what are we going to do?'
Charles Woodson, Gruden's first draft pick, stood to ask a question of the coach in his standing-room-only return media conference on Jan. 9, 2018.
"Is there a no-trade clause in your deal?" Woodson asked, before those assembled roared in laughter, and Gruden, smiling widely, answered affirmatively.
Nearly 16 years earlier, there was no laughing. No grinning. No guffaws. Just shock and awe. Yes, even with a half-season of rumors flooding the streets of Silver and Blackdom.
Because even as Lincoln Kennedy landed in Honolulu for the Pro Bowl the first week of February 2002, it seemed a done deal that Gruden would be gone. So Kennedy gathered with fellow Pro Bowlers Rich Gannon and Tim Brown to talk about a likely future.
"I was like, 'Dude, what are we going to do?'" said Kennedy, then the Raiders right tackle and now the team's radio analyst. "What the f— are we going to do? We've got to hire from within."
But the trade to the Buccaneers, who had moved on from Tony Dungy and were flirting with Bill Parcells, did not become official until nine days after the Pro Bowl.
That's when Kennedy spoke with Al Davis.
"He told me, his words were, 'I never liked it when teams would interfere with coaches under contract,'" Kennedy recalled Davis saying. "He told me, 'Tampa Bay came to me and they said they wanted Gruden' and [Davis] said, 'I felt that I put the price tag so high that they wouldn't agree to it. And they did. Gruden is no longer our coach.' So, I hung up after I talked to him."
The king's ransom for Gruden that Davis thought Tampa Bay would never pay? Two first-round draft picks. Two second-round draft picks. And $8 million to boot.
"After the trade went down, we all met with Mr. D," Kennedy said. "I put in my two cents and said I thought [the new coach] should be [Bill] Callahan. He knows the system, we can keep everything the same. [Marc] Trestman? He was the quarterbacks coach, but Callahan had the run game and Trestman was developing the pass game, but I think Rich had said he wanted Callahan and not Trestman … and Callahan was the offensive coordinator anyway."
That string of events mentioned earlier?
Follow this road map: the Raiders, perhaps distracted by constant reports of Gruden's departure, fall out of a playoff bye and into a road game at the New England Patriots, where Tom Brady and the Tuck Rule awaited. Yes, it's Gruden's final game of his first tenure. Callahan replaces Gruden and the offense gets more explosive as Gannon becomes the 2002 NFL MVP and the Raiders glide into Super Bowl XXXVII. Except …
Guess who is waiting?
"With the way we were rolling, the only person who could beat us was the guy who knew us better than we knew ourselves," Kennedy said. "We just had that way about us."
A 48-21 blowout loss to Gruden's Buccaneers later, the Raiders have had only one winning season since. Gruden lasted until 2008 in Tampa Bay and was, fittingly enough, put out to pasture by the Raiders and, yes, JaMarcus Russell. Nine seasons in ESPN's Monday Night Football booth ensued before Mark Davis was able to bring Gruden back to the Raiders.
In his first tenure, the Raiders were on the verge. But as the late Al Davis said in 2009, "The Tuck Game was the undoing of a lot of things."
Said Kennedy: "Here's the thing — if we had won the Super Bowl [in Gruden's last year], I think we would have become a powerhouse because we were returning everybody the following year."
Except …
"If we weren't playing against him," Kennedy said of Gruden, "we would have won the Super Bowl."
'Can't look back at what if's'
Of course, there was always the prevailing thought that Al Davis had become annoyed with Gruden's conservative playcalling — where was the vaunted vertical game? — as well as "Chucky" becoming the face of the franchise sans Lombardi trophies and was, well, simply done. At least, the conventional wisdom went, Ken Stabler and Marcus Allen led the Raiders to titles before their respective public feuds with the iconoclast owner led to their ousters.
Gruden, though, was always beloved by Raiders alumni. Yes, even the old-school guys who never played for him. Guys like Jim Otto, Jack Tatum, Phil Villapiano, Cliff Branch, Willie Brown, Tom Flores, George Atkinson and Raymond Chester — all of whom showed up for a private party in Gruden's honor at Raiders sports bar "Ricky's" in San Leandro, California, in 2009, when Gruden rocked a Raiders visor and a white Bo Jackson throwback jersey. The restaurant was asked to take down photos of the gathering from its website, for fear of Davis seeing who was in attendance and interpreting it as disloyalty.
But it was Mark Davis who brokered peace with Gruden, bringing him back to light the Al Davis Torch in memory of his father on Nov. 18, 2012.
And it was a "six- or seven-year dance" the younger Davis did with Gruden before finally convincing him to return to the Raiders.
"There was no question I wanted to have him as the head coach of this organization," said Davis, who assumed role of managing general partner upon his father's death on Oct. 8, 2011.
But Davis would not touch the question: What if Gruden had never been traded?
"I can't look back at what if's?" Davis told ESPN.com this week. "Are you kidding me? What if Franco Harris didn't catch that ball? What if Rob Lytle did fumble the ball? What if Tom Brady fumbled? What if this? What if that? You could do that every day.
"What if? If. If. If."
Told "if" is the biggest word in the English language, Davis howled.
"Most irrelevant, too," he said.
And Gruden, besieged with news of COVID-19 and potentially being without his starting offensive line this weekend, was in no mood to reminisce, either.
"That's a loaded question," said Gruden, who has said he never wanted to leave the Raiders in the first place and acknowledged his being inducted into Tampa Bay's Ring of Honor in 2017 served as a springboard to get him back into coaching.
"I'm just concentrating on this game, honestly. It's a great opportunity for both teams to try to get another win. I try not to get too deep, too philosophical. I had a great time in Tampa. A lot of my best friends are still there and live there. So, I'm looking forward to competing."
Yes, against his old team in the Buccaneers, and an old foil in "Tuck Rule" Tom Brady.
Man United, Arsenal, Juventus, Real, Bayern get Adidas kit makeover via Pharrell
Adidas have produced a very special array of custom hand-painted jerseys for a selection of the world's top football clubs.
In collaboration with singer, songwriter, record producer, fashion designer, and entrepreneur Pharrell Williams and his Humanrace creative label, each shirt is inspired by the club in question and significant moments from their respective histories.
Adidas x Pharrell Williams "Humanrace" line of kits have been designed for Arsenal, Bayern Munich, Juventus, Manchester United, and Real Madrid — as well as London-based grassroots club Romance FC.
The aforementioned moments and memories have been reverse engineered and reworked in a raw and expressive manner to reflect contemporary football culture, as interpreted by Pharrell and the Humanrace design team.
"History is what shapes the future, and sometimes in order to look forwards, first we need to look back," said Pharrell of the collection.
Legacies redesigned. @adidasfootball @humanrace pic.twitter.com/ozldTzevfb

— Pharrell Williams (@Pharrell) October 23, 2020
"The most important part of the process with this collection was to learn of each club's legacies and how each defining moment of their histories were captured and preserved from a design perspective.
"Each of the new jerseys are symbols of the five club's legacies and a true celebration of the universality of sport."
Arsenal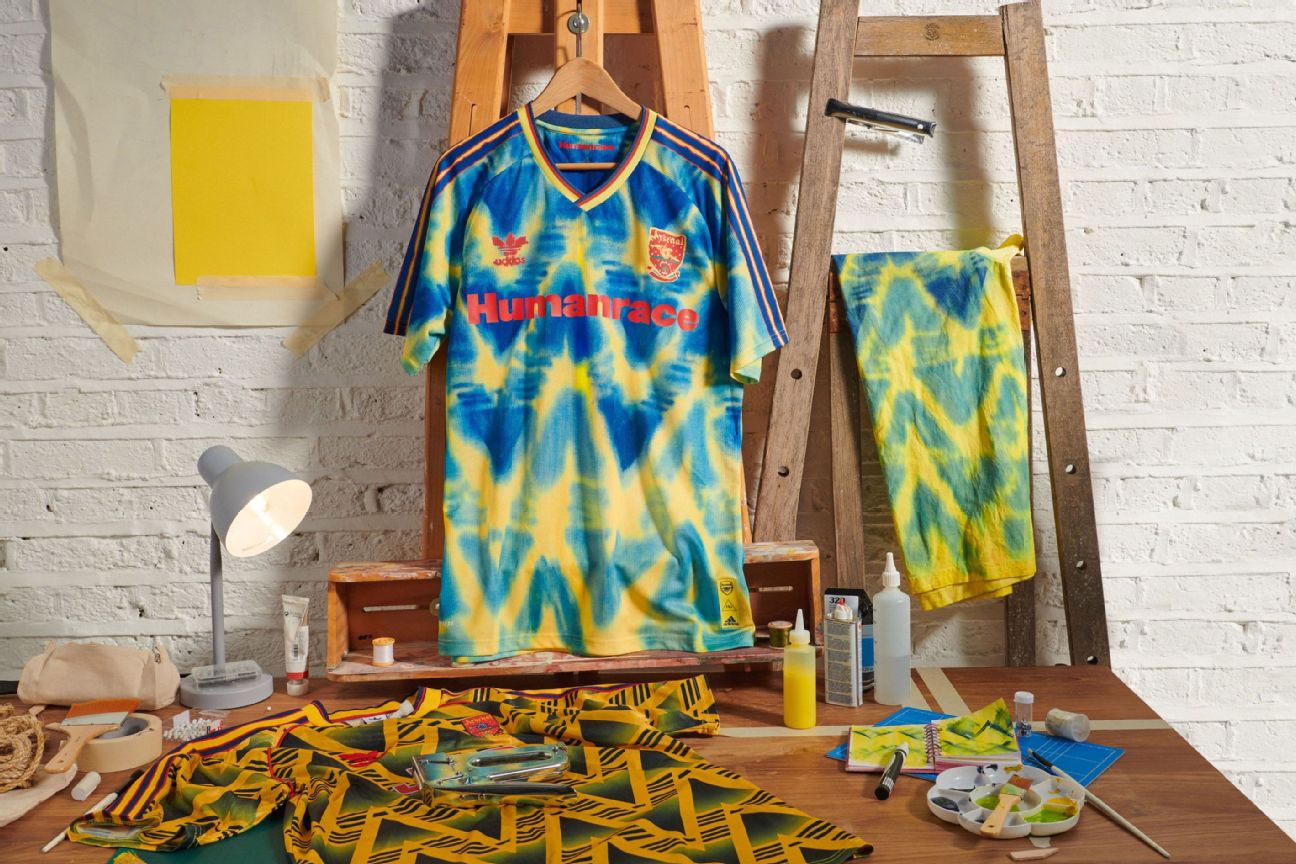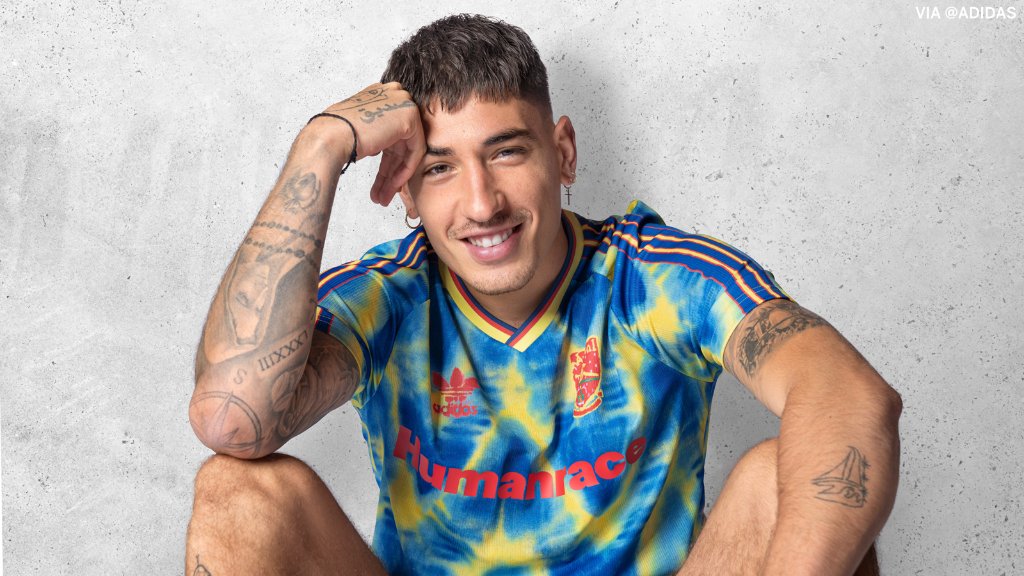 It all started with Pharrell trawling back through the Adidas archives and plucking the cult classic "bruised banana" Arsenal away shirt of the early 1990s as his starting point.
The iconic zigzag design was then reworked with a loose "paint bleed" effect (using spray paint and stencils) to give the jersey a washed-out and watery look, with the badges and club crest hand-stencilled on the chest.
Manchester United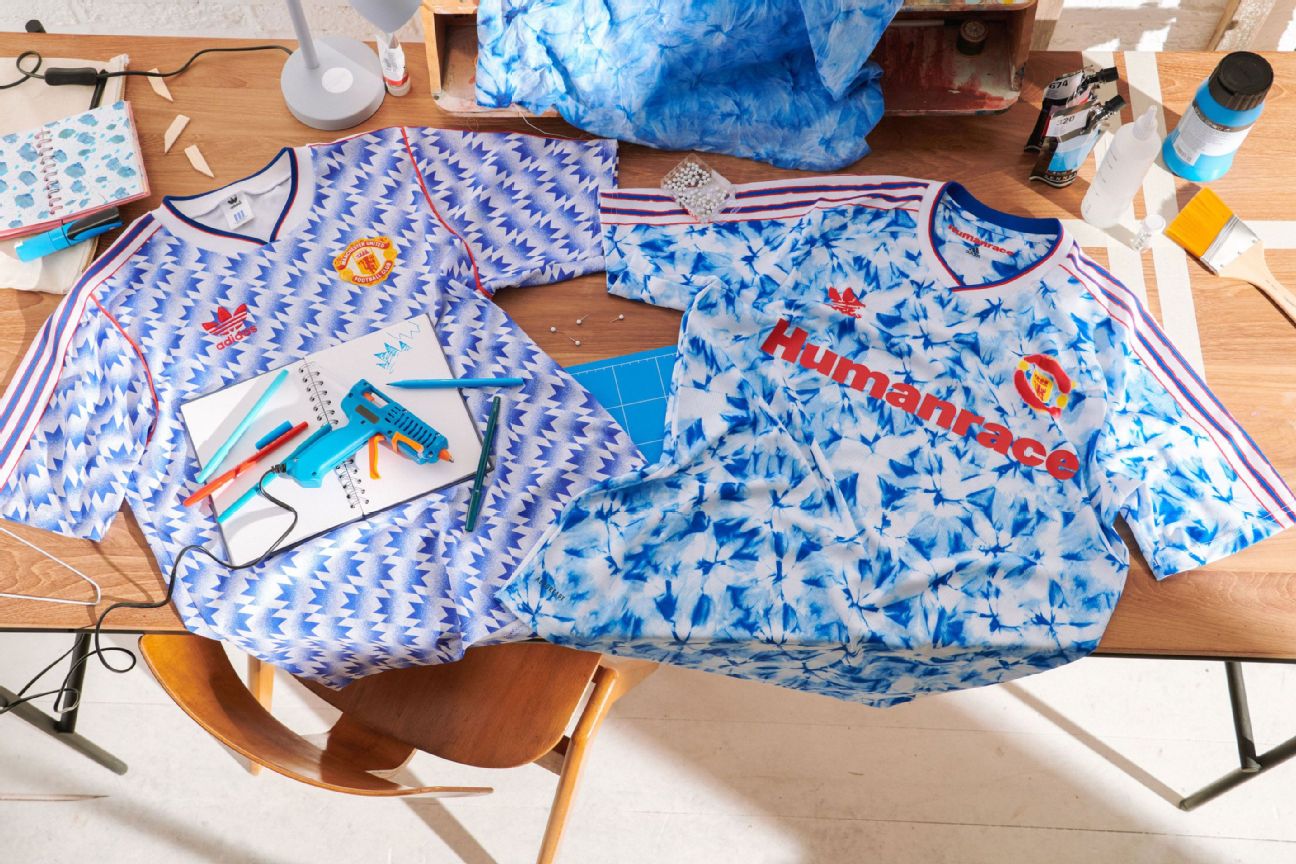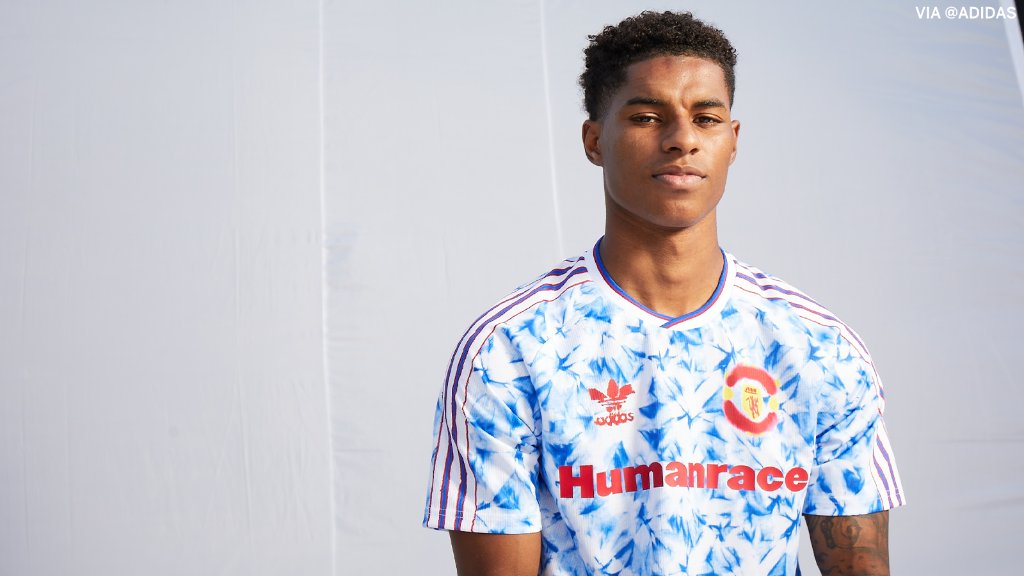 Another classic Premier League away kit was dredged up for United's offering, with Pharrell selecting the popular white and blue "snowflake" shirt from 1990-92 to remix.
Still a favourite among United fans to this day, the design was originally born of the "Madchester" house music scene that swept the city in the late 1980s and has now been updated using a mottled tie-dye effect.
Bayern Munich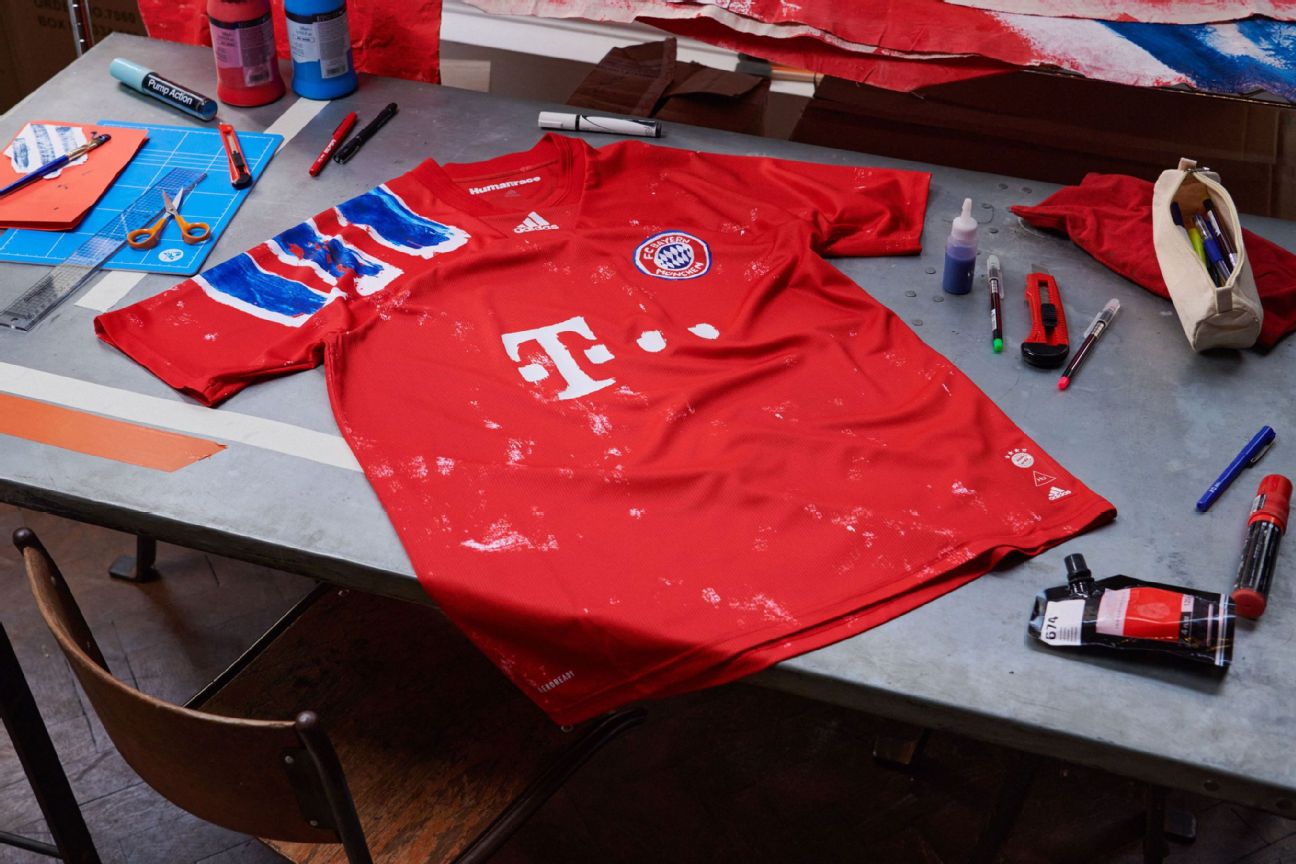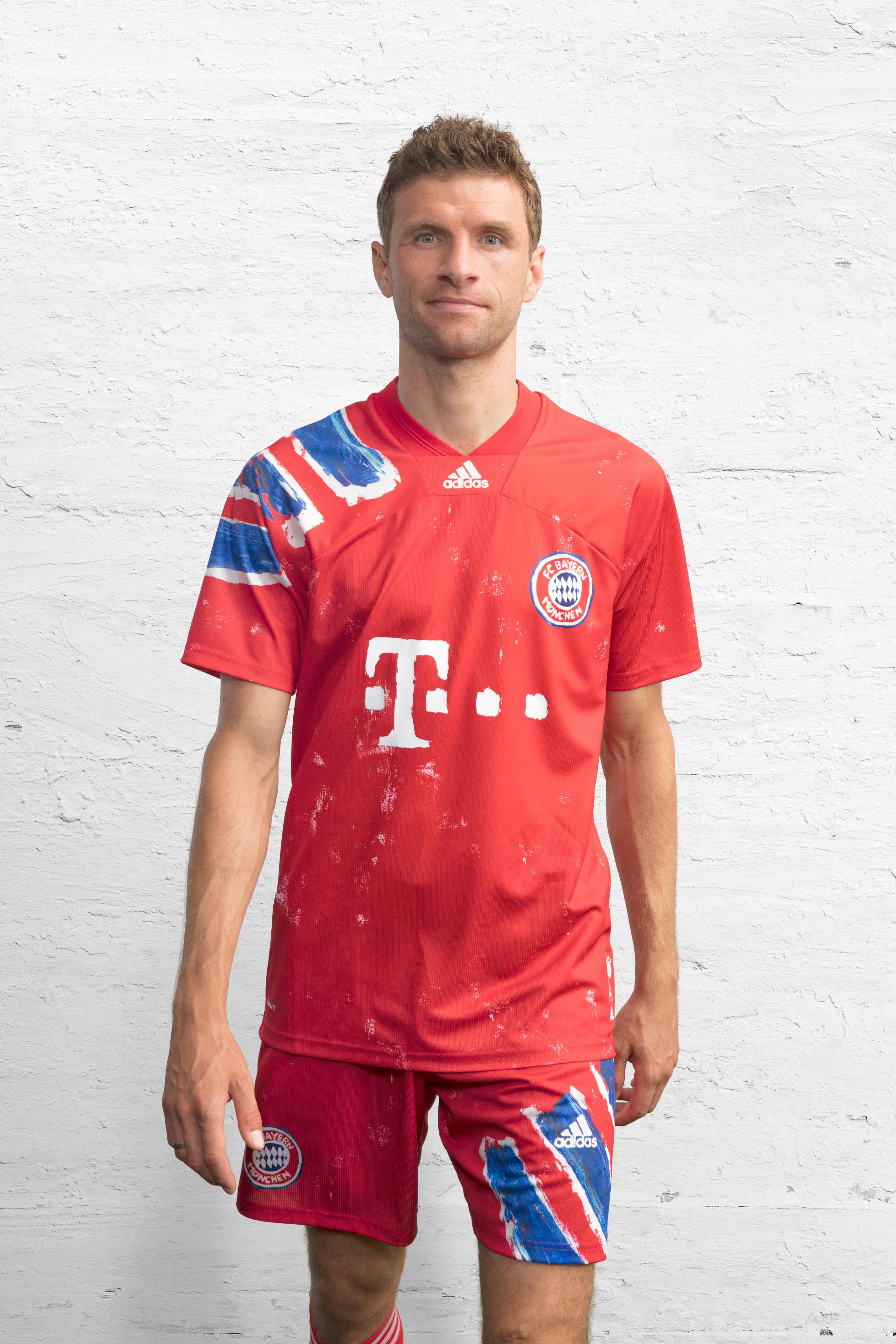 Bayern saw their 1991-93 home shirt selected from their back catalogue to undergo the Humanrace treatment, with the bold and blocky design reimagined using daubs of thick acrylic paint.
Juventus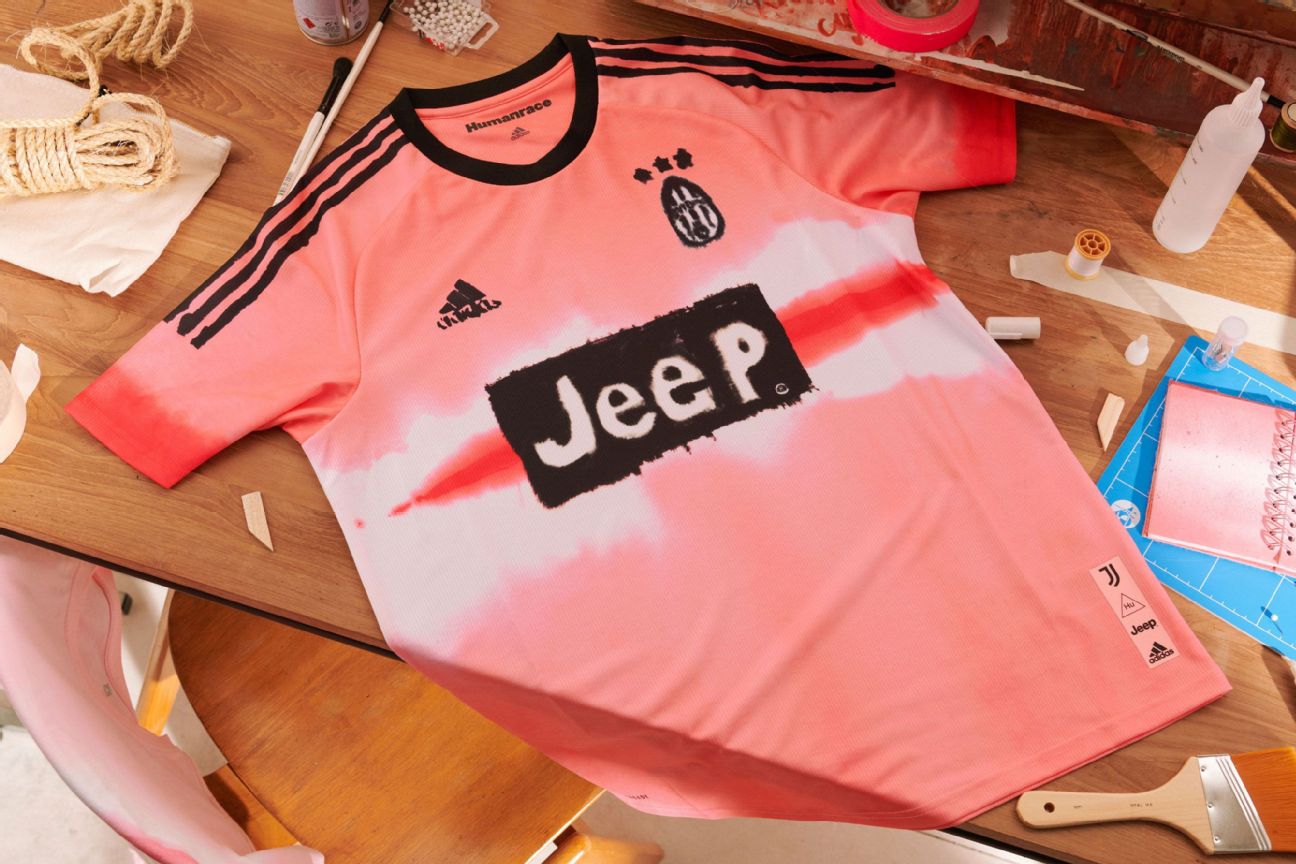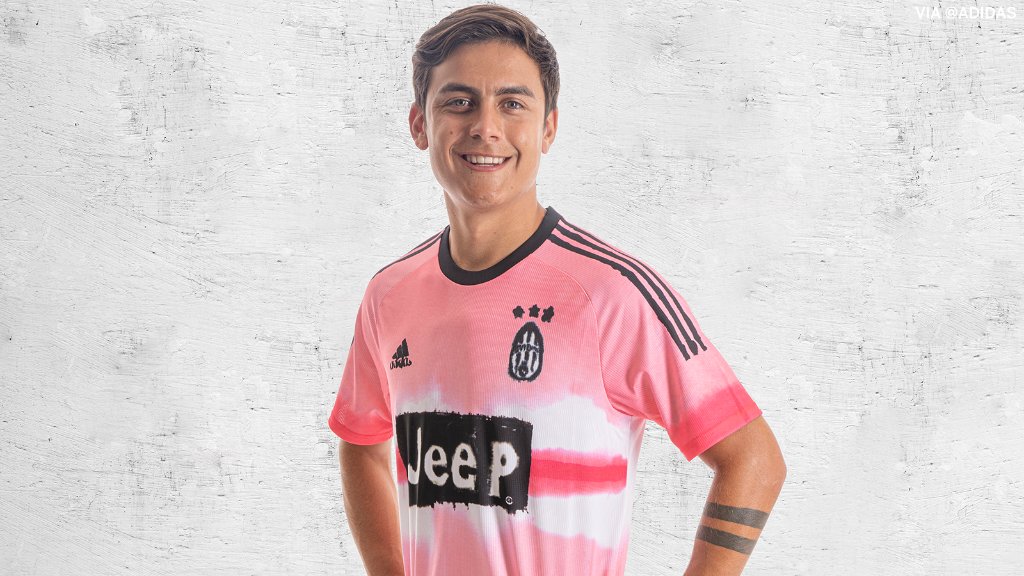 Rather than their famous black and white stripes, Juventus saw their gaudy pink away shirt from 2015-16 given an blotchy artistic overhaul — quite possibly as it marks a treble-winning season and also the first year of the Italian club's kit partnership with Adidas.
Real Madrid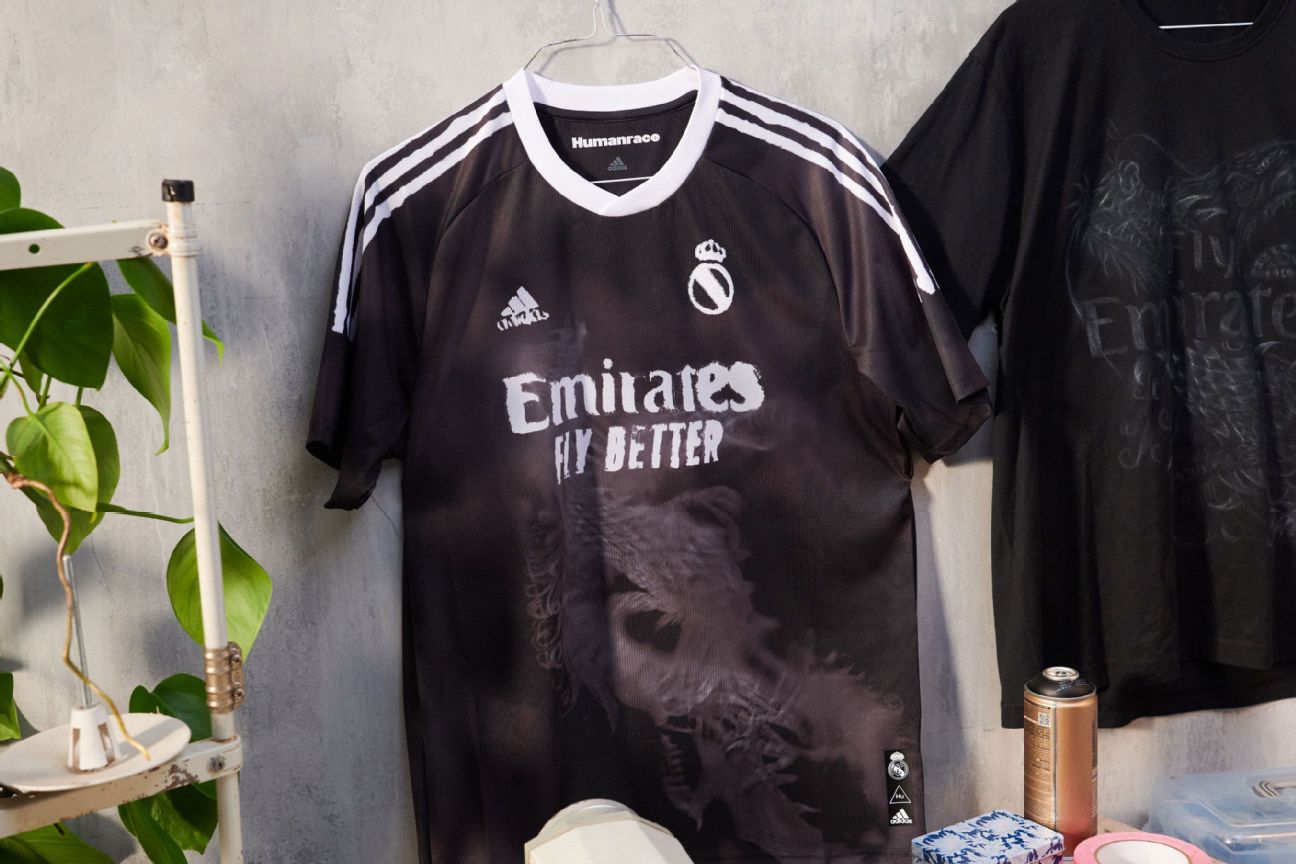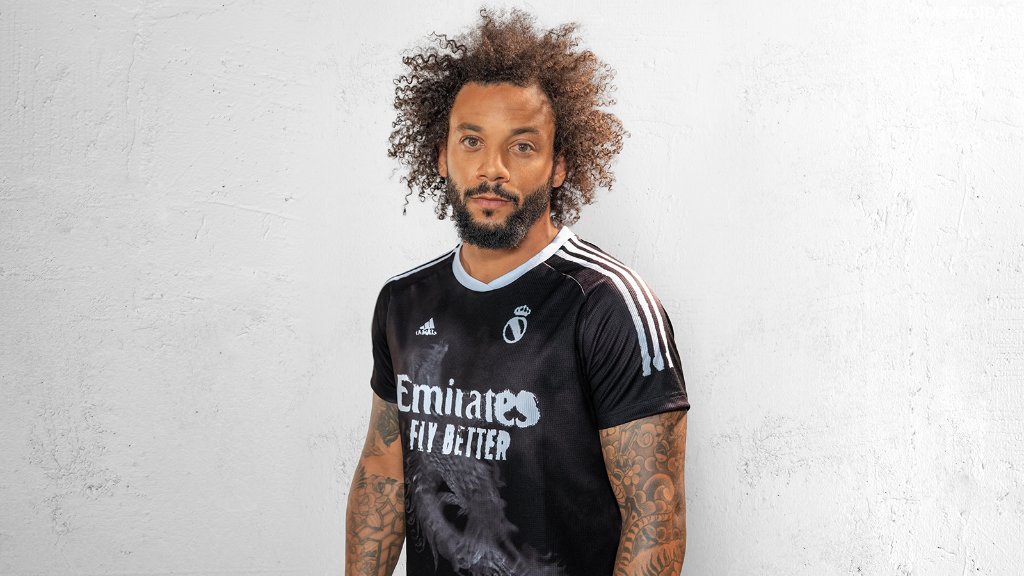 Rounding off the main collection, Pharrell decided to use a Madrid shirt which was itself originally created by his friend and past collaborator, Japanese fashion designer Yohji Yamamoto.
An instant hit at the time, Los Blancos' 2014-15 away kit featured a mystical graphic drawn by Yamamoto, with two dragons entwined around each other on a field of black — a symbol of glory, honour and power.
Pharrell and Humanrace have adapted the illustration using a water technique to smudge the intricate drawing to the point of being almost unrecognisable.
Romance FC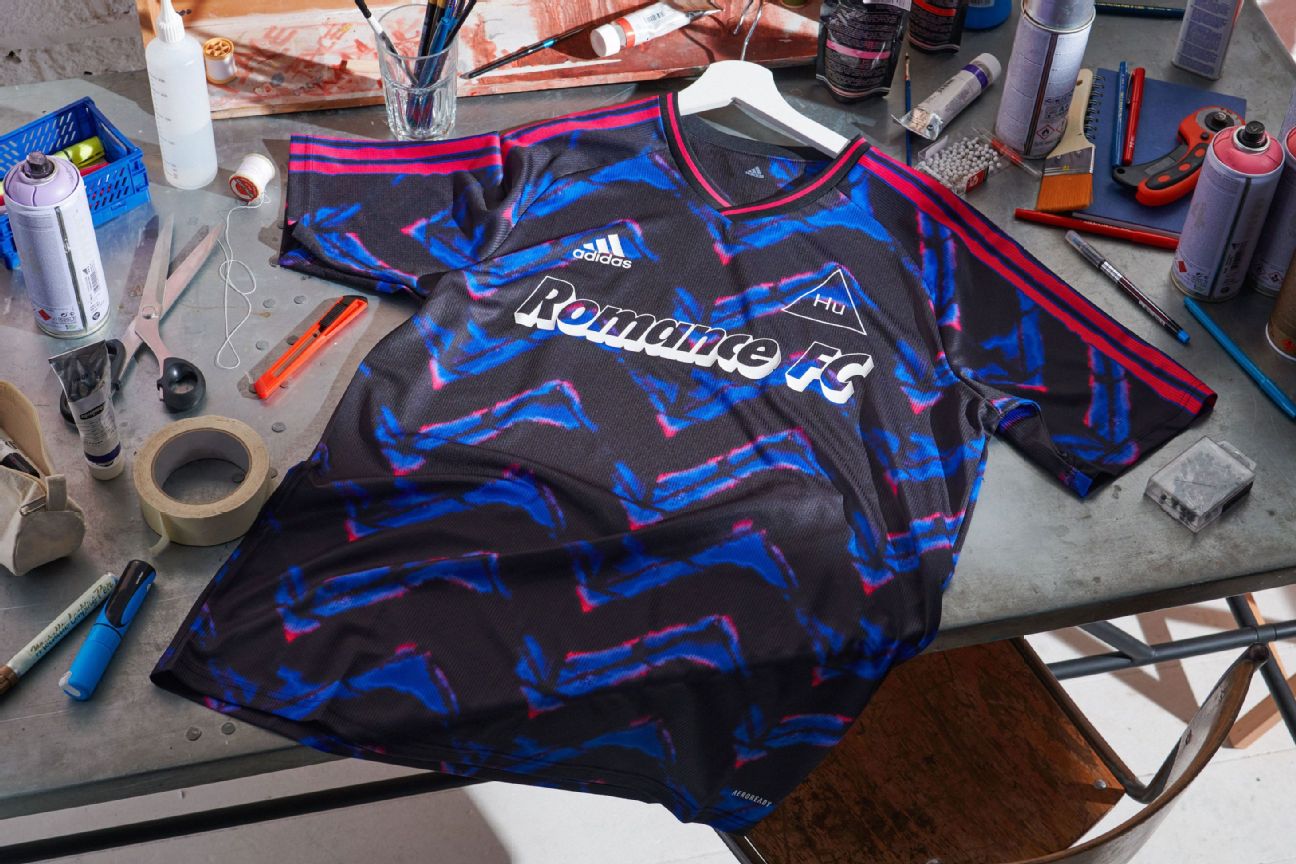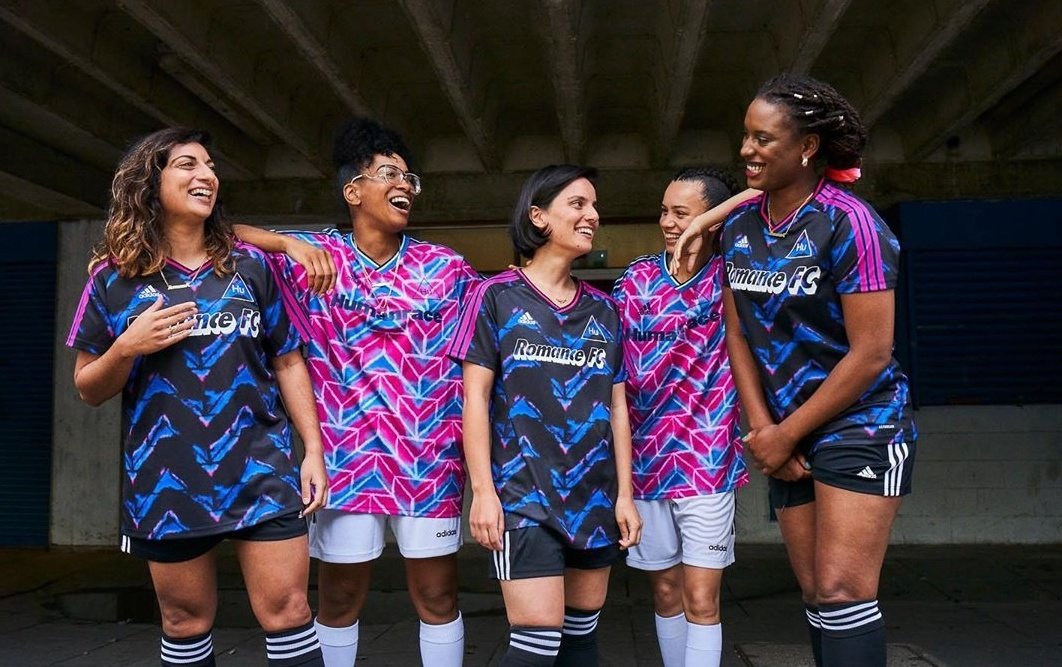 London grassroots team Romance FC also had a bespoke shirt created for them to play in this season, which will make just about every single opponent massively jealous as they are in such illustrious company.
Indeed, the Adidas x Pharrell Williams "Humanrace" jerseys will function as exclusive pre-match apparel for Arsenal and Manchester United before their Premier League games on Oct. 24.
Meanwhile, Real Madrid and Juventus will wear their designs in-match on Oct. 25 and Bayern Munich will sport theirs in their next domestic cup game.