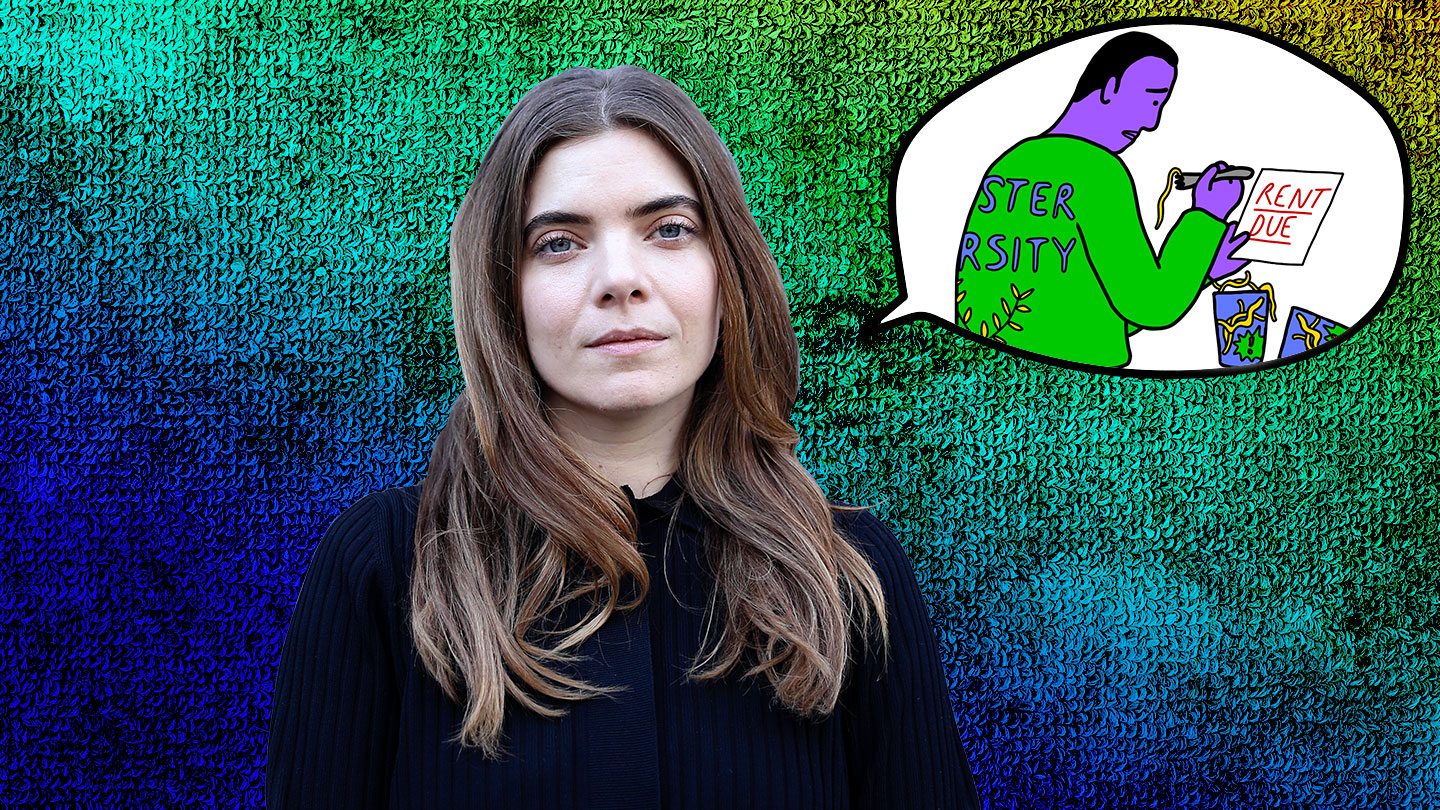 A housing advice column for all your renting problems from VICE UK columnist Vicky Spratt. Got a burning question? Email lifeforrent@vice.com.
I've just started my second year at uni but obviously, corona. I'm worried there will be another big lockdown – I'm not sure if I'm going to want to stay put in my privately rented house or go home to my parents, but I realise I'm tied into a contract and have to pay rent. Can you read me my rights please?
I feel you. This isn't how your second year was supposed to be. You should be emailing me to ask what to do about the fact that you can't pay your rent because you've been injecting Domino's into your veins but, here we are: smack bang in the middle of nobody quite knows where. 
Instead of choosing between beans and tinned tuna, you're wondering whether to leave your friends and go home to your family. It is completely understandable that you want to go home. After all, social distancing, curfews and a pandemic do not a thrilling university experience make. More than that, I imagine the thought of not being allowed to go home must be on your mind every minute of every single day. I know it would be on mine.  
Here's some solid guidance as to where you stand if you decide to get out of there. Warning: it might not be what you want to hear. 
At the start of lockdown, the National Union of Students called for students to be let out of rental contracts and for landlords to be more flexible. Those please seem largely to have gone unheard. 
Amy Hughes, a senior housing expert at Citizens Advice, says: "Unfortunately, there's not much good news for students who decide to change households for the medium to long-term by returning to their family home. It's likely that in many cases they will be tied into their accommodation agreements and not entitled to any refund."
This is because, you are generally liable for any rent due until the end of your fixed term rental agreement. Some tenancy agreements contain a break clause, so i's worth checking to see if yours does. But, Amy notes, "this would be unusual in a student tenancy agreement where the letting is intended to be for an academic year, and the landlord is only likely to be able to re-let it for the following academic year".
She adds: "If you share accommodation with other people, then unless you each have a separate agreement, you are likely to be jointly and separately liable for rent. This means that the landlord can pursue any of the tenants – or their guarantor – for any rent due under the joint agreement, regardless of which tenant failed to pay their share." If you go and others stay, you could be leaving them in the lurch. 
The first thing to do is reach out to your landlord or letting agent and try to negotiate, though Amy warns that "if there is no obligation for them to release you from the contract, they may well be unwilling to do so". 
There are exceptions: "Where the landlord is the university, they may be more sympathetic to a short-term reduction in rent, or ending a contract early, if there is no longer any reason for you to remain in halls." A private landlord may well be less accommodating. 
Not the news you were hoping for, I am sure. I hope you can find a solution that works for you. The only certainty, I guess, is that next week there will almost definitely be something else to worry about. 
Our assured shorthold tenancy (AST) runs to the beginning of January, and we are planning to renew it. However, we have received a Section 21 notice from the letting agent that states that we need to leave the property by the end of January if we don't want to renew.
It feels incredibly heavy-handed to me – we are good tenants and have never been late on rent. Does having a Section 21 notice affect me in any way? It seems so official. My understanding is that the notice will be cancelled if we choose to renew, but I just don't get the need to institute this as a measure in the first place. Is this a common practice?
No, it isn't. Heavy-handed is exactly the word for this. It's yet more evidence that organisations like Shelter and Generation Rent are completely right to urge the government to fast-track plans to abolish Section 21 evictions as the coronavirus crisis continues.  
A quick recap: Section 21 of the 1988 Housing Act means that landlords can threaten tenants with eviction without having to give them a reason. It is one of the legal ways a landlord can legitimately end an AST. Such evictions are also known as "no fault evictions". Theresa May's government pledged to get rid of Section 21 because it causes homelessness and is being misused. We're still waiting over a year later. 
Shelter housing advisor Vanessa Vaughan has some reassurance for you. "Because this is a 'no fault' eviction notice, it won't count against you if you are evicted this way." Your credit record won't be affected and no judgements will be logged against you because of this. 
The government may not have done much to get the Section 21 ban over the line, but they have extended notice periods. Vanessa notes that if someone has received a Section 21 on or after August 29th, your landlord has to give you six months notice (it used to be three). From your email, it seems as though you got yours before this change was made. I'm afraid this means that you'd have three months' notice instead of six. 
What about renewing your contract? "Once your fixed term AST expires, it will roll on a periodic basis, for example month by month or week by week," Vanessa explains. "This is unless your tenancy agreement states something else will happen. There's no legal obligation for you to sign a new agreement or for your landlord to offer a new fixed term contract." 
You're going to have to talk to your landlord and find out the score. If you want to renew and they're prepared to go ahead, great. If this is the case, Vanessa points out, you can "carry on with a rolling periodic AST if that's what you'd prefer" which could be helpful if you don't want to commit for another whole year. 
There are downsides to this flexibility, Vanessa cautions. "Your landlord would be able to start the ball rolling sooner if he wants to evict you."
As to why you've been issued with a Section 21 instead of engaging in a conversation about renewing your contract – honestly, I don't know. It could be that your letting agent is using it willy nilly, that they don't really understand it or that there's something else going on that you need to talk to your landlord about. Which brings us full circle: it's time to end Section 21 because all it does is reinforce the "evil landlord versus tenant" narrative and prevent productive conversations which, in these already fraught times, is doing nobody any favours. 
World trade recovering slowly, but outlook is uncertain: UN body
Demand for home office equipment, medical supplies and textiles rose in the third quarter – but car and energy sales fell, UN trade body says.
The value of global trade is set to fall 7 to 9 percent in 2020 from the previous year, despite signs of a fragile rebound led by China in the third quarter, a United Nations report said on Wednesday.
No region was spared by an estimated 19 percent year-on-year plunge in world trade in the second quarter, as the COVID-19 pandemic disrupted economies, the UN Conference on Trade and Development (UNCTAD) said.
Global trade recovered somewhat in the third quarter when it was estimated at about 4.5 percent less than in the same period a year ago, the agency said in its latest update.
"Trade in home office equipment and medical supplies has increased in [the third quarter], while it further weakened in the automotive and energy sectors," UNCTAD said. Growth in the textiles sector was also strong.
Its preliminary forecast for the fourth quarter is a 3-percent drop in global trade compared with the same period last year, but the report said that uncertainties persisted due to how the pandemic would evolve.
If the pandemic resurges in coming months, that could lead to a deteriorating environment for policymakers and a sudden increase in trade restrictions, it said.
China leads the way
China's exports rebounded strongly in the third quarter after falling in the early months of the pandemic, and have posted year-on-year growth rates of nearly 10 percent, UNCTAD said.
"Overall, the level of Chinese exports for the first nine months of 2020 was comparable to that of 2019 over the same period," it said.
Chinese demand for imported products recovered following a decline in the second quarter, contrary to other major economies, it said.
Earlier this month, the World Trade Organization (WTO) upgraded its forecast for trade in goods due to improvements from June and predicted a drop of 9.2 percent for 2020.
But it saw a more muted rebound in 2021, with further lockdowns from a second wave of COVID-19 infections posing clear risks.
Many dead in stampede near Pakistan consulate in Afghanistan
At least 15 Afghans killed and more than a dozen injured as thousands gathered to secure visas in Jalalabad city.
At least 15 Afghans have been killed and more than a dozen injured in a stampede near the Pakistani consulate in eastern Afghanistan.
The stampede occurred in an open ground where thousands of Afghans had gathered on Tuesday to secure visas from the consulate, officials said on Wednesday.
Sohrab Qaderi, a provincial council member in eastern Jalalabad city, where the incident occurred said of the 15 people dead, 11 were women and several senior citizens were wounded.
Two other provincial officials said more than 3,000 Afghans had congregated to collect tokens needed to apply for a visa to travel to Pakistan.
Officials in the Pakistan embassy were not immediately available for comment.
India reportedly considers Taiwan trade talks, angering China
Support is growing within India's government to formally start talks on a trade deal with Taiwan as both democracies see relations with China deteriorate.
Taiwan has sought trade talks with India for several years, but Prime Minister Narendra Modi's government has been reluctant to move ahead because it would involve a messy fight with China once any pact is registered at the World Trade Organization, according to a senior Indian government official who asked not be named, citing rules for speaking with the media.
Yet over the past few months the hawks in India who want to start trade talks are getting the upper hand, the official said. A trade deal with Taiwan would help India's goal of seeking greater investments in technology and electronics, the official said, adding that it's unclear when a final decision would be made on whether to start talks.
Earlier this month, Modi's government gave approval to firms including Taiwan's Foxconn Technology Group, Wistron Corp. and Pegatron Corp. as he looks to attract investment worth more than 10.5 trillion rupees ($143 billion) for smartphone production over five years.
Indian Commerce Ministry spokesman Yogesh Baweja didn't immediately respond to a request seeking comment. Taiwan's top trade negotiator, John Deng, didn't immediately respond to emails seeking comment.
Any formal talks with India would amount to a big win for Taiwan, which has struggled to begin trade negotiations with most major economies due to pressure from China. Like most countries, India doesn't formally recognize Taiwan, with the two governments maintaining unofficial diplomatic missions in the form of "representative offices."
India and Taiwan in 2018 signed an updated bilateral investment agreement in a bid to further expand economic ties. Trade between them grew 18% to $7.2 billion in 2019, according to India's Department of Commerce.
India "should remain committed to the One China principle and approach Taiwan-related issues prudently and properly," Chinese Foreign Ministry spokesman Zhao Lijian told a daily briefing in Beijing on Tuesday. "There is only one China in the world and Taiwan is an inalienable part of China. One China Principle is a universal consensus of the international community, India included."
'Country' Spat
President Tsai Ing-wen's administration has raised its profile in India in recent weeks after China issued a statement telling Indian media outlets not to refer to Taiwan as a country when reporting on its Oct. 10 National Day celebrations. Twitter users in India lambasted China and its ambassador to New Delhi, Sun Weidong, while heaping praise on Taiwan and making the hashtag #TaiwanNationalDay go viral.
Indian public sentiment toward China has fallen in the wake of deadly border clashes between the two neighbors starting in May. Modi's government has since banned dozens of Chinese apps including TikTok, while also speaking with Japan, Australia and the U.S. about creating alternative supply chains to diversify away from China in the wake of the coronavirus pandemic. India has seen more than 7.5 million infections and 115,000 deaths from Covid-19.
China's Insistence That Taiwan Isn't a Country Starts Backfiring
That displeasure with China, as well as Taiwan's successful handling of the pandemic, is translating into a soft power opportunity for Tsai. Taiwan's 24 million have seen fewer than 600 infections and only seven deaths.
"We have to think about the way for democracies, for like-minded countries, to work further together," Taiwan foreign minister Joseph Wu said during an interview last week on the television network India Today. "We have traditional good relations with the United States, with Japan, and we want to develop closer ties with India as well."
Tsai, who was voted into a second term in a January landslide, has sought to capitalize on the wave of interest in Taiwan among Indians online. On October 11, she thanked Indian Twitter users who had sent national day greetings. Two days later she went viral again, posting photos of her visiting the Taj Mahal.
On October 15, Tsai tweeted a photo of Indian food accompanied by a cup of masala chai, which some Twitter users saw as a possible reference to the so-called Milk Tea Alliance that has united activists from Taiwan, Hong Kong, Thailand and elsewhere against Chinese nationalism. All three tweets received more than 40,000 likes each and thousands of friendly messages from Indian accounts.
China's Communist Party, which claims Taiwan as its territory despite having never ruled it, has pushed back against the Tsai administration's overtures to India.
"We urge relevant Indian media to adhere to the correct position with regard to the significant core interests of China's sovereignty and territorial integrity," Ji Rong, a spokesperson for China's embassy in New Delhi, said in a statement on Friday. Indian media, Ji continued, "should not provide 'Taiwan independence' forces a platform, so as to avoid sending the wrong message."
Sana Hashmi, a fellow at Taipei-based National Chengchi University and author of "China's Approach Towards Territorial Disputes: Lessons and Prospects," said it makes sense for India to align with Taiwan economically.
"Increasingly there seems to be an awareness not just among Indians but even in other nations about how China has dictated relationships in the region," said Hashmi, who has penned op-eds in Taiwanese and Indian media encouraging closer ties between the two democracies. "And it's not like China is going to give any concessions to India or Taiwan for toeing its line."